The Best Smoothie Combinations for Faster Weight Loss, Says Dietitian
While no one particular food can speed up weight loss, these smoothie combos can start your day with a boost.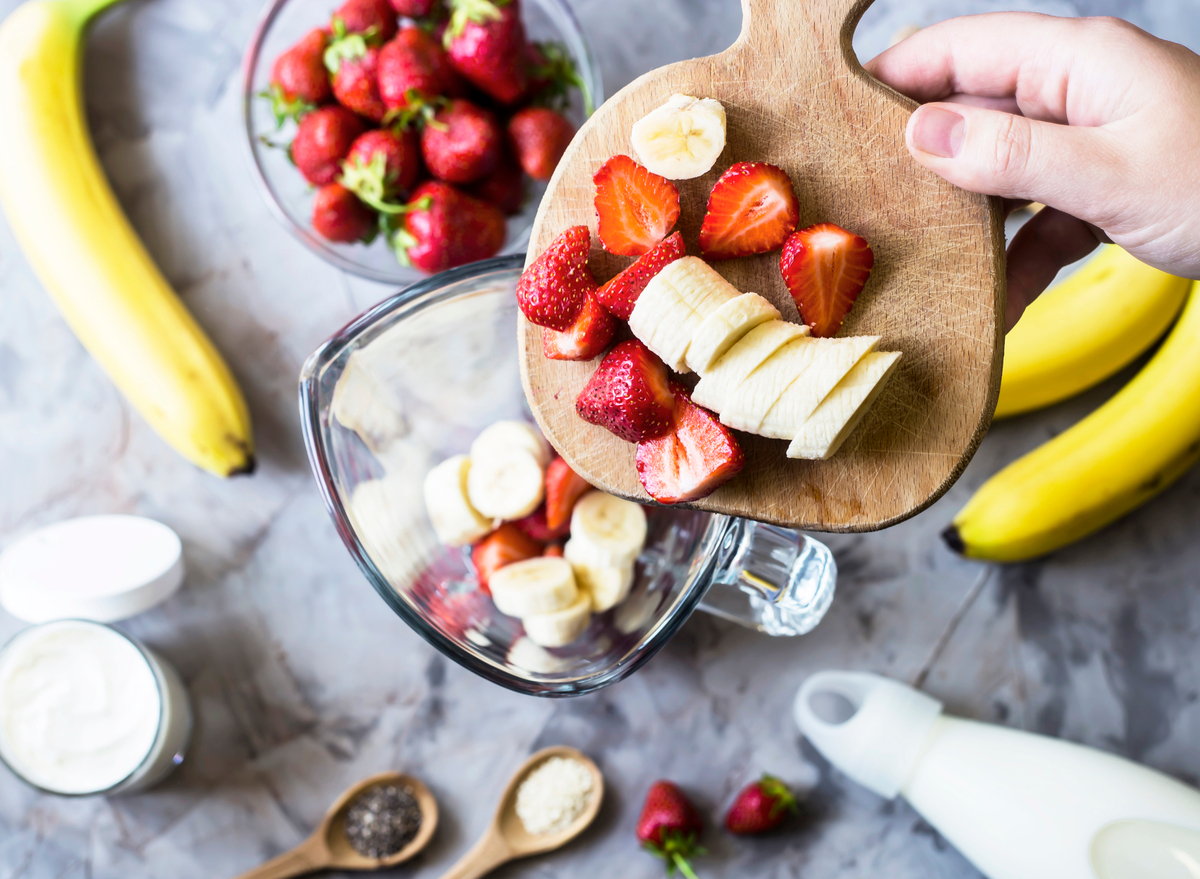 The base of a balanced smoothie for weight loss has a simple formula: a high fiber carb, a low-sugar liquid, and a protein. Most people forget about protein when building a smoothie, but it is a crucial part of a balanced breakfast. Especially for weight loss, high protein breakfasts increase the calories burned after the meal because protein has the highest thermic effect of food.
High fiber carbs offer a boost of energy from carbohydrates, and the fiber will help keep you full longer between meals.
Depending on your goals, adding healthy fat will also keep you full longer! If you choose to add healthy fat to your smoothie, consider options that blend well: avocado, peanut butter, or coconut milk all work well here. Fats take a while to digest, so these options will help keep you going until lunch.
Sometimes simple is best: try not to overcomplicate your smoothie with a ton of added ingredients. Stick with the base formula: protein, carb, liquid, and you're well on your way to a balanced breakfast!
Not sure what combos to make? Here are some of my favorites that can help ramp up your weight loss efforts. Then for even more healthy weight loss meals, check out our list of these Best Breakfast Combinations for Faster Weight Loss, Say Dietitians.
Greek yogurt + banana + peanut butter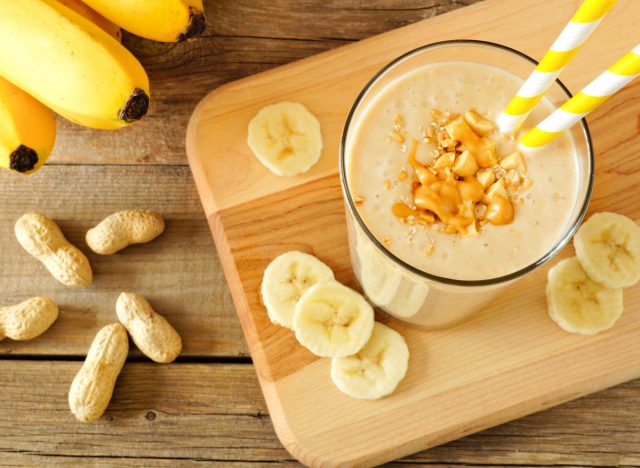 You can't go wrong with a peanut-butter-banana combo.
Greek yogurt offers a low-fat protein source, and peanut butter brings healthy fat and fiber. This combo is sure to keep you full for hours. Thin this smoothie with a little water or milk of your choice to get the consistency just right!
1 cup Greek yogurt
Half or whole banana
1-2 tablespoons peanut butter
Berries + kefir + chia seeds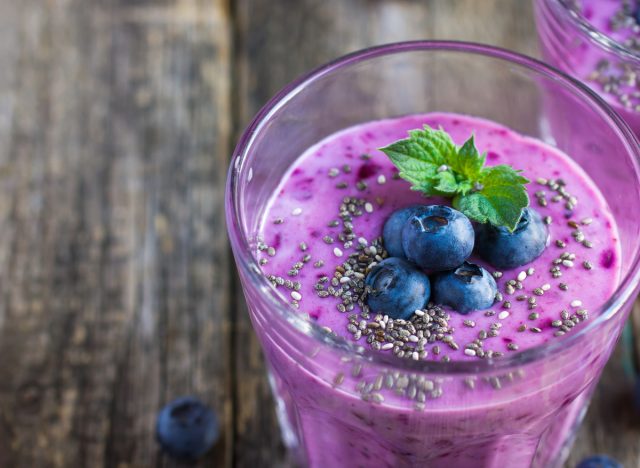 Kefir acts as a protein source and the liquid—so you can get creative with additional nutrition boosts like chia seeds if you want! Adding one ounce (around two tablespoons) of chia seeds offers a whopping 5 grams of fiber per tablespoon. So trust me, a little goes a long way!
If you want your smoothie extra thin, add a couple of tablespoons of milk or water until it's your desired consistency. If you like your smoothies thick, throw in a handful of ice cubes instead. Chia seeds absorb water over time, so if you're not going to be downing this right away, add a little more liquid than you normally would.
1 cup berries of your choice
1 cup kefir
1 tablespoon chia seeds
Protein powder + frozen cherries + milk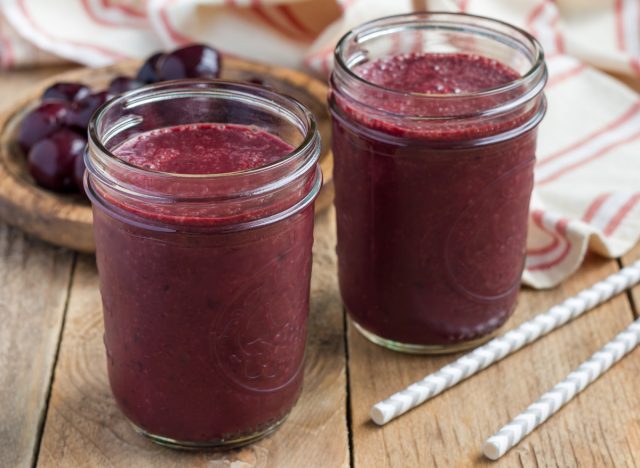 This combo almost tastes like dessert for breakfast. Chocolate flavored protein powder combined with frozen cherries does wonders for the taste buds. I've been loving oat milk lately, and its neutral flavor works well in smoothies!
1 scoop chocolate protein powder
1/2 cup frozen cherries
1 cup oat milk
Coconut milk + mango + plain yogurt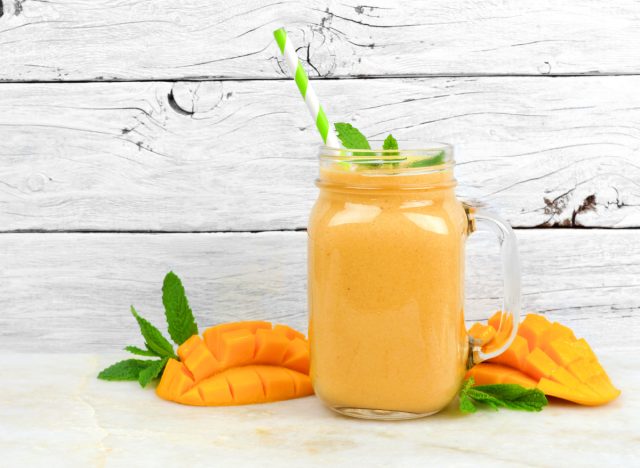 If you're feeling tropical, we've got you covered. Plain or vanilla yogurt blends perfectly into this creamy smoothie and offers a solid source of protein. Choose coconut milk in the carton for a lower fat option or canned coconut milk for a higher fat choice.
1/2 cup yogurt
1/2 cup mango
1 cup coconut milk
Avocado + blueberries + collagen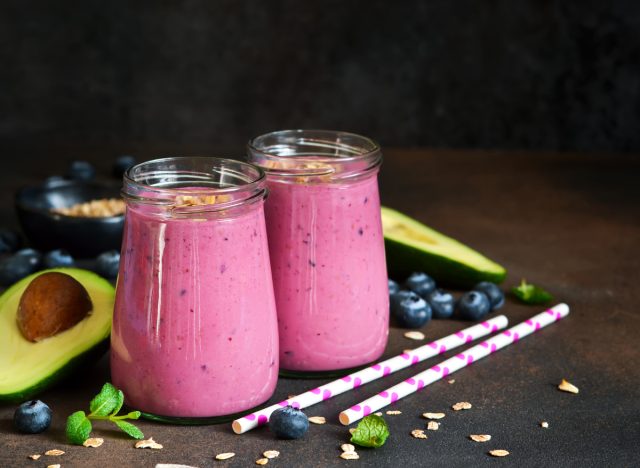 Veggies for breakfast might not sound appealing, but you'll hardly even taste them in this combo. The avocado offers a creamy source of fiber, and the blueberries balance it out. Plain or vanilla-flavored collagen adds a hefty protein source and makes this combo creamy as well!6254a4d1642c605c54bf1cab17d50f1e
1/4 avocado
1-2 scoops of collagen
1 cup blueberries
For even more weight loss tips, read these next:
Caroline Thomason, RDN
Caroline is a women's health Registered Dietitian and diabetes educator based in Northern Virginia.
Read more about Caroline