6 Best Fast-Food Hacks That Can Shave Dollars Off Your Order
Get cheaper versions of your favorites.
"Menu hacking," while not the most ethical practice, is an effective way to save money at many fast-food chains. Are you a fan of the Big Mac, but wish it didn't cost quite so much? You might consider trying "the Big Mac hack"—a set of ordering instructions that will get you a Big Mac (more or less) for half the price.
The ethics of menu-hacking have come under discussion in the past week, following a viral TikTok video of a Starbucks barista "counter hacking" a would-be menu hacker. The video shows the barista's reaction to an attempted "Doubleshot on Ice" hack—a maneuver in which the customer requests modifications to a small iced espresso to recreate a larger, more expensive drink. Not to be fooled (the hack has been around since 2016), the barista ignores the modification requests and serves the customer a regular-sized iced espresso, informing them that "anything over 4 oz is a latte."
A debate ensued in which some criticized Starbucks, claiming that the cost of "menu hacks" pales in comparison to the billions the company makes every quarter. Others criticized the barista herself, for what they saw as a misguided loyalty to "corporate America." Starbucks employees weighed in, pointing out that the barista was merely doing her job.
Espresso hacks aside, menu hacking is, in many cases, kosher—and sometimes even encouraged by the corporations whose menus are being hacked. So it's worthwhile familiarizing yourself with some of the most common menu hacks that can save you a few bucks on your next fast-food order.
Make sure to check out 100 Unhealthiest Foods On the Planet.
Your go-to hack for your go-to McDonald's order. Popularized on TikTok, this hack takes advantage of the similarity of the Big Mac and the McDouble. To get a Big Mac for half the price, order a McDouble with Mac Sauce (which is usually free), and request "no ketchup, no mustard."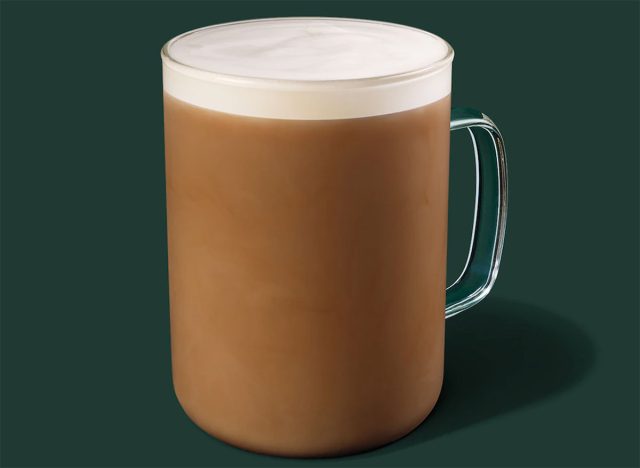 If you're not worried about a possible confrontation with a Starbucks barista, try this one out. As The Krazy Koupon Lady points out, you can get a Caffè Misto for about $0.70 less if you just order a grande drip coffee and add steamed milk (any beverage order at Starbucks can be supplemented with 4 ounces of steamed milk).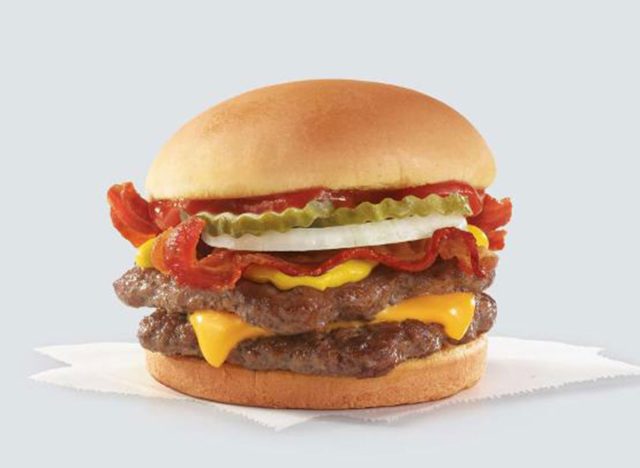 Big fan of Wendy's flagship burger? Save $2 on your next Baconator run with this clever TikTok hack. Just order a Bacon Double Stack on a premium bun (comes free at Wendy's) and limit the condiments to ketchup and mayo. Just a half-ounce lighter than the real thing, the "Budget Baconator" offers maximum bang for your buck.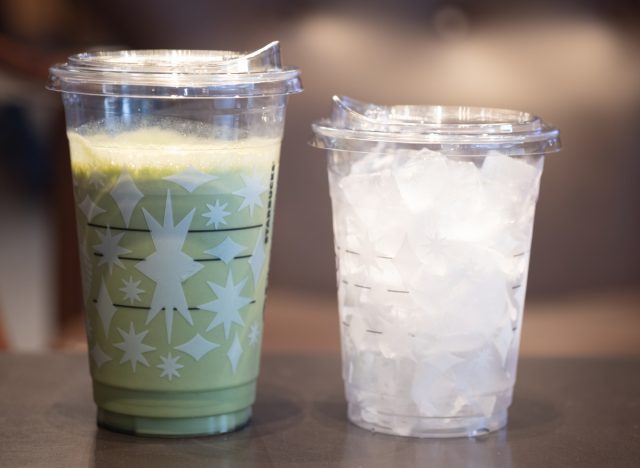 If you're a regular at Starbucks but not a fan of the prices, try out this two-for-one TikTok hack. This hack takes advantage of the Starbuck baristas' tendency to overfill beverages with ice. Order a small chilled beverage of your choice with "no ice," and then ask for a separate cup filled with ice (which should come free of charge). The "no ice" drink should come filled to the top. Divide it between the two cups, and you have two drinks for the price of one.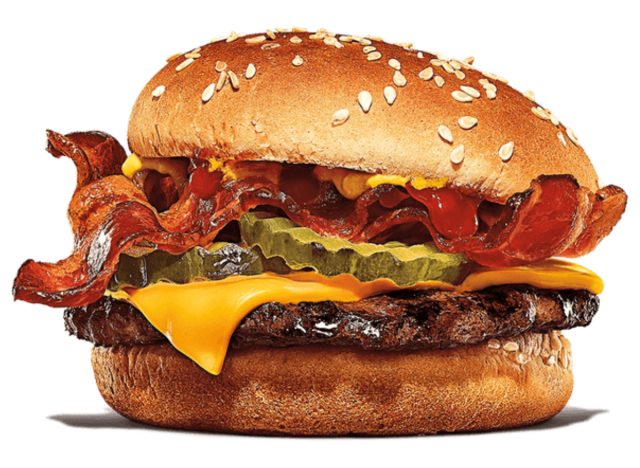 This is the perfect menu hack for fans of Burger King's Jr. Whopper. Customers should order a $1.25 Bacon Cheeseburger and request additional (complimentary) "light lettuce," onion, and tomato. With the Jr. Whopper normally priced at about $3, this hack will get you your favorite Burger King sandwich at a fraction of the cost.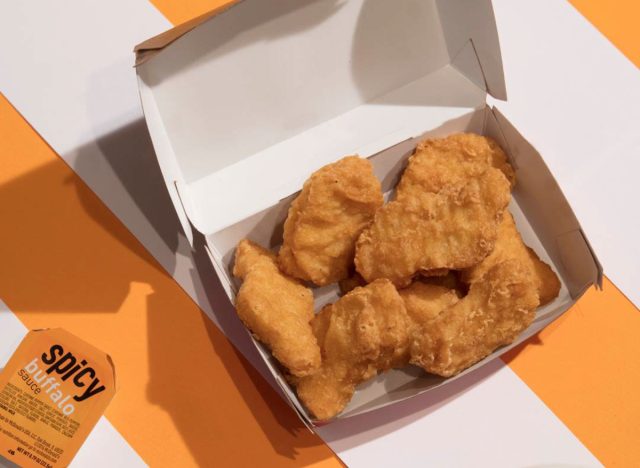 If you're a fan of McDonald's McNuggets, this popular TikTok hack will get you the best price-per-McNugget on your next order. Instead of ordering the 10 pc. McNugget for $5, try ordering two 6 pc. McNuggets for $4—two more nuggets, for a dollar less.6254a4d1642c605c54bf1cab17d50f1e
Owen Duff
Owen Duff is a freelance journalist based in Vermont, home of Ben & Jerry's.
Read more about Owen