The #1 Way to Make Your Coffee, According to a Barista
With these techniques, you'll whip up a barista-level cup of coffee every time.
Making good coffee at home can seem like a daunting task—especially if you're favorite coffee shop is nearby. But, with the right tips and techniques, you can recreate that barista-worthy cup of coffee right at home, and for a lot less.
We turned to three coffee experts to find out which methods are the absolute best for making a cup of Joe at home as well as tips on how you can extract the most flavor from your coffee every single time. Giorgio Milos, master barista for illy, provided us with his favorite ways of making coffee, ranked from 6 to 1. While Andrea Ramirez—coffee, flavor, and beverage trends expert for Torani—and Michael Breach—coffee artist and president of BaristArt—share helpful tips on how you can take your cup of coffee to the next level.
Below, you'll see the best ways to make a cup of coffee, ranked from the best to the absolute very best. And after, don't miss the 100 Easiest Recipes You Can Make!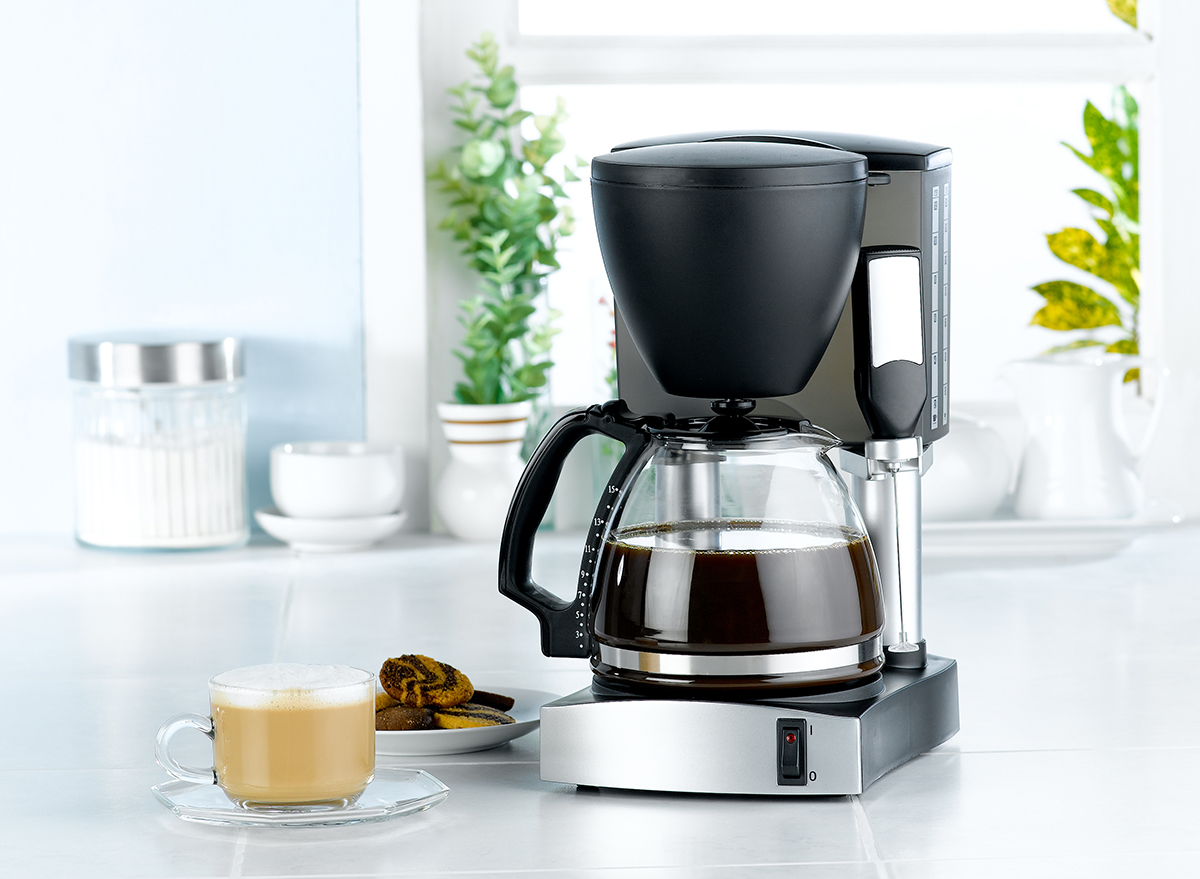 Milos usually doesn't opt for the drip machine when it comes to getting his morning coffee fix, as he prefers other methods (which you'll see below). However, if the standard drip coffee machine is all you have at home, Milos shares one key tip on how you can improve its quality.
"If using a glass pot with a hot plate on the bottom, remove it from the heat when it's done brewing so you don't burn the coffee," he says.
Definitely one of the more intimidating ways to make coffee, this stovetop method brews by passing boiling water that's pressurized by steam through coffee grounds. To be successful at making your coffee in this traditional Italian way, Milos suggests you use a finer grind of coffee (like one you would use to make espresso) and loosely pack it in the filter. This way, the water can pass through easier.
The key to making a more balanced cup of coffee using a Moka pot is how you position the coffee grounds in the filter. He says to pack "the less dense coffee [grounds] on top with the denser on the bottom." Brush away any loose grounds at the top, screw the top part of the pot on, and then place the brewer over the stove with the top lid left open. As it heats up, you'll see a rich cup of coffee begin to fill the pot.
If you're someone who loves to enjoy multiple cups of coffee throughout the day, this method is especially for you. As Ramirez says, "the beauty of the French press is its simplicity—you don't need any fancy equipment with it, just a way to boil some water and a bit of patience while it steeps."
If you're in the market for a new French press maker, Ramirez recommends the Upphetta or Bodum. And remember, when making coffee with a French press maker, Milos says to "serve immediately to avoid over-steeping, even when the plunger is down."
If you prefer your coffee chilled and extra caffeinated, the experts recommend trying your hand at making homemade cold brew. But, it's important to remember that the type coffee bean you use especially matters with this method.
"The best beans for cold brew are Central American or African coffees for a lighter or brighter cup, while Indonesian coffees can be more bold and full-bodied," says Breach.
The best part? You don't even need any special equipment to make this type of coffee. Milos says to use "a French Press or a mason jar, along with a cloth or paper filter to separate the grounds from the water." Ramirez also adds that you can store the cold brew in your fridge for up to two weeks.
Check out How to Make Cold Brew Coffee At Home in 7 Easy Steps for a comprehensive, step-by-step guide.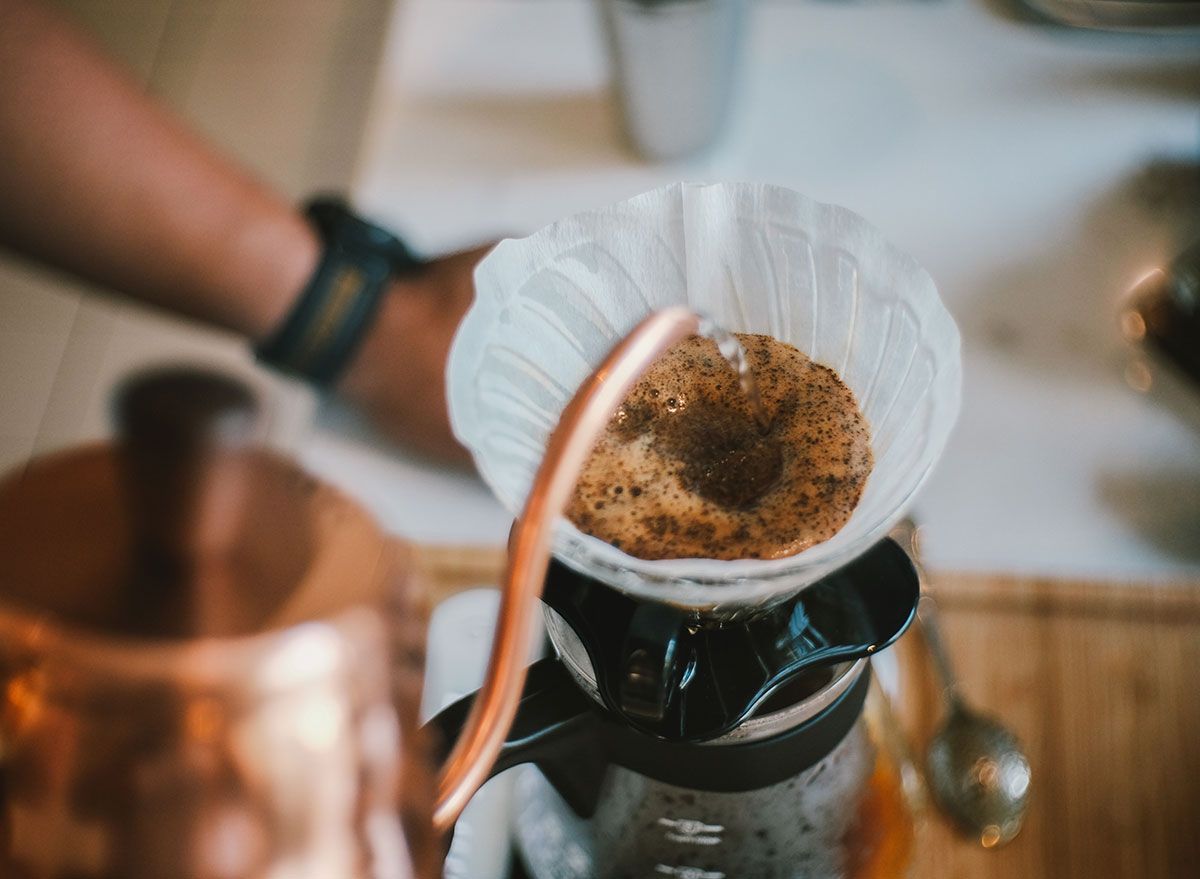 The second best brewing option, according to Milos, is the pour over method, specifically using the Chemex coffee maker and filters.6254a4d1642c605c54bf1cab17d50f1e
"Using a paper filter is key because the paper strains the fine ground coffee almost completely and the Chemex filters are thicker than other filters, retaining more oils," he says. "The result in cup will be sweeter and cleaner."
Giorgio Milos' top pick for making coffee is espresso. Why? "It's typically served in a simplified manner that allows the complex flavors and aromas to command attention," says Milos.
Though it tastes practice to get it just right, not to mention the right machine, this cup of coffee yields the best flavor and texture of them all. To make a delicious cup of espresso at home, Ramirez recommends purchasing the Nespresso Vertuo. However, another good option is the Chefman 6-in-1 Espresso Machine, as it also allows you to make lattes and cappuccinos as well!
For more, be sure to read 11 Coffee Pot Mistakes You're Making.
Rachel Linder
Rachel is an Associate Editor responsible for compiling the daily Eat This, Not That! newsletter, making TikTok and YouTube videos for the brand, writing articles for the site, creating original graphics and providing direct assistance to the editors when needed.
Read more about Rachel