Coca-Cola Sabotaged Dozens of Its Small Brands, New Report Claims
Former employees say Odwalla, Zico coconut water, and others were set up to fail against big Coke brands.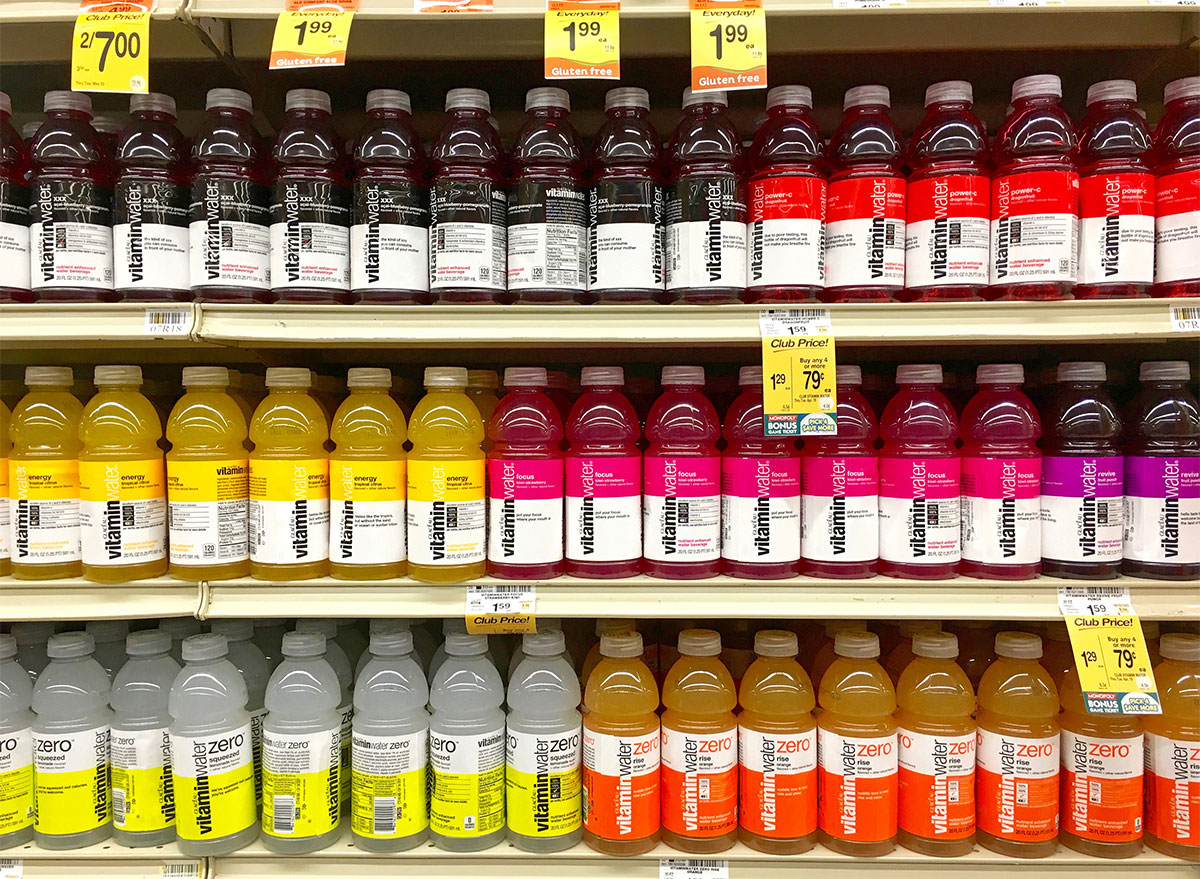 Along with the news that they're already slashing a newly launched drink from their lineup, it seems The Coca-Cola Company has been in the throes of an ongoing identity crisis. According to five former Coca-Cola employees who agreed to participate in an exclusive report, 20 years of Coke's attempts to diversify away from soda were only half-hearted—as smaller Coke-acquired brands like Odwalla and Vitaminwater were apparently set up to "fail fast when necessary" and never received the focus some insiders feel these brands deserved.
Business Insider has reported that in the early 2000s, The Coca-Cola Company saw itself looking to stay nimble in an increasingly dynamic market. Seeing the success of Pepsi's Aquafina, Coca-Cola themselves had helped to make bottled water a "thing" with the 1997 launch of Dasani. Meanwhile, Snapple and energy drinks like Red Bull were gaining ground, while increasing culture-wide health problems, like diabetes and obesity, had grown widespread enough that public messaging was starting to absorb consumer consciousness about the dangers of sugary drinks, like Coke and Sprite.
By 2007, The Coca-Cola Company responded to this with the creation of a new corporate initiative, its Venturing & Emerging Brands team. This team was essentially tasked with scouting out small but well-established beverage companies—think Honest Tea, Vitaminwater, and Odwalla smoothies and juice—and acquiring them to fold them into The Coca-Cola Company portfolio.6254a4d1642c605c54bf1cab17d50f1e
But while some major corporations go about buying up smaller companies with the intention to give them resources necessary to help them thrive on a larger scale, former employees of The Coca-Cola Company say the conglomerate let the little guys flounder—says Business Insider: "The arm's stated goal was to give those smaller labels 'the ability to move quickly, failing fast when necessary.'"
And although, according to Business Insider, Coke's Venturing & Emerging Brands endeavor included "hundreds of employees, dozens of high-dollar acquisitions, and the marketing muscle that the century-old company could provide," Coke followed through on very little of that. It's said that when the corporation went before the Walmarts of the world to present the highlights of their lineup, "Coca-Cola's biggest players, such as Sprite and traditional Coke, dominated these meetings, while representatives for VEB brands often got bumped until the very end—if they got any airtime at all."
These former employees brought forward another perspective that the higher-ups at Coke didn't have the vision or skillset to develop flavors for products that would actually take off (as an example, retail and consumer buyers just couldn't really get a taste for jalapeño-mango Zico), nor did major retailers and the media really know what box these products fit in… a problem that made them tough to place and promote. On the other hand, an intuitive product acquisition like Honest Tea, was acquired in 2011 and reportedly netted $600 million in 2019.
Today, the Venturing & Emerging Brands team has been cut from those "hundreds of" staffers to a tiny team of three. By now, reports Business Insider, "dozens of beloved brands had been shuttered." Those include Coke's summer 2020 announcement that they planned to fold Odwalla, and their shutdown of Zico coconut water—a once-popular brand that in recent years has been eclipsed by an ever-growing field of natural, functional hydrating beverages and seltzer waters.
For now, it sounds like Coke's trying to re-center on the essence of its near 150-year-old business: soda. CEO James Quincey said in recent weeks that they're focusing on drinks that have been proven to work, like Coke Zero and the newer Coca-Cola with Coffee, while they continue to close down smaller brands.
This, of course, could be another somewhat sticky commitment. While it's reported that 1.7 billion Coke products are purchased around the world every day, trends suggest that consumers increasingly want to buy from brands that are known for a conscious ethos—in fact, read America's Top Pizza Chain Accused of Using Controversial Ingredients. Also check out:
This Major Costco Recall Was Just Extended
Krissy Gasbarre
Krissy is a senior news editor at Eat This, Not That!, managing morning and weekend news related to nutrition, wellness, restaurants and groceries (with a focus on beverages), and more.
Read more about Krissy