Shoppers Are Worried These Products Are Being Discontinued At Trader Joe's
Here's what items are actually disappearing for good.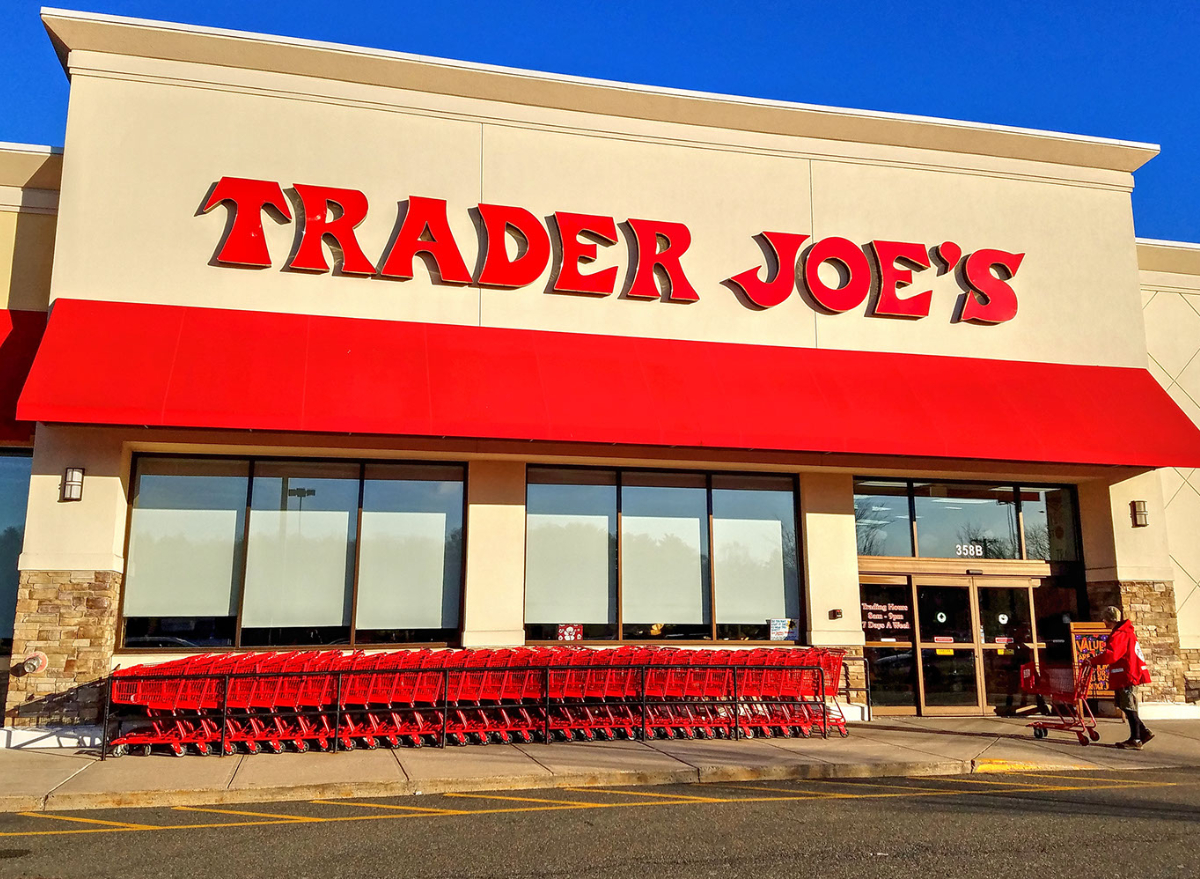 In case you missed it, Trader Joe's just changed its mask rule. Now, fully vaccinated customers can shop without wearing a face covering.
That isn't the only change that the beloved grocery chain has made lately. As new items hit store shelves, other products are about to disappear forever.
While some of these cuts are confirmed, TJ's fans suspect that more favorites may be on the chopping block—or at least facing shortages. Without further ado, here's everything you need to know before you hit the aisles. (Related: This Is the Best Supermarket in America, New Survey Says)
Shoppers are wondering where the Pelmeni went.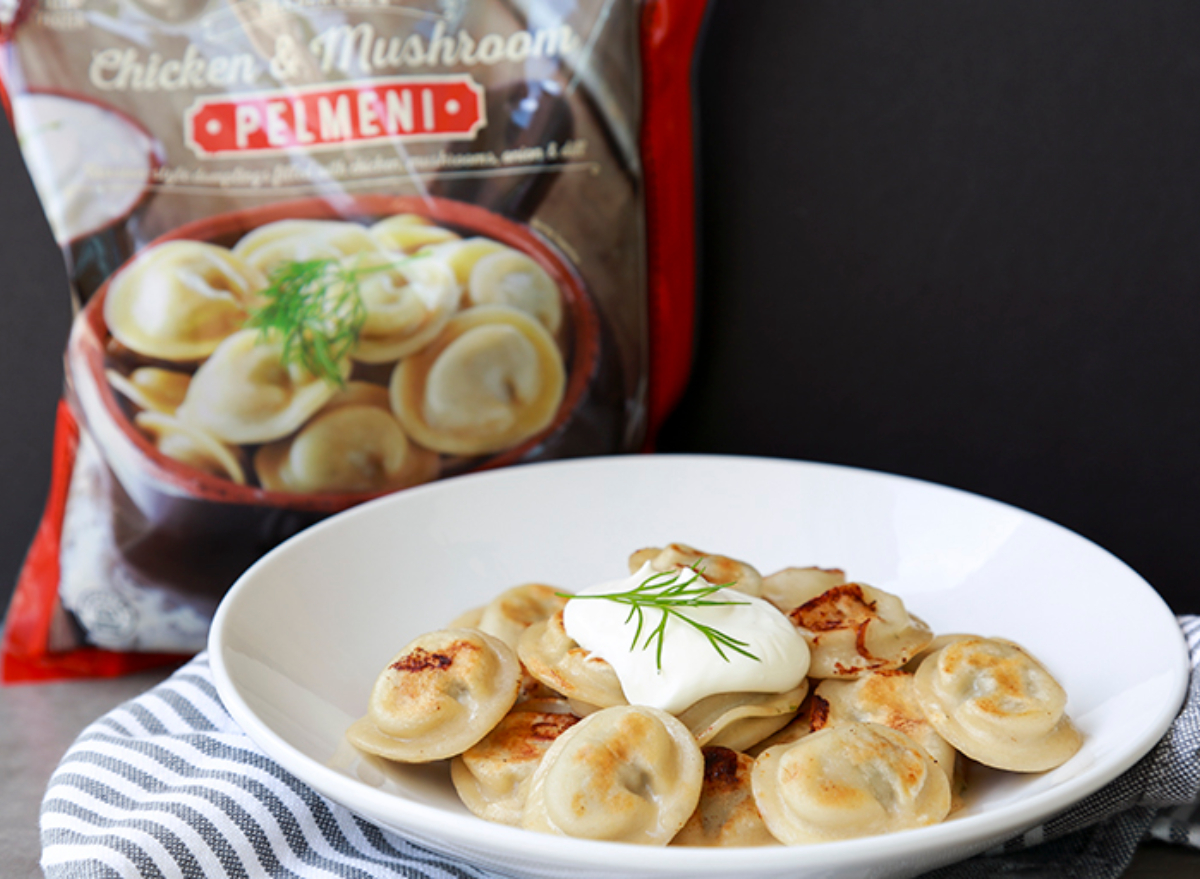 Pelmeni is a Russian dumpling filled with various, sometimes raw foods, and wrapped in a thin layer of unleavened dough.
"Historically, they were a convenient means of preserving meat and feeding a family over the course of a long winter. At Trader Joe's, they're called Chicken & Mushroom Pelmeni, and they're a convenient means of getting a dumpling dinner on the table in a flash," the chain writes on its website. "Stuffed with flavorful chicken thighs and earthy mushrooms, these morsels are further seasoned with tender onion, herbaceous dill and tangy sour cream to round out their traditional flavor profile-simple, savory, satisfying."
Unfortunately, some fans' carts are turning up empty—and it's prompted questions online about a possible shortage.
Some say there isn't a shortage; rather, production delays in certain regions could be the reason you haven't seen them at your local store. User @CookieButterLovers, who Reddit says is the moderator of the traderjoes thread on its platform, also notes that product placement varies greatly from location to location. Thus, you could be looking in the wrong spot.
Another Reddit user reported finding pelmeni last week. As of press time, there's no official word on whether or not this product has been discontinued.
Related: To get all the latest Trader Joe's news delivered right to your email inbox every day, sign up for our newsletter!
Shoppers also can't find the Gyoza Dipping Sauce, and they want to know why.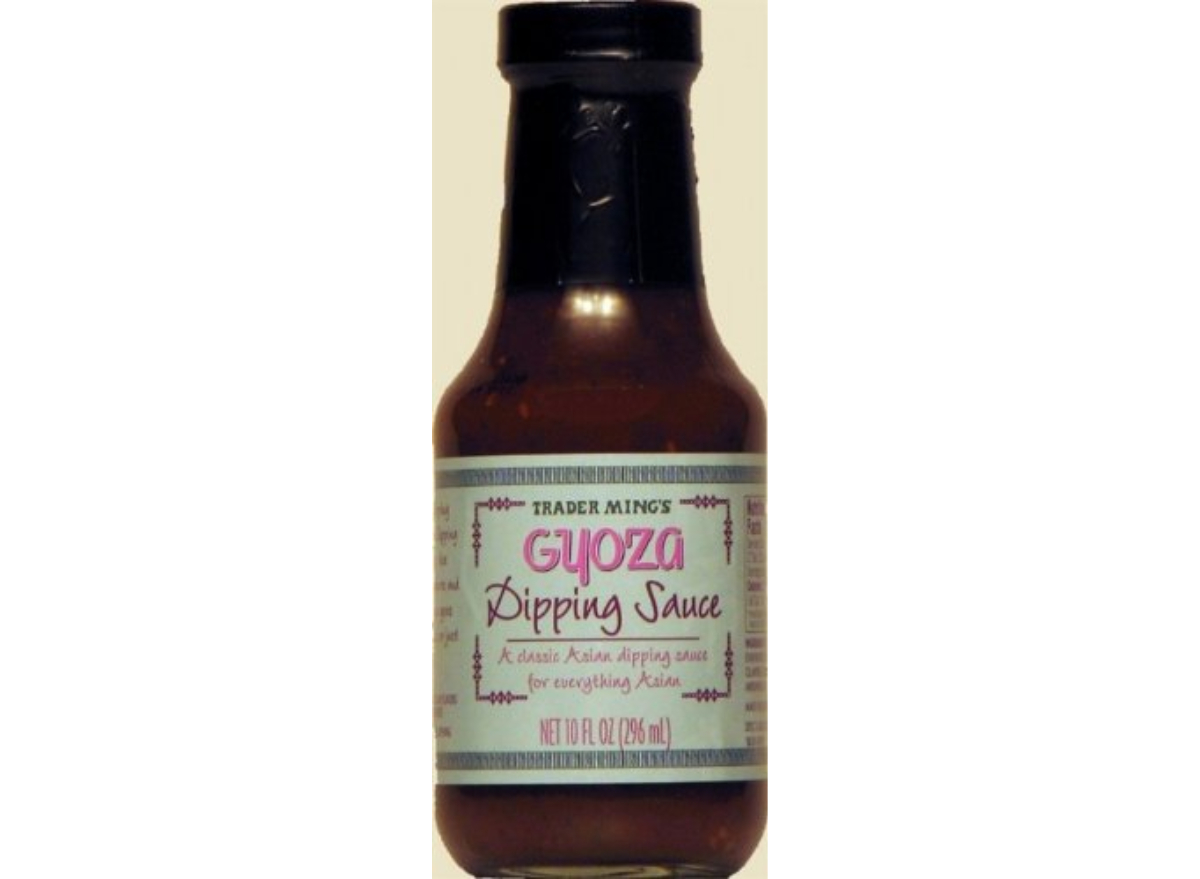 Gyoza is a Chinese dumpling filled with meat or seafood but mainly pork and cabbage. TJ's has a variety of options, including chicken, pork, shrimp, and vegetable. It also sells a dipping sauce to level up your meal. Reddit user @Either-Dragonfly8548 has been looking for it . . . and wondering if it was axed.
Stores in Northern Texas are also out of the dipping sauce, another individual said. However, other respondents reported finding it in TJ's stores in Southern California, Massachusetts, and Chicago.
Like the pelmeni, @CookieButterLovers says the gyoza dipping sauce hasn't been discontinued—but it has fallen victim to various product and shipping delays. They also claim that a glass shortage is to blame. The sauce will purportedly return to stores around May 25.
That's good news for fans of these two products . . . but several others aren't as lucky. TJ's doesn't make it widely known which products will vanish soon, but we have a solid clue thanks to the Instagram account @traderjoestobediscontinued.
Also, if you ever want to send the store feedback about the products it stops making, send them a note here.
These products are actually being discontinued right now:
Broccoli and Kale Pizza Crust
This broccoli and kale pizza crust hit the freezer aisle back in 2019 when cauliflower crust was all the rage. Now, the low-carb option is officially retiring, according to @traderjoestobediscontinued.
However, some shoppers don't seem to be too sad about this loss. Instagram account @traderjoesobsessed, who has almost 500,000 followers, says "I'm not mad about this." Other users say "omg finally," and that "no cheese and sauce combo could save it."
Since low-carb and gluten-free crust options are hard to find, true fans wish it would stay.
Related: The Best And Worst New Trader Joe's Items—Ranked By A Dietitian!
Organic Longboard Tortilla Chips
These fun-shaped chips have been around for more than 10 years—What's Good At Trader Joe's reviewed them back in 2011. Nonetheless, they won't be restocked at a Trader Joe's store near you, according to @traderjoestobediscontinued.
Some say these chips are great for dipping, but others think they aren't practical for big dippers. True fans will definitely miss them, though. "So long old friend," one user commented on the post. "[I]t's been a journey, but I suppose every chip has to dip at some point."
If you're willing, two bags of these chips are available on Amazon—for a hefty price of $29.98.
Chocolate Chip Sandwich Cookies
This sweet treat is being discontinued . . . and some Trader Joe's fans are upset.
"Just tried them based on the responses to this post . . ." one shopper commented on @traderjoestobediscontinued's post, adding that they now "regret" that they "even tried them because they are amazinggggg and soon they'll all be gone."
If you want to try them, too—or if the thought of losing them is too much—you can also snag a pack on Amazon for $12.30.
Related: The Best Trader Joe's Products For Weight Loss
Black Bean Dip
Trader Joe's has a few varieties of dips made from black beans, but there's about to be one less. The black bean dip with habanero, jalapeño, and serrano, and peppers is also being discontinued, per the Instagram expert.
The reviews for this product are mixed. Some say it's great in burrito bowls or with elote chips, while others claim that it simply tastes like mashed-up beans.
Coconut Water with Aloe Vera Juice
Another item you won't see anymore is this boxed coconut water, which also contains aloe vera juice.
If you're a fan, don't worry. Trader Joe's does sell other coconut water varieties—like this sparkling coconut water with yuzu. It's still hydrating and contains real yuzu purée, which is a yellow fruit found in East Asia. It's bright, tangy, and sweeter than a lemon, per TJ's.
Want another option? This Is America's #1 Favorite Beverage at Trader Joe's.
Amanda McDonald
Amanda has a master's degree in journalism from Northwestern University and a bachelor's degree in digital journalism from Loyola University Chicago.
Read more about Amanda