4 Grab-and-Go Costco Meals You Can Buy Right Now
As with the bakery, the beloved items in the deli come and go.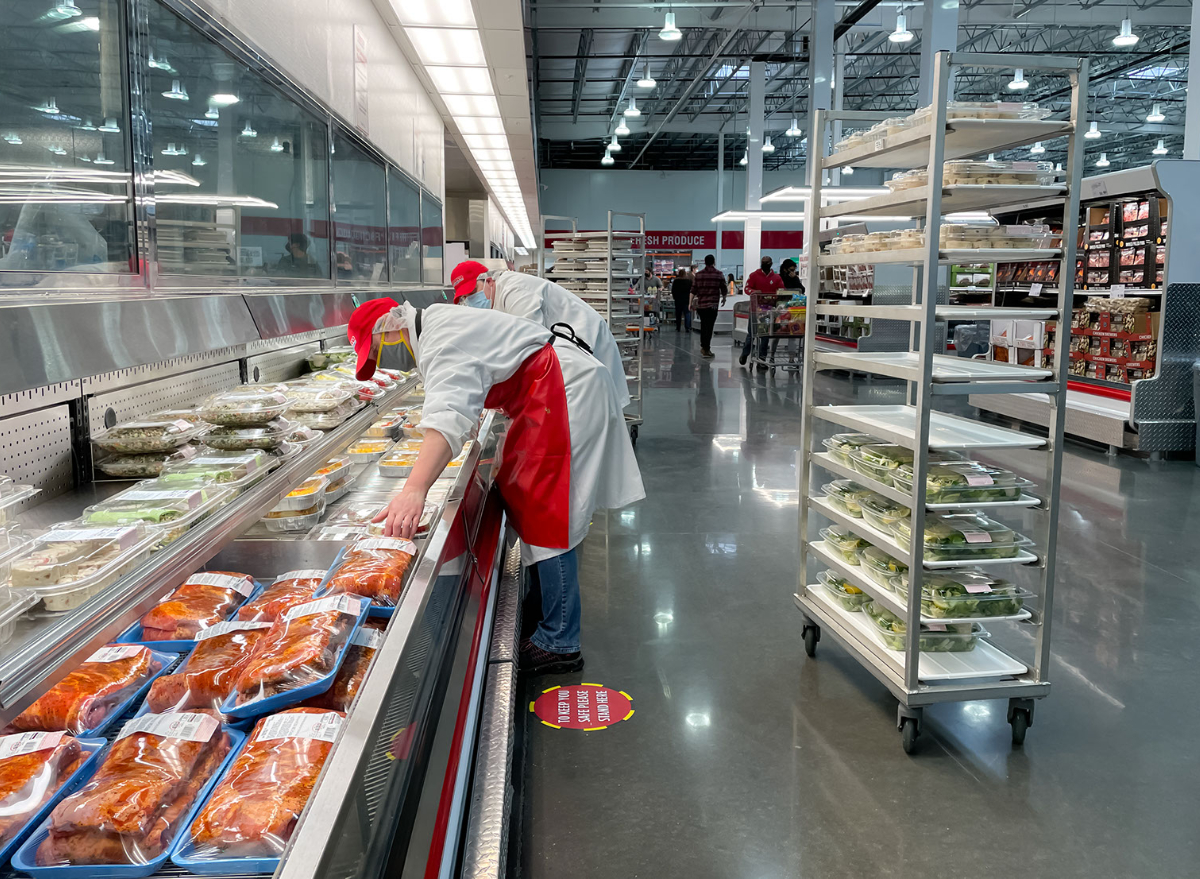 Technically speaking, there are a lot of grab-and-go food options available at Costco. Food court items count, of course, as do bakery items (unless you decide to air-fry them for optimal enjoyment). While the deli does have some ready-made foods like rotisserie chicken, it also has meals big enough for the whole family to enjoy—minus all of the dishes to clean up later.
But much like the other sections of Costco, the beloved items in the deli come and go. That's why we put together a list of all of the grab-and-go meals recently spotted by members at the warehouse. The exciting options include pasta, seafood, and so much more. (Before your next warehouse trip, don't forget to check out the Popular Costco Foods That Are Making You Gain Weight, Say Dietitians.)
Ravioli Lasagna with Beef Pork Bolognese Sauce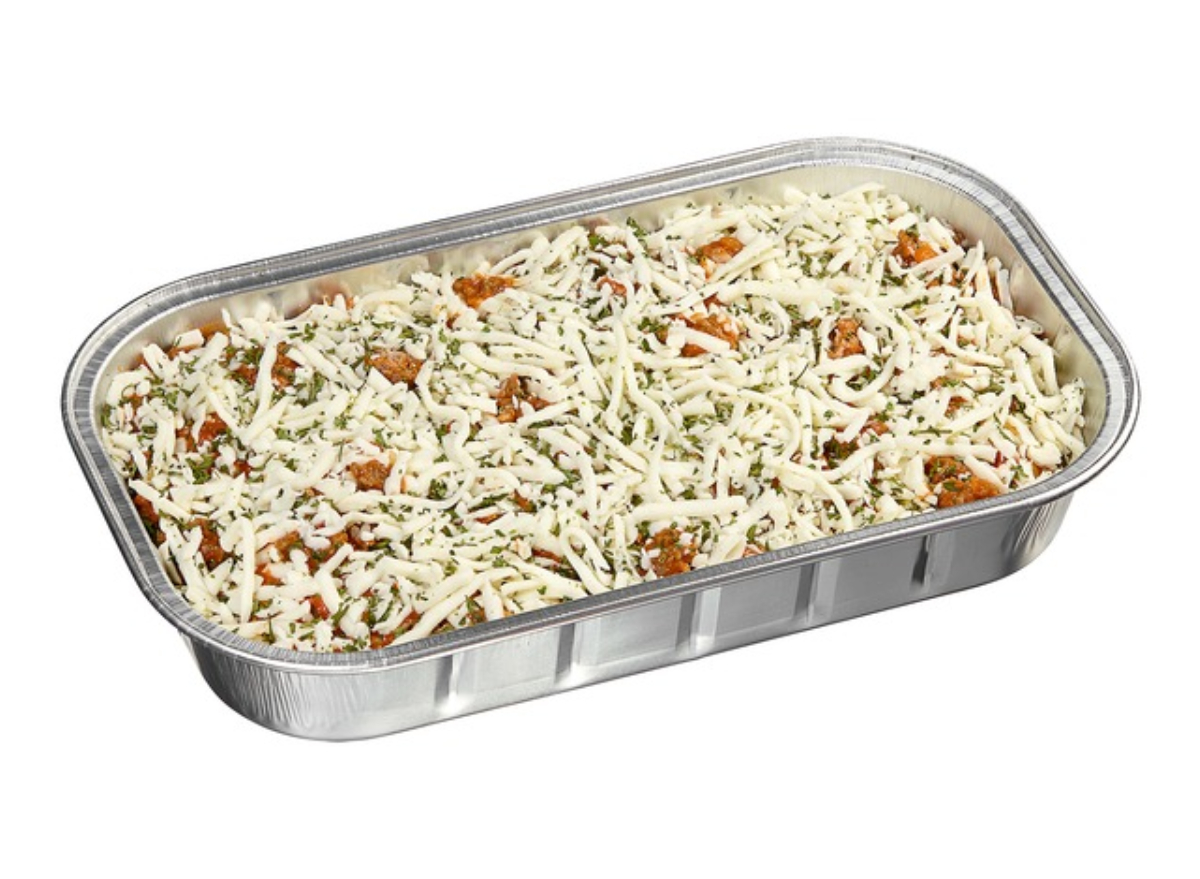 There's no need to choose between your ravioli or lasagna for dinner if you opt for the Ravioli Lasagna at the Costco deli. This unique dish, which was recently spotted by Instagram user @costcodeals, typically costs about $15 and weighs around 3 pounds.
Once home, cover your Ravioli Lasagna in aluminum foil and bake it in the oven for 60-70 minutes at 400 degrees Fahrenheit, per the cooking instructions. It's delicious and goes great with Caesar salad, according to the comments!
Related: To get all of the latest Costco news delivered right to your email inbox every day, sign up for our newsletter!
Stuffed Salmon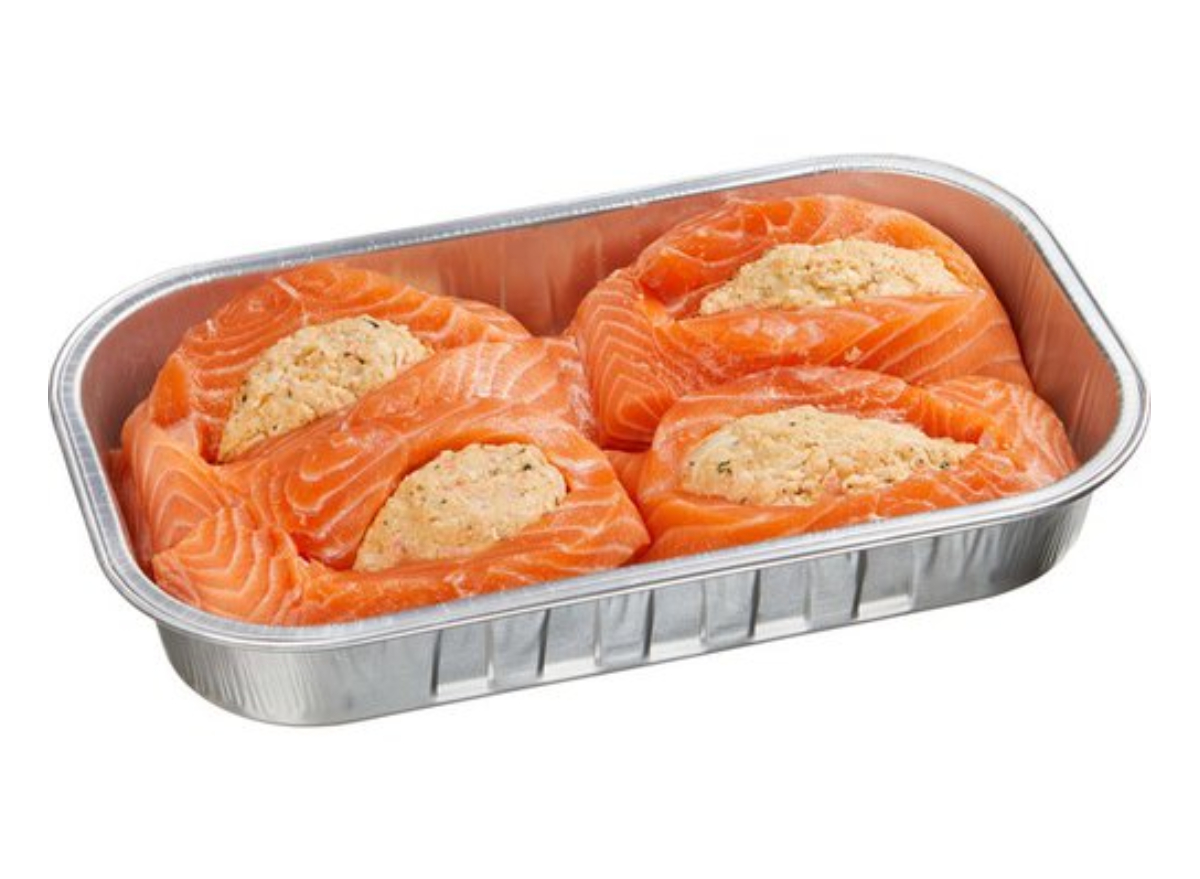 The Costco deli isn't only for cold cuts and rotisserie chicken—there are also restaurant-style dishes that feed your whole family, too! Instagram user @costcohotfinds recently posted about the Stuffed Salmon option, which is easy to buy, throw in the oven, and enjoy. Or, as one member comments, consider leveling it up in your air fryer!
Four servings come in one container, which usually costs around $33 or $34.
Korean-Style Marinated Ribs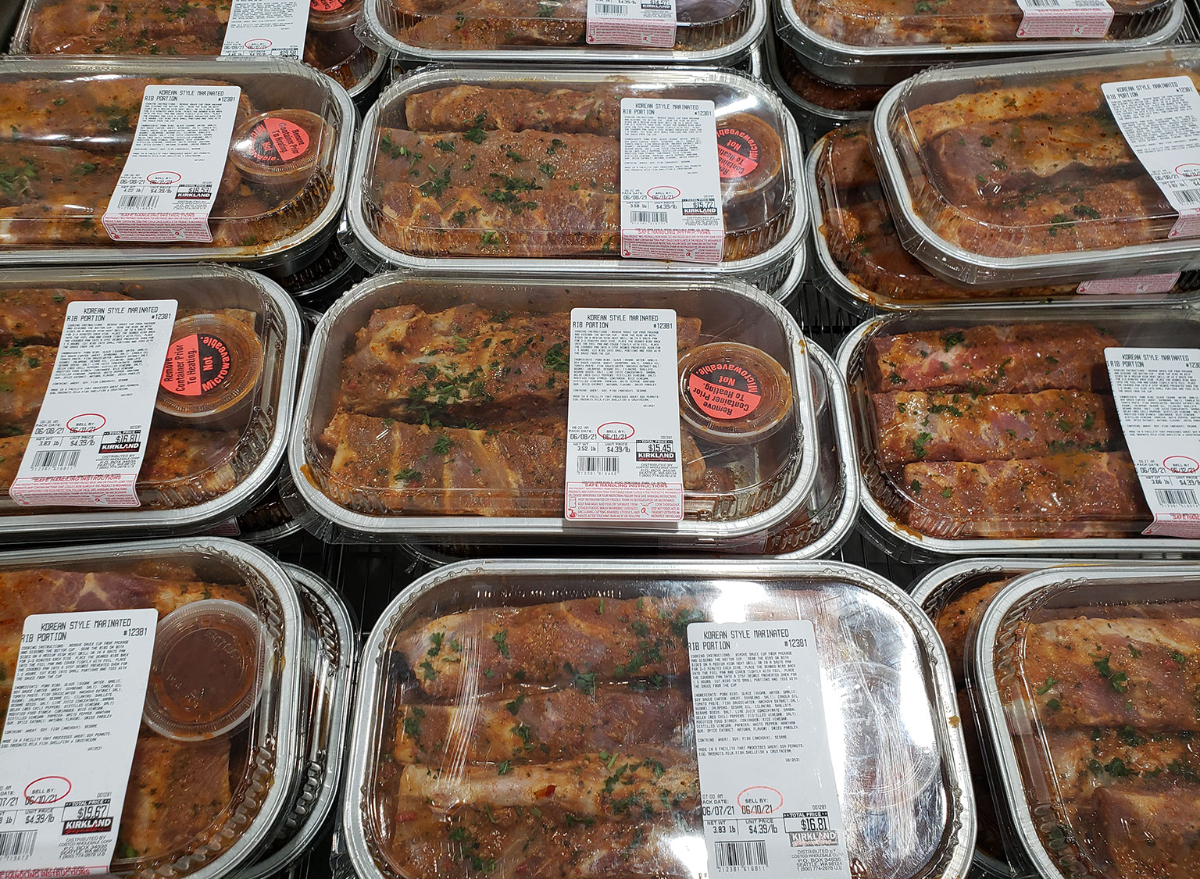 If you're not in the mood for pasta or seafood, don't worry—the Costco deli has other grab-and-go options like Korean-Style Marinated Ribs. To cook these ribs, all you need to do is sear them on medium or high heat on a grill or sauté pan for two to three minutes per side. Next, place them back in the container and cover them with foil. Cook the ribs at 375 degrees Fahrenheit for an hour and a half, cover them with the sauce in the package, and voilà—dinner is ready.6254a4d1642c605c54bf1cab17d50f1e
This prepared meal costs $3.49 per pound, and like the other items on this list, it weighs a lot—about 3.5 pounds. After Reddit user @Frenchie_PA recently spotted the ribs, they asked if any others members had tried them yet. One commenter said they smelled really good, while another individual said they tasted good, too—and they would buy them again.
Yakisoba Stir Fry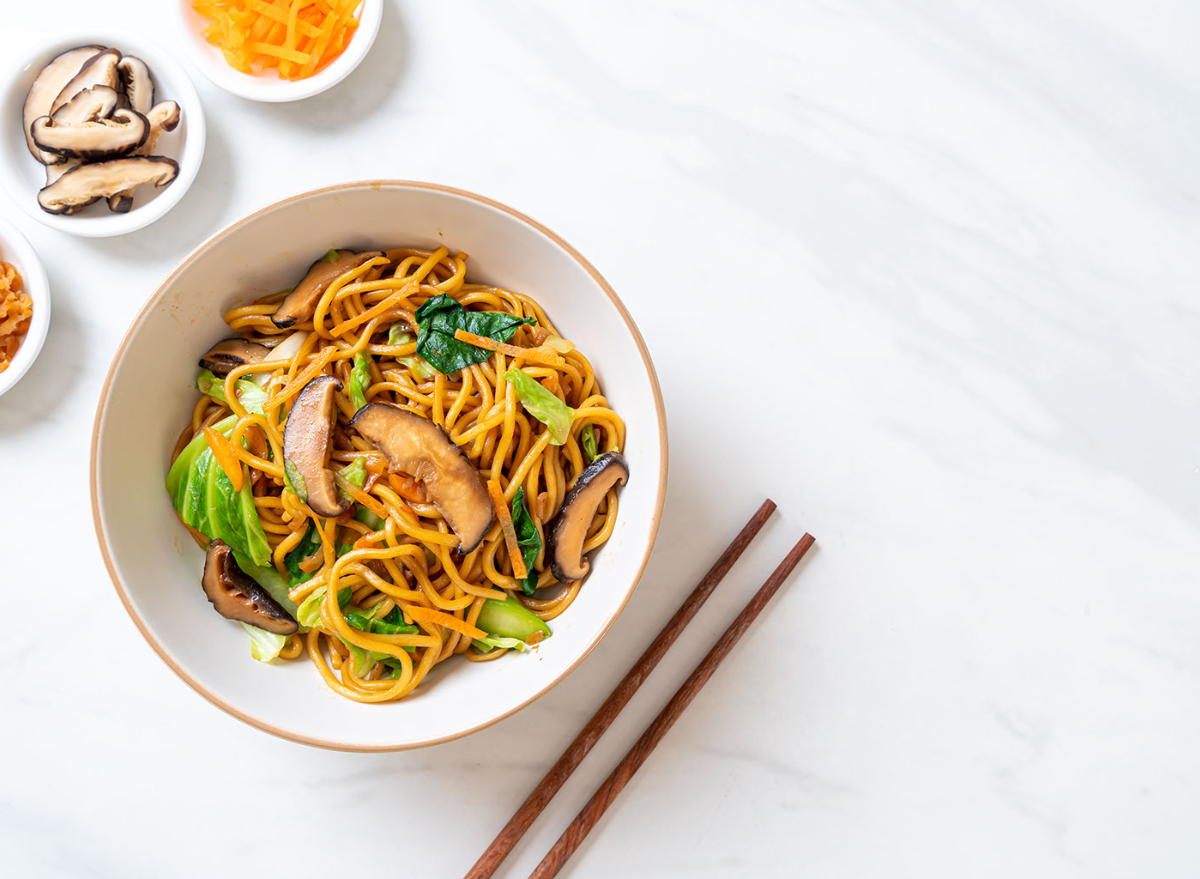 In the past, this grab-and-go favorite has been made in the deli using rotisserie chicken. However, it seems like the Yakisoba Stir Fry that's currently available in warehouses contains seasoned chicken, according to an Instagram post from @costcobuys.
One commenter said they tried the 3.5-ish pound dish (which costs about $4.99 per pound)—and it was the perfect size for a family of four.
First, cook the vegetables for two minutes in some oil in a large sauté pan, per the instructions. Next, add the chicken and cook it for two minutes. Finally, add the noodles and sauce and cook for one additional minute.
For more about what's happening at your local warehouse, check out:
This Is How Often Costco Members Shop at the Warehouse
Amanda McDonald
Amanda has a master's degree in journalism from Northwestern University and a bachelor's degree in digital journalism from Loyola University Chicago.
Read more about Amanda