Popular Costco Foods That Are Making You Gain Weight, Say Dietitians
Some are downright unhealthy, and some Costco foods can cause weight gain due to their huge portion sizes.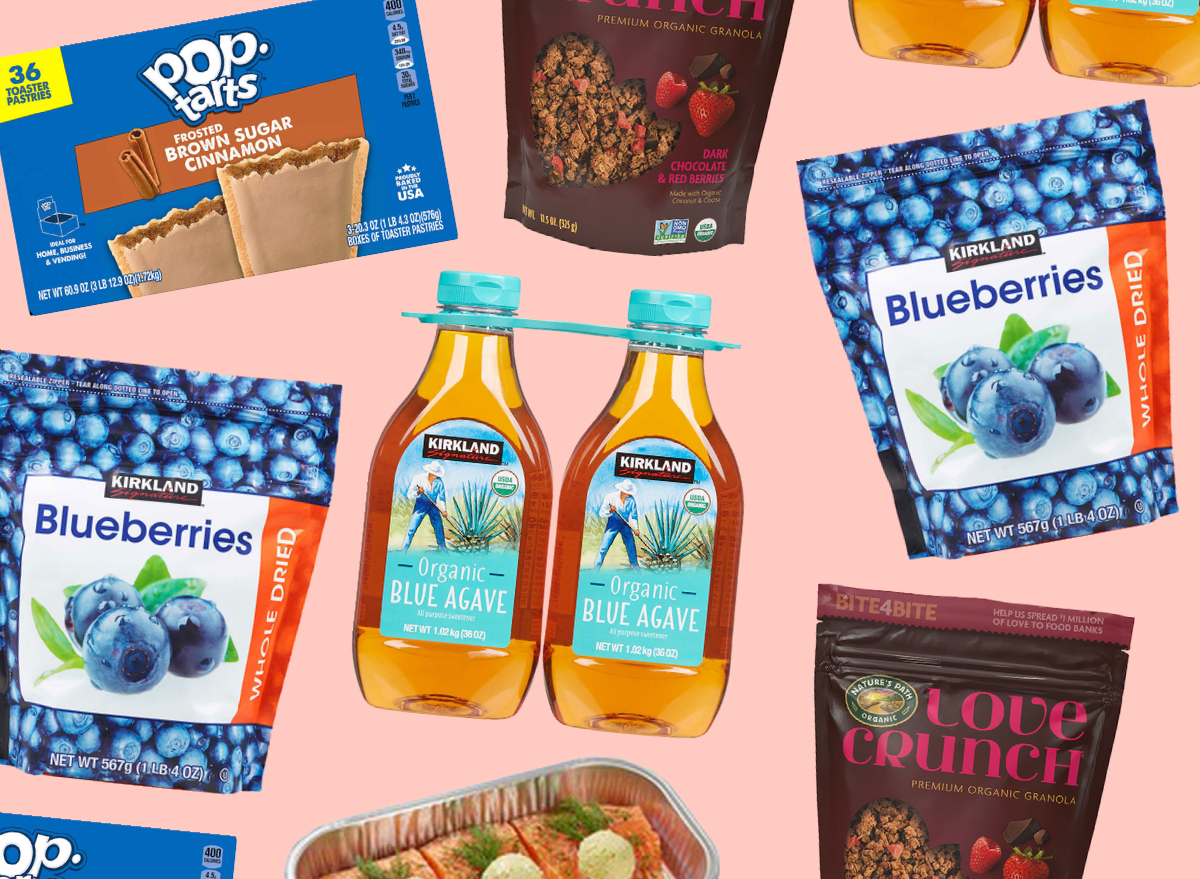 Whether you love buying in bulk or just love the quality that Costco provides its customers, it's an amazing place to get great deals on plenty of food. But if you're trying to lose weight, Costco also sells plenty of food that may derail your weight loss goals.
"There are several foods or products at Costo that are marketed with terms like 'keto' or 'organic', which gives these foods a health halo," says Amber Pankonin, MS, RD, LMNT, registered dietitian and owner of the food blog The Stirlist. "At the end of the day, taking time to read the nutrition facts and paying attention to portion size can help prevent unwanted weight gain."
If you're on a weight loss journey and love to shop at Costco, here are 13 foods you may want to avoid, according to dietitians. Read on, and for more on how to eat healthy, don't miss 7 Healthiest Foods to Eat Right Now.
Kirkland Signature Gourmet Chocolate Chunk Cookies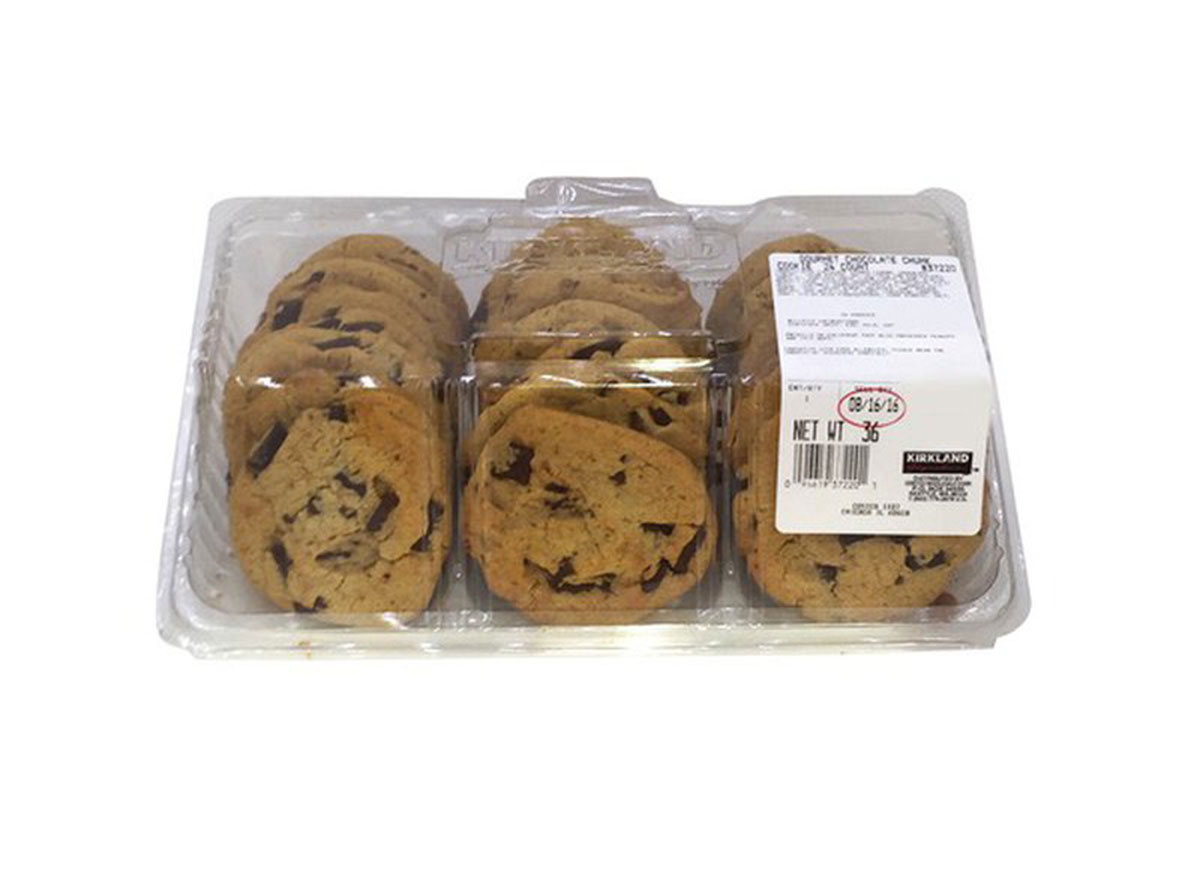 Per cookie
: 210 calories, 11g fat (5g saturated fat), 125 mg sodium, 27 g carbs, 1g fiber, 16 g sugar, 2 g protein
"As someone who loves to cook and bake, I rarely purchase cookies that haven't come out of my own oven. And although I adore my Costco shopping adventures, their cookies wouldn't make it to my shopping cart," says Bonnie Taub-Dix, MA, RDN, CDN, registered dietitian nutritionist and author of Read It Before You Eat It – Taking You from Label to Table.6254a4d1642c605c54bf1cab17d50f1e
"Recommendations from the American Heart Association and within the Dietary Guidelines for Americans suggest that we should try to keep our intake of saturated fat to 10% or less of total calories. Kirkland Signature Gourmet Chocolate Chunk Cookies contain 11 grams of fat, 5 grams of which are saturated fat (that's almost 50% saturated fat). These cookies also contain 16 grams of sugar each – and as a frame of reference, that's equivalent to 4 packets (teaspoons) of sugar."
Nature's Path Love Crunch Premium Organic Granola (Dark Chocolate & Red Berries)
"There are many options for granola at Costco, but this particular granola contains 130 calories for only ¼ cup. Each serving contains 20 grams of carbohydrate and 6 grams of added sugars," says Pankonin. "Personally, I think it can be easy to over-consume cereal or granola. Because this granola contains quite a bit of calories and added sugar per serving, you might want to take this into consideration before purchasing." For some dietitian-approved options, check out The World's 10 Healthiest Granolas.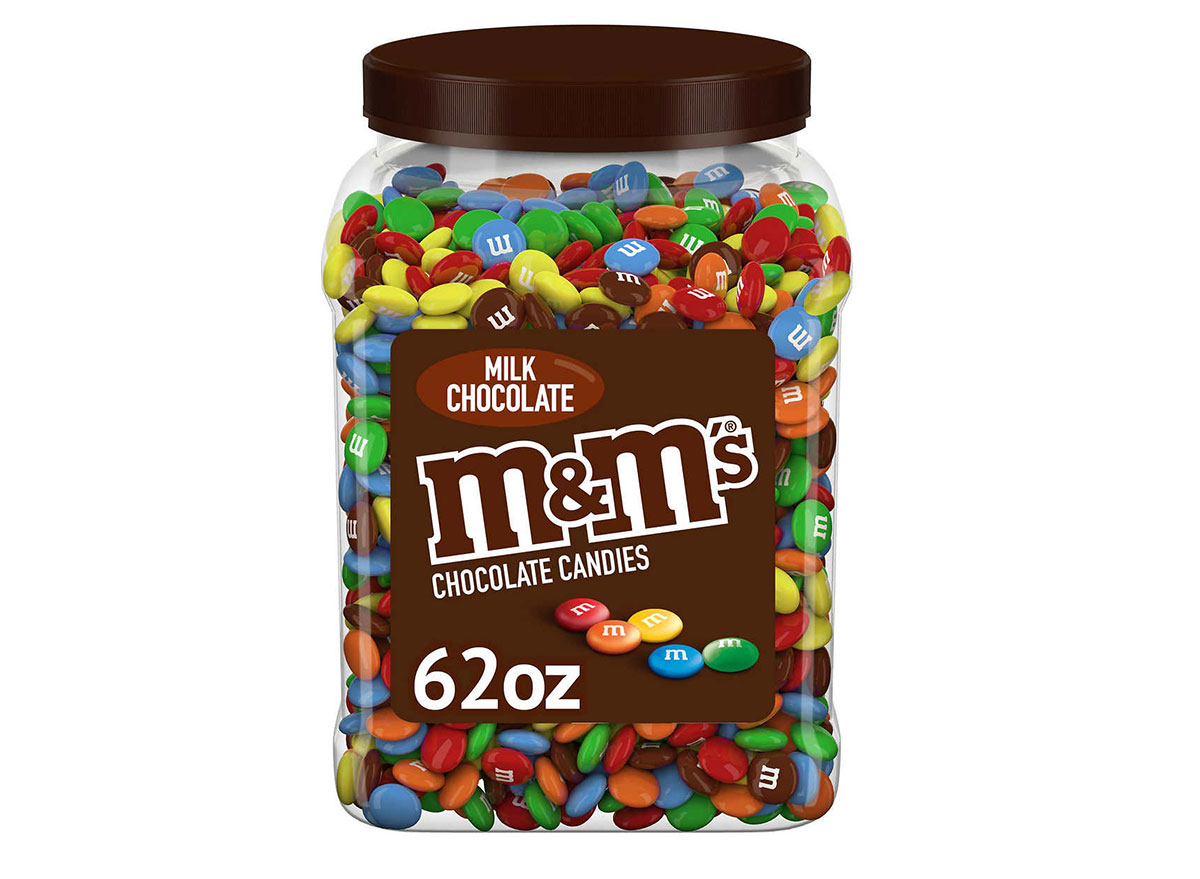 Per serving
: 140 calories, 5g fat (3.5g sat fat), 20mg sodium,20 g carbs, <1g fiber,18 g sugar, 1 g protein
"For one thing, there is no individual packaging that helps you portion this candy," says Jonathan Valdez, RDN, CSG, CDN, founder of Genki Nutrition and media spokesperson for New York State Academy of Nutrition and Dietetics. "Many times I hear from clients, 'Chocolate is my weakness,' and then they go on a binge. This packaging won't help you with your weight maintenance or loss goals."
Kirkland Signature Muffins
Per muffin
: 590 total calories, 29 g fat (6g sat. fat), 0.5 grams of trans fat, 540 mg sodium, 71 g carbs, 2 g fiber, 32 g sugar, 8 g protein
"If you are enjoying one of their muffins every morning for breakfast or for a snack, you may want to rethink your choice. Of course, it's absolutely fine to eat a muffin every now and then, but eating these often may contribute to some weight gain," says Roxana Ehsani, MS, RD, CSSD, LDN, registered dietitian nutritionist based in Las Vegas, Nevada.
"The average adult needs 2,000 calories per day, eating one of these muffins already accounts for over ¼ of your daily calorie needs! Overall, these muffins are high in total calories, unhealthy fat, in added sugar, and are also low in dietary fiber, all of which don't provide your body with a healthy dose of nutrition and may cause weight gain!"
Fratelli Beretta Mt. Olive Antipasto Organic Salami Kit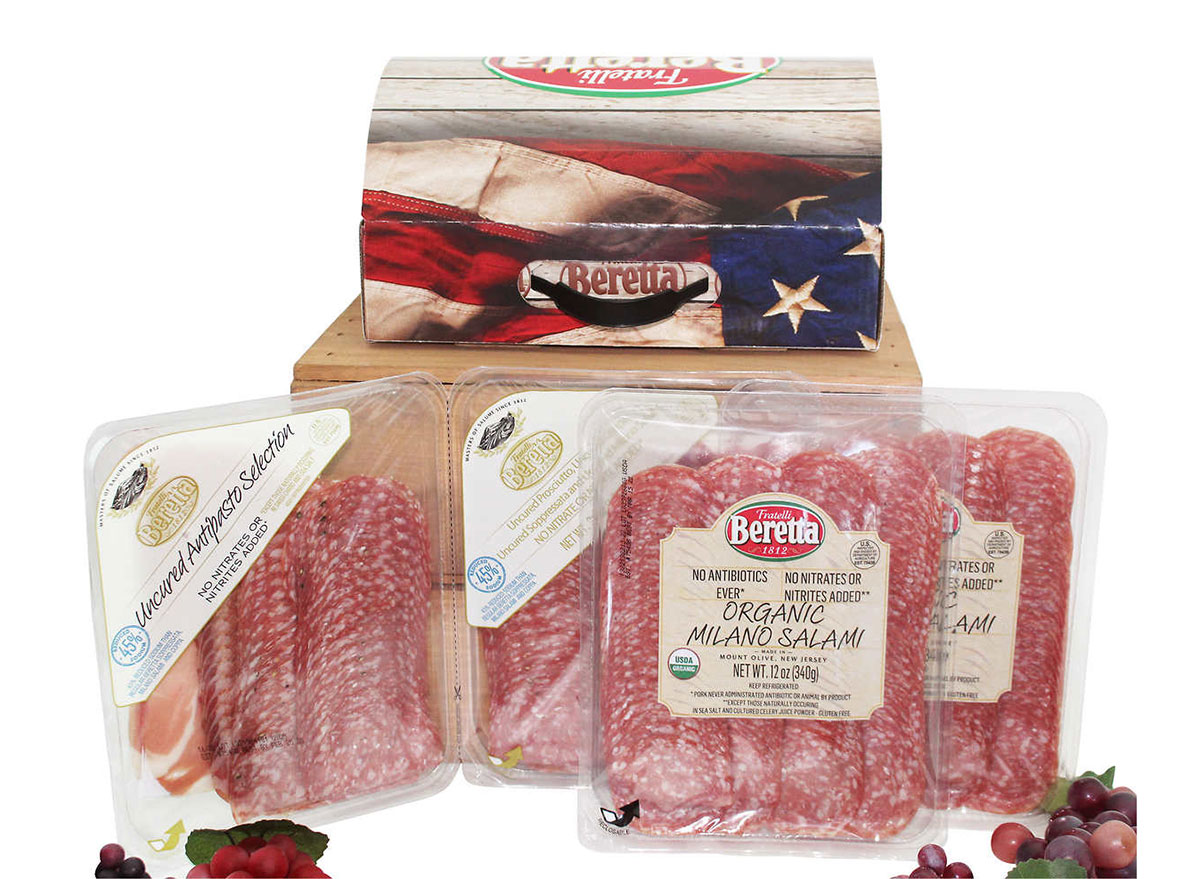 Per serving (2 slices)
: 90 calories, 6 g fat, 2 g saturated fat, 650 mg sodium, 0 g carbs, 0 g fiber, 0 g sugar, 8 g protein
"This salami kit has high total fat, high sat. fat, big portions, a short shelf life of 5-7 days once opened, and high sodium content, which all spell disaster for your weight loss goals," says Valdez. "There are many packages like these that are similar. I only recommend it if you are planning to eat this with a party versus individually or with a small family."
Garden Lites Double Chocolate Muffins
Per muffin
: 110 calories, 3 g fat, 1.5 g saturated fat, 150 mg sodium, 19 g carbs, 1g fiber, 10 g sugar, 4 g protein
"Even though these muffins contain zucchini and carrots, they contain 110 calories and 8 grams of added sugar per muffin," says Pankonin. "They are small, which makes it tough to only eat one. So, if you're relying on something like this to fill you up, you might have to eat several in order to feel satisfied."
Kirkland Signature Salmon Milano with Basil Pesto Butter
Per serving
: 290 calories, 22 g fat, 8 g saturated fat, 430 mg sodium, 1 g carbs, 0 g fiber, 0 g sugar, 21 g protein
"Although this meal sounds delicious, buying pre-made or pre-marinated foods can make it tricky to follow a healthy eating pattern. Although eating seafood like salmon is recommended at least twice per week for its health benefits, but when you add butter to salmon, it makes a healthy food no longer quite as healthy," says Ehsani. "Unfortunately, foods rich in saturated fat like butter are not heart-healthy and may raise your cholesterol levels. So instead of purchasing this package of salmon, instead bake your own salmon filet at home and add a teaspoon of pesto at home yourself or fresh basil instead."
David's Cookie Variety Cheesecake 2-Pack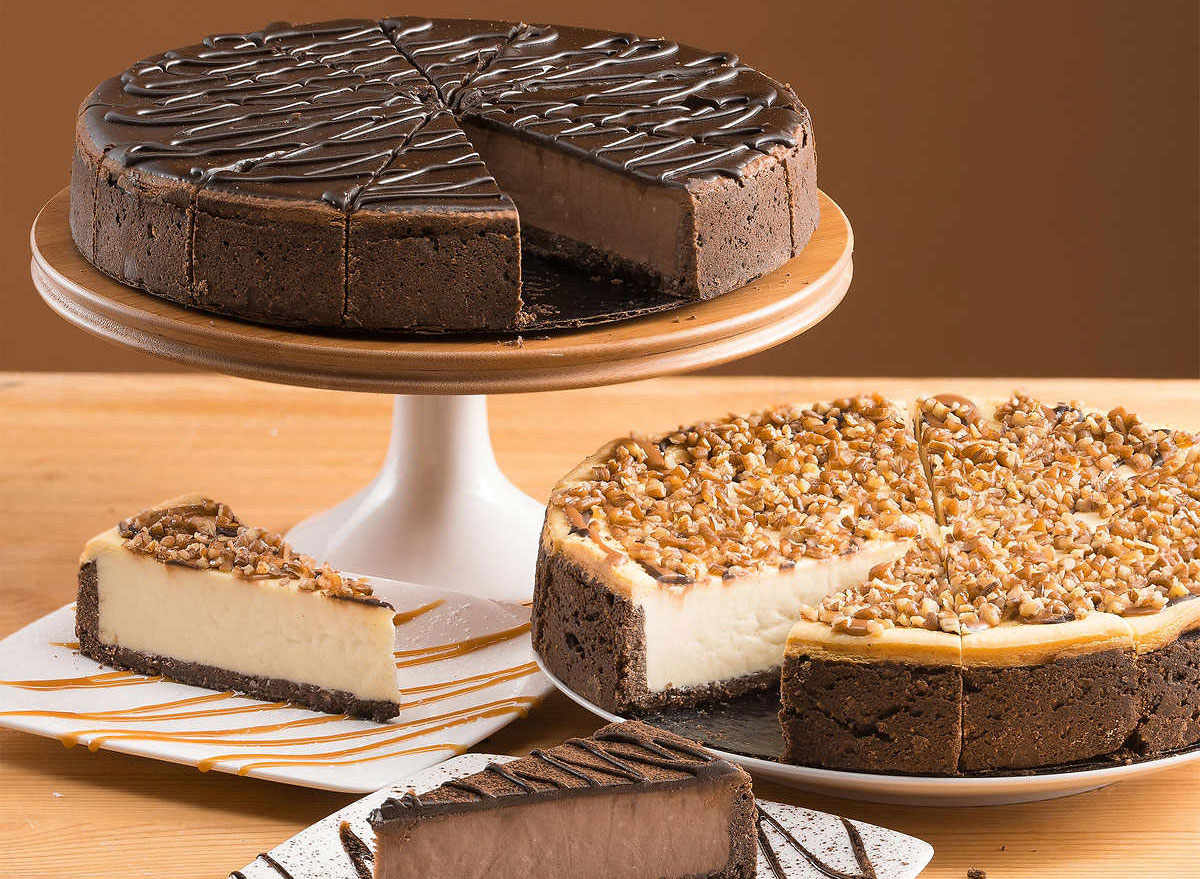 Chocolate Caramel Pecan Cheesecake Slice
: 510 calories, 35 g fat, 18 g saturated fat, .5 g saturated fat, 290 mg sodium, 44 g carbs, 1g fiber, 27 g sugar, 5 g protein
"There are 14 servings in each of these cheesecake pies with a short freshness of 2-3 days from being defrosted. Each serving is 510 calories. So eating this once in a while shared at a party will be okay, but if you're pressed for eating all of it for a small family at home perhaps this dessert isn't the right route, especially for your weight loss goals," says Valdez. "Consider individual slices at your nearest bakery."
Innofoods Coconut Keto Clusters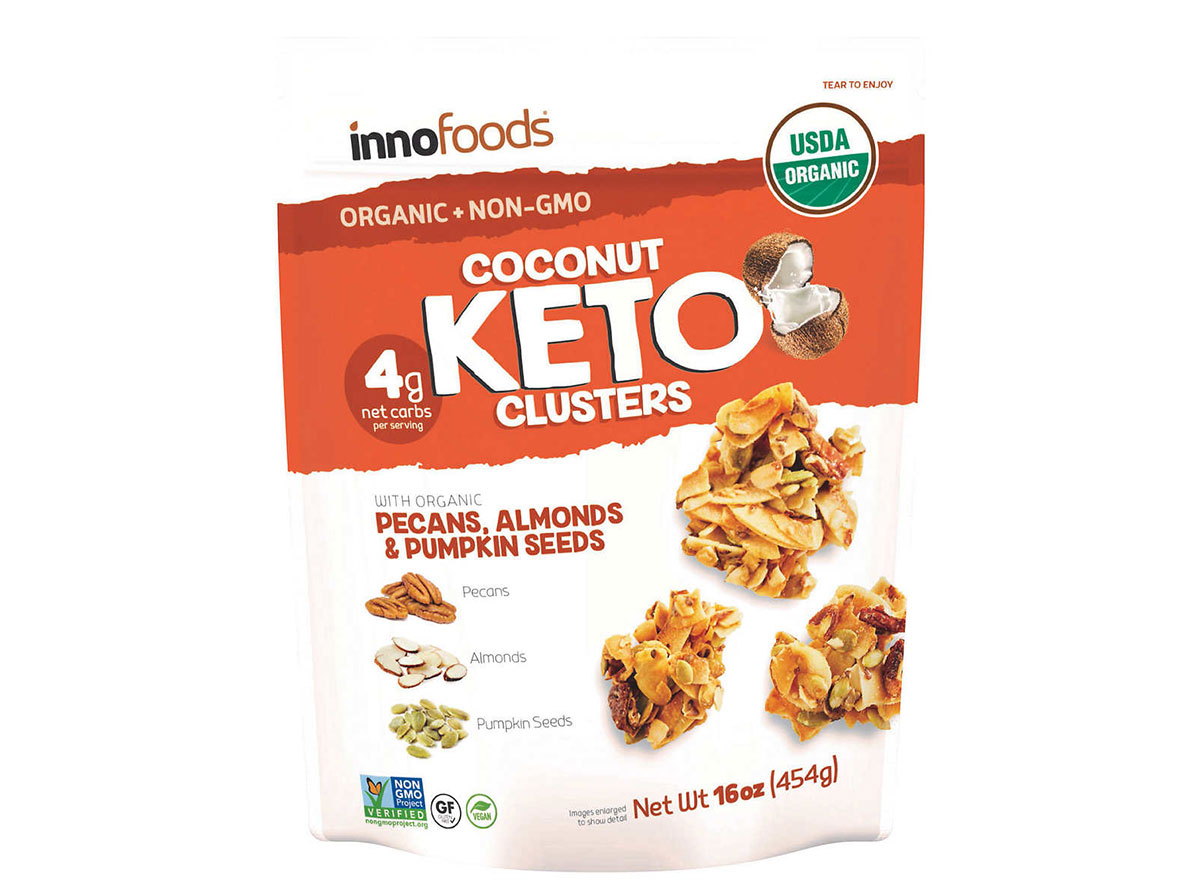 Per serving
: 160 calories, 14 g fat, 8 g saturated fat, 110 mg sodium, 3g fiber, 4 g sugar, 3 g protein
"Even though this product is delicious and labeled as 'keto,' it can be easy to overestimate serving size. These Keto Clusters contain nutritious ingredients like almonds and pumpkin seeds, but portion size matters," says Pankonin. "One serving, which is only 1 ounce, contains 160 calories, 14 grams of fat including 8 grams of saturated fat. If you struggle with mindless eating, snacks like this could cause you to gain weight if you're not paying attention to serving size."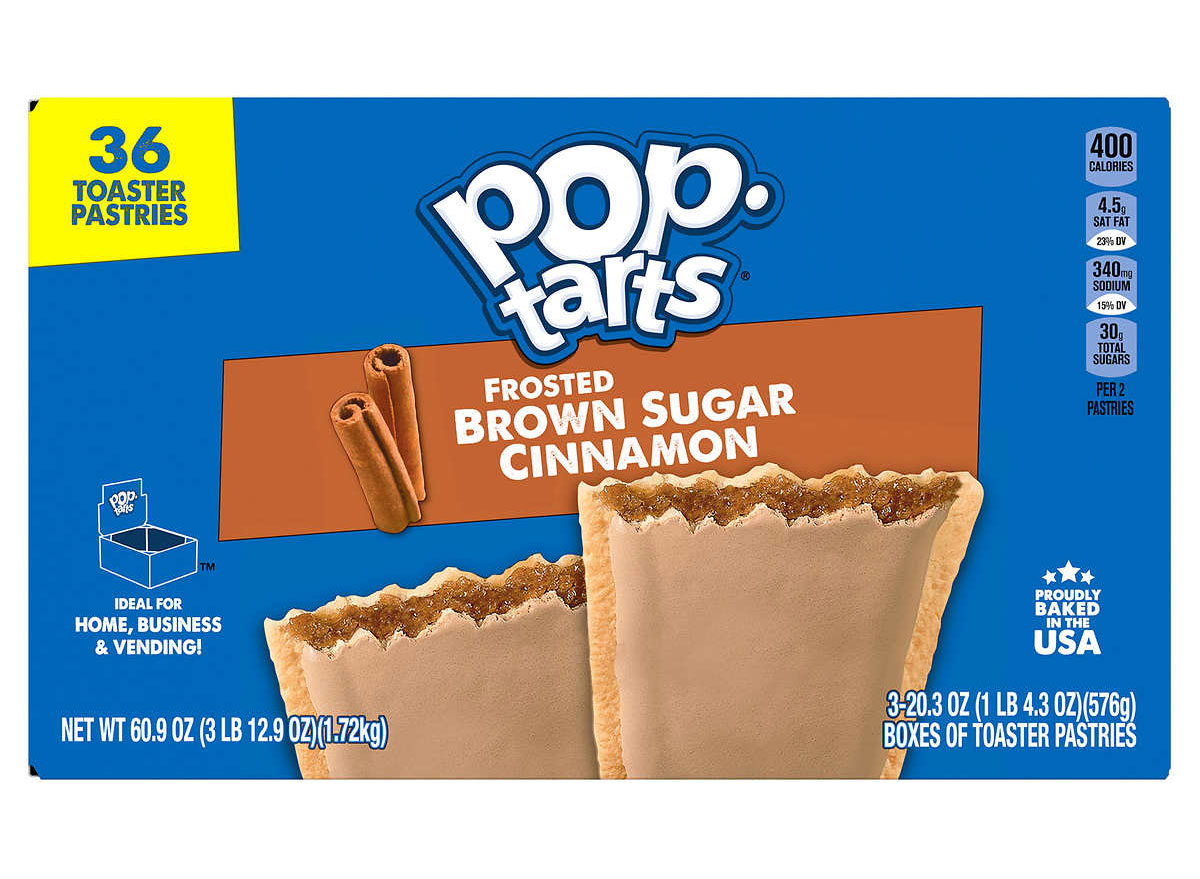 Per 2 pastries
: 400 calories, 13 g fat, 4.5 g saturated fat, 340 mg sodium, 68 g carbs, 1g fiber, 30 g sugar, 4 g protein
"Eating breakfast is one of the most important meals of the day, but plan your breakfast carefully. Although skipping breakfast is worse than not eating at all, having Pop-Tarts, which are high in carbohydrates, total fat, and added sugars with no fiber aren't the go-to option, even on the go," says Valdez. "Instead, think of fruits with skin or regular cereal that could be powered up with nuts and fiber meal, and/or eggs for better alternatives."
Kirkland Dried Fruits (Blueberries)
Per serving (⅓ cup)
: 130 calories, 0 g fat, 0 g saturated fat, 10 mg sodium, 31 g carbs, 2g fiber, 28 g sugar, 1 g protein
"Costco has a huge variety of dried fruits. Just be careful when filling up your cart with all its varieties. Dried fruit is a great and convenient way, especially when on the go, to reach your daily intake, however the serving size for dried fruit is quite small," says Ehsani. "If you're craving a bigger serving, consider switching to fresh fruit instead, your serving size is much larger when you have fresh or frozen, versus dried fruit. Also, fresh fruit provides you with hydration, and added sugar may be added to dried fruit to preserve it and extend its shelf life as well, so be cautious!"
Kirkland Organic Blue Agave
Per serving (1 tablespoon)
: 60 calories,0 g fat, 0 g saturated fat, 0 mg sodium, 16 g carbs, 0 g fiber, 16 g sugar, 0 g protein
"Although Agave nectar is often marketed as being healthier than honey or sugar, it's still a source of sugar," says Pankonin. "In fact, 1 tablespoon contains 60 calories and 16 grams of total sugars. This can really add up especially if you are using it to sweeten coffee or oatmeal on a daily basis."
Pressed Juicery Cold Pressed Juices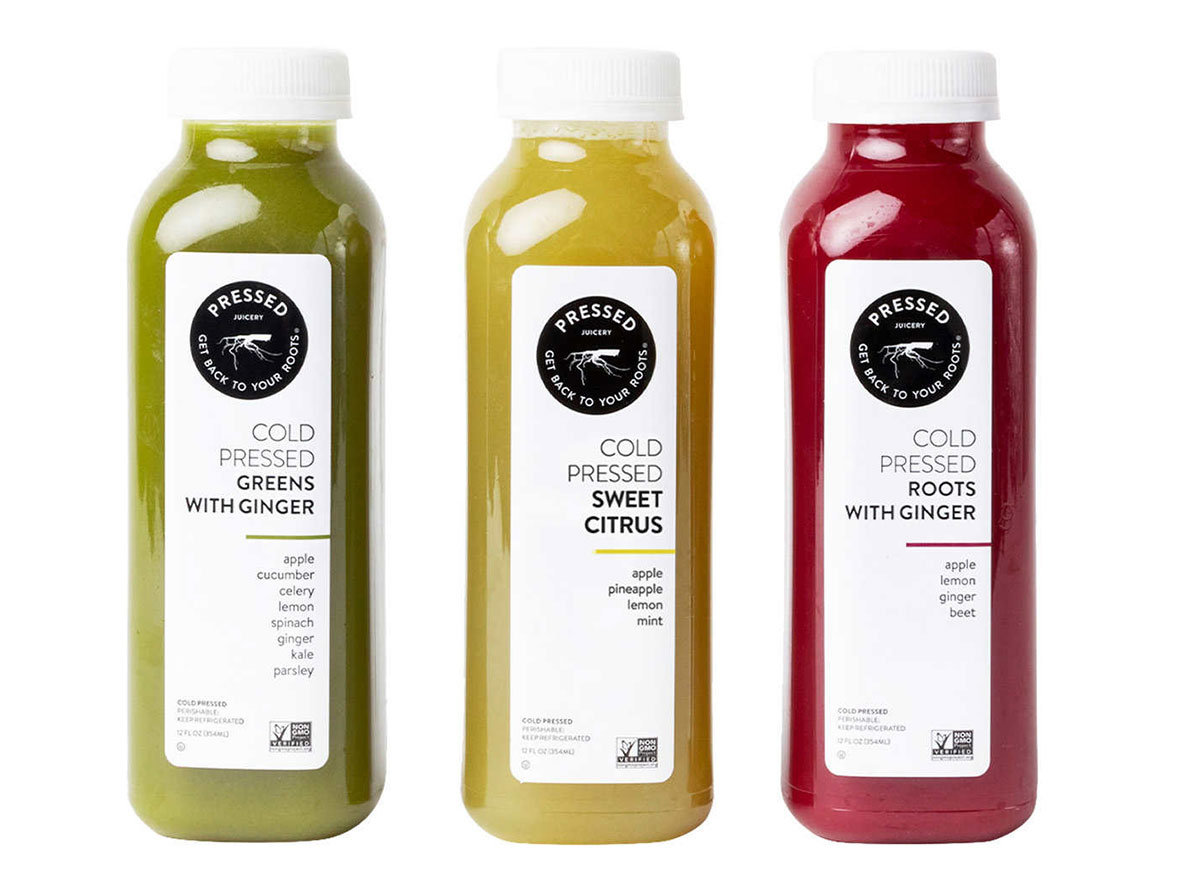 Per serving (1 bottle of Sweet Citrus)
: 180 calories, 0 g fat, 0 g saturated fat, 25 mg sodium, 45 g carbs, 0 g fiber, 38 g sugar, 1 g protein
"Juices are made from fruits and vegetables and oftentimes pack a great dose of vitamins, however drinking juices instead of eating real fruits and veggies, is actually doing your body a disservice," says Ehsani. "The fiber from the fruit or vegetable is extracted, and you are only left with the sweet juice. It's best to instead eat your fruits and vegetables whole so you get the benefit from its dietary fiber and phytochemicals. Finally, be sure to check the serving size on bottles of juice, often times it's multiple servings per bottle, so those calories can add up quickly, which may cause weight gain too." You can add this product to the list of 10 Fruit Juices to Always Leave on Grocery Store Shelves.
Read this next: