Costco's Rumored Membership Fee Increase Rivals Inflation
They both are just over 8%.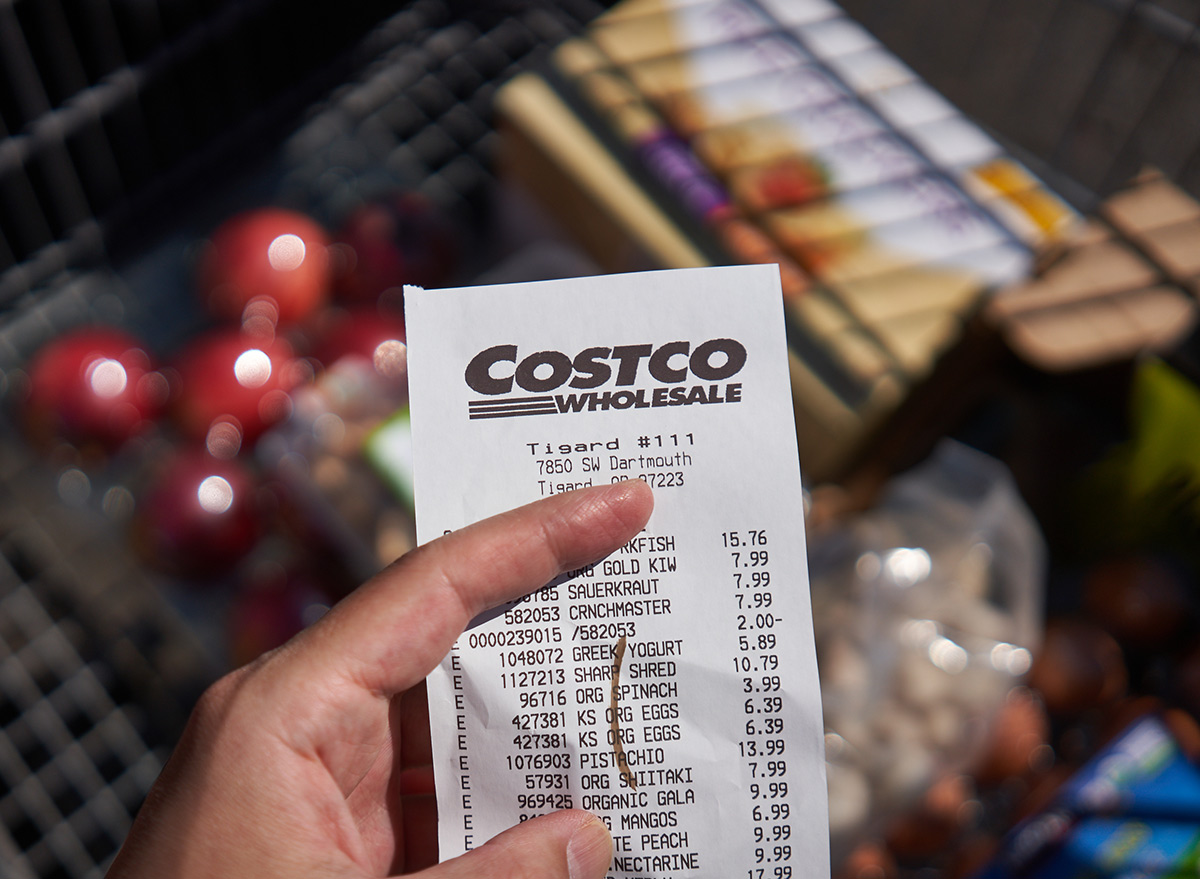 Around 80% of grocery shoppers say they are spending more money on food amid inflation rising, according to a Credit Karma survey published right before the new year. The rate is currently beating a 40-year-old record at 8.5%, according to the U.S. Inflation Calculator, yet no one should expect a quick fix anytime soon—in fact, experts say that prices will continue to climb.
Coincidently, if one legendary pattern repeats itself, Costco members who love the warehouse chain for its low prices may be faced with more expensive access later on in 2022 in addition to these higher grocery costs.
RELATED: These Are Costco's Most Popular Items Right Now6254a4d1642c605c54bf1cab17d50f1e
In the past, Costco has raised its membership fees about every 5.5 years. The last uptick was in June of 2017 when it went from $55 to $60 for the Gold Star Everyday membership and $110 to $120 for the Gold Star Executive membership. Say the same jump of $5 and $10 happens this year and the cost of an annual membership at Costco will go up 8.3%—almost as much as inflation.
In the grand scheme of things that membership fee increase is only $5 or $10, and is a relatively small amount of money compared to what members sometimes spend on a warehouse run.
Comparatively speaking, other parts of the Costco experience are cheap—and always have been. The $4.99 famous rotisserie chicken loses the company money by being so inexpensive. Yet CFO Richard Galanti said in 2015 that Costco is willing to keep the price low.
This is the same reasoning the company employs to cap the hot dog and soda combo in the food court at $1.50. In 2018, one of the co-founders of the big box chain Jim Sinegal told CEO Craig Jelinek to figure out a way to not raise the price since the store is synonymous with the deal. "If you raise the [price of the] effing hot dog, I will kill you," he reportedly said.
In the end, Costco has over 100 million members across the globe, and to each individual, the 8.3% membership increase may not break the bank. However, until the announcement is made it will be looming over every shopper's head, just like inflation—especially when inflation may be to blame for the increased price of one of the most popular items in the warehouse.
Amanda McDonald
Amanda has a master's degree in journalism from Northwestern University and a bachelor's degree in digital journalism from Loyola University Chicago.
Read more about Amanda