A Costco Rotisserie Chicken Shortage Could Be Coming Soon Thanks To This Outbreak
The warehouse chain sells over 106 million a year.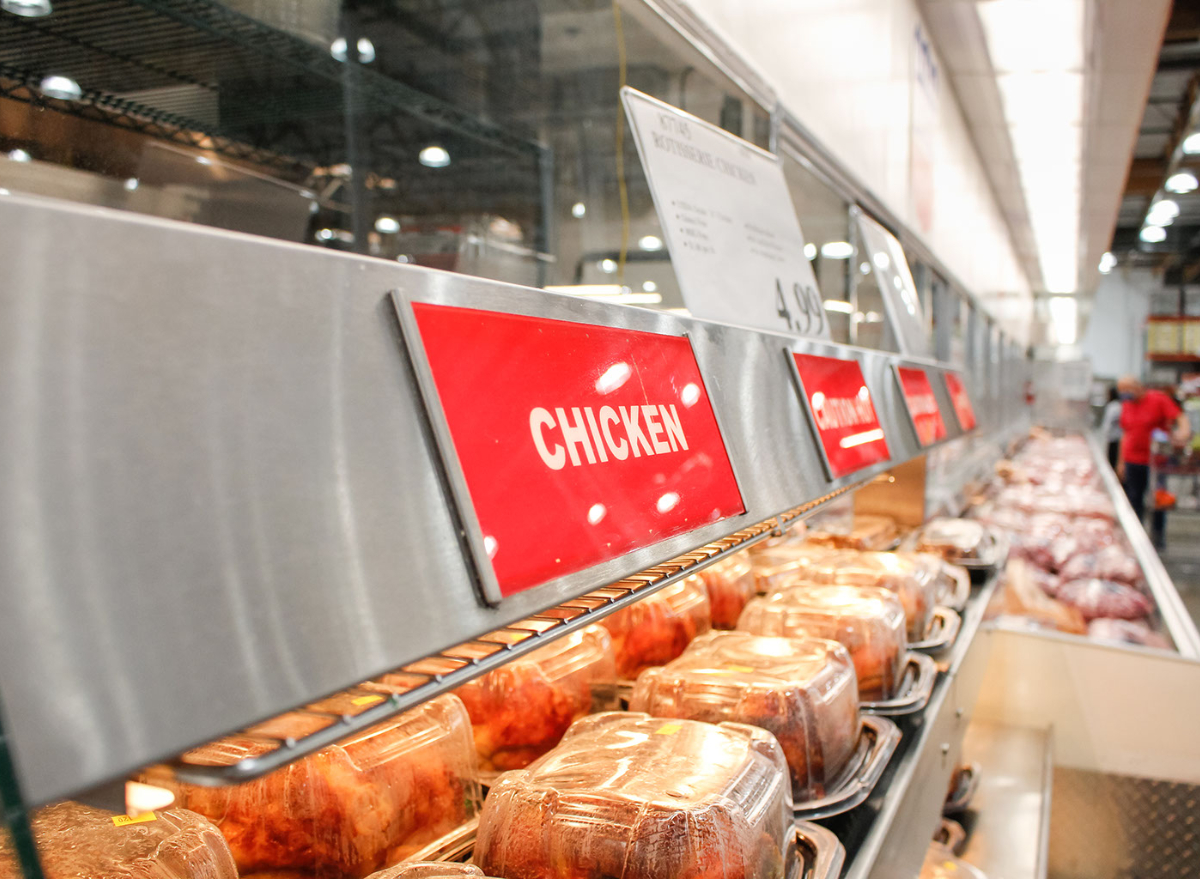 Over 17 million turkeys and chickens around the U.S. have been infected with highly pathogenic avian influenza (HPAI) in the last few weeks, the USDA reports, and it could affect the supply of the most popular item at one of the country's biggest wholesale chains.
Costco sells over 106 million of its beloved rotisserie chickens every year, but the bird flu outbreak has reached some of the company's chicken houses, Forbes reports. In February, over 500,000 chickens in the Nebraska facilities were killed to try and stop the spread but it is still raging on.
"The outbreak is in Costco-sponsored chicken houses, but the consequences of this outbreak will lead to a lot of economic pain for all the farmers involved, including those that have nothing to do with Costco," a neighboring farmer Yolanda Bailey told Forbes.6254a4d1642c605c54bf1cab17d50f1e
Around 25% of the supply of rotisserie chickens for Costco warehouses comes from Nebraska farms. Should these not be able to keep contributing because of infections, there could be millions of fewer rotisserie chickens under the heaters at Costco or they could become more expensive. (The warehouse chain has been criticized in the past for its treatment of the birds on its farms, leading to some suggesting that Costco raise the $4.99 set price and use the profits to maintain better facility standards.)
Right now, even if bird flu cases get under control and drop with the affected farms in a quarantine zone, new birds may not be able to be brought into the Nebraska farms for weeks, making a rotisserie chicken shortage even more possible at Costco. Eat This, Not That! has reached out to the company for more information.
The warehouse chain isn't the only company suffering because of the outbreak. Jennie-O, a brand underneath the Hormel Foods umbrella, is seeing some of its turkeys and chickens become infected. It emphasizes that there is no immediate public health concern, but it could lead to price hikes and/or shortages for things like eggs and meat.
Amanda McDonald
Amanda has a master's degree in journalism from Northwestern University and a bachelor's degree in digital journalism from Loyola University Chicago.
Read more about Amanda