Costco's Popular Rotisserie Chickens May Soon Skyrocket in Price for This Reason
Some Costco members are demanding better treatment of the 100 million chickens the big-box sells each year.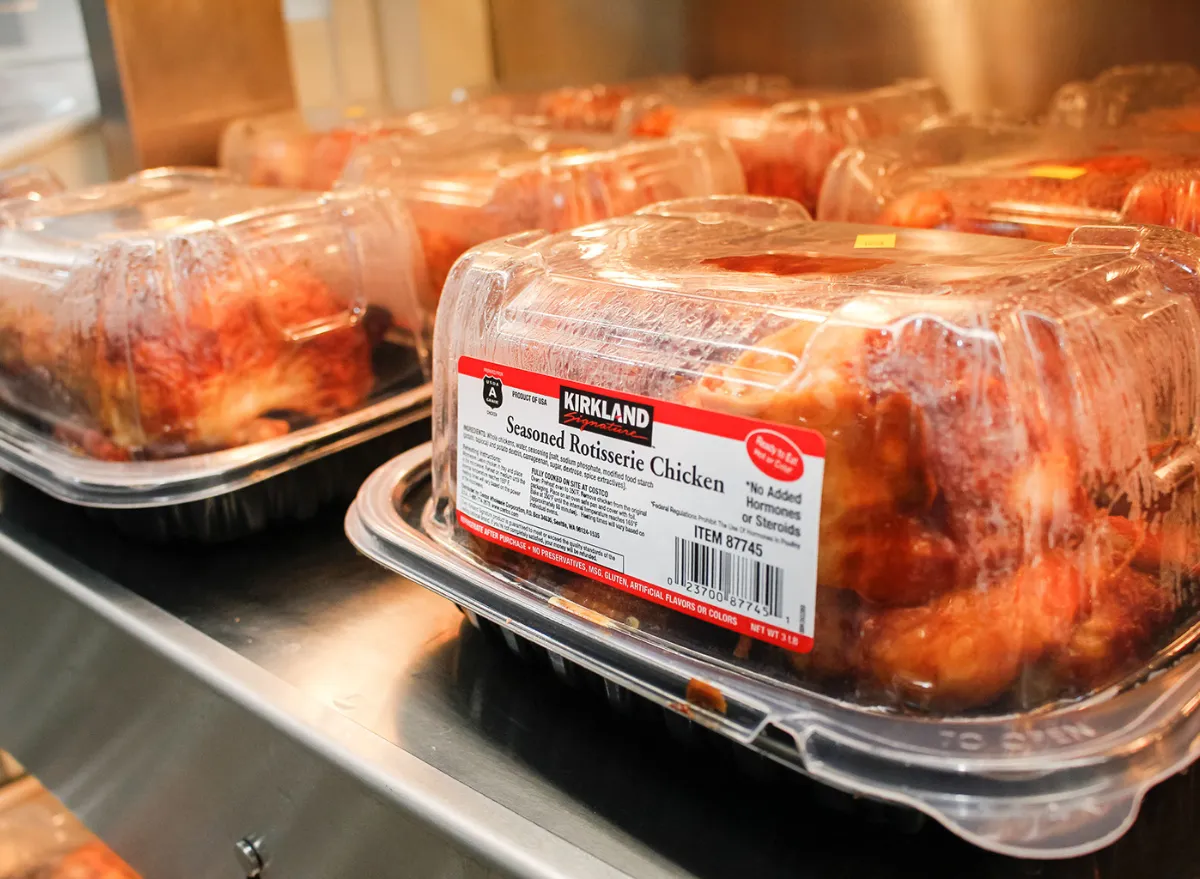 Any Costco member knows that the grocery superstore makes it convenient to feed their family. There are few Costco items quite as convenient as Costco's rotisserie chicken, which for years has worn the notoriously affordable price tag of $4.99. But now, as rumors suggest an imminent increase in the price of Costco's rotisserie chicken, some Costco shoppers—along with animal welfare advocates—are demanding that the store should use that likely profit margin to revise their supply chain practices. That's because some Costco customers have heard that the chickens Costco sells aren't treated very kindly.
In February, the New York Times published an opinion piece by columnist Nicholas Kristof, who shared the findings of an undercover investigation of a Nebraska farm where Costco chickens are raised. The investigator, who was affiliated with the animal rights group Mercy for Animals, reported having discovered thousands of chickens living in "a hot humid cloud of ammonia and poop mixed together" in tight quarters.
Kristof noted that these conditions are just one aspect of how suppliers for grocers like Costco, Walmart, and others treat their chickens. Some chickens are also fed to grow aggressively and disproportionately—Kristof wrote:
"The journal Poultry Science once calculated that if humans grew at the same rate as these chickens, a 2-month-old baby would weigh 660 pounds. The chickens grow enormous breasts, because that's the meat consumers want, so the birds' legs sometimes splay or collapse."
Kristof also mentioned that Costco sells 100 million of these chickens each year, all for less than five dollars. Past reports have suggested that Costco actually sells these chickens at a loss of as much as $40 million per year—according to The Daily Meal, Costco holds the chickens at this price point because "the low-cost meal keeps members happy and foot traffic high."
Today, it sounds like not all Costco members are indeed happy about this alleged inhumane treatment of chickens within Costco's supply chain. As CNBC and Business Insider have reported in recent months that Costco executives have hinted at how expensive it is for Costco to offer the rotisserie chickens for $4.99—and as the mega-grocer has boasted record-breaking sales growth in recent months, while Costco executives are said to make hefty seven-figure salaries (CEO Craig Jelinek reportedly earns $8 million a year)—some Costco members are recognizing the impact their shopping can have on millions of animals.6254a4d1642c605c54bf1cab17d50f1e
The animal rights group, the Humane League, told us that one Costco member in the supermarket's home-base of Seattle started his own petition, which has over 124,000 signatures (and growing). A contact at the Humane League said this member plans to drop off his petition signatures to Costco's headquarters in person this Monday.
Further, starting yesterday, a mobile billboard featuring footage of the Mercy for Animals investigation reportedly started making its rounds throughout Seattle. Our Humane League source told us that a demonstration is also scheduled to take place at a Seattle Costco on Sunday.
Costco has taken a responsible stand on social issues in the past when some products it's carried have seen controversy (such as this cheese, this coconut milk, and even these eggs). Now, organizations are calling on them to do the same with the Costco-brand Kirkland rotisserie chickens. The Human League reports: "Hundreds of companies including Whole Foods have adopted the leading set of chicken welfare standards, the Better Chicken Commitment. It's expected that Costco is planning to do the same, as they should."
We reached out to a representative at Costco, who declined to comment.
For the grocery news that matters to you, sign up for the Eat This, Not That! newsletter.
Keep reading:
This Plant-Based Fast Food Chain Is About To Double Its Locations
Krissy Gasbarre
Krissy is a senior news editor at Eat This, Not That!, managing morning and weekend news related to nutrition, wellness, restaurants and groceries (with a focus on beverages), and more.
Read more about Krissy