9 Secrets Denny's Doesn't Want You to Know
Those eggs on your plate have a little secret.
Denny's has been serving up plate after plate of low-cost short order meals for nearly 70 years, having been founded in California back in 1953. Today, there are a stunning 370 locations in California alone, and there is a Denny's in every single state except Delaware and there are even a number of Denny's locations overseas. So clearly the diner-like chain is doing a few things right.
Though Denny's serves tens of thousands of diners daily, a few of those guests may think twice before ordering their next endless breakfast once they read these nine secrets Denny's would rather not have on the table. It turns out you don't spread across (almost) all 50 states and stick around for seven decades without a few less-than-tasty parts of the story emerging.
Plus, don't miss 10 Secrets Panera Bread Doesn't Want You to Know.
Denny's uses powdered or bagged eggs for most egg dishes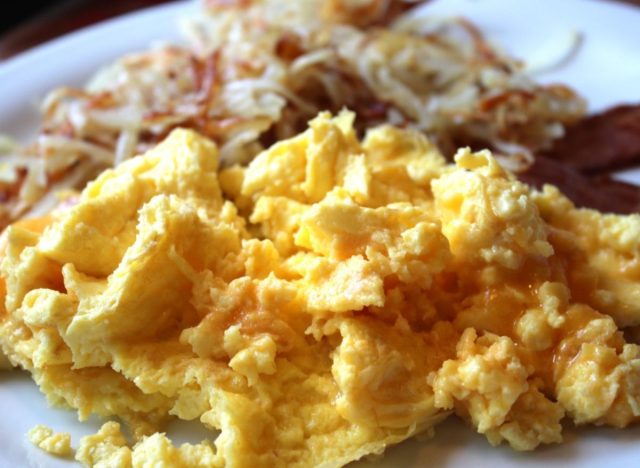 According to FUDiabetes, Denny's uses powdered eggs or an egg mix for many of its dishes.  In fact, unless you specifically ask for "real" eggs or "shell" eggs you will most likely get processed eggs used for everything except fried eggs with unbroken yolks.
Lots of terrible things have happened at a Denny's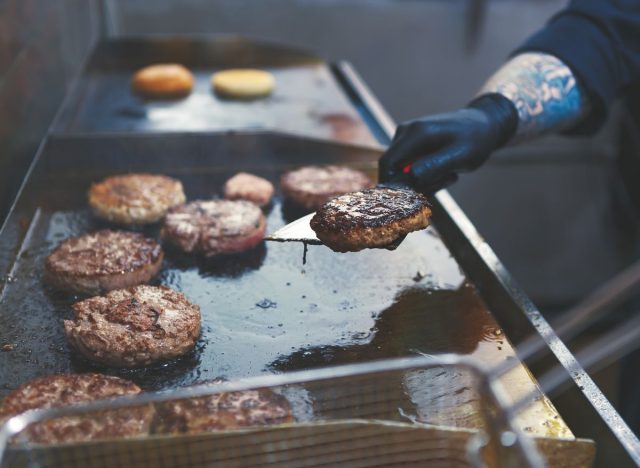 When a location has been around a long time, it's only natural that a few good and a few bad things have happened there. But Denny's seems to be unique in that a ton of bad things have happened in different locations. So many bad things have happened that Ranker, a site that allows users to rate different things including products and ideas, has a page dedicated to those things. We cannot go through all of them because of space and because some are too horrid to mention in a family-friendly article. One funny one, though, is the story of the man who walked in, claimed to be a new worker, and cooked himself a burger. Spoiler alert: He was not a new worker, just a guy hankering for a self-cooker burger.
You can get an AARP membership for 15% off at Denny's (regardless of age!)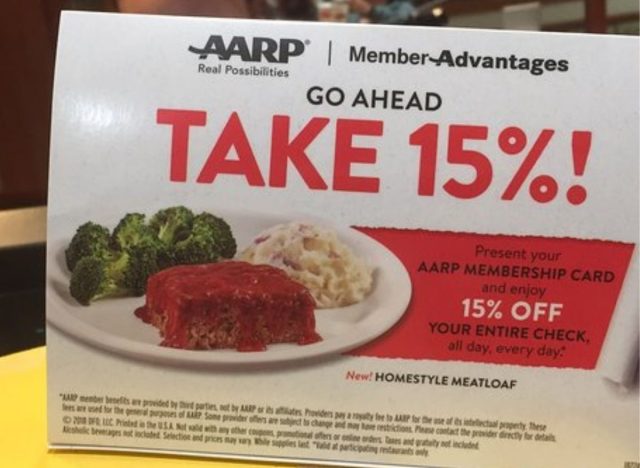 According to The Krazy Coupon Lady, if you are an AARP member you get 15% at most Denny's locations. The best part? You don't even need to be older than 55 because anyone can get a membership, regardless of age. Membership starts at only $12 per year! If you're a frequent Denny's patron that could really pay off.
Denny's has a history of racism
In 1994, Denny's paid out a whopping $54.4 million to settle a discrimination suit, according to the Los Angeles Times. The chain was accused of repeated racist behavior, such as seating customers of color apart from white diners and asking black guests to prepay for meals. You might think this 30-year-old story would be over, but according to Essence, the same thing happened as recently as 2020 when a Denny's waitress asked some black guests to pay before they were served.6254a4d1642c605c54bf1cab17d50f1e
The famous Grand Slam breakfast is a slam to your health
Sure, the price is right, but the classic Denny's Grand Slam breakfast meal is like taking a baseball bat to your health and wellbeing. According to Nutritionix, a Denny's Grand Slam meal packs in 844 calories, more than half of which (477) are from fat. It has 1,626 milligrams of sodium, 15 grams of saturated fat, and a ghastly 654 milligrams of cholesterol, on average.
You can get free refills on almost any beverage, but servers won't offer it.
With the obvious exception of milkshakes and smoothies, you can get unlimited free refills of just about any beverage at Denny's, according to The Krazy Coupon Lady. While your server may only offer refills on coffee, you can ask for another serving of soda, lemonade, iced tea, and so on, and you'll only see one beverage on the bill.
They have a ways to go with some humane animal-raising practices
In 2016, Denny's pledged to source all of its eggs from 100% cage-free sources by 2026. As of 2022, they are only 30% of the way towards this goal. They also "continue to emphasize" choosing "polled breeding stock versus the practice of dehorning cattle" but do not mention a percentage. Likewise, in terms of sourcing chicken, they pledge to use "strains of birds that demonstrate higher welfare outcomes" by 2026. Lastly, in terms of where they source their pork, they have only been able to assure that 32% of the pigs they source do not spend their lives in inhumane, confined gestation crates. All of this is according to their own website.
The Lumberjack Slam is a terrible deal… for Denny's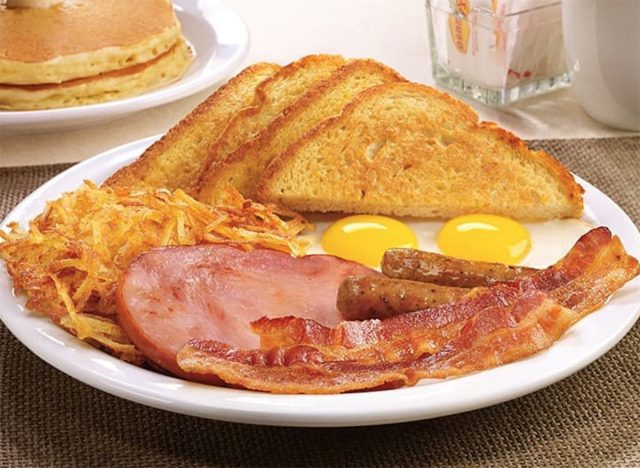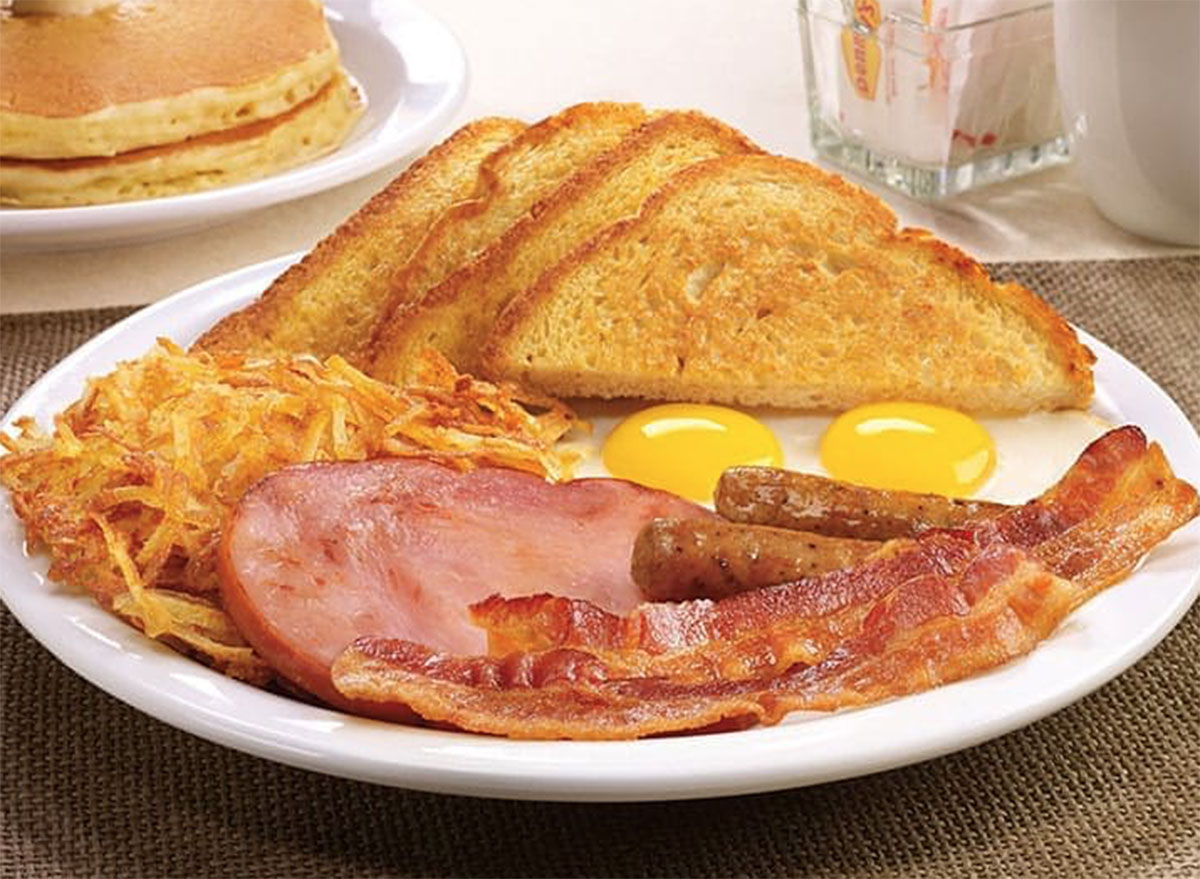 If you're looking to eat big and save big, too, then your best bet at a Denny's is the Lumberjack Slam meal, according to The Krazy Coupon Lady. Priced at $12.79, the meal represents a savings of nearly 40% compared to what you would pay if you ordered each item it contains—which are two pancakes, two eggs, four rashers of bacon or pieces of sausage or ham, and two slices toast—a la carte. That would run you $21.14. But beware, it also has close to 1,000 calories, 45 grams of fat, and 3,500 milligrams of sodium. So that bargain could be bad news for your health.
Denny's milkshakes are calorie bombs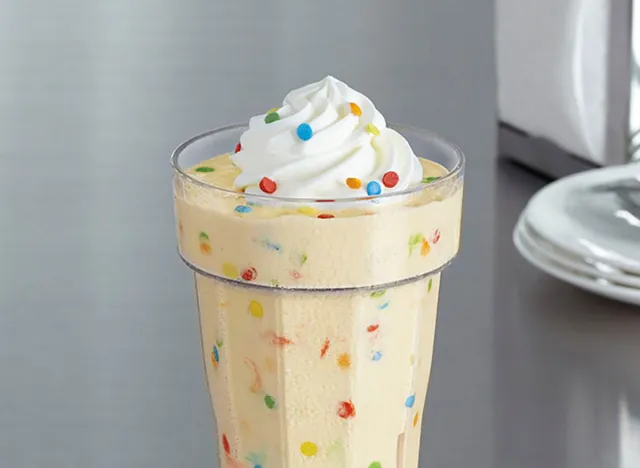 A 21-ounce portion of the restaurant's Cake Batter Milkshake contains an astounding 1,310 calories, 69 grams of fat, 38 grams of saturated fat, and the sugars are off the charts. Stick with food if you choose to dine at Denny's at all, with water and coffee as your go-to liquids. And always ask for healthier shell eggs.
A previous version of this article was originally published on May 3, 2022.
Steven John
Steven John is a freelancer writer for
Eat This, Not That!
based just outside New York City.
Read more about Steven