The Cheapest Eats in Every State
If you're tired of the same old boring hamburger, here are the spots to seek out.
Traveling often means stopping at gas stations or fast-food restaurants to have a quick, cheap meal before hitting the road again. If you're tired of the same old boring hamburger and are sick of feeling sick from bags of chips, consider trying a local restaurant where you can get an entire meal or massive dessert for under $10. These cheap eats are budget-friendly, allow you to take a break, and oftentimes try a regional dish that you can't find anywhere else. These are the best cheap eats in every state. Plus, if your goal is a healthy road trip, be sure to avoid the Unhealthiest Restaurant in Every State.
ALABAMA: Archibald and Woodrow's BBQ in Tuscaloosa
Barbecue is a Southern staple and in Alabama, no one does it better than Archibald and Woodrow's BBQ. While you might be tempted by the ribs or chicken, the real hidden gem on the menu is the pork sandwich at just $6.99. It's served with a tangy bbq sauce that will keep you coming back for more.
Sign up for our newsletter for more food news and to discover new restaurants.
ALASKA: Lane's Quickie Tacos in Fairbanks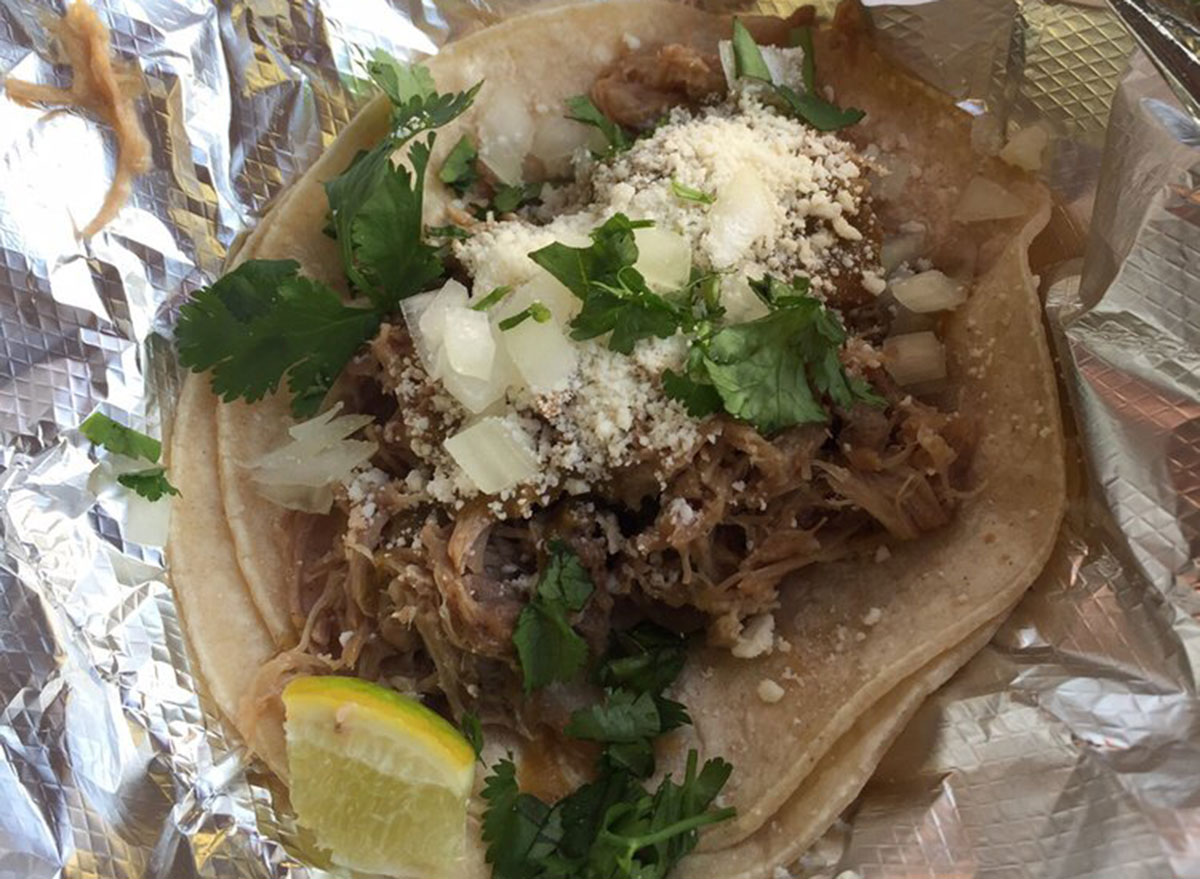 Lane's Quickie Tacos in Fairbanks is serving up authentic Mexican street tacos at the low cost of $5 each or two for $9. Traditional toppings like white onions and cotija cheese are on most tacos, but others have toppings like roasted poblano cream sauce.
ARIZONA: Short Leash Hotdogs in Phoenix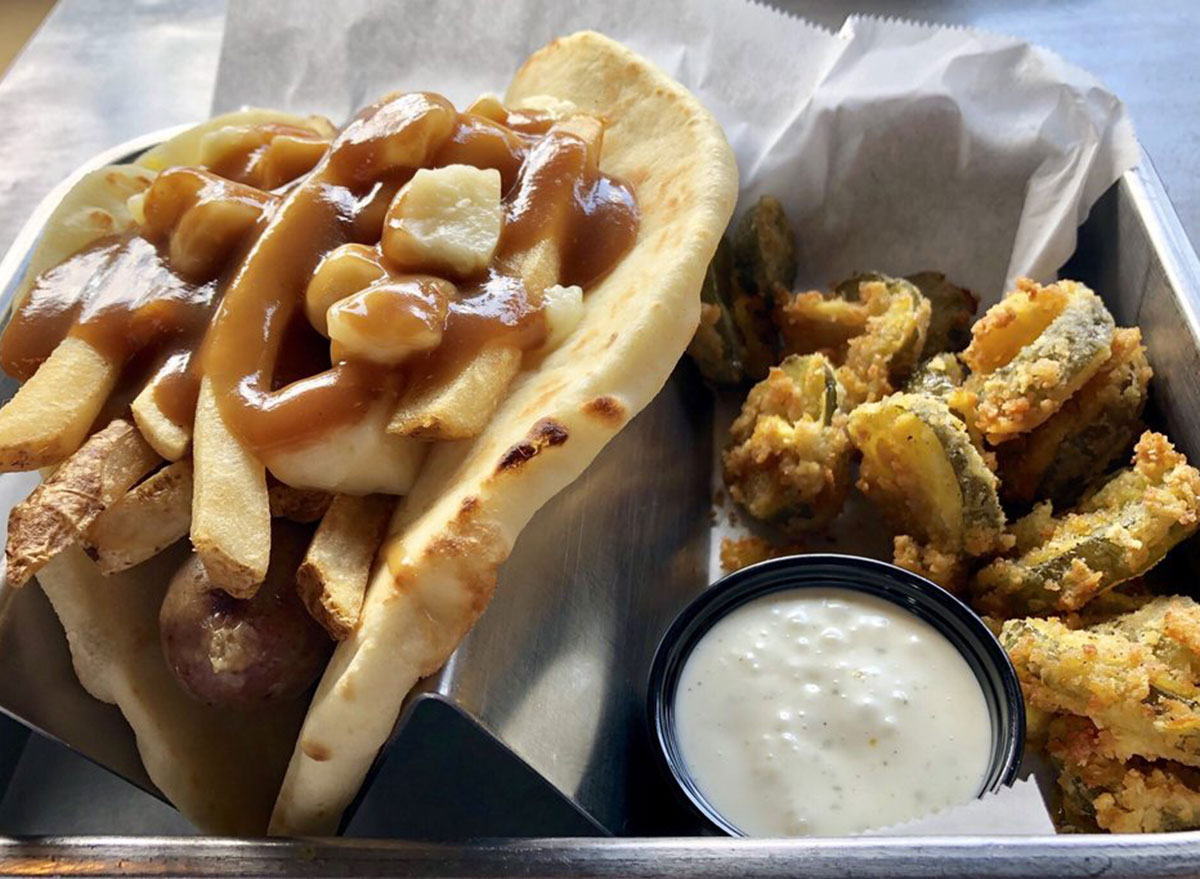 Hot dogs are an American street food favorite and at Short Leash Hotdogs they are topping the humble sausage with just about anything. All of the restaurant's signature dogs are $9 and served on naan bread instead of a hotdog bun. One option we can't get over is the "Lady" dog with chipotle cream cheese, sautéed onions, and fried pickles.
ARKANSAS: Three Fold in Little Rock
Noodle bowls are always a favorite cheap eat, and at Three Fold in Little Rock, the massive bowl of noodles and toppings will set you back $7.29. For a few more cents you can get a dumpling bowl with your choice of protein and dipping sauce for $7.89.
CALIFORNIA: The Great White Hut in Glendale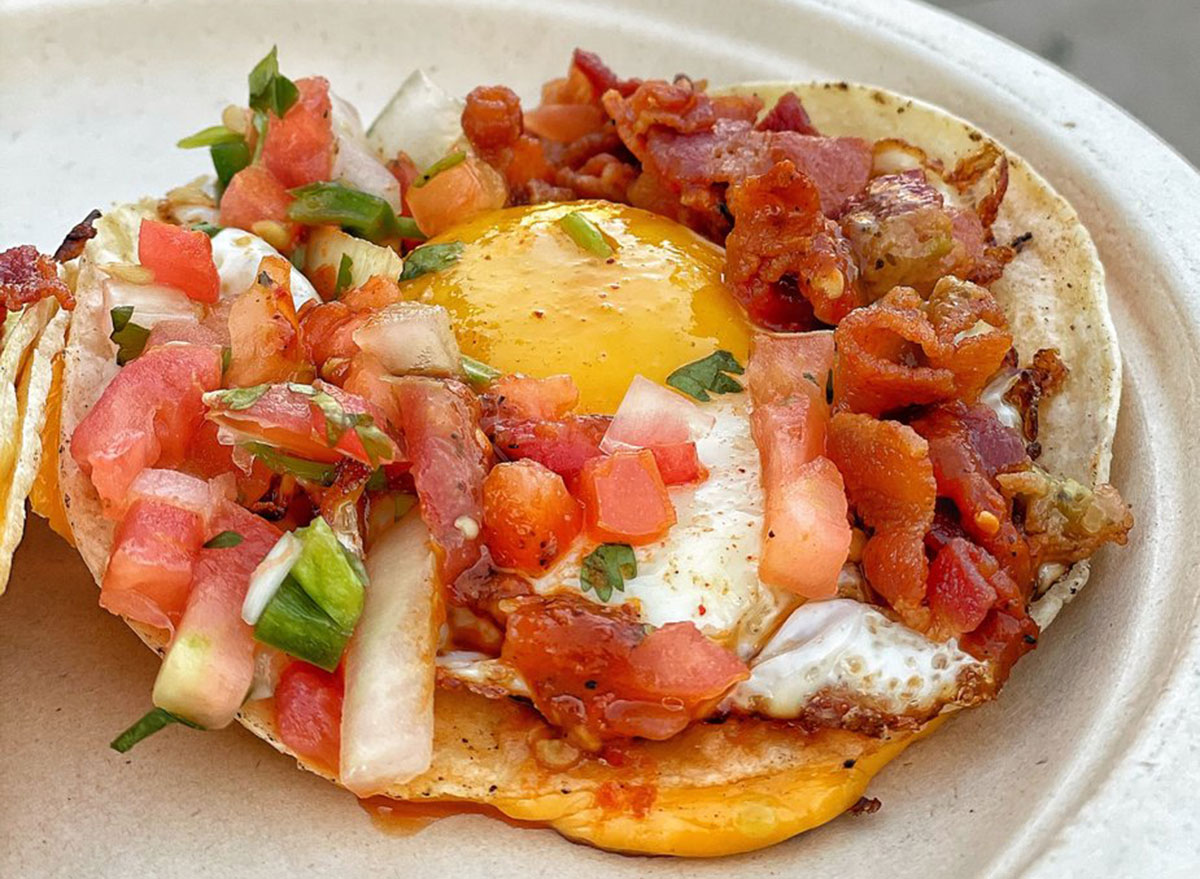 If you're in California for breakfast consider heading to The Great White Hut, which has been open since 1947. One of the signature items is the breakfast taco which is a corn tortilla loaded with eggs, bacon, cheese, pico de Gallo, and your choice of salsa for just $3.95.
COLORADO: Drifter's Hamburgers in Colorado Springs
You'll find Drifter's Hamburgers in Colorado Springs. The counter-service restaurant is serving super cheap burgers at just $2.39 and a side of fries will set you back another $1.70. Each burger is topped with Drifter's house dressing, tomato, lettuce, and onion.
CONNECTICUT: Mamoun's Falafel Restaurant in New Haven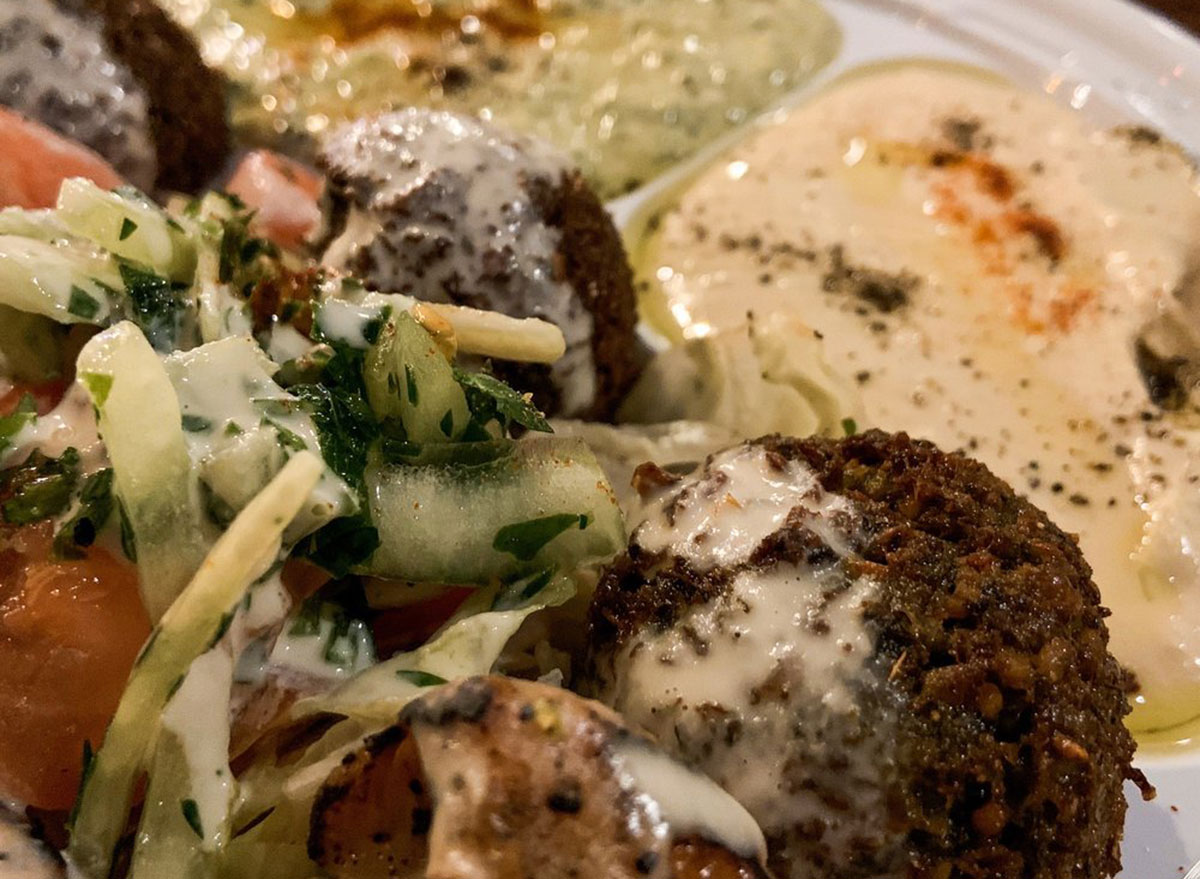 Good Middle Eastern food can be hard to come by, but at Mamoun's Falafel Restaurant the food is fresh and delicious. The signature falafel sandwich starts with a warmed pita and stuffs it full with falafel, salad mix, and tahini for just $4.35!
DELAWARE: Maiale Deli in Wilmington
If you're anything like us then you're hitting up as many restaurants that have been on Diners, Drive-Ins and Dives as possible. One in Wilmington that also has plenty of cheap eats is Maiale Deli. The Thai curry chicken sausage sandwich was the one that had host Guy Fieri hooked on the restaurant. The sandwich is served with spicy sriracha mayo and Asian sesame slaw for $8.95.6254a4d1642c605c54bf1cab17d50f1e
FLORIDA: Hazel's Hotdogs in St. Augustine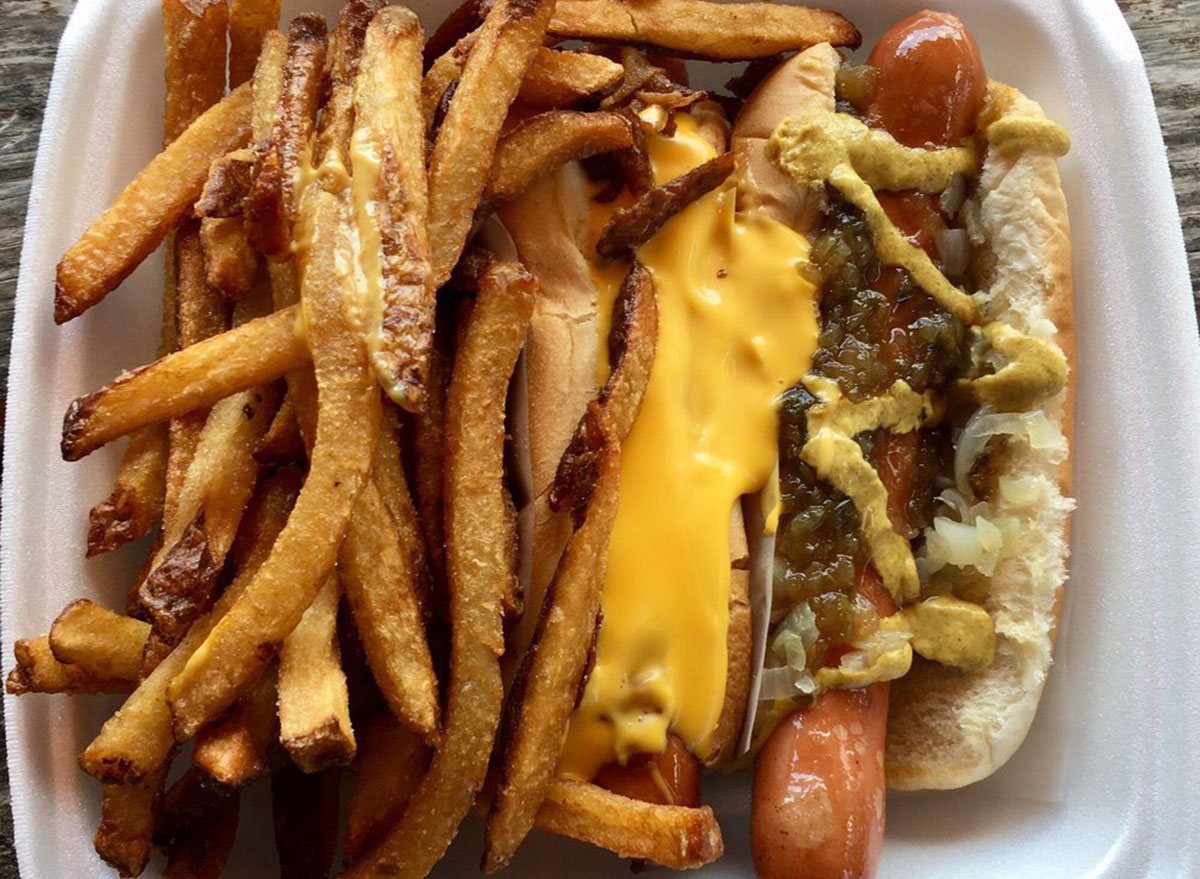 Hazel's Hotdogs is a St. Augustine must-do. The small hot dog stand on the outskirts of the historic downtown area often has a line of people waiting for fresh dogs, hand-cut fries, and perfect milkshakes. The combo of your choice of hotdog, fries, and a drink is just $4.50.
GEORGIA: Eats on Ponce in Atlanta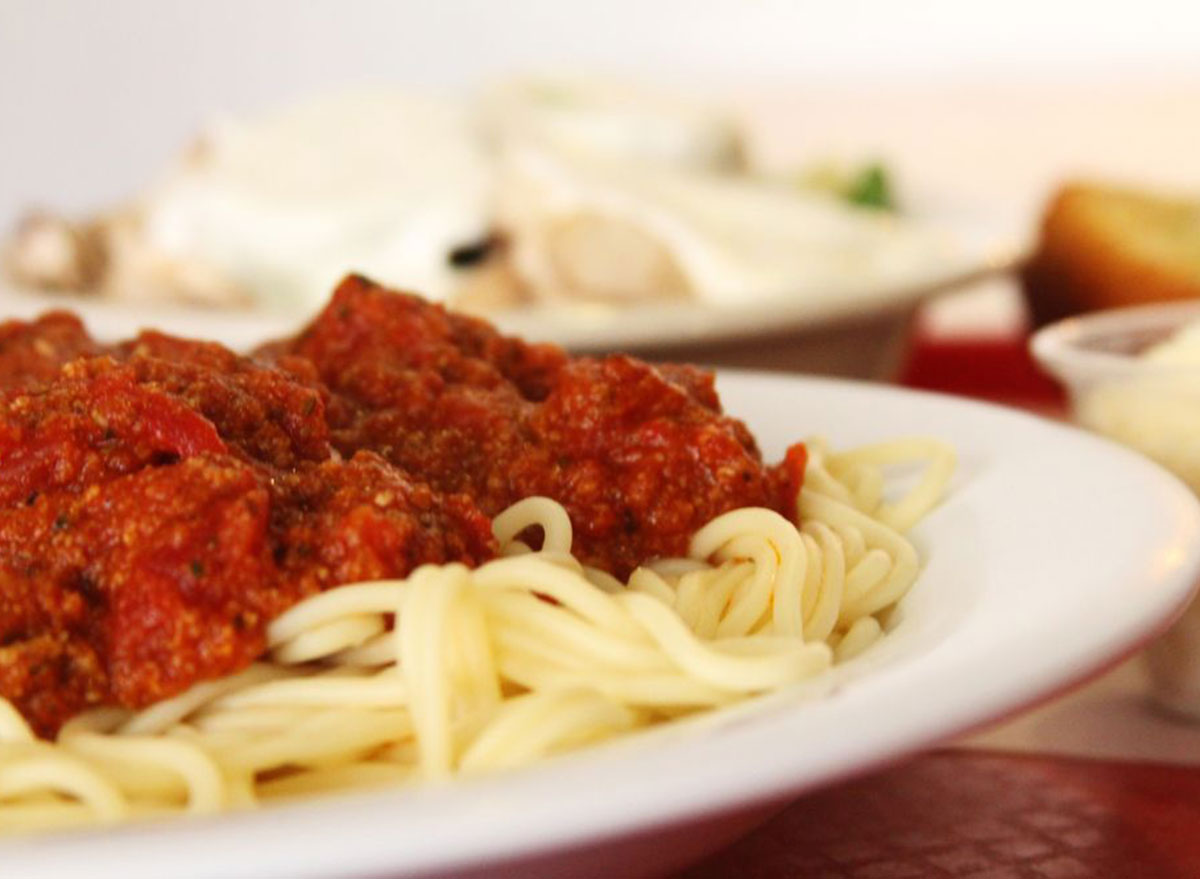 Jamaican staples are the stars at Eats on Ponce in Atlanta. Half a jerk chicken will cost you $5.25 with a few dollars left of the $10 cheap eats budget for a side or two for $2.50 or a piece of $.50 cornbread.
HAWAII: Musubi Cafe IYASUME in Honolulu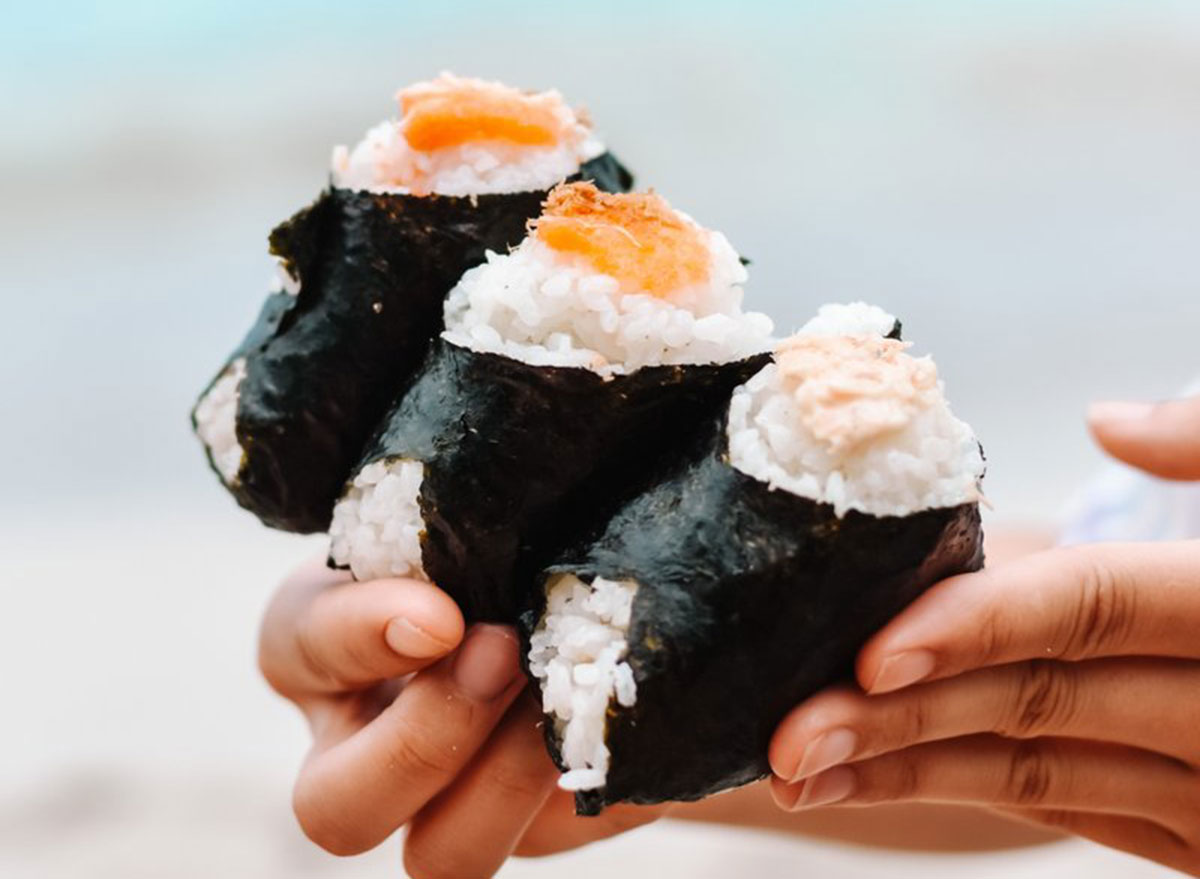 A trip to Hawaii isn't complete without trying some authentic Musubi. At Musubi Cafe IYASUME the only specialty is musubi, which are rice balls with a small wrap of nori and a topping or two, typically spam. The cheapest option at Musubi Cafe IYASUME is the teriyaki spam for $2.18, or you can get a combo of any of the musubis and a miso soup for $5.68.
IDAHO: Tango's Empanadas in Boise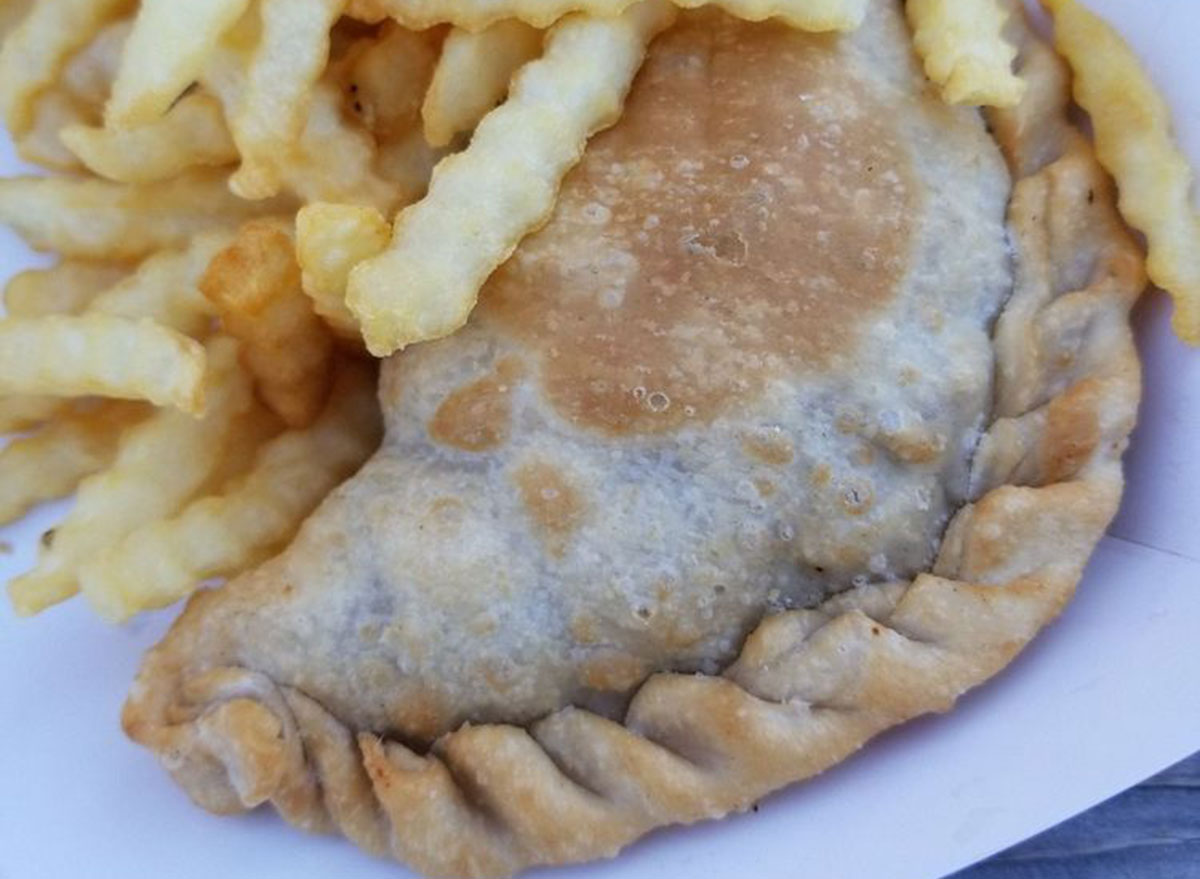 Tango's Empanadas in Boise is serving hot, crispy, and perfectly filled empanadas. The traditional empanada is filled with ground beef, eggs, olives, onions, bell peppers, and spices for $2.85, but you can also get dessert empanadas with fillings like Nutella and cherries for $3.25.
ILLINOIS: BIG and Little's Restaurant in Chicago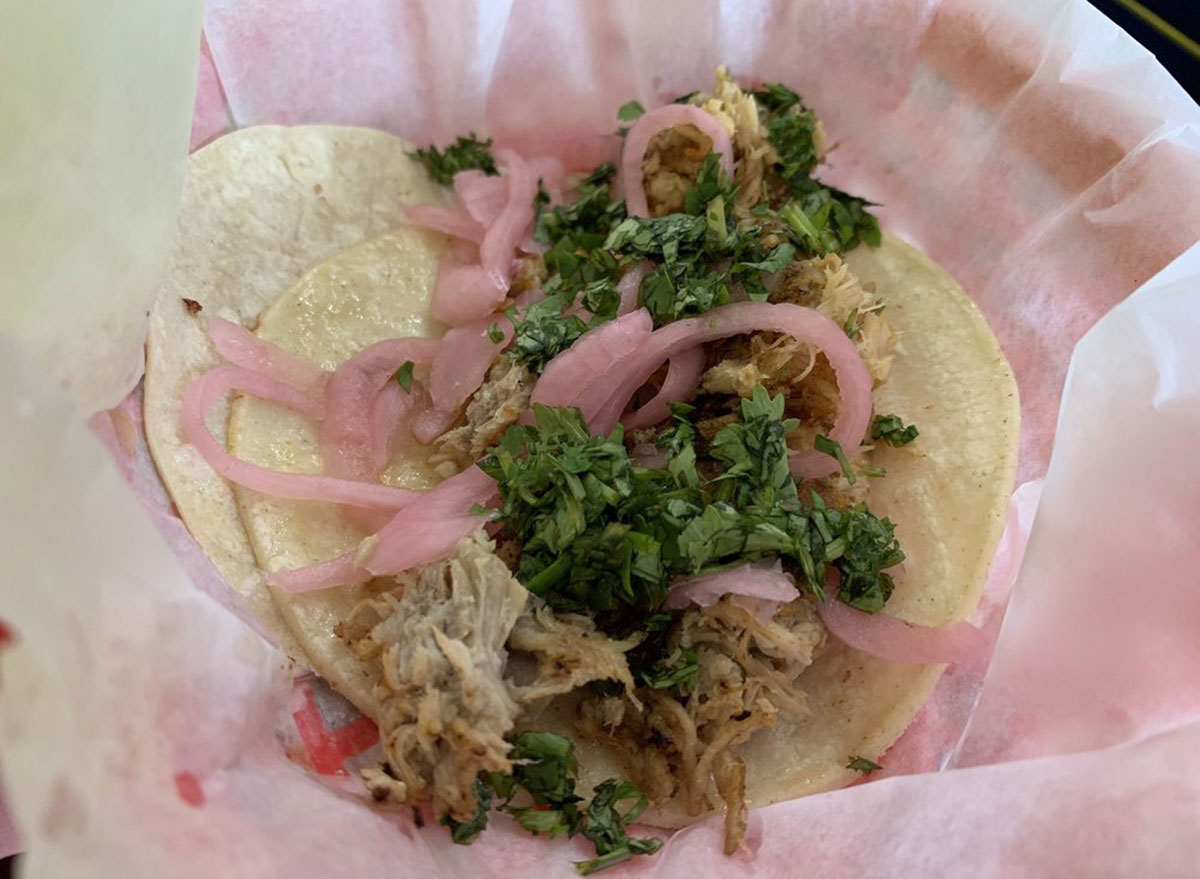 Chicago has an abundance of fine dining, but if you don't want a Chicago-style hot dog from a street vendor for a cheap meal head to BIG and Littles Restaurant. The establishment has tacos, burgers, and sandwiches all under $10. Our favorite is the Japanese beef short rib tacos for $4 each.
INDIANA: The Tamale Place in Indianapolis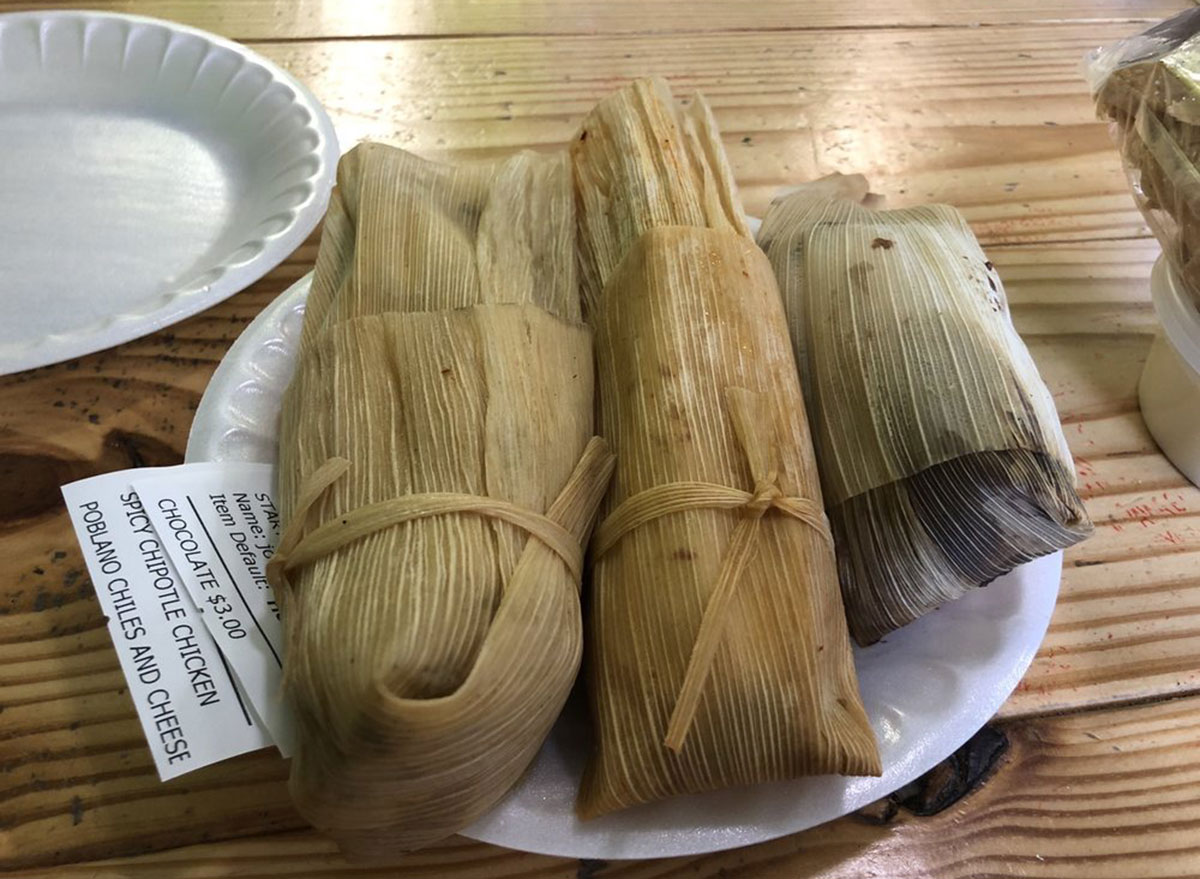 Tamales are a traditional cheap meal and at The Tamale Place in Indianapolis, the restaurant is dishing out all types of tamales. The pork in green sauce and the poblano Chile and cheese tamales are fantastic and are a deal at $4.25 each.
IOWA: Dumpling Darling in Iowa City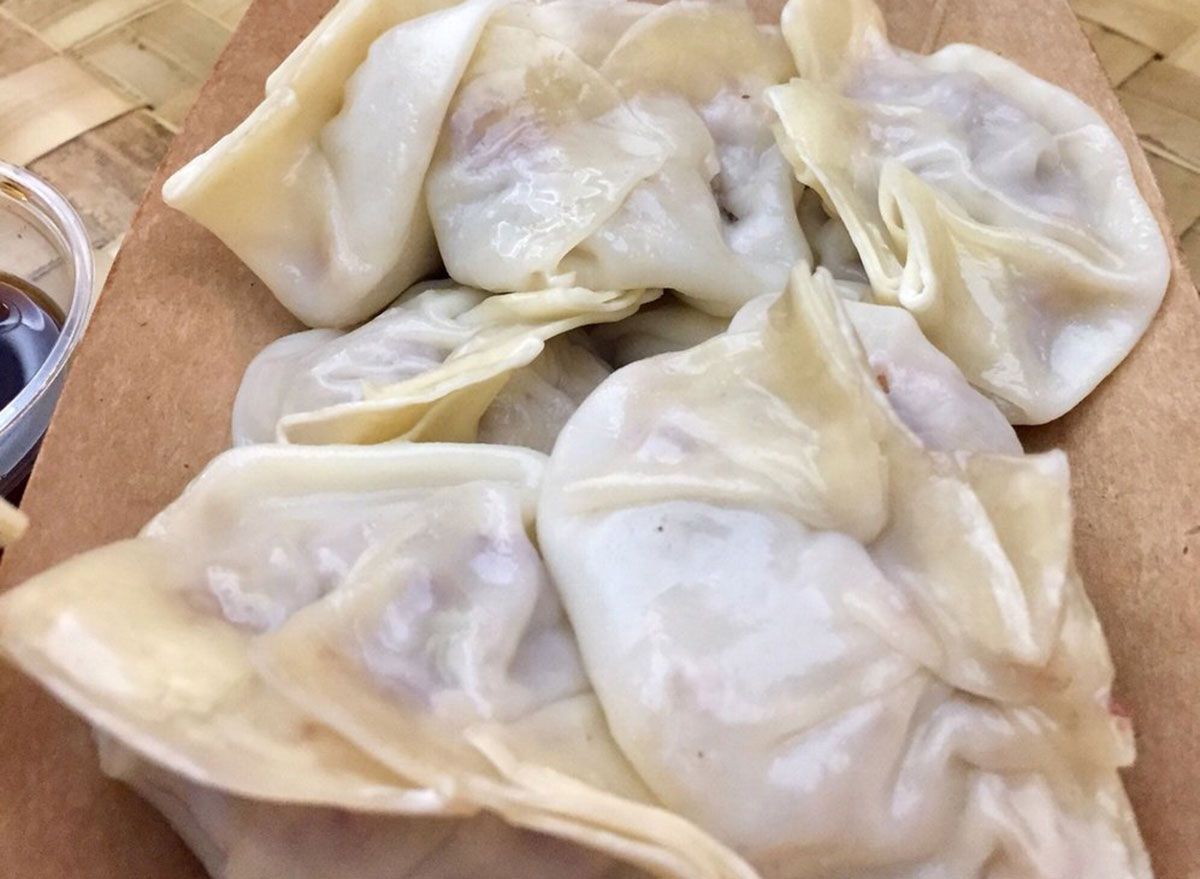 Dumpling Darling makes steamed and fried dumplings with fillings ranging from spicy Korean kimchi to savory macaroni and cheese dumplings. One order of these costs anywhere from $6.50 to $10, but worth it for the handmade dumplings of your choice.
KANSAS: Bobo's Drive-In in Topeka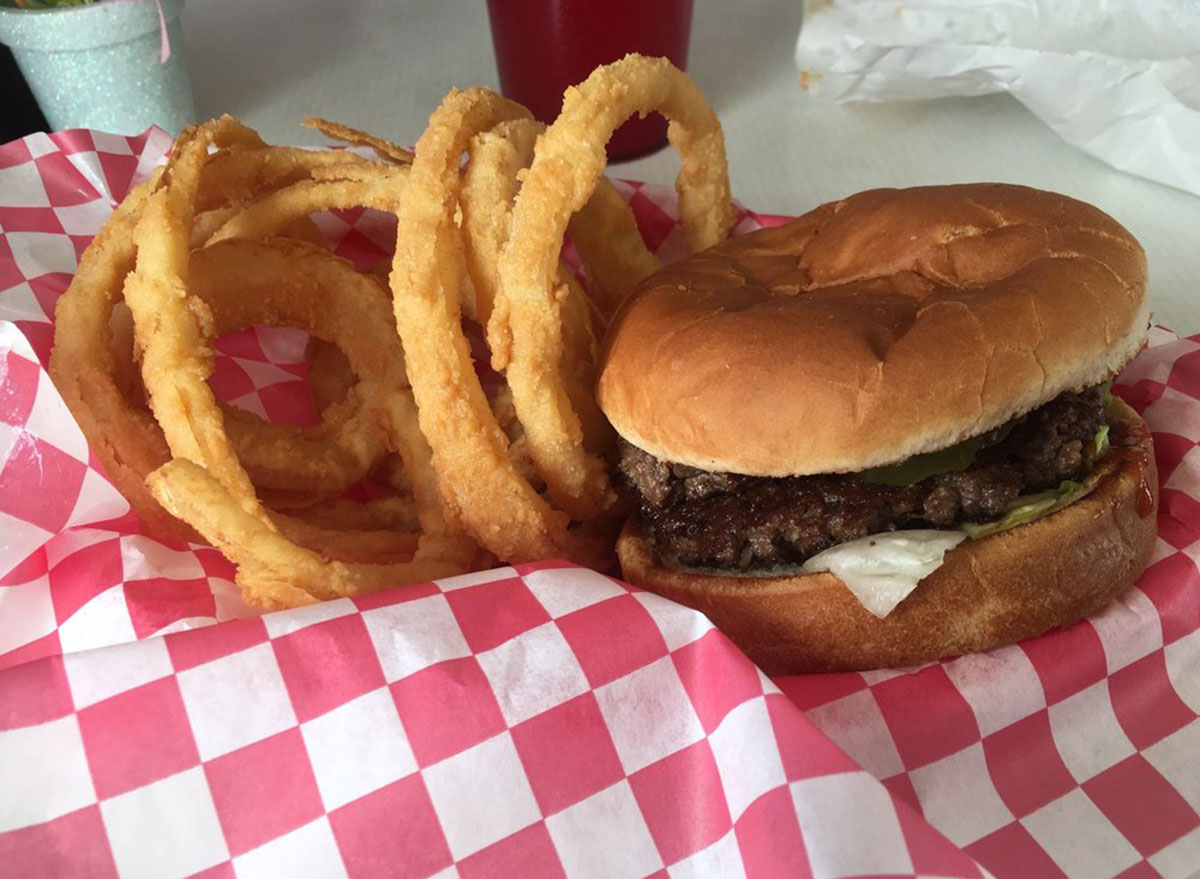 Bobo's Drive-In has been a Topeka staple for generations and has been featured on Diners, Drive-Ins and Dives. The restaurant serves coney dogs and burgers for $2.79 and $3.49, respectively. Don't forget to order a side of hand-cut onion rings for $3.99.
KENTUCKY: Yummy Pollo in Louisville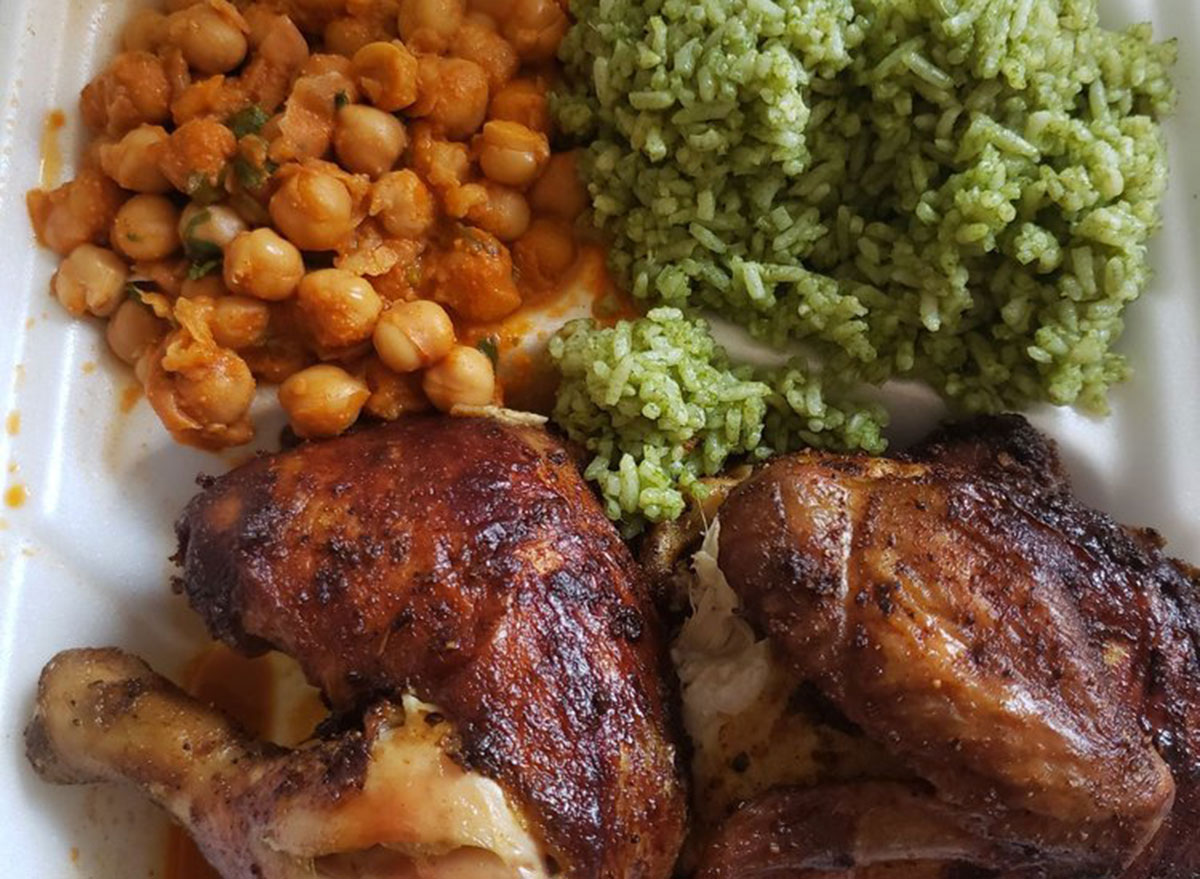 Yummy Pollo specializes in Peruvian-style chicken with all the fixin's. For $7.75 you can get a quarter dark meat chicken with two sides. For a more traditional side route, we suggest yucca fries and cilantro lime rice.
LOUISIANA: Mother's Restaurant in New Orleans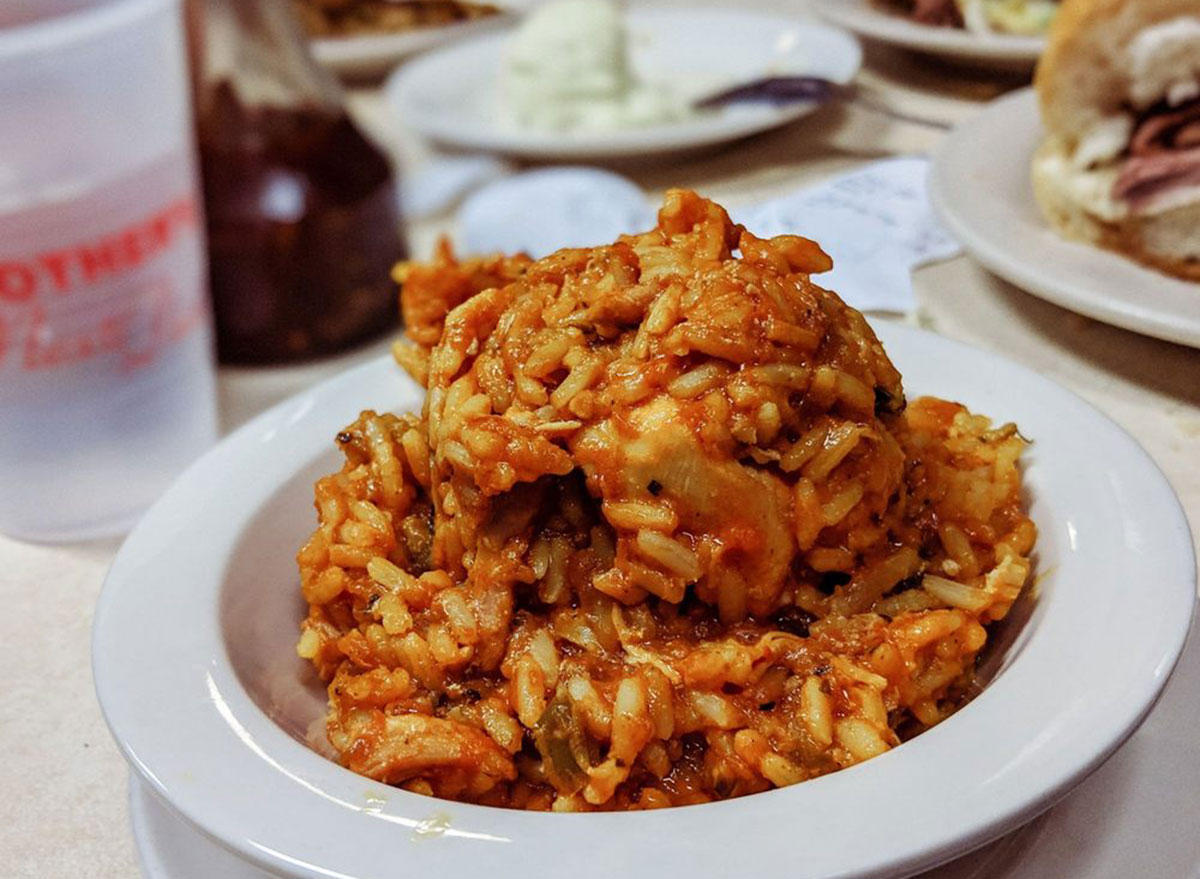 Mother's Restaurant is a New Orleans staple. The restaurant has been around since 1938 and continues to bring in crowds of locals and tourists. The biscuits at Mother's are not to be missed and are a deal at $2.50 each. And while you're there, here are 15 Foods You Need to Try in New Orleans.
MAINE: Larson's Lunch Box in Damariscotta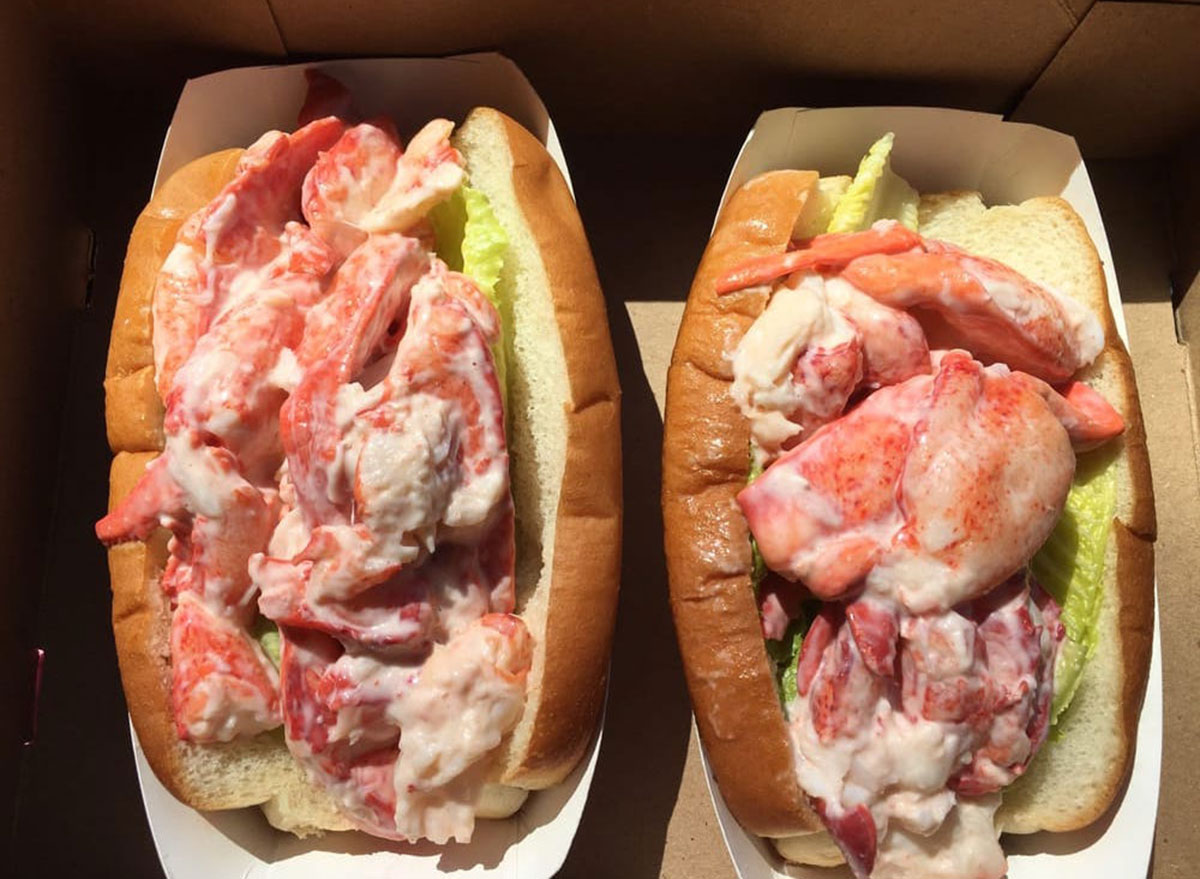 Larson's Lunch Box is only open seasonally, so if you see the line of people outside you're going to want to stop. The cash-only spot has the typical Maine favorites like lobster rolls, but the market price can be a bit steep. For a cheap meal get the chicken salad sandwich for $5.95.
MARYLAND: Cuba De Ayer in Burtonsville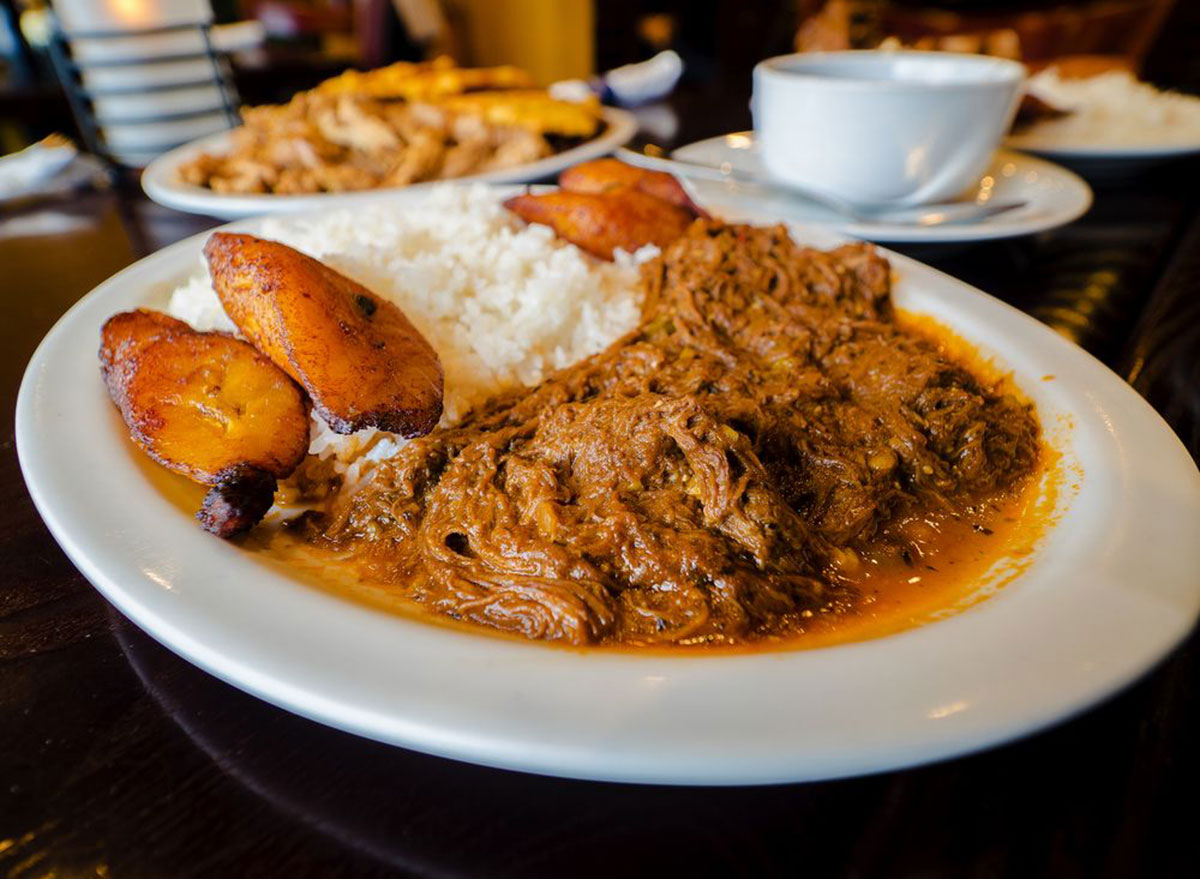 Cuba De Ayer serves classic Cuban cuisine to hungry customers. Some of the best cheap eats on the menu are the sampler platter, which has roasted pork, croquettes, and fried yucca, and the Papa Rellena, which is a potato stuffed with beef for $9.99 and $4.99, respectively.
MASSACHUSETTS: Saus Boston in Multiple Locations
Saus Boston has two locations but both are serving top-notch poutine. Each poutine is completely customizable with extra toppings and sauces. The standard poutine with fries, cheese curds, and gravy starts at $5.25.
MICHIGAN: Bucharest Grill in Detroit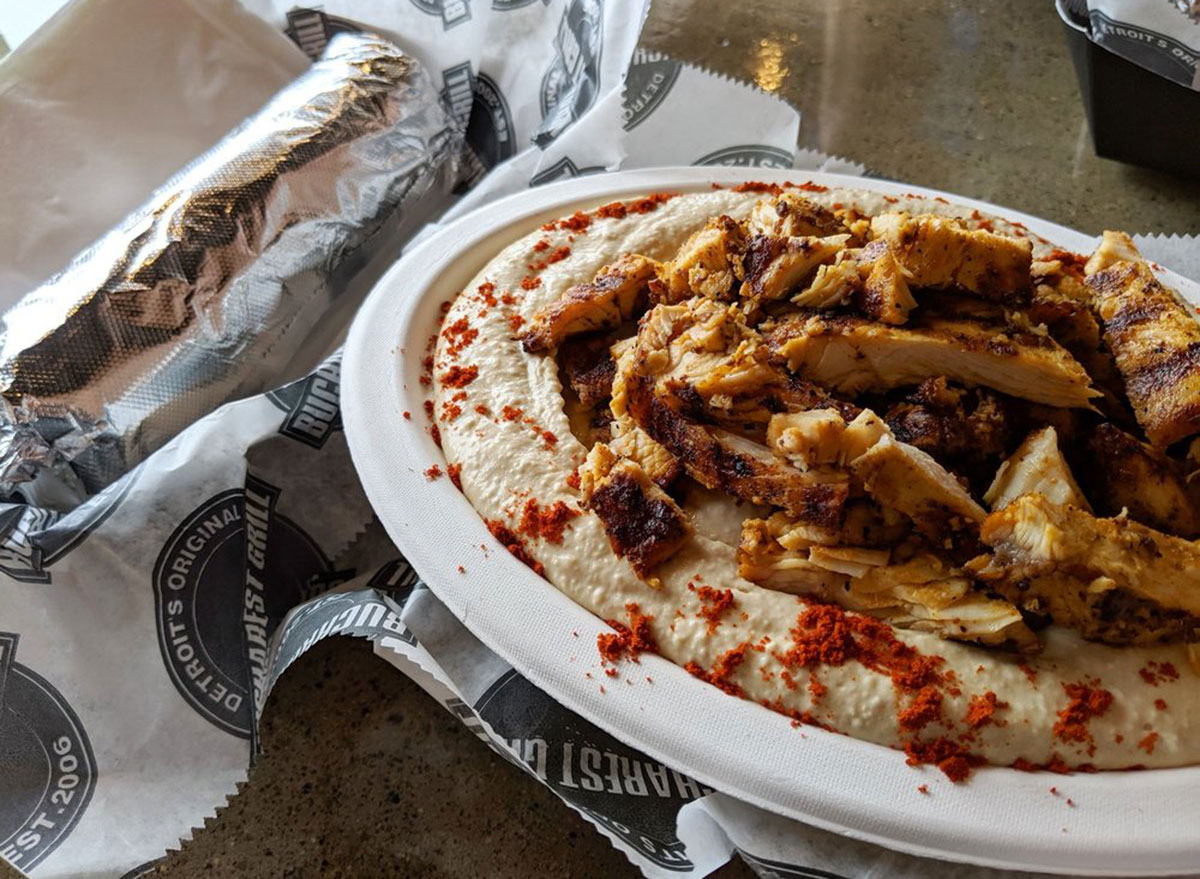 Detroit isn't necessarily known as a foodie haven, but Bucharest Grill is worth stopping at for a filling and delicious meal at a fraction of the cost of other nearby restaurants. The restaurant specializes in shawarma which can be gotten as beef, lamb, chicken, falafel, or veggie for $6.95.
MINNESOTA: Emily's Lebanese Deli in Minneapolis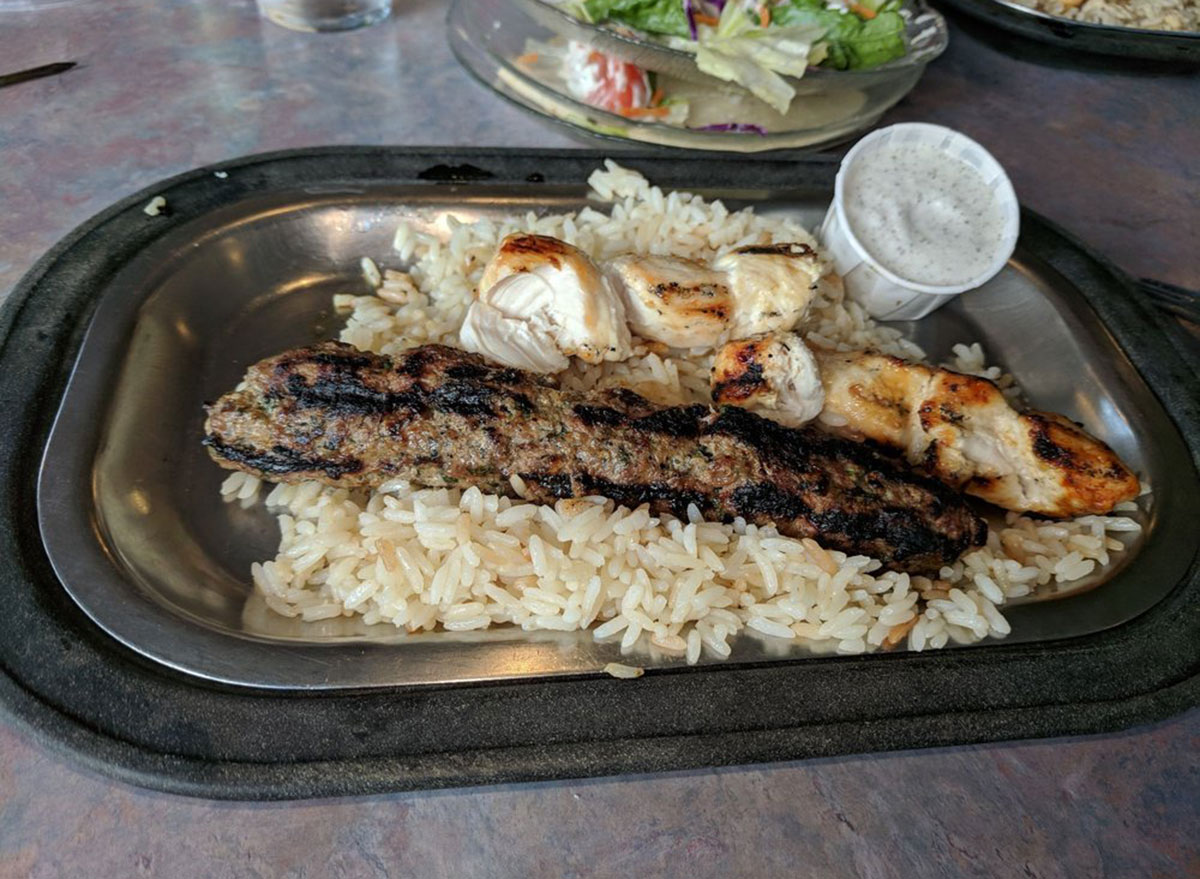 Lebanese food is fresh, usually light, and always fulfilling. Emily's Lebanese Deli is making all of the old world favorites like stuffed grape leaves, cabbage rolls, and kibbi all for under $10.
MISSISSIPPI: Brent's Drugs in Jackson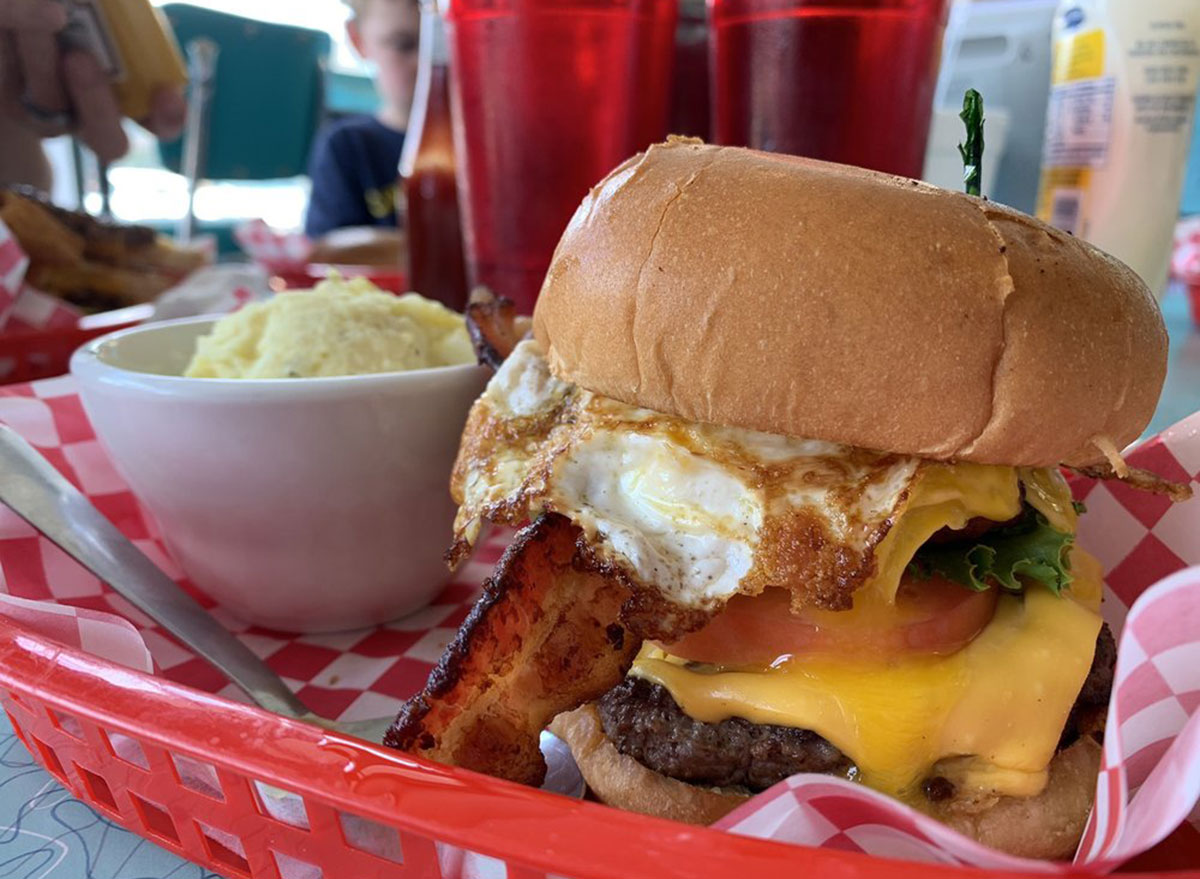 Part diner and part retro drug store with counter service, Brent's Drugs is serving up breakfast, lunch, and dinner at affordable prices. We love the BLT for $7 and the pimento cheese grilled cheese for $7.50, both of which come with your choice of side.
MISSOURI: Grace Meat + Three in St. Louis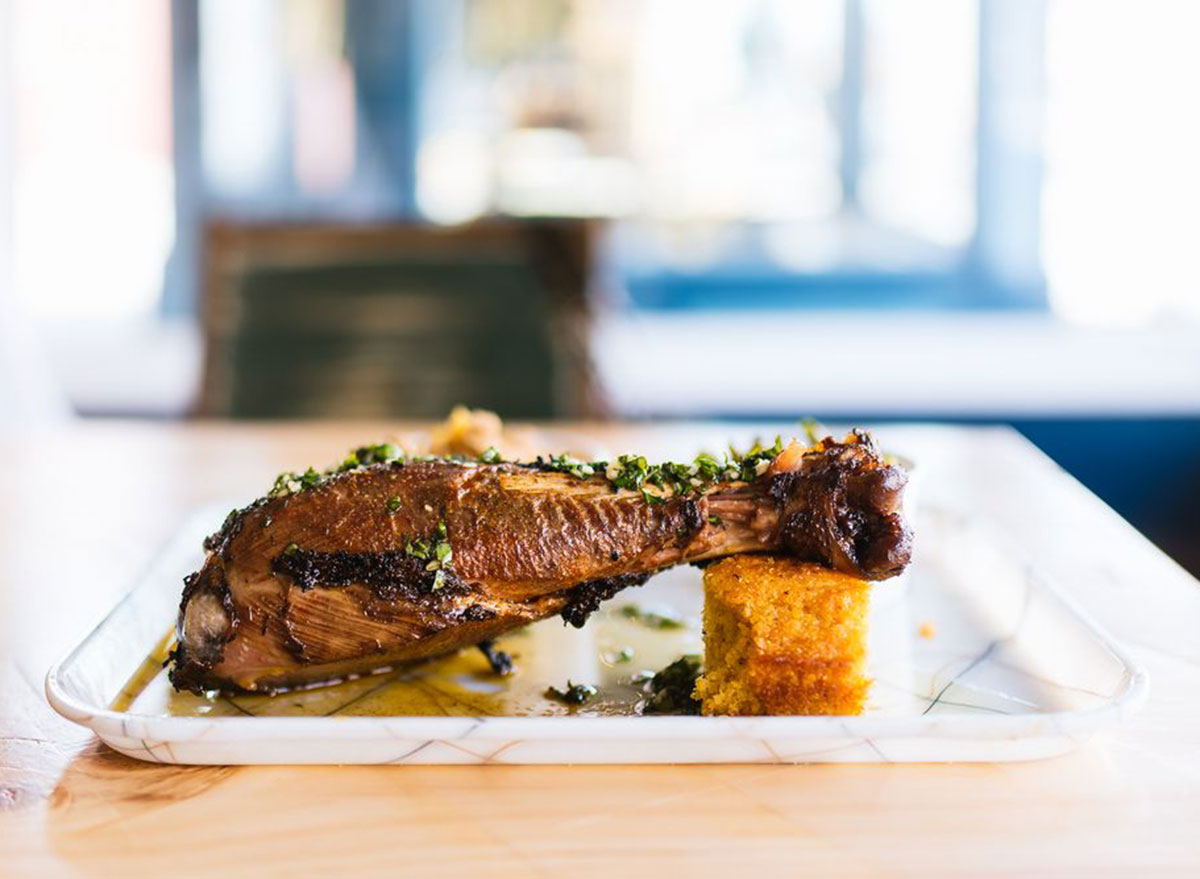 There's nothing better than homemade fried chicken. At Grace Meat + Three you get just that. The best deal on the menu is the Meal Deal for $10, where you get three hand-breaded chicken tenders, fries, Texas toast, pickles, and a drink. Be sure to mark how hot you want your chicken from no spice to Hot OTS.
MONTANA: Five in Bozeman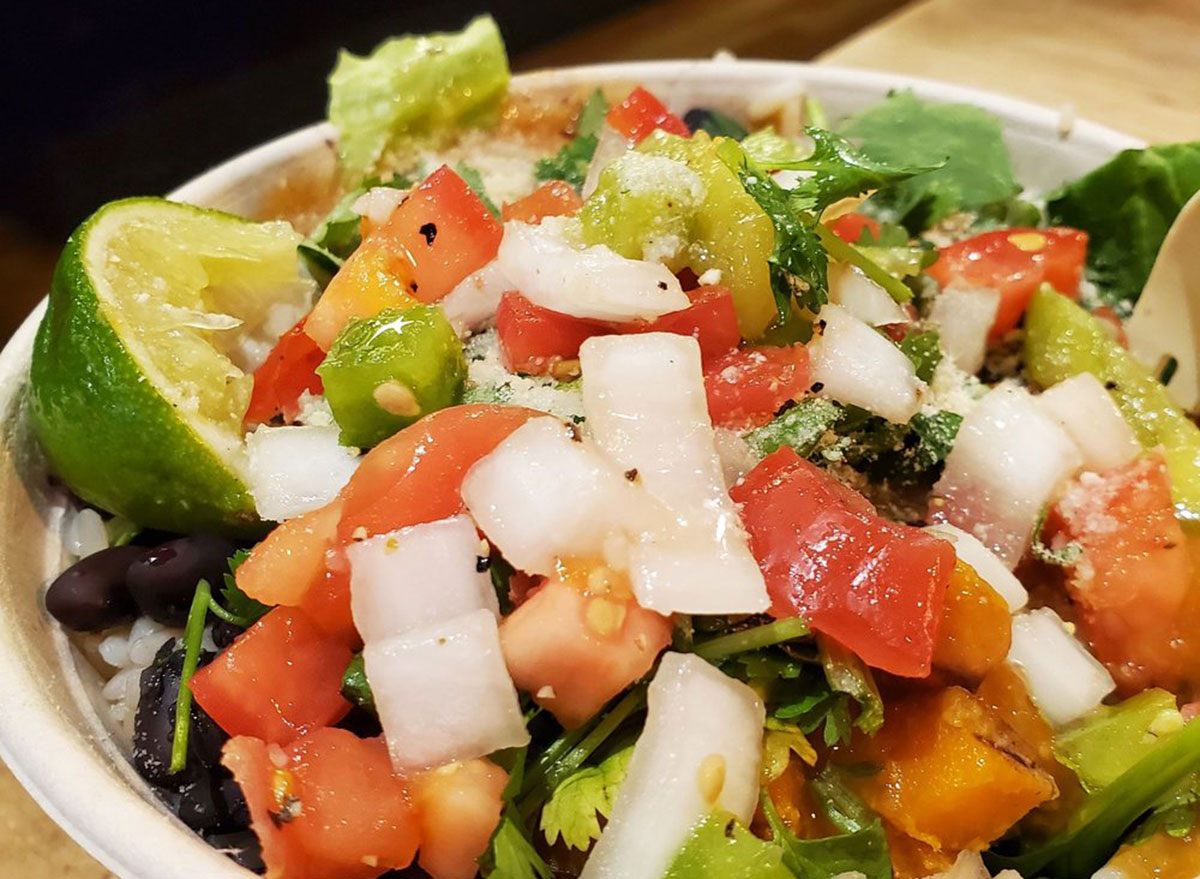 If you're looking for a healthy meal in the sea of burgers and tacos consider a stop at Five in Bozeman. The build-your-own-bowl concept has a Brazilian flair. Each bowl consists of a base of rice or salad, grilled item like chicken or steak, a side like black beans, sauce, and up to three Brazilian toppings for $7.25
NEBRASKA: Louie M's Burger Lust in Omaha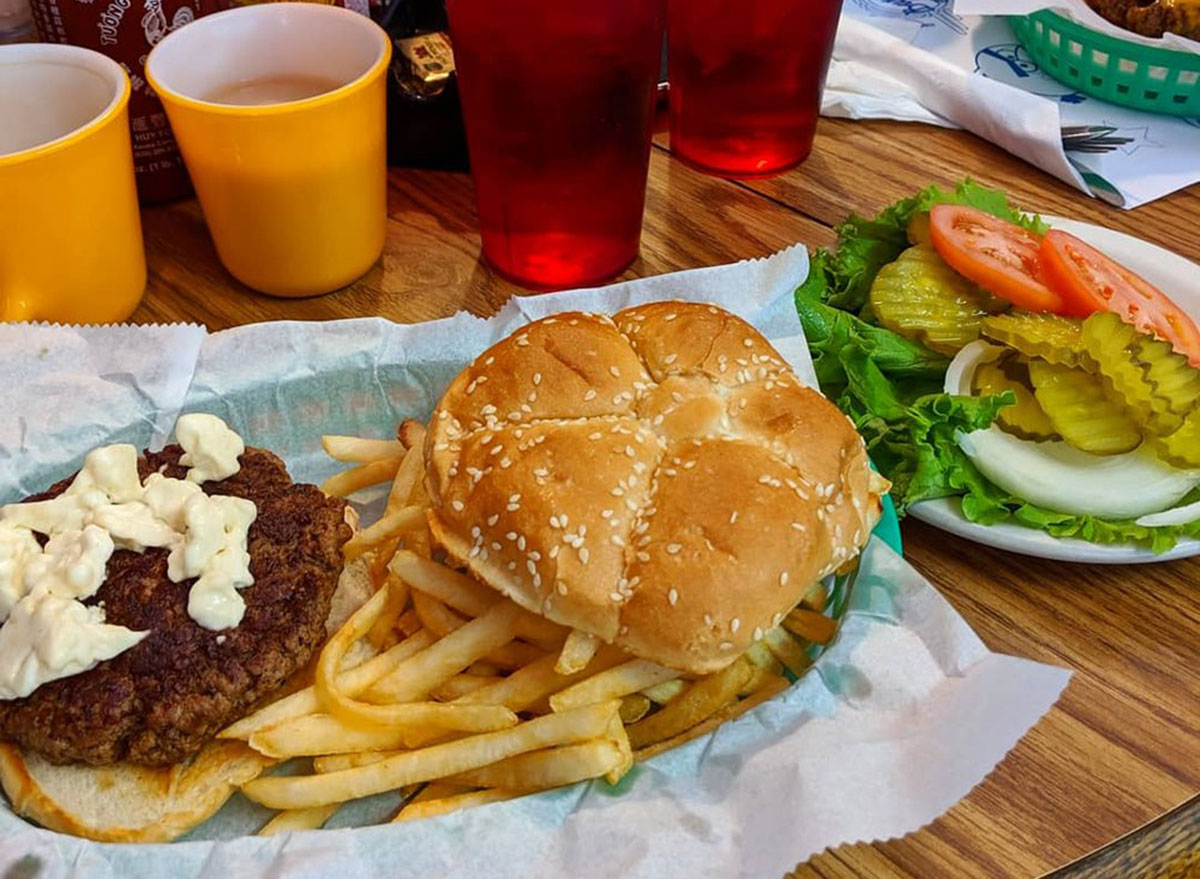 Omaha is home to Louie M's Burger Lust. The casual eatery has a long list of burger combos, but the plain burger with the usual suspects of toppings like lettuce, tomato, onions, and pickles costs just $5.69.
NEVADA: KoMex in Las Vegas
Fusion cuisine has taken off and in Las Vegas KoMex is the spot to be for Korean-Mexican fusion at a cheap price. You can get a fusion taco with your choice of protein, slaw, and pico de Gallo for $2.50, so get a few since they are so cheap.
NEW HAMPSHIRE: Lexi's in Multiple Locations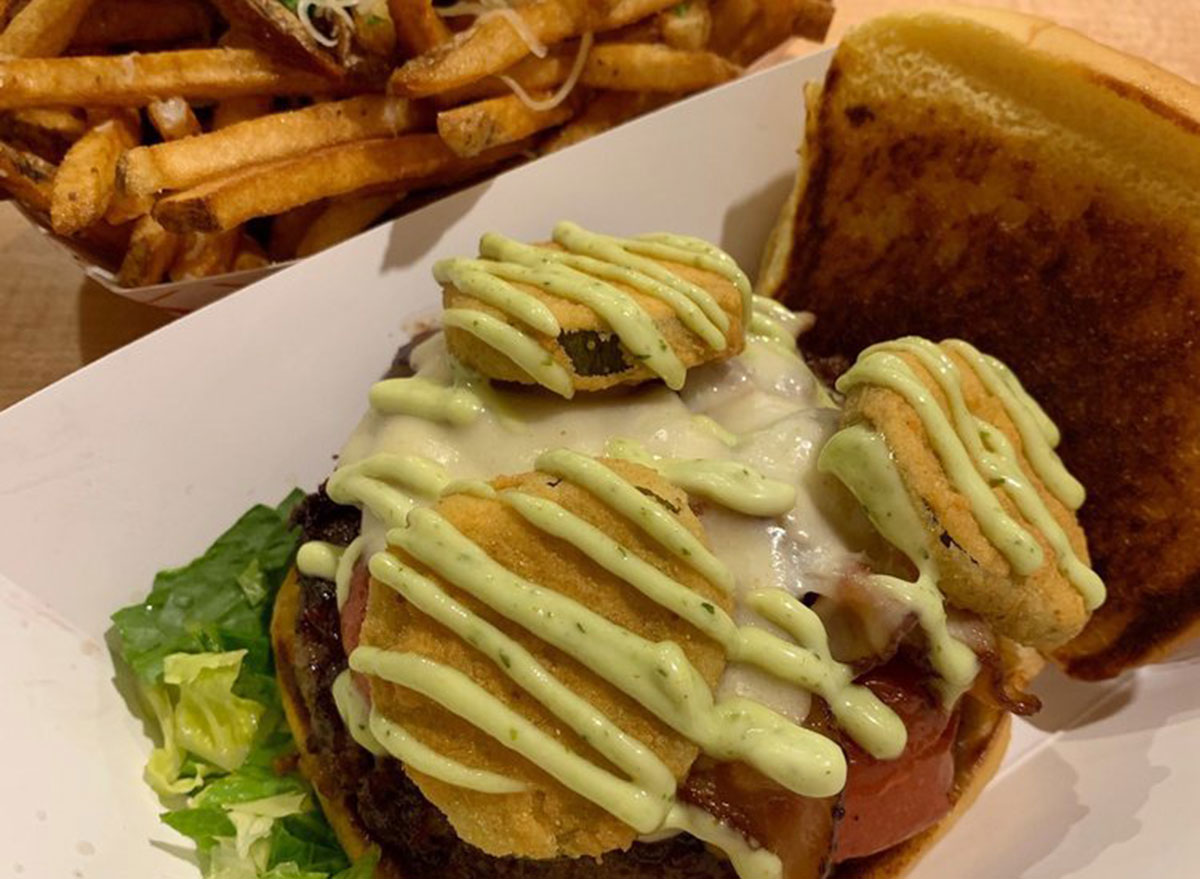 Lexi's has multiple locations around the state, and all are serving some of the most creative burgers we've seen in a while. One that diners can't get their hands on fast enough is Lexi's Big Mouth burger, which is piled high with American cheese, bacon, tomato, melted onions, fried pickles, and herbed aioli for $8.35.
NEW JERSEY: 28 BBQ in Bound Brook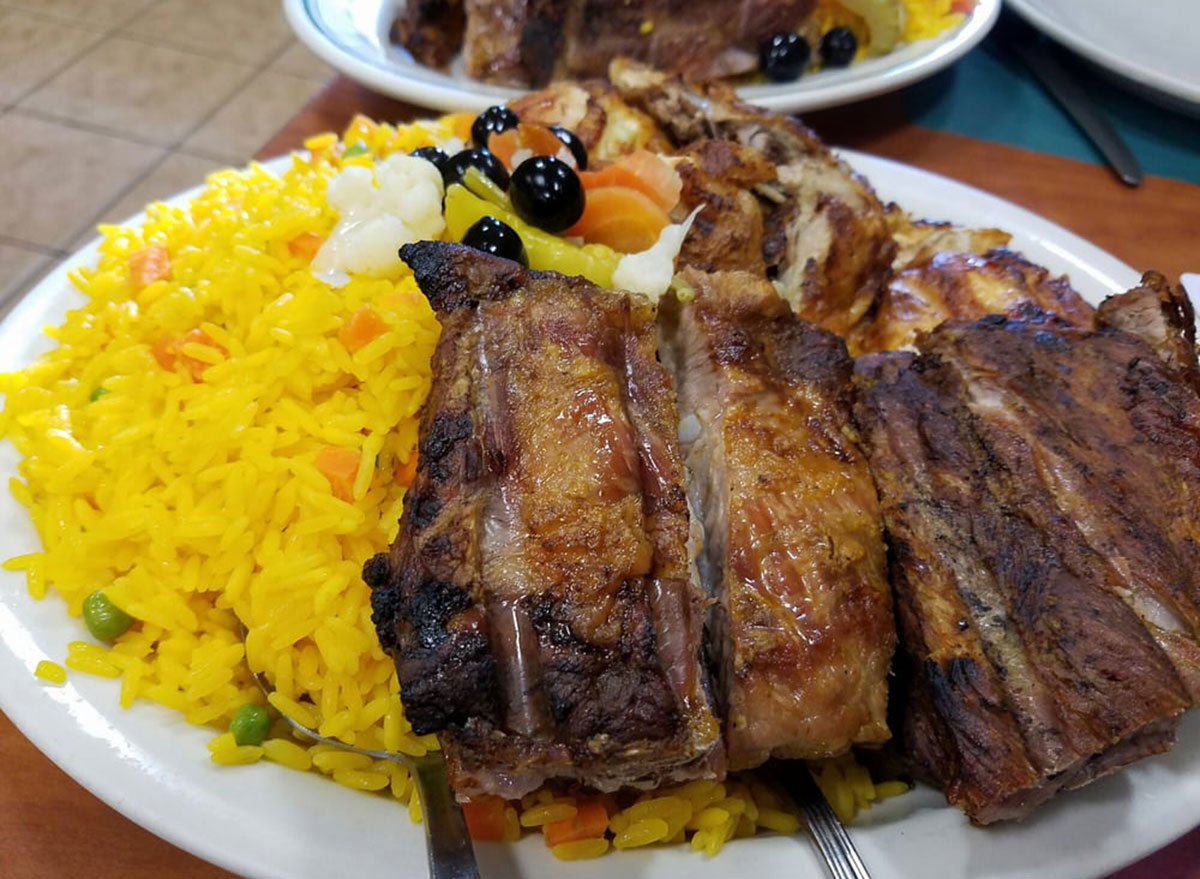 At 28 BBQ you won't find typical American-style bbq, but rather Spanish and Portuguese style bbq. For an authentic Portuguese meal consider the Portuguese sausage sandwich, which is served with fries for $9.50.
NEW MEXICO: Mary and Tito's in Albuquerque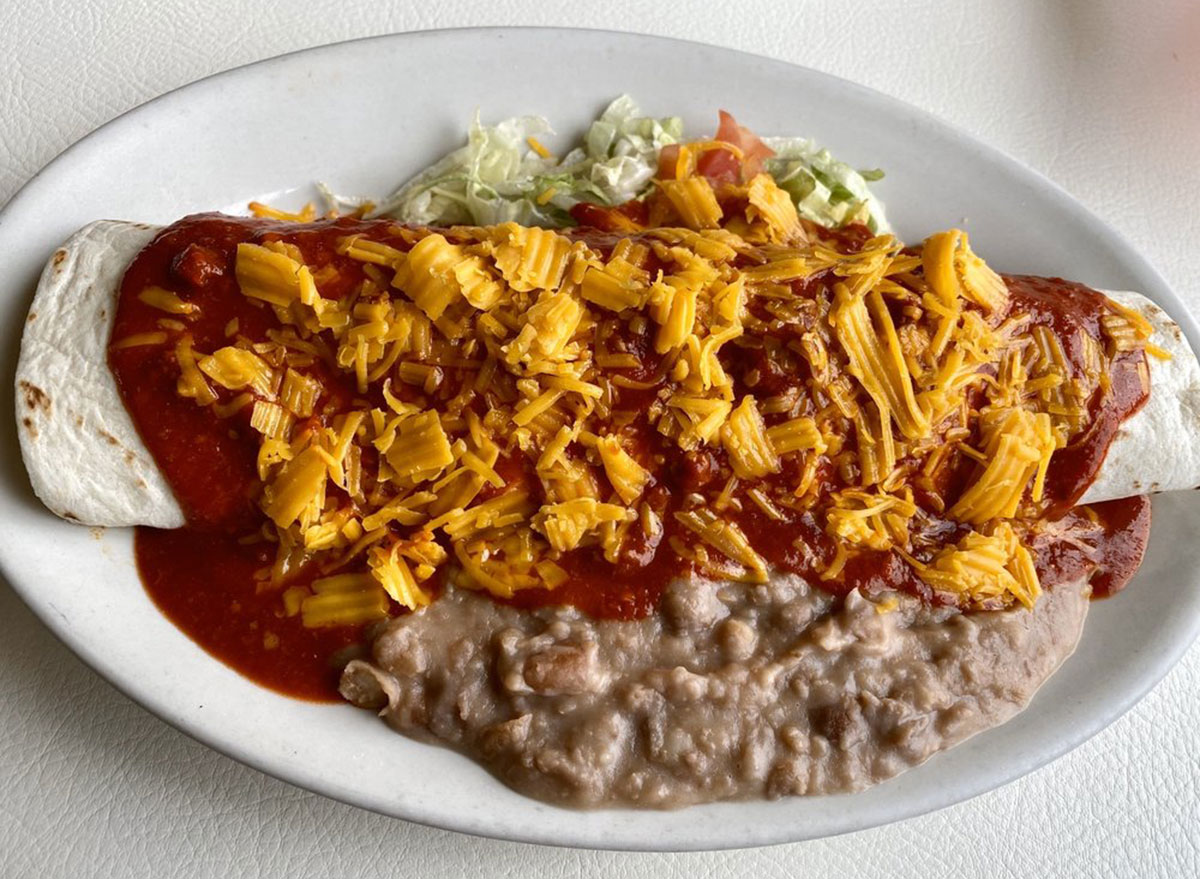 Mary and Tito's is a New Mexican diner that's serving traditional plates of Mexican and Tex-Mex cuisine. Monday through Friday you can find specials for $5.95 and up, including huevos rancheros, chimichangas, and enchiladas.
NEW YORK: Joe's Steam Rice Rolls in Multiple Locations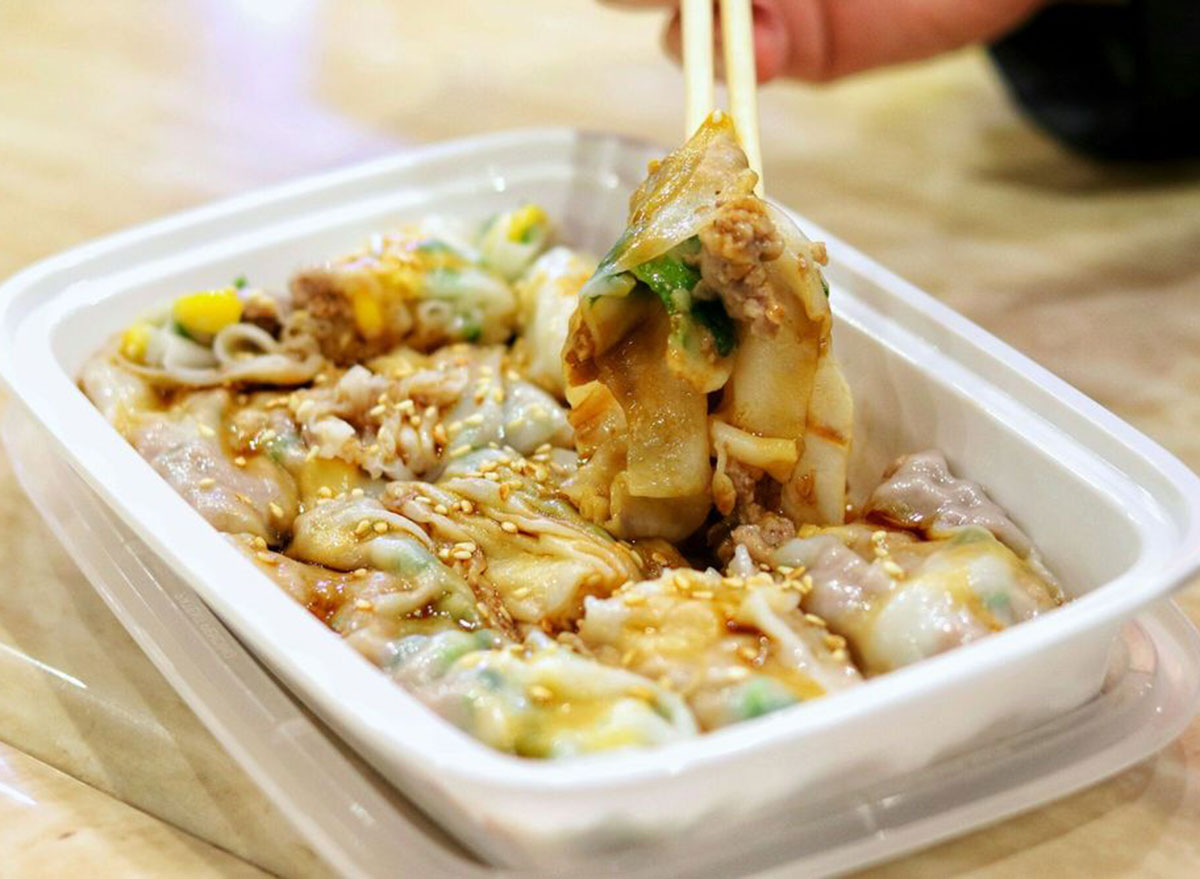 Steam rice rolls are basically a Chinese crepe with various fillings. At Joe's Steam Rice Rolls the top sellers are curry fish ball steam rice rolls and shrimp steam rice rolls, both of which are under $8.
NORTH CAROLINA: Guasaca in Raleigh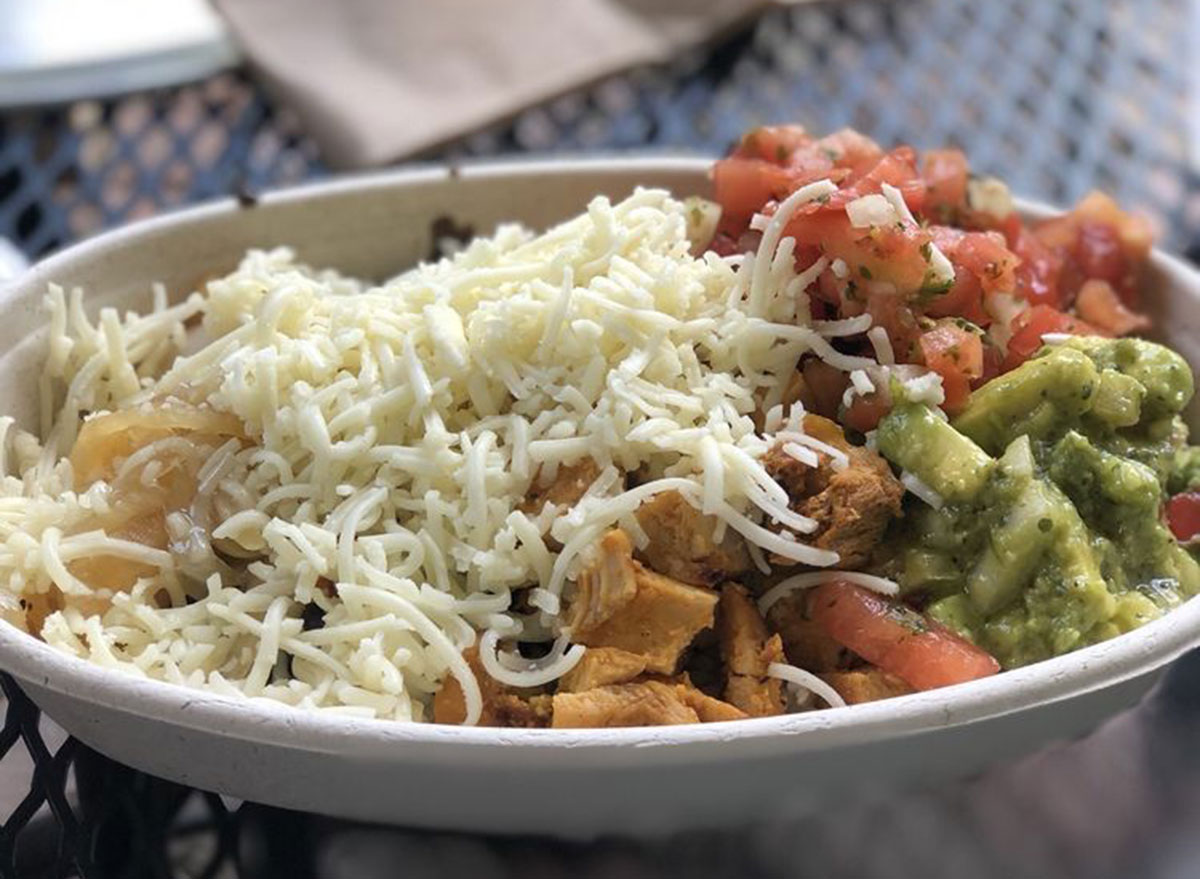 Guasaca specializes in stuffed arepas, where you can choose from a selection of signature combinations or create your own. One of the chicken arepas is $5.95 and stuffed with chicken, black beans, pico de gallo, white cheese and served with cilantro sauce,
NORTH DAKOTA: Kroll's Diner in Minot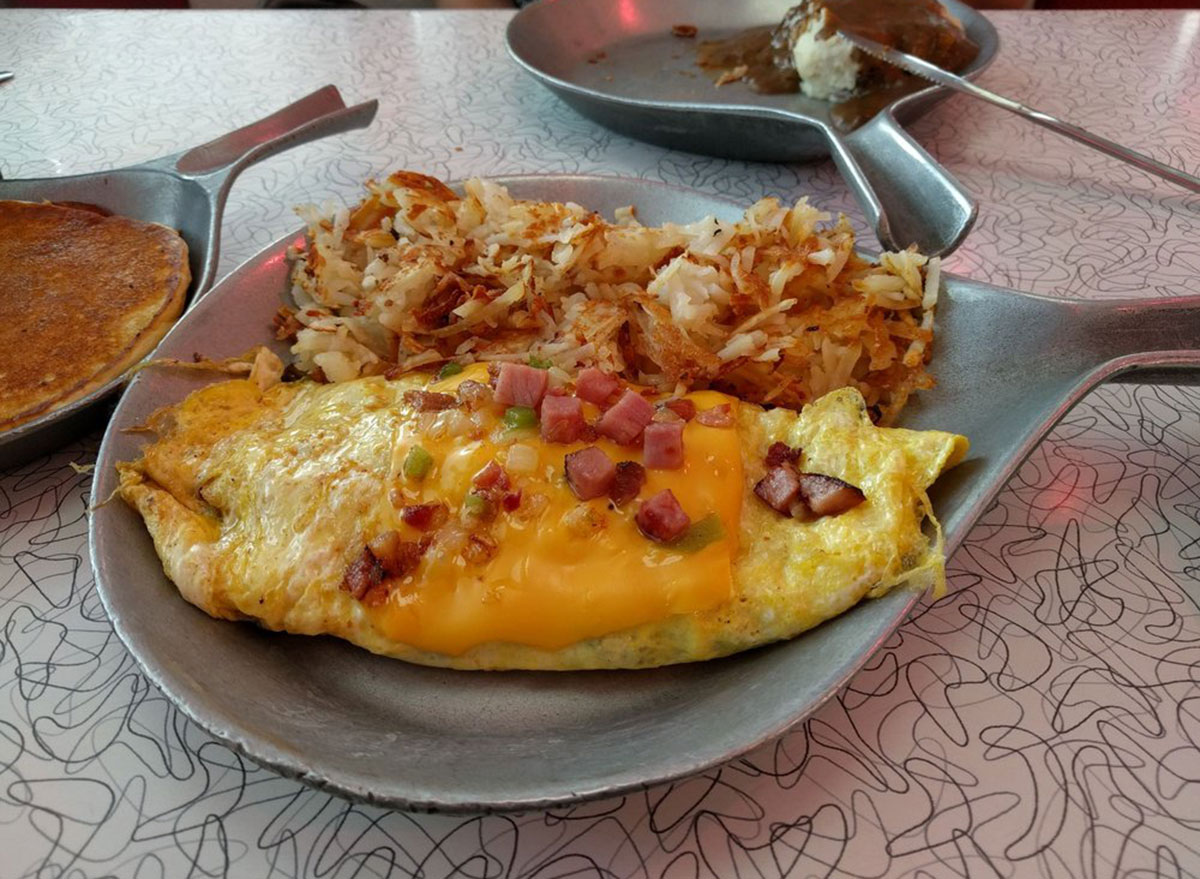 Typical diner fare is on the menu at Kroll's Diner. Every Monday through Friday with the purchase of a drink you can get a lunch special for $5.69. Try one of the tasty crispy fish sandwiches or go with a classic grilled cheese.
OHIO: Dirty Franks in Columbus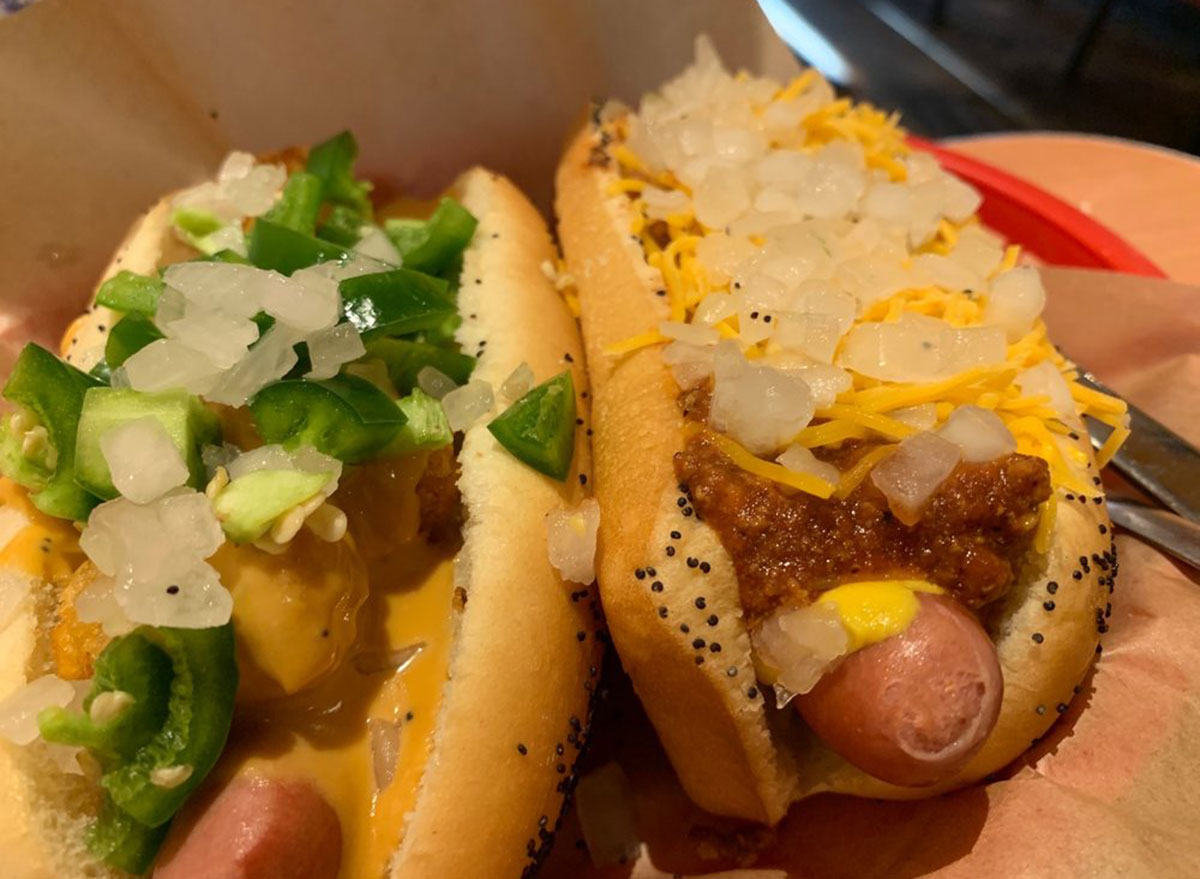 If you've ever wanted to try a hot dog with kimchi or tater tots on top then Dirty Franks is the spot to be. The over-the-top hot dog emporium is slinging hotdogs for as low as $3.25, but most go for $4.75 with more elaborate toppings.
OKLAHOMA: Tacoville in Oklahoma City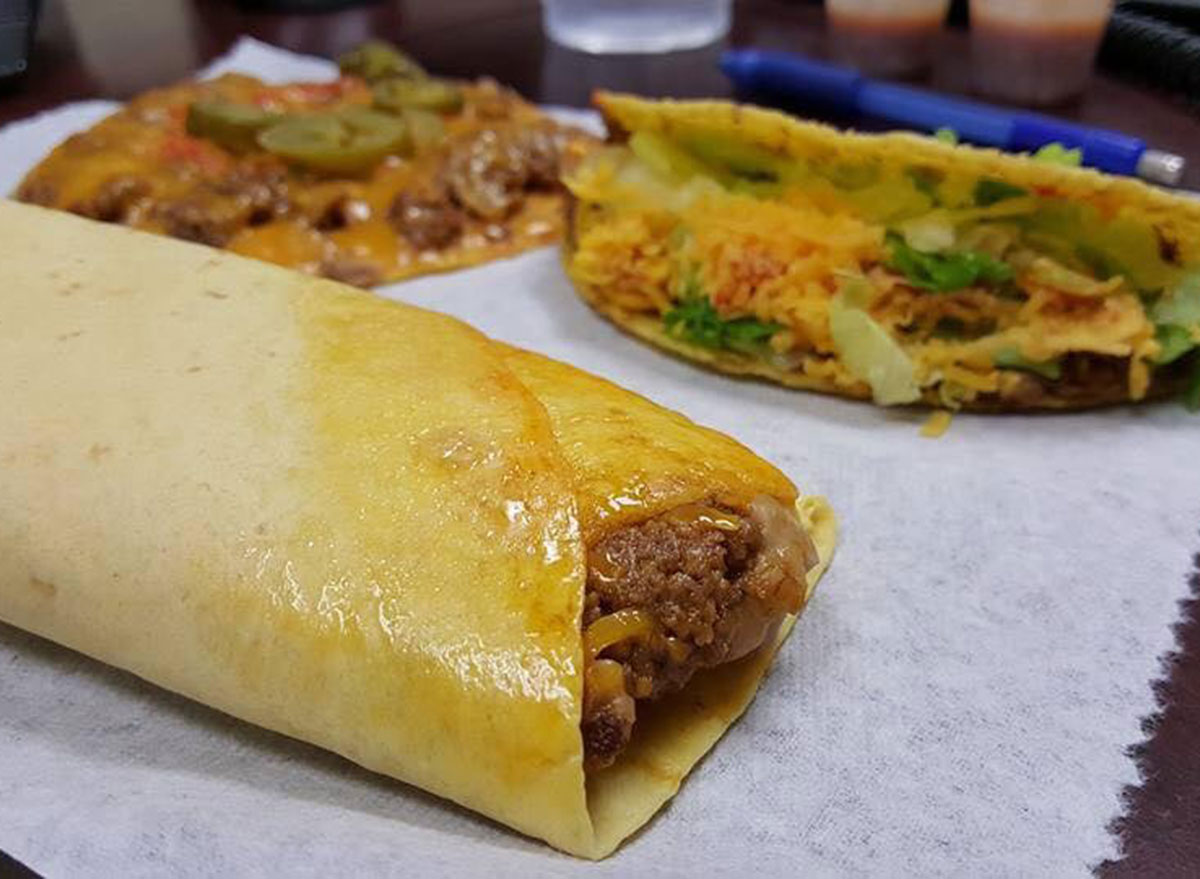 For really cheap eats in Oklahoma City head to Tacoville where you can grab tacos for $1.09, bean burritos for $1.59, and chalupas for $1.19. When you're seriously hungry and on a budget, this is the place to be.
OREGON: Basilisk in Portland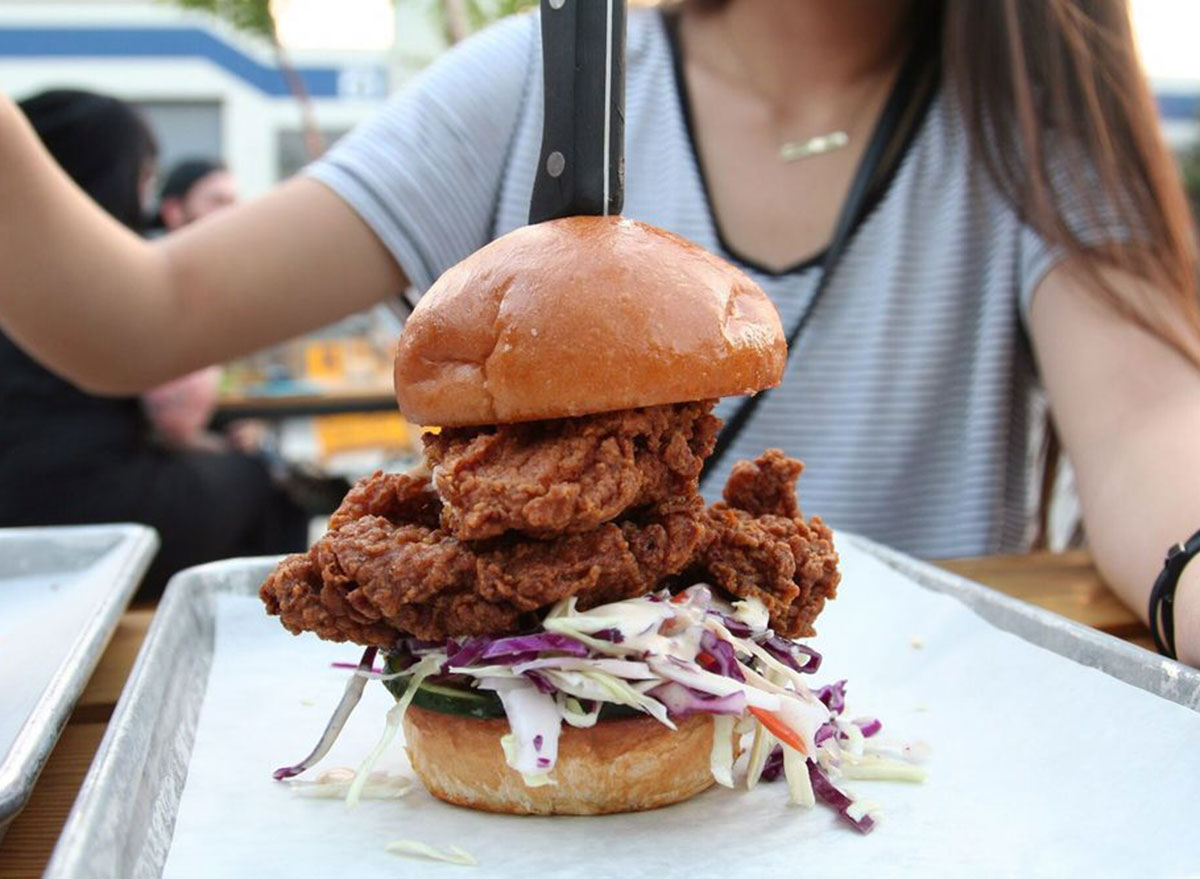 Basilisk has a unique menu with things like hot chicken, fried tofu sandwiches, and loaded fries, all with an Asian twist. Real budget-conscious eaters will go for the fried chicken sandwich, which is a fried chicken thigh with slaw, buttermilk sauce, and housemade pickles on a honey brioche bun for $10.
PENNSYLVANIA: Dalessandro's in Philadelphia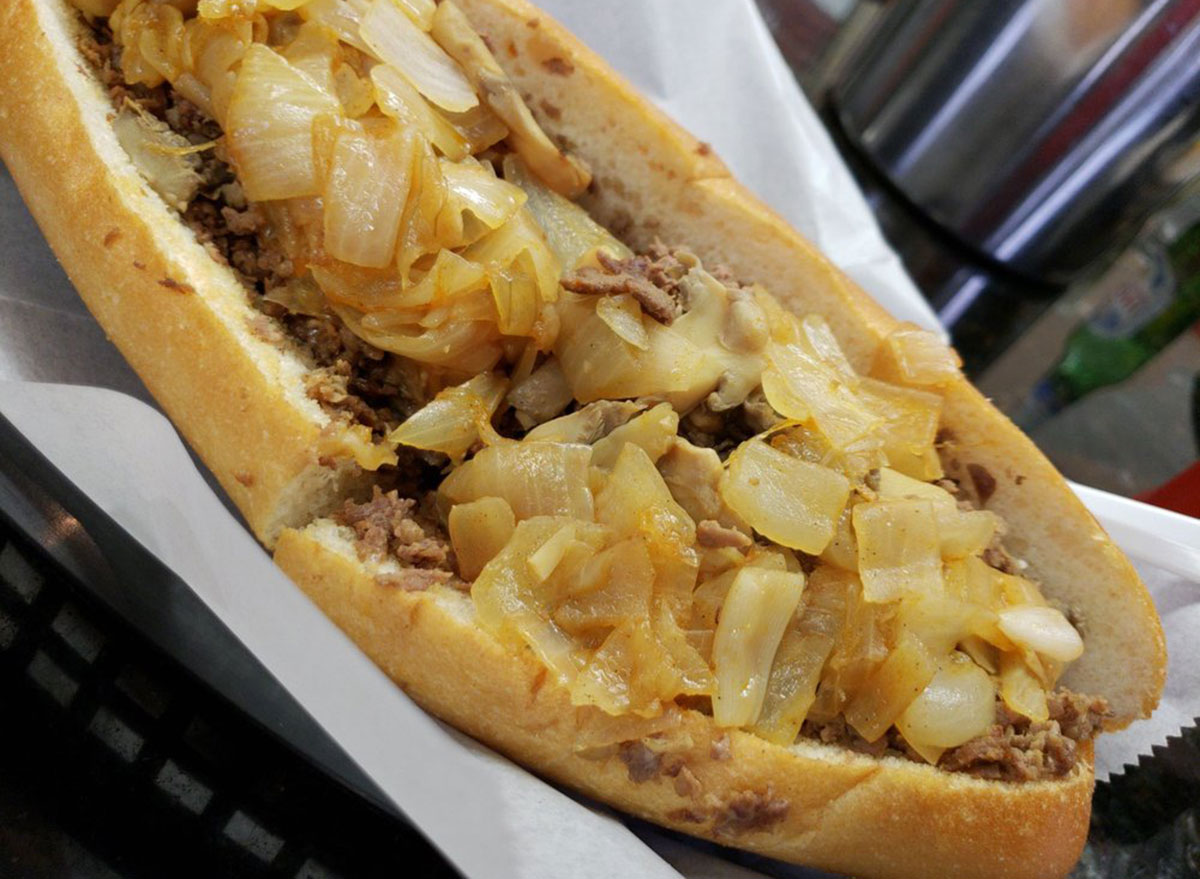 Philadelphia is known for cheesesteak sandwiches. At Dalessandro's they are serving up steak and cheesesteak sandwiches that will satisfy any craving you have. Order the steak sandwich and load it up with all of the free toppings for a tasty meal for just $10.
RELATED: The Best Chili in Every State
RHODE ISLAND: UMelt in Providence
UMelt is known for its crazy grilled cheese sandwiches. While you can always get the classic grilled cheese, you can also get a sandwich with macaroni and cheese and pulled pork, or a sweet variation with Nutella and marshmallow fluff for $9.95 and $5.95, respectively.
SOUTH CAROLINA: Bullie's BBQ on Hilton Head Island
Carolina-style pulled pork is a must when traveling through South Carolina. At Bullie's BBQ in Hilton Head, you'll be treated to succulent pulled pork with a tangy vinegar-based Carolina sauce for $8.00. Add on a side of fries and jalapeño cornbread for the full bbq experience.
SOUTH DAKOTA: The Pickle Barrel in Sioux Falls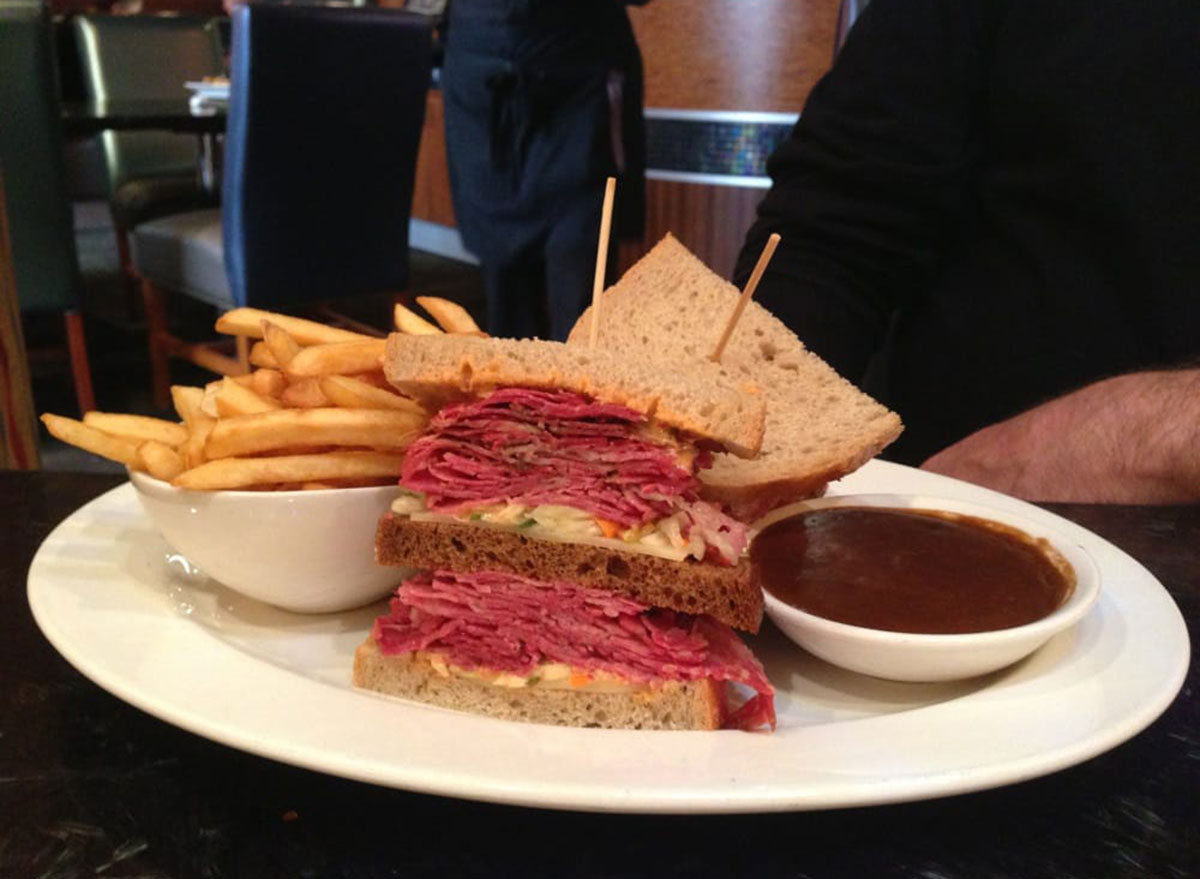 Sioux Falls is home to The Pickle Barrel, a sandwich shop making subs and hot sandwiches big enough to share. An eight-inch "South of the Border" sandwich runs for $8.95 and comes piled with chopped beef, onions, salsa, Monterey jack cheese, lettuce, and tomatoes.
TENNESSEE: Dino's in Nashville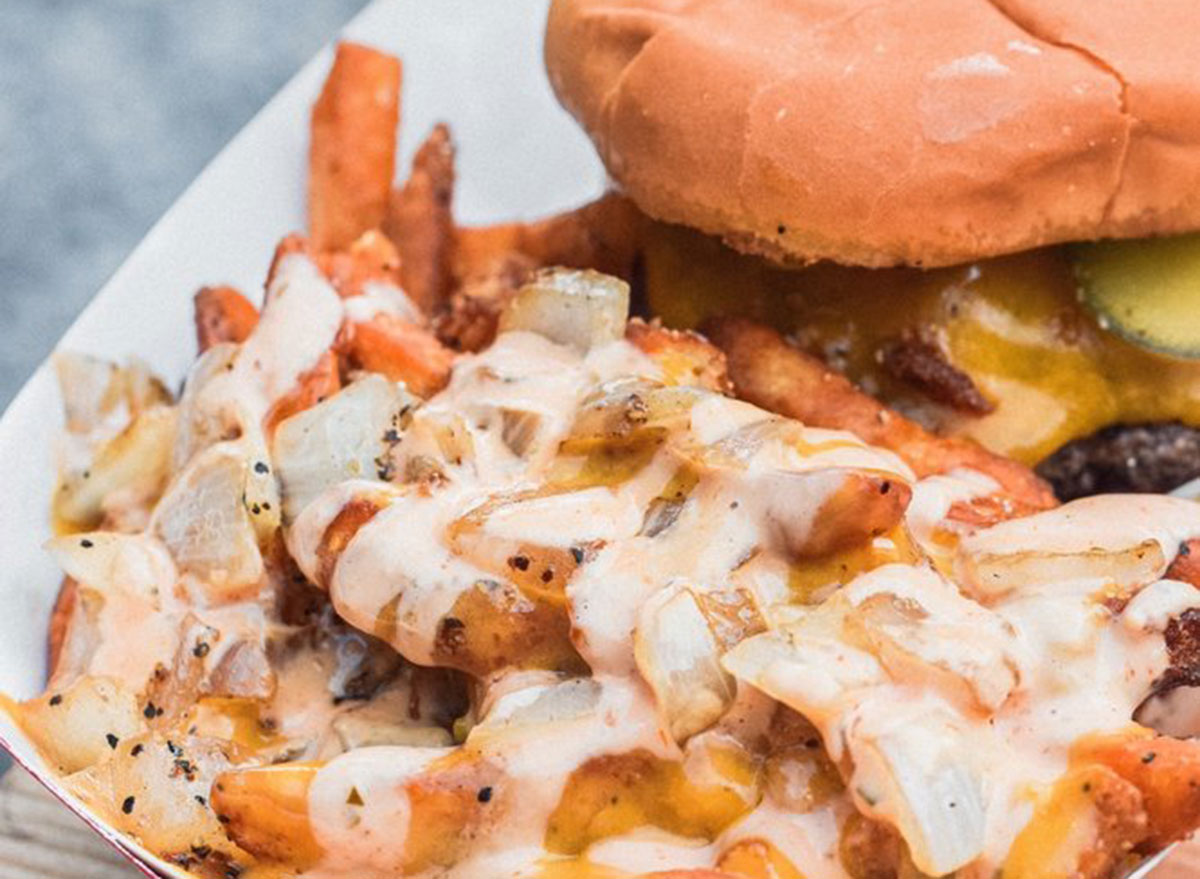 Dino's has been a Nashville staple since 1970. Here, hot chicken will set you back $7, a BLT is $5, and the Saturday and Sunday only breakfast patty melt is $10. No matter what you order it's going to be good.
RELATED: This Fast-Food Chain Just Debuted a Nashville Hot Chicken Sandwich
TEXAS: Bao'd Up in Multiple Locations
Bao, the Asian sandwiches with fluffy white bread, is the highlight of the menu at Bao'd Up. Here you can get fillings like pork belly, teriyaki chicken, and cheesecake custard for under $5 each.
UTAH: Bruges Belgian Bistro in Salt Lake City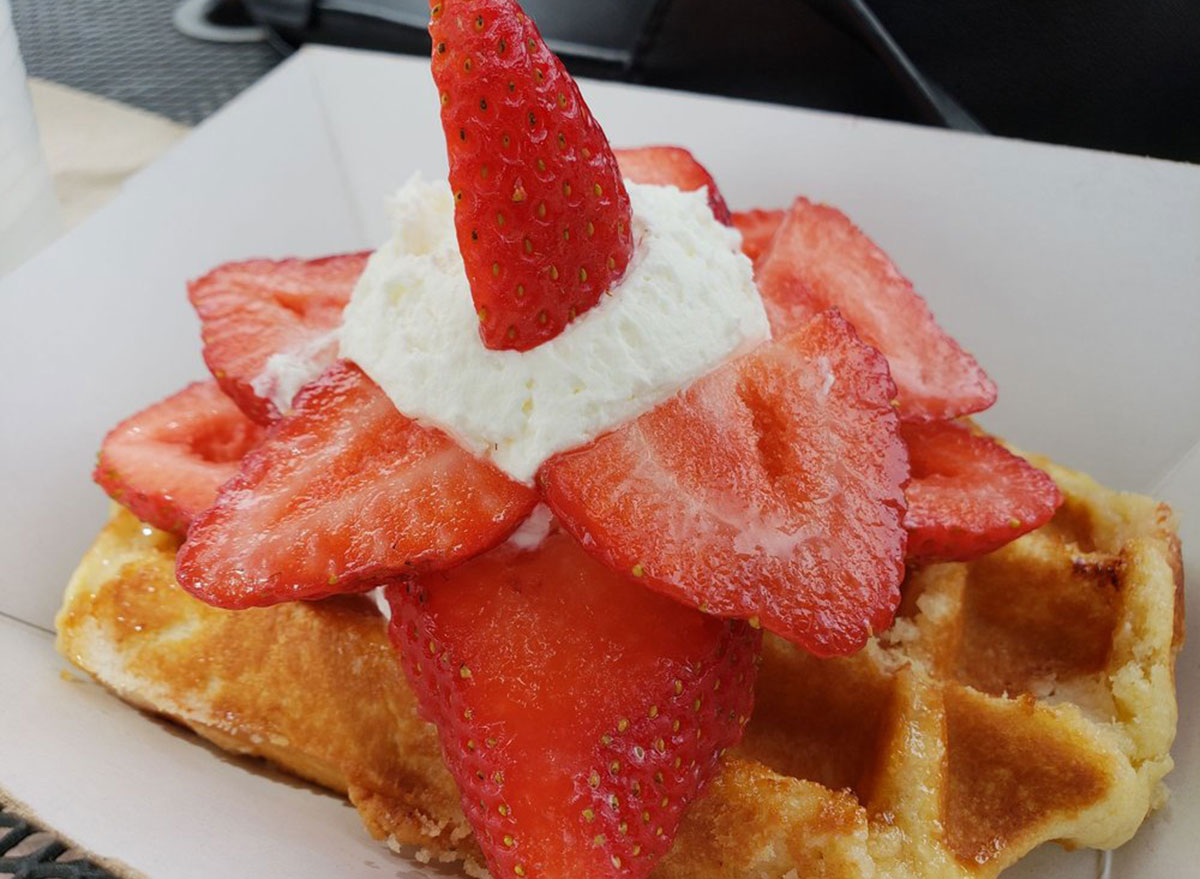 Liege waffles are a chewy, sweet treat that are becoming more popular in the United States. Bruges Belgian Bistro in Salt Lake City is serving liege waffles plain with cinnamon sugar or topped with things like speculoos spread, vanilla bean ice cream, and strawberries for $3.75 and $9, respectively.
VERMONT: Pho Hong in Burlington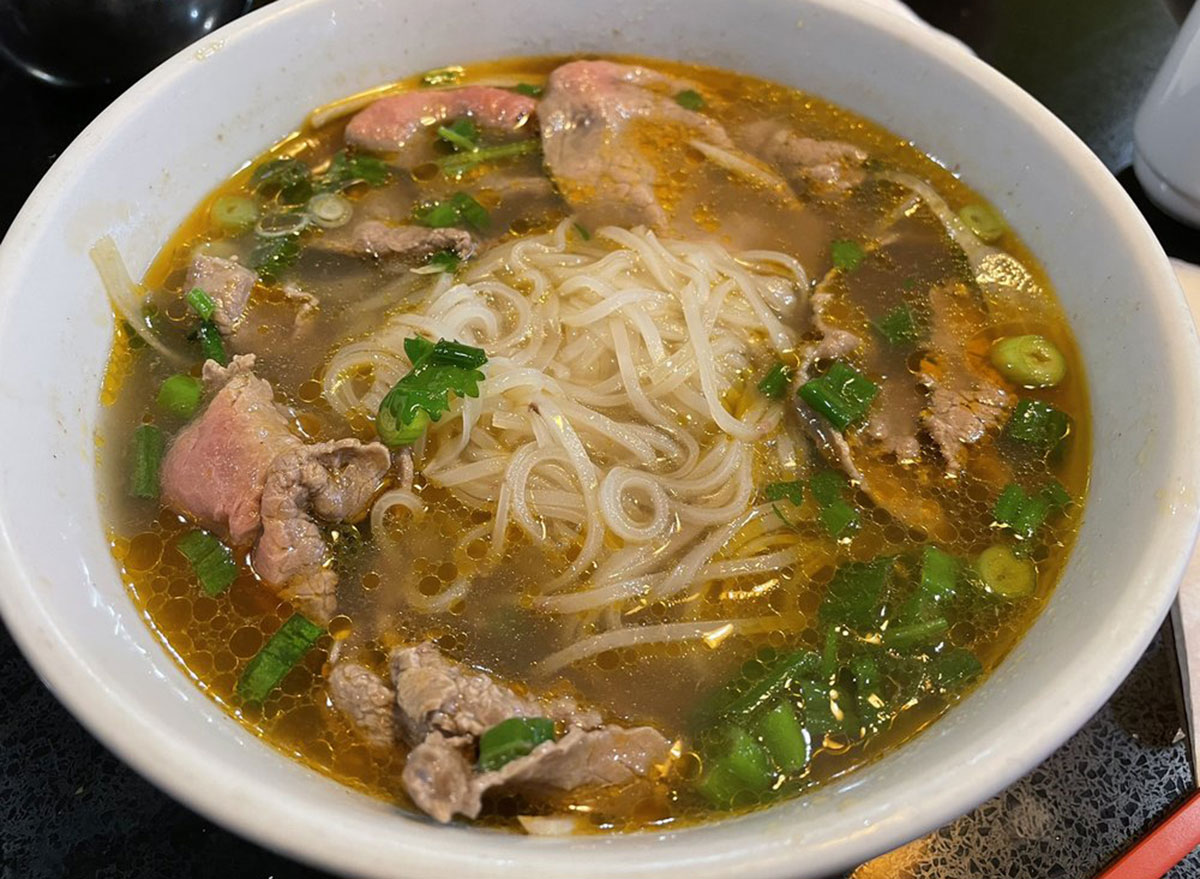 Pho is having a moment as a comfort food, and at Pho Hong you can get a sizable bowl of pho for just $9.50. The bowl comes loaded with noodles, fresh bean sprouts, basil, lime, onion, and cilantro.
VIRGINIA: Jack Brown's in Richmond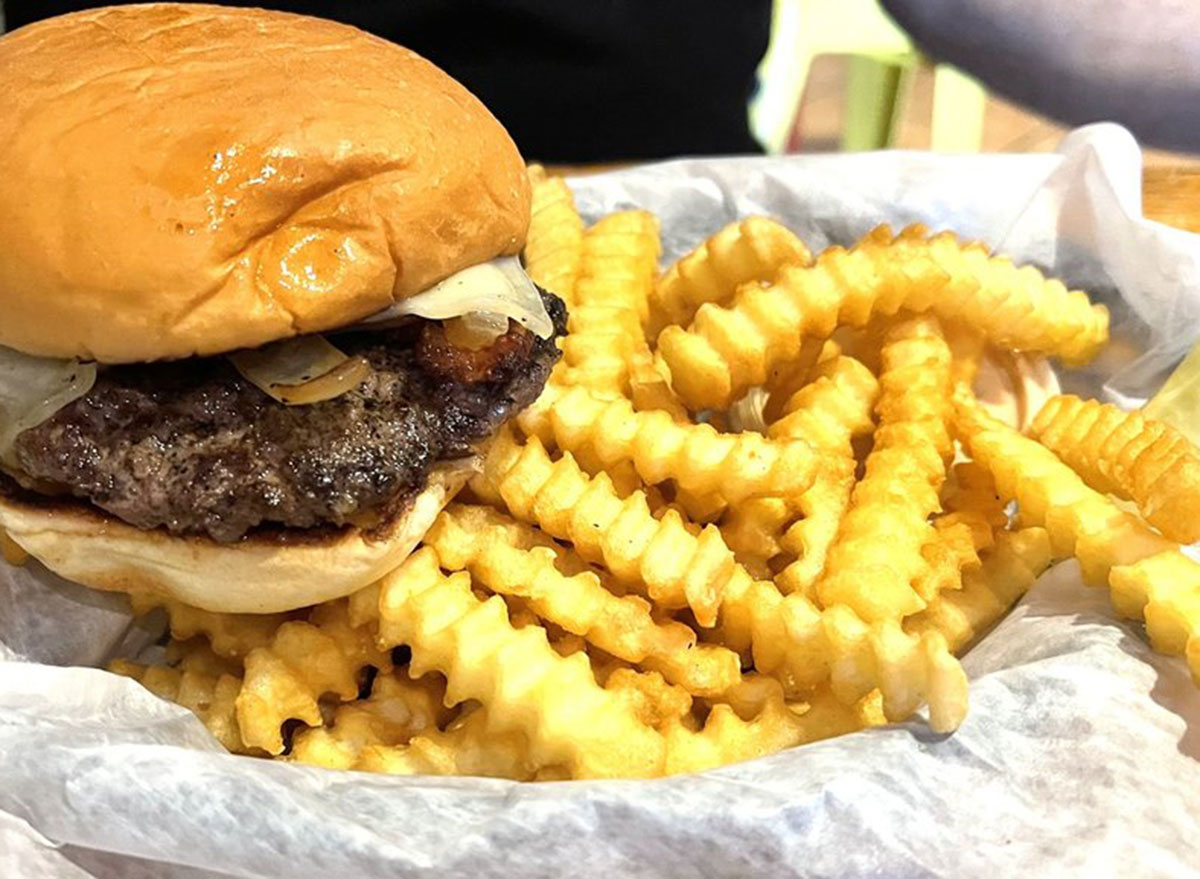 Jack Brown's is a little hole-in-the-wall burger joint that's only open seasonally in spring and summer due to only having outdoor dining. The trailer park-inspired restaurant is serving fresh, hand formed burgers with toppings like jalapeño jelly and cream cheese, and macaroni and cheese and potato chips, all for under $9.
WASHINGTON: Spice Waala in Seattle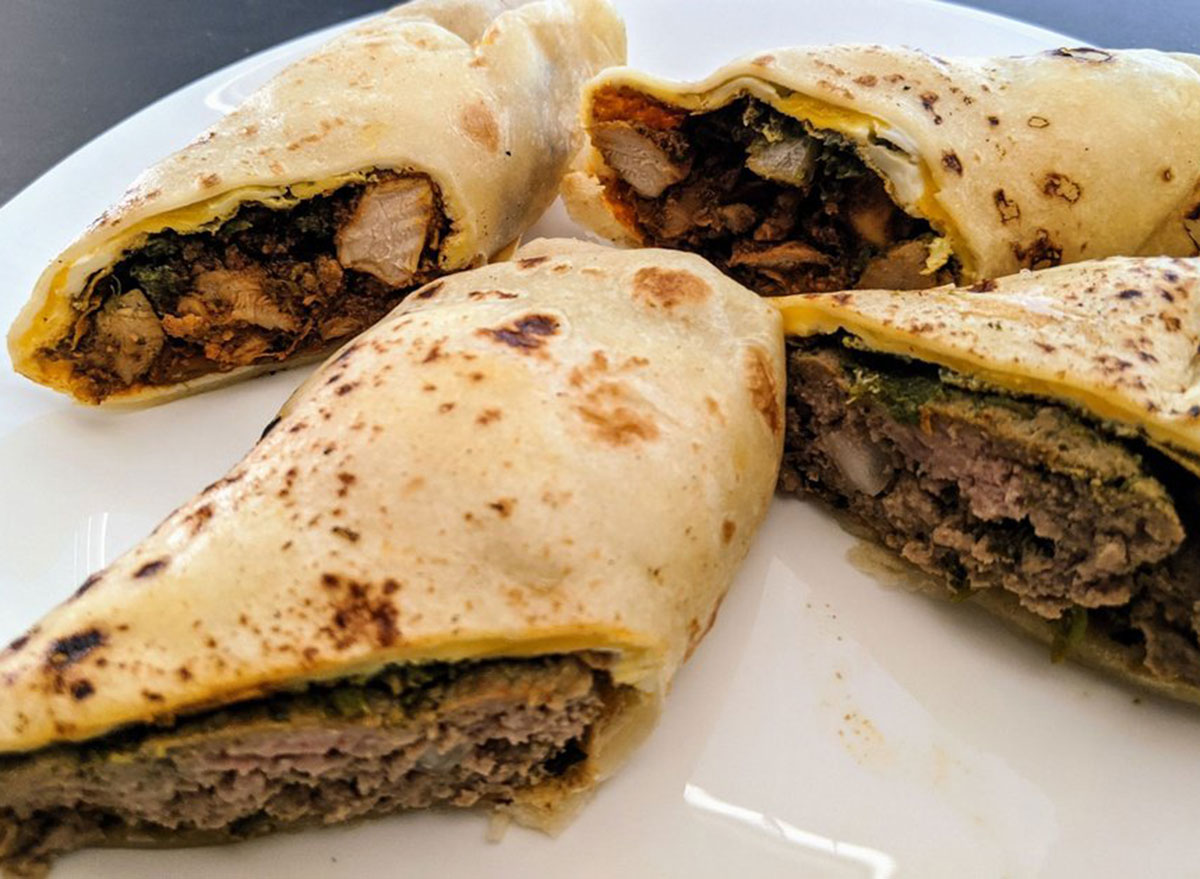 Authentic Indian food is what Spice Waala specializes in. Here you can get everything from a variety of chaat for under $5, mango lassis for $3, and chicken tikka rolled in roti bread for $7.
WEST VIRGINIA: Spring Hill Pastry Shop in Charleston
There's nothing better than walking into a bakery and ogling at the bakery cases to figure out what you want to try. At Spring Hill Pastry Shop the cases are filled with cupcakes, French horns, and snowballs for an affordable sweet treat whenever you need one.
WISCONSIN: Cranky Al's in Wauwatosa
Cranky Al's is part donut shop and part restaurant. If you go here on the weekend you can treat yourself to waffle battered chicken nuggets that are served with a side of maple syrup for just $7.95.
WYOMING: Bubba's Bar-B-Que in Jackson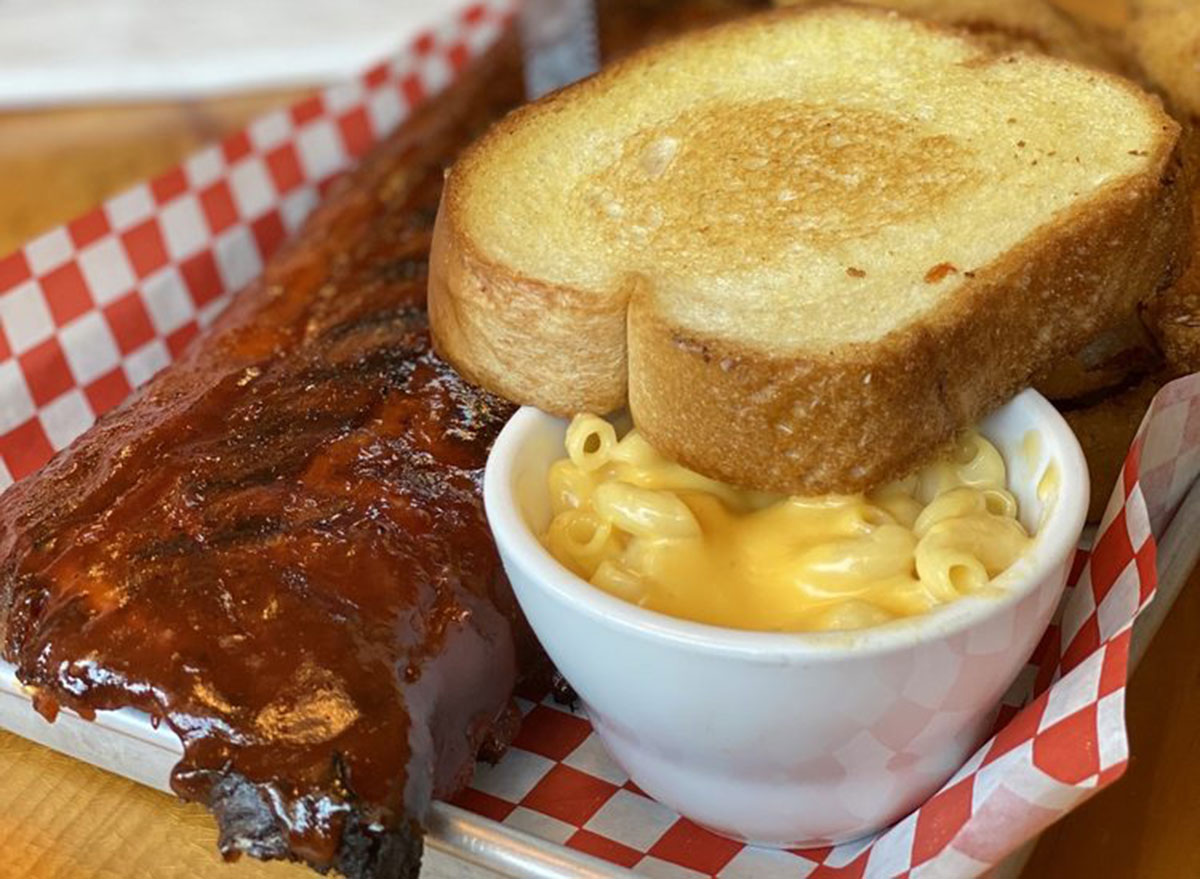 Bubba's Bar-B-Que makes everything from breakfast burritos to traditional sweet and smoky bbq. At lunch, you can get a smoked turkey plate with homemade bbq sauce, garlic toast, and two sides for $9.99.
Read more:
The Best Nachos in Every State
Megan duBois
Megan duBois is a travel and lifestyle journalist with bylines across the internet and in print at Delish, Conde Nast Traveler, Travel + Leisure, Yahoo Lifestyle, and more.
Read more about Megan