6 Worst Fast-Food Breakfasts to Stay Away From Right Now
These sandwiches? Not a nutritious start to your day.
The morning rush is no joke—from school drop-off lines to traffic snaking up and down the highway, everyone's in a hurry to get somewhere. The fast-food industry knows this and is taking the opportunity to monetize the fact that you don't have time to make your own breakfast. From traditional breakfast chains to burger-and-fry shacks that have rolled out breakfast options, swinging through a fast-food restaurant offers a simple solution for individuals and families all over America.
Are any of these fast-food breakfast options actually healthy, though? Is it possible to have both nutritional value and speed? We asked dietitian Amy Goodson, and her answer was a resounding "yes"—with a few guidelines.
Since breakfast sandwiches are by far the most convenient to eat while driving, hopping on the subway, or generally rushing, we focused our conversation solely on breakfast sandwiches, so that we can compare apples to apples.
When it comes to finding a healthy breakfast sandwich, it all starts with the bun. Goodson recommends looking for one made on either an English muffin or regular bread—bonus points if it's whole grain. Although options with biscuits and croissants may look appealing, they're higher in fat and calories and lower in fiber.
The next component of the sandwich is, of course, the stack. Goodson advises opting for lean protein, like grilled chicken and Canadian bacon, instead of piling on pork sausages and bacon. Of course, she adds, just eggs and cheese can serve as protein, too. In terms of other ingredients, the more vegetables you can add to your sammy, the better.
And finally, Goodson says, beware of add-ons. Creamy sauces, queso, and the like, add a lot of calories and fat to your sandwich. Not to mention a side of hash browns and a sugary latte, which might seem like an inevitable part of the equation but will detract from your overall nutrition. "Try a fruit cup and a simple coffee with milk to keep it all in check," Goodson advises.
To help you stay away from the absolute worst breakfast sandwiches currently on offer at fast-food chains, Goodson dug through the morning time menus and point out five items to avoid.
And don't miss 5 Worst Steakhouse Chain Orders To Stay Away From Right Now.
Chick-Fil-A's Hash Brown Scamble Burrito with Sausage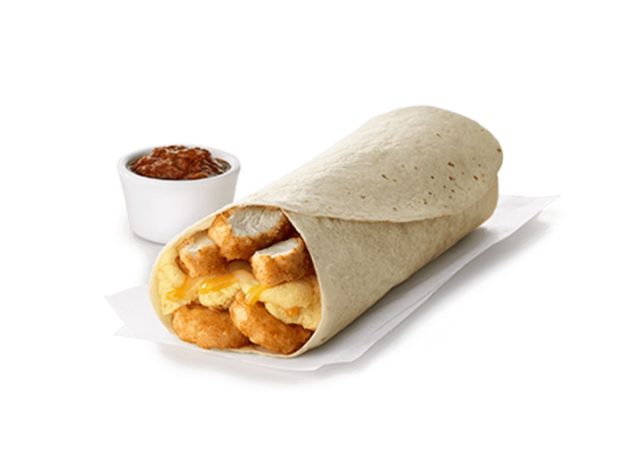 Per burrito
: 720 calories, 47 g fat (16 g saturated fat), 1,450mg sodium, 46 g carbs (4 g fiber, 3 g sugar), 28 g protein
While there is a good amount of protein in this burrito, this little package also comes with a frightening 1,450 milligrams of sodium, which is way more than half of the 2,300 milligrams max you should consume in a day. Skip the hash browns and the sausage, double the salsa, add a side of fruit, and save your gut some work.
Taco Bell's Breakfast Crunchwrap with Sausage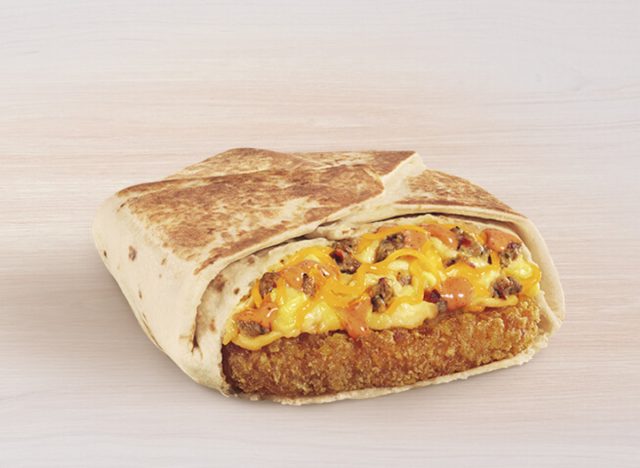 Per crunchwrap
: 720 calories, 47 g fat (15 g saturated fat), 1,270mg sodium, 51 g carbs (4 g fiber, 3 g sugar), 21 g protein
This inventive menu item includes sausage crumbles, eggs, cheese, and creamy jalapeño sauce layered on a hash brown and wrapped in a flour tortilla.
It's intriguing and, from a nutrition standpoint, a bit frightening. "Here's a little tip: any time you see the word 'creamy' in a sauce description" Goodson explains, "you can pretty much assume it means added fat and calories. Plus, when stacked on top of a fried hash brown, there will definitely be additional fat. Way more than what you should have at breakfast."
Dunkin's Sausage, Egg, and Cheese on Croissant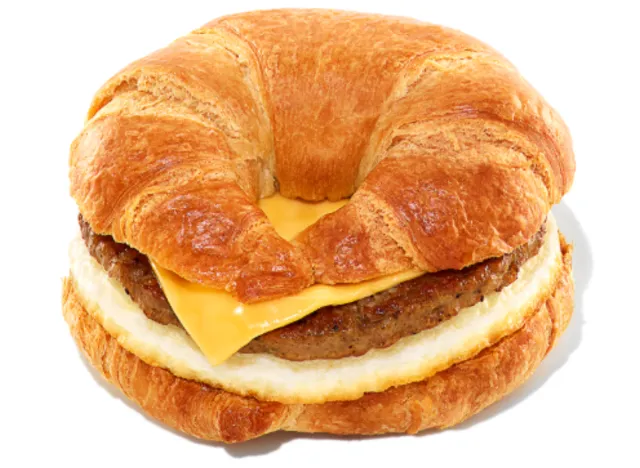 Per sandwich
: 720 calories, 52 g fat (20 g saturated fat), 220 mg cholesterol, 1,120mg sodium, 42 g carbs (2 g fiber, 6 g sugar), 21 g protein
This simple croissant sandwich from the breakfast place that America runs on appears fairly innocent. It's just four ingredients—egg, cheese, and a sausage patty on a croissant. How could anything so straightforward make the list of unhealthiest breakfast options? According to Goodson, it's the 52 grams of fat that does it.
"Not to mention," she adds, "it also provides almost half of your daily sodium intake, likely coming from the sausage."
Burger King's Double Sausage, Egg, and Cheese Croissan'Wich
Per sandwich
: 802.3 calories, 60.6 g fat (26.8 g saturated fat, 1.9 g trans fat), 341.2 g cholesterol, 1,966.3 mg sodium, 31 g carbs (0.8 g fiber, 4.9 g sugar), 33.6 g protein
Unfortunately, the king of burgers offers up some pretty unhealthy breakfast options. This sandwich doubles the serving of sausage and, in doing so, also racks up the calories.
"The sausage is definitely adding extra fat and sodium to this sandwich," Goodson says, "and the buttery croissant is full of fat and calories as well."
All in all, you don't need to consume 800 calories for breakfast.
IHOP's Spicy Poblano Fajita Burrito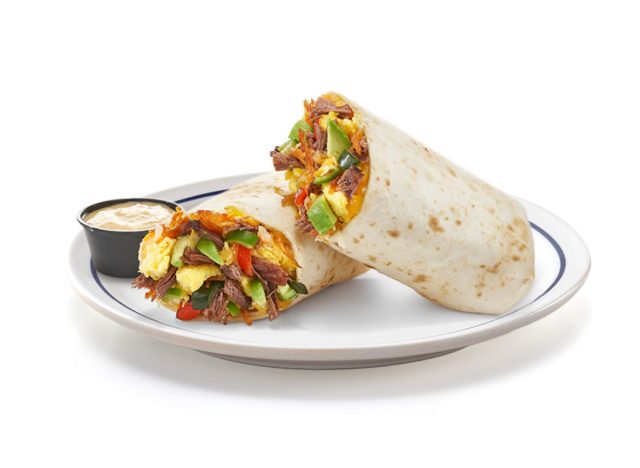 Per serving
: 1,300 calories, 80 g fat (27 g saturated fat, 1 g trans fat), 565 mg cholesterol, 2,630 mg sodium, 86 g carbs (9 g fiber, 6 g sugar), 61 g protein
IHOP sure makes a hefty egg-filled burrito. The Spicy Poblano Fajita Burrito is not much better than the Chicken Burrito. Loaded with shredded beef, scrambled eggs, peppers and onions, shredded jack and cheddar cheese, avocado, and hashbrowns, then wrapped in a flour tortilla and slathered with poblano queso, this fajita burrito has way more sodium than you need in a day, according to Goodson.6254a4d1642c605c54bf1cab17d50f1e
"While many of these ingredients can be healthy," she adds, "loading up on all of them will also increase the calories, fat, and sodium levels of your breakfast."
IHOP's Southwest Chicken Burrito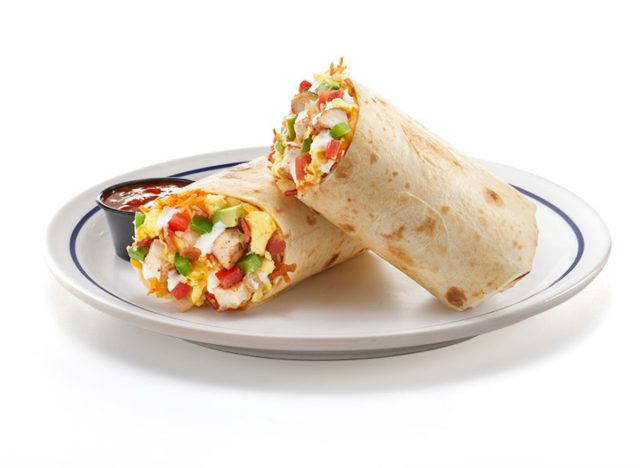 Per serving
: 1,360 calories, 85 g fat (34 g saturated fat, 1 g trans fat), 560 mg cholesterol, 3,300mg sodium, 88 g carbs (10 g fiber, 10 g sugar), 62 g protein
IHOP's Southwest Chicken Burrito stuffs grilled chicken, scrambled eggs, hickory smoked bacon pieces, green bell peppers and onions, tomatoes, queso sauce, shredded jack and cheddar cheeses, avocado, and hash browns all into a single flour tortilla. It's a lot if you eat it for lunch, let alone for breakfast.
Goodson points to the incredible amount of calories and sodium in this burrito. "While there are veggies, grilled chicken, and avocado here, the addition of bacon, hash browns, and so much cheese and cheese sauce, pushes the calories, fat, and sodium levels far above what should be consumed for breakfast. In fact, this burrito has 1,000 more milligrams of sodium than you are supposed to consume in a day!"
A previous version of this article was published in May 2022. It has been updated with new information.