4 Most Overpriced Burger Chains, According to Customers
Are you getting enough burger bang for your buck?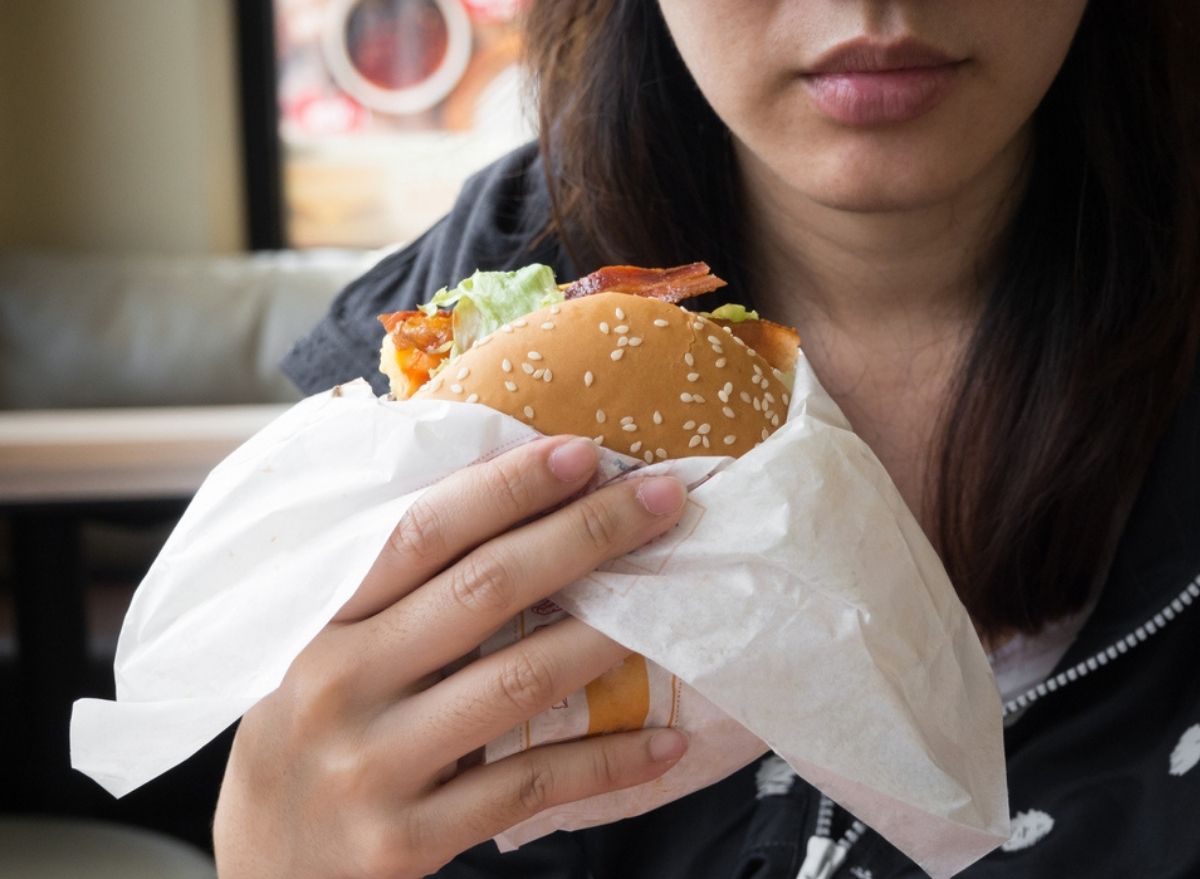 Fast-food prices just aren't letting up. The average fast-food menu is now 8% more expensive than in 2020, according to Forbes. For now, customers have largely gone along with the increases, and top chains have reported record profits in the past year.
You might have noticed the price hikes at your go-to fast-food spot: Chipotle has dialed up prices a little over 10% since last year, and McDonald's saw increases of 6%. Wendy's and Starbucks, meanwhile, have both announced their menus are getting more expensive in 2022.
But just how much more are customers willing to shell out when it comes to fast food? The question currently looms large over the industry, as a recent report from Revenue Management Systems confirms that visits to drive-thrus are down this year compared to 2021. In fact, fast-food customers are averaging about one less drive-thru trip per week.
The prices at these four burger chains may be reaching the limit of what customers are willing to pay for a simple burger.
And don't miss 9 Burger Chains With the Best Quality Meat In America.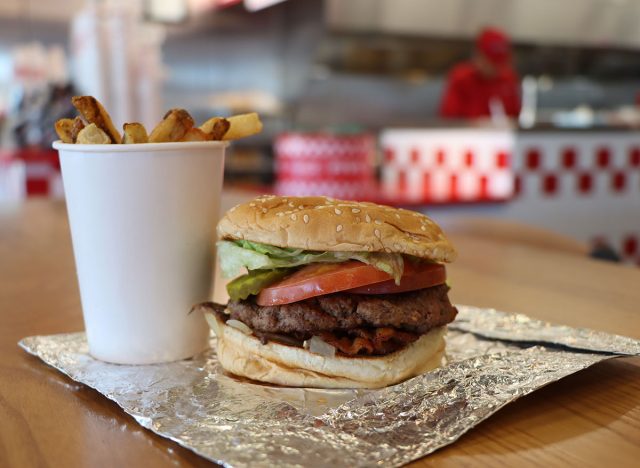 Five Guys' reputation for being overpriced is years in the making. Due to its steep prices, the chain began to fall out of favor with one of its core customer groups, millennials, around 2017. And five years later, the story hasn't changed much, with Five Guys' prices still a sore subject on Twitter. In fact, during the time it took to write this article, five new tweets about how overpriced Five Guys is have popped up.
The chain's Cheeseburger averages $9.84 in California, according to Fast Food Menus. Its fries aren't cheap, either, with a Regular order priced at $5.36.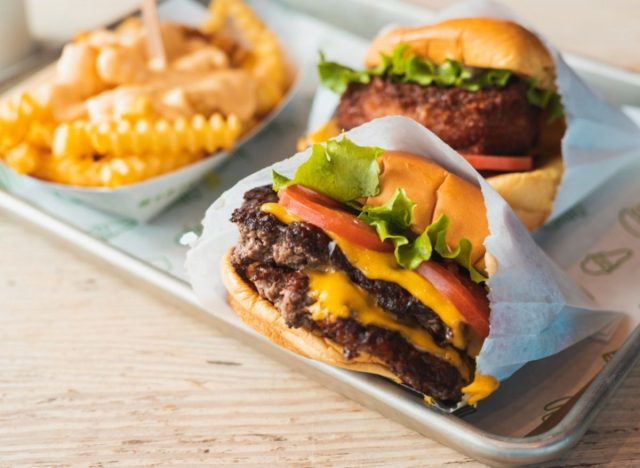 Beloved for its flagship "ShackBurger" and its menu of hand-spun milkshakes and frozen custard, Shake Shack ranks among the top 15 largest burger chains in the U.S. The chain is thriving post-pandemic, too, reporting same-store sales growth of 10.3% in its most recent quarter.
Nonetheless, Shake Shack is still regarded by many of its customers as overpriced. In a recent Shake Shack complaint, published on Reddit, a customer claimed to have been charged $26 for two burgers and two drinks. Meanwhile, on Twitter, there's no shortage of stories about Shake Shack orders running well over the $20 mark. One customer claimed to have shelled $35 for a burger, fries, and drink.
The ShackBurger Double currently goes for $7.77 in California, according to Fast Food Menus. The chain raised menu prices by 3.5% in March, and is considering additional price hikes in the near future.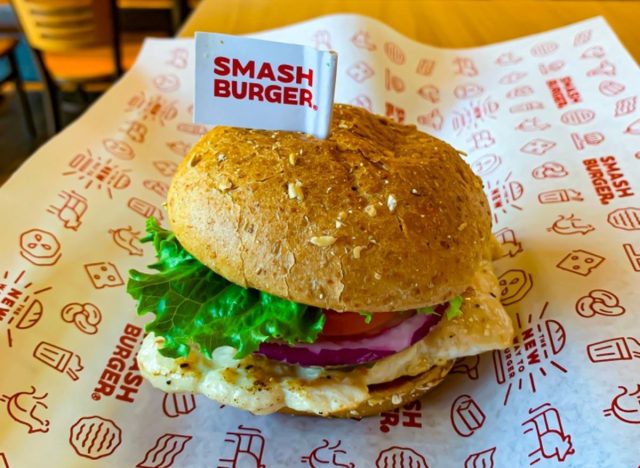 A forerunner of the "better burger" trend, the Colorado-based chain (owned by Jollibee) is famous for its smashed-to-perfection burgers, which are made with never-frozen 100% angus beef. Smashburger got its start in 2007, and its footprint is currently expanding at a rate of about 20 restaurants per year.
But for all of its "better burger" credentials, the premium chain has a reputation for not being worth its high price tags (and a little shaky on the quality, too). Recent Twitter reviews characterize Smashburger as "overpriced," "mediocre fast food at twice the price," and "five guys but even more overpriced." A Classic Smash Burger goes for about $10 in Los Angeles. And from the look of it, it's a lot of buck for a little bang.
Famous for its drive-in and rollerskating carhops, Sonic Drive-In has been around since the '50s, with its eclectic menu of burgers, hotdogs, slushes, and grilled cheese sandwiches. The drive-in chain enjoyed something of a resurgence during the pandemic, with its off-premise business model helping it to grow sales by 21%.6254a4d1642c605c54bf1cab17d50f1e
With that said, Sonic's menu prices leave a lot to be desired when compared with those of other major chains. As Mashed points out, Sonic's prices didn't budge during the late 2010s, when other chains like Burger King, McDonald's, and Wendy's were entangled in a "race to the bottom" price war. Failing to keep pace, Sonic has gradually become overpriced.
Currently, Sonic's Cheeseburger Combo goes for $7.67.
Owen Duff
Owen Duff is a freelance journalist based in Vermont, home of Ben & Jerry's.
Read more about Owen