6 Grocery Items That Will Surge in Price This Year, Experts Say
Receipts will continue to be higher than normal for a while.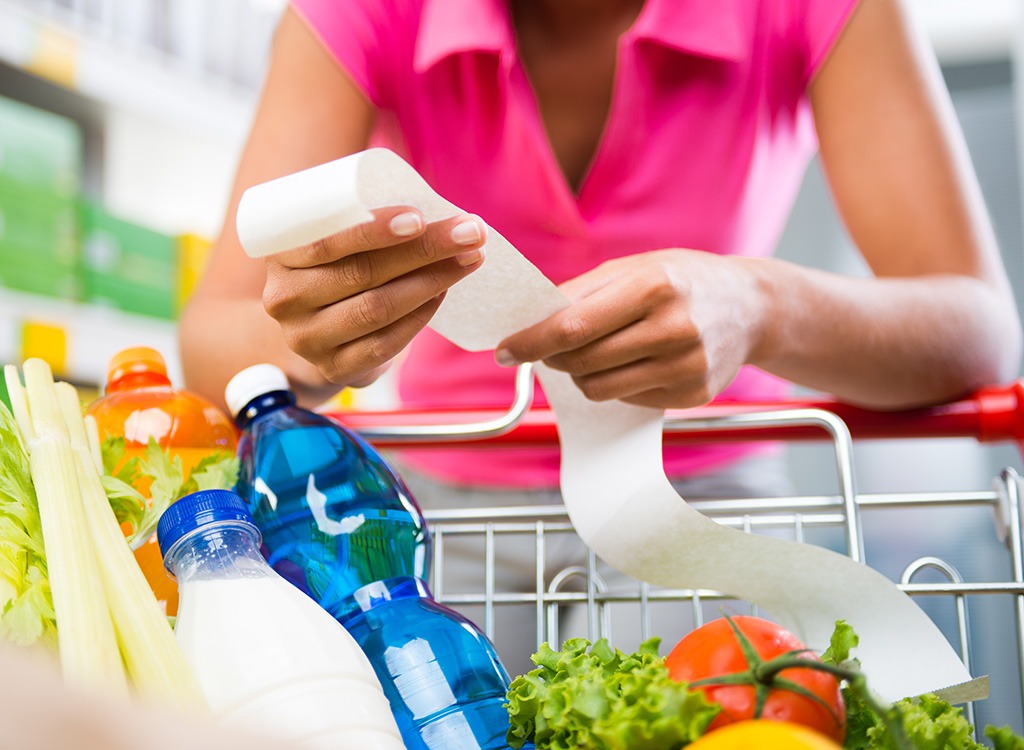 Just like last year, shoppers can expect to see rising food costs continuing into 2022. While grocery prices remained relatively unchanged before the pandemic (between 2015 and 2019), supply chain issues, labor shortages, and overall high demand across the U.S. have been said to contribute to an impending consumer price hike.
Manufacturers and grocery stores have especially felt the pressures of keeping essential items in stock. Not only has this led to higher production costs, but has, in turn, led to companies implementing measures like raising retail prices for consumers, and it probably won't get better any time soon. To better prepare for these changes, here are some staple foods that will see a price increase in the new year.
Related: This Grocery Store Is The Most Trusted in America, New Survey Finds
Steaks
Steaks have already been known to carry a hefty price tag (Costco's Rastelli Market 18-pack steaks will set you back nearly $750), but some varieties are about to get even more expensive. CNBC reported that beef and veal prices have risen dramatically over the past year, up by 20.1%. The news site suggested that the pandemic caused a major slowdown in beef production, and this extends to all types of meat including seafood and pork.6254a4d1642c605c54bf1cab17d50f1e
Meat organizations are taking matters into their own hands to try and keep steak prices from staying high into 2022, but the efforts aren't making as much ground as hoped. When asked about the situation, the North American Meat Institute pointed Eat This, Not That! to a Dec. 10 news release about who is to blame for the price hikes.
"The White House Economic Council is again demonstrating its ignorance of agricultural economics and the fundamentals of supply and demand. This argument is simply a rinse and repeat of their September attempts to blame meat and poultry companies for inflation that is not limited to food, but is being felt across the economy," Julie Anna Potts, the President and CEO of the Meat Institute says in the release.
"The answer is consumer demand for meat and poultry products has never been higher. Members of the Meat Institute are producing more meat than ever before under extraordinary circumstances to keep our farm economy moving and to put food on American's tables," she adds. Time will tell if this works.
Chicken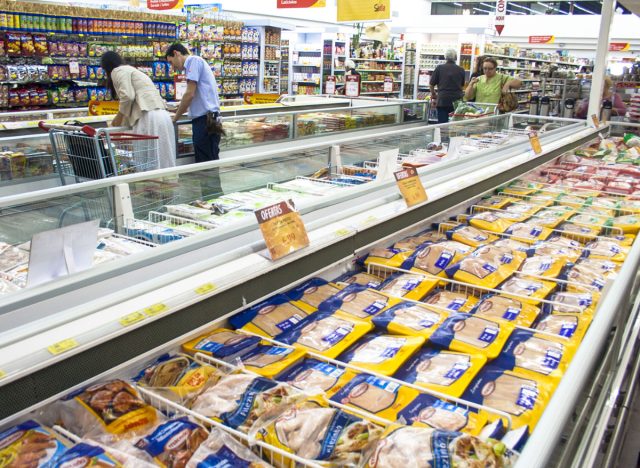 Like steak, chicken has also seen a price surge, up 9% from 2020. National Chicken Council President Mike Brown addressed the reason behind chicken's increased price. In a December 2021 news release, Brown stated that "A 9 percent year over year price increase for chicken is barely outpacing inflation … on top of a labor shortage. It's Economics 101."
Brown added that truck driver shortages and shipping delays also contributed to the inflated price. Since these things are still plaguing the food industry, it's safe to say that 2022 could come with more price changes for chicken.
Related: To get all the latest grocery store news delivered right to your email inbox every day, sign up for our newsletter!
Mayonnaise
Companies like Kraft are among the top manufacturers of the beloved dressing in the world, yet it was reported by the Wall Street Journal that the parent organization Kraft Heinz Company is set to tell "customers that it would raise prices across many of its products … with some items going up as much as 20%." Shoppers should be prepared since the price of mayo is set to change very soon.
Eggs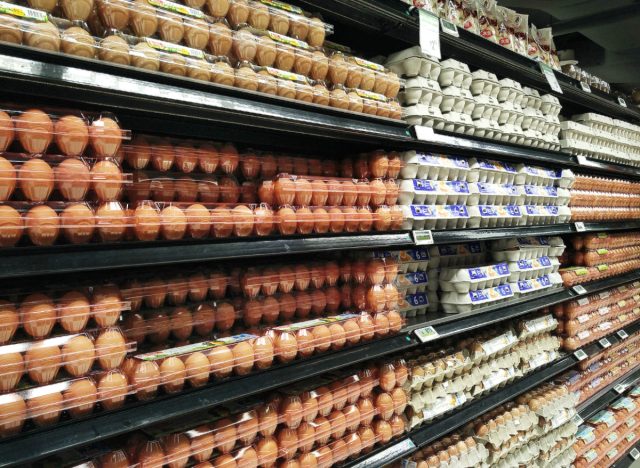 Adding to the list of more expensive protein items, consumers may soon notice the price difference of a carton of eggs yet again. In 2021, CNN noted an 11.6% increase in cost from the same time as the year before.
" … We've chosen to increase our prices for the time being. We recognize that this is a difficult time for everyone and higher grocery bills can only contribute to that …" wrote organic egg company Pete and Gerry's when addressing why it raised its prices. "In the egg world, the cost of high-quality organic ingredients for our hens' supplemental feed has reached an all-time high."
The company noted that it was led "to make some difficult decisions," in part due to the pandemic's strain on operations. Since these are still going on, the price of eggs could still rise and fall in the next few months.
Related: America's Largest Grocery Chain Is Changing This COVID-19 Rule
Cereal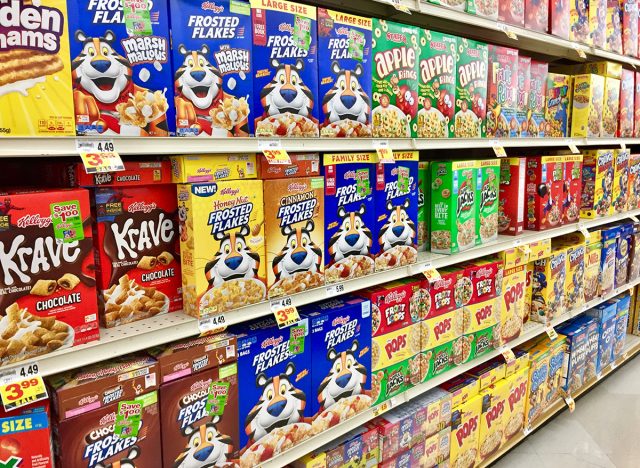 Cereal was reported to be 5% more expensive in the fall of 2021 than it was in 2020, this surge possibly having no end in sight. CNN reported that in a letter to a wholesale supplier, the popular brand General Mills revealed that the company will raise prices on a number of items, including cereals like "Cheerios, Cinnamon Toast Crunch, Lucky Charm's, Wheaties, Reese's Puffs, Trix and more."
CNN added that General Mills inflated prices are in response to "… higher materials and labor costs." The price hike is expected to begin around mid-January.
Vegetables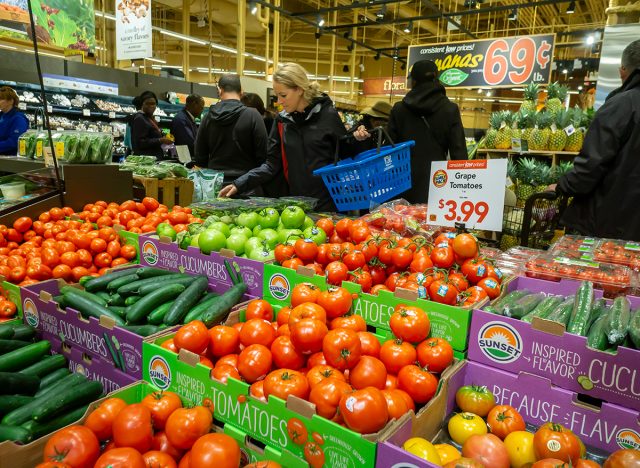 "Potatoes, celery and other heavier vegetables will have higher price tags next year in part because of higher freight costs …" says a report from Wall Street Journal.
The USDA Economic Research Service concluded that when looking at the Consumer Price Index which tracks inflation—"The food-at-home … increased 0.3 percent from Oct. 2021 to Nov. 2021 and was 6.4 percent higher than Nov. 2020."
Mashable explained that the reason for the price increase simply stems from many COVID-related issues that other companies are facing, which they say are "still wreaking havoc on the food industry" and will for a while to come.
For more info about what's happening at the supermarket near you, read these next:
Alex Perry
Alex Perry is a writer with Eat This, Not That! She graduated with a master's degree in broadcast journalism from Northwestern University, where she experienced all the amazing things Chicago has to offer.
Read more about Alex