Recalls and Alerts Were Just Issued on These Grocery Items
These items could make you or your family sick.
There are around 500 food recalls issued by the U.S. Food and Drug Administration (FDA) and the USDA's Food Safety and Inspection Service (FSIS) every year, and 2022 is starting off with quite a few for foods found at grocery stores in your neighborhood that you should know about before your next shopping trip.
These newly released recalls and public health alerts affect items in all areas of the supermarket—from the ready-to-eat section to snacks and condiments. Here's everything you need to know about the specific foods that can potentially pose a risk to you right now. And for more grocery news, check out the 6 Things You'll See at Costco This Year.
Conagra Brands is alerting consumers to be cautious with two of its salad dressings.
Both the Thousand Island and Chunky Blue Cheese salad dressings sold under the Wish-Bone brand are the subject of a new allergy alert because they could contain undeclared eggs. A recall was issued and posted to the Conagra brands website, and while no reports of any illnesses related to the consumption of these items have been reported, if someone with an allergy or sensitivity to eggs consumes them, they could develop a serious or life-threatening reaction.
The impacted dressings include: Thousand Island Dressing with a "Best By" date of JAN312023, FEB012023, or FEB112023; or Chunky Blue Cheese Dressing with a "Best By" date of NOV092022.
"Conagra Brands will work with retail customers to ensure that the recalled products are removed from store shelves," the recall notice says, but no information is given as to exactly where the dressings in question were sold. It is also still unknown how Conagra Brands discovered the issue. Eat This, Not That! has reached out to the company for more information.
Consumers who have a bottle in their home are advised to dispose of the dressing, and call a healthcare provider if they feel ill.
Siren Birthday Cake Bites sold at Target are being recalled.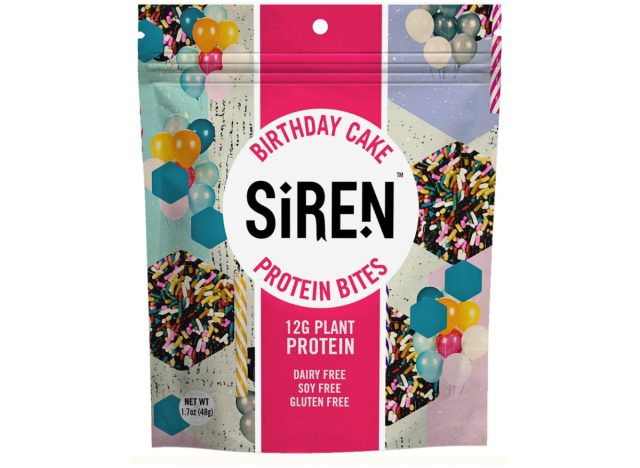 A customer reaction and complaint about undeclared cashews and almond butter in the Siren Birthday Cake Bites sold at Target stores nationwide has led the company to issue a recall, according to a notice posted by the FDA. The company says that products containing cashew and almond butter was distributed in packaging that did not reveal the presence of the two nuts, causing the customer to have an allergic reaction.
Although it should no longer be on Target shelves, the 1.70-ounce bags of the plant-based protein bites includes bags with a UPC code of 8-62768-00048-3 and a lot code of 21326, 21335, 21336, or 21340. The company sells keto, protein, energy, and relaxing snack bites, but no others are impacted.
"Consumers who have purchased the affected lot should return the product to where it was purchased to request an exchange or full refund if there is an allergy concern," Siren says. "Affected product should then be discarded in a secure place and not consumed."
Related: Why Grocery Recalls Are at an All-Time High
Berry snacks sold in six states are being recalled due to undeclared sulfites.
Sulfites are sometimes found naturally in food but are also added in to help maintain color. However, some people can be allergic to them, and large doses of them can be harmful to those with asthma. Because of this, BCS International Corp. is pulling its Dr. Snack Goji Berry treats from shelves since the packaging does not say it may contain the chemicals.
The recall announcement was posted by the FDA, and says that the snacks were sold in 4.5-, 6-, and 9-ounce clear, plastic containers as well as 5-pound bags at stores in New York, New Jersey, Connecticut, Pennsylvania, Maryland, and Delaware.
The New York State Department of Agriculture and Market Food Inspectors sampled the treats, and Food Laboratory personnel analyzed it and found that the berries contain 13.6 milligrams of sulfites—much more than the 10-milligram limit.
Ready-to-eat Chicken Salad products sold in one major U.S. city could contain Listeria.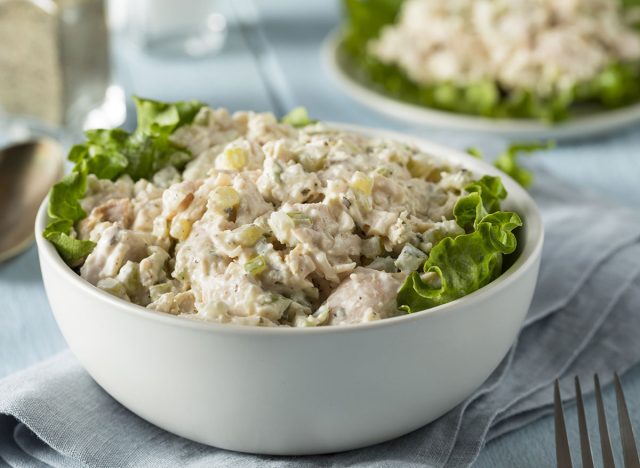 Grocery shoppers in Marietta Ga. near Atlanta are familiar with Simply Fresh Market, a market selling health-conscious products. Anyone who shopped there recently and picked up the 8- or 16-ounce ready-to-eat Chicken Salad with a sell-by date of 1/25 should check it, though, because it may contain Listeria.6254a4d1642c605c54bf1cab17d50f1e
Contamination with this bacteria can cause symptoms like diarrhea, fever, headache, stiff neck, confusion, and more. In women who are pregnant, it can cause flu-like symptoms, as well as miscarriage, stillbirth, premature delivery, or life-threatening infection of the newborn, the CDC says.
The Chicken Salad, which also contains apples and walnuts, is not being recalled because the product is no longer available for purchase, but a public health alert was posted by FSIS.
"We recently discovered an issue with one of our Chicken Salad products when a routine quality-control product sampling reported positive Listeria monocytogenes results," Simply Fresh Market says in a statement on its website. Since then, the company has contacted FSIS, confirmed the scope of the contamination, removed the product from shelves, and completed further testing on other ready-to-eat chicken salad products.
"We are committed to continuing to meet the standards of the USDA
and take all necessary steps to ensure the safety of our food products for the health of our customers," Simply Fresh Market says.
To shop smarter, make sure to read this list of the 50 Bottled Drinks to Always Leave on Grocery Store Shelves.
Amanda McDonald
Amanda has a master's degree in journalism from Northwestern University and a bachelor's degree in digital journalism from Loyola University Chicago.
Read more about Amanda