This Ingredient In Impossible Meat May Not Be Safe, Lawsuit Alleges
It says more research needs to be done on the color additive that makes the plant-based meat bleed.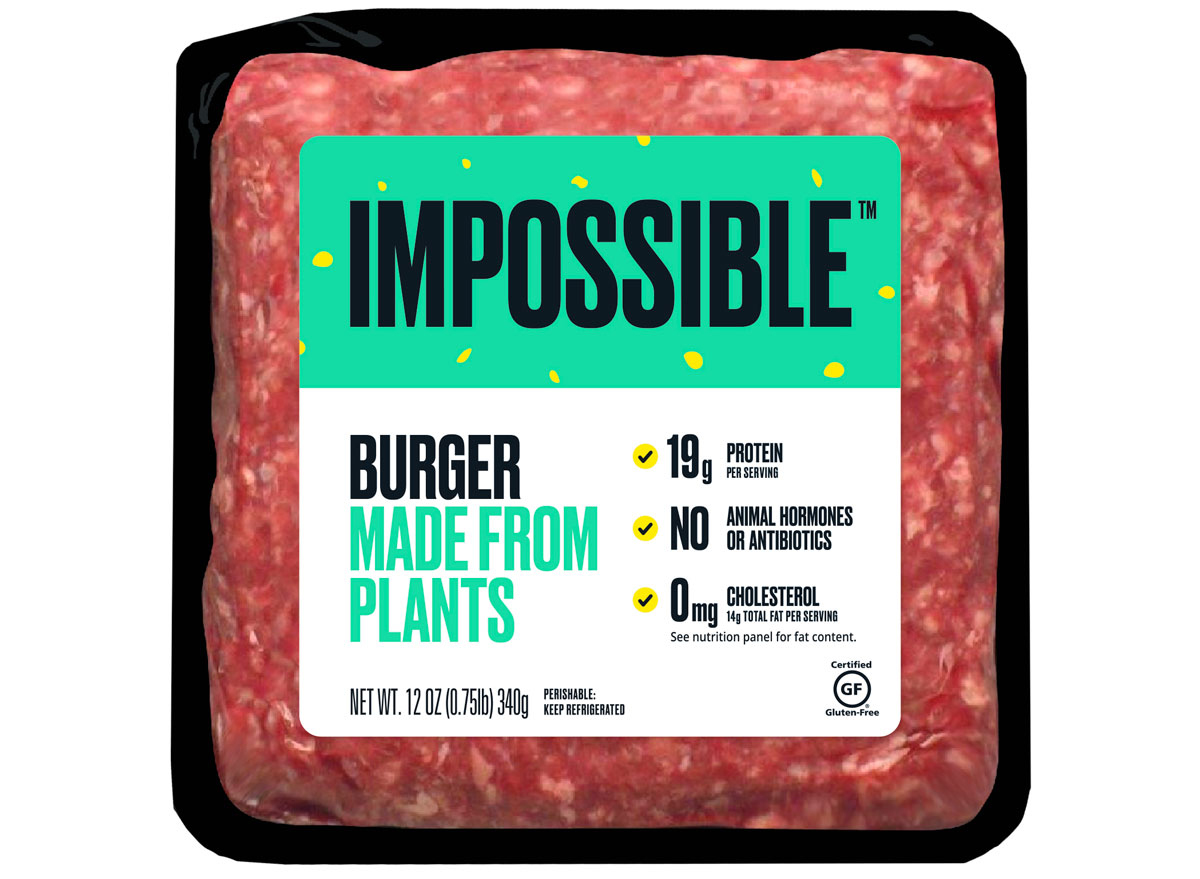 A new lawsuit filed by the Center for Food Safety (CFS) claims that a color additive used to make Impossible meat look more like real beef could be harmful to human health.
The additive, soy leghemoglobin, creates the "bleeding" effect in the plant-based meat alternative but is made of genetically engineered yeast. While the substance was deemed safe for consumption by the Food and Drug Administration (FDA) in 2019, the lawsuit is challenging this decision, saying that soy leghemoglobin wasn't subjected to rigorous-enough safety tests. (Related: Grocery Shortages To Expect in 2021, According to Experts.)
According to the lawsuit, there must be "convincing evidence" of safety for any color additives to get approved by the FDA, but no such regulation is in place for food additives. It's not clear which category the novel additive falls under. Soy leghemoglobin also has "no history or knowledge of human dietary exposure." Based on this, the CFS says the FDA's approval of soy leghemoglobin should be vacated.6254a4d1642c605c54bf1cab17d50f1e
Impossible Foods reportedly submitted an animal study about its products that the lawsuit says "did not meet the minimum standards for such studies" and that "should have triggered additional, long-term testing" which didn't occur.
"The Center for Food Safety is suing the FDA; as a matter of policy, we wouldn't comment on a lawsuit between independent entities," an Impossible Foods spokesperson said in a statement to Eat This, Not That!. "That said, we are happy to comment on Impossible Foods' exceptional record of health and safety. The Center for Food Safety (CFS) is an anti-GMO, anti-science organization that has been spreading lies about Impossible Foods for years, with a track record that includes issuing patently false claims in a malicious attempt to defame Impossible Foods and its products. Impossible Foods puts health and safety first, and we meet or exceed all pertinent food-safety regulations. Our product is entirely legal everywhere we sell it. Impossible has worked closely with the FDA, the nation's food-safety guardian, and has shared both extensive test data and commercial plans with the government body. The FDA has recognized and confirmed multiple times that the Impossible Burger's key ingredient is safe to eat. Contrary to what CFS has been saying for years, Impossible Foods' products have undergone rigorous safety testing and meet or exceed all relevant federal requirements. We've gone above and beyond all regulatory requirements. For more details about the CFS' tired campaign against Impossible Foods, please check out this blog."
Studies have shown that certain color additives, also sometimes called food dyes, have harmful effects to animals and humans. Ones like Red 3, Red 40, Yellow 5, and Yellow 6 have been linked to cancer. However, results of a 2018 study raised no issues regarding carcinogenic properties of leghemoglobin protein (LegH) from soy, as it looked at the effect of the additive in humans. For more, read the full case here.
This isn't the only item on your grocery list facing a lawsuit. A judge recently ruled that a case against Whole Foods that says its Honey Graham Crackers are mislabeled is set to proceed. To get all the latest grocery store and food news delivered right to your email inbox every day, sign up for our newsletter!
Amanda McDonald
Amanda has a master's degree in journalism from Northwestern University and a bachelor's degree in digital journalism from Loyola University Chicago.
Read more about Amanda