This Is Kate Middleton's Exact Breakfast, Lunch, and Dinner
From green smoothies to lentil curry, here's how the Duchess of Cambridge stays healthy and fit.
Between working on various charity initiatives, taking care of her three young children, and attending more than 80 royal engagements throughout the year, Kate Middleton is quite a busy woman. Despite her hectic schedule, the Duchess of Cambridge ensures she has a consistent routine—one that emphasizes living a healthy, balanced lifestyle.
As one of the most-watched women in the world, Kate has garnered immense curiosity about how she stays so fit. In fact, she has the most Googled diet in the royal family, pulling in 4,600 searches per month and 55,000 searches per year across the globe. This research, which was conducted by exercise and nutrition experts at Barbend, revealed that Kate's food choices generated seven times more searches than the average for all royal diets and four times more searches than the next highest trending diet: Meghan Markle.
While much of the royal's day-to-day life is fairly private, previous reporting has shown that Kate's diet is regimented, yet relatable. So, without further ado, read on to discover what a typical day of eating might look like for Duchess Kate. And next, don't miss 16 Celebs Share How They Make Oatmeal.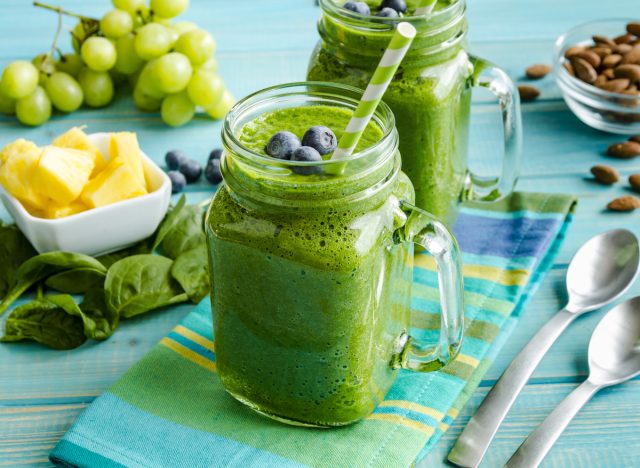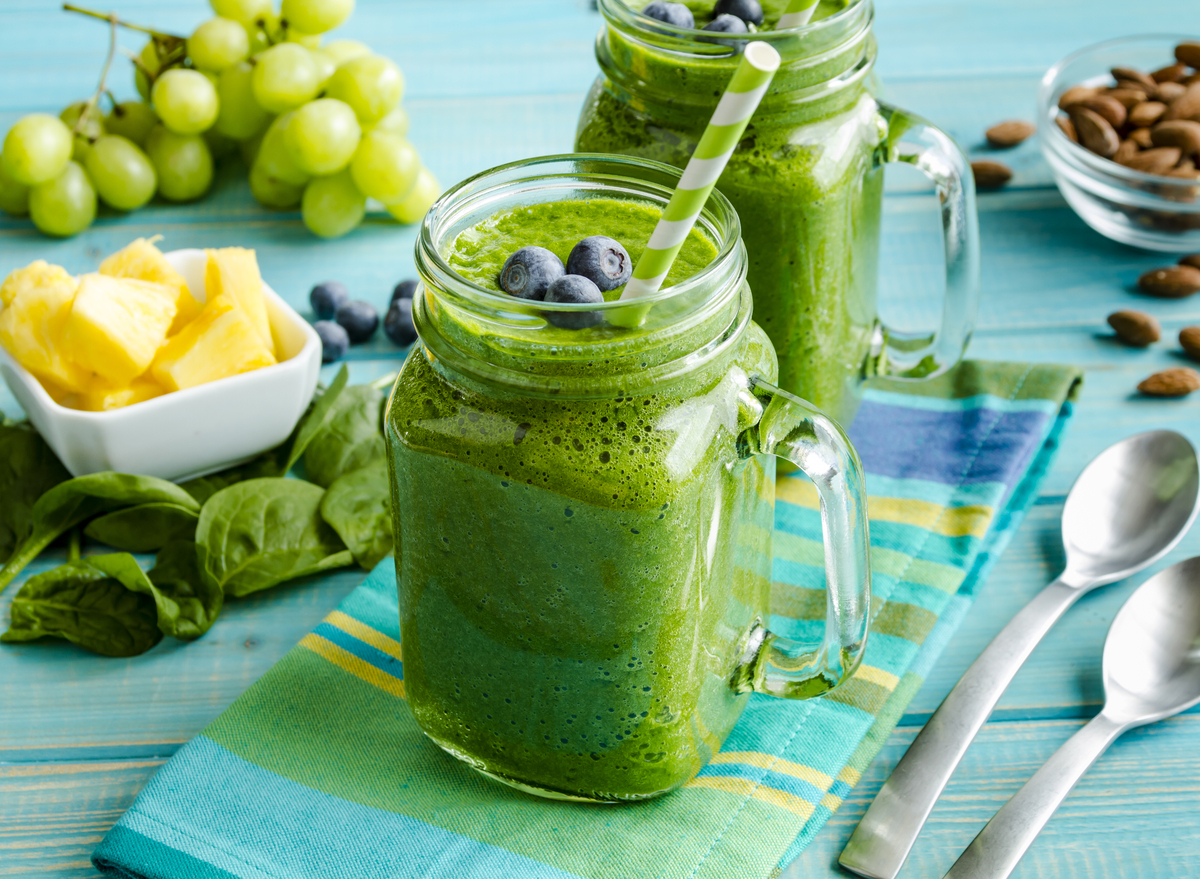 To get her day started, Kate is known to whip up a filling, energy-boosting breakfast like oatmeal, which is high in protein, fiber, and slow-burning carbohydrates. Not only are oats celebrated for their cholesterol-lowering properties, but they also promote gut health and blood sugar control, so Kate covers several bases with this morning staple.
Additionally, to achieve her radiant glow, the Duchess ramps up her antioxidant intake by opting for homemade smoothies. It's been reported that Kate likes to blend together kale, spinach, romaine, spirulina (a type of algae), and blueberries. This nutrient-rich drink is packed with vitamins and minerals that are known to promote healthy skin and reduce the risk of disease.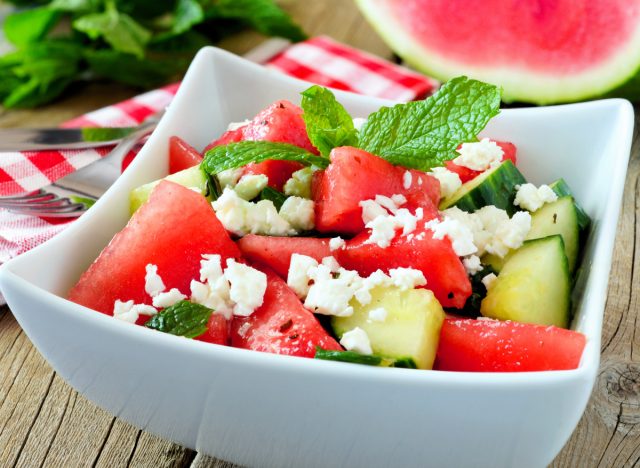 As the day progresses, Kate continues to load up on antioxidant-rich foods, ensuring she incorporates plenty of raw ingredients into her lunch. Watermelon salad with avocado, onions, cucumbers, and feta cheese is said to be one of her go-to meals.
And although she isn't vegetarian, Kate prefers to eat mostly vegetarian dishes for lunch, with vegetable kebabs and lentil curry being a couple of her favorites. In fact, during Kate and William's 2016 royal tour of India, Chef Raghu Deora, who served the couple food, revealed, "It is all vegetarian because I was told that was what they preferred."
Looking for some vegetarian meal inspiration? Check out 21 Easy Vegetarian Recipes So Tasty Even Meat Eaters Will Want Seconds.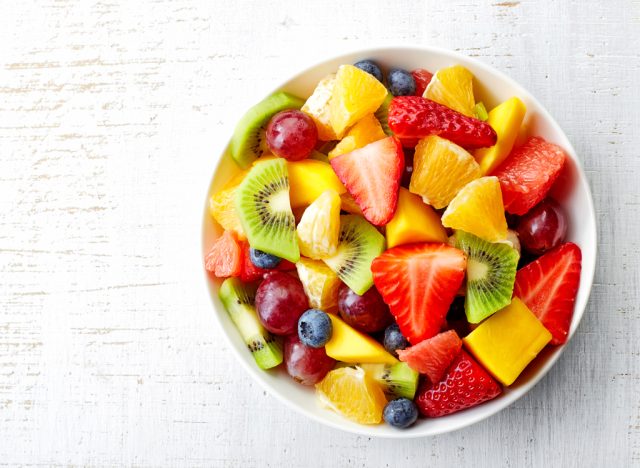 When it comes to crushing hunger cravings throughout the day, Kate will munch on raw vegetables and fruit, such as immunity-boosting goji berries. But as we all know, sometimes grazing on produce just doesn't cut it. So, to get her salty snack fix, the mother-of-three has been known to go for popcorn.6254a4d1642c605c54bf1cab17d50f1e
Kate has also expressed her fondness for olives. During her 2018 visit to London's Great Ormond Street Hospital, she told a four-year-old patient, "I used to eat lots and lots of olives when I was little, as well." It's assumed that this heart-healthy snack is still cherished by the royal, as she shared in 2019 that olives are one of her daughter Charlotte's favorite snacks, too.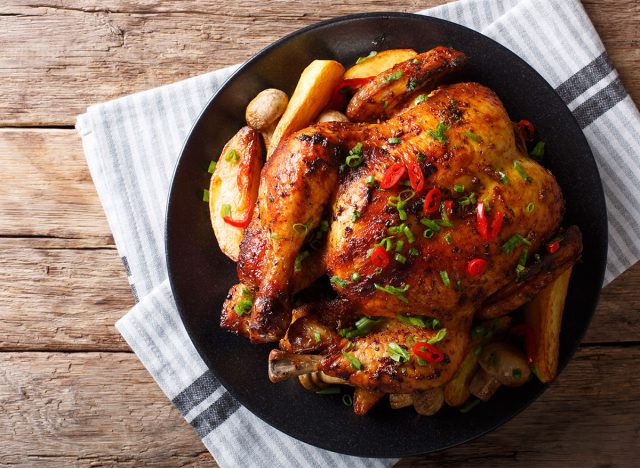 While Kate chooses lighter options for breakfast and lunch, her dinners are known to be on the heartier side. And for the Duchess, that means cooking up something traditional and delicious.
"In the evenings she indulges her hobby of cooking William's favorite supper, roast chicken," Katie Nicholl, a royal correspondent, wrote in a 2012 Vanity Fair profile on the couple.
Kate has also shared in the past that she frequently cooks meals with her children, such as homemade pizza and pasta. And when not enjoying a home-cooked meal at Kensington Palace, Kate loves to eat sushi.
Related: The Best Sushi Spot in Every State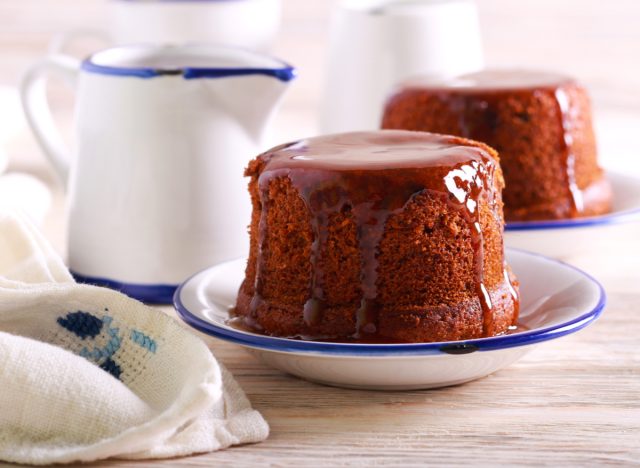 While she is known for making nutritious food choices, Kate isn't afraid to indulge in sweets. Darren McGrady, the previous chef for the royal family, revealed that Kate's favorite dessert is sticky toffee pudding—a classic English dessert that consists of dark, dense sponge cake made with chopped dates and then topped with a sweet toffee sauce. Light in texture and rich in flavor, this dessert pairs well with vanilla ice cream or a hot cup of coffee.
If this sweet treat caught your attention, take a look at our recipe for Sticky Toffee Date Cake.
And for more celebrity news, check out Rebel Wilson's Response To Her Body Critics Deserve An Applause.
Brianna Ruback
Brianna is a staff writer at Eat This, Not That! She attended Ithaca College, where she graduated with a degree in Journalism and a minor in Communication Studies.
Read more about Brianna