America's Largest Grocery Chain Is Making These Major Expansion Moves
Kroger is adding more services to customers in new areas.
In a year defined by shortages and price hikes, America's largest grocery chain is making big moves. Kroger already has almost 2,800 stores in 35 states, but the sky is, apparently, the limit.
Over the past few weeks, the company has been excited to announce new ventures in areas across the country. Here's what's been going on and what could be coming soon to a location in your neighborhood. And for more positive grocery news, check out these  6 Things You'll See at Costco This Year.
Kroger is expanding to a new state.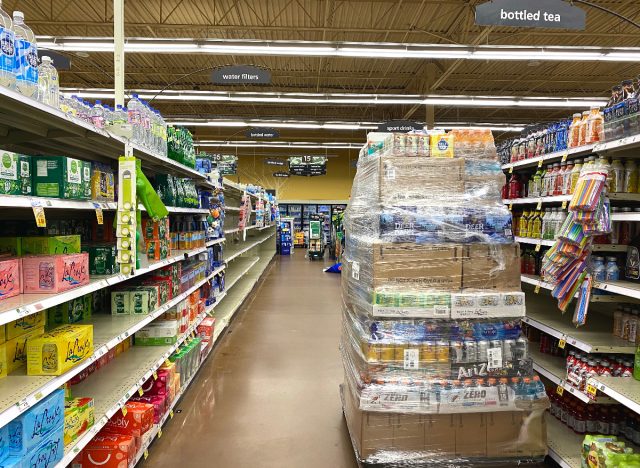 In 2021, the company entered the Florida grocery scene with "successful" grocery delivery, and now, another state is getting the same perk. In the next year or so, Kroger says grocery shoppers in Oklahoma City, Okla. will soon be able to order items for delivery. A new facility (in a partnership with e-commerce technology company Ocado) is being built and will utilize 1,000+ robots to grab items in order to complete delivery services for customers up to 200 miles away.
"This grocery delivery service is an innovative addition to the expanding digital shopping experience available to our customers," Kroger's Senior Vice President and Chief Supply Chain Officer Gabriel Arreaga said in a statement. "The spoke facility will provide unmatched, impeccable customer service and improve direct access to fresh food in areas eager for the variety and value offered by Kroger."
Related: For more grocery news, sign up for our newsletter! 
Customers in another area will also be able to get groceries delivered soon.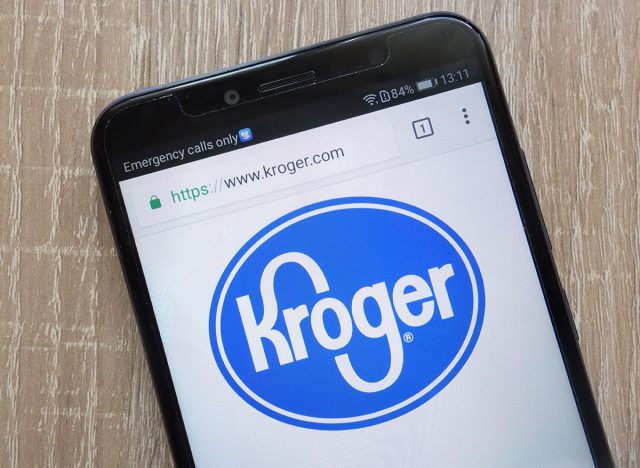 Another "spoke" facility is opening up in Atlanta, offering residents "an e-commerce delivery service that combines vertical integration, machine learning, and robotics with affordable, friendly, and fast delivery of grocery items and fresh food," Kroger stated in an announcement on Feb. 4.
The Forest Park facility is similar to the Oklahoma City Customer Fulfillment Center (CFC) and is located with direct access to three highways, as well as the international airport and railways.
All shoppers need to do is place an order on the Kroger app or Kroger.com, and their items will arrive having been picked out by the robots and shipped in a temperature-controlled van.
Related: Walmart and Target Just Changed This COVID Policy
These two cities aren't the only ones with fulfillment centers opening.
Before the Oklahoma City and Atlanta CFCs were announced, Kroger revealed that a spoke facility will soon service shoppers in Louisville, Ky. The 50,000-square-foot facility will help support a hub in Monroe, Ohio that opened in April of last year and will become operational in late 2022, the company said in a statement.6254a4d1642c605c54bf1cab17d50f1e
These three CFCs are the latest planned, but Kroger also hopes to add some in California, Dallas, Texas, Frederick, Md., Phoenix, Ariz., Pleasant Prairie, Wis., Romulus, Mich., South Florida, and the Northeast.
Plus, Kroger has more expansion moves in mind.
Following in the footsteps of Walmart, Kroger recently started offering fast food in a Ralphs location. The restaurant kitchen opened on Jan. 7 and allows customers to order food from 10 different fast-food chains, like Dog Haus, Fresh Brothers, Sajj Mediterranean, and Wild Rice Asian Kitchen.
For more on what has changed at the grocery store, here are 50 Discontinued Groceries That Have Vanished from Shelves.
Amanda McDonald
Amanda has a master's degree in journalism from Northwestern University and a bachelor's degree in digital journalism from Loyola University Chicago.
Read more about Amanda