A Major Ingredient Shortage at Starbucks Will Eliminate 25 Items From the Menu
Some of your favorite beverages will be on a temporary hiatus.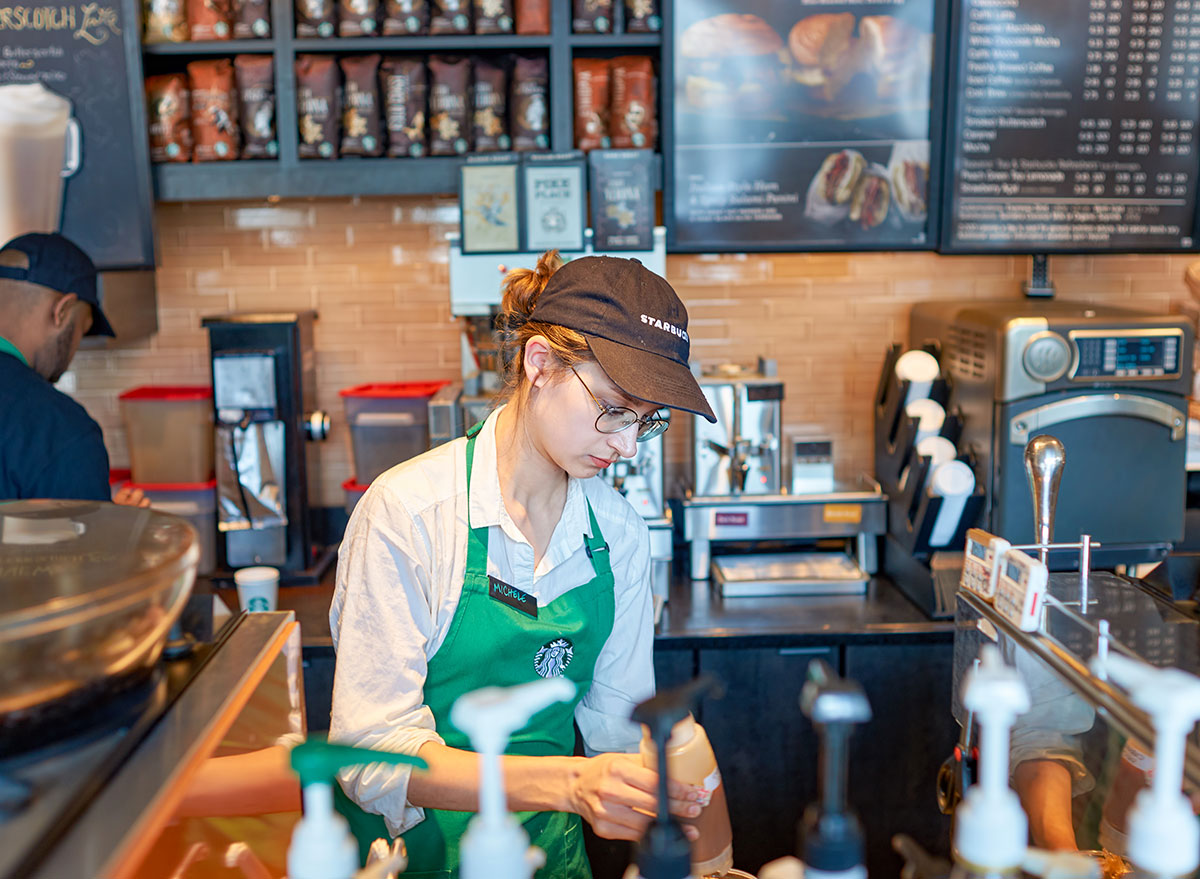 Wondering what on Earth is going on at Starbucks after you were denied your go-to Chai Latte or Dragon Drink yet again? After confirming fleeting shortages of oat milk and flavored syrups, the chain's ingredient supply is now allegedly facing serious challenges, ones that will temporarily suspend as many as 25 menu items.
According to Business Insider, an internal memo circulated at the company says that Starbucks is putting dozens of menu items on "temporary hold" as of June 4. The hiatus is due to systemwide shortages of several crucial ingredients. The official list includes hazelnut syrup, toffee nut syrup, chai tea bags, green iced tea, and more. The publication had the list confirmed by Starbucks employees in three different states.
And customers have noticed shortages of other things on the menu, like food items, lemonade, and even the popular Refreshers, whose prime hot-weather season is coming up. Even venti straws came up in the complaint thread on Twitter.
"We are experiencing temporary supply shortages of some of our products," Starbucks confirmed in a statement to Eat This, Not That! "Specific items will vary by market and store, and some stores will experience outages of various items at the same time. We apologize for the inconvenience and are working quickly and closely with our supply chain vendors to restock items as soon as possible."
However, the coffee chain isn't the only major player in the fast-food industry to experience shortages. A nationwide boba ball shortage is expected to affect the availability of the beloved boba tea all summer. Some chains that consider chicken their bread and butter, like KFC and Bojangles, are having a hard time keeping up with the demand for white chicken meat, which they use in chicken sandwiches and tenders. Chick-fil-A, on the other hand, is short on sauces.
For more information on shortages, check out:
This New Starbucks Drink Comes With Actual Cake on Top
And don't forget to sign up for our newsletter to get the latest restaurant news delivered straight to your inbox.
Editor's Note: This article was updated on June 8 to include a comment from Starbucks. 
Mura Dominko
Mura is ETNT's Executive Editor, leading the coverage of America's favorite restaurant chains, grocery stores, and viral food moments.
Read more about Mura