McDonald's Soft Serve Legal Drama Is Getting Heated
New evidence seems to implicate the chain to a greater extent than previously thought.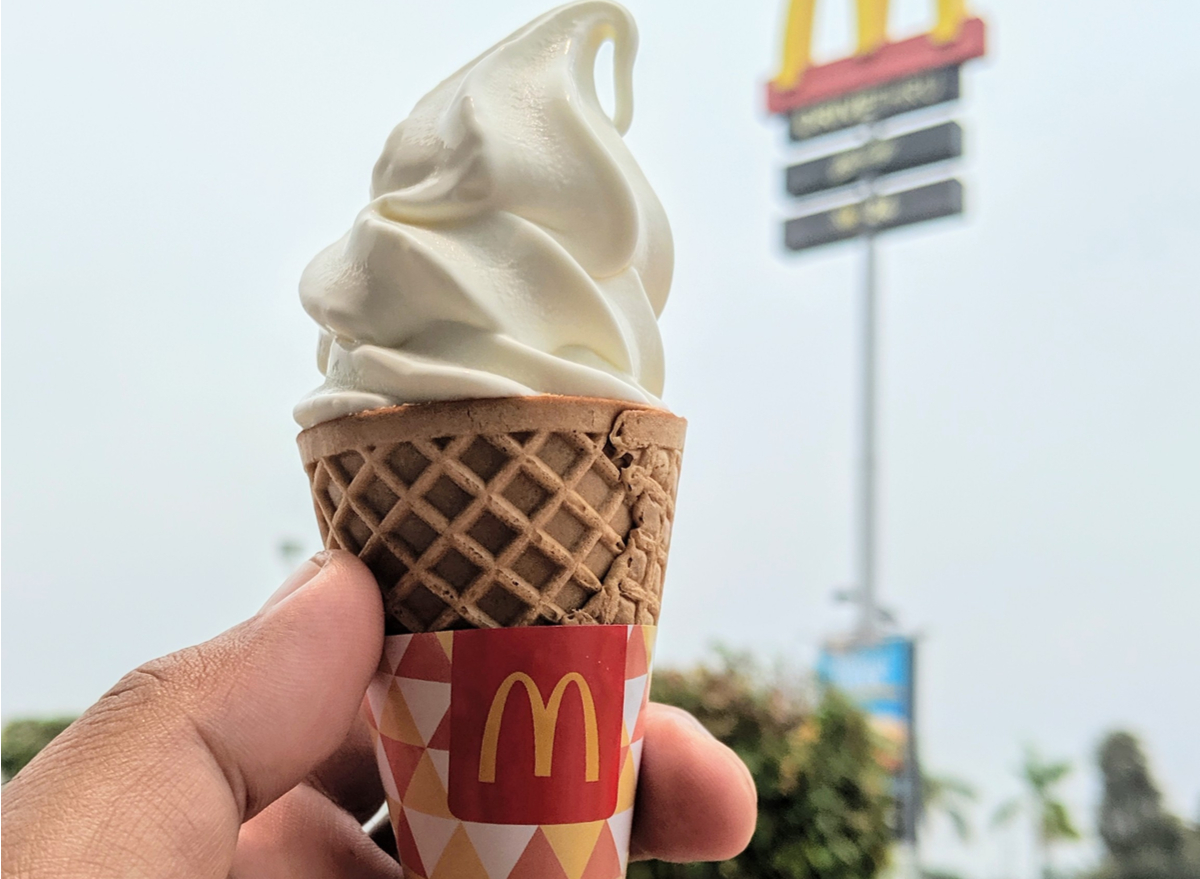 What's worse than getting stuck in a soft-serve line? How about getting caught in a soft-serve lie. Recently discovered evidence in the McDonald's ice cream machine lawsuit suggests that Taylor, the creator of the McFlurry machine, tried to copy the technology of a competitor company. What's more, the evidence appears to implicate McDonald's itself in the attempted theft.
The lawsuit against Taylor was filed by Kytch, a California-based tech startup. Kytch is best known for its previous working relationships with McDonald's and Taylor. In 2019, the company developed a digital tool to help McDonald's franchisees improve the performance of their notoriously finicky, Taylor soft-serve machines.
RELATED: The McDonald's Soft Serve Machine War Now Involves a Restraining Order
Kytch was just starting to take off when, in October 2020, McDonald's issued a memo to its franchisees, advising them against the use of Kytch's device. It also announced the release of a new, Taylor-designed repair tool, one which offered many of the same features as Kytch. Sensing foul play, Kytch filed a lawsuit against Taylor in May of this year, accusing the company of "misappropriation of trade secrets."
As part of the discovery phase of the trial, Taylor Inc. has had to publicly file more than 800 pages of company emails and memos. Taken together, the documents paint a damning picture. They appear to show that, contrary to a public statement shared with WIRED, Taylor did, indeed, attempt to copy at least some of Kytch's technology.
The most conclusive piece of evidence is a May 2019 email from Jim Minard, Taylor's VP of engineering. Addressing a fellow Taylor employee, Minard writes: "Please buy a [Kytch] kit and provide me a written evaluation on the hardware and software . . . Seems we might be missing something in our approach to our connected equipment."
Other emails from the spring and summer of 2020 are equally damning, with Taylor executives making repeated references to Kytch while workshopping ideas for Taylor's forthcoming device. The emails appear to show that Taylor was using Kytch as a model for its development of certain product features, including text message alerts and remote monitoring. A Taylor presentation featuring images of Kytch's user interface—and explicit instructions to imitate it—points to further "misappropriation."
Finally, an email from James Pool, an executive of Taylor's parent company, confirms that Taylor, far from being indifferent to Kytch's success, regarded the startup as a business rival. In the email, Pool advises a Taylor colleague to move forward with the development of its digital repair tool, in order to "head off this threat."
But most eyebrow-raising of all are the emails and documents involving Mcdonald's. From the sound of it, Mickey D's was even keener than Taylor to put Kytch out of business. In a February 2020 email, Taylor president Jeremy Dobrowolski describes Mcdonald's as "all hot and heavy" about Kytch's growing popularity among its franchisees.
Indeed, by June 2020, McDonald's was concerned enough about Kytch that execs met over a conference call to discuss the device, using a recently acquired Kytch unit as a reference. Four months later, McDonald's company-wide, anti-Kytch memo caused one Taylor executive to remark: "I'm a bit in shock they are willing to take such a strong position."
"Nothing is more important to us than food quality and safety, which is why all equipment in McDonald's restaurants is thoroughly vetted before it's approved for use," McDonald's told WIRED when asked about the new evidence implicating the company. "After we learned that Kytch's unapproved device was being tested by some of our franchisees, we held a call to better understand what it was and subsequently communicated a potential safety concern to franchisees. There's no conspiracy here—McDonald's has never attempted to copy or steal Kytch's technology."
Whatever the outcome of the lawsuit (of which McDonald's is not a plaintiff), it has already shifted the conversation around one of McDonald's longest-running operational issues. Whether the company will, in the end, commit to solving that issue remains to be seen.
For more, check out:
And don't forget to sign up for our newsletter to get the latest restaurant news delivered straight to your inbox.6254a4d1642c605c54bf1cab17d50f1e
Owen Duff
Owen Duff is a freelance journalist based in Vermont, home of Ben & Jerry's.
Read more about Owen