This Is Megan Fox's Exact Breakfast, Lunch, and Dinner
The star focuses on eating foods that are nutritionally healthy and make her feel good.
From Megan Fox's sheer look at the 2021 VMAs to her Skims campaign with Kourtney Kardashian, it's very obvious that she has an amazing figure. Three kids later, and she's still killing the game.
But what a lot of people don't know is that Megan struggles with her body image. "We may look at somebody and think, 'That person's so beautiful. Their life must be so easy.' They most likely don't feel that way about themselves," said Megan in a GQ 2021 interview.
That's why Megan focuses on eating foods that not only are nutritionally healthy, but they make her feel good about herself and her body too. She stays away from anything processed or high in carbs, according to previous reporting. "She eats super healthy," Megan's fiancé Machine Gun Kelly told RADIO.com on 104.3 The Shark. "Everything is gluten-free and organic on her menu."
More specifically, Megan follows a five-factor diet set by her personal trainer, Harley Pasternak. Typically, she'll have three small meals a day and two heftier snacks in between, according to Insider. Each meal is focused on building nutrition so that Megan can feel energized and confident to tackle her days as an actress, model, and mom.
Ready to learn what Megan eats for breakfast, lunch, and dinner? Read on to find out, and next, check out 16 Famous Celebs Reveal How They Make Their Morning Oatmeal.6254a4d1642c605c54bf1cab17d50f1e
Breakfast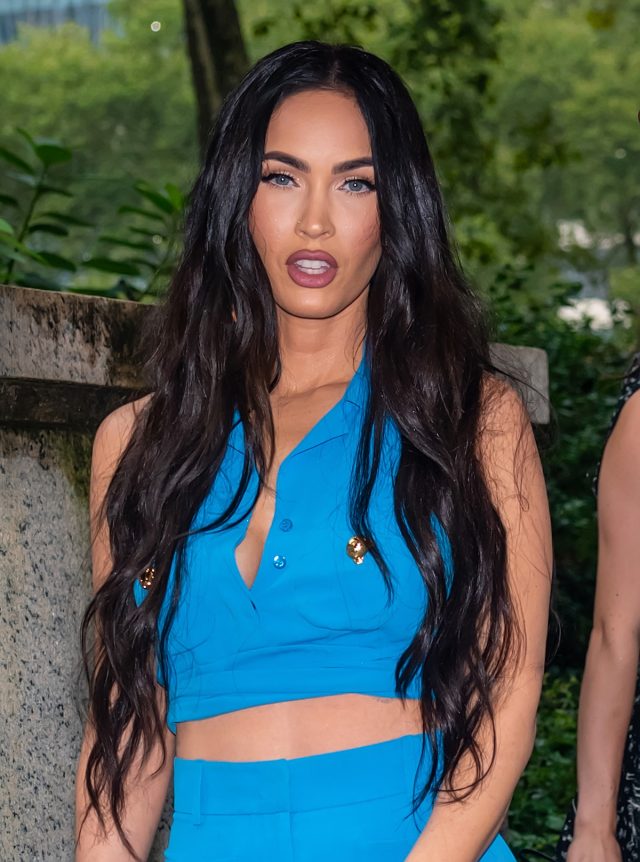 Megan kicks off her day with a well-rounded breakfast: egg whites, almonds, and oatmeal. "For my clients, we focus on protein, fiber, and healthy fats," Pasternak told Insider. Almonds are the tree nut with the most fiber, Vitamin E, and riboflavin, so Megan surely gets nutrition there. Previous reporting shows that egg whites in one large egg have about 4 grams of protein. Almonds have about 6 grams of plant protein, so in total, Megan has enough protein in her breakfast to keep her full for a few hours.
While Megan stays away from alcohol and energy drinks, she will treat herself to coffee in the morning. "The worst thing I put in my body is coffee once a day," she told E!
Related: Sign up for our newsletter for the latest celeb food news!
Lunch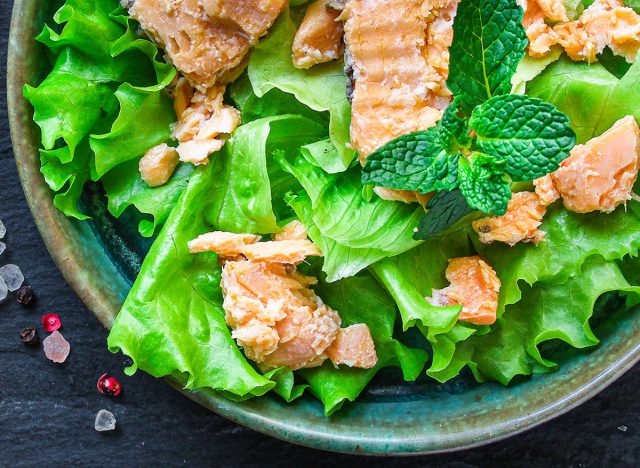 Grilled chicken or salmon salads are typically Megan's go-to for lunch. Pasternak recommends that the chicken or fish be about the size of a hand. Portion control is key for all of Megan's small meals. Apple cider vinegar has also been reported as a part of Megan's diet, especially if she's focusing on weight loss. Sometimes Megan tops her lunch salad with an apple cider vinaigrette or another healthy dressing.
Related: 7 Effortless Ways to Crush Sugar Cravings!
Dinner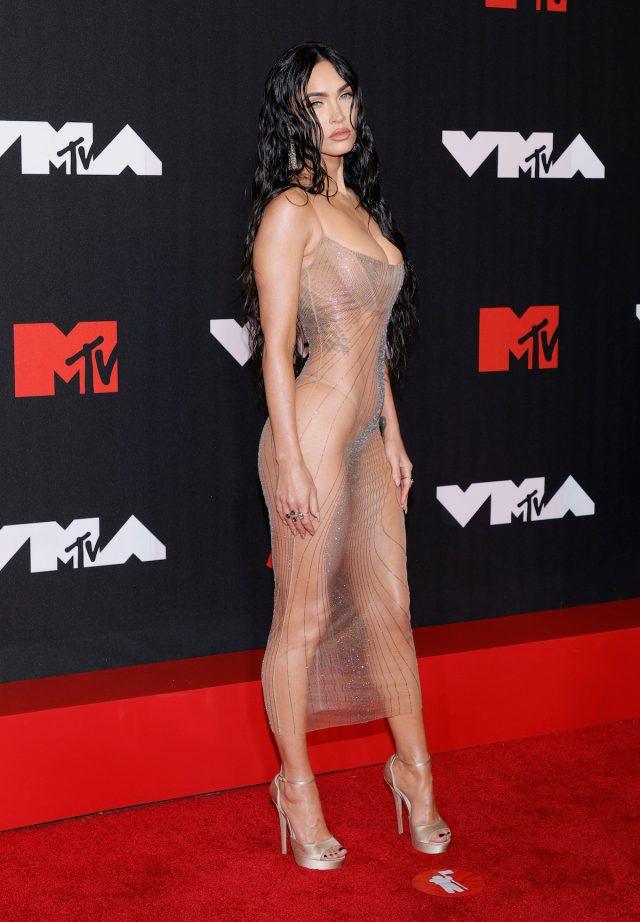 If Megan didn't have salmon for lunch, she'll have it for dinner. "Megan Fox finally listened to me…she is now a salmon fan. She will have salmon at least once a day. She'll go have a bunch of salmon sashimi and she'll have a cucumber salad and miso soup and some edamame," said Pasternak when he revealed to Glamour what his celebrity clients eat.
Her fiancé Machine Gun Kelly only confirmed Megan's love for sushi and Japanese foods: "She's probably ordering sushi," he said. "My menu's like, Shake Shack, cheeseburger." But he also admitted that he'd like to start eating healthier like Megan, so perhaps Pasternak will gain another follower of the five-factor diet in the coming months.
Snacks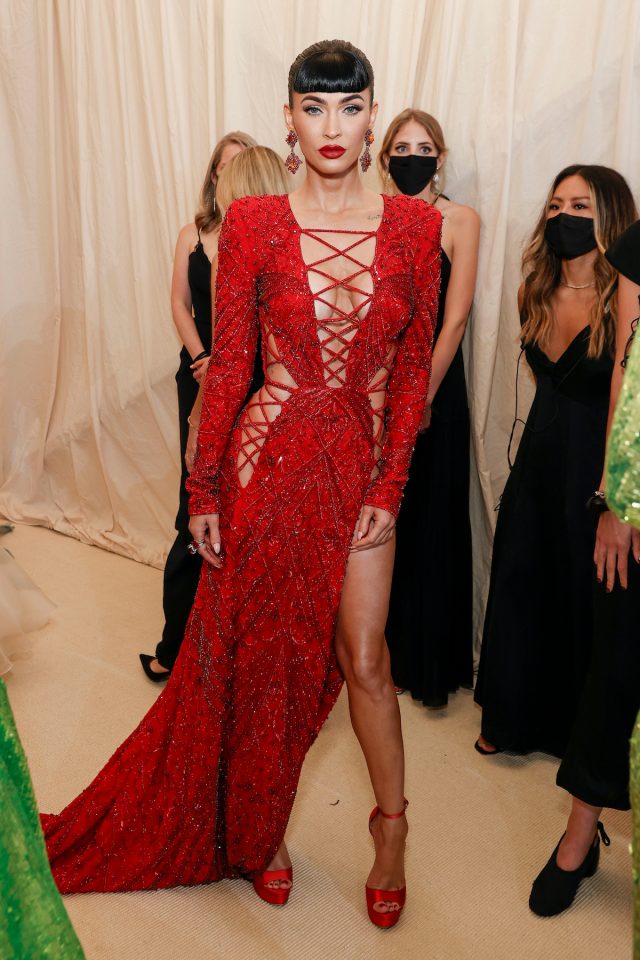 Random snacking isn't really Megan's thing, but she'll have two planned snacks per day: one between breakfast and lunch, and the other either between lunch and dinner or after dinner. Smoothies are one of Megan's favorite snacks, and she has some delicious recipes courtesy of Pastnerak. "Megan's favorite is the red smoothie, which is whatever berries are in season, Chai tea, a scoop of protein powder, and little bit of almond milk," Pasternak told People. Megan also enjoys protein shakes during the day and fruit at night. Because she doesn't eat many carbs, fruit is a healthy source to incorporate that food group into her diet.
Want to learn more about celebrity diets? Check out Julianne Hough Reveals Her Exact Breakfast, Lunch, and Dinner to Stay Fit.
Mia Salas
Mia is a freelance writer for several publications and a soon-to-be graduate from Princeton University with a degree in English.
Read more about Mia