This Beloved Fast-Food Chain Is Spreading In Cities
Hot dogs, wings, and fish and chips are coming to an urban area near you.
One of the most popular hot-dog chains in America is on a path of major growth. But you won't necessarily see their brick-and-mortar locations proliferating. Instead, the chain has taken the route of ghost kitchens—a delivery-only business model that cuts down on operational costs but also provides more convenience for customers.
As Nathan's Famous announces a major milestone in its growth, the company's leadership revealed exactly what kinds of locations they're targeting as they attempt to bring their popular hot dogs (as well as two other virtual brands) to every corner of the country. For more, check out Nathan's Famous Just Announced a Major Change to This Iconic Item.
Major growth via ghost kitchens
"We are proud to announce that we have doubled our ghost kitchens across the globe," said James Walker, Senior Vice President of Nathan's Famous. Indeed, the chain has gotten to 223 ghost kitchens in just 13 months, according to a recent press release.
Nathan's Famous was one of the early adopters of the new delivery-only model, having opened its first ghost kitchen in 2019, way before the pandemic hit. But the concept didn't gain traction until 2020, boosted by a new restaurant industry landscape that required contactless dealings with customers.
The chain's success was also boosted by two other recently launched virtual brands.
Wings of New York and Arthur Treacher's
Nathan's owns and operates two additional virtual brands. Wings of New York, launched in 2020, is the brand's take on the major chicken wing trend that's been sweeping the nation in recent years, and especially during the pandemic. It serves New York-style wings and Harlem-style chicken and waffles.
This year, the chain announced they'll also be resurrecting Arthur Treacher's, an iconic fish-and-chips chain from the '70s that once upon a time had as many as 800 locations, but had gone all but extinct.
The convenience of delivery-only locations
Ghost kitchens—restaurant concepts without dining rooms, made only for delivery and sometimes pickup—have been a popular way for restaurant chains to keep up their business during the pandemic.6254a4d1642c605c54bf1cab17d50f1e
These types of operations don't require as much space as a traditional restaurant with consumer-facing facilities. Their location also matters less because they're geared toward delivery orders, often fulfilled through third-party apps like DoorDash or Grubhub.
Still, Nathan's said its ghost kitchens will be targeting specific areas with greater population density.
Nathan's is targeting city centers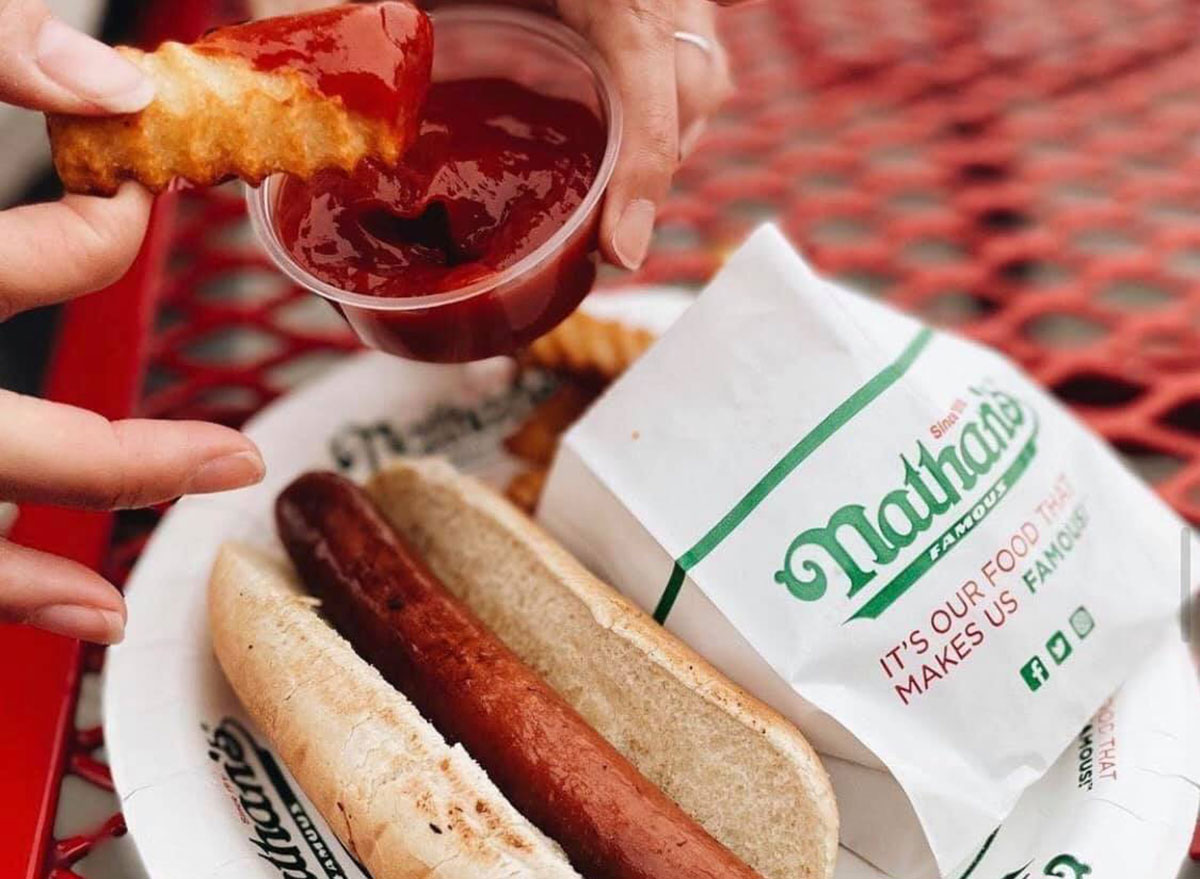 The chain's Senior Vice President James Walker said Nathan's is targeting urban areas with its ghost kitchens, which makes delivery times faster and allows customers to easily collect their food as well, according to Business Insider.
"You want to go into these higher-populated areas because that's where the density of people are and to be able to do so at a rent that is workable from a business model," Walker said.
So, if it isn't already, you can expect to see the popular hot dogs, as well as their wings and fish and chips menus available in your city soon.
For more, check out the 108 Most Popular Sodas Ranked By How Toxic They Are.
Mura Dominko
Mura is ETNT's Executive Editor, leading the coverage of America's favorite restaurant chains, grocery stores, and viral food moments.
Read more about Mura