This Is the #1 Best Hot Dog in Your State
Locals and tourists agree on the most delicious hot dogs you can find across America.
If the mere mention of the word "hot dog" makes your mouth water, you're in good company. According to Eric Mittenthal, president of the National Hot Dog and Sausage Council, Americans eat approximately seven billion hot dogs between Memorial Day and Labor Day.
Certain areas of the country are famous for their hot dogs. We all know that it would be a foodie crime to go to a place like Chicago or New York City and leave without eating at least one. But the truth is, every state has a food truck or restaurant that serves up a five-star dog. From the classic frankfurter to unique twists that take advantage of local ingredients (looking at you, Hawaii!), you can rest assured that no matter where you go in America, there's a place to satisfy your hankering for a hot dog.
Thanks to reviews and feedback from locals and tourists alike—as well as a look at some spots that have been recommended by the likes of Anthony Bourdain—the following is a definitive list of the best spot to get a hot dog in every state across the U.S. And next, if you're craving a burger, know that you should skip these 8 Worst Fast-Food Burgers to Stay Away From Right Now.
ALABAMA: Tony's Hot Dogs in Birmingham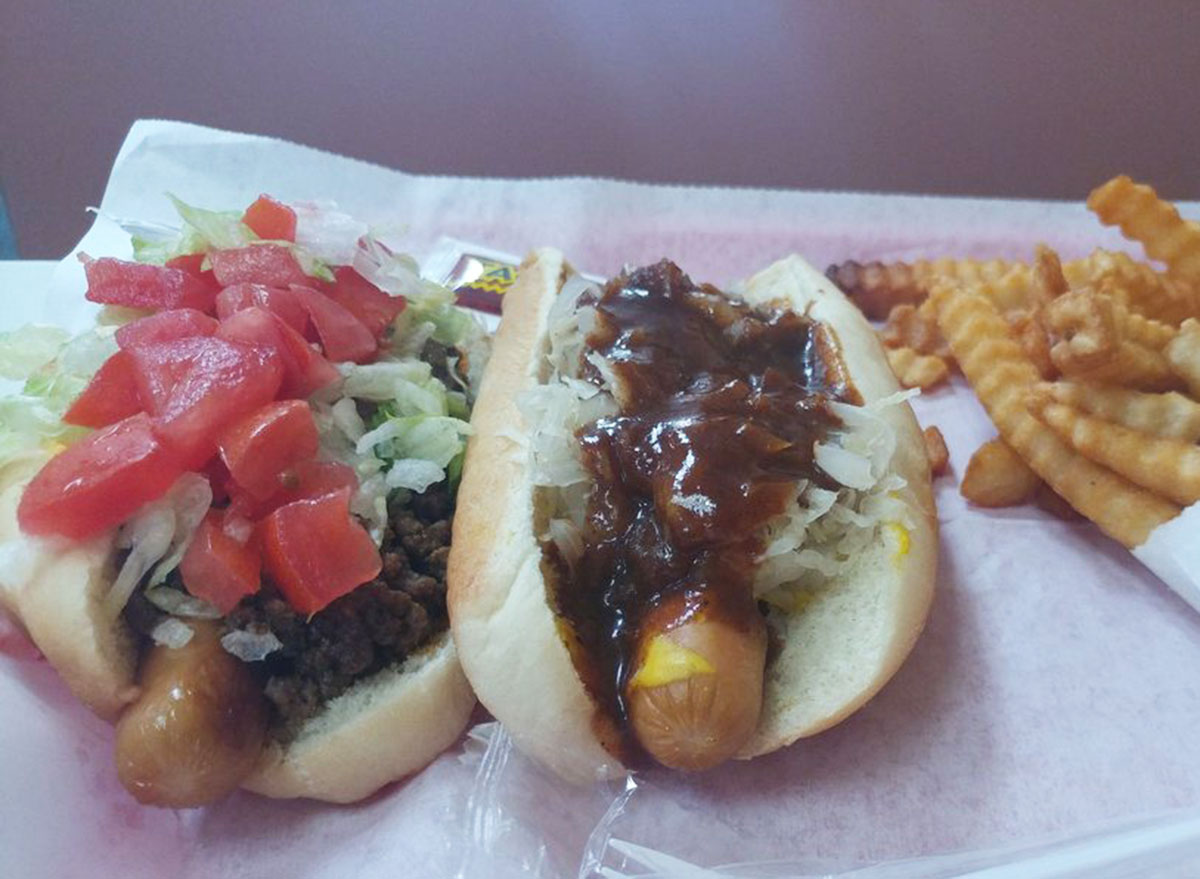 This no-frills hot dog joint is beloved for its flavorful hot dogs, healthy menu options, and affordable prices. Reviewers sing its praises, describing Tony's as "a gem," serving hotdogs that are "full of flavor and good to the last bite" and "always prepared to order with fresh ingredients."
Customers also say it's a delightful dining experience thanks to the friendly staff. "You can't buy service like this, it's all-natural, from the heart," wrote one regular.
ALASKA: International House of Hot Dogs in Anchorage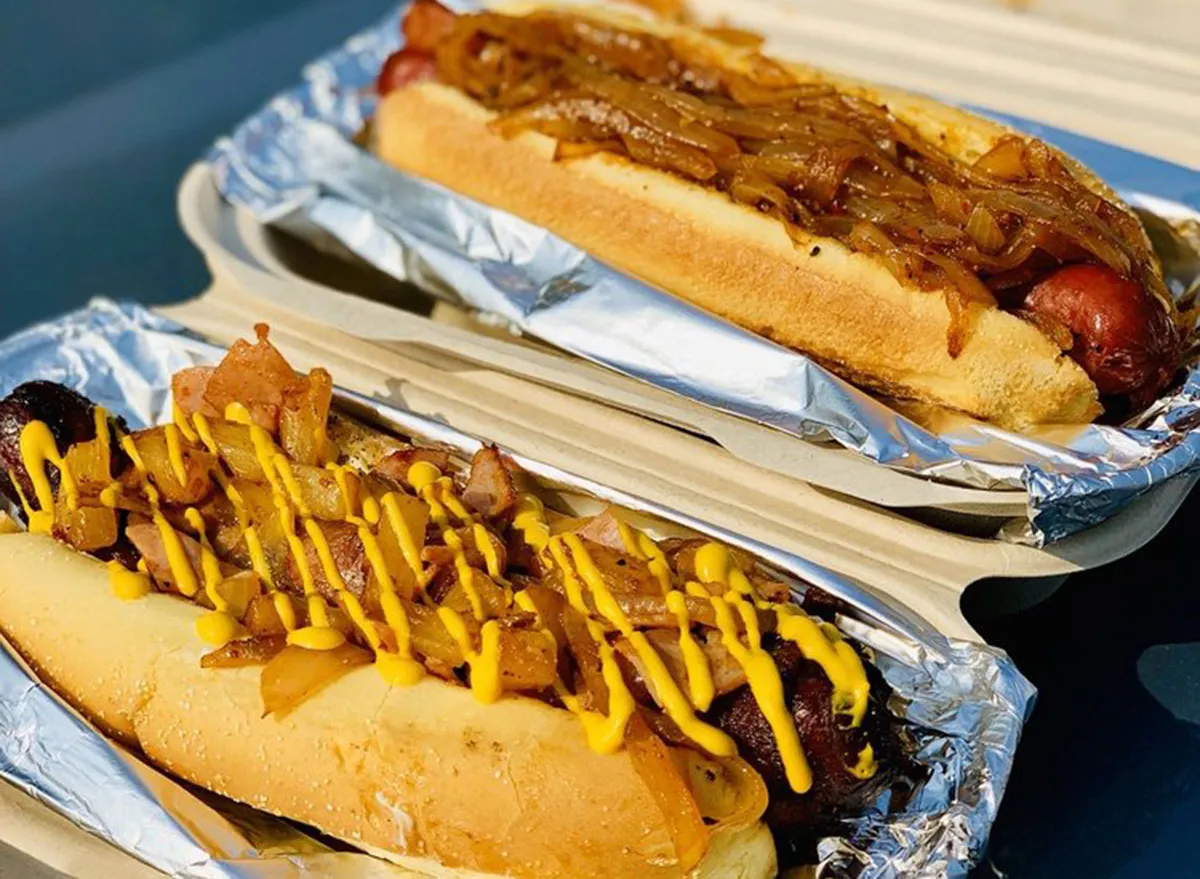 International House of Hot Dogs is one-of-a-kind. The restaurant specializes in gourmet hot dogs that are made using recipes from everywhere from Greece to Hawaii to Mexico. The hot dogs are made from locally sourced meat, and sauces and condiments are made from scratch on-site.
Reviewers describe International Hot Dogs as "one of Alaska's gems" and many recommended the Frankenstein Dog, a bacon-wrapped Polish beef dog made with cream cheese, sautéed onions, sautéed ham, bacon, diced pineapple, yellow mustard, and chipotle cream.
ARIZONA: Nogales Hot Dogs No. 2 in Phoenix
Nogales Hot Dogs No. 2 is known for its Sonoran-style hot dogs. This type of hot dog originated in Mexico and is mesquite-smoked, bacon-wrapped, and topped with beans, mayonnaise, chopped tomatoes, guacamole, salsa, and cheese.
One reviewer described the Sonoran dogs at Nogales as "the best ever" and another wrote they're "cheap and amazing." It's no surprise the hot dogs are such a hit—owner Pablo Perez has been in the business of making Sonoran hot dogs for over a decade, so you'll definitely get the real deal at this beloved spot.
ARKANSAS: ScoopDog in Little Rock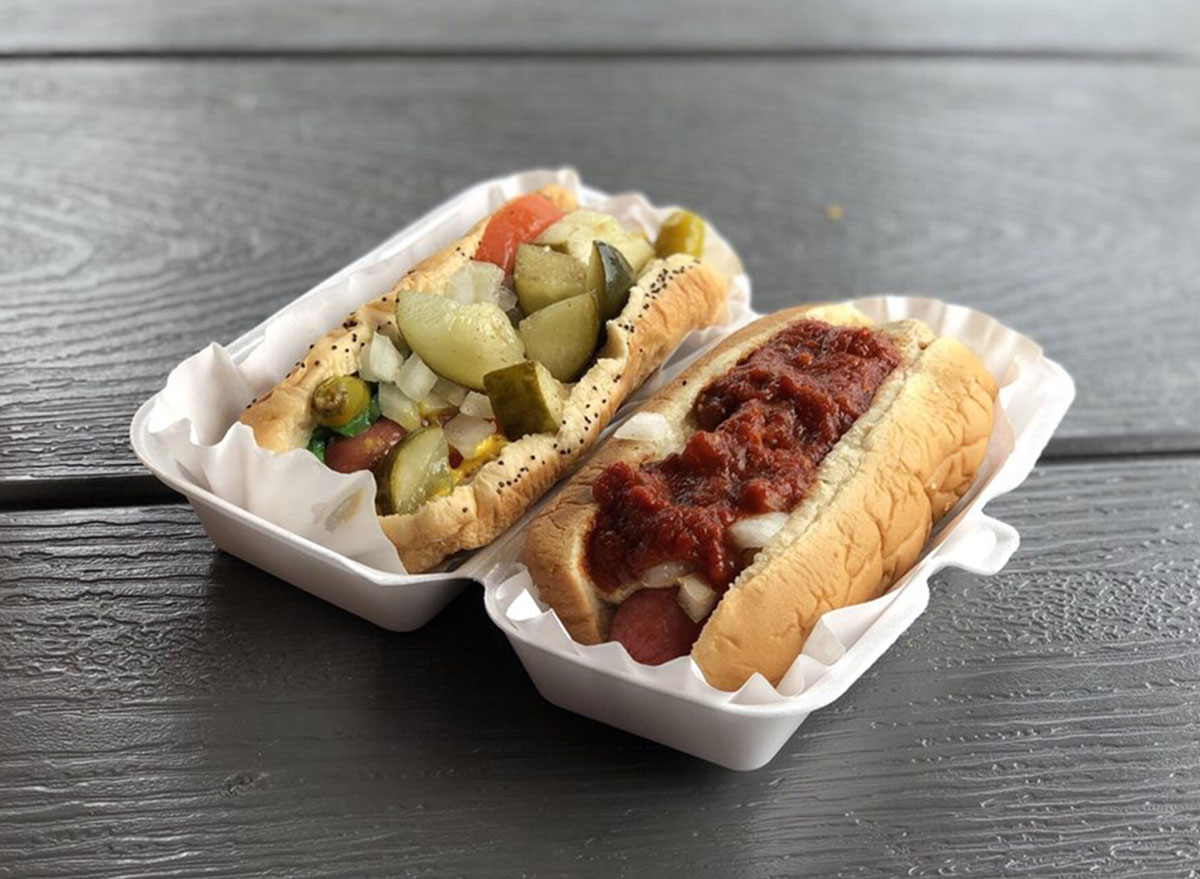 This family-owned and operated hot dog joint has been around for over two decades and has developed a loyal base of regular customers. The menu consists of hot dogs in the styles of Chicago, Detroit, Kansas City, Atlanta, and New York. Be sure to save room for dessert—ScoopDog's custard is as popular as its hot dogs.
"Amazing! Best hot dog I've ever had, hands down," wrote one happy customer. "Ice cream was sooo good as well. Reasonable prices too!"
CALIFORNIA: Duff's Dogzz in San Diego
Duff's Dogzz is a no-frills hot dog stand known for its low prices and a wide array of state-inspired dogs. In addition to the usual suspects like New York and Chicago, there's also a popular "islands" themed option topped with pineapple salsa.
"Everything we got was delicious! Glad we found this place. We'll definitely be back!" wrote a reviewer who had recently moved to the area. Another described it as a "wonderful little hole-in-the-wall hot dog stand establishment with welcoming, friendly customer service."
COLORADO: Harley's: A Hot Dog Revolution in Littleton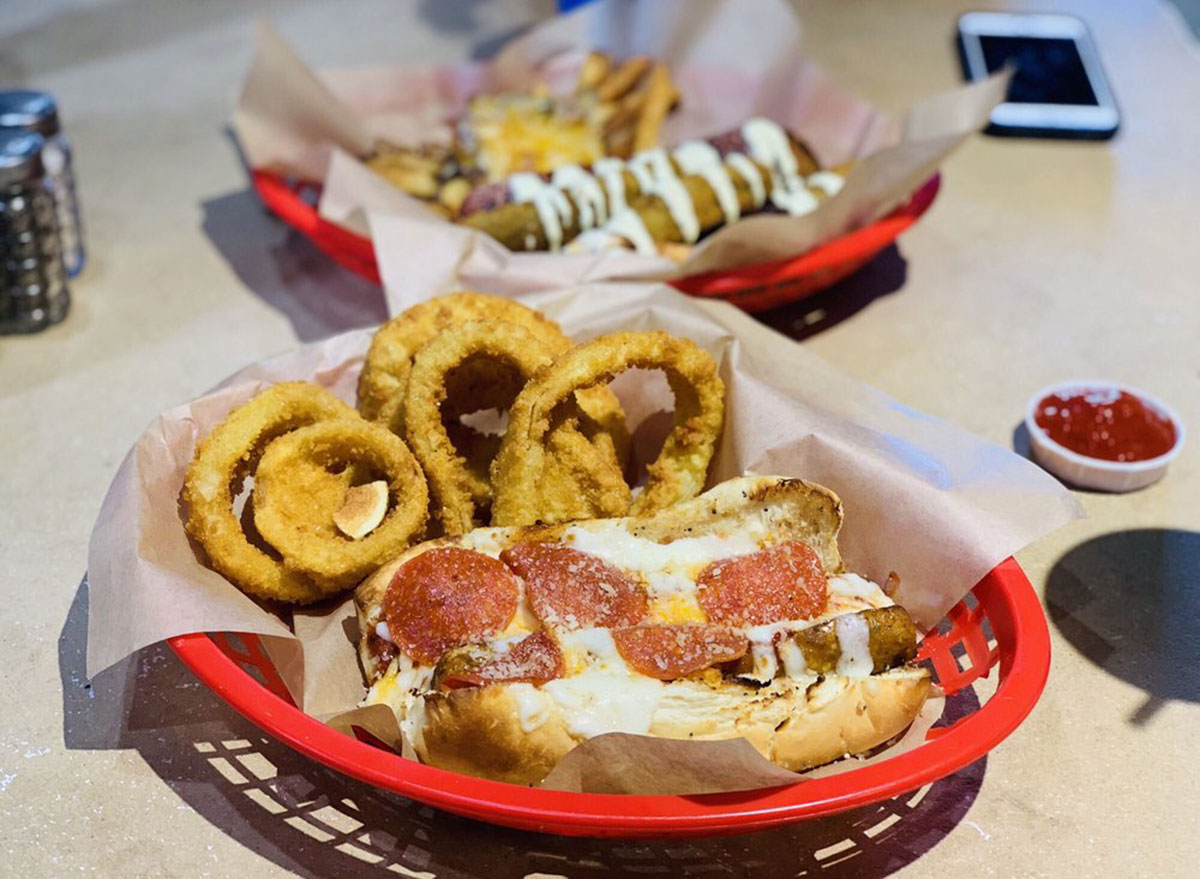 If you love to load your hot dog with toppings, Harley's is heaven on earth. Some of the more unique toppings are spaghetti and pepperoni. Reviewers described the food as "amazing" and praised the attentive customer service at this family-owned restaurant.
"We had an EXCELLENT time at Harley's. The staff was friendly and very welcoming to questions about menu items, fun banter, and chit-chat. Outside dining was great with a beautiful mural," wrote one repeat customer. "I enjoyed the Mac and cheese dog meal with tots and spicy ketchup. Delicious meal. Very filling, tasty, and affordable. We returned the following week for the second time! Just as good!"
CONNECTICUT: Blackie's Hot Dog Stand in Cheshire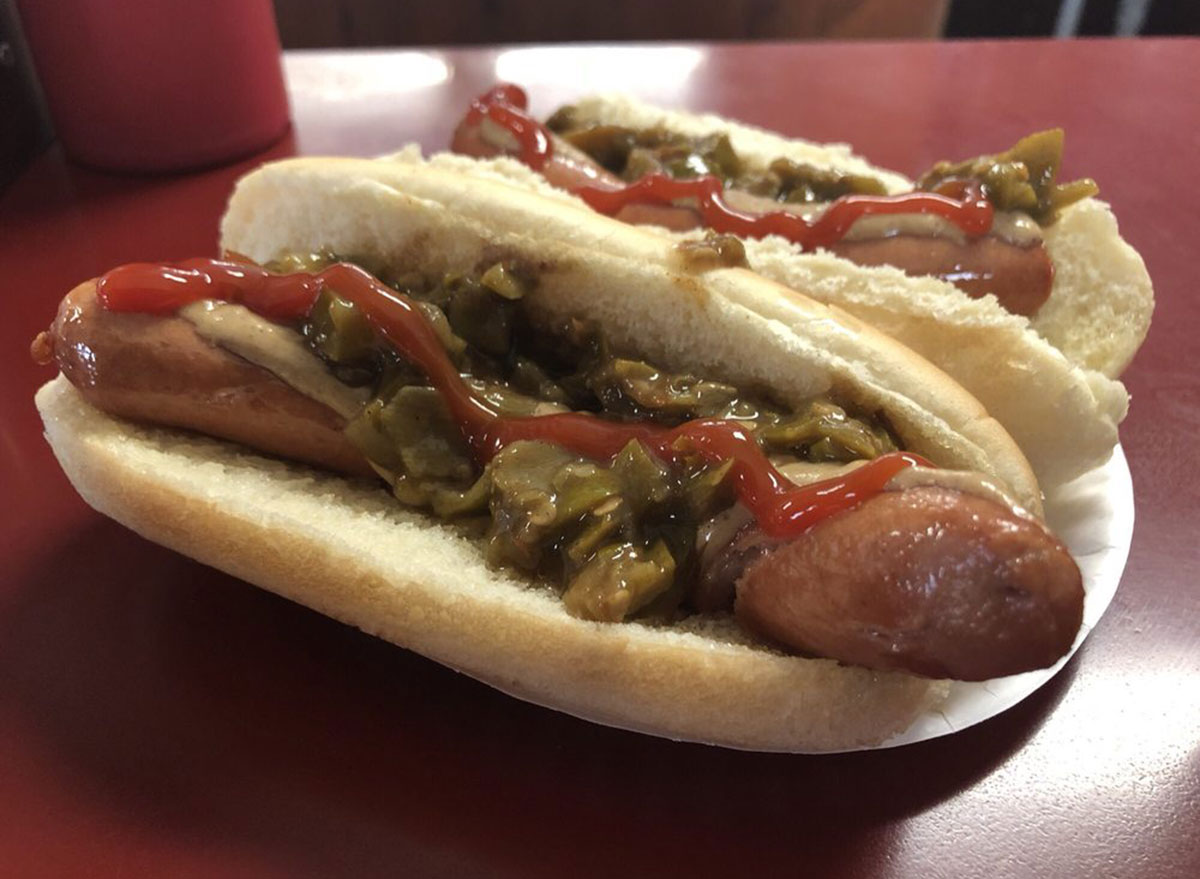 Named the best hot dog in the state—and one of the best in the region—by NewEngland.com, Blackie's Hot Dogs uses the technique of boiling their dogs in oil until the casings split. Reviewers say the homemade pepper relish is what sets Blackie's apart, so don't be shy with the condiment!
Blackie's has been described by reviewers as "hot dog heaven" and the spot to get the "best hot dogs on the planet."
DELAWARE: The Dog House in Newcastle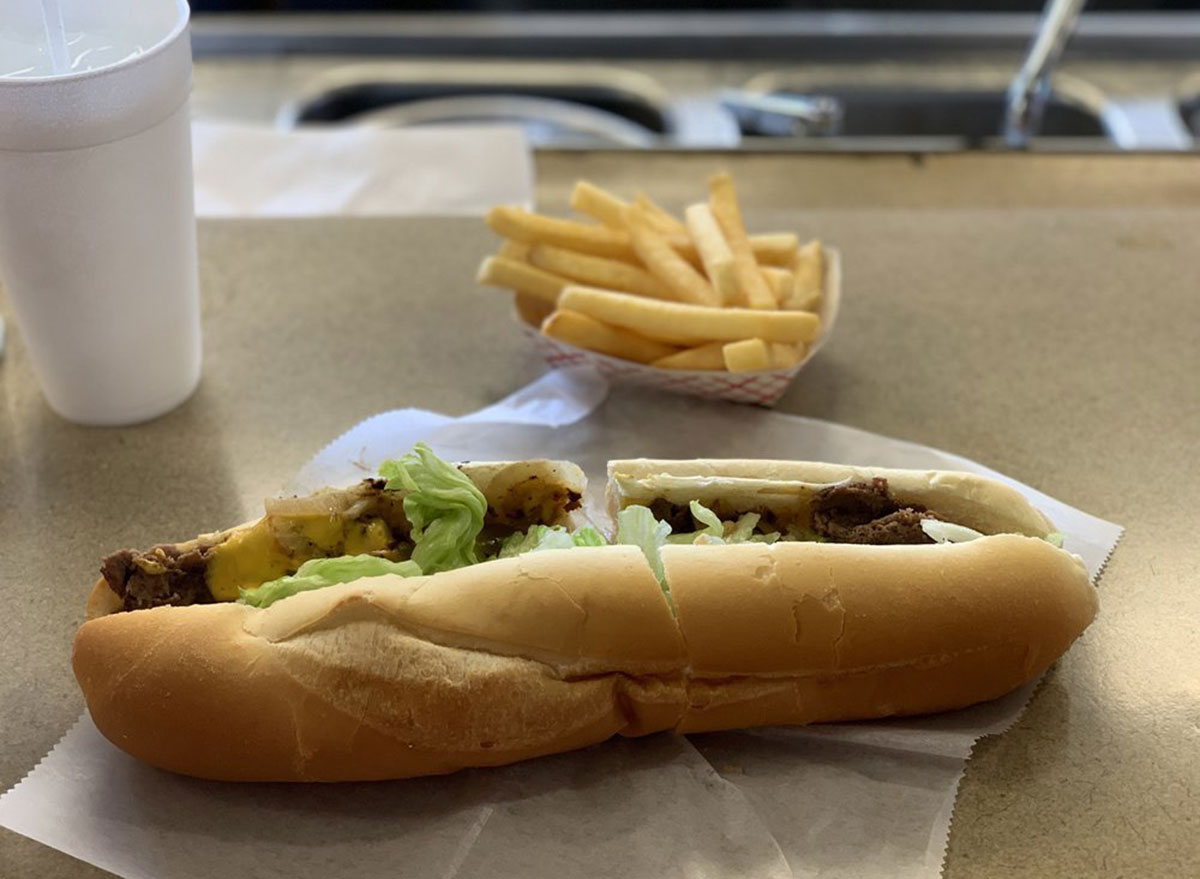 The Dog House has been voted the "best upstate hot dog" by Delaware Today readers multiple times, and its chili cheese dog is legendary in the state. Be sure to top it with the restaurant's housemade relish.
"Holy hot dog good. Hot dogs are so long they are cut in half," wrote one reviewer, referring to the footlong hot dogs served at The Dog House. "I love the fact that I get to see my food cooked. My lunch was ready in a snap. [B]oyfriend's Chile [sic] cheese dog didn't disappoint him. I loved the sauerkraut, relish, and mustard dog."
FLORIDA: Sweet Dogs 305 in Miami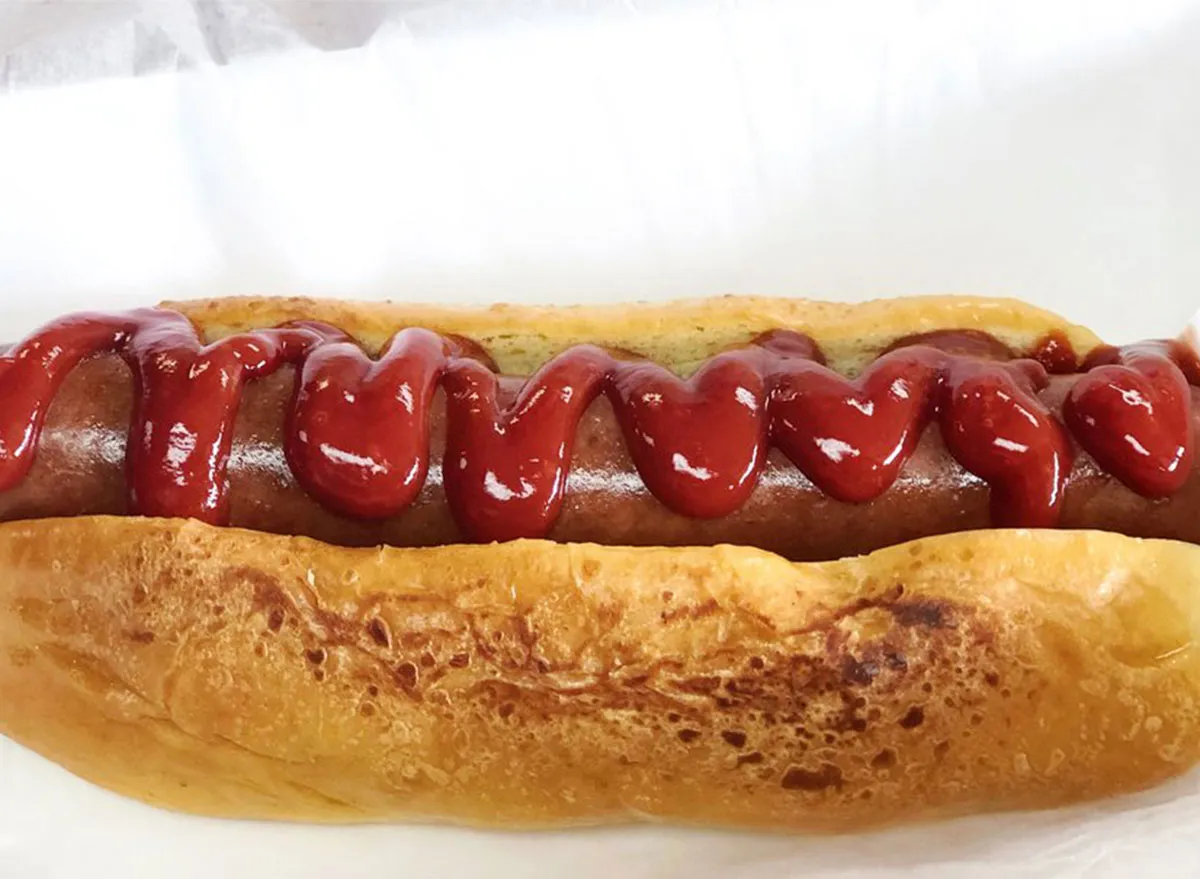 When in Miami, head to Sweet Dogs 305 and order the Dolphin. It's made with grilled ham, bacon, mozzarella, pineapple, and pepitas.
Reviewers noted that it captured the spirit of the city.
"Great service! Very personable individuals, they have great food," wrote one local. "It's amazing how a small business created these flavorful combinations with something as simple as a hot dog and made it represent our city of Miami."
GEORGIA: Brandi's World Famous Hot Dogs in Marietta and Cartersville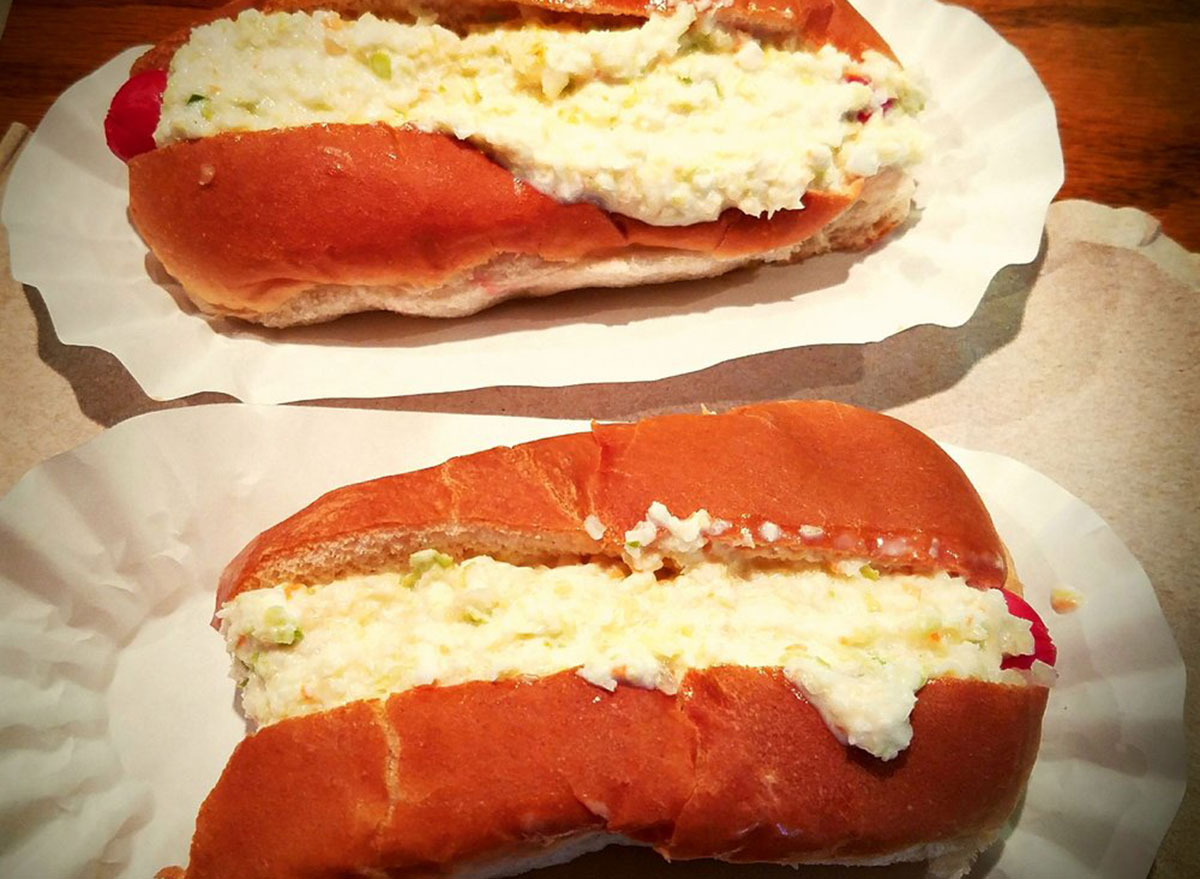 For a traditional Southern hot dog featuring chili with a spicy kick, look no further than Brandi's World Famous Hot Dogs.
One look at reviews and it's no surprise that Brandi's is "world-famous." Customers raved about the "best hotdog on planet earth" and "the best Southern-style dog around." For the full Southern experience, be sure to order a sweet tea.
HAWAII: Puka Dog in Koloa and Poipu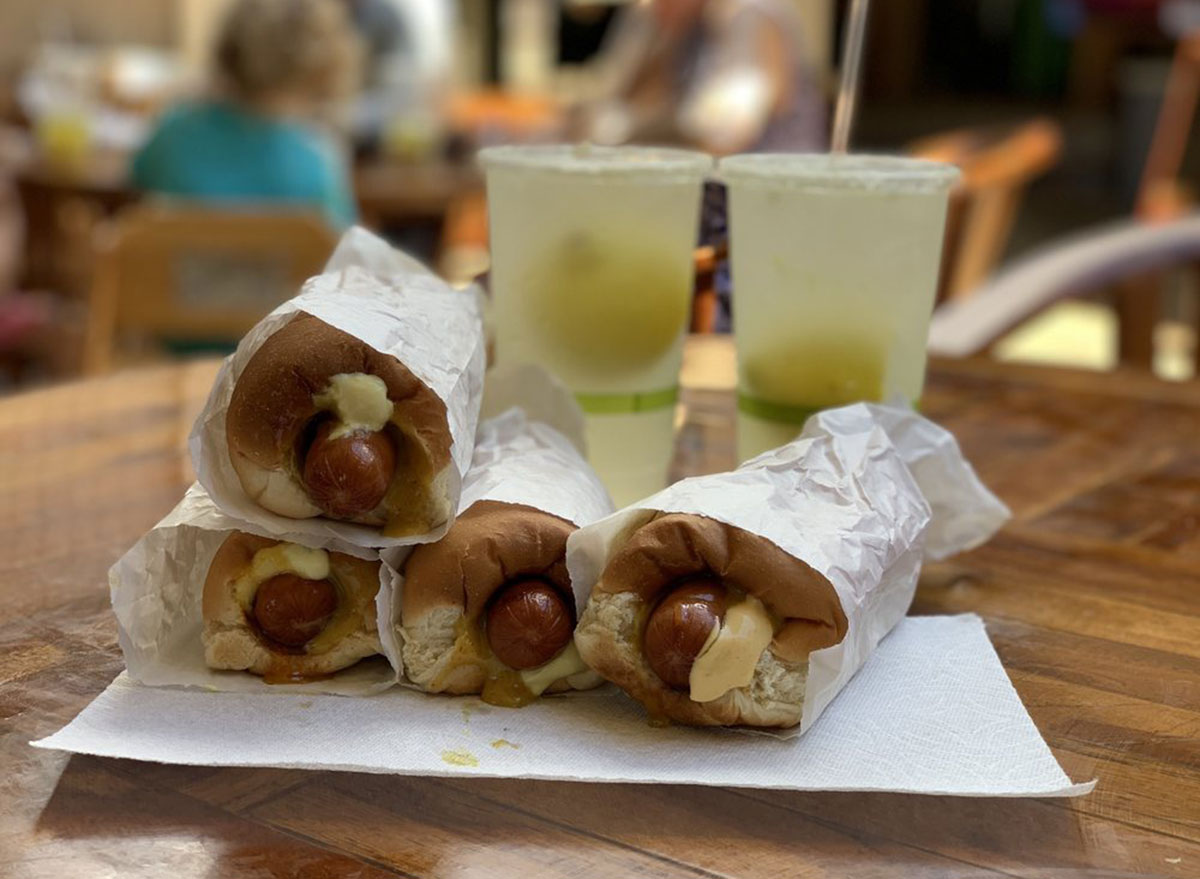 Embrace the rich Hawaiian culture at Puka Dog. First things first: A puka is a hole baked into a fluffy bun. This puka holds the hot dog in addition to its fillings: garlic lemon sauce and lilikoi passion fruit.
Reviewers recommend trying all the available relishes and requesting the Hawaiian mustard. The fresh-squeezed lemonade was also a big hit. Sadly, there is one downside: "My only sadness is that Puka Dog has ruined all other hotdogs for me forever," wrote one tourist.
IDAHO: Scotty's Hot Dogs in Boise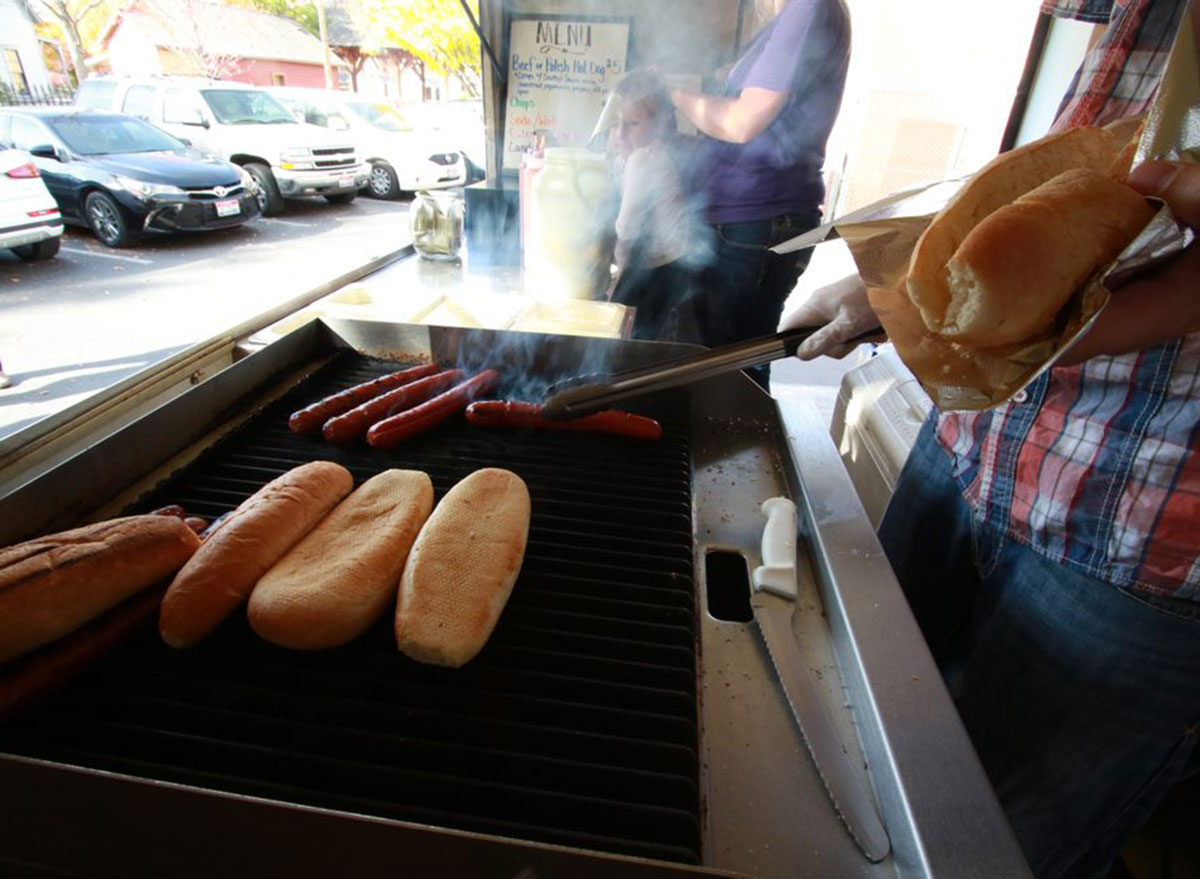 This no-frills food truck is always on the move, so check their Facebook page when you're ready to head out and try the best hot dog in Idaho. Scotty's gourmet hot dogs and the toppings are all made fresh to order—something that didn't go unnoticed by reviewers.
"Everything was so fresh and tasted delicious," wrote one customer. Another described it as "the best hotdog I have ever had in my life—and I've been around over forty years."
ILLINOIS: Flub a Dub Chub's in Chicago
There's certainly no shortage of amazing hot dog spots in Chicago, but Flub a Dub Chub's is truly something special. If you want an authentic Chicago dog, this is where it's at. The restaurant itself isn't fancy, but that's part of its charm.
"The restaurant has a very cool atmosphere and you become aware of it as soon as you enter through the doors. The framed drawings of hot dogs all over the walls show that Dub Chub's is beloved by locals and has been so for decades," wrote one reviewer. "This place has a really nice, historic charm behind it," while another noted that the reasonable prices and friendly staff make the experience even more enjoyable.
INDIANA: Garcia's Hot Dogs in Indianapolis
The food served at this beloved hot dog cart is made by Mr. Garcia himself, all with fresh ingredients. It's one of the few businesses that boasts a five-star average on Yelp and reviewers were all too happy to explain why.
"I am all about this hot dog cart. Maybe it's the novelty of the street cart or the sizzling sound of onions on a grill," wrote one reviewer. "Maybe it's the friendly service that is always accompanied by a 'thank you' and a smile. Maybe it's the delicious made-to-order hot dogs that are unbelievably LOADED with toppings."
Another advised readers to "go for the customer service and stay for the hot dogs," describing Garcia's as "excellent all the way around."
IOWA: Bob's Drop Inn in Le Mars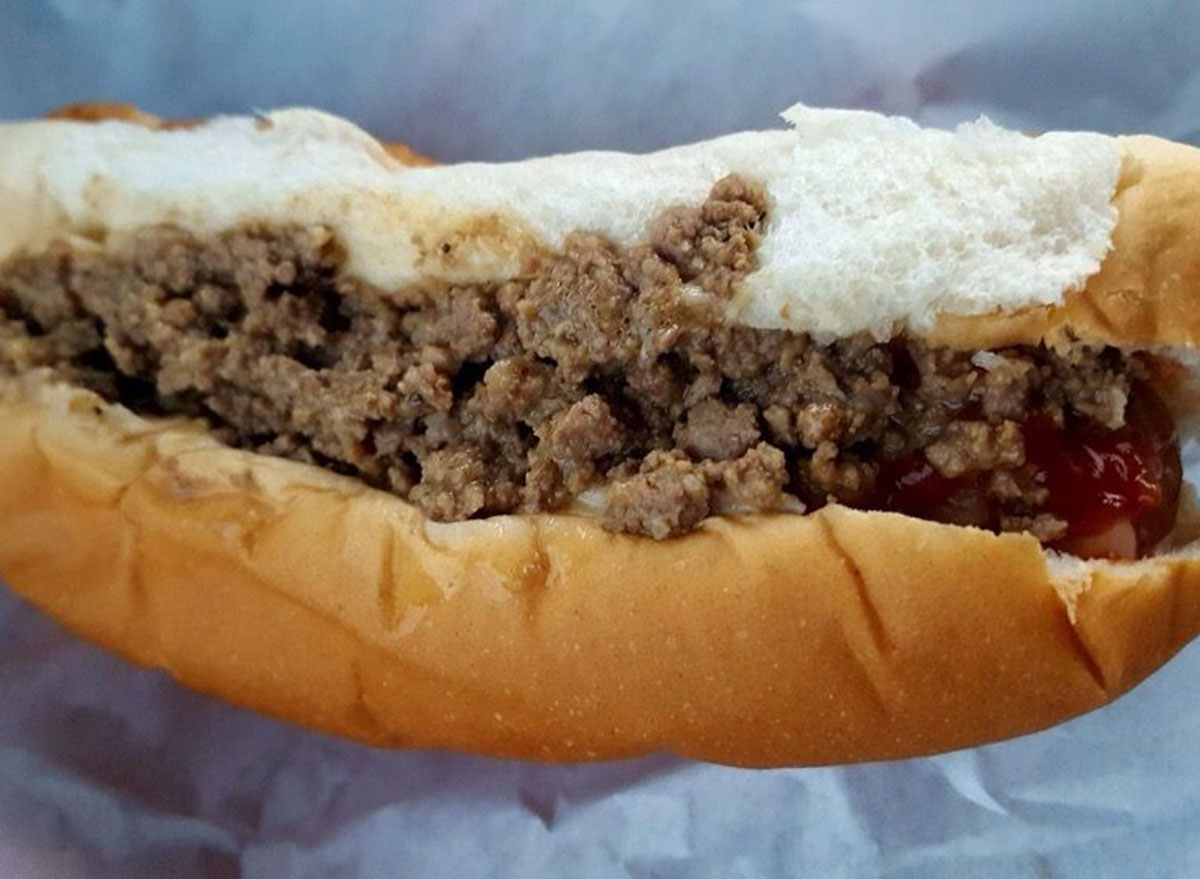 Bob's Drive Inn keeps its menu simple, but this spot makes a good old-fashioned hot dog with all the classic fixings that leave a lasting impression on its customers. The hot dogs are made using tavern meat (also known as loose meat).
"Best hot dogs ever!" wrote a reviewer who visits family in the area every two years and always makes Bob's their first meeting spot.
"I heard I had to try a famous 'Bobs Dog' so that's what I decided to go with," wrote an out-of-towner who couldn't say enough good things about Bob's. "Let me tell you it exceeded the hype I had for it! I know a hot dog doesn't sound crazy but this wasn't just a hot dog. It was a hot dog with 'tavern meat'… I added cheese and ketchup and from the first bite I was hooked, it was amazing! I started with one dog but immediately after I finished that, I got up and had another."
KANSAS: Wiener Kitchen in Overland Park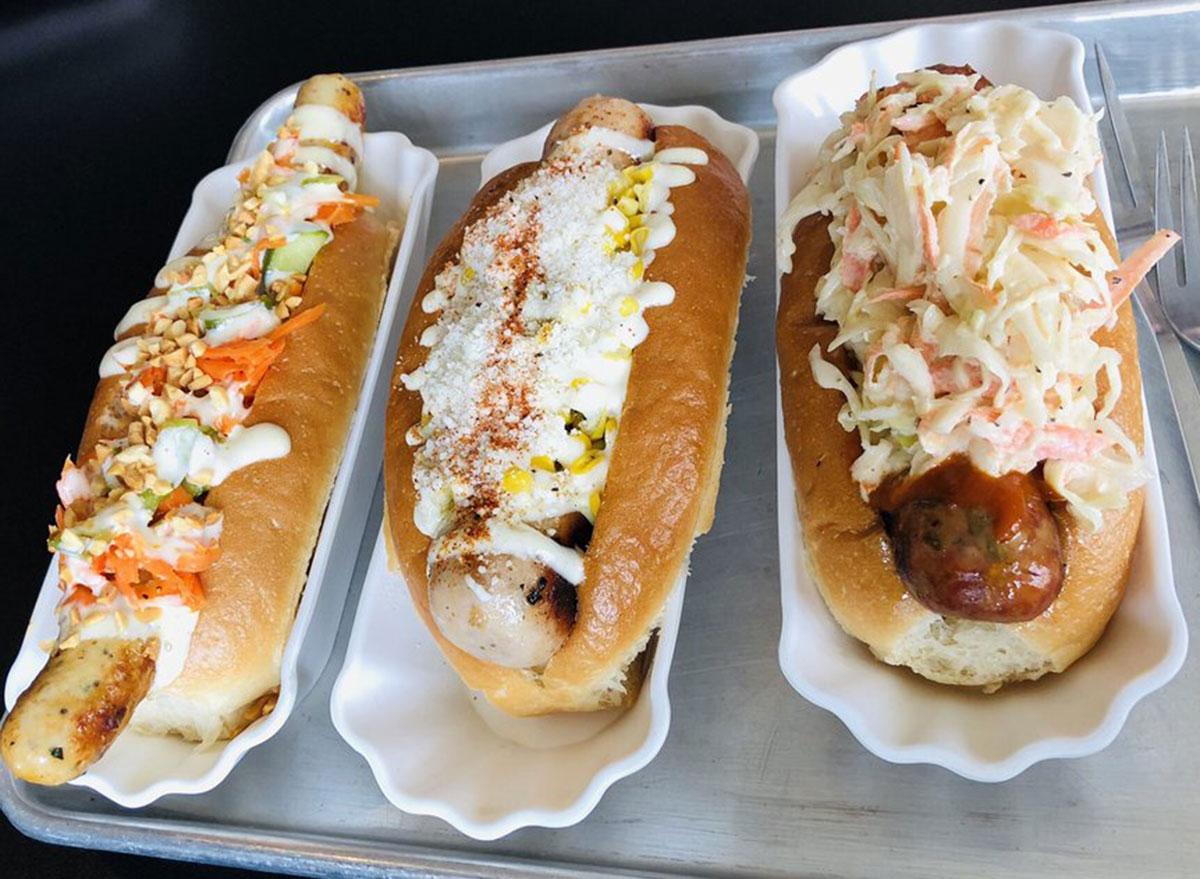 Wiener Kitchen started out as a mobile cart selling hand-crafted sausages at a farmer's market before expanding to a restaurant in 2017. It now has a mouthwatering hot dog section on its menu which includes everything from a classic frankfurter to a jalapeno cheddar kielbasa dog. There is also a vegan hot dog option.
"Everything was cooked to perfection. Flavors were amazing and held a lot of complexity! I will definitely be trying their food again!" wrote a first-time customer. Another noted that they arrived with low expectations because they wondered "how good can a hot dog be?" Their question was answered fairly quickly: "It was delicious. The sausage is great and the toppings are so fun!" wrote the reviewer. "The service was great and we got our food relatively quickly for how busy they were."
KENTUCKY: Lonnie's Best Taste of Chicago in Louisville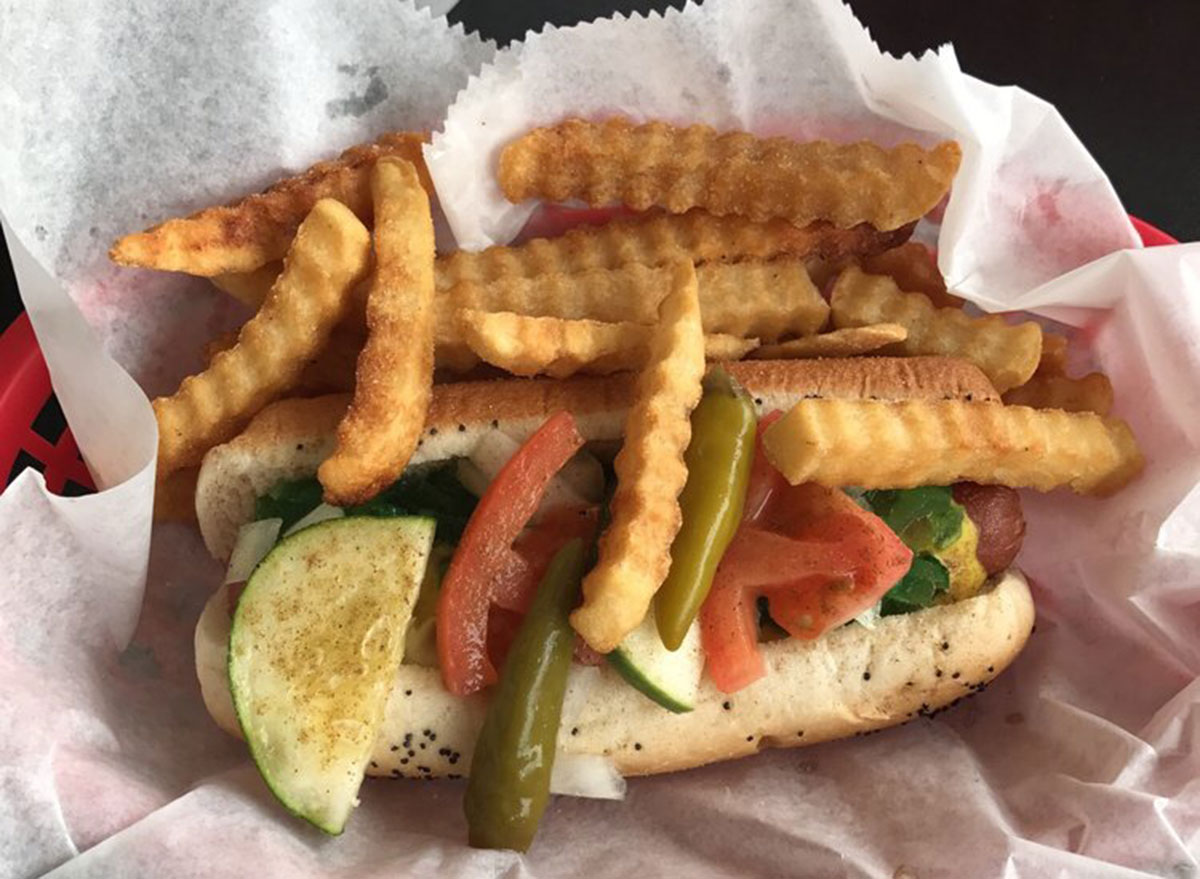 Craving a Chicago-style dog? Head straight to Lonnie's Best Taste of Chicago and you'll get the real deal. Lonnie used to own a hot dog spot in the Windy City, so you're in good hands. The hot dogs at Lonnie's are made using all-beef Vienna kosher meat and topped with a delicious handmade relish.
"Best hot dog in Kentucky, maybe in the world!!! Holy smokes this place is absolutely wonderful!" wrote an enthusiastic reviewer. "Hotdogs are on point."
LOUISIANA: Cochon Butcher in New Orleans
James Beard award-winning chefs Donald Link and Stephen Stryjewski prepare the hot dogs at Cochon Butcher by hand. They're made with local meat and placed in a pretzel-style bun.
"Can't say enough about this place!" wrote a reviewer. "Soooo delicious… staff is friendly, place is cute. Vibe was on point for lunch."
MAINE: Flo's Steamed Hot Dogs in Cape Neddick
This Maine hot dog mainstay has been a community staple in Cape Neddick since 1959. Reviewers say that the relish is what sets it apart from all the other dogs in the state.
"It's the relish! Soooooo good and such a treat! I want a jar for Christmas!" wrote a reviewer who said they're normally not a fan of hot dogs. Another happy customer wrote, "These may have been the best hot dogs I've ever had."
MARYLAND: G&A Restaurant in Baltimore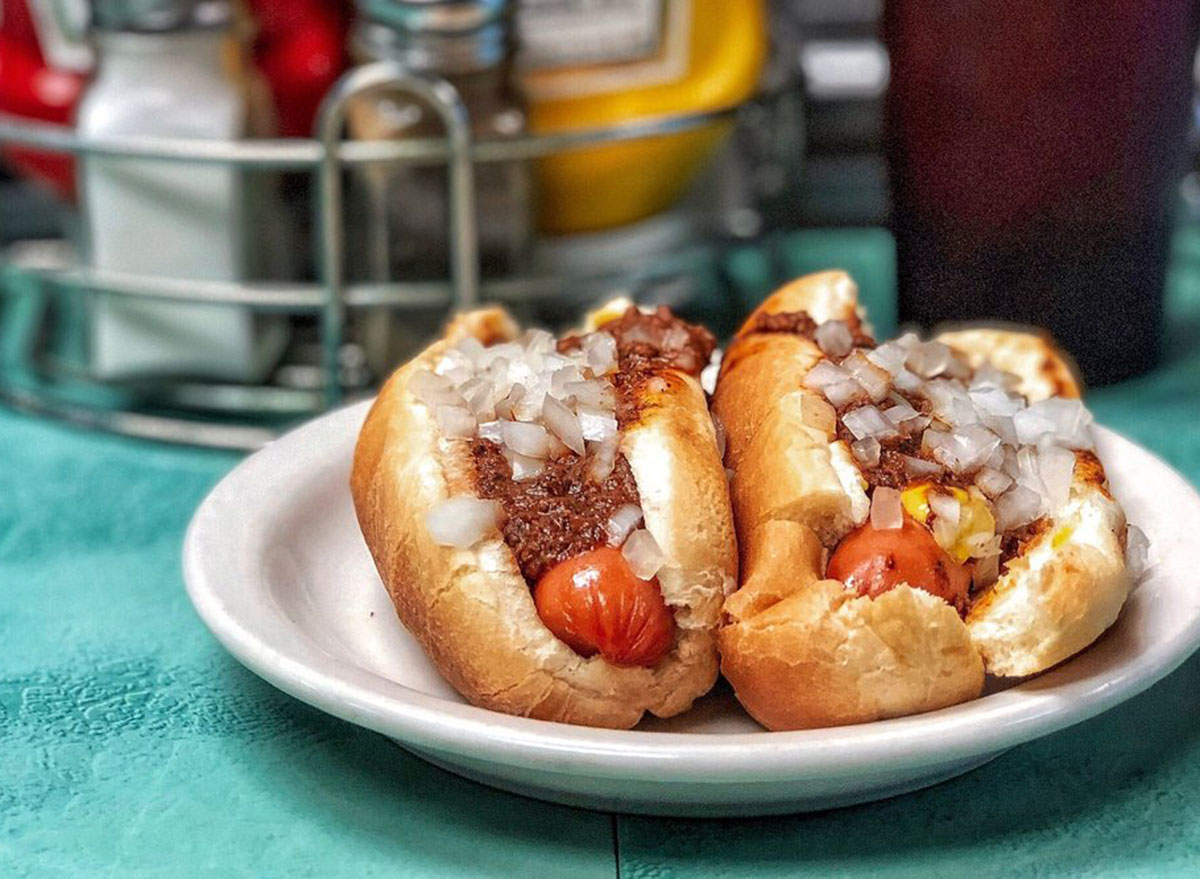 Featured on "Diners, Drive-Ins, and Dives," G&A Restaurant, which opened its doors nearly 100 years ago, is hands-down the best spot to get a classic Coney Island hot dog in Maryland. Plus, at the price of $2.30, these dogs are the definition of a bargain.
G&A is now owned by the founder's grandson and he'll whip up a Coney Island dog topped with "the works" while you watch him work his hot dog magic.
"Awesome gem of a place. Everything is fantastic, even the soda," wrote one reviewer, while another re-affirmed that G&A "is the place you go for the best chili dogs and diner food in Baltimore, no one else even comes close! It's the real deal!"
MASSACHUSETTS: George's Coney Island in Worcester
George's Coney Island is known for its traditional hot dogs, with a popular choice being the specialty dog with "The Works" (chili, mustard, and relish). Be prepared for a long line, but don't let it deter you—it moves extremely quickly thanks to the talented staff.
"Best hot dog I've ever had. Period. Awesome retro place and the best sodas around," wrote one reviewer. "Great prices, friendly staff and a must visit if you're in Worcester."
MICHIGAN: Duly's Place in Detroit
Duly's Place was featured on Anthony Bourdain's "Parts Unknown," but customers say the fame didn't get to their heads and it's the same unpretentious hot dog spot that locals have loved for years.
"Service was friendly, breakfast was great, and the Coney Dog and cheese fries were next level delicious!" wrote one reviewer.
MINNESOTA: The Wienery in Minneapolis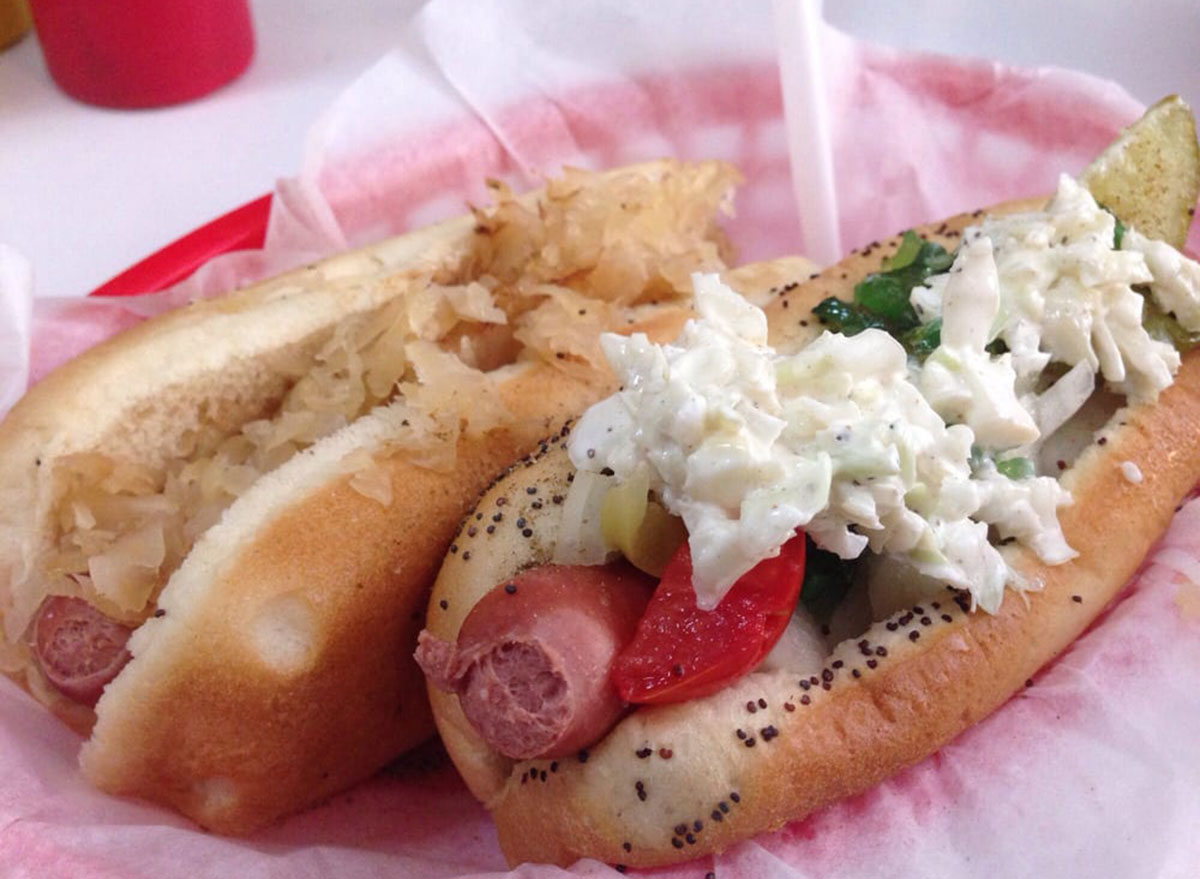 The Wienery, which was also featured on "Diners, Drive-Ins, and Dives," is a hole-in-the-wall spot where you can find the best hot dogs in the state. You can go for a simple regular dog, which is made with Vienna beef, or get the equally delicious Chicago dog. If you like your hot dogs with a kick, try the Mr. Sunshine—it's topped with spicy giardiniera sauce and cheese.
"Delicious and quality food for a good price!" wrote one reviewer. "Everyone at the table loved what they got and it has such a wide variety you can't go wrong. They have so many options, even for vegetarians!" Another customer who ordered the vegan Chicago Dog described it as "one of the best vegan dogs I have ever had."
MISSISSIPPI: Small Time Hot Dogs in Winona
Small Time Hot Dogs has several colorful food trucks that travel throughout Mississippi in order to serve their gourmet hot dogs to people in as many locations as possible. You can keep track of their schedule on their official website or their Facebook page.
Arrive hungry, because the Raging Cajun hot dog is truly something special (and extremely filling!). This 100% beef hot dog is smothered with Cajun crawfish sauce. And while you're at the food truck, treat yourself to their extremely popular fried Oreos, homemade sweet tea, or both.
"Loved their dogs with gourmet toppings. Some of the nicest people you'll want to meet and they have a wonderful food truck," wrote one reviewer. "You'll love it."
MISSOURI: Woofie's Hot Dogs in Overland
This '60s-style drive-in stand serves up Chicago-style hot dogs. The Woofie Dog is a popular choice, as well as the Reuben Dog, which is made with Swiss cheese, pickles, Thousand Island dressing, and sauerkraut. While you're there, be sure to check out the walls for portraits of celebrities who have also enjoyed the hot dogs at Woofie's. (Stars—they're just like us!)
Reviewers describe the hot dogs at Woofie's as "so good" and "elevate[d] to an entirely flavorful level." One regular kept it short and sweet: "If you have not tried it, you have not lived." Copy that.
MONTANA: Mr. Hot Dogs in Butte
Mr. Hot Dogs is another no-frills, unpretentious spot with killer hot dogs. The food is made using only Montana beef and buffalo and the menu is full of unique options; customized hot dogs are available as well.
Reviewers were especially fond of the Butte Dog, describing it as "a perfect balance of flavors" and noting that the dog was cooked just right.
"The Butte Dog was delicious, everything made to order. The owner can tell you a lot about the area too, as he was born in Montana," wrote another visitor who also praised the service and the atmosphere. "The space is small, nothing fancy, but elevated by the charming clutter and opera music. Seriously check it out if you've been traveling and need something a little less ordinary."
NEBRASKA: Coney Island Lunch Room in Grand Island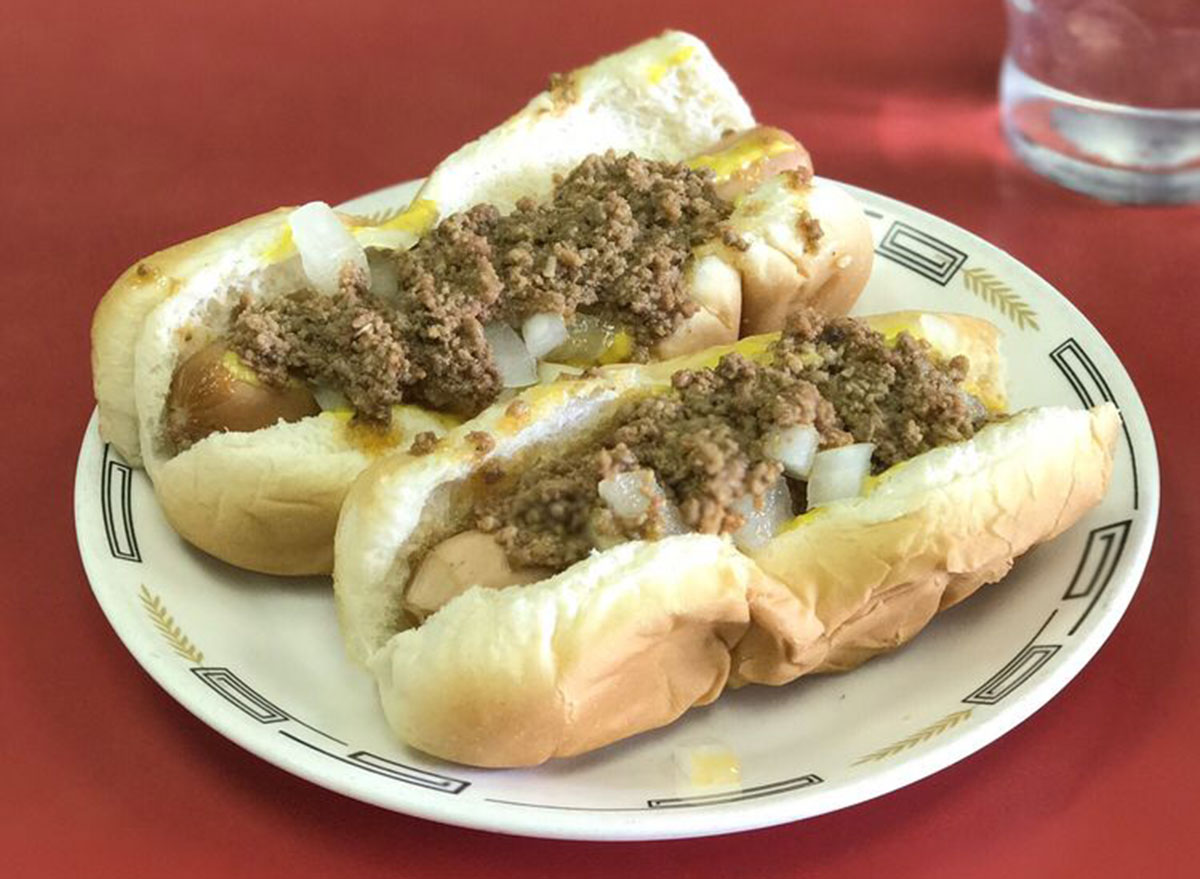 The Coney Island Lunch Room has been a Grand Island mainstay since 1933. It's maintained its classic, old-fashioned feel while still serving up the best hot dog in the state. Reviewers can't say enough good things about the authentic Coney hot dog, which has made its way to Nebraska.6254a4d1642c605c54bf1cab17d50f1e
"If you're ever in Grand Island, you must make it a point to stop in and enjoy an authentic Coney," wrote a local. "Best place ever if you want to step back in time… the Coney dogs are delicious," wrote another reviewer.
NEVADA: Buldogis in Las Vegas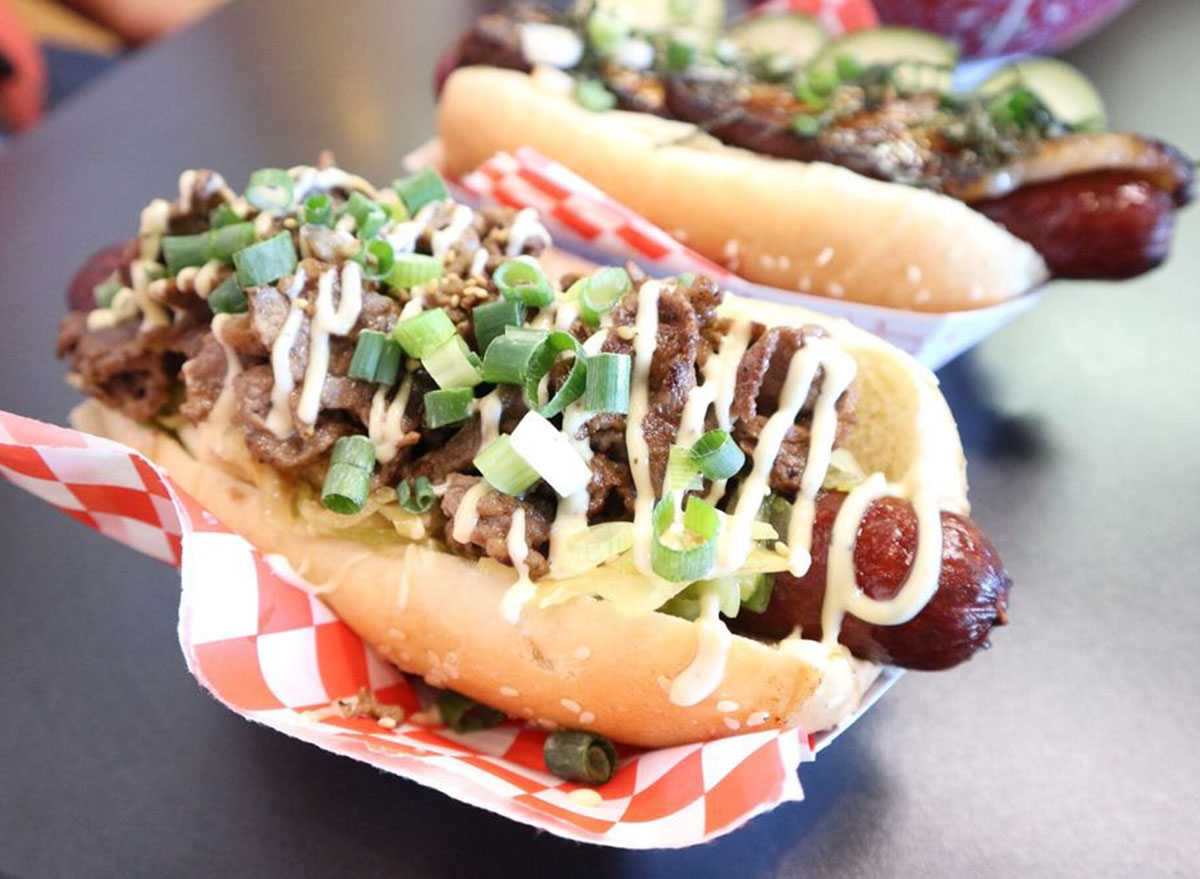 Asian-influenced hot dogs may sound like a strange blend, but one taste of a Buldogis dog and you'll be instantly converted. The meat is cooked over an open flame and the hot dog is topped with condiments like homemade kimchi, garlic aioli, green onions, and nori flakes.
"The hot dogs themselves were great and not just your cheap variety of store-bought franks. The toppings, however, are what made them amazing," wrote one reviewer. Others described the hot dogs as "fresh and flavorful" and "a dream."
NEW HAMPSHIRE: Puppy Love Hot Dogs in Concord
The family-owned Puppy Love Hot Dogs has been a Concord staple since 1975. This bright red food truck is beloved by locals who know they can count on getting a delicious hot dog every single time they visit. The menu is classic and minimalist, but the steamed, skinless dogs are always fresh and you can choose from eight classic condiments.
"Best hot dog place in New Hampshire!" raved one reviewer, while another described it as "the best hot dog you will ever have!" One customer cautioned that the downside is Puppy Love's hot dogs are "addicting." We'll take our chances.
NEW JERSEY: Hiram's Roadstand in Fort Lee
Hiram's Roadstand has been around since the 1930s, and it was a favorite of Anthony Bourdain's. In addition to featuring it on his show, Bourdain shared that he had been a loyal customer since the 1950s, describing the food as the "finest hot dogs in the land." Enough said!
NEW MEXICO: Urban Hot Dog Company in Albuquerque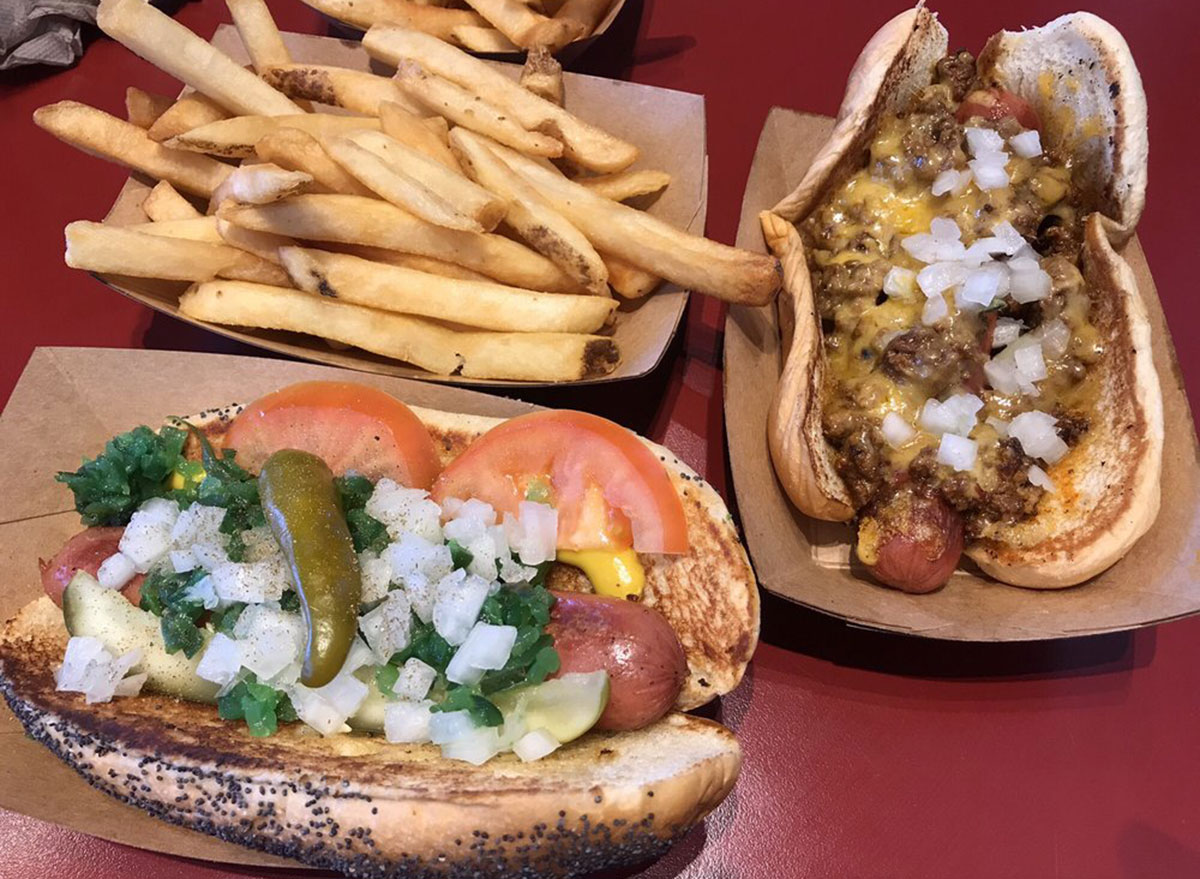 Urban Hot Dog Company's mantra is "putting a new spin on an old favorite." The menu is packed with unique options and there are so many that you may want to take a look in advance because it's a bit overwhelming (in the most delicious way possible, of course). The most popular hot dog is the Fully Loaded, a deep-fried beef hot dog wrapped in potato and topped with house-made horseradish sour cream, cheddar cheese, chives, and bacon. The Caprese, a bratwurst featuring tomatoes, basil, and a balsamic glaze is also beloved.
Reviewers described the hot dogs as "absolutely amazing" and full of "unique and enjoyable flavors." They also appreciated the multiple vegetarian and vegan options on the menu.
NEW YORK: Crif Dogs in New York City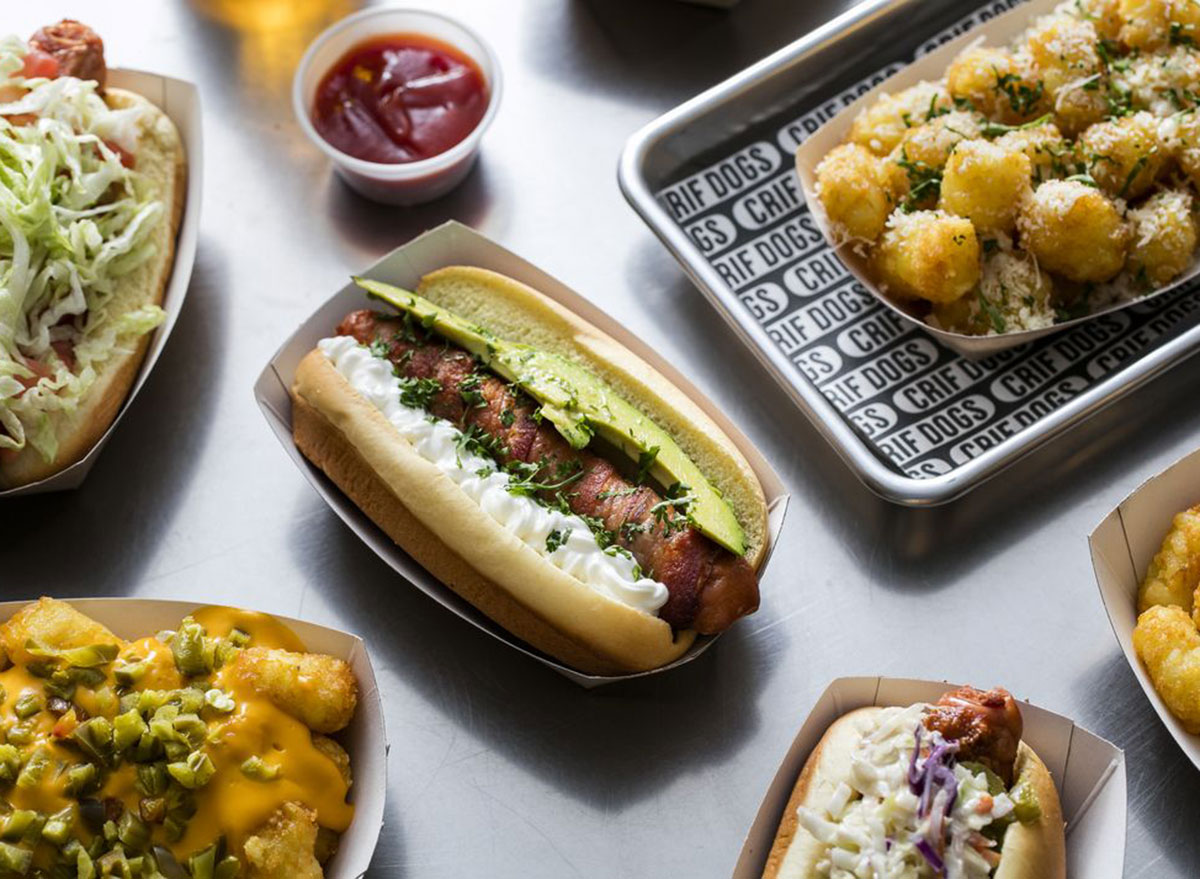 Choosing the best hot dog in New York is no easy feat. Crif Dogs gets the honor thanks to its naturally-smoked pork and beef franks. You also have the option of combining two of New York's best foods: hot dogs and bagels. The Jon-Jon Deragon is a hot dog made with bagel toppings.
"I had the John John [sic] Deragon (cream cheese, scallions, and everything bagel seeds, $5.50) and small cheese tots ($3.95)," wrote a reviewer who ordered this specialty hot dog. "The hot dog was phenomenal! Who knew cream cheese would go so well on a hot dog! If you like everything bagels (who doesn't?), try the John John."
A customer who tried a variety of hot dogs, from the basic dog to the kimchi dog, noted that "each were cooked and prepared to perfection."
NORTH CAROLINA: Hot Dog World in Hendersonville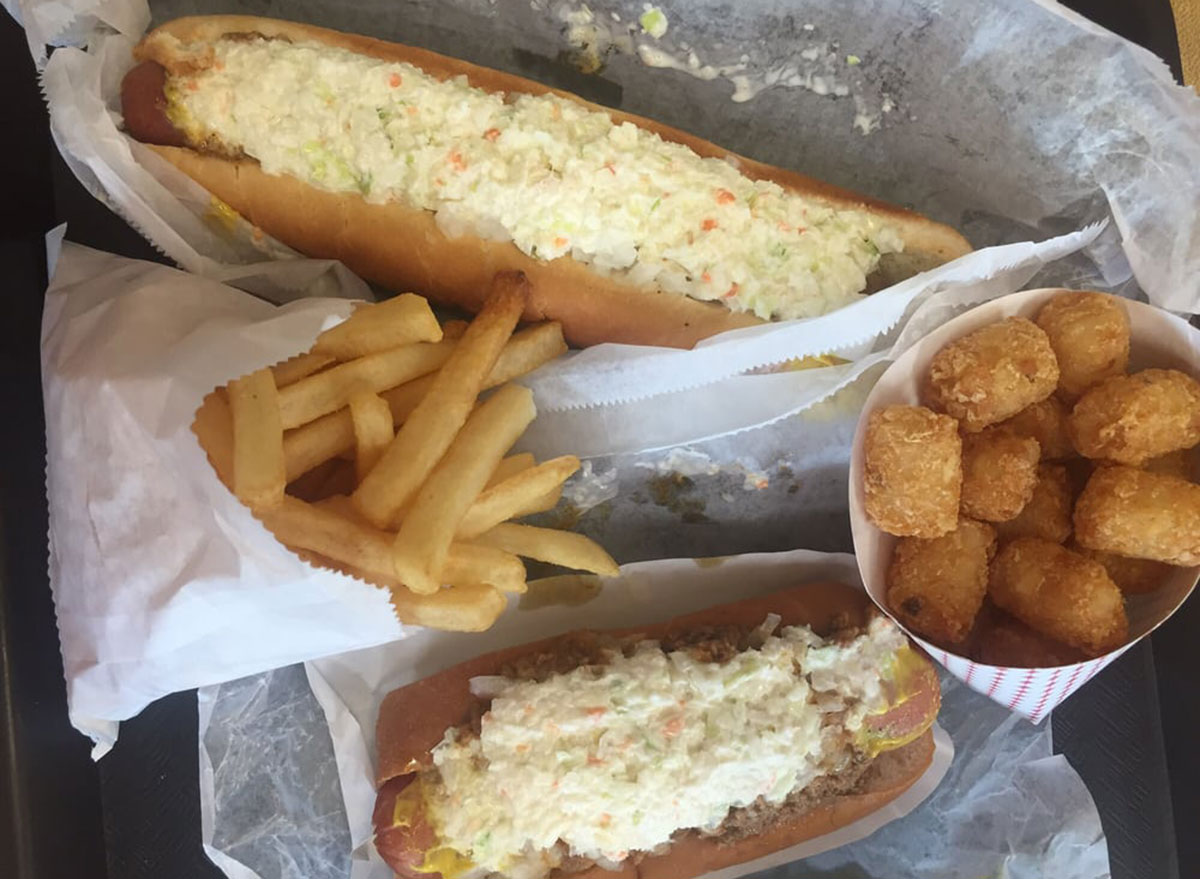 Hot Dog World is a family business that's been a staple in the community since 1986. Their mission is simple: dedication to providing customers with a positive dining experience. Hot Dog World's menu offers 10 hot dogs and one corn dog, the most popular being the House Special Dog, which is topped with chili, mustard, and onion. There is also a vegetarian option and, if you're really hungry, the Foot Long, which is a quarter-pound of meat topped with mustard, chili, onion, and slaw.
"Nothing like a great hot dog and for the RIGHT PRICE," wrote one reviewer. (The most expensive hot dog on the menu is the Foot Long, which costs just $4.29.)
"Upon my visit, I chose three different hot dogs including the house special, which were all fun and novel to eat. Topped with items ranging from house-made chili to sauerkraut, any visitor who enjoys the old-fashioned food will be excited to get their individually wrapped made-to-order dogs," wrote another happy customer. "The blue and white menu board and ordering area inside feels like a salute to an era of by-gone nostalgia."
NORTH DAKOTA: DogMahal DogHaus in Grand Forks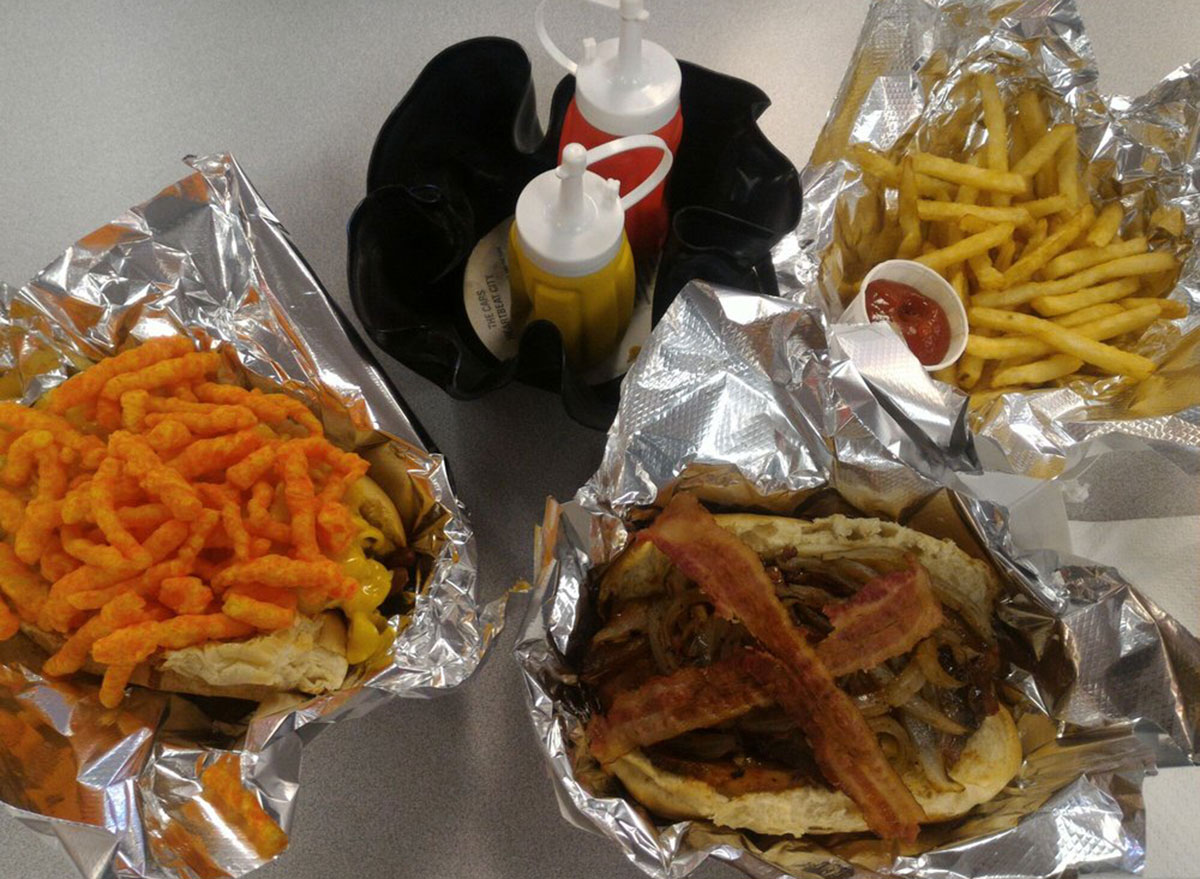 You'll find comfort food galore at DogMahal DogHaus. The massive hot dogs are topped with foods like Cheetos, chili, macaroni and cheese, and meatballs. The restaurant is attached to a record store, so you'll be able to enjoy some tunes in the background as you eat your delicious dog.
"Best food! Best hotdogs. Cheap! Records, booths to eat at, two 'do gooders' running a Business giving back to those in need in their community!" wrote one reviewer. "Must go to!" Another noted that, in addition to the "huge and delicious dogs," they appreciated that the owners stayed open a bit late in order to make their food.
OHIO: Dirty Frank's Hot Dog Palace in Columbus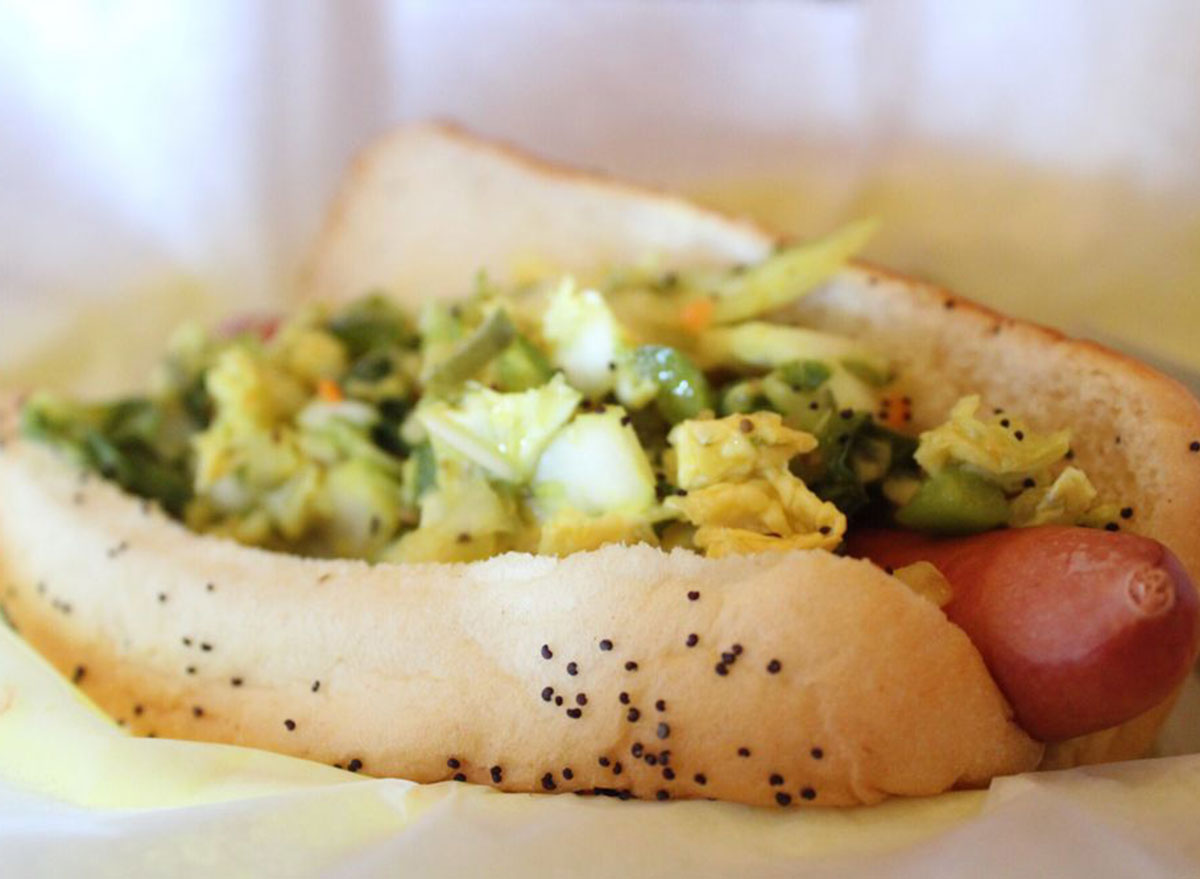 When in Ohio, you can't beat the hot dogs at Dirty Frank's, a joint with a dive bar atmosphere that stays open late (so if you're craving a dog after a night of bar hopping, you know where to go). Dirty Frank's uses Vienna beef frankfurters, but there are also vegetarian and vegan options. And if toppings are your favorite part, hold on to your hat—there are over 50 topping options ranging from mango chutney to crushed Fritos.
"This place has awesome dogs! The Chicago dog was on point! They use true to tradition tougher skin style beef franks and top it with the best ingredients Columbus has to offer, all nested in the must have poppy seed bun," wrote a reviewer. Another fan of the Chicago Dog noted that, "I really don't think you could go wrong with anything on the menu.
OKLAHOMA: Siegi's Sausage Factory in Tulsa
In addition to sausages, Siegi's makes its own wieners in the traditional German way. The hot dogs are made from beef and pork and then lightly smoked. You can get your hot dog on a bun, but if you're feeling adventurous, order it on a plate with sauerkraut and hot German potato salad instead.
"TRULY PHENOMENAL!!!" raved one reviewer, while another praised the "incredible, authentic food."
OREGON: Otto's Sausage Kitchen in Portland
This family-run German deli has been open for 80 years and still makes their hot dogs the old-fashioned way: by hand, then smoked in-house. Otto's is a place where you want to stick to the tried-and-true classic and order a "world-famous old-fashioned wiener." Reviewers recommend using very few toppings so you can fully appreciate the meat itself.
"My grandmother was Dutch/German, and made wonderful sauerkraut with frankfurters. Without top-quality ingredients, it's not worth making. Otto's has it all," wrote a local regular. "Great wieners in casing, properly seasoned, bulk fresh natural sauerkraut (no vinegar) all at great prices. While those ingredients are what I went for, the incredible variety will bring me back. The staff is so incredibly friendly and helpful it made for more of a treat, than a shopping trip."
PENNSYLVANIA: Coney Island Lunch in Scranton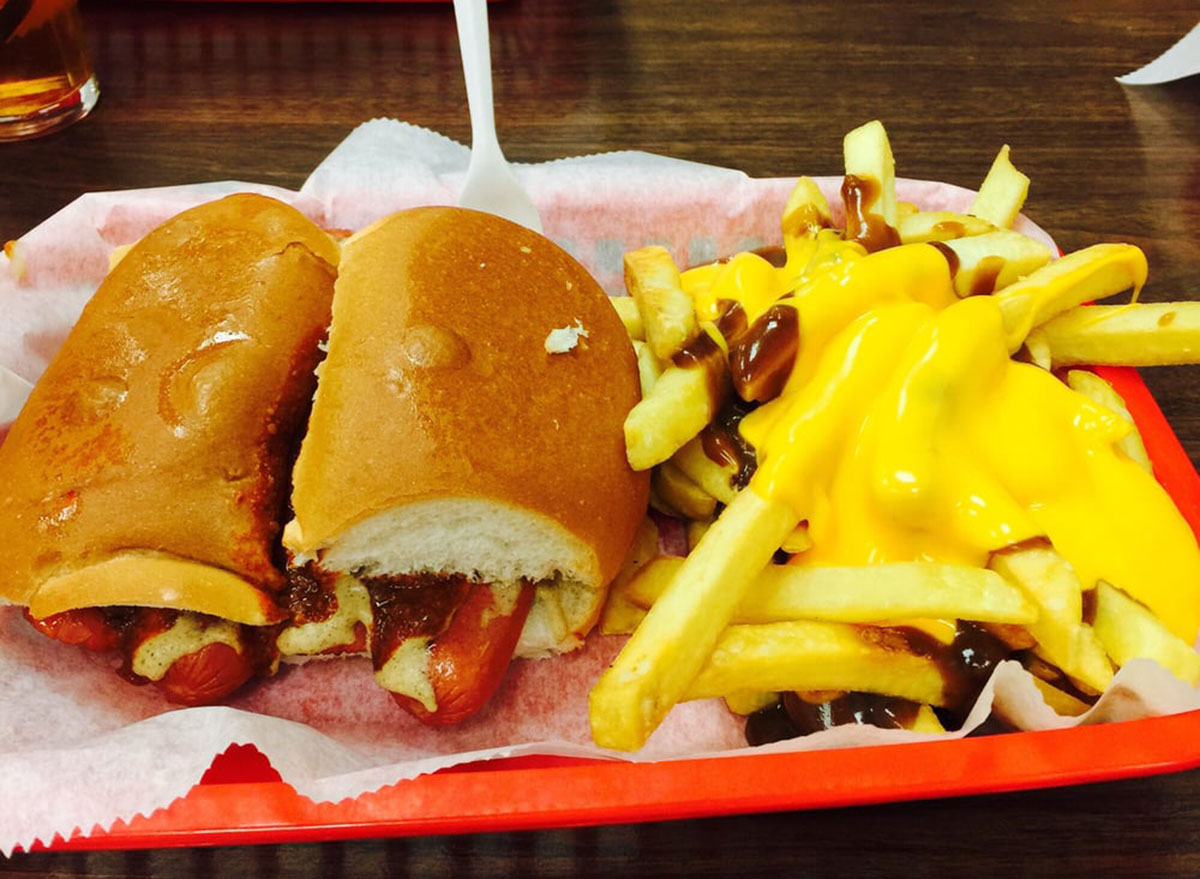 Coney Island Lunch has been around for nearly 100 years and, despite its name, this restaurant's specialty is actually a Texas wiener. Although it's believed to have been invented in Pennsylvania, the hot dog got its name due to the slathering of chili sauce on top. The chili sauce has become its own phenomenon and it's available to purchase by the pint or quart.
"Five stars for a hot dog place. I had the Texas Wiener with all of the toppings and it was delicious," wrote one reviewer. "These would be perfect at a baseball game!" Another noted that they discovered Coney Island Lunch by chance while on vacation and was pleasantly surprised when they were served the "best hot dogs ever."
RHODE ISLAND: Olneyville New York System in Providence and Cranston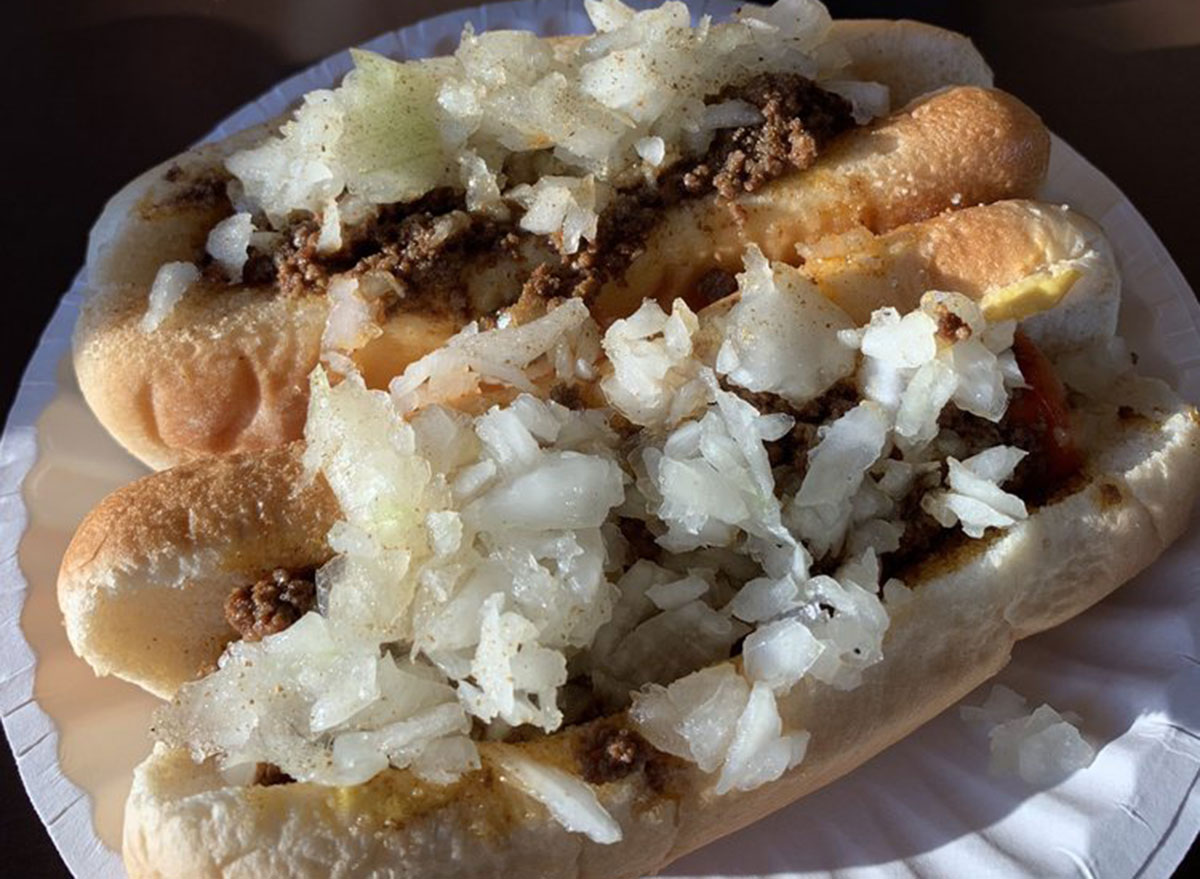 Olneyville New York System takes its hot dog-making process very seriously—they even provide a list of the steps on its website. The hot dogs at Olneyville are placed in buns that are steamed in the microwave before serving. They're also known for their "special sauce," which is made with yellow mustard, diced onions, celery salt, and a cumin-heavy meat sauce.
"The hot dogs were incredible! I don't know what seasonings they put in their chili sauce, but it's really delicious," wrote one reviewer. Another described the hot dogs as "absolutely phenomenal," adding that "all the ingredients just complimented [sic] each other perfectly."
SOUTH CAROLINA: Jack's Cosmic Dogs in Mt. Pleasant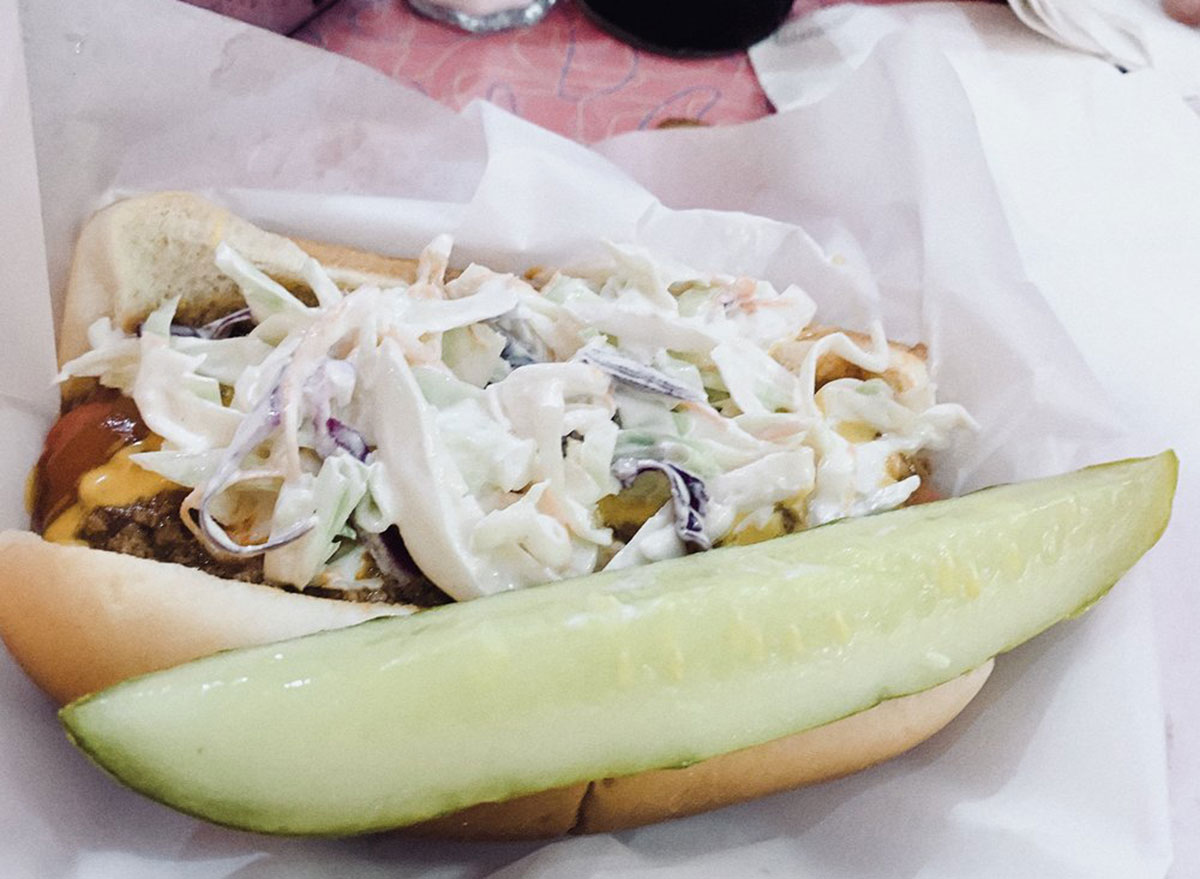 Jack's Cosmic Dogs is kind of a big deal—if you recognize the name, it's likely because you saw it featured on the Food Network, The View, or Southern Living. Jack's promises to deliver, "The best hot dog you've ever had." Their signature is the Cosmic Dog, which is made with Jack's original blue cheese slaw and famous sweet potato mustard. Alton Brown of the Food Network described it as "The Best Thing I Ever Ate."
SOUTH DAKOTA: Hungry Dog in Mitchell
Founded in 2016, Hungry Dog is the only hot dog shop in the town of Mitchell—and it managed to nab the top spot in the state. Not too shabby! The menu offers 14 hot dog styles, the most unique being the Wrangler Tangler. This footlong hot dog is topped with crunchy straw onions, bacon bits, and a Creole remoulade. The Mac-N-Cheese and Chili Dog are also popular choices.
"Excellent hot dog!! Fast service as well—wish we lived closer so we could try more!" praised one reviewer. "Chili dog hit the spot and hubby loved the Mac and Cheese dog." Another dog described the food as "absolutely amazing" and noted that "they use very high quality ingredients."
TENNESSEE: D&B Hot Dogs in Knoxville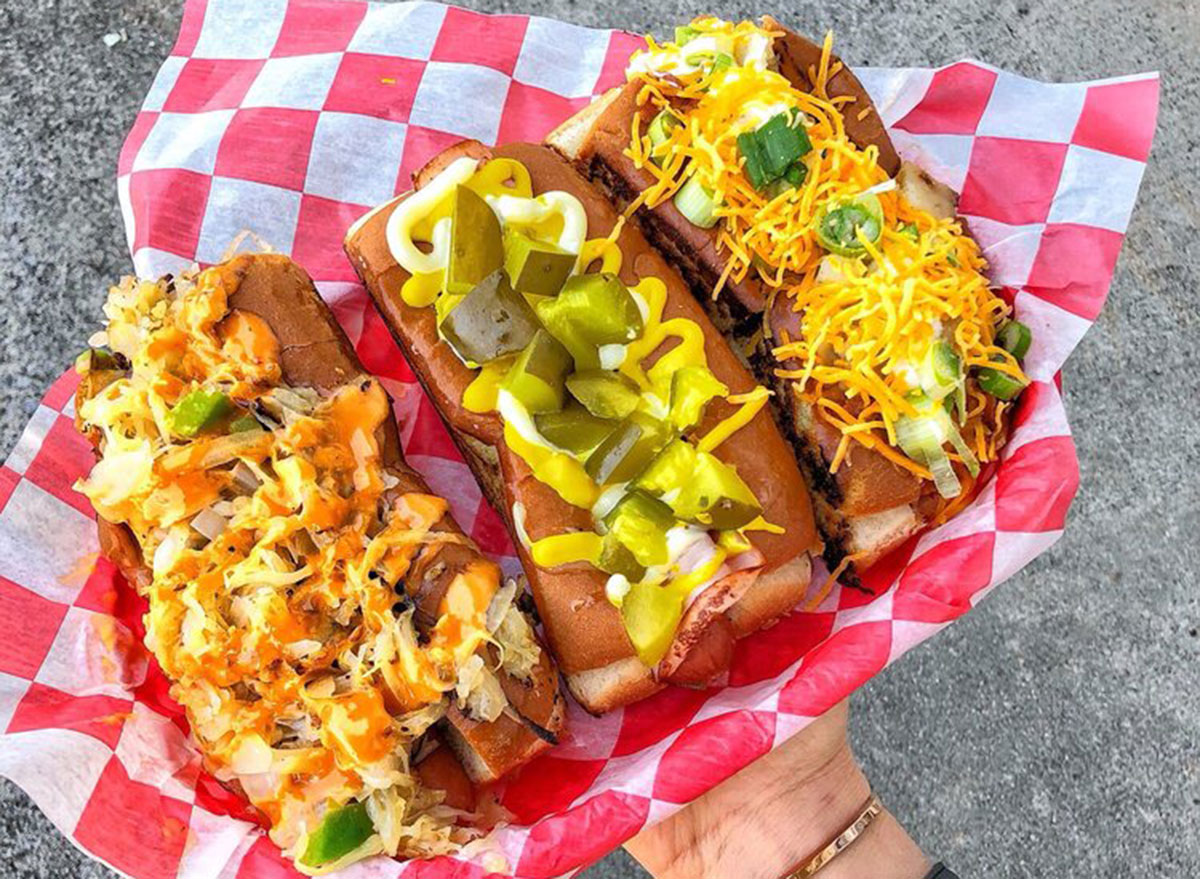 D&B Hot Dogs was founded when two stay-at-home dads, Bruce Flomberg and Daniel Price, lamented that there weren't any good hot dog places in Knoxville. They'd already launched a successful lawn service company, so the pair joined forces once again—this time to open a top-notch hot dog restaurant. Within a few years, D&B had established itself nationwide; it was named the number one hot dog in Tennessee by "Travel and Leisure" magazine in 2019 and was the only Tennessee establishment to be voted into the top 25 hot dogs in America by Yelp.
TEXAS: Angry Dog in Dallas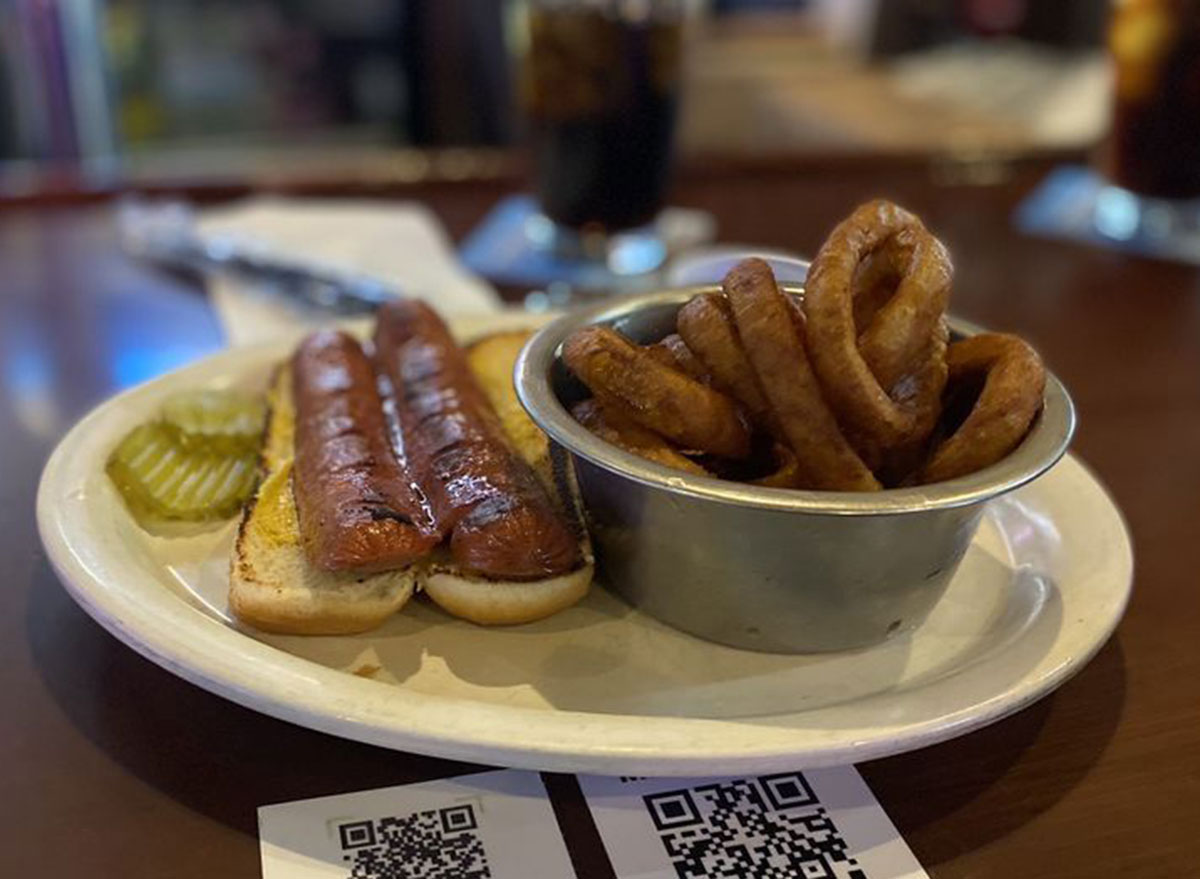 When in search of the best hot dog in Texas, head straight to the dive bar Angry Dog and order its signature dish: a grilled Kosher hot dog slathered with chunky chili, shredded cheddar cheese, and onions. Craving a cold beer? You're in luck again! Angry Dog has over 100 craft beers on the menu.
"That dog was one of the best all beef dogs and tasted all of it through the amazing chili," wrote a happy customer. "Then the onion rings. Double WOW." Another reviewer noted that hot dogs are one of their favorite guilty pleasures and the one at Angry Dog was "the bomb."
UTAH: J. Dawgs (Various Locations)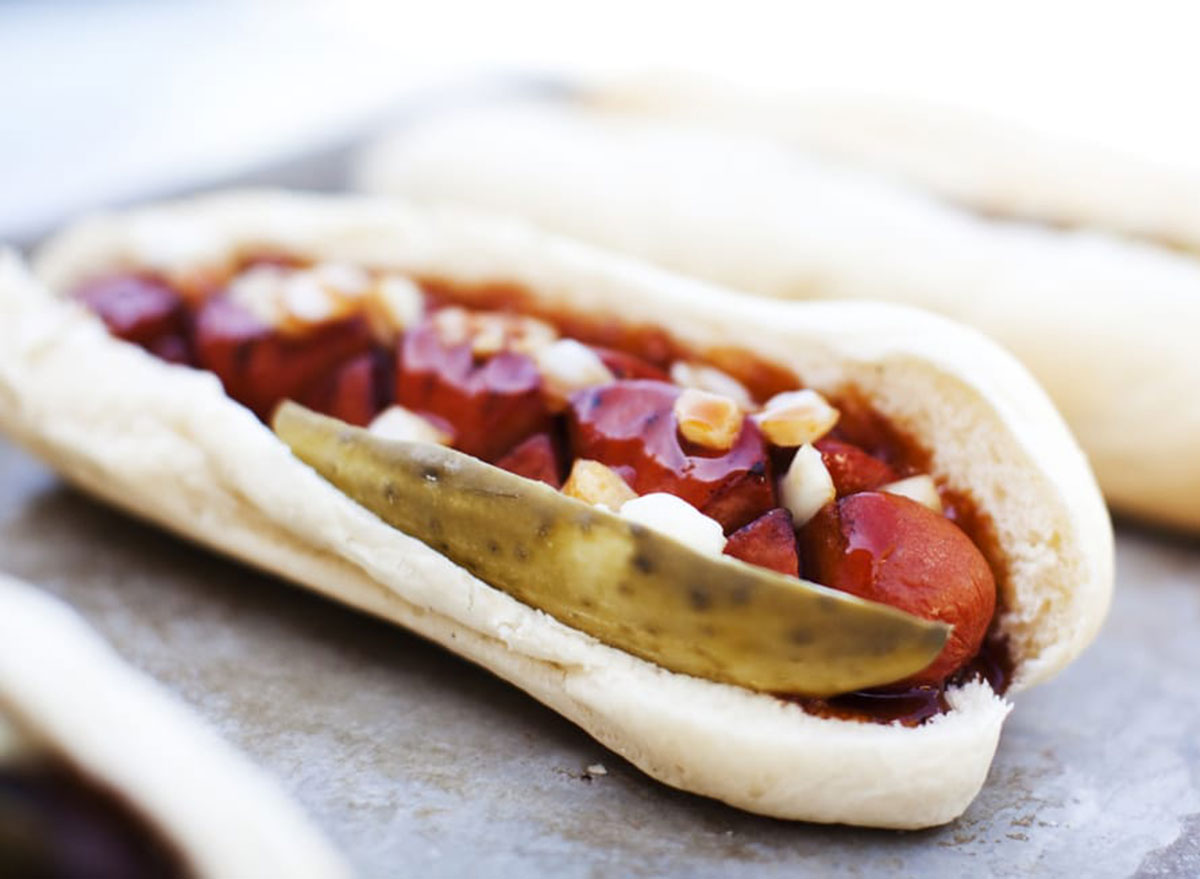 What began as a modest stand near Brigham Young's Provo campus in 2004 has become a phenomenon in Utah. J. Dawgs now has five locations, all of which offer hot dogs made with either all-natural beef or Polish-style and topped with your choice of options including banana peppers, onions, sauerkraut, pickles, and jalapeños. J. Dawgs has even developed a signature sauce, which is just the right amount of sweet.
"Classic flavors, stunning environment and amazing and unique take on a classic meal," raved one reviewer. "Everyone loves a good hotdog and JDawgs does them right," wrote another customer. "They are always perfection. They have a crispy outside and are super juicy inside. The bun is fresh and soft."
VERMONT: Hound Dogs in Manchester Center
This wildly popular food truck has a casual menu, allowing you to order hot dogs any way you please. Their approach is certainly working and has been for the past decade. "Awesome hotdog stand, the owners are wicked funny and the hotdog buns toasted along with a fabulous hotdog and great condiments," wrote one reviewer.
Another reviewer is such a huge fan of the food trailer that they hired owner Neil Shulman to cater their sports-themed rehearsal dinner. They told Shulman exactly what they wanted and he certainly delivered.
"Neil showed up, brought his family, brought his dogs, his sandwiches, his burgers, his vegetarian foods, his fries, soda, chips, onion rings, Neil even brought his Dad!" the customer recounted. "My guests had an amazing time socializing and enjoying all of the offerings from Hound Dogs. Neil showed up really early, awesome for my attention to detail, party planning self. He found a perfect spot and fired up the grill. He and his team were absolutely amazing."
VIRGINIA: Haute Dogs and Fries in Alexandria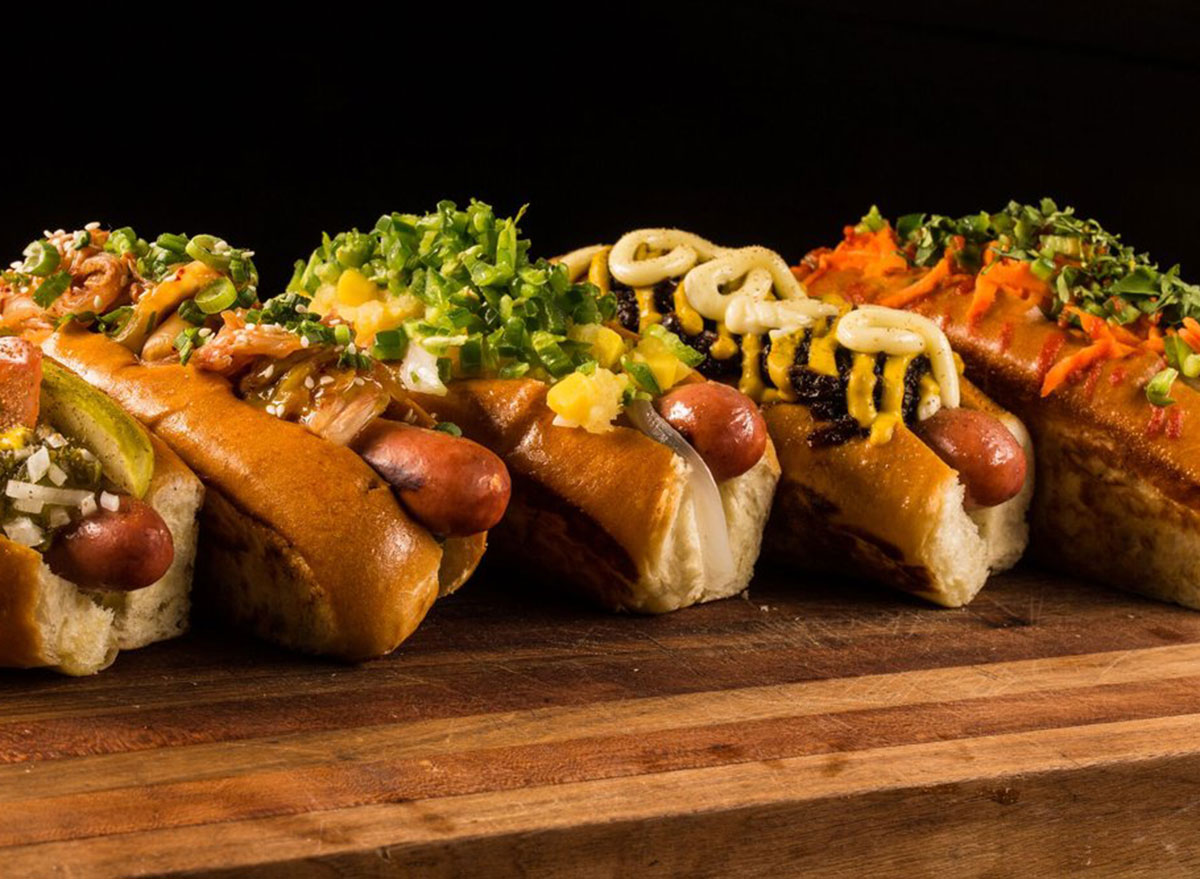 In addition to winning the prize for "most clever name," Haute Dogs and Fries is also the best place to get a hot dog in Virginia. The signature Haute Dog is made using a homemade New England-style roll and topped with house onion relish, mustard, mayo, and celery salt. There's also the option to make your own hot dog by choosing from twenty toppings ranging from jalapenos to rainbow sprinkles. Gluten-free and vegetarian options are also available.
"I rarely give out FIVE STARS but Haute Dog & Fries deserves it. Went here with a few friends and no one had anything negative to say," wrote one reviewer. "The DC Dog was unexpectedly great, I'm not a fan of Blu [sic] cheese but they definitely know how to use it. The customer service was great and speedy."
A regular at the restaurant noted that "the bun is always perfectly toasted, dogs are delicious with a nice snap when you bite into them [and] wide range of toppings are always tasty and fresh."
WASHINGTON: Dog in the Park in Seattle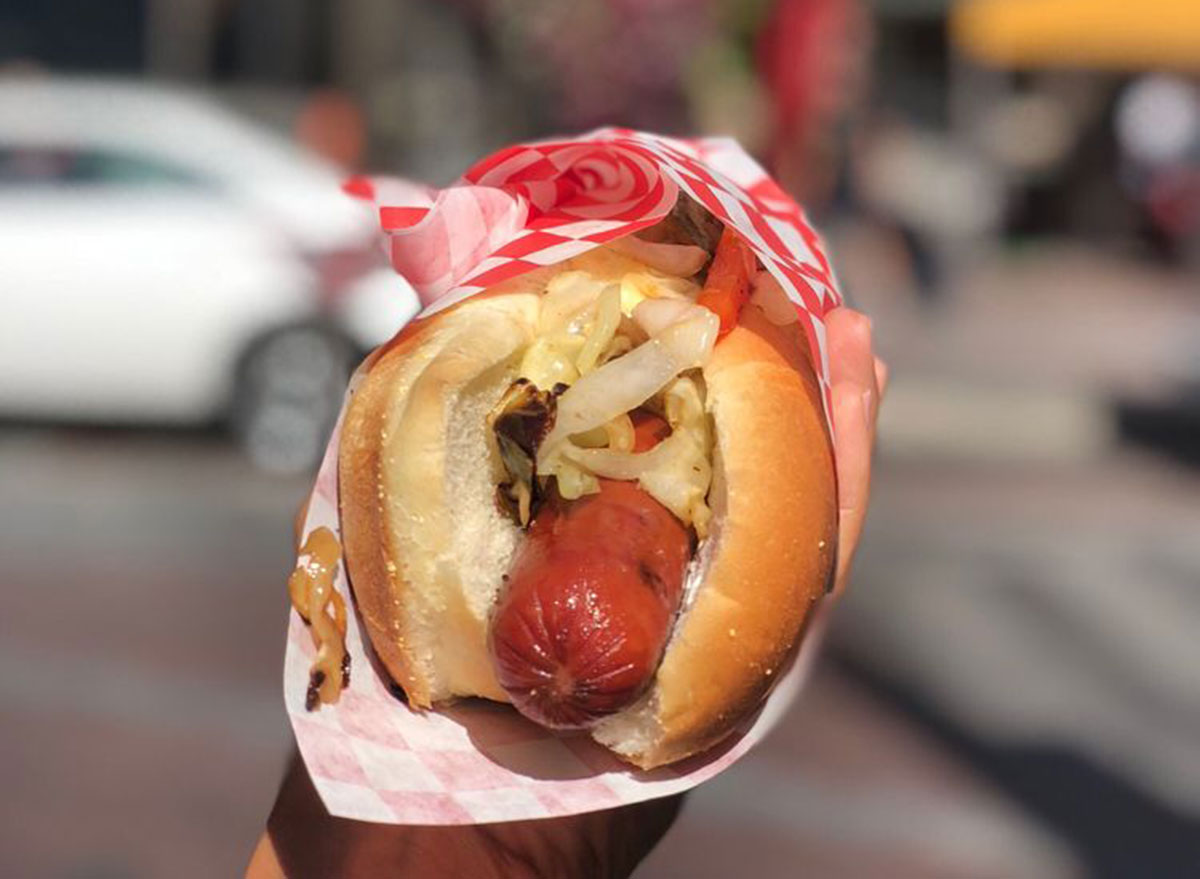 Located in downtown Seattle, this food truck is the perfect place to get a classic Emerald City hot dog, which comes slathered with cream cheese and caramelized veggies. However, that's far from the only option on this massive menu. For your hot dog, you have your choice of meat: chicken, beef, or turkey. The vegetarian dogs are also diverse, including a range of flavorful plant-based options made from apple sage and veggie chipotle. The Seattle Dog is the most popular—but the runner-up, the Mediterranean Dog, made with stuffed olives, tomatoes, and feta cheese, is pretty darn tasty as well.
A reviewer who loves trying new foods admitted they were skeptical about the Seattle-style hot dog, but gave it a try during their trip to the city. "It sounded strange and I was kind of iffy about trying it but I'm glad I did. In fact, it might have been the best hot dog I've ever eaten," they wrote. Meanwhile, a local who's a regular at Dog in the Park noted that "any selection is a great option so you can not go wrong with any choice."
WEST VIRGINIA: Hillbilly Hot Dogs in Lesage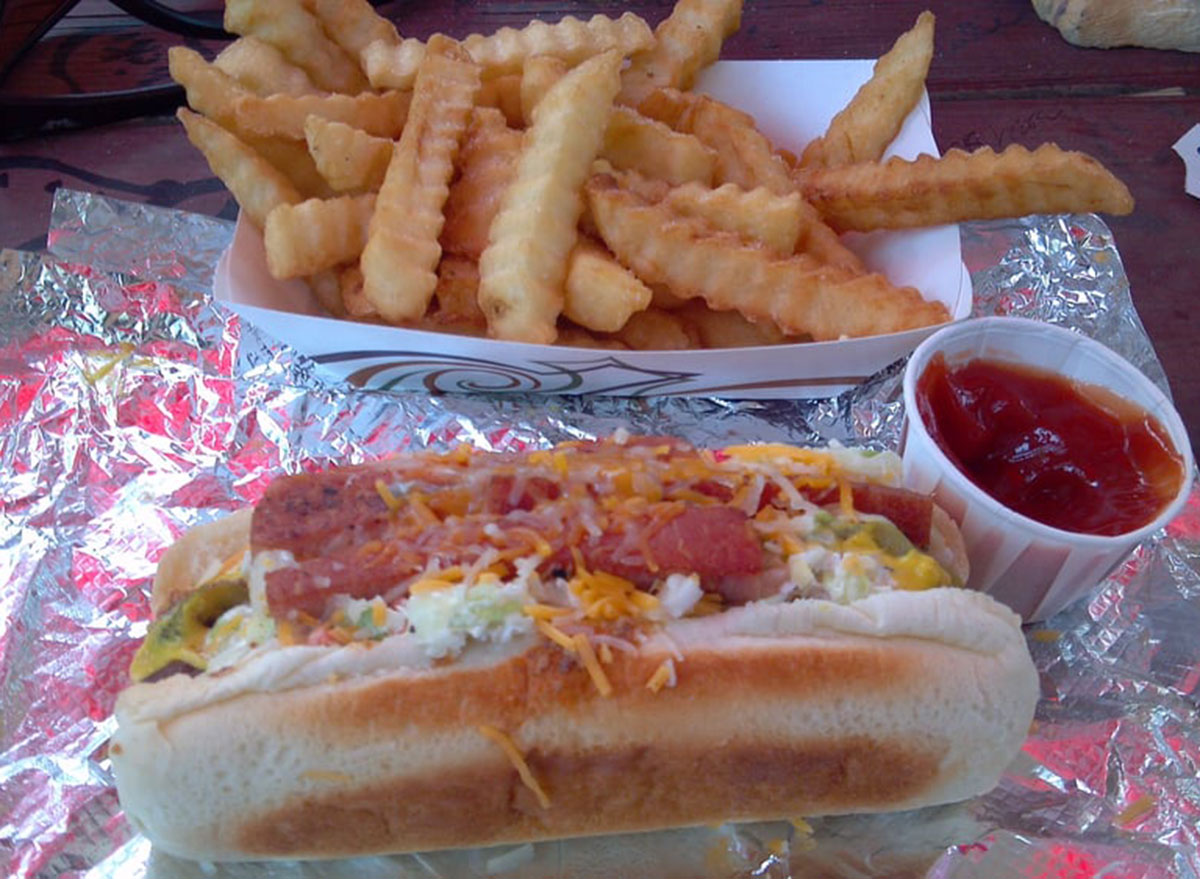 Hillbilly Hot Dogs has upwards of 30 different styles of hot dogs on the menu, along with an extensive list of topping options. The West Virginia Dog, which is slathered in chili sauce, coleslaw, mustard, and chopped onions, is their signature, but reviewers also raved about the Homewrecker. Beware, it's not for the faint of heart: at 15 inches and one pound, it's topped with jalapeños, sautéed peppers and onions, nacho cheese, habaneros, chile sauce, mustard, slaw, lettuce, tomato, and shredded cheese. If you can accomplish the feat of eating one Homewrecker in under 12 minutes, you'll be awarded with a t-shirt (and most likely a stomach ache as well!).
"I ate here on vacation several years ago and I sincerely dream about their hotdogs and as soon as this coronavirus ends—I am jumping in my car and driving 400 miles to get me a couple of hotdogs to eat!" wrote an out of towner in 2020.
WISCONSIN: Hot Dog Avenue in Wisconsin Dells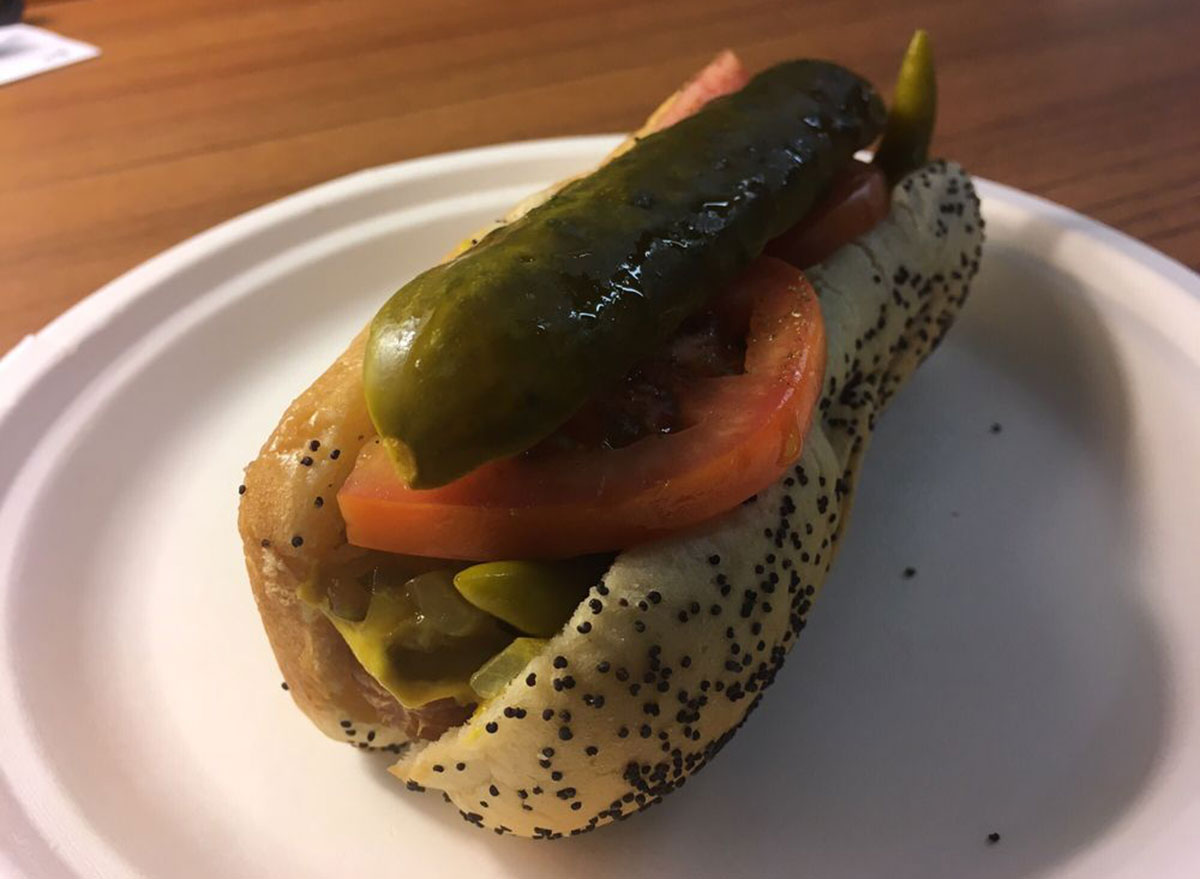 Hot Dog Avenue promises a taste of Vienna in Wisconsin, and it's a huge hit with the locals. The menu offers eight hot dog styles, with the most popular being the Green Bay Dog, which is made with melted cheddar cheese and chili.
"Good amount of hotdogs on the menu and lots of other good stuff as well. I had the Green Bay dog, which was chili and nacho cheese. Also had the Chicago dog, the normal style you'll get anywhere else," wrote a reviewer. "Both were awesome. I especially loved their steamed poppy seed buns (the bun makes a difference). Definitely a great place to stop for a meal!"
WYOMING: Weenie Wrangler in Cheyenne
Where can you find the best hot dog in Wyoming? If you guessed, "in a cart located in the parking lot of Cheyenne's local Home Depot," you are correct!
Don't be fooled by Weenie Wrangler's modest location—it's owned and run by a former fine-dining chef who cooks up high-quality hot dogs in styles you won't find anywhere else. For example, elk jalapeño cheddar franks and bison brats. The specials are constantly changing, but this is a unique gem you don't want to miss if you're in the area.
And there you have it! The best hot dog spot in every state.
Caitlin Flynn
Caitlin Flynn is an award-winning writer and reporter who experienced early age corporate burnout in 2015 and traded New York City for the misty air and superior coffee of Seattle.
Read more about Caitlin