One of America's Largest Pizza Chains Is Getting a Brand-New Look
Expect to see a whole new look from Papa John's... and a missing apostrophe from its name.
Papa's got a brand-new bag… and a whole new look. On Tuesday, Papa John's announced that it will be giving itself a major makeover—one that includes dropping its apostrophe.
The pizza chain's changes are being positioned under the phrase "Hungry for Better," according to a Business Wire press release, and are no doubt capitalizing off of Papa Johns recent success. The pizza chain has experienced nine straight quarters of growth and, most recently, reported an earnings increase of 32% compared to the same quarter in 2019.
Clearly, the company feels there are even bigger wins it can chase.
"The loyalty and love people have for Papa Johns has been built on our well-known promise of Better Ingredients. Better Pizza.® – and today, we are signaling to the world that Papa Johns is 'Hungry for Better,'" said Max Wetzel, Papa Johns Chief Commercial Officer, in the release.
"The goals of our new restaurant concept are to create a streamlined and flexible environment for team members to create quality food more efficiently, and for customers to enjoy seamless purchasing and pickup experiences," Papa John's senior director of brand advertising and design, Kate Carpenter, told Nation's Restaurant News.
Keep reading to learn about all the changes you'll soon see at Papa Johns' new locations and existing stores, if they choose to update. And for more, check out Papa John's Disgraced Ex-CEO Stirs Up Controversy in New Interview.
Yes, the familiar Papa Johns logo is getting an upgrade to go along with the brand's new color scheme. Both reflect the pizza chain's iconic ingredients of Tangy tomato (red), Fresh basil (green), Fluffy dough (off-white), Punchy garlic (light purple) and Pickled pepperoncini (bright yellow-green).
The brand is also employing a new font that's inspired by how their "fresh, never-frozen dough moves and stretches when team members craft pizza."
And that apostrophe? It's a goner, which has been getting some mixed reviews.
Related: Sign up for our newsletter for the latest fast-food and restaurant news! 
Fresh, pizza-inspired decor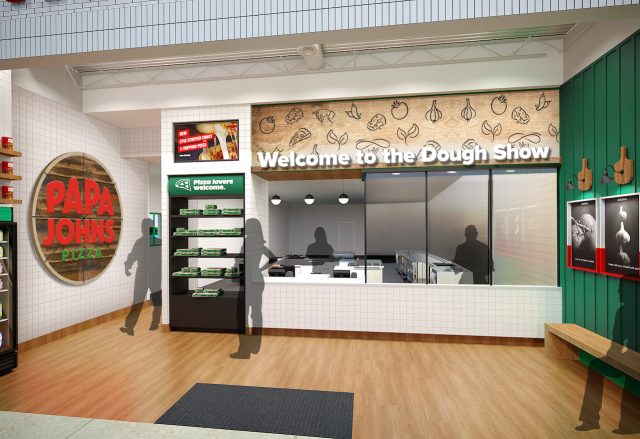 Inside new (and some existing) Papa Johns locations, you'll soon see some fresh wall art adorning the space.
As Carpenter told NRN: "Throughout the physical space, we've added some handcrafted details and personalization. To make it more inviting and reflective of the craft and care that goes into making all our products."6254a4d1642c605c54bf1cab17d50f1e
This reportedly includes large murals dedicated to the chain's pizza ingredients.
Related: 20 Amazing Recipes to Make With Pizza Dough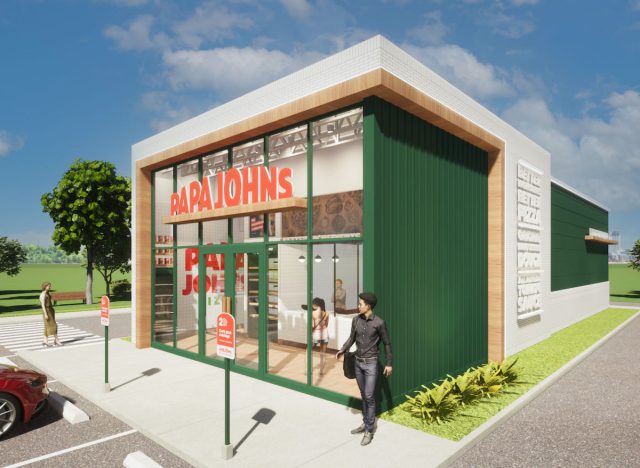 You've already got the Papa Johns drive-thru in many locations. But in the chain's "Hungry for Better" makeover, you'll also have access to a second drive-thru lane meant for customers who placed their orders ahead of time—dubbed the "drive-up, pickup" lane.
Inside, there will now be an unmanned, self-service pickup counter for pre-placed orders. This mimics the trend of many other fast-food chains that have adopted contactless methods of ordering in the midst of the pandemic.
Related: This Unique Pizza Chain Could Triple in Size Soon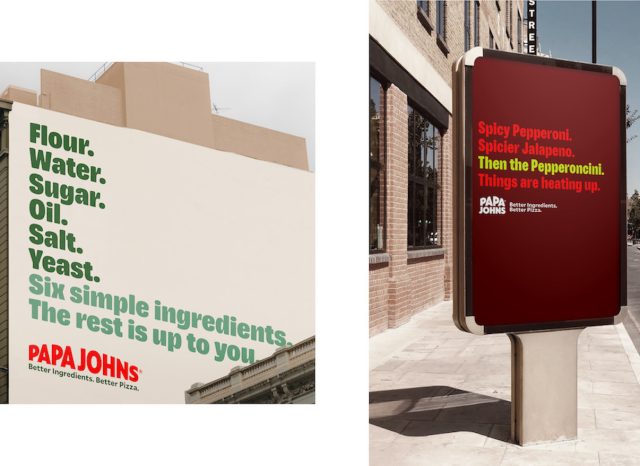 In an effort to combat recent labor shortages, Papa Johns has reconfigured the way its kitchens are set up. More specifically, they're maximizing the available work areas so that multiple products can be made in the same space at different times—which accounts for having fewer employees on duty.
"The [kitchens are] definitely designed with efficiency in mind so that making all of our products will be less time-consuming and switching from product to product will be less labor intensive, which will obviously help with some of the labor challenges that we're seeing," Carpenter told NRN.
And apparently, that's not all for the pizza chain, as more changes in this "Hungry for Better" makeover are set to be announced within the next few months.
Until then, you check out our guide to The Best & Worst Menu Items at Papa John's.
Faye Brennan
Faye is the Chief Content Officer of Galvanized Brands, overseeing all editorial content for Eat This, Not That!, Best Life, and other brands.
Read more about Faye