The "Quickie Workout" Program is Here for a Sculpted, Toned Body
Achieve the look you love and are empowered by—on and off the scale.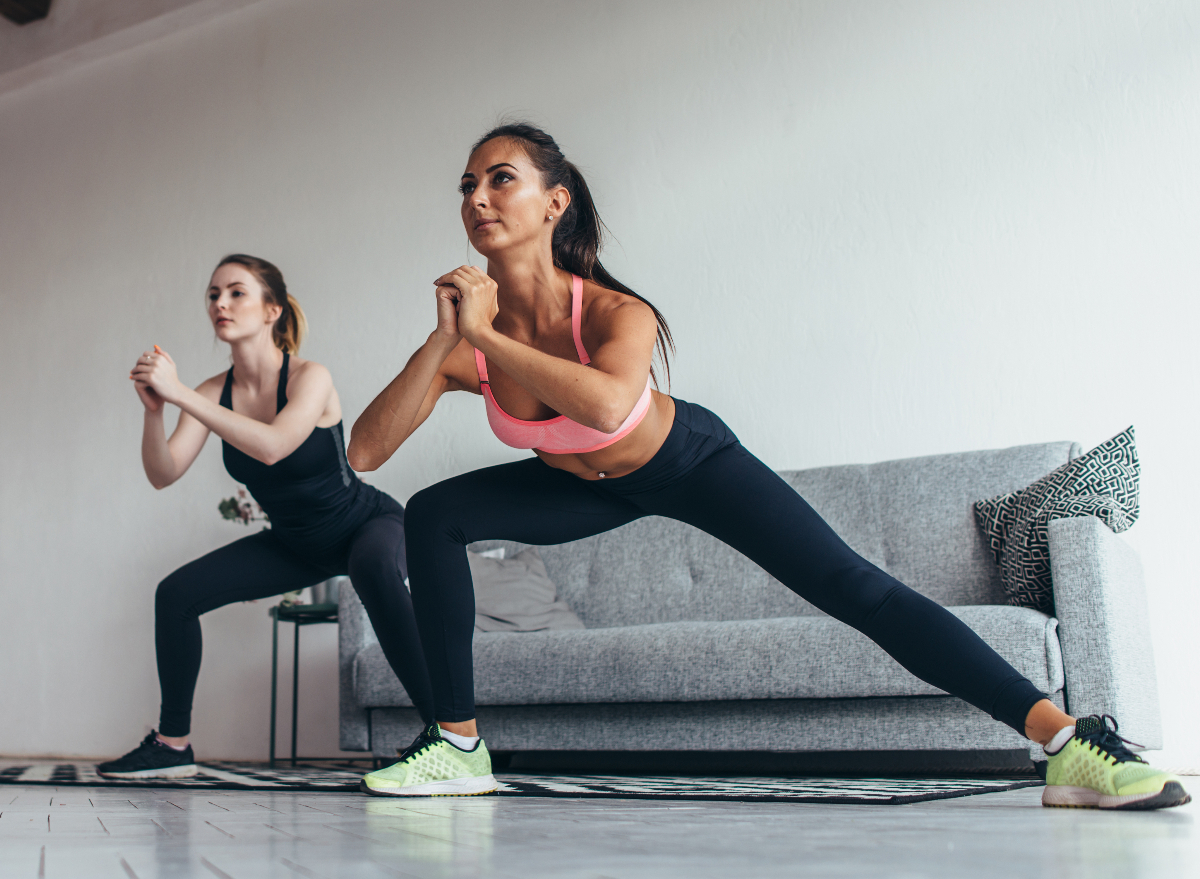 When you have practically no time to get to the gym, it can present major anxiety. Whether you're working towards fitness goals, showing up for yourself and your body, want to have some fun getting active with friends, or all of the above, it honestly feels like a letdown when you're unable to get your sweat sessions in. Well, fear not, because we're here to bring you an amazing "quickie workout" regimen that will help you get moving, tone up, and sculpt your body in no time. You'll feel so empowered and have a great time while doing it.
We spoke with Megan Roup, a celeb trainer, wellness expert, and founder of The Sculpt Society (TSS) to find out exactly what The Sculpt Society's Quickie Workout Program is all about, and learn how you can do it right in the comfort of your own home. Get excited, because this workout is "results-driven" and involves a quick, four-week guided calendar. The best part? Each workout ranges from just five to 23 minutes long and is designed to sculpt and tone your abs, legs, booty, and arms. Read on to learn more about your new favorite way to get active, and next, be sure to check out The 6 Best Exercises for Strong and Toned Arms in 2022, Trainer Says.
The Quickie Workout Program is all about full-body sculpting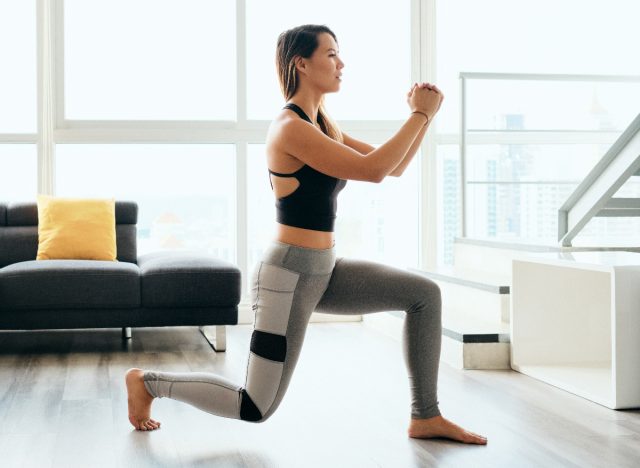 Roup tells Eat This, Not That!, "Each week is guided through five workouts with two encouraged rest days, to provide guidance, consistency, and motivation to get the workout done." She specifies, "The Quickie Program has two tracks to choose from: one that includes dance cardio and full-body sculpting classes, and one that focuses only on full-body sculpting classes. The program was designed with workouts that can be done simply with body weight, so you can get a quick workout in wherever and whenever. You can easily modify with my recommendation for household items to use as an equipment replacement."6254a4d1642c605c54bf1cab17d50f1e
This is a fantastic way to get moving and sculpt a toned figure, but it's important to understand that being physically active on a routine basis is integral in sustaining your overall wellness in order to feel and be your absolute best. That goes for both your physical health and your mental wellness. Roup says, "It's important to feel confident and strong in our own bodies and give them some major love for everything they're capable of. And moving your body through sculpt and dance cardio is not only fun, but also effective."
Related: Get Rid Of Bat Wings With This 10-Minute Daily Workout
It's a fun and effective way to get your sweat on, whether you're strapped for time or aren't feeling a long workout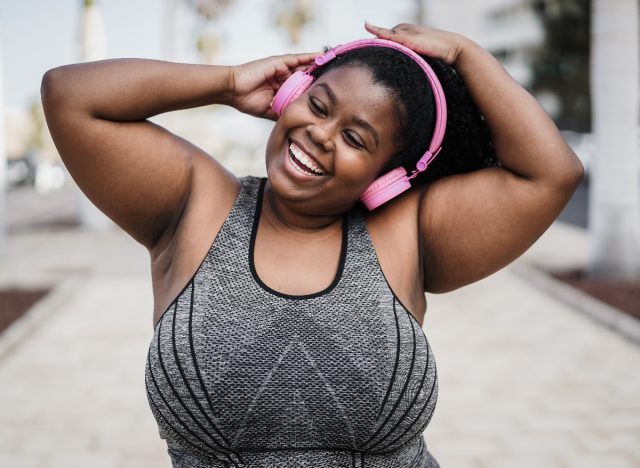 Regardless of the level at which you are performing, sculpt and dance cardio is Roup's favorite method for getting movement each day. The celeb trainer explains, "My Quickie Workout Program is designed with stackable class options, to empower you to mix and match the length of your workout each day. When you commit to just one short quickie workout a day, you can decide to add on an additional quickie workout if you finish your first quickie feeling energized."
One feature you'll love in particular is the ability to easily end your workout after completing one quickie—and have all great feels about your achievements. This makes it so convenient if you're strapped for time or not feeling up for a long workout. A short five to 10-minute period is a perfect, efficient amount of time to cheer yourself on and build confidence knowing you're committed to this.
To get into Quickie Workout mode, start your seven-day free trial on The Sculpt Society today. After that, a monthly membership costs $19.99 and an annual membership is $179.99.
Related: Shrink Belly Fat Faster With These Walking Workouts, Trainer Says
Pairing your workout with smart snacks will fuel your body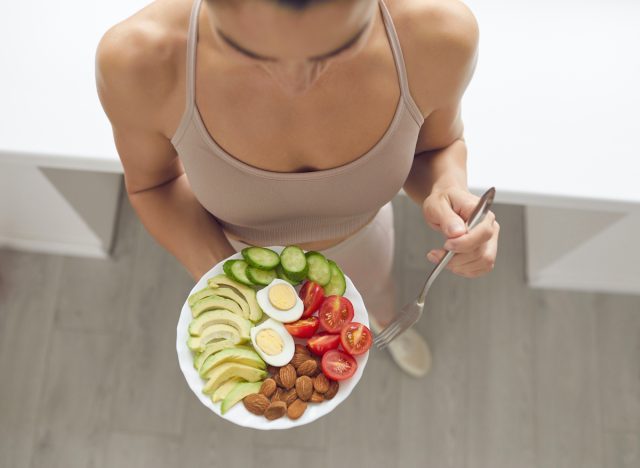 We also chatted about snacks, because, well, priorities! Roup likes to fill her body with foods that make her feel like the best version of herself, and that includes before and after any workout. She shares her healthy snacking habits, saying, "For everyday snacking, almonds are my favorite when I need a little pick-me-up to carry me over to my next meal. As a natural energy booster, they're the perfect combination of flavor, nutrition, and convenience—packed with nutrients that help you feel good all around. One serving of almonds is easy to take with me on my way to the studio, outdoors, or wherever I plan on working out."
If you're looking for something a bit more filling, Roup suggests, "You can also make a quick post-workout smoothie with almond butter, your favorite fruits and some greens, or prep a snack like my Banana Almond Granola at the beginning of the week to munch on after your workouts. Whatever you decide to go for, pairing movement with smart snacking on almonds will keep you feeling full and fueled."
Knowing when your body needs a break to rest and recharge is key
To feel your absolute best, maintaining a workout regimen and eating well are crucial steps to take, but Roup also points out, "Achieving holistic wellness means more than just getting in a groove. It's important to find mindfulness and balance to truly living a healthy lifestyle in both mind and body. It can be a crazy cycle of putting pressure on ourselves to constantly perform, but there's nothing wrong with taking the day off to rest, recoup, and reground ourselves in what really matters."
What does Roup do when she needs a day off? She carves out some time to practice gratitude and gets in touch with her goals. She says, "One thing I have learned from doing this is that overall wellness is about giving ourselves permission to do what makes us feel good, which varies from day to day. From enjoying a snack break or making time to fit in a quick workout—wellness is meant to be individualized, there's no one size fits all approach, so give your body whatever it is that it's craving that day!"
Alexa Mellardo
Alexa is the Mind + Body Deputy Editor of Eat This, Not That!, overseeing the M+B channel and delivering compelling fitness, wellness, and self-care topics to readers.
Read more about Alexa