4 Restaurant Chains With the Most Craveable Menu Items in America, According to Customers
Best burgers, fries, and more!
Connoisseurs of fast food unite! If there is one hot topic that can never be exhausted, it's who has the best food (or the worst). While opinions may vary, there is one universal truth that we can all agree on—you gotta shop around. That's because burgers are the best at one place while the fries are better somewhere else. Nobody's the master of everything.
And that's okay. We enjoy the hunt. However, if you've been on the search for the perfect menu staple that you can't quite find, you've come to the right place. Surveys conducted by data company Technomic polled consumers about their absolute favorite menu staples from the top restaurant chains in America.
Hundreds of milkshakes were drunk, thousands of fries munched on, and tons of burgers were tagged and bagged as fans weighed in on who had the best of best on offer. And the tallies have been added up to create the ultimate menu showcasing America's favorite meal.
Milkshakes at Steak 'n Shake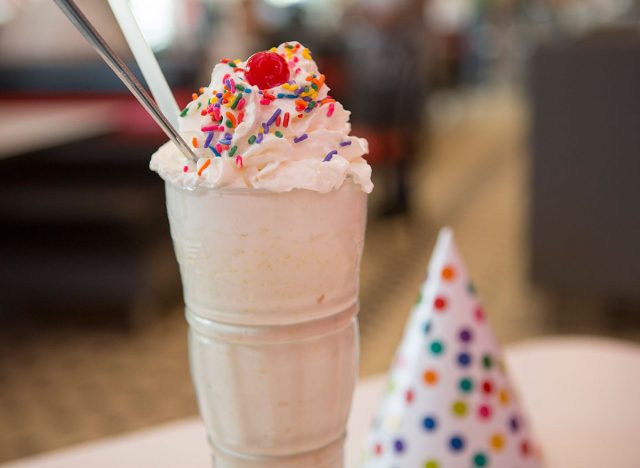 Milkshakes are as American as it gets. And that's because the first modern version was actually made in a Chicago Walgreens by an employee that was experimenting with new concoctions.
So, when it comes to the best milkshake, consumers really know their stuff. And their favorite place to grab a frosty shake? That's none other than the classic burger chain Steak n' Shake.
Steak 'n Shake actually popularized pairing the frosty malted beverage with a juicy burger and fans haven't forgotten it. One surveyed fan said, "My husband and I always crave their shakes. For some reason, they are very satisfying, delicious, and inexpensive (especially during happy hour)," according to Restaurant Business.
The chain's staff also must be certified to make their frosty malts, according to a Reddit post. The job requires a basic, experienced, and even a master's training test on its milkshakes. On the authority of the employee who created the post, all the milkshakes are hand-dipped and made with strict guidelines, which is what makes them so good. 
The chain's popular shake flavors include Cheesecake, Nutella, Chocolate Chip Cookie Dough, and Mint Chocolate Chip.
Burgers at White Castle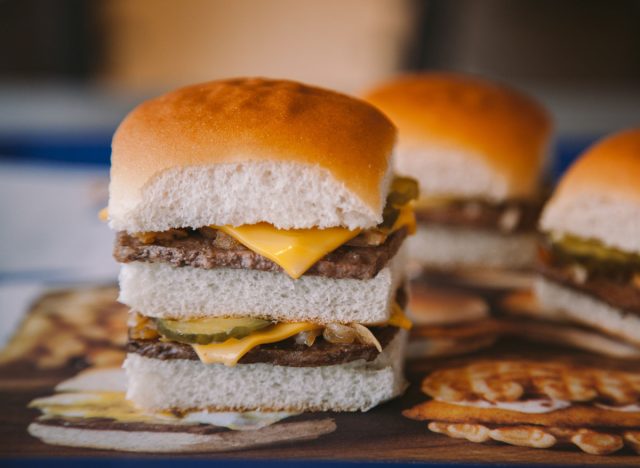 A burger is as synonymous with America's cuisine as anything. And if you can believe it, according to the United States Department of Agriculture (USDA), we consume an average of 2.4 burgers per day—so that's a big craving to satisfy.
When it comes to our big hunger for burgers, however, it turns out a smaller square will do. Technomic surveyed 72.4% of respondents who ranked White Castle's sliders to be the most craveable burgers, according to Restaurant Businesses.
Steamed, sprinkled with onions, and topped with a pickle—these compact burgers really hit the spot. "Only White Castle makes them like that and they are certainly craveable," said one respondent who pointed out that the burger's uniqueness added to their appeal.
The centenarian brand is credited with pioneering the fast-food industry in a lot of ways as the first in the burger business. Having been given the top spot on Time Magazine's list of influential burgers and hailed by Insider as the "shining fast-food castle on the hill," it's no wonder White Castle reigns supreme.
Ice Cream at Baskin-Robbins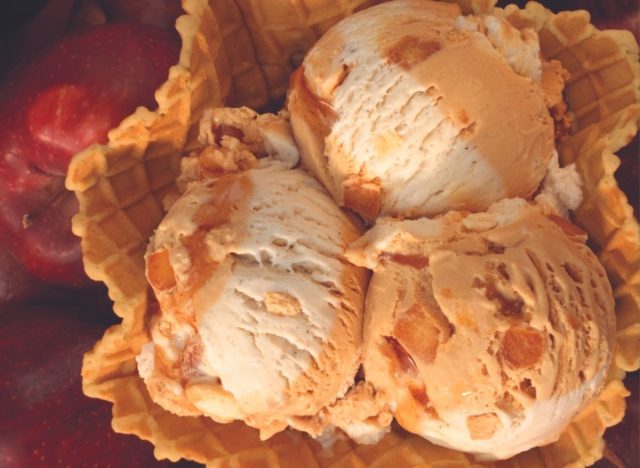 Hot summer days call for chilly scoops and America can't seem to ever get enough ice cream. In fact, the average American consumes about four gallons a year!
And to help them hit that quota, there is one place with plenty of craveable options and a diverse array of flavors—Baskin-Robbins.
In Technomic's survey, over 66% of customers reported Baskin-Robbins as their favorite place to get a scoop, according to Restaurant Business.
Baskin Robbins is known as the world's largest chain of ice cream specialty shops and is alleged to have created over 1,000 flavors during its 76-year history. Currently, the brand serves just 31 varieties in-store, but that is still a lot to choose from. 6254a4d1642c605c54bf1cab17d50f1e
Technomic respondents said that the Coffee, Heath Bar Crunch, and Chocolate flavors were the most satisfying. According to the chain, however, its top-selling flavors are Vanilla, Chocolate, Mint Chocolate Chip, Pralines 'n Cream, and Chocolate Chip.
"Best coffee ice cream when you crave that flavor," reported one respondent.
Fries at Checkers and Rally's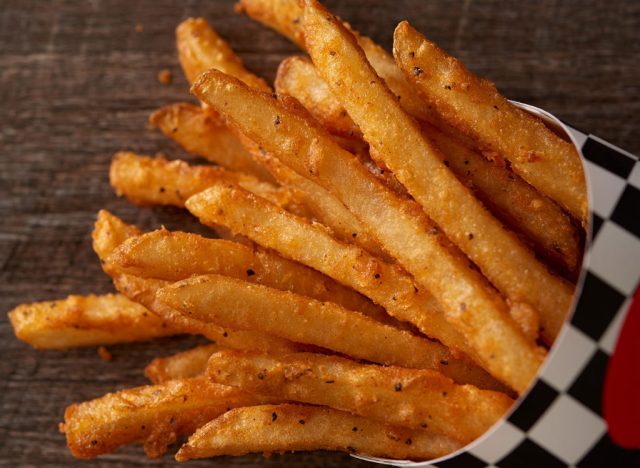 Fries have stepped out of the shadows of burgers and sandwiches to become appreciated in their own right. More and more restaurants have dedicated themselves solely to the spud and when done well, we're finding it can make all the difference. Even fast-food giants like Wendy's have stepped back and reevaluated their fries, deciding it wasn't something they were going to overlook any longer.
And it turns out customers care about them too. Limp, soggy, and cold spuds are no longer going to cut it. We want hot and tasty and when it comes to fries with flavor, we've found it at Checkers and Rally's, which Americans have said are the most dippable.
Technomic surveyed 51% of respondents who reported that Checkers and Rally's "famous seasoning" made all the difference, according to Restaurant Business. Not only that, but the fast-food chain also lets fry fans top them with cheese, chili, ranch dressing, and bacon—which is really going the extra mile.
The chain's fry seasoning is made with "a mixture of flours, starches, and 15 different herbs and spices," said Ryan Joy, senior director of research and development at Checkers Drive-In Restaurants. The restaurant also has a method of coating and frying the potatoes in batter, which holds their consistency longer and makes them crunchier.
Amber Lake
Amber Lake is a staff writer at Eat This, Not That! and has a degree in journalism from UNF in Jacksonville, Florida.
Read more about Amber