20 People Have Been Hospitalized for Hepatitis After Eating at This Chain
Officials say more cases are likely to emerge in the near future.
Several questions likely cross your mind when you're ordering food at a restaurant, from the number of calories in the dish you're consuming to how well leftovers might reheat the next day. And while the potential for foodborne illness may be at the back of your mind, it may not be enough to dissuade you from hitting up your favorite eatery. Unfortunately, guests at one popular U.S. chain may be regretting their decision to eat out, now that multiple customers have been hospitalized with hepatitis A.
Read on to discover which restaurant is at the center of the outbreak and what to do if you think you may have been exposed. And for some restaurants you'll unfortunately never eat at again, check out The Saddest Restaurant Closures In Your State.
Over 35 people have become sick after eating at Famous Anthony's.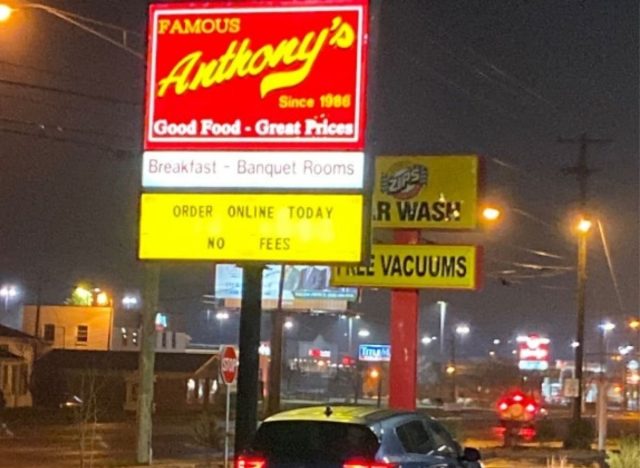 On Oct. 12, Roanoke City and Alleghany Health Districts director Cynthia Morrow, MD, MPH, announced that a hepatitis A outbreak had been linked to Famous Anthony's, a chain with six restaurants in Virginia. Hepatitis A is frequently caused by fecal particles being spread to food, water, surfaces, and objects and then inadvertently consumed, as is likely the case with this outbreak.6254a4d1642c605c54bf1cab17d50f1e
"We have approximately 35 cases. That doesn't necessarily include some of the cases we got over the weekend…I expect that count to continue to go up," Morrow said during a video interview via local Fox affiliate WFXRTV.
RELATED: The #1 Food That Causes Foodborne Illness, According to Experts
Officials say the outbreak will continue to spread.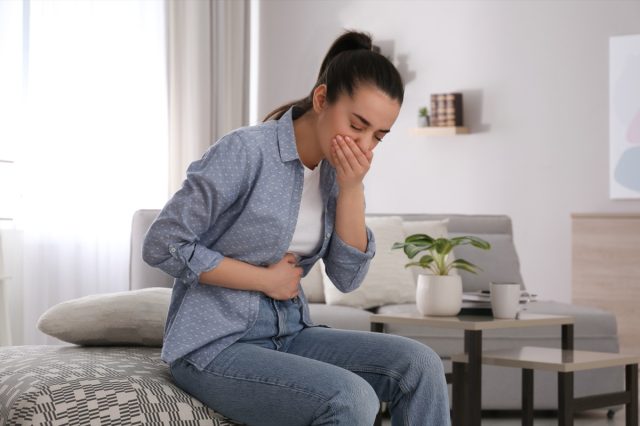 The hepatitis A outbreak has been associated with three Famous Anthony's restaurants in the Roanoke area and Morrow believes more cases are on the way.
"We have had some secondary cases, so people who were infected earlier on…then transmitted [the disease] within their own household," Morrow explained. Among those infected with hepatitis A from the Famous Anthony's cluster, over 20 people have been hospitalized. According to local NBC affiliate WSLS 10 News, a woman who claims to have been infected after eating at a Famous Anthony's location in Roanoke has filed a $500,000 lawsuit against the chain.
Hepatitis A can cause serious illness and organ failure.
While some people infected with hepatitis A remain asymptomatic, not everyone is so lucky.
Symptoms of hepatitis A, the onset of which commonly occur within 14 to 28 days of exposure, typically include abdominal pain, dark-colored urine, diarrhea, fever, loss of appetite, malaise, nausea, and jaundice that may cause yellowing of the skin and eyes, according to the World Health Organization (WHO). In some cases, hepatitis A can also lead to liver failure or death. If you believe you may be experiencing any of the aforementioned symptoms, contact a healthcare professional immediately.
Experts say the illness can be prevented.
Hepatitis A is easily transmissible, but there are ways to reduce your risk of being infected.
"Hepatitis A is a vaccine-preventable disease," explained Morrow, noting that anyone interested in getting vaccinated can contact the Virginia Department of Health, a pharmacist, or their doctor to receive their immunization.
Morrow also notes that regular hand-washing, thoroughly cooking food and avoiding cross-contamination, and not eating raw shellfish are all means by which individuals can lower their risk of contracting the disease.
For more up-to-the-minute food safety news delivered to your inbox, sign up for our newsletter!
Read this next:
Sarah Crow
Sarah Crow is a senior editor at Eat This, Not That!, where she focuses on celebrity news and health coverage.
Read more about Sarah