The Saddest Restaurant Closures in Your State
You'll never eat at these beloved local joints again.
It goes without saying that 2020 has been a year of hard times for the restaurant industry. A steep decline in indoor dining, along with the expense of providing takeout and delivery services, have made keeping doors open a seemingly impossible challenge. In what is deemed the "restaurant apocalypse" by the food service industry, the shockwaves of the novel coronavirus pandemic have affected restaurants new and old.
According to a statement released by the Independent Restaurant Coalition, 2.3 million restaurant jobs have been lost since the beginning of the pandemic, followed by an even more shocking statistic—an estimated 1 in 6 restaurants have been forced to close. Even once-thriving restaurant chains like Friendly's and Ruby Tuesday have filed for Chapter 11 bankruptcy.
Below, you'll find a list of the most notable independent and chain restaurant closures taking place in each state. Read it and weep.
To find out which chains may be leaving your town, check out 9 Restaurant Chains That Closed Hundreds of Locations This Summer.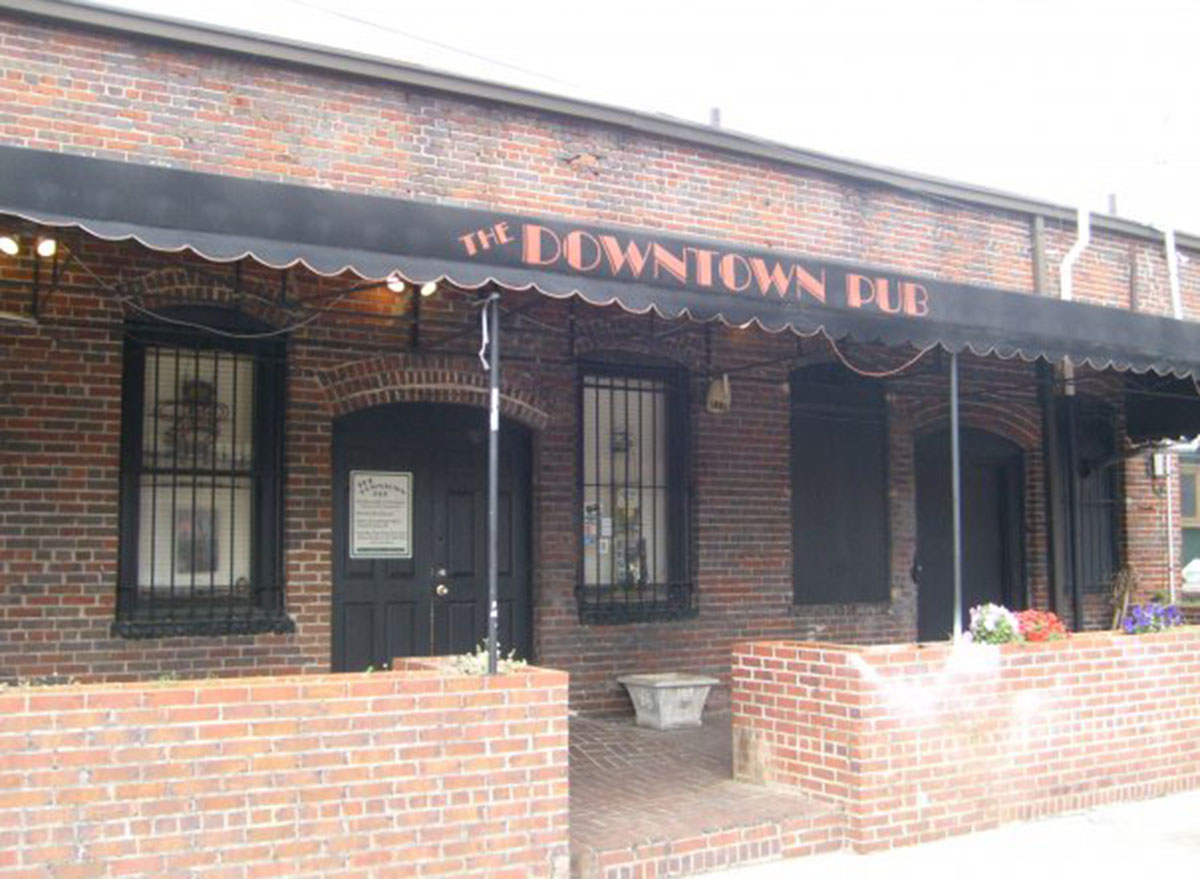 The Downtown Pub, a favorite amongst students and locals in the bustling college town of Tuscaloosa, closed its doors for good in May after 27 years of business. A former patron commented on the pub's Facebook post announcing the news with, "This is sad news. So many memories. Thank you for giving the stray souls a place to call home." Other Alabama closures include Jim's Restaurant, a Prattville joint known for serving authentic southern cuisine for over 60 years, as well as the Birmingham location of beloved seafood spot, The Shrimp Basket.
Don't forget to sign up for our newsletter to get the latest restaurant news delivered straight to your inbox.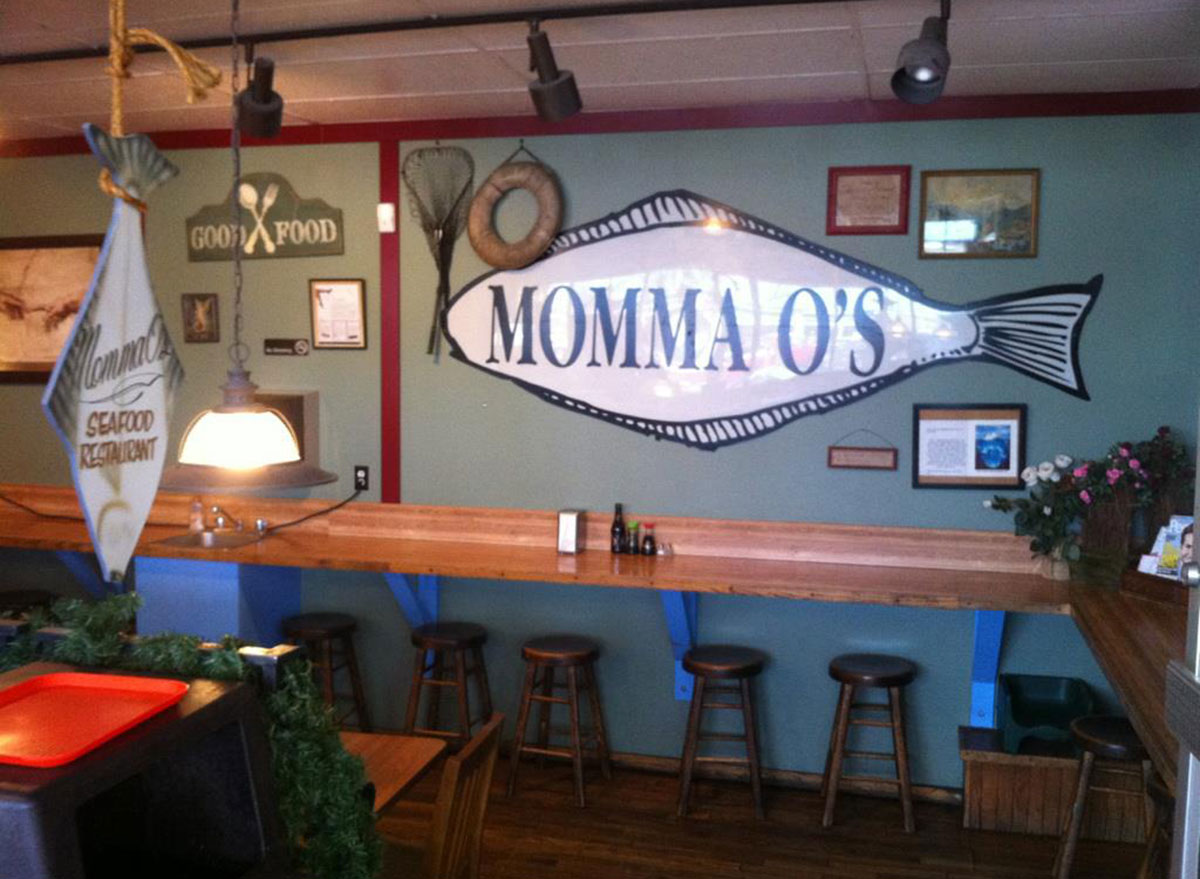 Anchorage seafood landmark Momma O's yielded to financial pressures of COVID-19 in May after serving customers for nearly 40 years. Another Anchorage staple, The Perfect Cup, announced on Facebook in August that the Dimond Center Mall establishment would be shuttering after nearly 50 years. "I am more saddened by this, than any other closure to date. I really loved coming here, and I came every week. Your staff, service, food and range of hot teas were the best, and this news is awful," commented one heartbroken customer.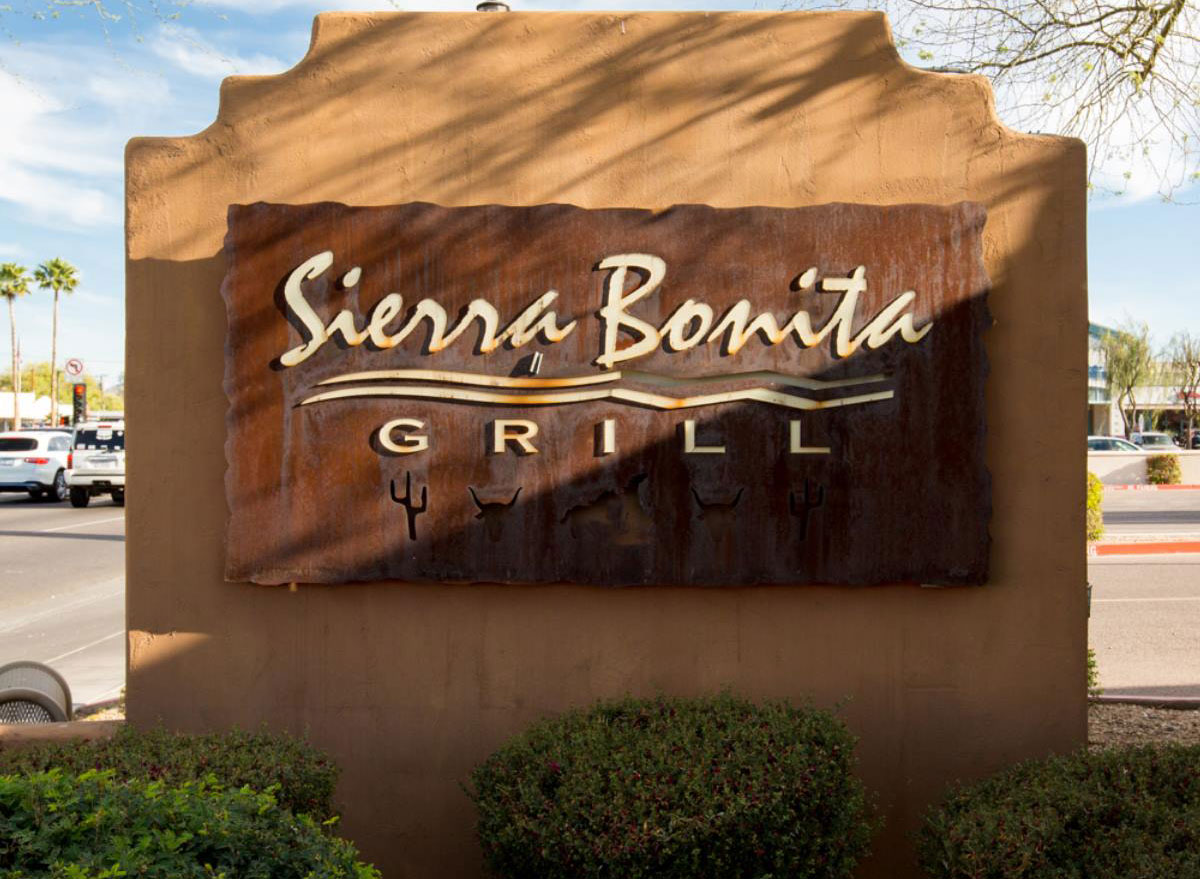 Southwestern joint Sierra Bonita Grill was one of at least 50 bars and restaurants in Phoenix that have closed their doors due to COVID-19. After 15 years, the neighborhood spot shut down in May, citing financial burdens. In Tucson, former hotspot Cafe Poca Cosa closed up shop in October after 35 years of serving authentic Mexican cuisine. Fast food burger chain Steak 'n Shake has closed its Tempe location, the only location in Arizona.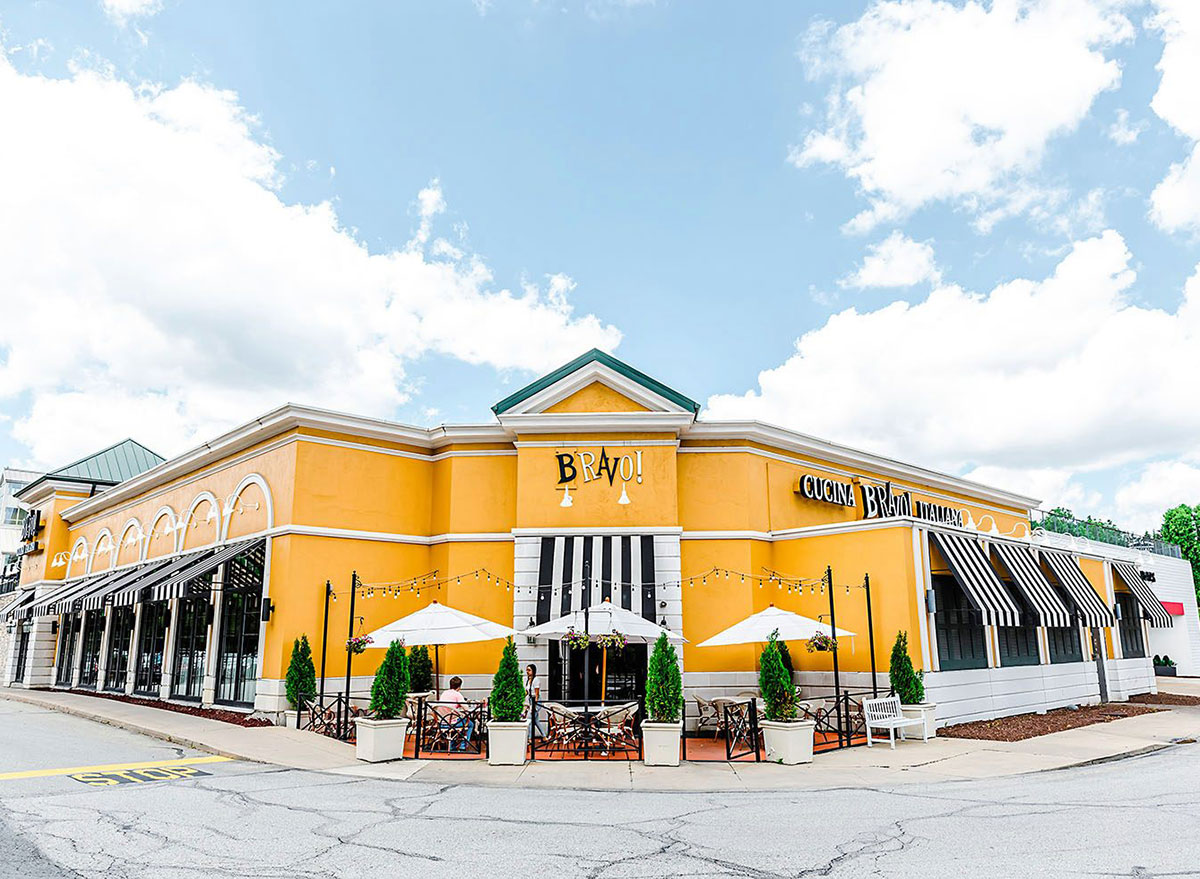 Upscale-casual Italian chain Bravo Cucina Italiana closed its Little Rock location this year. The chain has 23 remaining locations nationwide.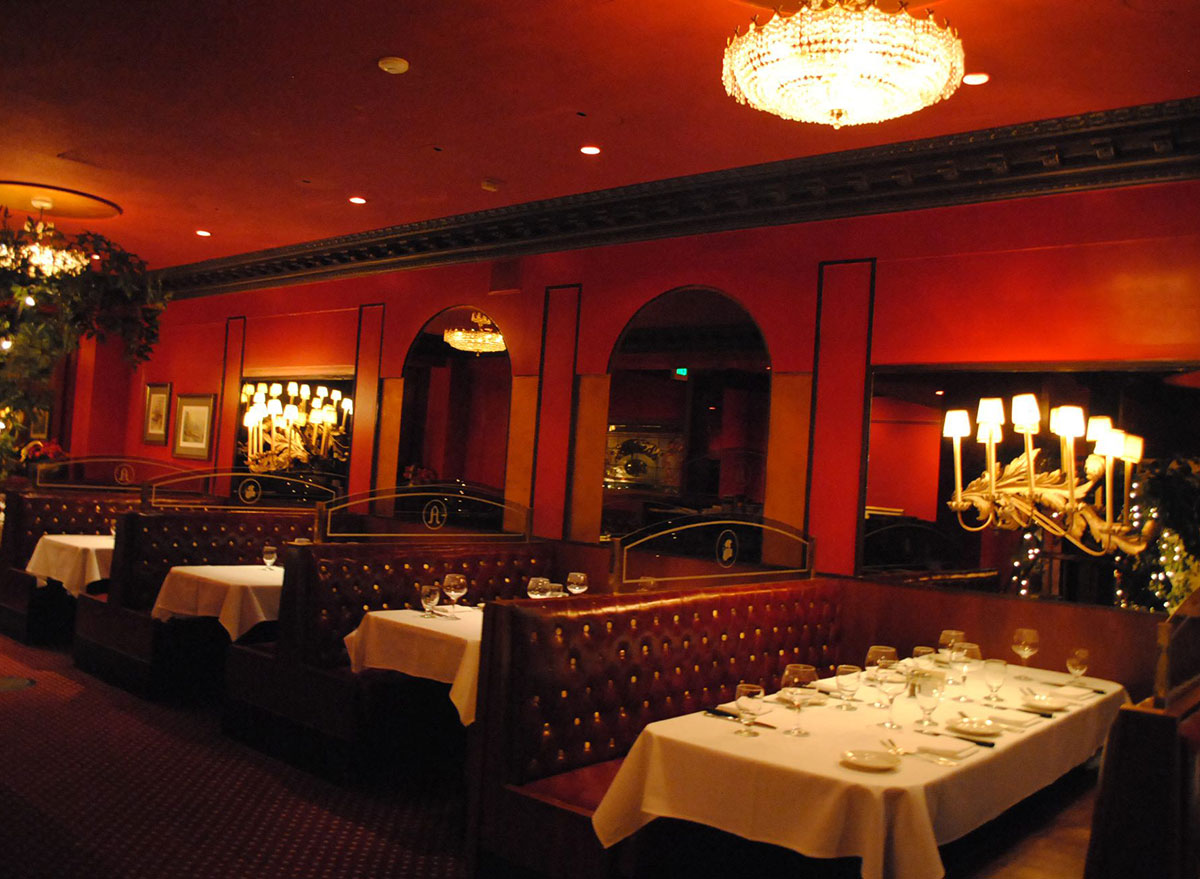 In terms of restaurant closures, Californians got hit hard. According to the California Restaurant Association, thousands of eateries have already closed permanently. Among the list of notable losses, Alfred's Steakhouse in San Francisco takes the cake. The Bay Area's oldest steakhouse was forced to close its doors after 92 years in business—yes, you read that right. In Los Angeles, decade-old Bäco Mercat was among 27 gourmet joints to shut down this year. Led by Michelin-starred chef Josef Centeno, the closure came as a shock to fans of the restaurant and its staff. "The reason I moved to LA was because of a meal I had at Bäco . . . When I told my girlfriend about Bäco closing, she CRIED. We feel GUTTED," wrote one loyal patron on Instagram.
According to the Colorado Department of Revenue, an estimated 2,500 food and drink businesses have either closed temporarily or permanently in the state this year. The city of Denver got hit especially hard—over 50 eateries have shut down business for good in the state's most populous city. Acorn, an award-winning American eatery at the Source Market Hall, served its last meal in early September. Sports bar chain C.B. and Potts has closed four of its five Colorado locations in Fort Collins, Westminster, and Colorado Springs.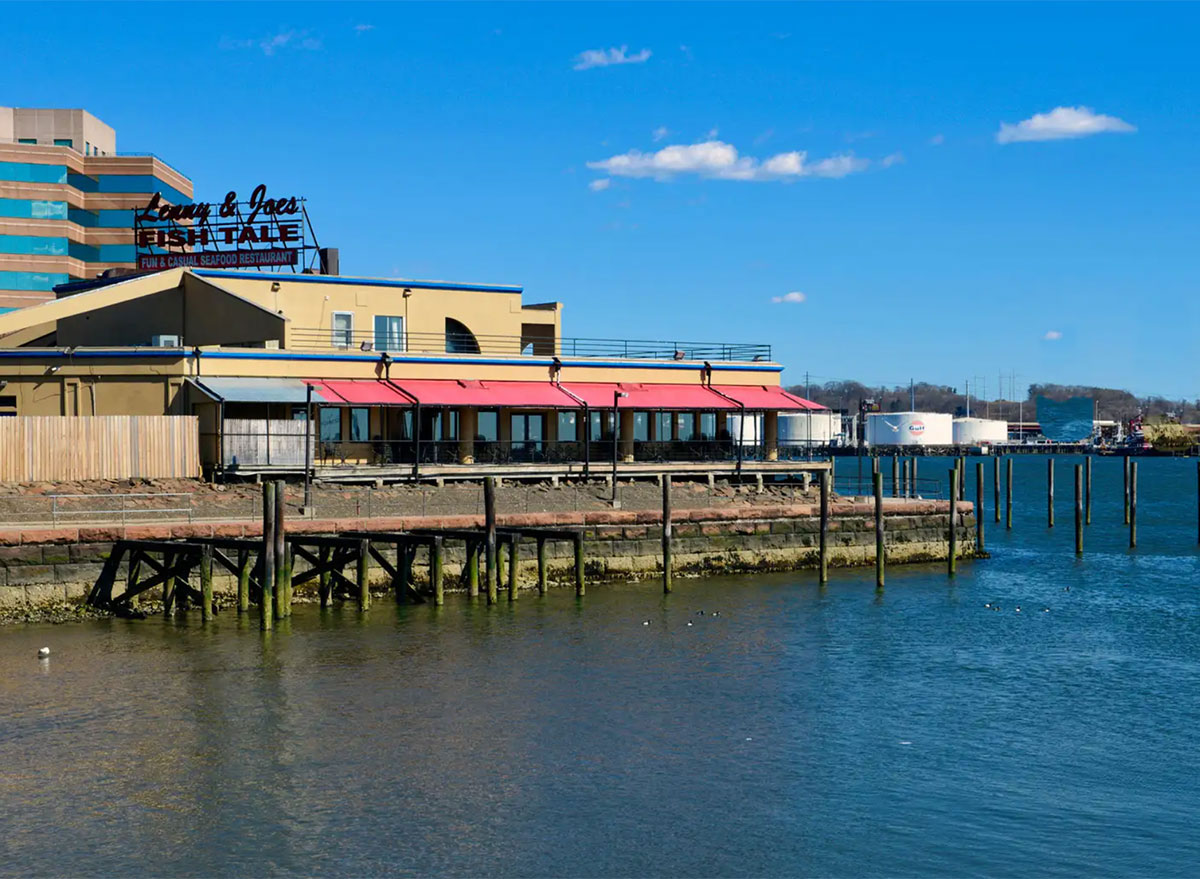 Lenny & Joe's Fish Tale, a seafood icon, closed its New Haven location in October. The joint's Long Wharf Drive address was said to be "one of the best restaurant locations in Connecticut". The state's capital of Hartford lost Dish Bar & Grill in March. The eatery was known for its twist on American comfort food, offering dishes such as Cider Braised Veal Short Rib and Heirloom Tomato Pie. And after filing for bankruptcy for a second time in a decade, casual dining chain Friendly's closed several Connecticut locations, including the one in Mystic which was a favorite spot for tourists.
In April, the Delaware Restaurant Association published a survey that predicted 20% to 30% of restaurants in the state would close permanently. Among the casualties was Gilligan's Bar & Grill in Milton, an American seafood joint that was known for its baseball-sized crab cakes and Sunday brunch. Other closures include the Half Baked Patisserie in Middletown, as well as both Wilmington locations of De La Coeur cafe.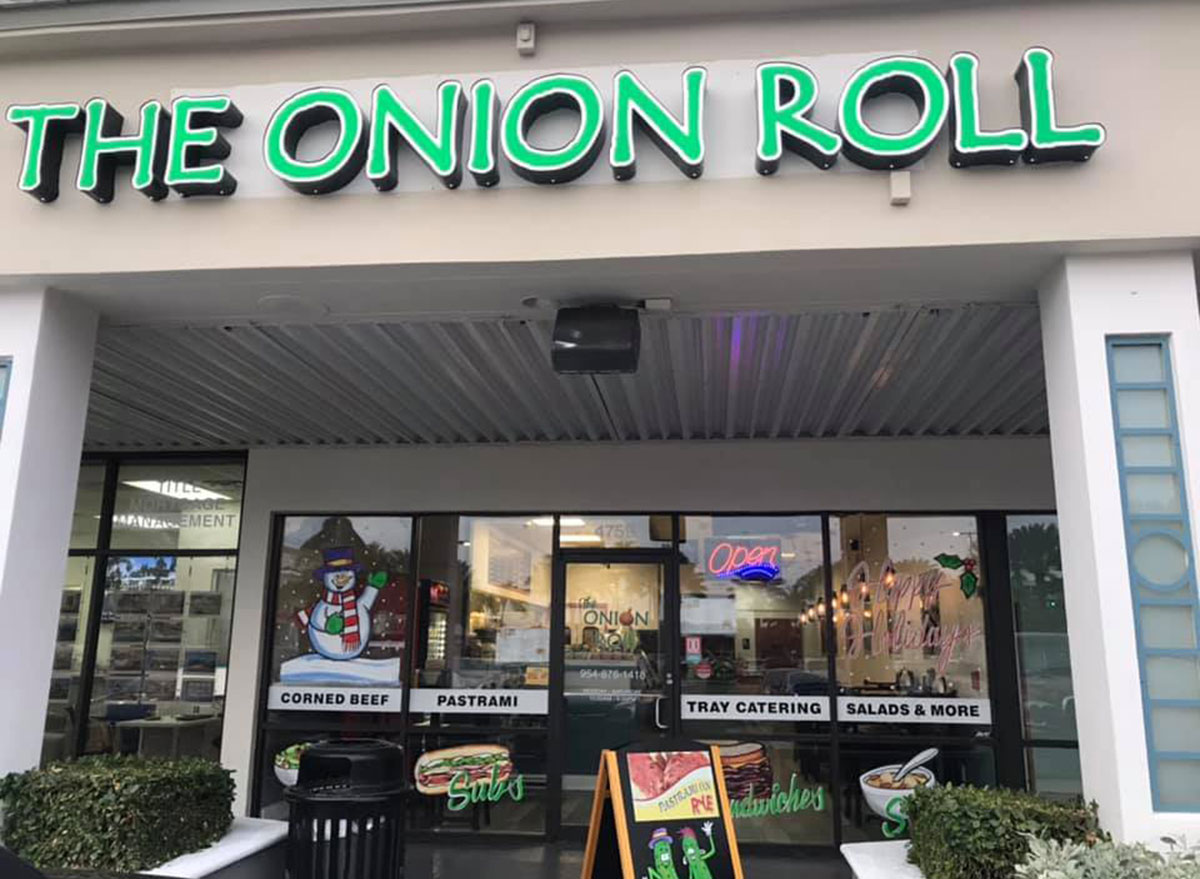 The future of the restaurant industry has looked fairly gloomy in the Sunshine State this year. With a sharp decrease in tourists, restaurants by the water in particular have struggled to keep their pricey locations. The Onion Roll, a beachside deli in Lauderdale by the Sea, closed in October after struggling to stay open during statewide lockdowns. Similarly, Gator's Cafe in John's Pass closed in October after 30 years of business. The waterfront restaurant and bar was a popular spot for Treasure Island tourists. In Miami, California-inspired restaurant, Upland, closed its doors and filed for bankruptcy protection amid the pandemic.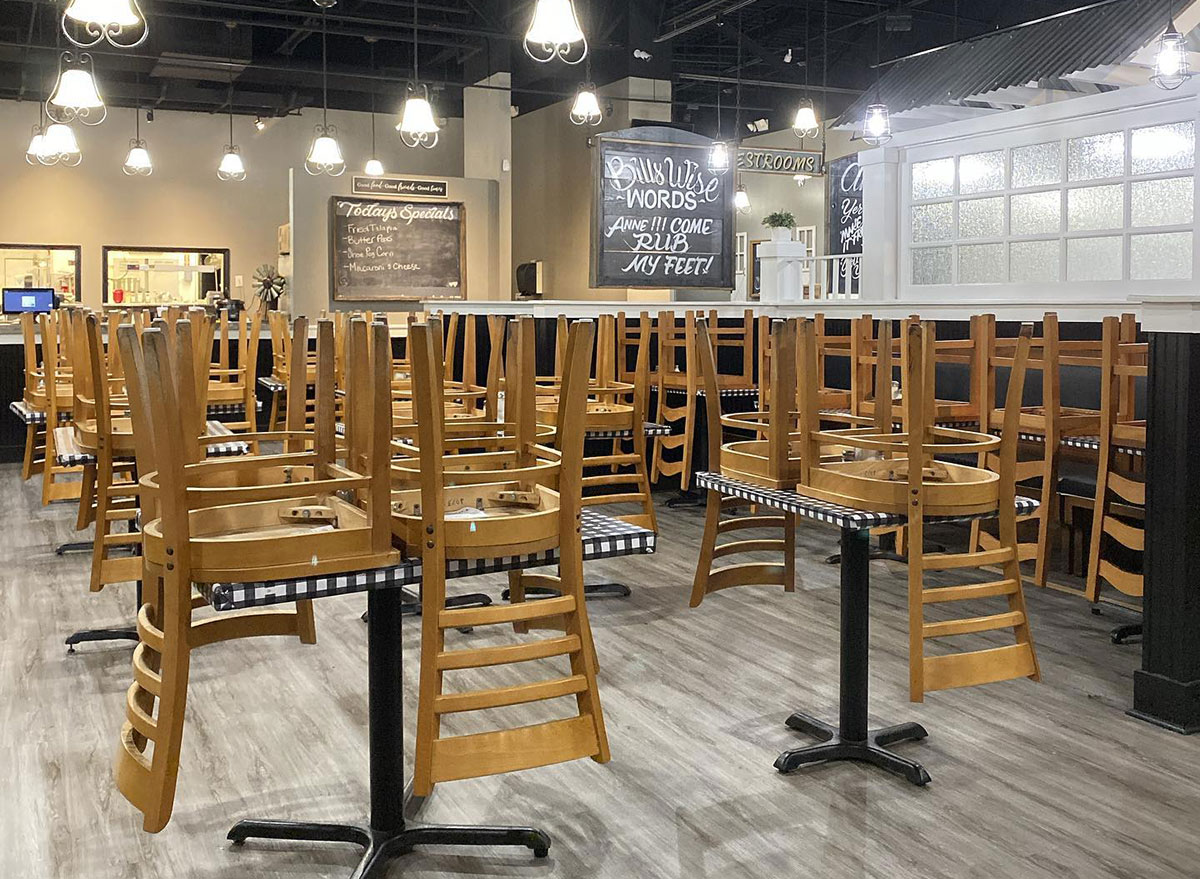 Dozens of Peach State staples are saying goodbye this year, much to the disappointment of hungry and loyal fans. Anne and Bill's Restaurant, a southern home cooked haven located in Forest Park, is closing down after 46 years. "I'm so sorry to hear this. I love the food, but I love the people more. Thank you for almost 5 decades of fine food and service," commented a dismayed customer. Other notable closures include Panahar Bangladeshi Cuisine on Buford Highway and Octane Coffee Shop after 17 years of business on Marietta Street.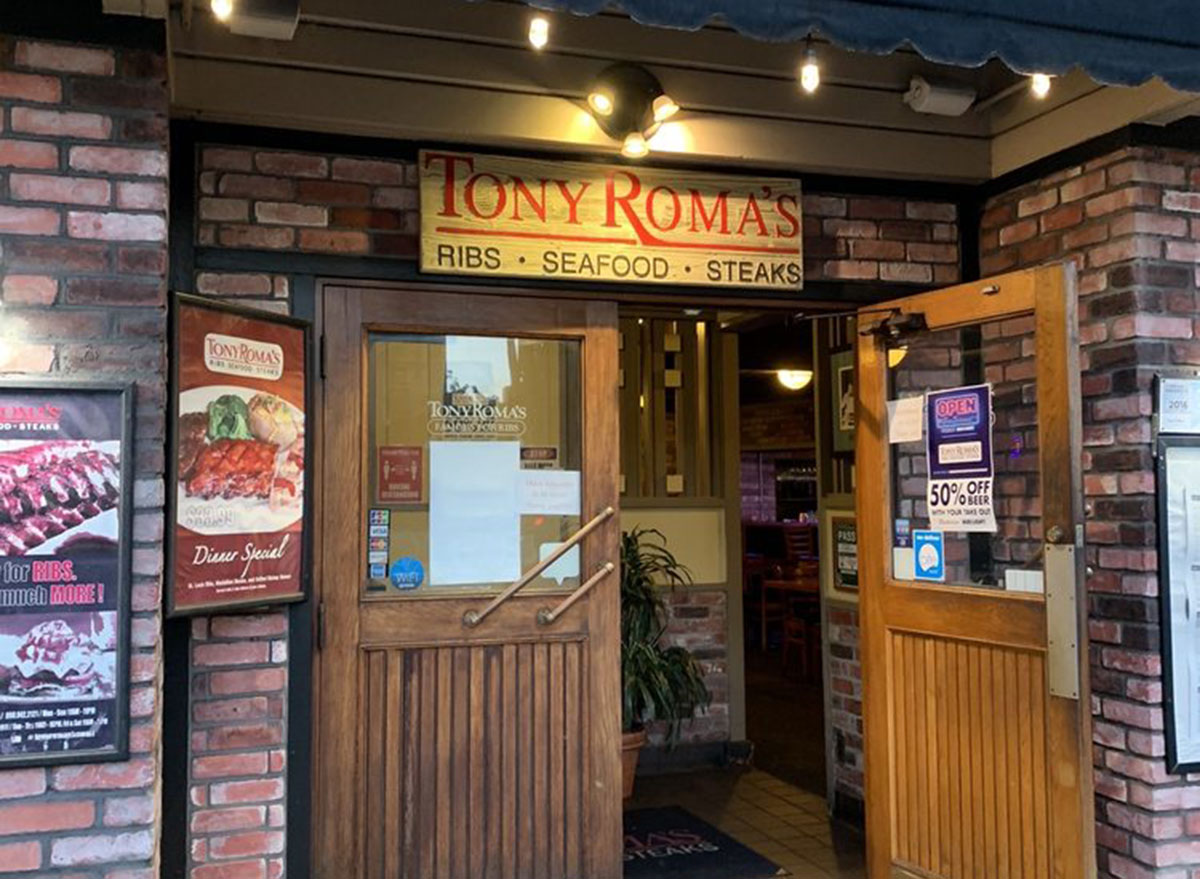 Hawaii's $18 billion tourism industry is the foundation of the states economy—without the added foot traffic, restaurants on the islands are facing hardships. According to a study done by the Hawaii Restaurant Association, up to 65% of the state's restaurants could close for good if financial conditions do not improve over the next month. The Waikiki location of Tony Roma's steakhouse announced its closure in late October, opting to shift operations to its sister restaurant, TR Fire Grill. Acclaimed Hawaiian fusion restaurant Alan Wong's will be closing its King Street location after two decades. Wong, who has several restaurants in Hawaii, is said to be the godfather of the fusion Hawaii regional cuisine.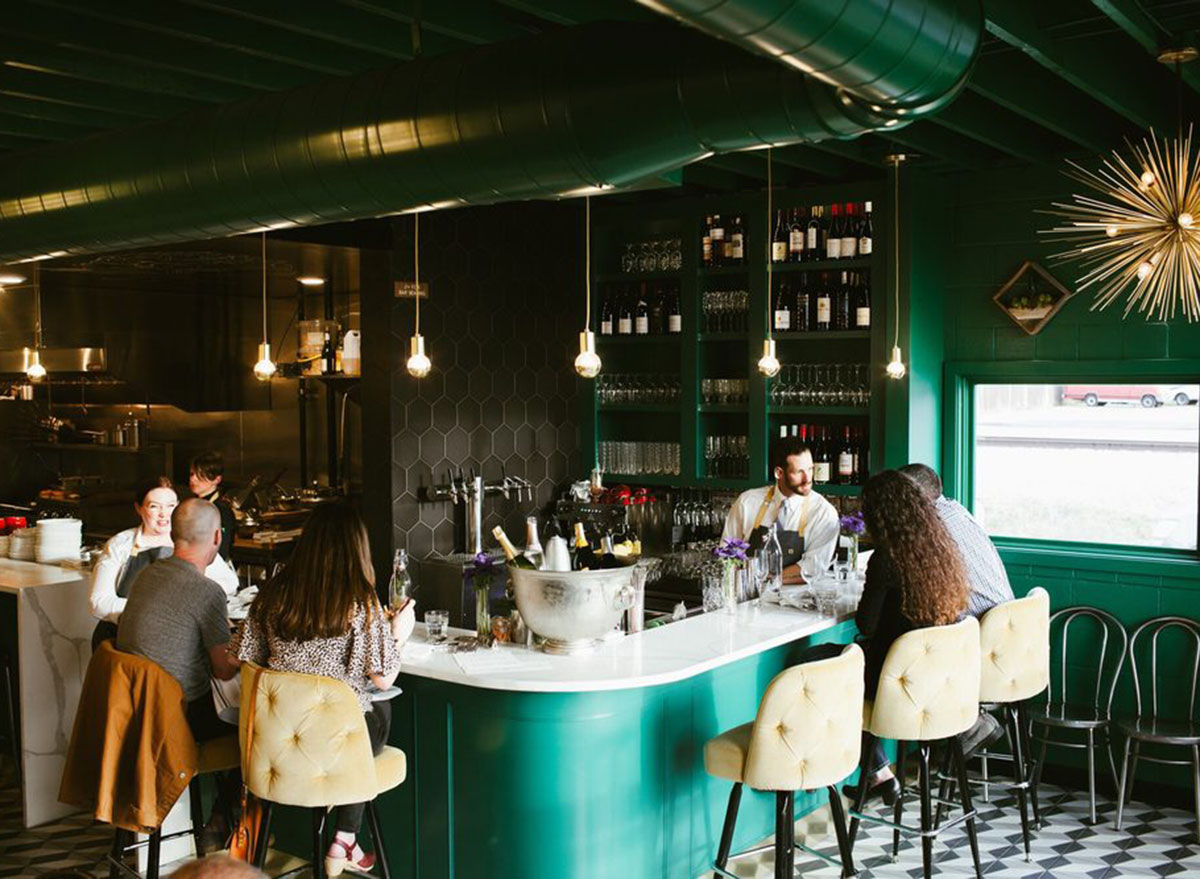 In Boise, French-inspired bistro Petite 4 is shutting down business for the foreseeable future. The eatery owners hope to reassess the business and hopefully return in 2021. Big Daddy's BBQ in Boise, an expansion of the Meridian location, has closed. Owner Hoss Grigg remains optimistic, calling the closure a "learning experience". A Meridian location of Tex-Mex chain Taco Johns has also shuttered.
Without the hustle and bustle of daily commuters in the Windy City, fast casual chain Pret a Manger has announced the closure of all locations in Chicago, with the exception of the store on the University of Chicago's campus. Lawry's The Prime Rib, located inside the iconic McCormick Mansion, will close at the end of the year after half a century of service. Another big-name steakhouse, Ruth's Chris, has announced the permanent closure of its River North location after 28 years.
According to surveys put out by the National Restaurant Association, a shocking 83% of Indiana's 241,900 restaurant employees were laid off—and that was just in early April. Nearly 20 Indiana restaurants shut their doors for good by May, according to Indianapolis-based publication Indy Star. Farm-to-table joint Black Market announced their closure in August after nine years. Owner Ed Rudisell posted about the restaurant's struggles on Facebook, saying "We opened in 2011, at a time when there wasn't even a phrase for "farm-to-table". We broke barriers in the Indy landscape and pushed until we couldn't push any longer." Other closures include three Ponderosa Steakhouse locations in Anderson, Beech Grove, and Greenfield, the franchise's flagship store.
As many as 15 Pizza Hut locations across the state of Iowa are permanently closed. The news of the closures came after the chain's largest franchisee, NPC International, filed for bankruptcy in early July. In Des Moines, tapas bar and restaurant Trostel's Dish said goodbye after 15 years of serving elevated Latin American dishes.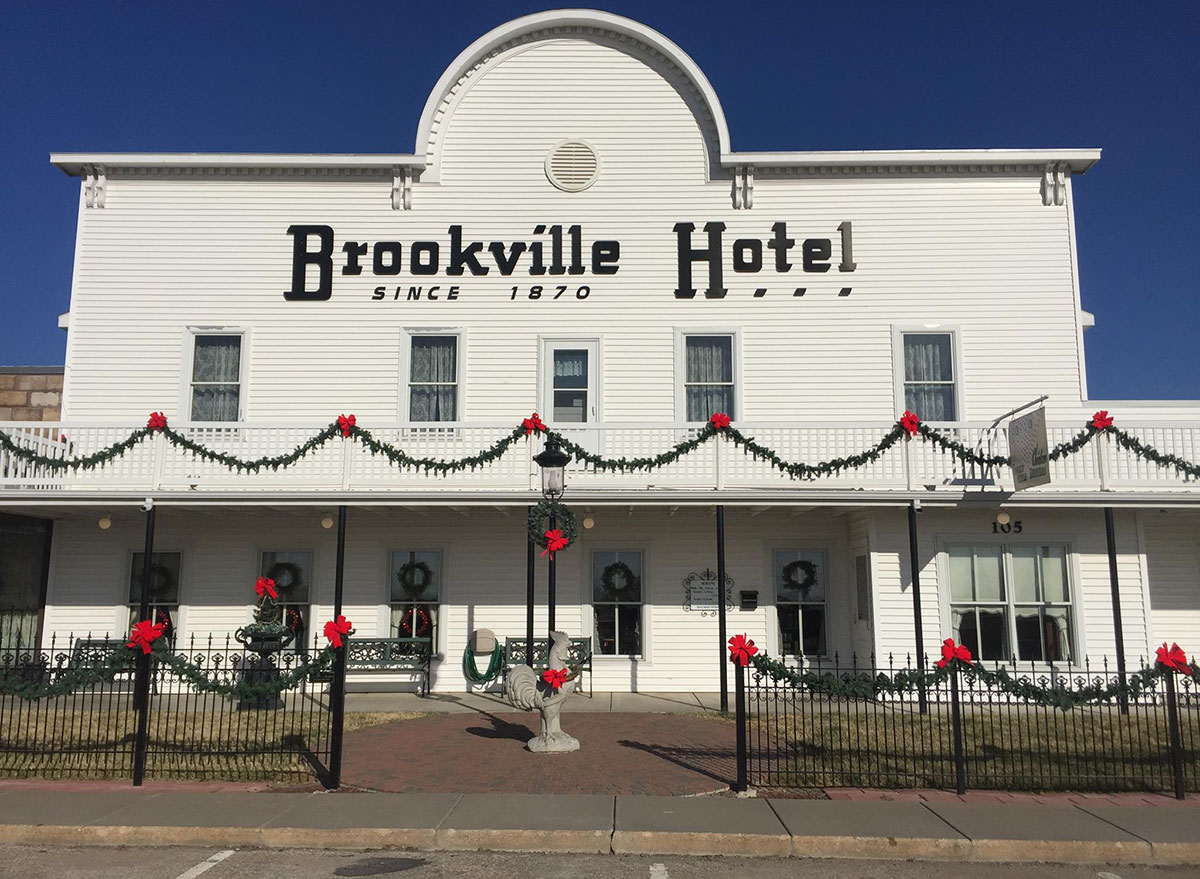 In October, the iconic Brookville Hotel announced it was closing for good after a century and a half of business. Kansas' oldest restaurant, which has been run by the same family for four generations, has touched diners of all ages. "This truly is devastating news!! Our hearts are definitely broken!! The Brookville Hotel has always been a family tradition for over 60 years," writes one customer. Other closures include popular farm-to-table joint Black Sheep and The Rieger in Kansas City.
Louisville has lost its fair share of longstanding establishments this year. Joining the list is Irish Hill restaurant Spring Street Bar and Grill, a 33-year-old neighborhood joint that's said to have served "the BEST buffalo wings in Louisville". Downtown breakfast and brunch hotspot Dish on Market has also shut down operations this year, as well as longstanding comfort food joint Buckhead Mountain Grill. The 115-year-old burger chain Frisch's Big Boy has shut down two out of five locations in the Louisville area.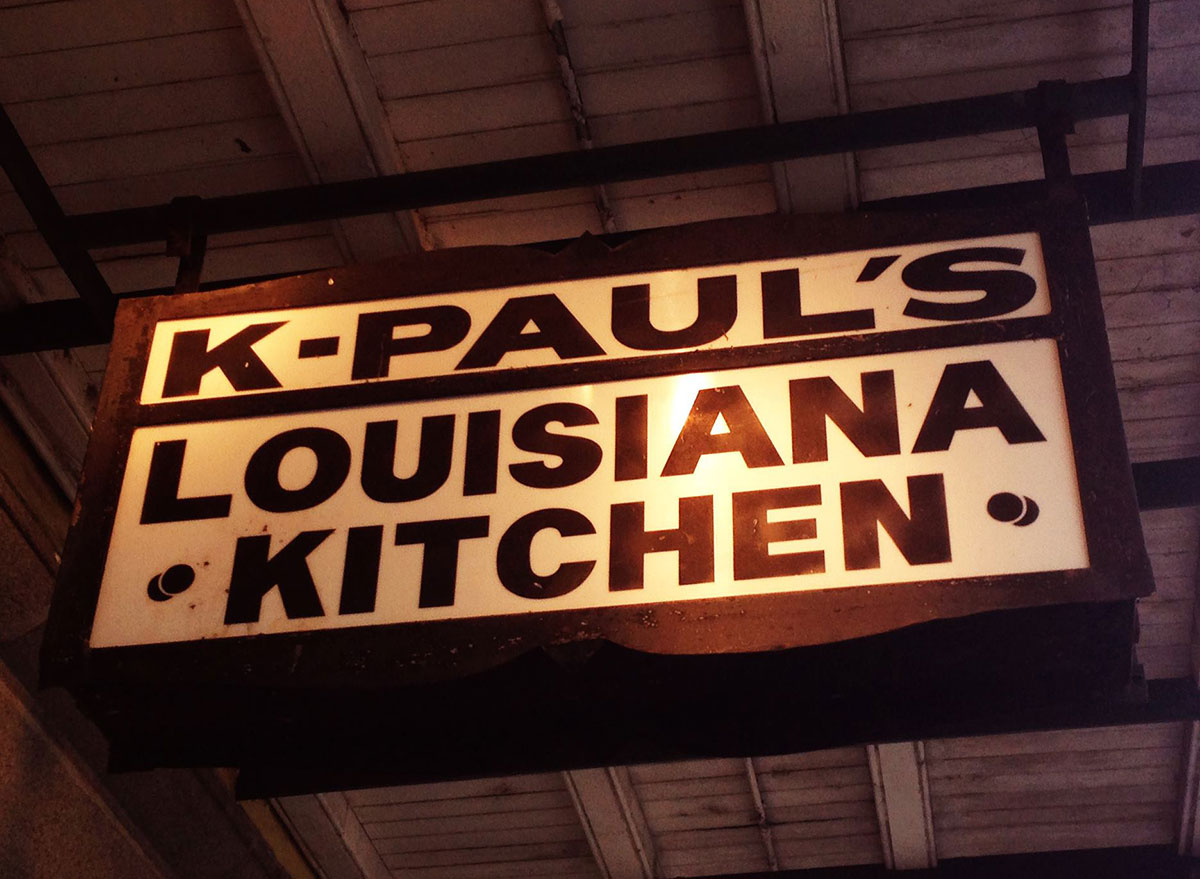 The restaurant industry has been hit hard in the Big Easy this year. In fact, a surge of COVID-19 cases prompted the Louisiana Restaurant Association to estimate that up to 40% of restaurants could permanently close in New Orleans. In May, southern cooking staple K-Paul's Louisiana Kitchen was forced to close its doors in the French Quarter after 41 years of business. New Orleans Cake Cafe & Bakery, a Marigny cafe on Chartres Street, announced its closure in June. In a statement, owners Steve and Becky Himelfarb remained optimistic. "This is a moment of new beginning for the restaurant industry . . . There will be new and exciting opportunities to build a better system, a system that holds on dearly to the most valuable of our traditions, but also boldly embraces the future through innovation and dynamism," the statement read. Other closures include noodle spot Semolina after 29 years of business, as well as a BRAVO Cucina Italiana location in Metairie.
Over 30 restaurants in the northeasternmost U.S. state have shut their doors for good. Uncle Andy's Diner in South Portland permanently closed at the end of May after being in business for 66 years. The Holy Donut, a popular gourmet donut chain in Portland, said goodbye to its Exchange Street location in mid-October. The coastal town of Kennebunk also suffered a coronavirus food scene casualty—award-winning On the Marsh Bistro and popular wedding venue shut its doors for good after 20 years of serving upscale American cuisine.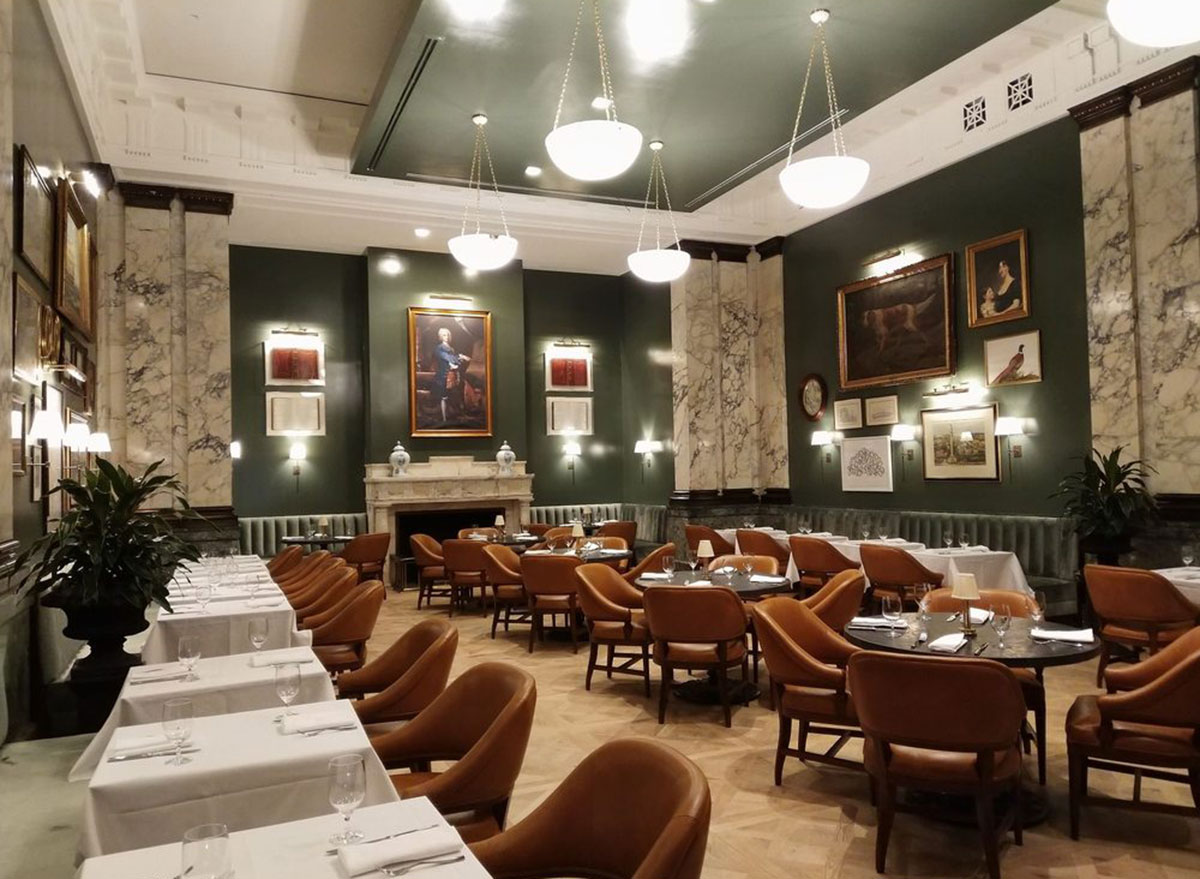 From chain restaurants to independent eateries, Maryland has said goodbye to dozens of establishments this year. Topping the list of notable closures is the Milton Inn in Sparks, a beacon in the Baltimore dining scene for nearly 70 years. Other historic establishments, such as the Rams Head Tavern in Savage and the Alexander Brown Restaurant in Baltimore, have shut down business for good this year. In May, restaurant chain P.F. Chang's shuttered its last location in Montgomery County.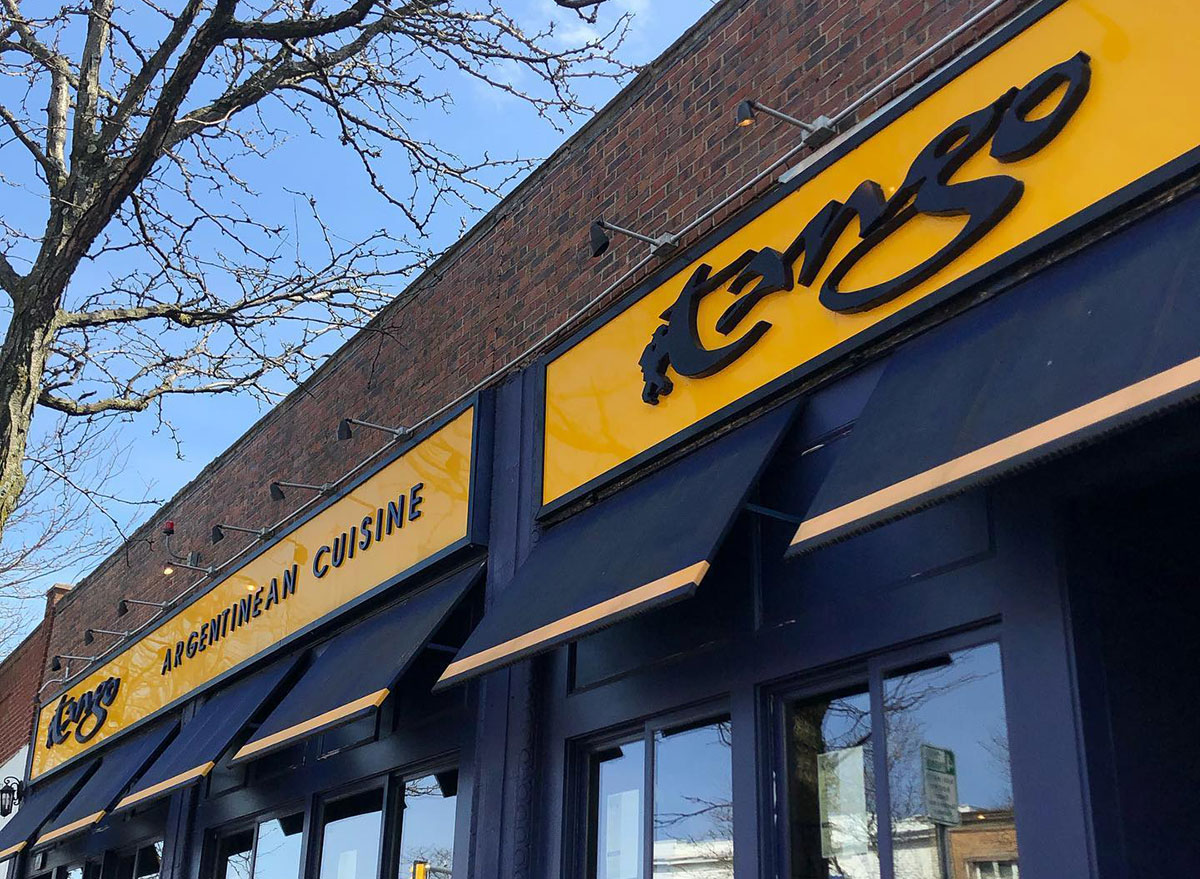 Neighborhoods ranging from Allston to Roxbury have lost some popular restaurants to the coronavirus this year. In Arlington, Argentinian restaurant Tango said goodbye to patrons in June. The joint, known for hosting boisterous World Cup Tournaments, was in business for 18 years. The Field Pub, an authentic Irish eatery located in the heart of Cambridge, is no longer after 25 years of business. Popular chain sandwich chain Pret a Manger has shut down all Boston locations.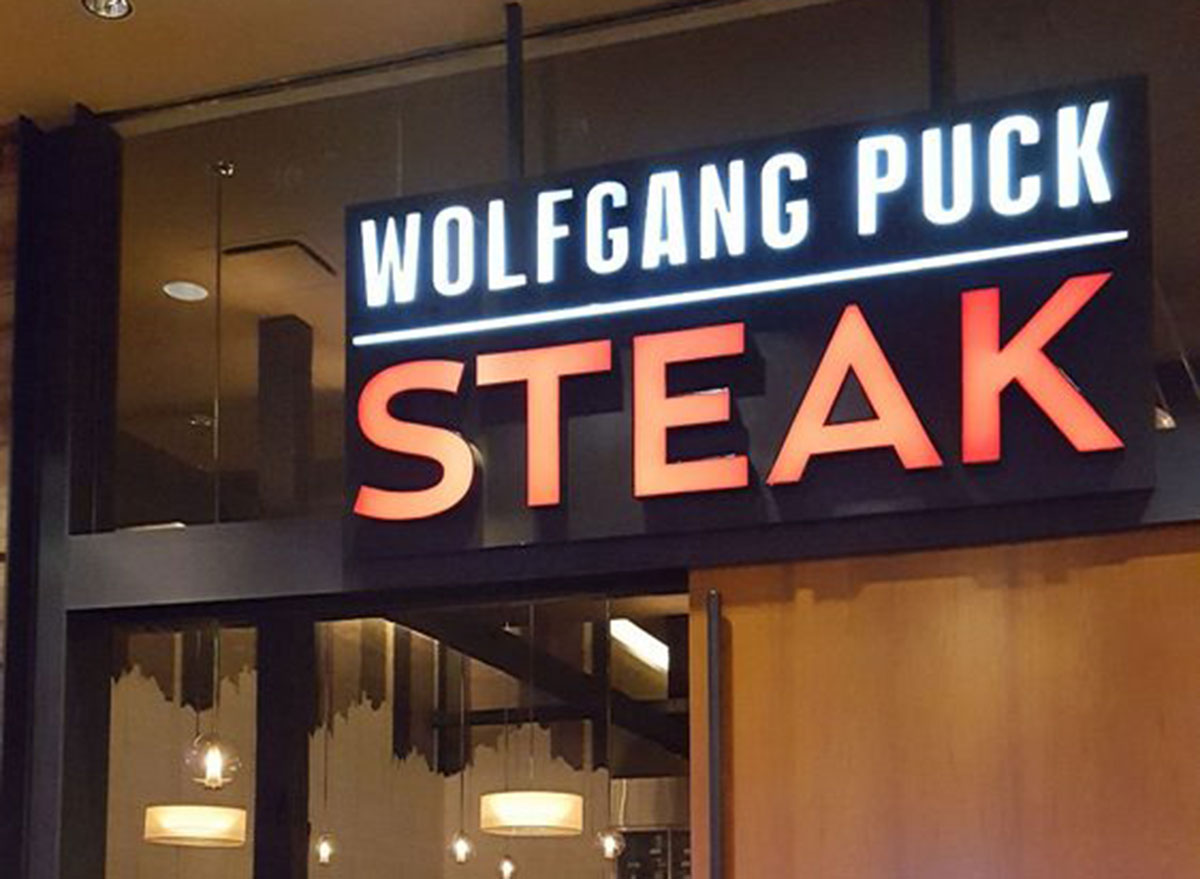 According to a list compiled by The Wall Street Journal, Michigan ranks seventh in the U.S. when it comes to permanent restaurant closures this year, with a whopping 569 restaurants closed (and counting). In October, the upscale Wolfgang Puck Steak left the MGM Grand Detroit Casino after eight years. In Ann Arbor, long-standing "New American" eatery Logan Restaurant announced a permanent closure after 16 years of service. In terms of chain closures, two Panera Bread locations in Westland and Plymouth have permanently closed.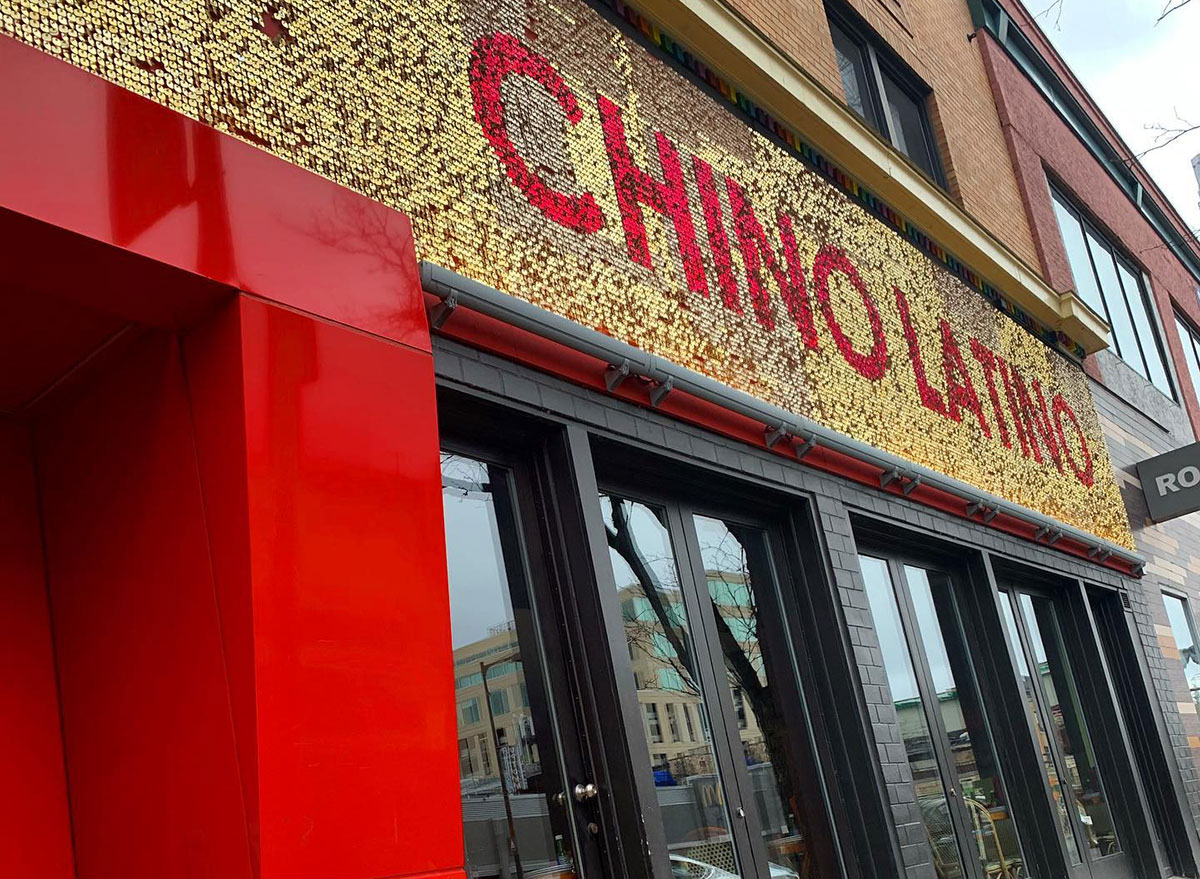 After 20 years of calling Minneapolis home, elevated street food joint Chino Latino has closed. "Heartbroken. Have been a customer since day one. So many incredible memories," writes one patron on social media. The Purple Onion, a favorite amongst University of Minnesota students, announced a permanent closure in October, after 30 years on campus. In the Twin Cities, Japanese staple Fuji Ya has quietly closed after 60 years. The Lake Street location, which was initially closed due to damage caused by Minneapolis riots in May, was the area's first of its kind upon opening in 1959.
How many restaurants can say they've been featured on the hit show, Diners, Drive-Ins and Dives? Darwell's Cafe in Long Beach can. The coastal icon, known for its live music and creole cuisine, bid farewell in October after 16 years on the scene. A Jackson location of restaurant chain Outback Steakhouse closed down operations in April after 12 years of service. Similarly, Asian-fusion chain P.F. Chang's shut down its Jackson location after further coronavirus struggles.
After 82 years in Maplewood, Cousin Hugo's Bar & Grill served its last plate in September. A favorite amongst locals, the joint was known for its welcoming atmosphere and classic pub cuisine. Gourmet Italian brunch and dinner spot Sardella succumbed to pressures of COVID-19 this year despite raving Yelp reviews from patrons. Other notable names leaving the Missouri restaurant scene include the Feasting Fox, Wasabi Sushi Bar, and Mayana Mexican Kitchen in Clayton.
Lilac, which served contemporary American dishes like braised short rib and grilled vegetable lasagna, closed its doors after eight years of service in Billings. The eatery received rave reviews on sites like Trip Advisor, winning praise for tasty, unique menu selections and top notch service. The Bigfork location of Mediterranean joint When In Rome joined the list of Montana restaurant closures due to pandemic pressures. The first Golden Corral location in Montana has closed after 19 years in business.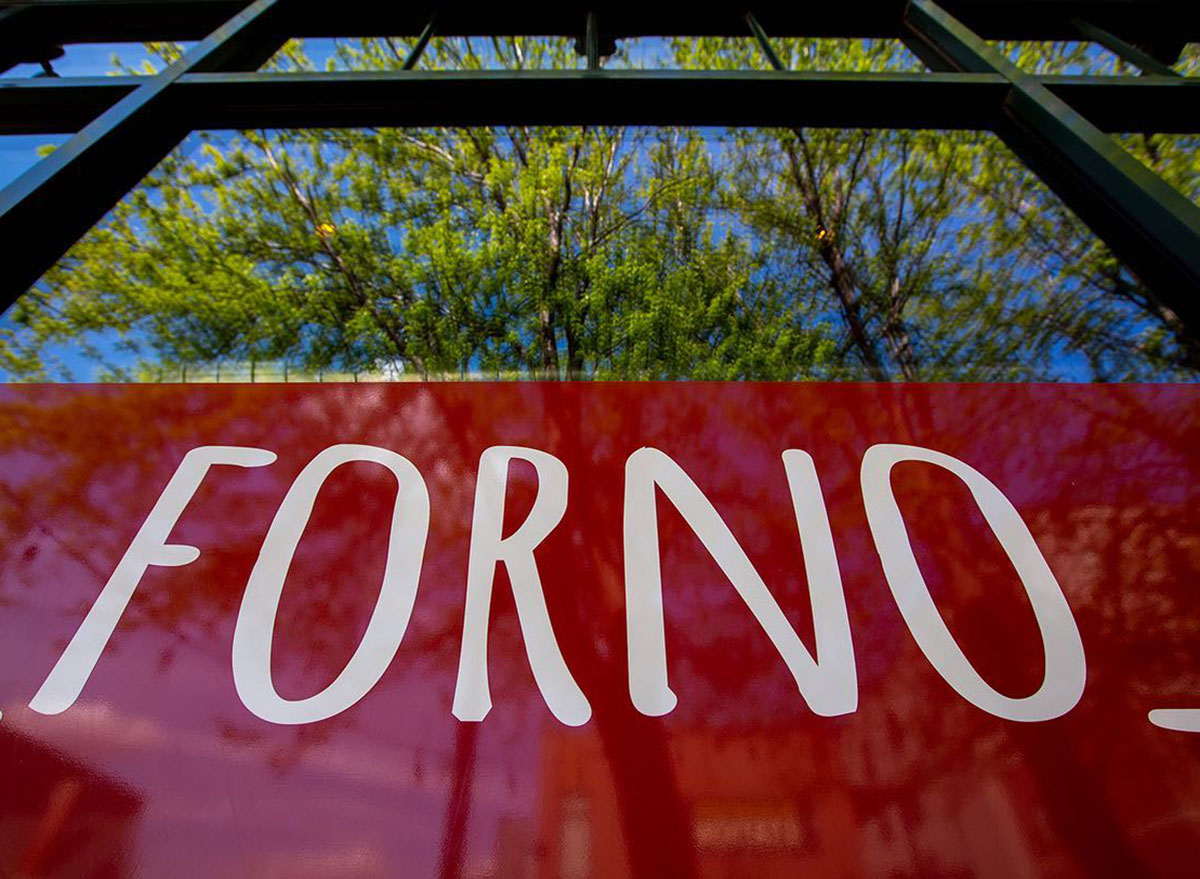 Like so many other restaurants, takeout options just didn't cut it for Blackstone eatery, Forno. The pizza and small-plate joint, which closed in May, is one of two restaurants managed by owner Nick Strawhecker. The other, fine-dining Italian spot Dante, managed to survive the pandemic. Other permanent Omaha closures include the Flatiron Cafe and Cantina Laredo in Midtown.6254a4d1642c605c54bf1cab17d50f1e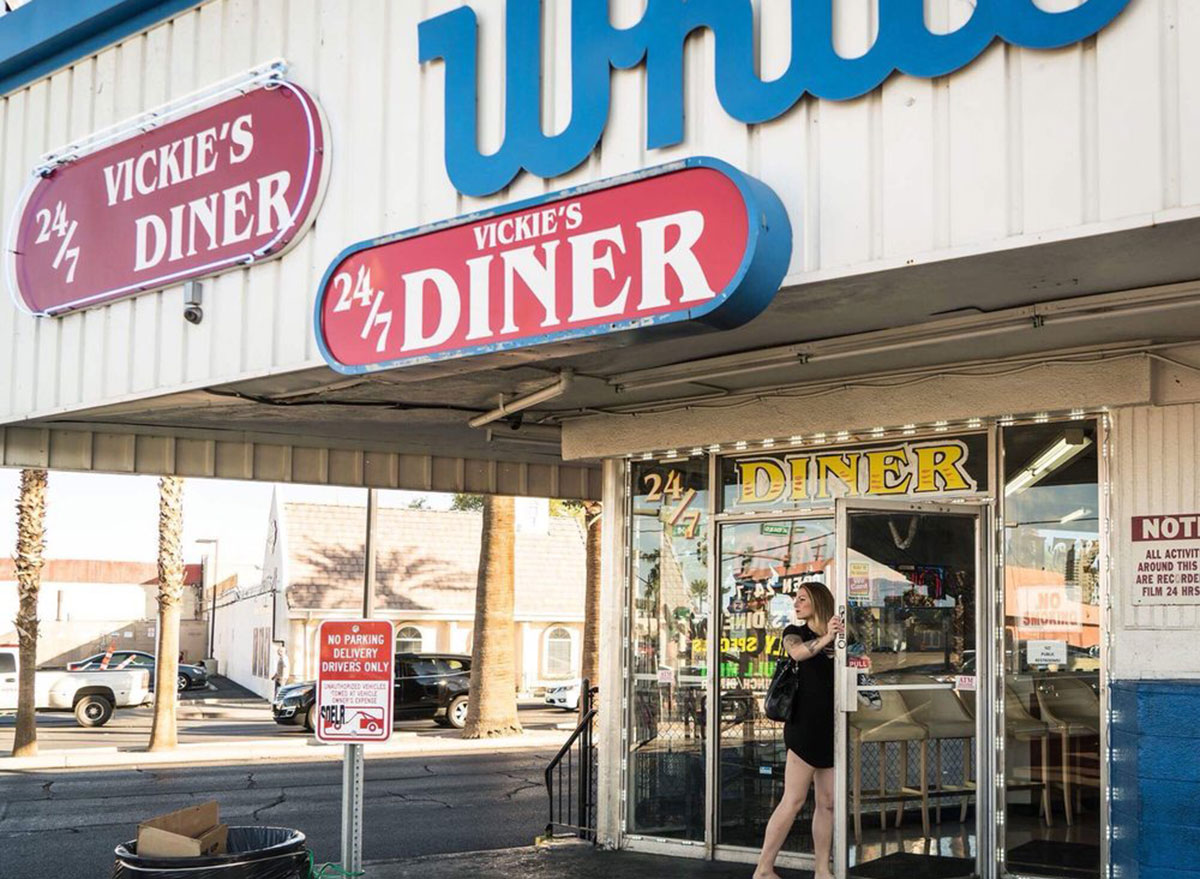 Nevada is home to some of the country's most iconic eateries, a few of which are disappearing due to the pandemic. Among the closures? Vickie's Diner, one of the oldest establishments in Las Vegas. The historic joint shut its doors for good in August. Reno favorite 4th Street Bistro announced in May that it was shuttering due to COVID-19 circumstances. The highly-rated restaurant delighted customers with organic, contemporary French cuisine during its 20 years in business. Other defunct Reno-area favorites include Little Nugget Diner, Rounds Bakery, and the Truckee River Bar & Grill.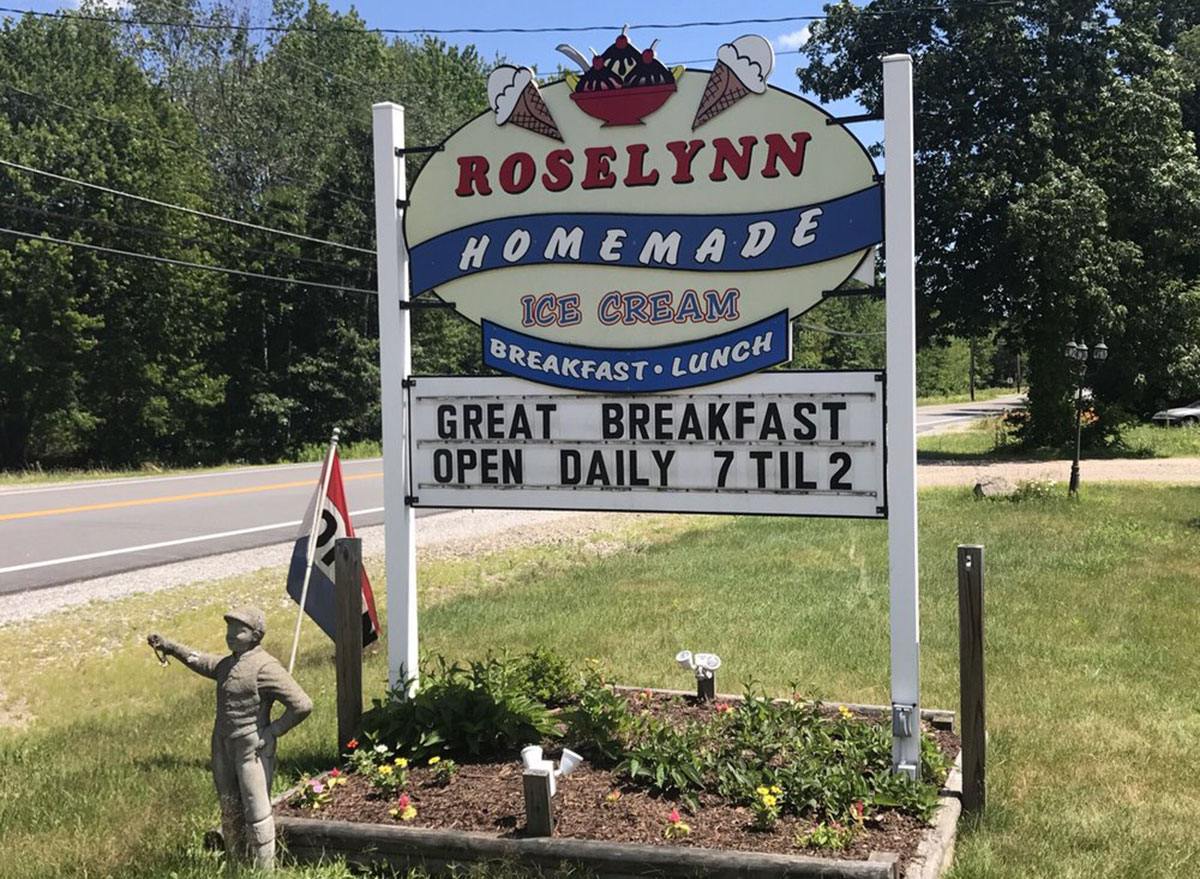 For Roselynn Homemade Ice Cream, the phrase "live free or die" was a motto to live by. The Epping restaurant opted to close its doors in October, rather than enforce the statewide mask mandate. The Joinery, a Southern-inspired farm-to-table joint in Newmarket shut down operations in March following a statewide order for restaurants to close all but takeout and delivery services.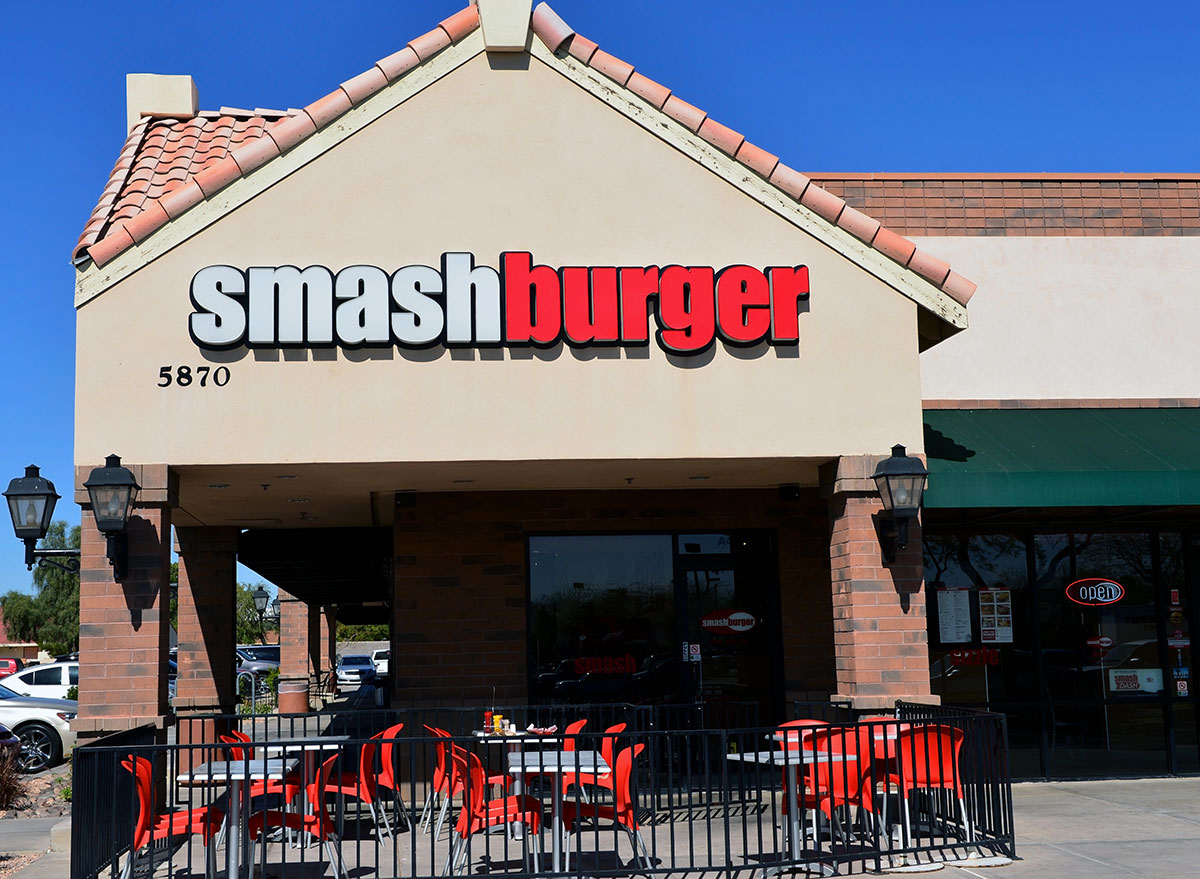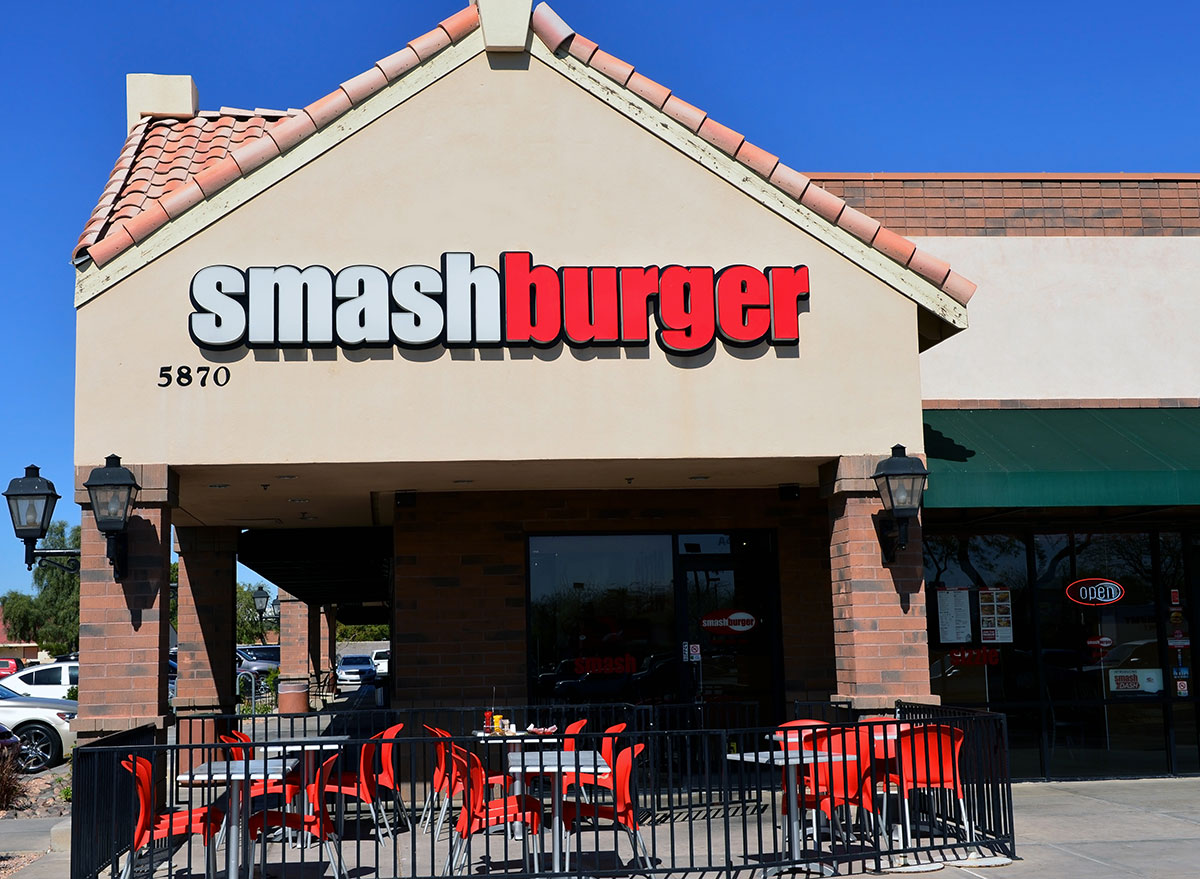 Strict COVID-19 guidelines in the Garden State have had immense repercussions among local restaurants. In August, Gov. Phil Murphy reinstated indoor dining, but at only 25% capacity. Meanwhile, burger chain Smashburger closed two locations in Hackensack and Toms River. In June, Asbury Park lost Modine, a bistro that brought Northerners a taste of the South. Located in the historic Post building, the low-country restaurant was known for dishes like fried green tomatoes and gulf shrimp and crab fried rice. Other notable closures include French-American bistro Technique, and The Cassidy Bar + Kitchen in Maplewood.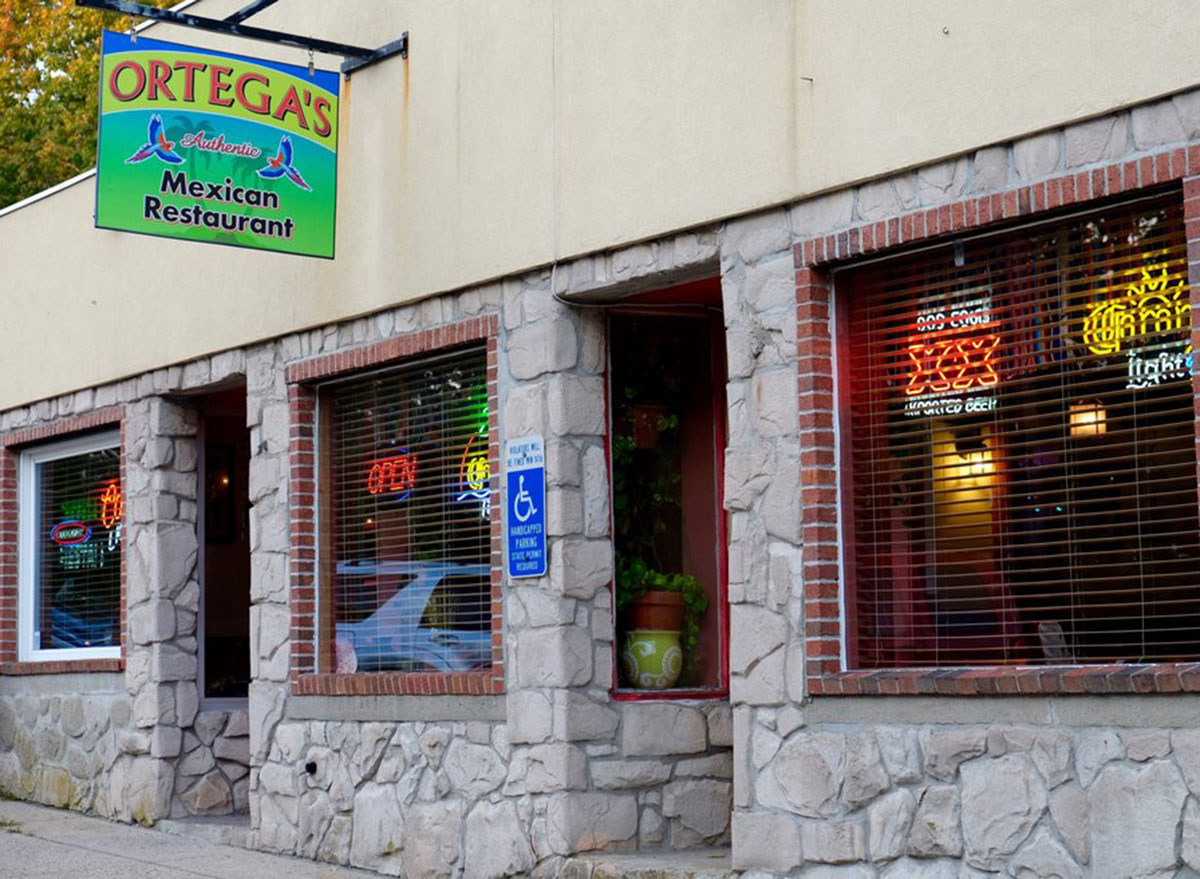 Ortega's New Mexican Restaurant in Albuquerque closed in August after three decades of business. "We are heartbroken to see this. Our family has enjoyed your amazing food and superb customer service since I was a kid, and both my kids have been eating there since they were born," a loyal patron commented on the social media post announcing the closure. The Cooperage, a steakhouse that called Albuquerque home for four decades, made the difficult decision to close its doors for good in April. The joint, which relied heavily on catering orders, couldn't survive the mounting event cancelations due to the pandemic.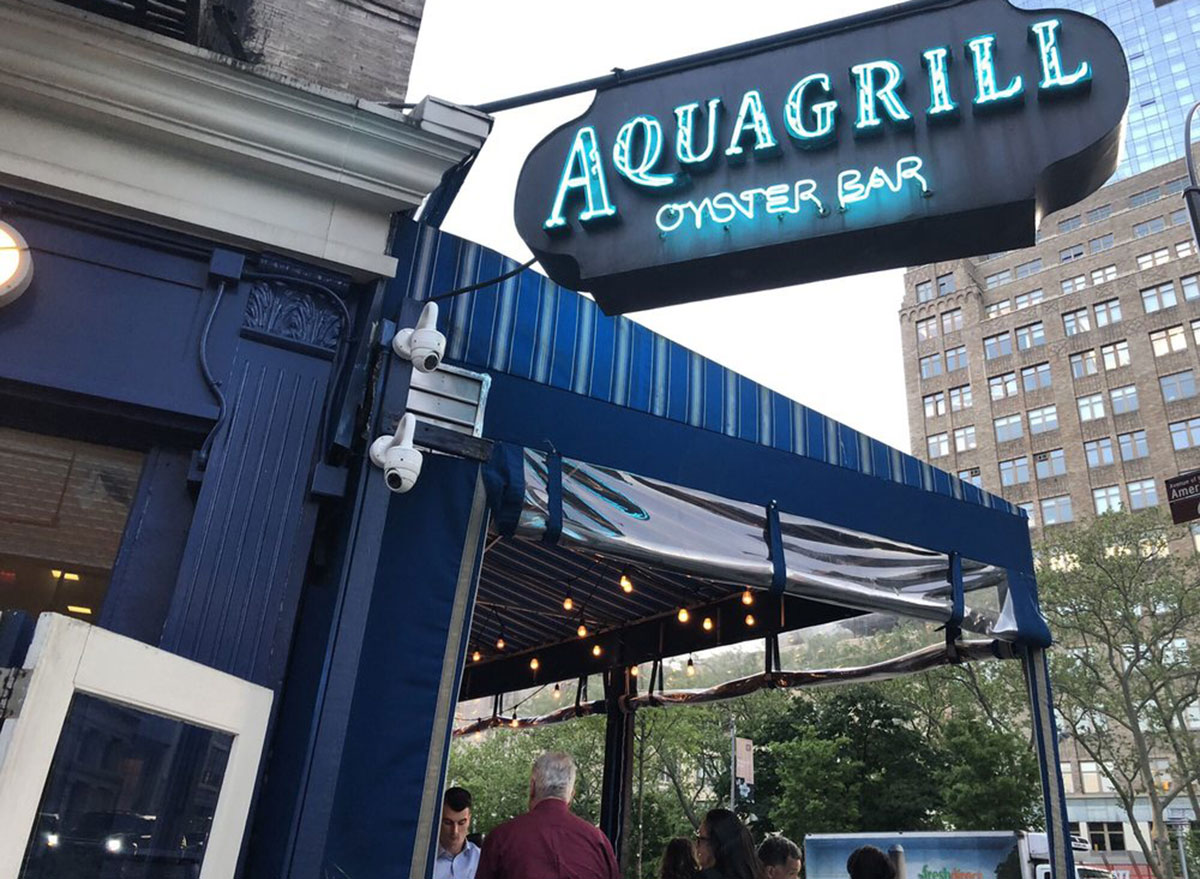 The Big Apple lost some big names in the restaurant industry this year. Aquagrill, a 24-year-old Soho seafood staple, decided to shut down operations in June. Gotham Bar & Grill, a trailblazer on New York's fine dining scene, closed its doors for good in March after 36 years of service. Other acclaimed restaurants leaving the city include Maison Premiere in Brooklyn, as well as TAK Room, Lucky Strike, and Uncle Boons. High-end bakery chain Maison Kayser has shut down all of its location in Manhattan, marking its exit from North America. Outside of the city, 15 Denny's locations in upstate New York closed in March, citing COVID-19 struggles.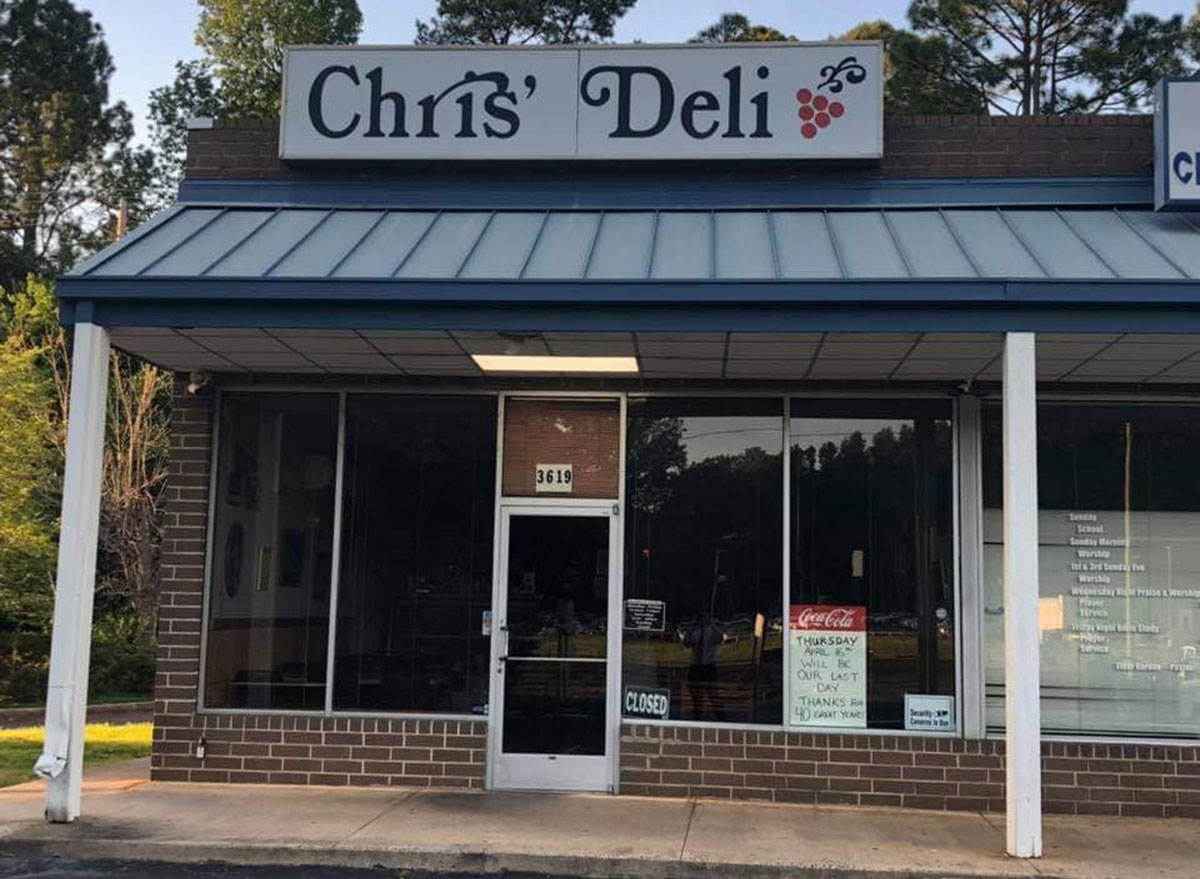 Chris' Deli, a sandwich staple in the heart of downtown Charlotte, shut down operations in April after four decades. Other establishments like Irish American tavern Fitzgerald's and barbecue joint Queen City Q will be leaving after eight years in the city. For businesses in the small town of Chapel Hill, success depends heavily on a bustling university atmosphere. With a sharp decline in students on campus this year, surrounding restaurants like Ms Mong, Lotsa Stone Fired Pizza, and Lula's have had no choice but to close their doors.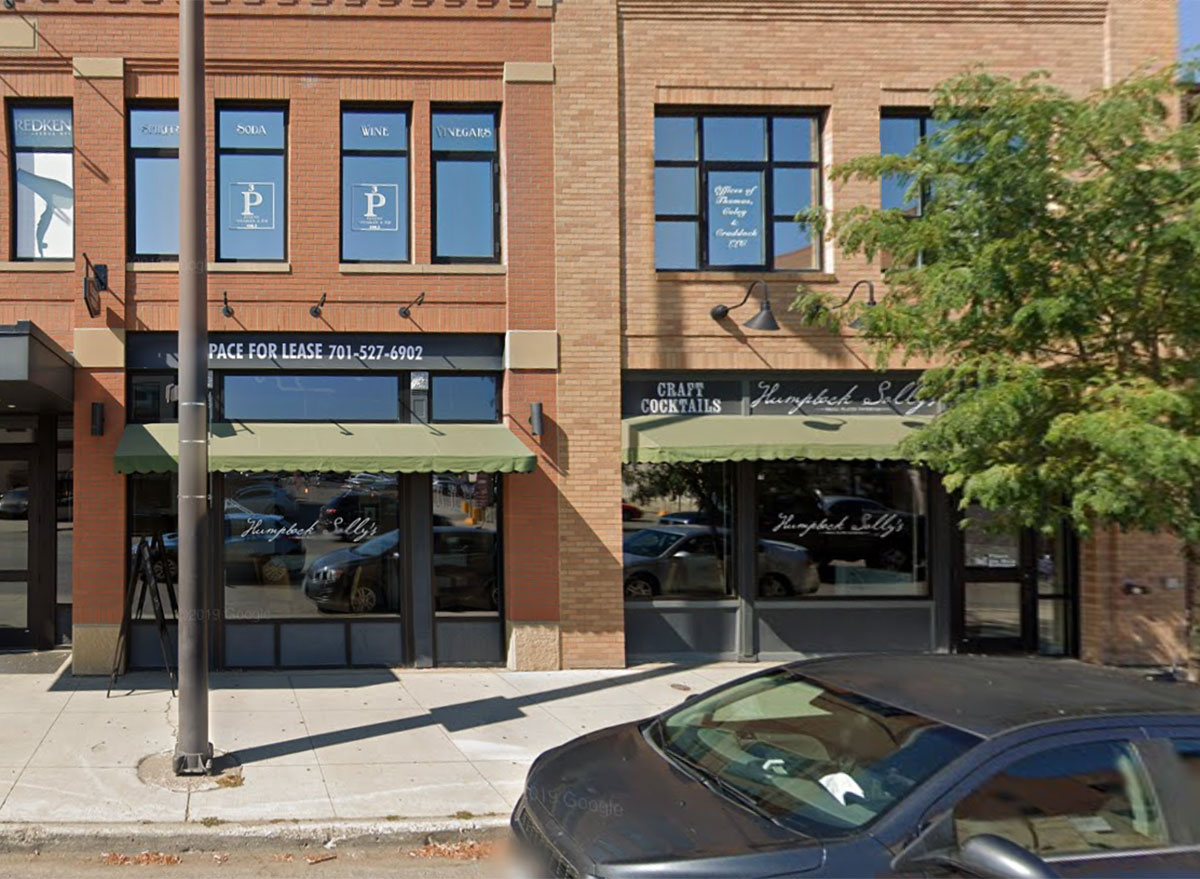 Six years after opening its doors in downtown Bismarck, American eatery Humpback Sally's closed for good. Called the "best food in town" by one Yelp reviewer, it's no secret that this bistro will be missed.
The owners of Firefly American Bistro mourned the loss of their New Albany restaurant in May. Owner and chef Jason Baehr cited devastating revenue cuts due to COVID-19 as the final blow to his 5-year-old neighborhood eatery. Upscale steak and seafood restaurant Parker's Blue Ash Tavern in Cincinnati announced a permanent closure in April, after nearly four decades in business. Ohio-based fast-food burger joint White Castle shut down two Columbus-area locations near Westerville and Ohio State University.
Dallas-based restaurant chain Cotton Patch Cafe announced four permanent closures in Oklahoma. Cafe locations in Ada, Ardmore, Broken Arrow, and Claremore closed in May, making the company's Chickasha location the last remaining spot in the state.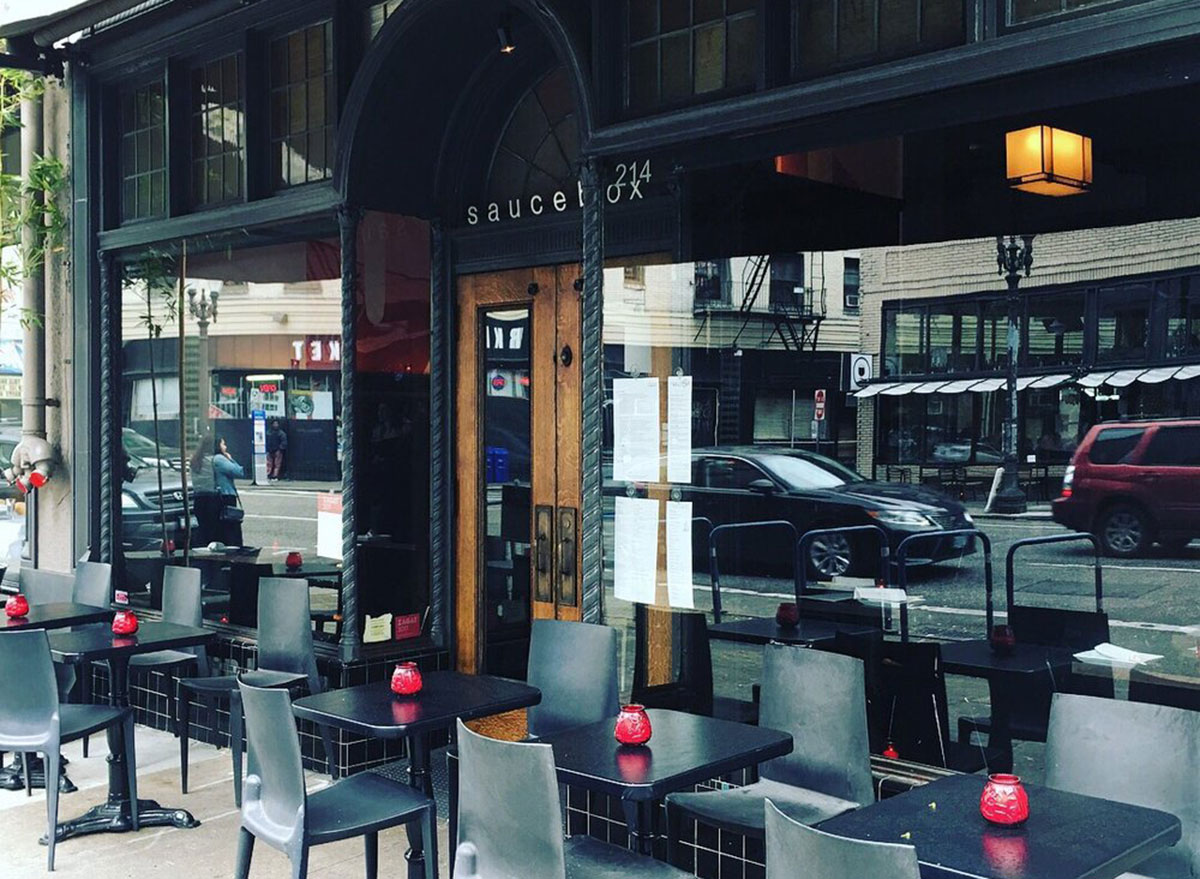 The list of bar and restaurant closures in the city of Portland is extensive. Among the COVID-19 casualties is 25-year-old downtown cocktail bar, Saucebox. While the late-night joint was praised for its liquor selection, the Pan-Asian menu kept patrons coming back for more. Other notable Portland closures include beloved dive bar Crackerjacks Pub, Rogue Pearl, breakfast hotspot Sanborn's, and several locations of famed local donut chain Blue Star Donuts. In the scenic city of Salem, longstanding joints like The Ritz Diner and Salem Ale Works are calling it quits.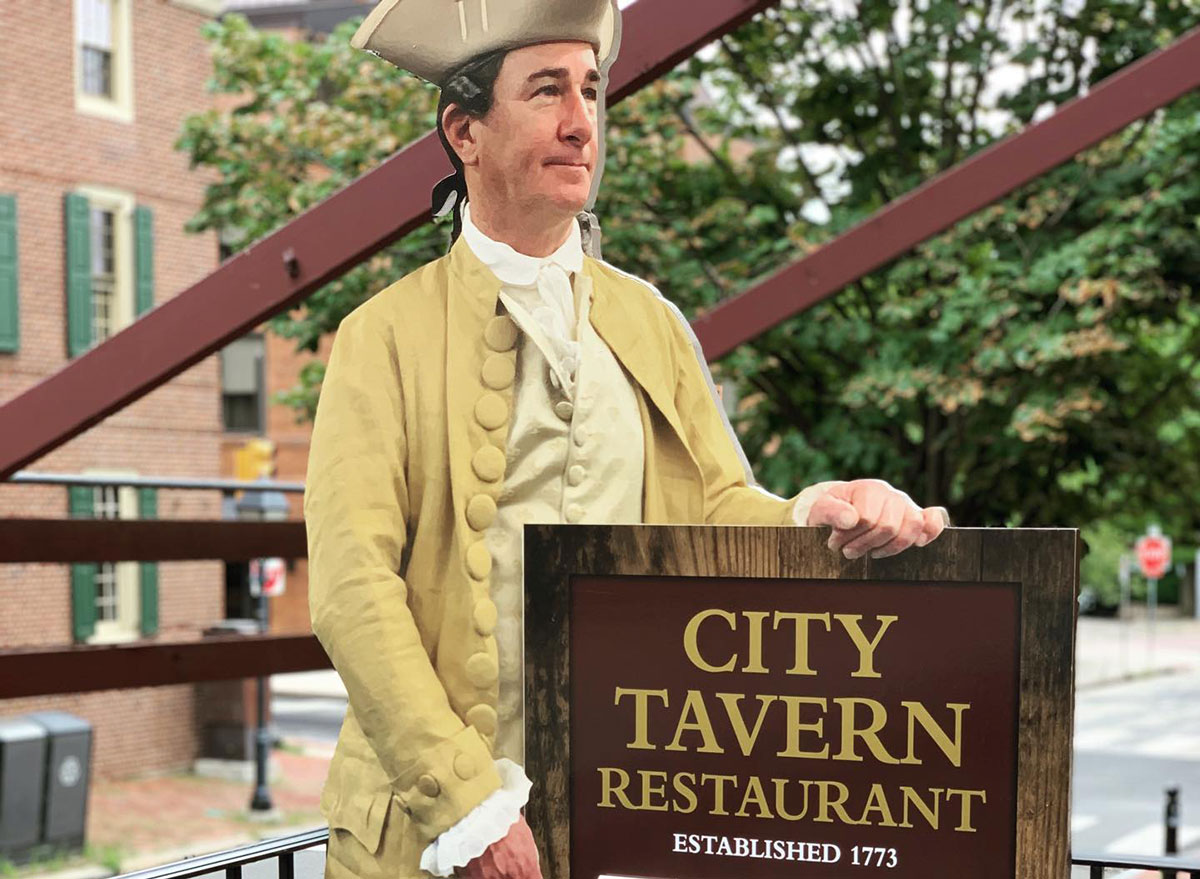 Adapting to COVID-19 restrictions has proven to be an impossible challenge for a majority of Pennsylvania restaurants. In Philly, some of the cities most revered establishments are saying goodbye in 2020. Celebrity hotspot R2L, known for its coveted location on the 37th floor of Two Liberty Place, announced its closure in June. The upscale eatery had been looking forward to serving customers for another decade prior to COVID-19. Chinese restaurant Beijing, a favorite amongst Penn students, is closing after 32 years of business on the university's campus. Other closures include the historic City Tavern, Warmdaddy's, and 26-year-old Irish pub, The Bards.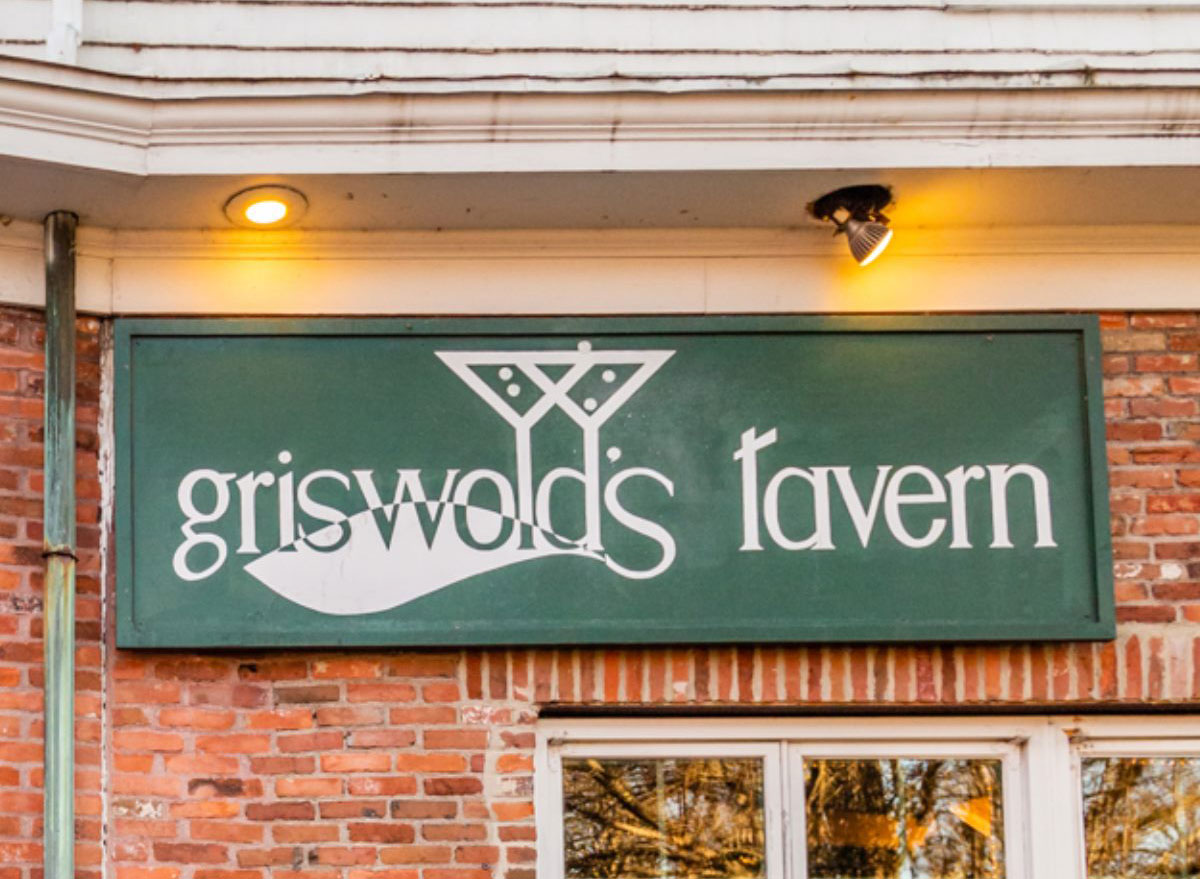 Rhode Island restaurant owners have struggled to keep up with the state's strict COVID-19 restrictions. For some establishments, the struggle was futile. From Providence to Smithfield, Rhode Island has lost some iconic eateries to the virus. Blackies, known for serving comfort food with a twist in Smithfield, closed after 9 years. However, the joint's owners aren't willing to admit defeat yet. "The virus may have won the battle, but blackie's will be back to win the war," said a statement released by the restaurant. Luxe Burger Bar, known for its customizable burger menu, said goodbye to a 15-year run in Providence. Local haunt Griswold's Tavern in Newport closed down in June after 34 years.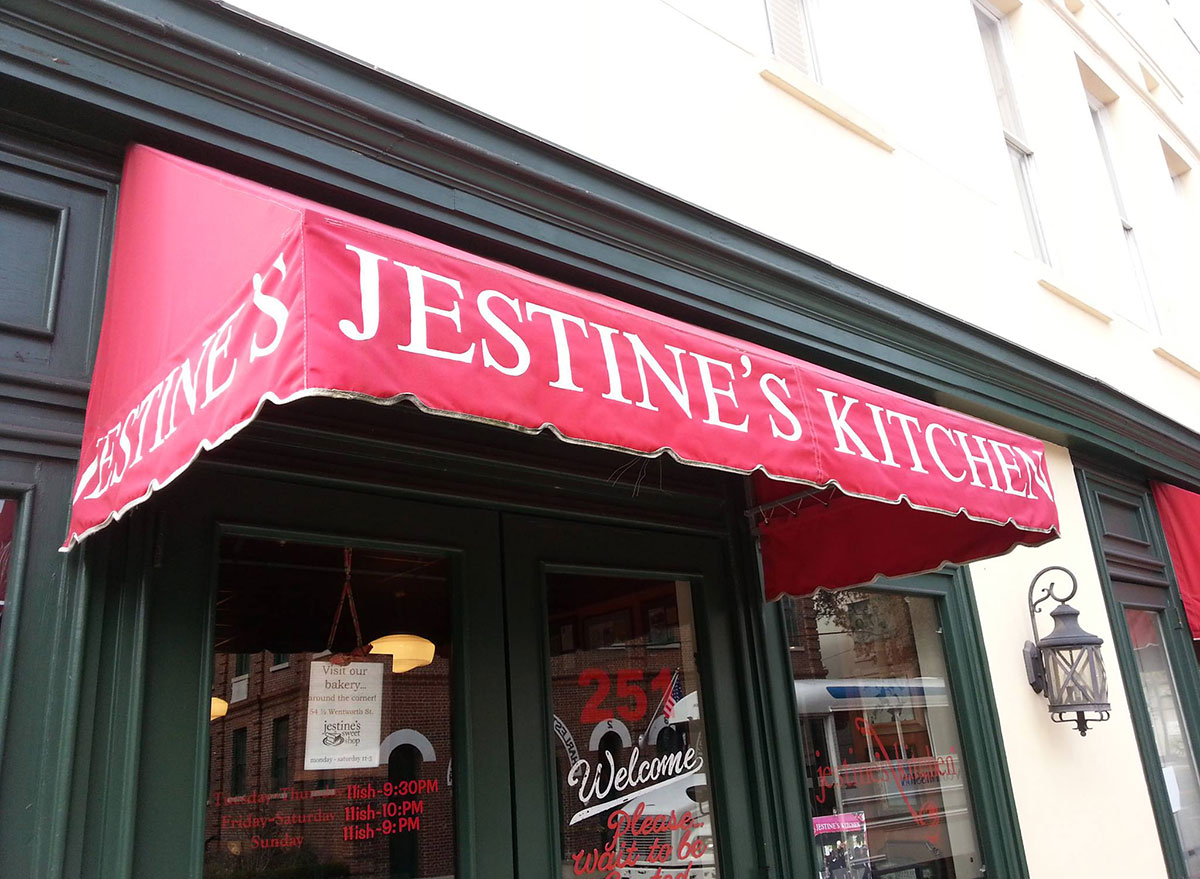 The coastal city of Charleston is home to some of the most iconic southern kitchens in the country. Unfortunately, the pandemic has forced many low-country establishments to close up shop this year. Jestine's Kitchen, an iconic southern staple known for its fried chicken and gumbo, closed after 24 years of serving the Charleston community. Legendary fine dining joint McCrady's closed its doors for good in April. The restaurant, which opened in 1993, was the only South Carolina establishment to hold the prestigious AAA Five-Diamond Award. In Greenville, El Thrifty Mexican Restaurant closed its doors in August.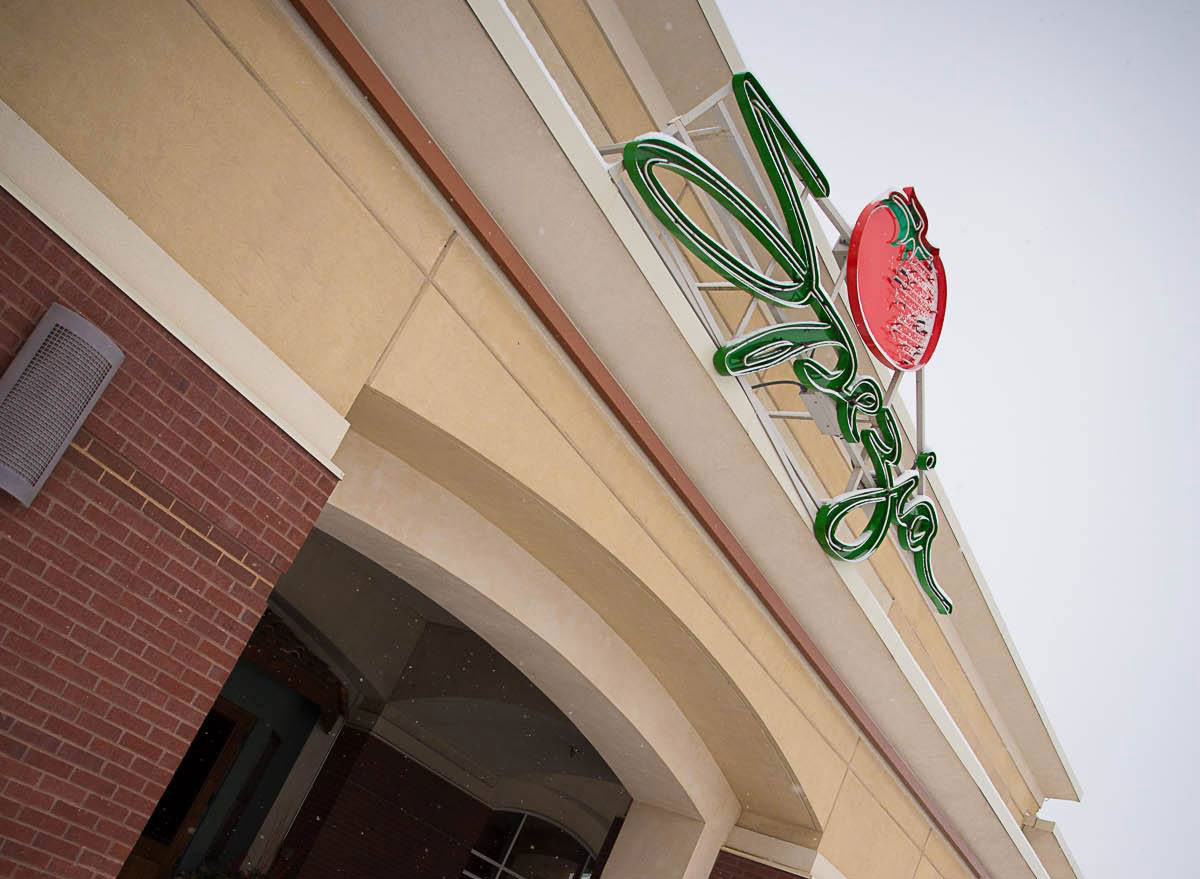 Music venue Books N Brewz Pizzeria closed before its one year anniversary this year. The unique two-story joint featured cozy reading nooks and a stage for open mic nights. Italian restaurant Spezia closed its doors for good after 24 years in Sioux Falls. Pizza Hut has closed six locations across the state of South Dakota, including the only dine-in location in Sioux Falls.
Family-owned dessert joint Dairy King made the difficult decision to close its doors in August due to piling expenses and insufficient income. The creamery, located in Woodbine, had been operating for an impressive 50 years. "You will be sorely missed in our little community," one customer wrote on social media. Another casualty of the pandemic was the Tennessee-Japanese fusion restaurant Green Pheasant, which had been named best new restaurant in Nashville just last year. In East Nashville, French-inspired cafe Marche shut down operations after 13 years.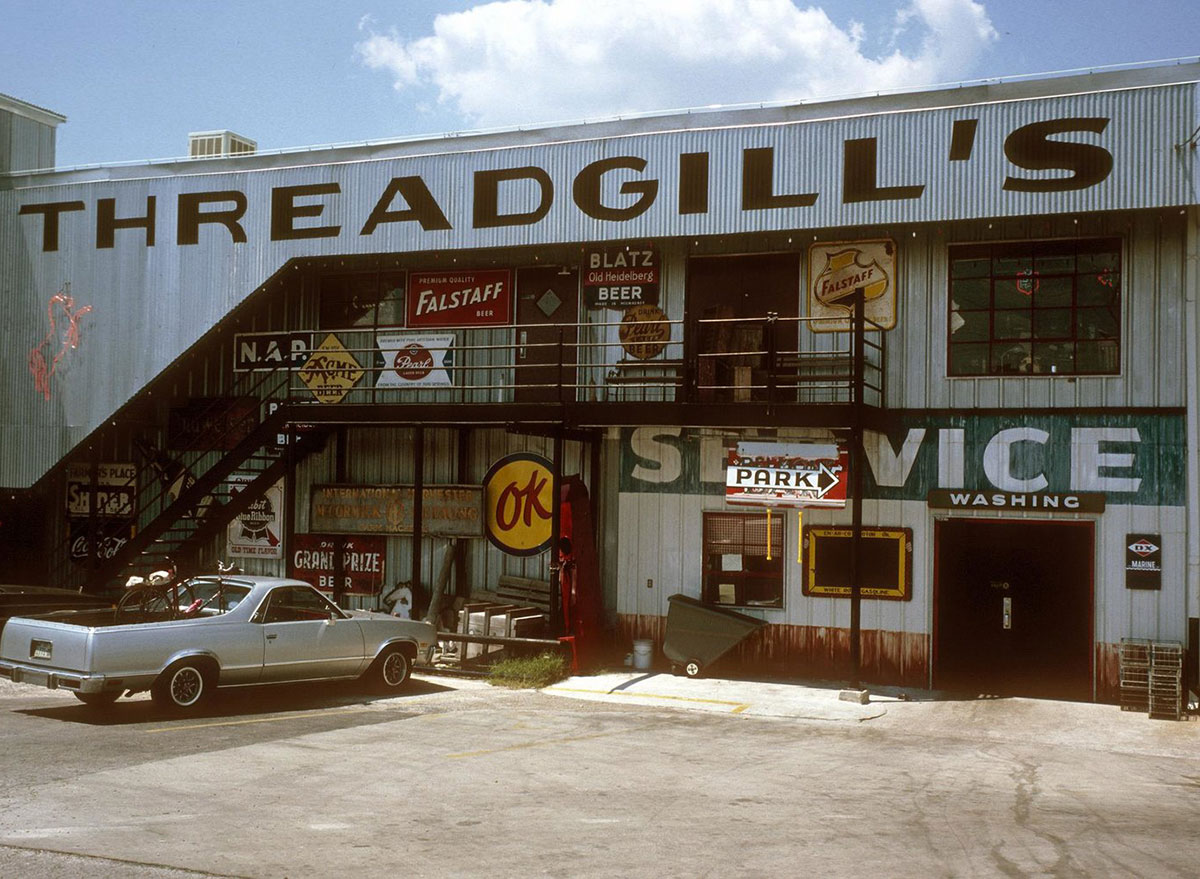 Highland Park Cafeteria, the iconic comfort food buffet, has closed after a whopping 95 years of operation in the Dallas area. The restaurant owners are hopeful for a potential return, promising customers that all 932 recipes will be preserved. Historic Austin venue Threadgill's shut its doors in April after almost 40 years of music and southern-style cuisine. Fun fact: the joint is credited for helping launch rock legend Janis Joplin to fame. Alice's Tall Texan, one of Houston's most distinctive dive bars, closed up shop in August after 36 years.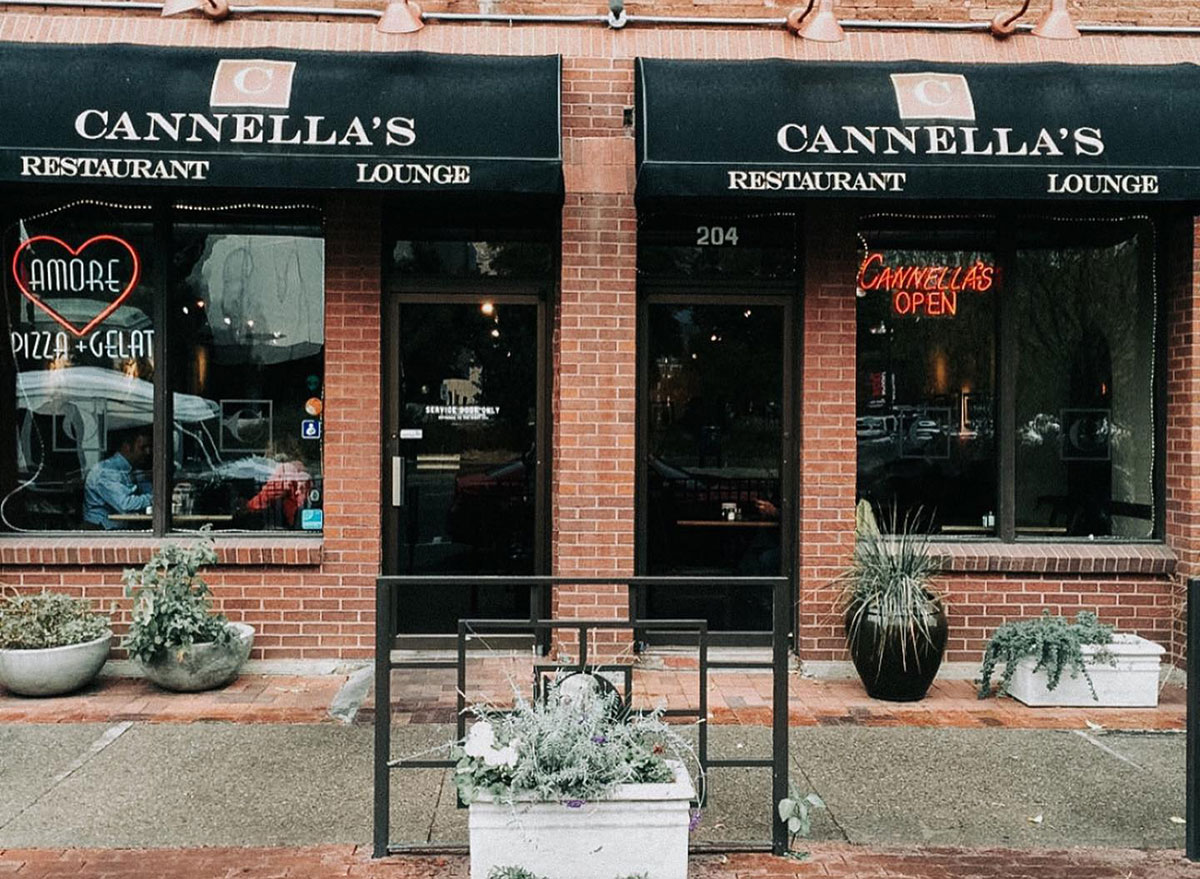 In September, Utah Restaurant Association announced that at least 10% of the state's restaurants have shut down permanently—totaling around 452 closures. Utah residents have lost some of the state's most iconic eateries, including 42-year-old Italian joint, Cannella's Restaurant and Lounge in Salt Lake City. A 3-year-old healthy eating concept Mollie and Ollie struggled to stay afloat in downtown Salt Lake City and shut down in April. MacCool's Public House, a family-friendly Irish pub in Layton, closed its doors for the foreseeable future in August.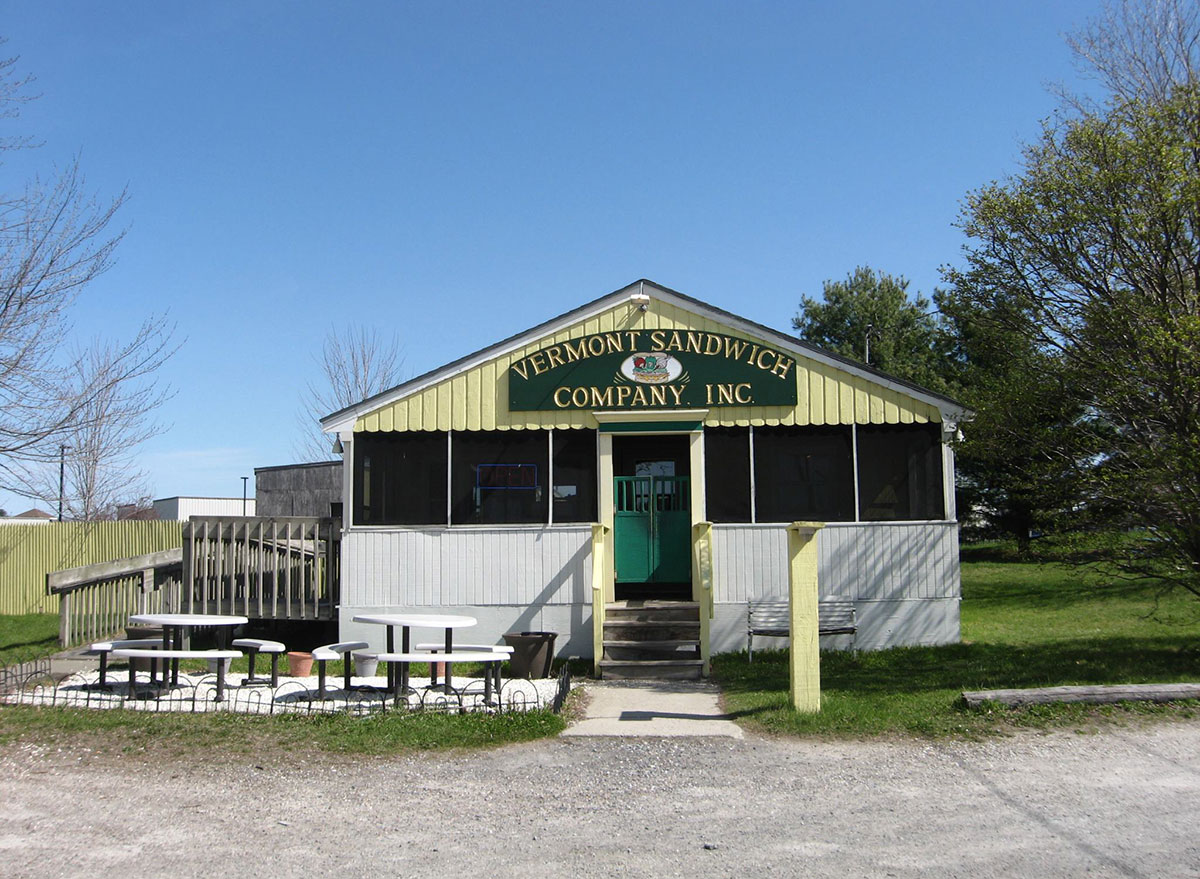 Kelvan's restaurant in Rutland City lost its financial battle with COVID-19 and served its last customers in September. The 9-year-old eatery was known for serving up a range of diverse menu items, from Asian Pork Tacos to Fish Chimichangas. In May, the beloved Vermont Sandwich Company closed down operations after 25 years in Williston, as well as an Outback Steakhouse location in South Burlington.
The future of restaurants is looking bleak for owners in Virginia, with a recorded 58% of restaurant owners reporting they will be gone in six months without government assistance. A 40-year-old Virginia-based buffet chain Country Cookin has had a tumultuous year due to the pandemic. After a period of ups and downs, the company decided to cut their losses and close down all 13 locations across the state. Gourmet breakfast and pastry spot WPA bakery merged its Churchill location with the Southside property due to financial concerns. Notable Richmond closures include Morton's Steakhouse in Shockoe Slip, Ponies & Pints, and Saltbox Oyster Co.
Randy's Restaurant, a Tukwila gem frequented by locals, is closing its doors in November after nearly 40 years in business. Housed in a former Denny's, the diner is known for its unique interior with orange and pink vinyl seats and airplane artifacts which pay homage to the nearby Museum of Flight. Similarly, fans will mourn the beloved Japanese joint HaNa Sushi, which is closing down after 30 years of business. For those looking for "authentic and delicious sushi", HaNa was the place to go. Other notable Seattle closures include Bamboo Garden Vegetarian Cuisine, pizza chain Pagliacci Pizza Queen Anne, and Jules Maes Saloon (which closed after an impressive 132 years).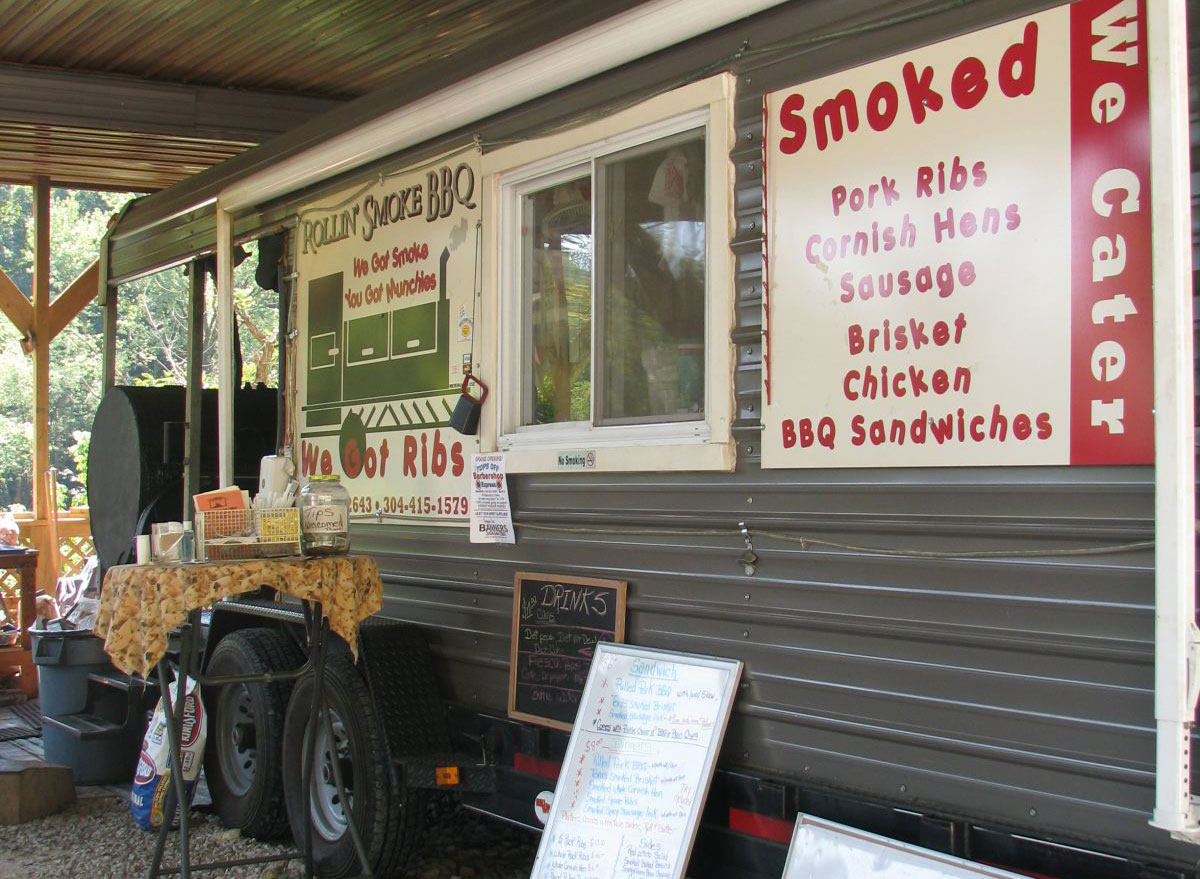 While West Virginia reportedly boasts some of the lowest restaurant closure rates in the U.S., the state has still lost some favorites this year. Decade-old Charleston riverfront joint Rollin Smoke BBQ closed in March following a statewide stay-at-home order. A Clarksburg location of American buffet chain Ryan's closed down operations in May.
The Wisconsin restaurant scene has suffered a plethora of COVID-19 related closures this year. Fond du Lac icon, Schreiner's Restaurant, announced its closure in May after 80 years in business. The historic comfort food destination is credited with serving a whopping 500,000 patrons every year since 1938. The Cannery Public Market in downtown Green Bay was just three months shy of celebrating its five-year anniversary, when it was announced that the establishment would be closing for good. In Madison, Sunroom Cafe on State Street is no longer. The local hotspot, which would routinely have eager customers lined up on weekends, closed its doors in March after 25 years.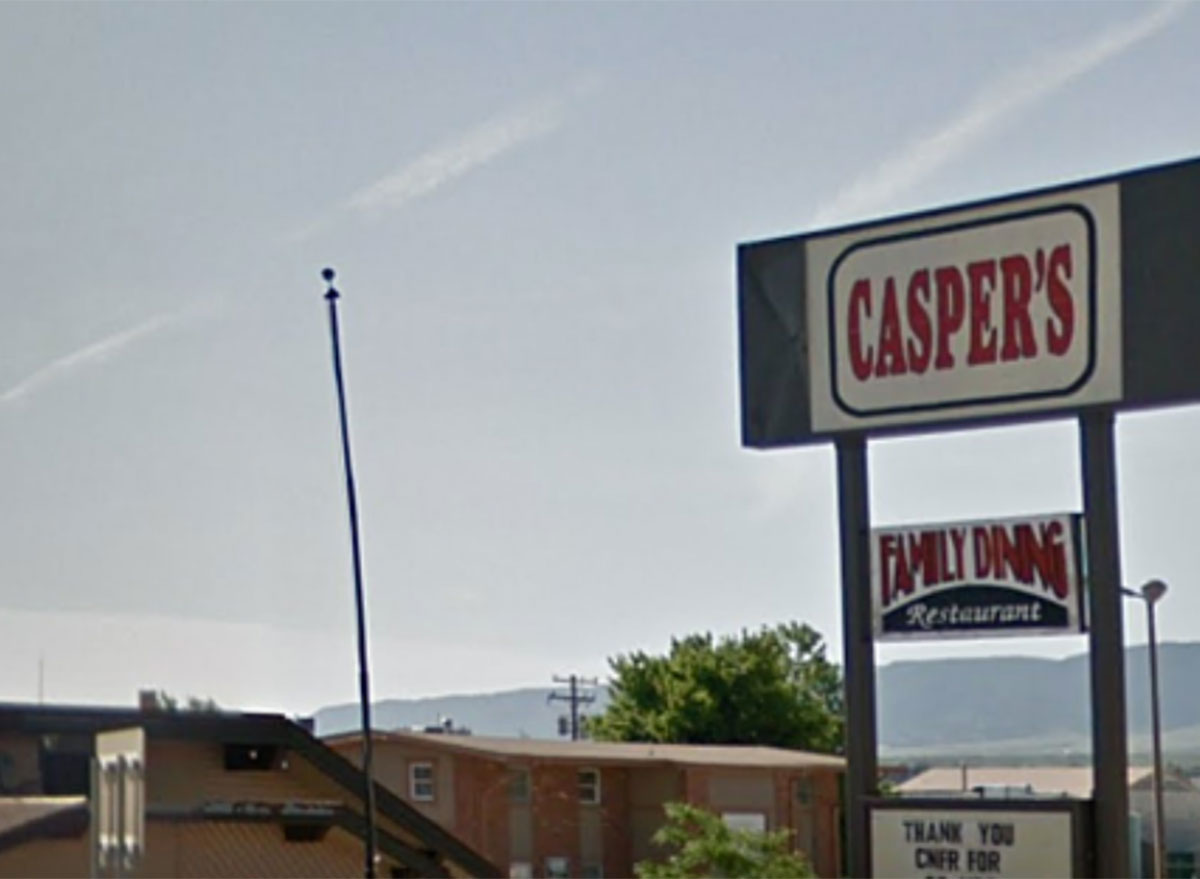 Local hangout and truck stop treasure, Casper's Good Cooking, closed its doors in March after 42 years of serving travelers and the Casper community.
And for more, check out these 108 most popular sodas ranked by how toxic they are.