This Ingredient in an Online Meal Service's Food Is Being Tied to Another Outbreak of Illnesses
Reports of liver dysfunction and hospitalization are on the rise.
In June, online food delivery company Daily Harvest issued a recall of its Lentil & Leek Crumbles snack after almost 500 people reported getting dangerously ill after eating it.  Now there's another company in hot water over a product that is also making people sick. A lawsuit has been filed against Revive Superfoods about a smoothie it sells on its website. 
The case was filed on July 25 in the US District Court for the Eastern District of New York by a Revive Superfoods customer who says she was hospitalized on three separate occasions after consuming the Mango and Pineapple smoothie. Similar to the Daily Harvest cases, the customer  says she experienced "elevated liver levels and stomach pains."
RELATED: This Beloved Juice Box Is Drastically Changing Its Ingredients for the Second Time in 7 Years6254a4d1642c605c54bf1cab17d50f1e
As of July 14, the FDA has received 277 reports of illnesses regarding the Daily Harvest recall. The delivery company has received more than 470 reports. Nearly 100 customers required hospitalization with symptoms including jaundice, stomach pains, and liver damage. The food poisoning was even so bad for some people that it necessitated gallbladder removal and, in one particularly bad case, a liver transplant. While these are two different companies with two different products, there is one thing they have in common—the ingredient tara flour.
"As soon as I read about Daily Harvest and I found out what happened to all of those victims it sounded exactly like my story," Nadia Eletribi told ABC 7 News.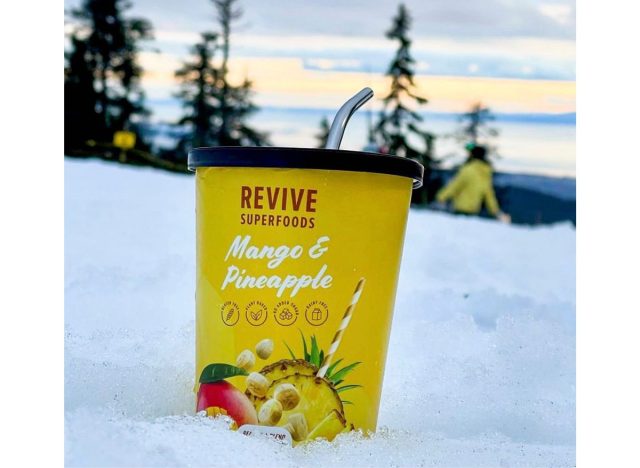 After going quiet regarding any findings as to the cause of the outbreak, Daily Harvest CEO Rachel Drori said on July 19 that the company identified tara flour as the root of the outbreak. This is a plant-based protein that is native to Peru and is one of the ingredients listed for the crumbles. It is also listed in the ingredients for the Revive Superfoods' Mango and Pineapple smoothie.
More customers are coming forward with reports of getting sick and needing to be hospitalized after consuming the smoothie product from Revive, according to ABC 7 News. The company has allegedly emailed customers addressing the outbreak which said it has stopped shipping the product, although there is no information listed about it on the website. Since the smoothie is placed in the freezer with a long shelf life, weeks or months of reports could continue to roll in. The FDA is currently investigating the product.
Prior to finding the cause of the Daily Harvest illness outbreak, many doctors were stumped as it wasn't something typically found in food poisonings and most infectious bacteria, like listeria, were ruled out.
Currently, Daily Harvest is experiencing a lawsuit of its own after a customer had their gallbladder removed. Additionally, many have called the company's response to the issue, which was an emailed recalled alert, underwhelming in light of its serious nature. And while the product is no longer being sold today, from April 28 to June 17, almost 30,000 packages were mailed to customers in 34 states.
Amber Lake
Amber Lake is a staff writer at Eat This, Not That! and has a degree in journalism from UNF in Jacksonville, Florida.
Read more about Amber