Starbucks Quietly Discontinued This Popular Menu Item, and Fans Are Starting to Notice
The holiday treat didn't come back this year.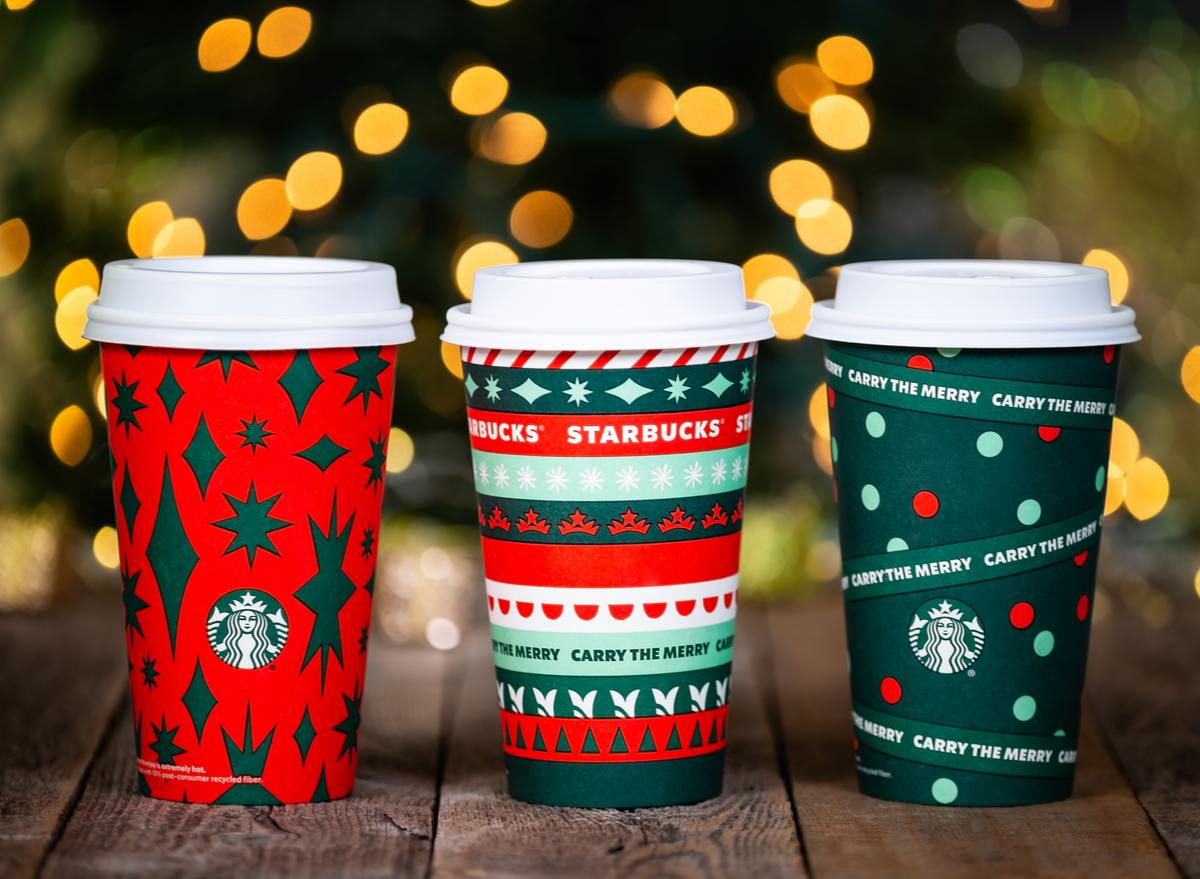 Starbucks recently let customers down with a botched Black Friday deal that left them feeling duped. But there's even more disappointment in store for those looking to order a beloved holiday classic from America's largest coffee chain.
While this year's holiday menu additions took place several weeks ago, fans are only now beginning to catch on to the fact that the Eggnog Latte is missing for the first time in years. The long-running favorite was first introduced in 1986, according to Starbucks, so its omission on this year's seasonal menu is felt by Starbies far and wide.
The absence of the beverage was confirmed by a Starbucks spokesperson who gave a statement about the company's decision to nix the eggnog to Thrillist. "As a standard course of business, we continually evaluate the items on our menu, using various criteria to ensure we are meeting the needs of our customers and our business priorities," the statement read. "While we no longer offer the Eggnog Latte, our partners will be happy to recommend an alternative beverage or customization."
In short, Starbucks has concluded that we've moved on from the good old eggnog, and are now after more interesting novelties, like the Iced Sugar Cookie Almond Milk Latte, Peppermint Mocha, or Caramel Brulée Latte, all of which have been released this holiday season.
The complaints and criticism over the decision to cut Eggnog Latte began to roll in last month, and have not let up.
The discontinued Starbucks Eggnog Latte was a blow to holiday beverage fans across the nation, and one made worse by the fact that several other big coffee chains also skipped an eggnog beverage on their 2021 menus.
A look through the Dutch Bros menu reveals holiday drinks like the White Chocolate Chai Latte and the Cinnamon Swirl Oat Milk Latte, but alas, no eggnog. So too does the Scooter's Coffee holiday menu have plenty to offer, like the Holiday Spice Caramelicious, the Sugar Cookie Latte, and the Peppermint Mocha, but no eggnog anything.
For more, check out:
Starbucks Is Releasing This Major Celeb Collaboration Today

A Chicken Tender Shortage May Soon Hit Grocers and Fast-Food Chains, Reports Say

Customers Are Mocking This Fast-Food Chain's Underwhelming Freebie Deal
And don't forget to sign up for our newsletter to get the latest restaurant news delivered straight to your inbox.
Steven John
Steven John is a freelancer writer for
Eat This, Not That!
based just outside New York City.
Read more about Steven