Drinking This Increases Your Risk of Skin Cancer, New Study Says
This juice and UV light might be a dangerous mix—a key insight for Skin Cancer Awareness Month.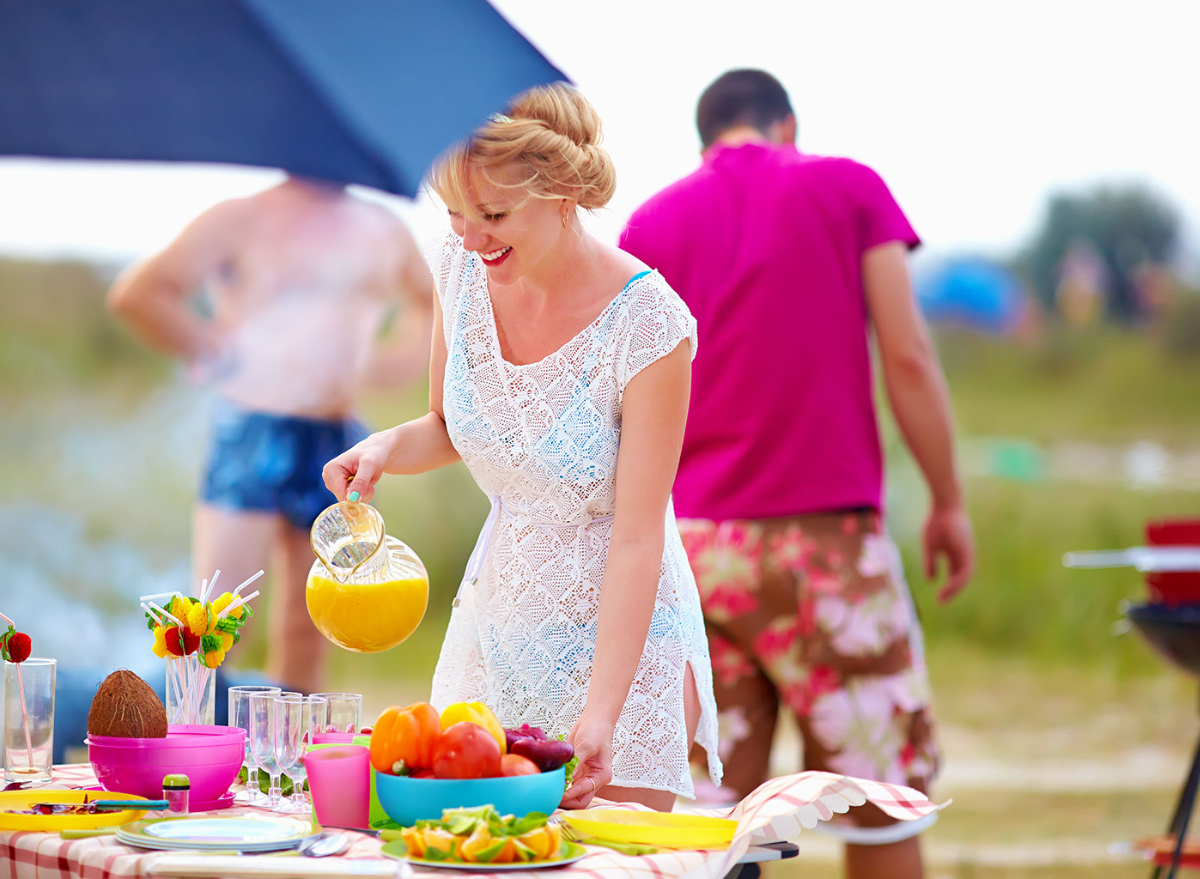 If you enjoyed a Cinco de Mayo margarita last night, then you might want to add a little extra sunscreen this morning. That's according to a new study, which found a link between drinking a certain type of juice, and increased skin cancer risk.
May happens to be Skin Cancer Awareness Month, and a group of researchers at various universities throughout New England have just published a new study in Cancers, a peer-reviewed Swiss medical journal. They were aware of past animal studies that had suggested there is a type of organic, photoactive compound present in citrus products that had been shown to increase the risk of non-melanoma skin cancer (meaning, the less serious type of skin cancer) when citrus consumption was combined with ultraviolet radiation exposure.
The scientists in the current study were interested to observe how citrus intake affects post-menopausal women—that is, women aged 50 to 79 years when they enrolled for this study. The researchers ran data from 49,007 non-Hispanic white participants in this age range who had completed a food frequency questionnaire as part of the the Women's Health Initiative (WHI) Observational Study, conducted between 1993 and 1998. At annual followup surveys, the women reported whether they'd developed non-melanoma skin cancer (basal cell carcinoma or squamous cell carcinoma).
The researchers looked specifically at how many of these participants reported intake of citrus fruit, citrus juice, and non-citrus fruit and juice; as well as how frequently they consumed citrus. It turned out that 8,642 women from this sample (about 18%) later reported that they'd developed non-melanoma skin cancer, and the risk increased with a greater amount of citrus consumed.
The researchers of this citrus/skin cancer study concluded: "[…T]here were indications of a slightly higher risk of incident [non-melanoma skin cancer] among citrus juice consumers."
It's a fascinating finding, for sure; though the researchers point out that greater citrus consumption only increased skin cancer risk incrementally. Plus, it may be wise to note that looking at melanoma cases would be helpful, since melanoma is the deadliest form of skin cancer.6254a4d1642c605c54bf1cab17d50f1e
Also, the current study kept their sample pretty narrow by not including women from other races and ethnicities to be more inclusive of a variety of skin tones (not to mention how much more sun exposure in some parts of the world has grown due to changes in the ozone, compared to more than two decades ago when this data was first collected).
And while the researchers in the current study looked at sun exposure to what sounds like a minor degree, it's good to keep in mind other factors which could be involved in this interplay between citrus and skin cancer—such as the possible geographical implications. One example: People who live in citrus-raising climates like Florida may be more likely to get lots of sun and to treat themselves to fresh-squeezed citrus juice each morning.
Still, with an illness as serious, common, and often preventable as skin cancer is, it's helpful to know how our daily choices might impact our chances of getting it. Next, check out I'm a Doctor and This Ages Your Skin Terribly.
Sign up for the Eat This, Not That! newsletter for your daily nutrition and wellness news.
Krissy Gasbarre
Krissy is a senior news editor at Eat This, Not That!, managing morning and weekend news related to nutrition, wellness, restaurants and groceries (with a focus on beverages), and more.
Read more about Krissy