This Is The #1 Fitness Trend of 2022, New Survey Says
It's something you can easily add to your routine for a productive update.
A new year means opening your book to a new chapter filled with fresh beginnings. One important aspect you may like to reassess in this chapter is the fitness habits you have, or perhaps new practices you'd like to initiate into your current routine. It can be overwhelming deciding what you need to do and what will actually work best for your individual circumstances and lifestyle. If you have a home gym or live in a complex that offers a gym setup, that makes it extremely convenient to exercise any time of day or night that works best for your schedule. And if you're a bicyclist who lives in a town with ample bike trails or a hiker who's surrounded by picturesque mountains, those are total no-brainers.
When you're considering changing or enhancing your own exercise habits, it's always fun checking out what fitness routines and products are trending at the top of the charts — especially if it's something that can make you more productive. Besides, sprucing things up can break up the monotony of your workout and keep things exciting. Read on to learn more about what's 2022's hottest fitness trend, according to a new survey. And for more, check out The "Simple" Exercise Rebel Wilson Did To Drop 75 Pounds.
This year's top fitness trend is wearable tech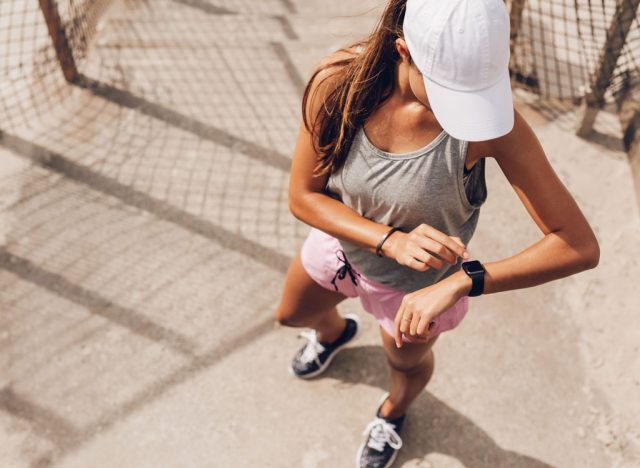 When it comes to fitness trends, it should come as no surprise that the number one trend in 2021—due to the ongoing COVID-19 pandemic—was online training and virtual training, according to a worldwide survey of fitness trends via the editors of ACSM's Health & Fitness Journal®. According to this year's survey, in 2022, however, it seems online live and online demand exercise came in 9th place — and most likely for good reason. The survey suggests that our desire to gravitate back to life pre-COVID is switching things up and getting us out of the house a whole lot more.
Wearable technology is the number one fitness trend for 2022, according to the new survey. This fitness trend rated 2nd in 2021, but also happened to score the first place spot in both 2019 and 2020. Coming in 2nd and 3rd on the fitness trend list for 2022 are home exercise gyms and outdoor exercise, respectively.
Wearable fitness tech to shop that'll keep you on-trend
If you are in need of some wearable tech swag, there are plenty of cool items on the market you can shop, including fitness rings. The makers of this high-tech activity tracker claim the Oura Ring is precise in providing individualized info regarding your activity, heart rate, sleep, and body temperature. In addition, Google is rumored to launch the Google Pixel Watch sometime in 2022. Plus, items like the TicWatch E3, Fossil's Gen 6, and TicWatch Pro3 smartwatches will reportedly get the Wear OS 3.0 software update this year, too. So be sure to stay on the lookout if you want to grab the latest and greatest wearable tech.
It's no surprise that wearable technology is having a major moment this year. After all, it's a super convenient, accurate way to stay on top of health and fitness goals, trace your route by way of GPS tracking, and tend to texts in a timely manner. It makes any workout quite efficient, and it can be worn right on your wrist or finger.
Related: The 5 Best Lifestyle Habits That Will Keep You Feeling Young, Science Says
These fitness trends are having a moment in 2022, too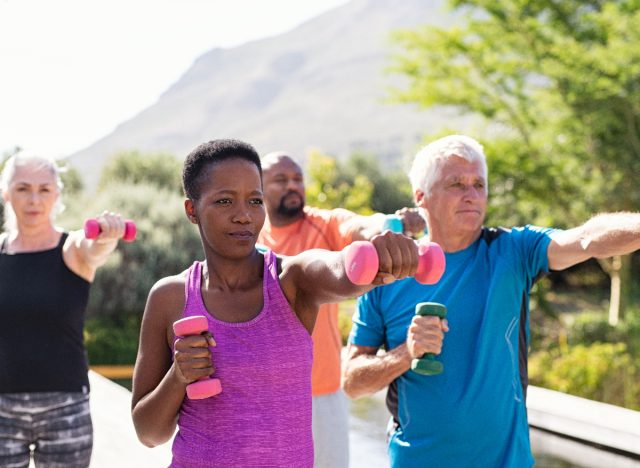 This annual ACSM Worldwide Survey of Fitness Trends has been distributed to professionals across the globe for the past 16 years in efforts to establish top fitness and health-related trends for the upcoming year. 2022 notes strength training with free weights, exercise for weight loss, personal training, high-intensity interval training, and bodyweight training at numbers 4, 5, 6, 7, and 8, respectively.
Related: The Best Full-Body Workout To Do With Resistance Bands, Trainer Says
For more…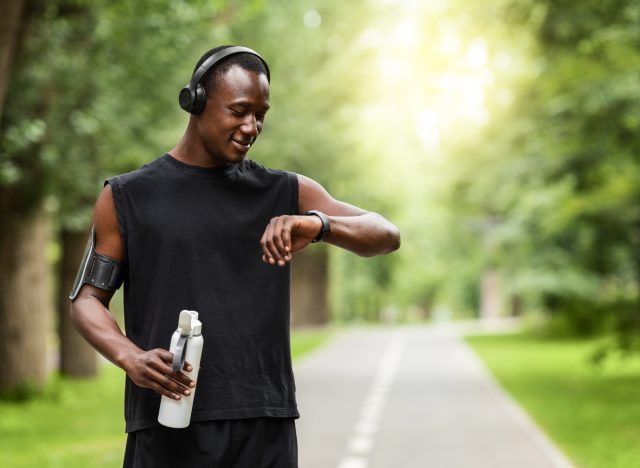 For the latest Mind + Body news, check out Two Major Benefits of Running Just 10 Minutes a Day, New Study Says and Meditating Can Impact Your Immune System In This Incredible Way, New Study Says.
Alexa Mellardo
Alexa is the Mind + Body Deputy Editor of Eat This, Not That!, overseeing the M+B channel and delivering compelling fitness, wellness, and self-care topics to readers.
Read more about Alexa