If You Bought This Chocolate at Trader Joe's, Don't Eat It, FDA Says
6.1 million Americans are allergic to peanuts, and this treat could contain them.
Grocery stores are no strangers to food recalls—Trader Joe's included. In the last year, the beloved chain's Sweet Potato Saute Bowls, White Corn Tortilla Chips, and even the popular Gluten-Free Battered Halibut have been pulled from shelves because of undeclared allergens like milk, eggs, and/or wheat.
These types of food production mishaps are dangerous because a shopper who's allergic or has a sensitivity to an ingredient not listed on the packaging could be put in danger of having a severe or life-threatening reaction after consuming the product.
And now, there's another Trader Joe's product to add to this list. Read on to find out which item is being recalled and why, and after, make sure to check out the 7 Healthiest Foods to Eat Right Now.
Trader Joe's has issued a recall of a popular chocolate treat.
According to Food Allergy Research & Education (FARE), of the 32 million Americans who have food allergies, 6.1 are allergic to peanuts. While the other recent Trader Joe's recalled products may have contained dairy or wheat ingredients, those with a peanut allergy should be extremely cautious about the latest one.
Trader Joe's Dark Chocolate Almond Butter Cups come in a 1.4-ounce pack of two and contain tree nuts. However, although the label mentions that it "May contain traces of peanut," the recall was announced after reports of allergic reactions, Trader Joe's says. The treats are supplied by Bazzini LLC, of Allentown, Pa., which is the company that originally announced the recall.
"If you purchased any Trader Joe's Dark Chocolate Almond Butter Cups (2-Pack) with the affected date codes (APR 05 2022, APR 06 2022, or APR 07 2022) and have a peanut allergy, please do not eat it," Trader Joe's says in the recall notice. "We urge you to discard the product or return it to any Trader Joe's for a full refund."
Related: To get all the latest food safety news delivered right to your email inbox every day, sign up for our newsletter!
However, this isn't the only recall for food at a major grocery store chain to be announced recently…
Nine types of shrimp sold at Whole Goods, Meijer, Safeway, and more are being recalled.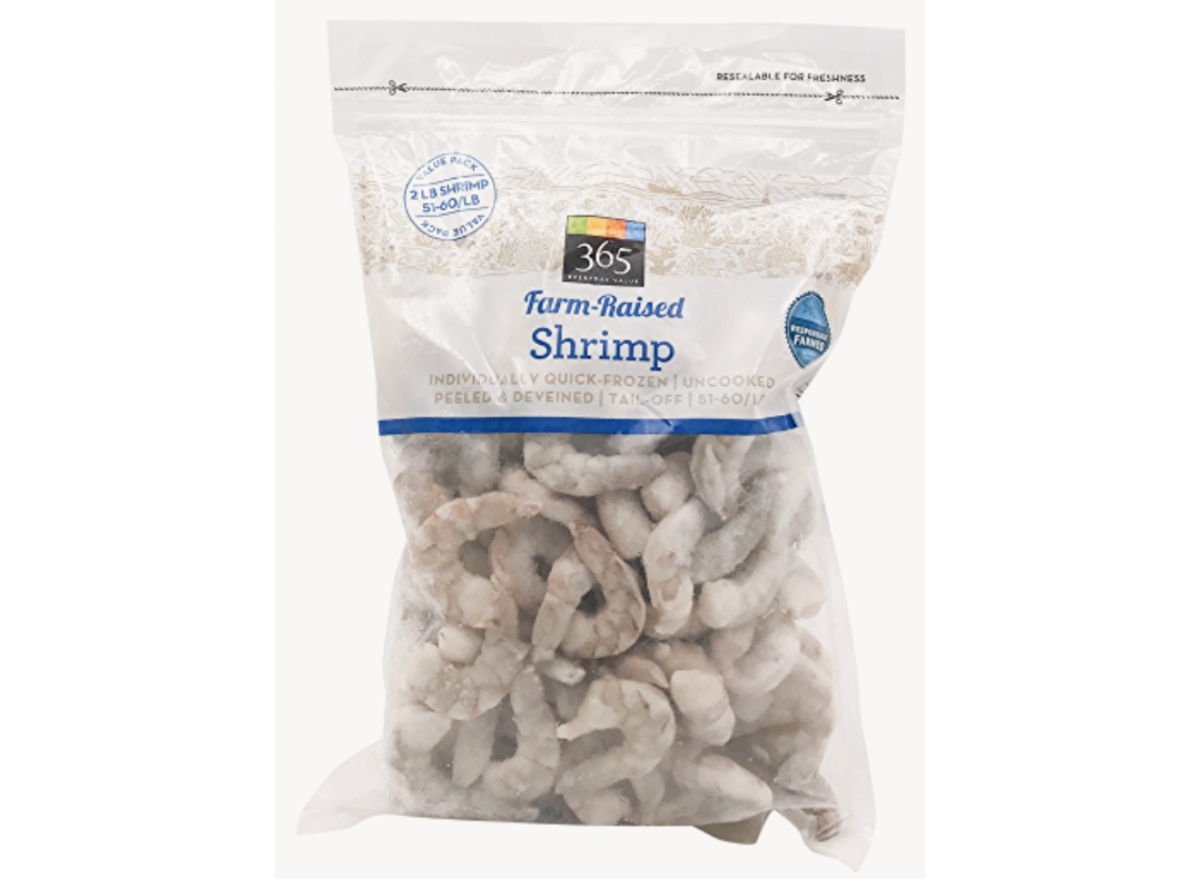 Avanti Frozen Foods issued the recall for the different types of shrimp in bags weighing 1-7 pounds because they could contain Salmonella. They all were originally distributed to supermarkets in December 2020, but they could still be in customers' freezers because the expiration dates are in 2022.6254a4d1642c605c54bf1cab17d50f1e
Six reports of Salmonella-related illnesses have been uncovered so far, according to the FDA.
The CDC is currently investigating this case, and says: "The true number of sick people in an outbreak is likely much higher than the number reported, and the outbreak may not be limited to the states with known illnesses. This is because many people recover without medical care and are not tested for Salmonella. In addition, recent illnesses may not yet be reported as it usually takes 3 to 4 weeks to determine if a sick person is part of an outbreak."
Dole blueberries are being recalled because they may contain a parasite.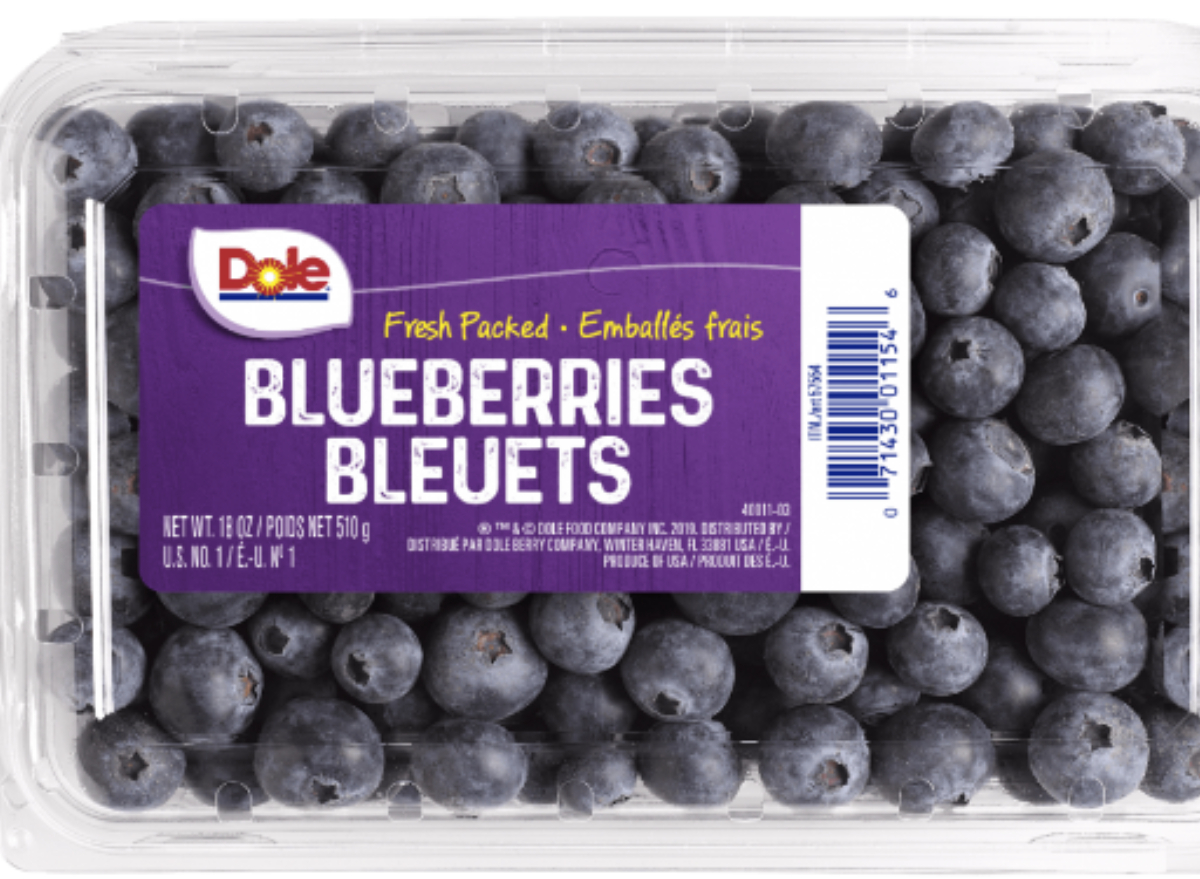 The FDA announced this recall recently because the packages could contain Cyclospora, a parasite that can cause intestinal illness with symptoms like abdominal pain, diarrhea, nausea, vomiting, body aches, and fatigue. The blueberries were sold in Illinois, Maine, New York, Wisconsin, and Alberta and British Columbia in Canada.
Another food that isn't safe to eat? The eggs in this viral egg hack video.
A Costco snack was recalled for a unique reason.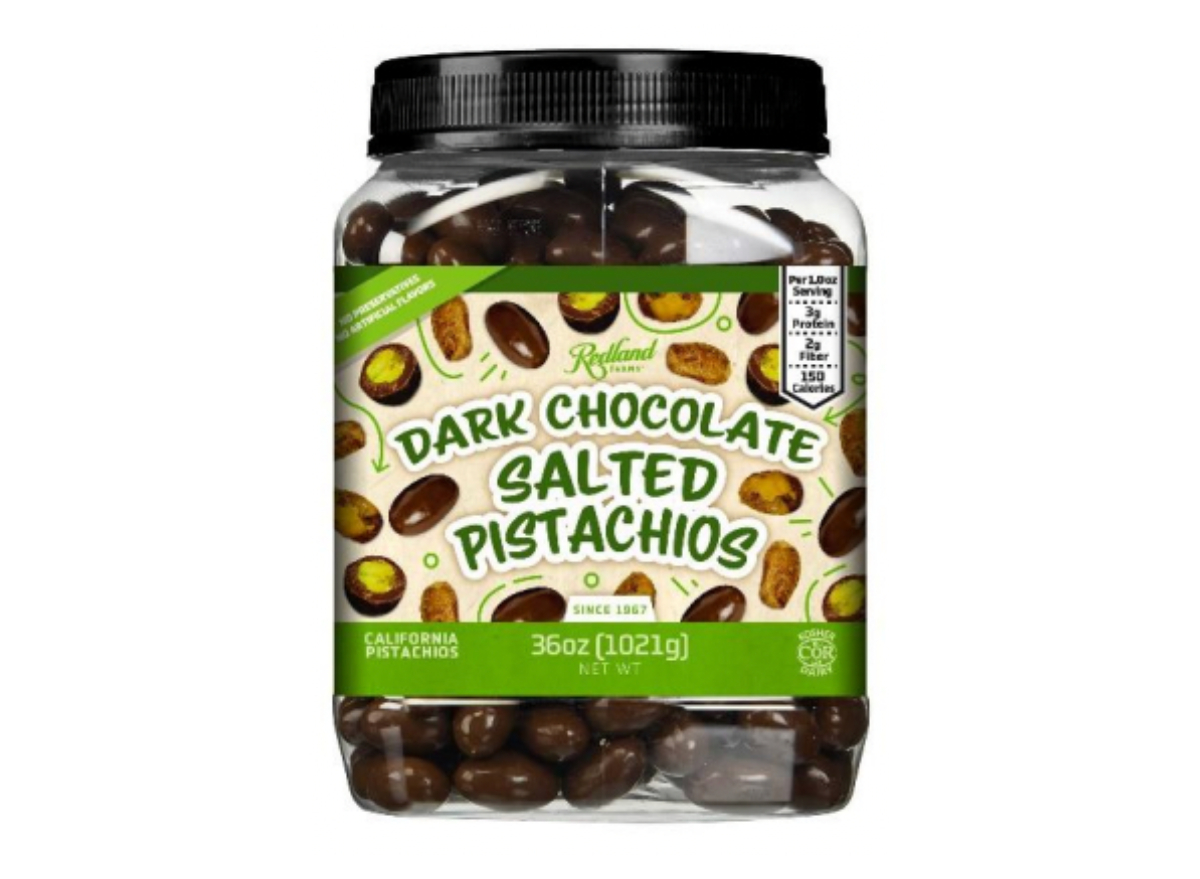 The Redland's Dark Chocolate Covered Pistachios are being recalled not because of a health risk, but for another peculiar reason.
"It has come to our attention that some of the pistachios in this product may have been over roasted," Redland Foods Corp. explains to Costco members in a recall announcement. "While not a food safety issue, this does not meet our quality expectations."
So, there is no threat to your health if these nuts are in your pantry, but you can still return them to Costco for a full refund.
For more on food safety, read these next:
This State Is Experiencing a Spike in Foodborne Illness, Health Department Warns
Amanda McDonald
Amanda has a master's degree in journalism from Northwestern University and a bachelor's degree in digital journalism from Loyola University Chicago.
Read more about Amanda