Trader Joe's Employees Just Revealed Their Favorite Items
The biggest fans of the cult favorite might be its own crew.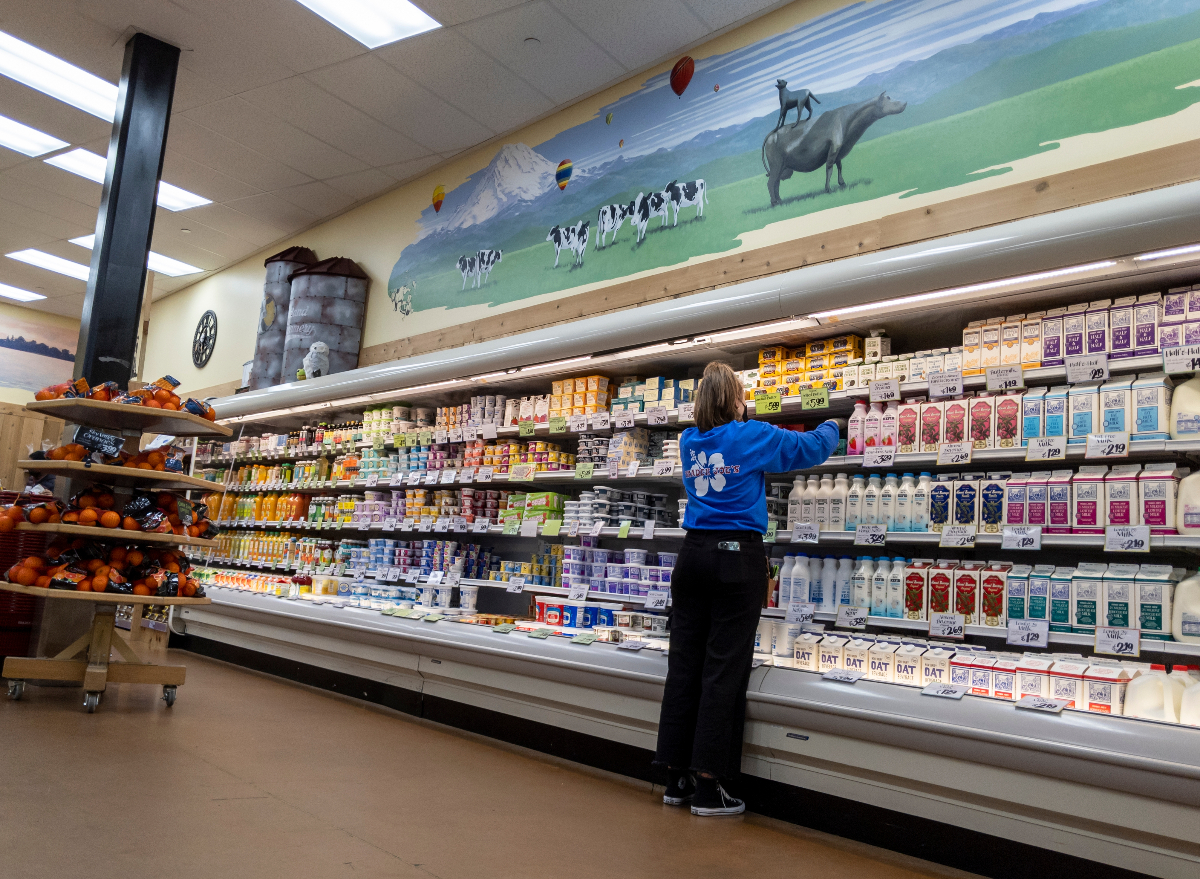 Regulars at one tropical-themed grocery retailer have probably experienced walking through the aisles or standing at the cash register and chatting with the employees about which products are worth scooping up. If you think it's just a marketing ploy that the Trader Joe's crew members are all required to participate in, think again.
In the 50th episode of the Inside Trader Joe's podcast, "A Trader Joe's Journey from Portland (ME) to Portland (OR)", marketing executives Tara Miller and Matt Sloan talk to employees from two stores across the country from one another to find out what they love most about the private-label grocer.
"If the customer buys something that's one of their favorite things, they almost can't help themselves but say, 'Oh, I love that too,'" crew member Jon Basalone tells Miller and Sloan.  Many of the interviewed employees also had their own TJ's foods and drinks to rave about.
Read on to find out which products Trader Joe's experts name their standouts, from the historical and current aisles of their very own stores. Some of these even include easy item combinations you can whip up for dinner (Mandarin Orange Chicken, anyone?).
Best Item: Atalanta Halloumi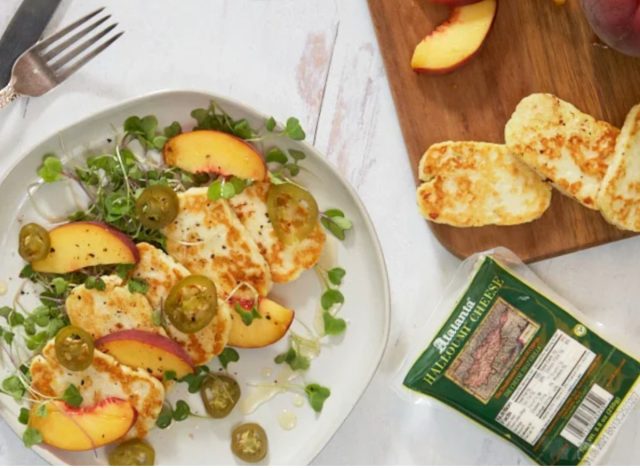 This melting cheese isn't currently in stock, but Maine crew member Kathy is eagerly awaiting its return. Traditionally made with sheep's milk, the Atalanta Halloumi adds a special touch to theirs: a refreshing hint of mint.
The Trader Joe's Recipes page has an entry featuring the popular cheese, using it in a "Fried Halloumi Salad" alongside grilled peaches and jalapenos. Kathy says she grills the cheese first, then air fries it to achieve that ideal crispy exterior and gooey interior texture.
Best Item: 2020 Trader Joe's Diamond Reserve Cabernet Sauvignon, Stag's Leap District
Not only does Trader Joe's sell quality groceries at an affordable price, it also carries an impressive wine collection. Experienced wine industry veteran Leyne acts as the sommelier of the Portland, Maine store to pair customers' meals with a bottle of wine whenever asked.
His pick for the best wine is the 2020 Stag's Leap Cabernet Sauvignon. According to a review from a wine blog, Trader Joe's had a very limited release of this Diamond Reserve, described in The Fearless Flyer as, "rich, dense, and superlatively satisfying, with layer after layer of complex, dark fruit." The announcement also alluded to a secret "prestigious vineyard" that produces the wine, which made this $19.99 bottle even more of a steal.
Favorite Combo: Wild Raw Argentinian Red Shrimp, Japanese Style Fried Rice, Vegetable Stir Fry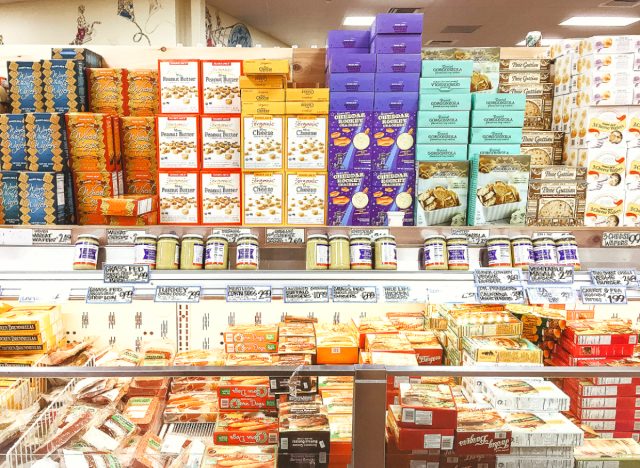 Portland, Maine store crew member Jabrell uses all these freezer-aisle goodies to make a shrimp fried rice. If you can't find Japanese Style Fried Rice in stores right now, there are plenty of alternatives. One with some heat: Spicy Thai Shrimp Fried Rice – which comes with its own shrimp and veggies. It's almost too easy.
Favorite Combo: Mediterranean Pitas, Green Goddess Sauce, Salmon, and Onions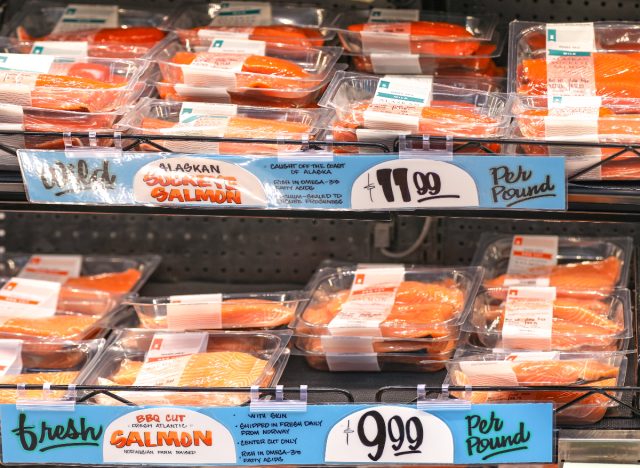 Jabrell also features these as the ingredients to another favorite recipe. "I'll make salmon on a pita too," he says. "Like with those Mediterranean pitas that we have with some of the Green Goddess Sauce and salmon [and] onions."
Honorable Mention: Frozen Rainbow Trout Fillets, Farm-Raised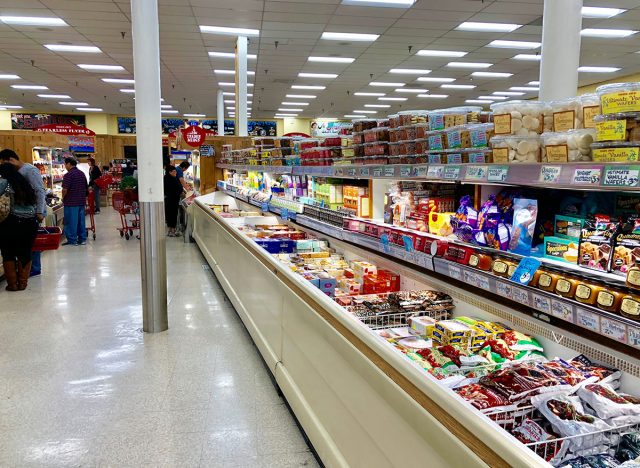 This omega-3-rich fish is available in the freezer section at a pound for $7, according to a seafood review blog. But Sloan notes that the trout doesn't end up in many customers' carts, despite its quality.
"It can be so full flavored that some people, including myself, get a little freaked out by how fishy it is," Miller adds. "But I think the trout that is in our freezer is more in line with the full flavored nature of the salmon, as opposed to being like fishy, fishy."
These are probably good for an occasional no-meat meal, but the blog takes points off for the small size of the fillets. Farm-raised fish is also less nutritious than wild-caught, but the benefits of eating any fish at all are found to outweigh cutting it out entirely.
Honorable Mention: Branzino Fillets European Sea Bass, Farm-Raised
Miller brings the branzino, AKA European Sea Bass, to the table in response to the trout, for its mild flavor and flaky texture. Trader Joe's recommends a simple preparation: "thaw the Fillets, drizzle with olive oil, and top with fresh lemon wheels & herbs before you bake, grill, or pan fry."
Honorable Mention: Cacio e Pepe Ravioli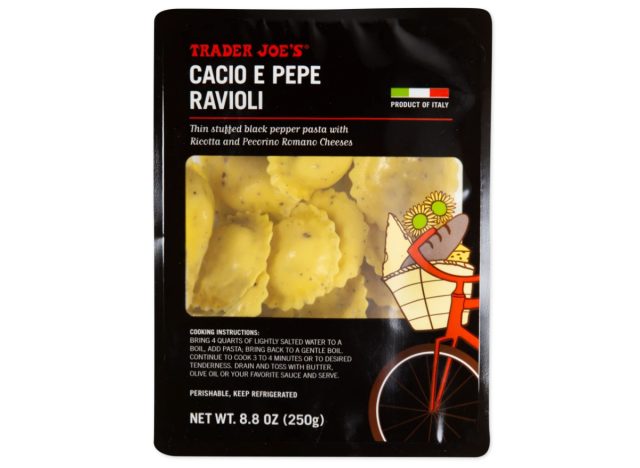 One of the unique styles of ravioli that the grocery chain carries, Trader Joe's cacio e pepe spin is filled with ricotta cheese, cream, and Pecorino Romano to create luscious "pasta pillows." Add your favorite sauce, and dinner's practically done. Plus, it's employee-approved. Both Miller and Jabrell agree that this peppery option is a good one.
In other news, here are The Best and Worst New Trader Joe's Summer Foods.
Sarah Wong
Sarah studied at Northwestern University, where she received a bachelor's degree in computer science and experimented with mixing tech and journalism.
Read more about Sarah