The Best and Worst New Trader Joe's Summer Foods
We'll tell you which are worth the trip, and which ones you can skip.
Trader Joe's is known for its ever-changing roster of all-star products. Sometimes the shelves look different after bidding farewell to old favorites. More often, however, the neighborhood grocery store drops new bites for customers to discover – and it just released these new products for the summer.
But which ones should you actually add to your cart? Not all food is created equal, especially when considering your health. We talked to Eat This, Not That! Medical Expert Board member Lisa Young, PhD, RDN, author of Finally Full, Finally Slim, nutritionist in private practice, and adjunct professor of nutrition at NYU. Young shared with us which three summer items you can feel good about bringing home and which three you might want to avoid.
Items to skip
Gluten Free Double Chocolate Muffins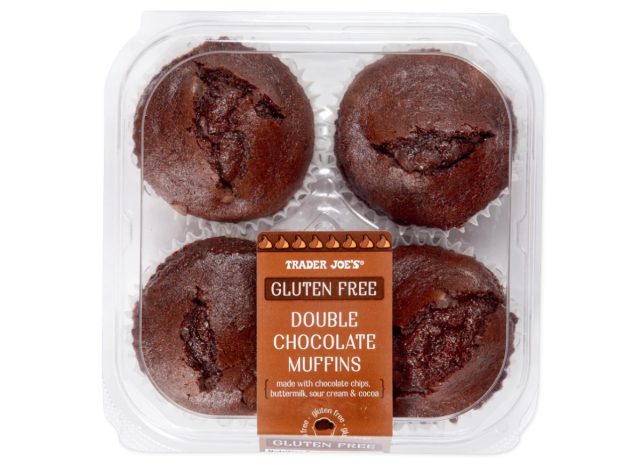 Per 1 muffin
: 430 calories, 25 g fat (4.5 g saturated fat, 0 g trans fat), 390 mg sodium, 47 g carbs, 2 g fiber, 23 g sugar, 4 g protein
For those with a gluten intolerance, it can be tough to find baked goods. But made from a combination of rice flours and potato and tapioca starches, buttermilk, sour cream, and two types of chocolate, one of these muffins isn't going to do the trick.
"I'd skip this muffin with over 400 calories," Young says. She notes that one muffin contains more than 20% of the daily recommendation for saturated fat and nearly half of the recommendation for added sugar. Although, maybe if you cut it in half, this could make a nice occasional treat.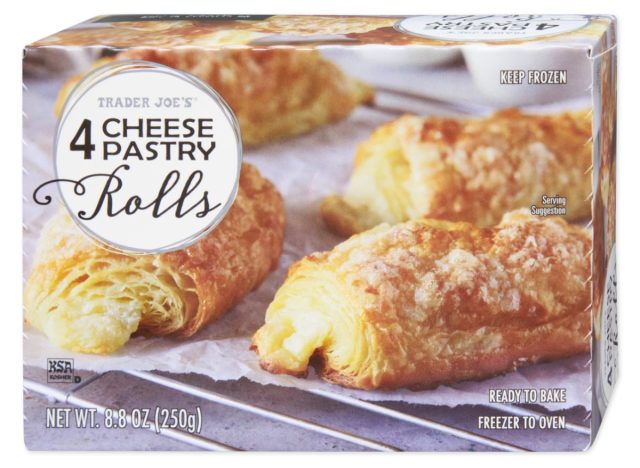 Per 1 pastry
: 220 calories, 14 g fat (9 g saturated fat, 0 g trans fat), 170 mg sodium, 20 g carbs, 0 g fiber, 8 g sugar, 4 g protein
Cheese seems to make everything taste better – but at a cost to your nutrition. And this flaky croissant is stuffed with cream cheese for an oozy, warm bite that Young warns against making your daily breakfast add-on. "One pastry roll contains 9 grams saturated fat, almost half of your recommendation for the day so I'd skip it."
Gluten Free Cheese Ravioli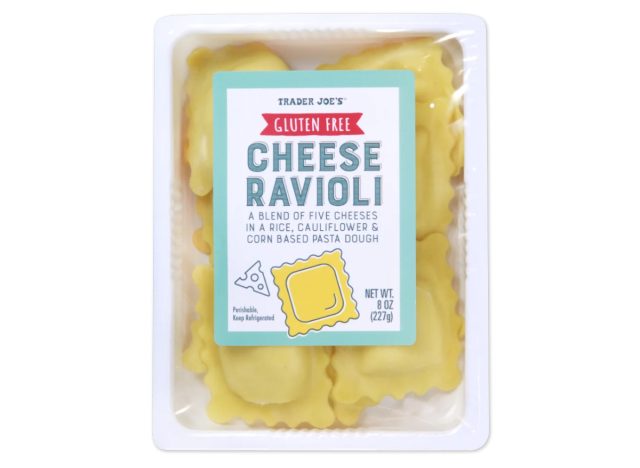 Per 1 cup
: 230 calories, 7 g fat (4.5 g saturated fat, 0 g trans fat), 310 mg sodium, 31 g carbs,  g fiber, 2 g sugar, 11 g protein
Some more bad news for the non-gluten foodies: this wheatless pasta isn't the holy grail substitute it appears to be. Young warns to be wary of this alternative because of how processed it is.
"This ravioli may be gluten-free, but buyer beware—it is not much healthier than the regular varieties," she says. "It has about the same number of calories as regular ravioli, tapioca starch, and a very long ingredient list."
Trader Joe's new items to try!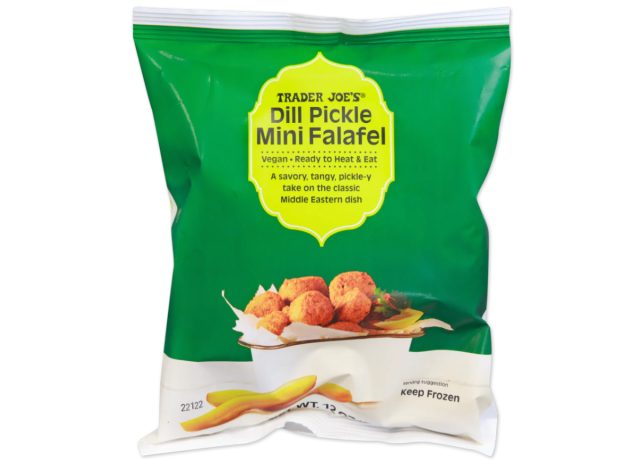 Per 10 pieces
: 200 calories, 8 g fat (1 g saturated fat, 0 g trans fat), 550 mg sodium, 22 g carbs, 7 g fiber, 2 g sugar, 8 g protein
The pickle-flavored falafel is a great side for those avoiding meat because it's made with protein-filled chickpeas. You can heat it up from frozen and add it to a mezze platter or a bowl of rice and fresh vegetables. And the best part – it's also guilt-free, according to Young.
"This is a yummy combination for a plant-based dish," she says. "It is a good protein alternative and also high in fiber making it a good pick."6254a4d1642c605c54bf1cab17d50f1e
Crispy Crunchy Peanut Butter Cookies
Per 6 cookies
: 130 calories, 6 g fat (2.5 g saturated fat, 0 g trans fat), 160 mg sodium, 15 g carbs, <1 g fiber, 9 g sugar,3  g protein
Looking for a way to satisfy your sweet tooth without overdoing it? This tub of mini cookies should do the trick.
"Since we all love an occasional treat, I'd indulge in one serving of these crunchy peanut butter cookies," says Young. "6 cookies is a serving size and peanut butter cookies are my favorite!"
Per 1 piece
: 130 calories, 9 g fat (3 g saturated fat, 0 g trans fat), 550 mg sodium, 7 g carbs, 5 g fiber, <1 g sugar, 4 g protein
These artichoke cups topped with cheeses, spices, onion, garlic, and spinach fly in the face of the saying, "don't play with your food." In fact, maybe you should be looking for more ways to make eating your vegetables more exciting. 
Young calls this an interesting twist on the appetizing artichoke. "I'd enjoy this dish. It's high in taste and also contains important nutrients including fiber, calcium, and potassium."
While all six of these items are new, the grocery chain has to make room for them—and so Trader Joe's Is Discontinuing These 4 Items.
Sarah Wong
Sarah studied at Northwestern University, where she received a bachelor's degree in computer science and experimented with mixing tech and journalism.
Read more about Sarah