These Two Easter Items Won't Be On Grocery Shelves This Year
They are some of this holiday's staple items, but will be hard to find.
Spring items have already been on grocery store shelves for a few weeks, but if you still need to pick up a few items ahead of the Easter holiday on April 17, there are some things you won't find. Others will be more expensive. And it's all because of issues that have aligned at an unfortunate time.
Your next trip to the store to stock up on Easter staples like eggs and chocolate candy could be affected. What's easter without dying eggs or your favorite chocolate treat? You may have to find out.
There's a huge outbreak of the bird flu—affected grocery store eggs.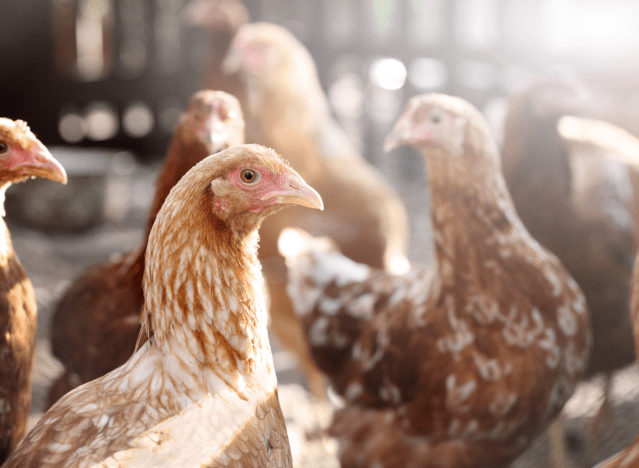 Thanks to a massive bird flu outbreak among dozens of large manufacturing plants in 24 states, companies have been forced to kill off diseased birds. Therefore there are fewer hens laying eggs.
Supply is low and more expensive.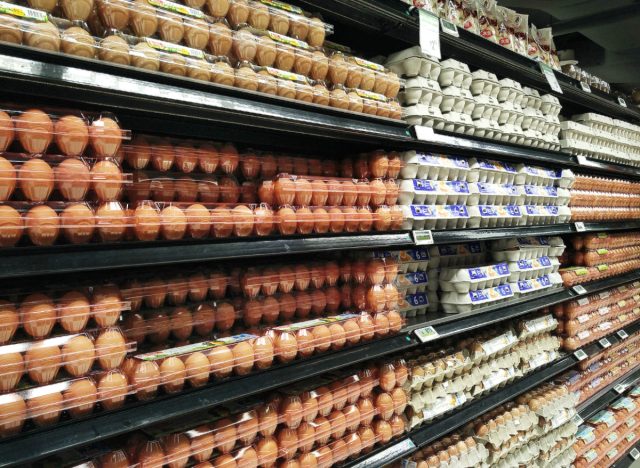 Eggs are a grocery item that doesn't follow a set price—it goes up and down based on demand. With Easter around the corner, in addition to the Jewish holiday of Passover, be prepared to pay more for a dozen. The USDA is already reporting prices as high as 44% above normal, USA Today says.6254a4d1642c605c54bf1cab17d50f1e
In addition, two different holiday-themed chocolate treats sold at Costco and Walmart aren't being sold anymore after they were recalled.
Two different Kinder chocolates sold at Costco and other grocery stores may contain Salmonella.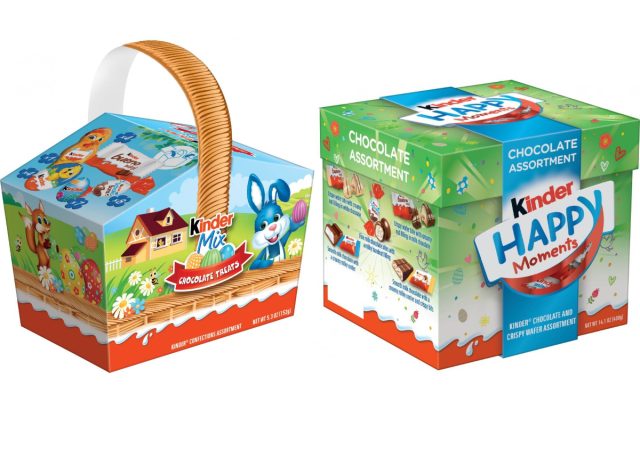 The Kinder Happy Moments Chocolate Assortment and the Kinder Chocolate Treats Basket both were produced by Ferrero in its facility in Arlon, Belgium where Salmonella bacteria was discovered. They have been recalled out of an abundance of caution. Several other Kinder products also made there have sickened more than 60 people in the UK. As of April 8, the Belgian factory is temporarily shut down, Ferrero says.
The Kinder Happy Moments Chocolate Assortment was sold at Costco warehouses in the Bay Area in California as well as Northern Nevada and in BJ's Wholesale stores. The Kinder Chocolate Treats Basket was sold in 14 Big Y Supermarket locations in Connecticut and Massachusetts. Once a product is recalled, it is removed from store floors. The company notes, though, that no other Kinder product is involved in the U.S. recall—so things like Kinder Eggs and Kinder Buenos are safe.
An Easter chocolate kit sold at Walmart is also not available anymore this year.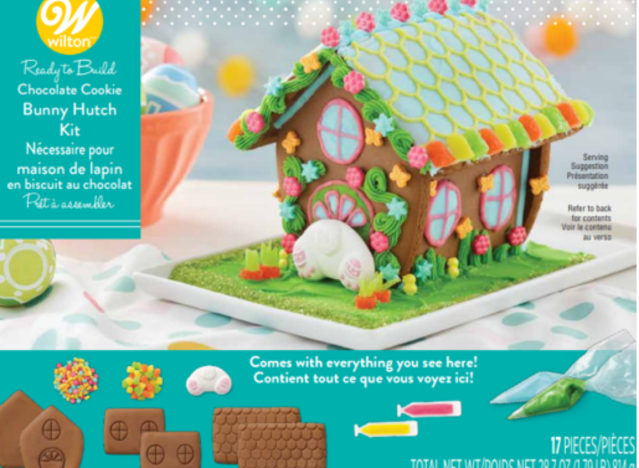 The Ready to Build Chocolate Cookie Bunny hutch kit sold at Walmart was recalled in early April because the label does not disclose that skim milk powder is an ingredient, subjecting those with a milk sensitivity or allergy to the potential to develop a reaction after consuming it.
Wilson Industries manufactures the product and says that a customer sent in an inquiry alerted the company to the mishap. The kit was available at Walmart locations around the U.S. but isn't being sold anymore and won't be a part of your Easter celebration this year.
However, eggs and Easter treats aren't the only food items facing issues right now. You May Start Seeing Less Produce at the Grocery Store Because of This.
Amanda McDonald
Amanda has a master's degree in journalism from Northwestern University and a bachelor's degree in digital journalism from Loyola University Chicago.
Read more about Amanda