5 COVID-19 Safety Rules Costco Still Has in Place
The warehouse chain just updated its list on March 3.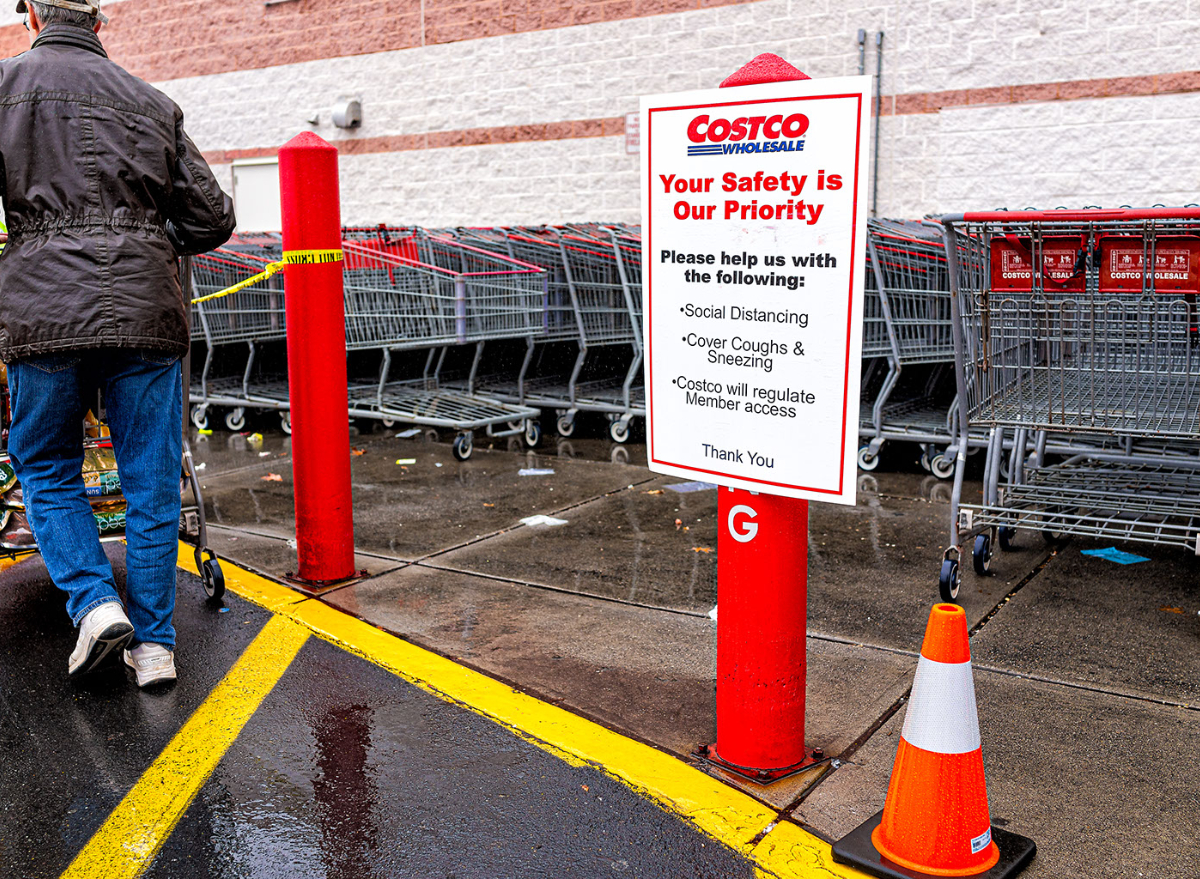 Since the start of the pandemic, the membership-only warehouse brand has designed a number of safety measures that have led to the stores looking much different from previous years. When COVID-19 cases were at an all-time high, Costco was quick to adopt certain prevention regulations and changes like the food court's touchless condiment stations, face mask policies, and even the store's COVID-19 vaccine rollout service to ensure safety—not to mention other store offerings like at-home testing kits, and administering booster shots. But in most cases, members were (and still are) expected to adapt to the megastore's safety rules that were just updated on March 3.
As the Centers for Disease Control and Prevention (CDC) closely monitors the number of COVID-19 cases throughout the country, it appears that the number of infections in the U.S. has been decreasing. Despite this sharp decline, Costco doesn't seem to be letting up on pandemic policies that were originally established. Here are all the details from Costco's "Updates and Coronavirus Response" webpage. (For more changes happening at the warehouse near you, here are 6 Things You'll See at Costco This Year.)
Face Mask Policy
The warehouse used to recommend that members continue to wear face masks throughout the store. Prior to March 3, the "Updates and Coronavirus Response" site said that Costco will continue to follow mask regulations in an effort to "protect the health and safety of our members and employees," but now the page simply says that "locations will follow the face mask regulations of the applicable state and local jurisdictions."
The last time the chain dropped mask rules in the Spring of 2021, some members became angry and wanted the chain to leave it in place.
Temporary Item Limits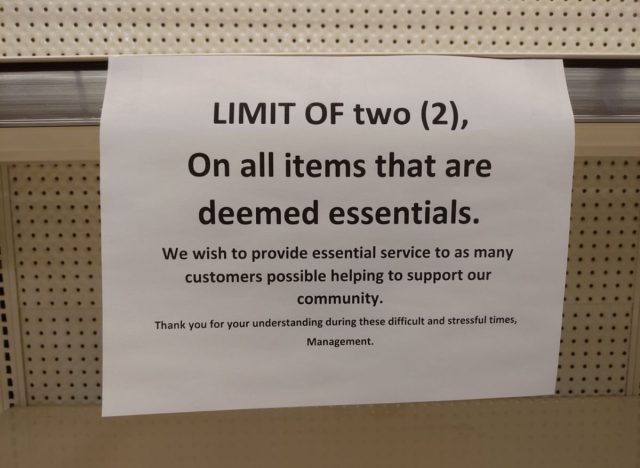 Product limits are nothing new to the seasoned Costco shopper. If it seemed like you just couldn't get enough toilet paper and cleaning supplies, it's because you could not. As per store policy, Costco imposed purchase limits on certain items like paper towels and bottled water. Nearly two years into the pandemic and some of the purchase limits have yet to be lifted. While the COVID Updates page refers to these limits as "temporary," it seems like only time will tell how just how much longer the restrictions could remain in place.
Special Operating Hours for Members Ages 60 or Older
Costco says that any members who are 60 years or older can avoid the hassle of a crowd and shop during the Special Operating Hours, which are on Tuesdays and Thursdays from 9 to 10 a.m. (but in the select cities of Brooklyn, N.Y., Culver City, Calif., Iwilei (Honolulu), Hawaii and Westbury, N.Y, those hours are from 8 to 9 a.m.).
The warehouse clarifies that this isn't only for seniors, however, because apart from the aforementioned medical professionals, the site notes that "those with disabilities or who are immunocompromised" will also be able to take full advantage of the special store hours.
Access for Healthcare Workers and First Responders
Healthcare professionals are also able to enter the store during special store hours, as stated on Costco's COVID Updates site. The website further clarified that these roles include "pharmacists and all hospital employees with a hospital ID…police officers, EMTs and firefighters." While often reserved for seniors 60 years or older, these health care workers and first responders can gain a well-deserved entry into the store during these special hours, as opposed to regular members.
Costco Food Courts
Some of us can't imagine parting with the $1.50 food court hot dog or the onion crank, and thankfully, we didn't have to! The beloved food court has stood the test of time and remains open. While the food court has seen its fair share of changes in the past year—like the removal of seating areas and adding touchless soda dispensers–Costco says that "All Costco Food Courts are open," despite the possible seating capacity limits and varied menu selection. This is great news for any shoppers who want to grab a quick bite from the megastore.6254a4d1642c605c54bf1cab17d50f1e
This isn't the only grocery store chain to update its rules lately—Walmart and Target Just Changed This COVID-19 Policy.
Alex Perry
Alex Perry is a writer with Eat This, Not That! She graduated with a master's degree in broadcast journalism from Northwestern University, where she experienced all the amazing things Chicago has to offer.
Read more about Alex