Walmart Worker Reveals Employees Hate When Customers Do This
Have you ever done this before?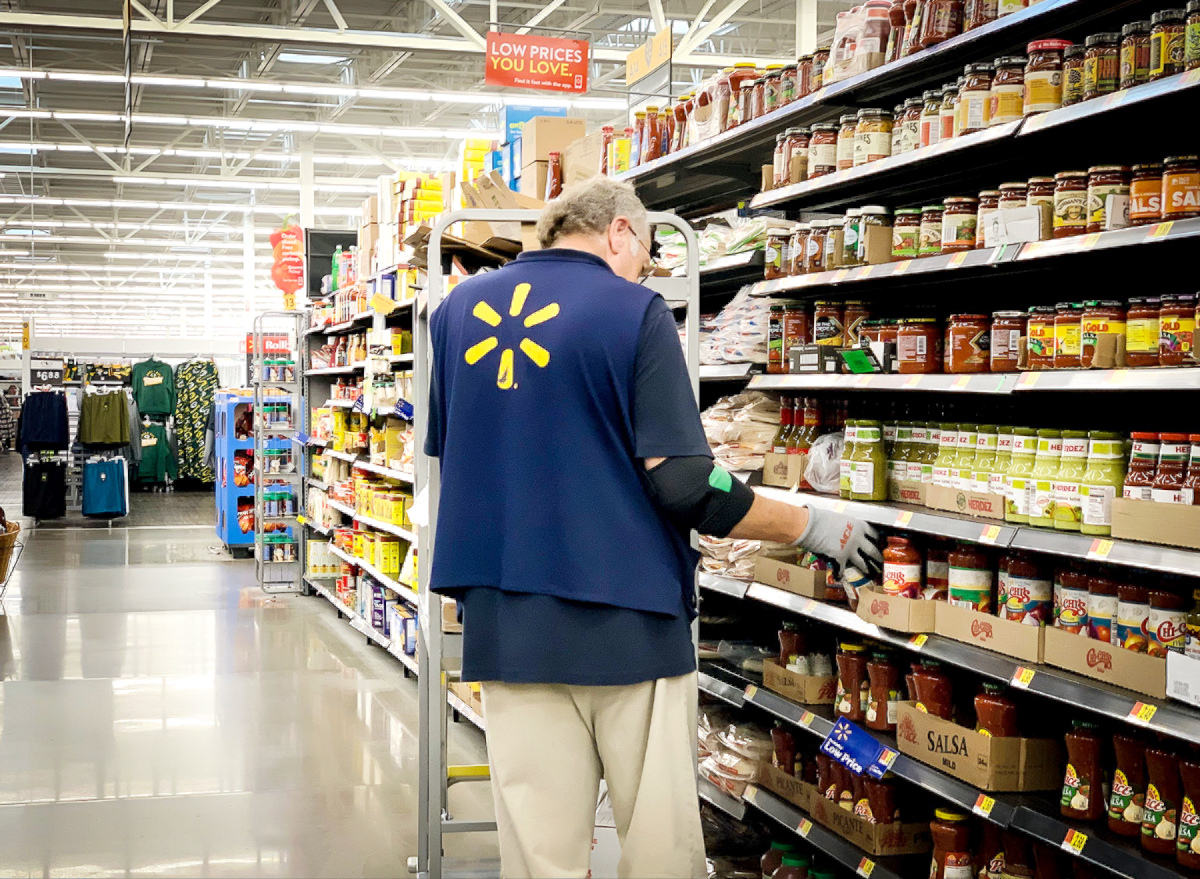 The average size of a Walmart location is about 180,000 square feet. That's part of why America's largest retailer has long been a one-stop shop, where you can find everything from groceries and furniture to clothing and home goods.
Electronics is another item that is available at everyday low prices, and this department typically has its own checkout open. However, Walmart shoppers apparently attempt to use the electronics checkout for something other than its intended purpose.
In a viral TikTok video posted on Jan. 4, an individual who identified as a Walmart employee revealed that some customers try to use the electronics checkout as a grocery checkout.
"I'm not ringing up $300 work of food," TikTok user @benji.2x captioned the video. Meanwhile, emblazoned on the screen are the words "when a customer with a full cart of groceries tries to check out at electronics."
Related: 6 Things You'll See at Costco This Year
The clip shows the worker singing along to the song "Love Yourz" by J. Cole, saying they "came a long way" but they "went the wrong way." You can watch the video here, but first be aware that it features explicit language.
"No for real like I'll be trying to get a charger and I can't because someone with 20 things won't give ya'll the time to," one person commented on the video.
Others who appear to be Walmart employees revealed they had encountered the same problem. In the process, they highlighted a major difference between the checkouts in the front of the store and the ones in the electronics department.
"They be getting mad when I can't scan they fruits and vegetables because we can't weigh it," one individual said, to which the original creator responded "exactly."
"People have tried to pay at the FITTING ROOM," another person added. "We don't even have a register???"
The poster explained that his store is large, and the electronics department is always busy. Thus, he prioritizes customers who are purchasing electronics.
So, what should you do if you have both electronics and groceries in your cart? If there are customers who are only buying items from that department, you should head to the front of the store, @Benji.2x says.
Some commenters didn't seem to agree with this logic, saying "get me your manager."6254a4d1642c605c54bf1cab17d50f1e
The response? "She made the rule."
Amanda McDonald
Amanda is a staff writer for
Eat This, Not That!
.
Read more
More content from
Groceries