Walmart Is About to Lose its Top Retailer Spot to This Company, Data Reveals
The retail king is predicted to be dethroned by 2024.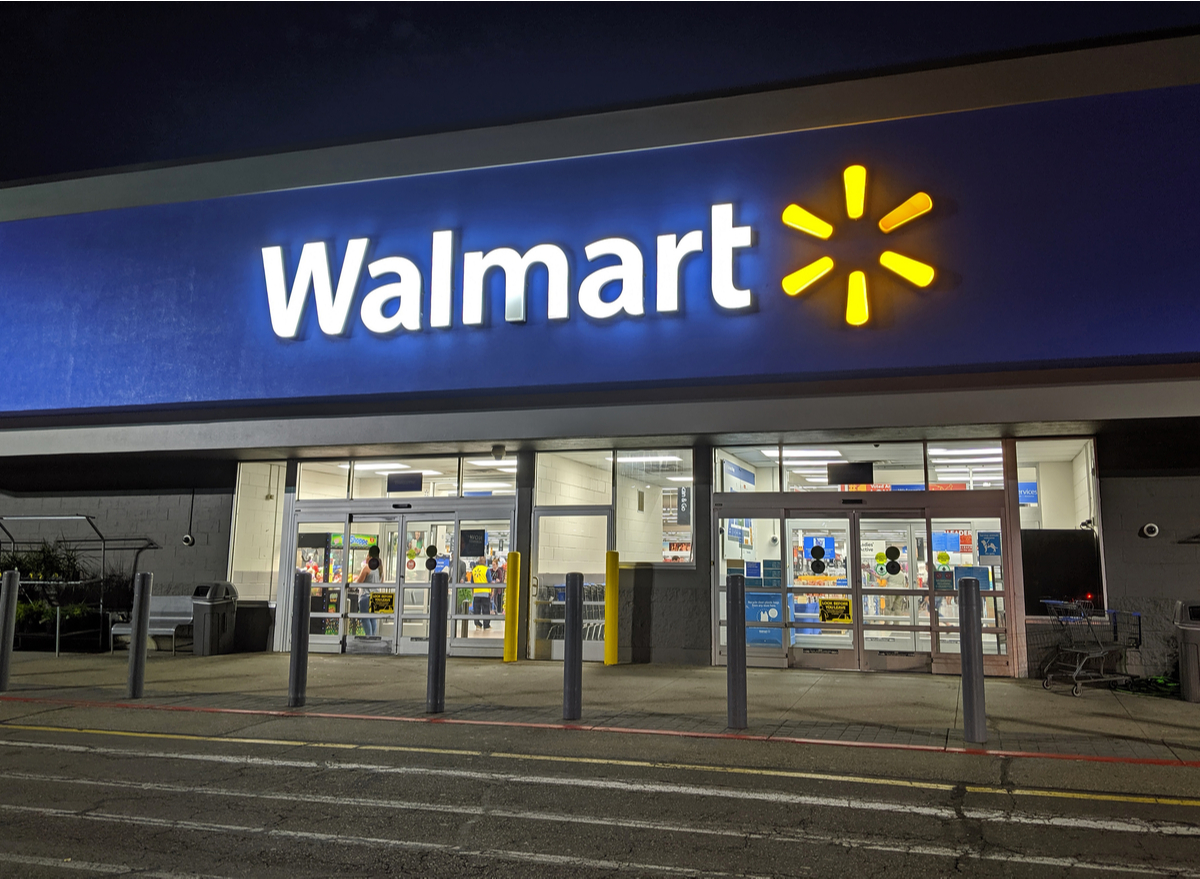 In the realm of U.S. retail, Walmart has remained king–and largely unrivaled–since 1990. And, with over 5,000 stores and clubs nationwide, 1.6 million employees, and a constantly evolving list of service offerings it's not hard to understand why. But, despite its best efforts, the retail giant's reign may soon come to an end. 
After taking major steps to expand into the grocery space, Amazon is now predicted to swipe the title of largest U.S. retailer by 2024, according to the Edge by Ascential 2022 United States Retail Landscape and Go-to-Market Planning Report. The report details the current state of the retail market and emphasizes the growing importance of ecommerce, an area that grew 15.2% in 2021 and where Amazon has undoubtedly excelled since its beginning. 
"Amazon has always taken advantage of its head start as a digital-first platform and has been a pioneer of almost all the growth levers associated with platform-based retail from 'subscribe and save' through Prime membership to the evolving media and marketing services Amazon offers to brands," Edge by Ascential's CEO Deren Baker states. 6254a4d1642c605c54bf1cab17d50f1e
Amazon is poised to take over 14.9% of the U.S. retailer market share by 2026, with Costco also increasing up to 4.4% to secure a spot on the podium in third place. Meanwhile, Walmart's portion of the market share is forecasted to drop over the next several years to 12.7%, down from 13.2% in 2021. 
Over the past couple of decades, Amazon and Walmart have competed in a game of tug-and-war, constantly re-configuring their businesses to keep up with one another.
Recently, Walmart has rapidly expanded its digital presence and focused heavily on the rollout of its automated fulfillment centers. The corporation also debuted Walmart+ in 2020 to contend with Amazon's Prime memberships and additionally lended from the genius of Amazon Prime Day with its own 'Deals for Days' promotion. This ran for the first time on June 20 of last year, with a version for 2022 June 2-5. 
Meanwhile, behind enemy lines, Amazon has been busy making its mark in the grocery industry. First, the company acquired 40-year-old supermarket chain Whole Foods in 2017, and is now focused on building up Amazon Fresh, a new kind of grocery store offering both online shopping and delivery services paired with physical locations as well. With a massive head start in this space, however, Walmart maintains its stronghold for now, bringing in $264 billion in grocery sales during 2021 compared to just $27 billion for Amazon. 
This news isn't stopping the retail chain—Walmart Just Announced It's Expanding These Two Services.