Walmart vs. Amazon—Which Has Better Deals Right Now?
But the winner may change sooner than you think.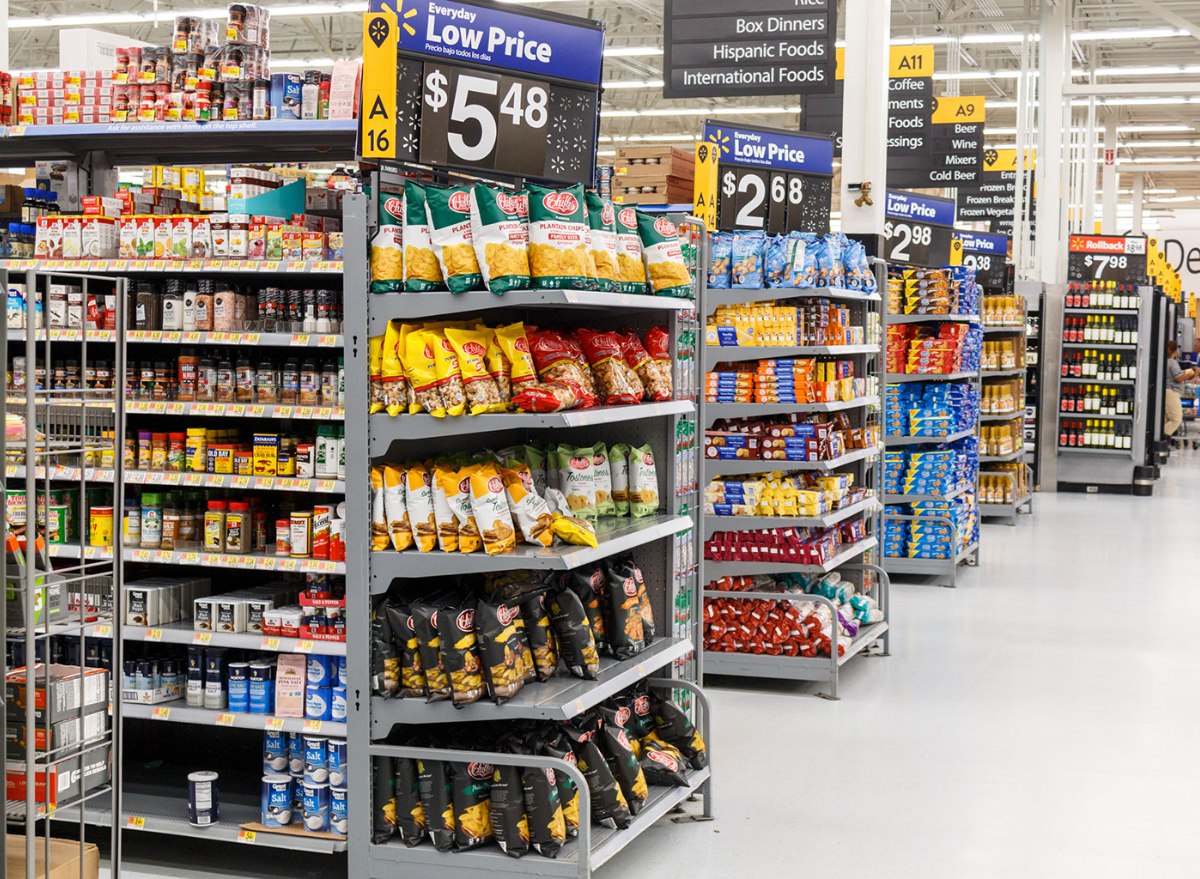 Two of the biggest retailers have been vying for the top spot over the past few years. It's Amazon, a massive online presence turned brick-and-mortar, versus Walmart, the original big-box store branching into the digital and delivery space. Lately these companies have been adapting to fit customer needs while turning a not-insignificant profit. Walmart's sales in the last quarter of 2021 were over $150 billion, while Amazon trailed slightly behind at closer to $137 billion.
It's safe to say that what they're selling, a large population of U.S. and international customers are buying. But as competition ensues, and with inflation ever-rising, it's increasingly important to figure out how you can stretch your wallet. Which one will give you the most bang for your buck? Well, it's a bit of a tough question to answer – it depends on what you prioritize about your shopping experience.
Both Amazon and Walmart offer their own discounts and sales events. Prime Day, the annual two-day event when Amazon members rack up exclusive savings in their digital carts, has been marked on consumers' calendars since 2015. Walmart's rival to Prime Day, Deals for Days, debuted in 2021 and spanned across four days, both in-store and online.
While a membership isn't required to participate in the sales, shoppers who subscribe to Walmart+ typically gain early access to all the offerings. Not only that, but according to the company's site, the $98-per-year fee gets its members free same-day delivery on over 160,000 items, 10-cents off each gallon at 14,000 gas stations, and additional deals throughout the year. For example, in June, the retail giant held a Walmart+ Weekend, with 20 to 50% off on certain electronics, apparel, home, toys, outdoor, and school supplies for members only.
With a higher annual membership fee at $139 per year, Amazon's Prime comes with free two-day shipping for a wider array of items. It also offers grocery delivery, thanks to the acquisition of Whole Foods and recent expansions for the brand's own food chain, Amazon Fresh. This means you're paying for convenience and access to a huge range of quality products. And if you're shopping on Prime Day, you can expect to score the best deals of the year on expensive electronics, home goods, and cookware.
However, it's hard to compete with "everyday low prices," and Walmart pulls ahead here. An analysis by LendEDU in 2020 found that, in a comparison of 50 items sold by both companies, the final total at Walmart was 10% less than at Amazon.
One notable category where Amazon did overtake Walmart – food and beverages, by 22%. But for savvy shoppers, they may be able to cash in on Walmart's Price Match Policy, which will meet the price of an item at another retailer as long as it's in stock and the make and model are the same.
So where can you find the best deals? Speaking straight savings, Walmart seems like the top contender for now. But Amazon's efforts to expand its territory and firm grip on the e-commerce industry puts it in a position to pull ahead, potentially as soon as 2024.
Sarah Wong
Sarah studied at Northwestern University, where she received a bachelor's degree in computer science and experimented with mixing tech and journalism.
Read more about Sarah