10 Biggest Changes Walmart Made This Year
Adapting quickly put this superstore ahead of the competition.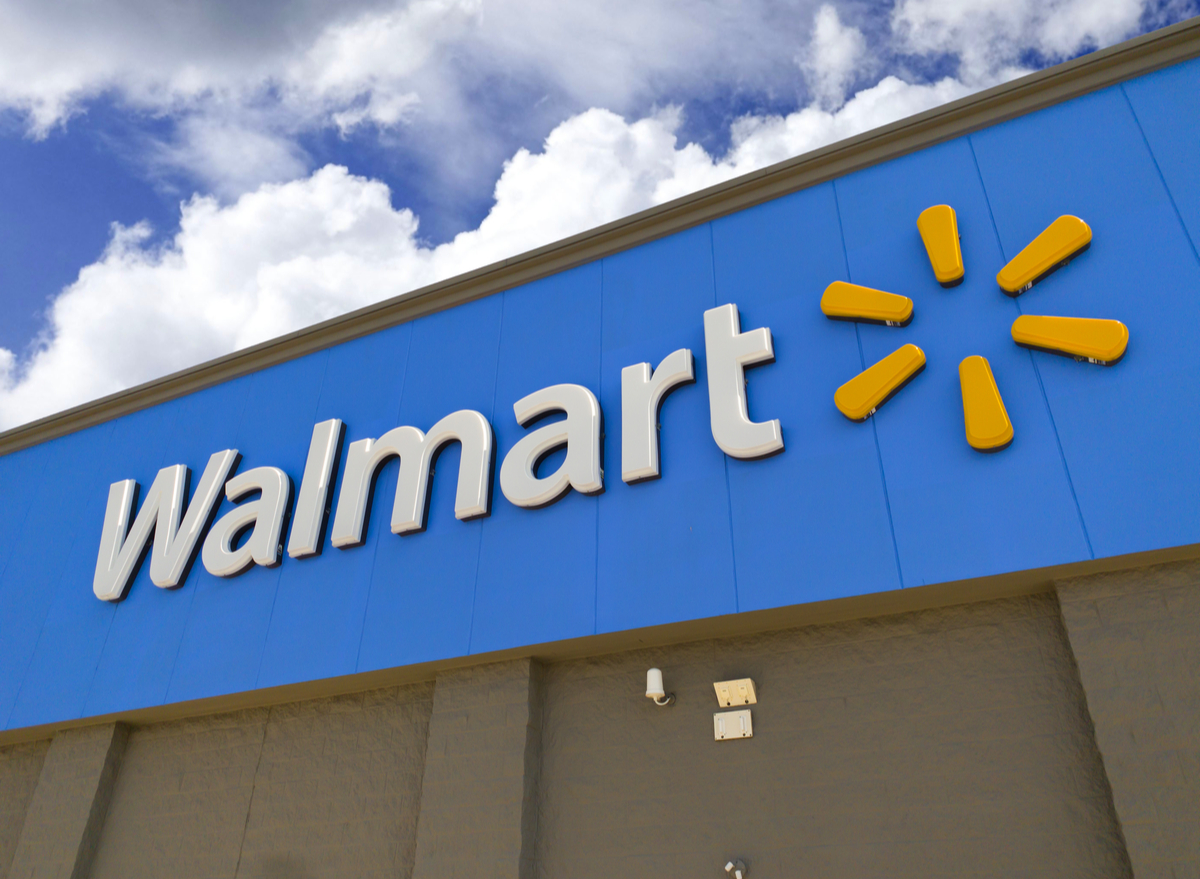 The pandemic changed the shopping landscape for many industries, and it was never more crucial for businesses to adjust. For the past two years, shoppers have been interacting with grocery stores in new ways—limiting their in-person grocery runs, opting for budget-friendly alternatives, and even relying on in-store vaccination services.
Walmart is known for being the mega superstore that you can step inside of and find everything, from affordable home goods and groceries to chain dining options. So it may not come as a surprise that the company made dedicated efforts to adapt and continue serving their customers on unfamiliar terrain.
And going the extra mile is working for the big-box retailer. Walmart's online sales have skyrocketed, increasing by 87% over the past two years, according to a November 2021 consumer report by Digital Commerce 360. Their e-commerce segment is consistently seeing growth, even as the pandemic tapers and consumers return to their pre-COVID shopping trips.
The company made successful initiatives throughout 2021 that bolstered their spot at number one on the Fortune 500 list of companies according to their revenue. Here are 10 of the most notable changes that Walmart implemented to meet consumers' evolving needs this year.
Related: 9 Best Walmart Snacks Employees Say They Love the Most
Walmart opened quick shopping fulfillment centers.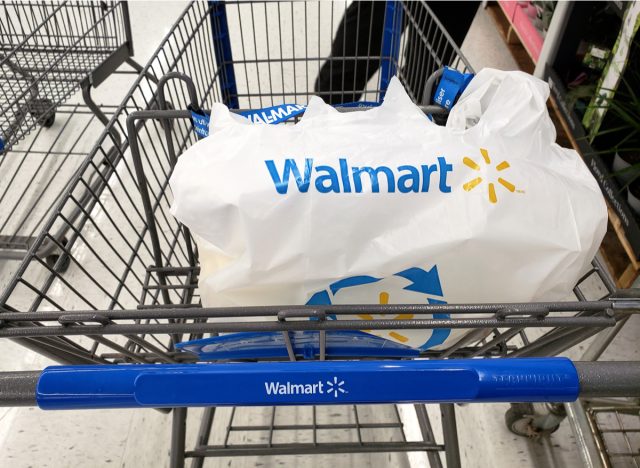 With surging demand for online orders, Walmart is leveraging automated robots to help with pickup and delivery in their new market fulfillment centers. They piloted the first location in Salem, N.H. at the end of 2019 and found they could efficiently build orders in just a few minutes, using both bots and personal shoppers for quality assurance.
So far, there are additional plans for fulfillment centers in Jacksonville, Fla., Dallas-Fort Worth Texas., and Lebanon, Tenn.
"Walmart's fulfillment center…will play an important role in our broader supply chain network, focused on fulfilling Walmart.com orders and supporting our promise of free next-day and two-day shipping," Senior Vice President of Walmart U.S. Steve Miller said about the Lebanon opening in a press release.
Walmart added extra delivery times.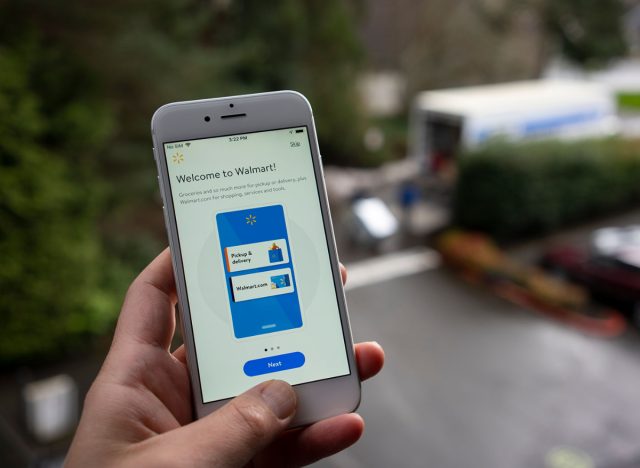 Holiday shopping is already hectic. Before Thanksgiving, you have weeks to search for the perfect gifts. But after? Suddenly there's so much to do and so little time.
Luckily, Walmart revealed a solution for this predicament in 2021—shipping straight to your door until 10 pm, with additional time slots for the busy shopper. The superstore announced that the extended service includes at-home delivery for bigger items that you'd rather not haul in your car, like TVs and bicycles. For 1,500 locations, they're also adding alcohol as a delivery option.6254a4d1642c605c54bf1cab17d50f1e
So don't start the car. If you're in a pinch, you can simply shop from home and get the same deals, with extra convenience.
Related: To get all the latest Walmart news delivered right to your email inbox every day, sign up for our newsletter!
Walmart held a sales event to rival Amazon Prime Day.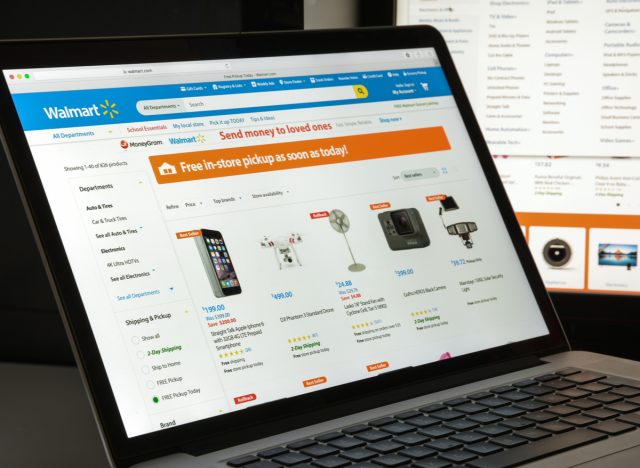 By now, it's become an annual expectation to get more bang for your buck and buy all your big-ticket items on Amazon's Prime Day. But Walmart has been hosting their own markdown occasions, and this year was no exception.
The four-day "Deals for Days" event started on June 20, one day before Prime Day, and included both online and in-store sale pricing. Customers shopped for electronics, toys, home goods, beauty, and fashion at discounted prices. It's not official yet, but we might see this become another annual event to mark on our calendars.
Walmart suspended congress donations.
The Jan. 6 capitol insurrection in Washington, D.C. was a pivotal moment in 2021, and the country is still dealing with the fallout. Corporations took a stand against the violent acts of that day, and Walmart was one of them.
Previously a large financial contributor to members of Congress to the tune of over $4.5 million in 2020, the superstore announced they would indefinitely suspend all political donations to the Congress members who objected to election results shortly after the attack.
However, according to USA Today, Walmart donated $30,000 to the National Republican Congressional Committee in April, where two-thirds of members were part of the dissenting party, and another $30,000 to the National Republican Senatorial Committee, led by Sen. Rick Scott of Florida who also contested the results.
This stirred controversy because while the company did not donate directly to those members, money given to the PAC is likely to contribute towards their campaigns. From the perspective of former senior counsel at the Federal Election Commission Daniel Weiner, he told USA Today, "I don't think these companies are giving to these groups because they supported the insurrection. They give money — and are pressured to give money — for a lot [of] reasons all related to their bottom line."
Walmart closed stores for COVID precautions.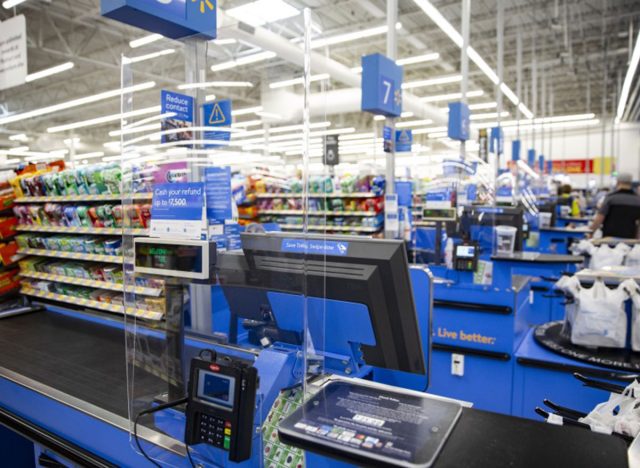 In May 2021, you may have tried going to Walmart and discovered it was temporarily closed. That's because the store continued to be cautious during the ongoing pandemic, by shutting down locations for deep cleaning.
Some locations that were affected were Lincoln, Ill., Mason, Ohio, Williston, N.D., El Paso, Texas, and Franklin, Ky., and many more, which were all closed to shoppers for over 40 hours.
People have had concerns about in-store safety, and companies have responded accordingly. Earlier in the pandemic, Walmart made similar temporary closures to ensure that conditions for workers and customers were safe, amidst the novel virus spreading nationwide.
Related: 6 Major Grocery Store Chains That Have Closed Locations
Walmart shut down pick-up towers.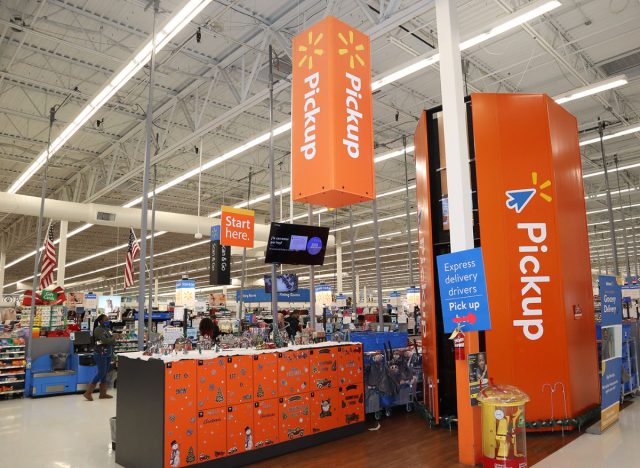 The massive orange vending machines that sat in the front of most Walmart stores were introduced in 2016 to allow customers to order merchandise online and pick it up in the store quickly and conveniently. But in the thick of a pandemic, shoppers grew hesitant to step inside stores. So the company decided to close the 17-foot tall orange towers across their locations and shift resources toward curbside pick-up instead.
The Wall Street Journal said that 300 will be removed from stores, while 1,300 have been "hibernated".
Walmart stalled new pharmacy locations.
To expand the products and services you can find inside the superstore giant, Walmart planned to open new health centers across thousands of locations. The vision for "Walmart Health" included primary and urgent care, labs, x-ray and diagnostics, counseling, dental, optical and hearing services, a one-stop-shop for all your healthcare needs.
But the growth of opening new locations seems to have slowed. Despite Walmart announcing a target of 22 clinics by early 2021, the chain only has 20 health centers currently operating.
However, according to Forbes, they've still made strides in providing accessible healthcare this year: extending services to telemedicine appointments, offering more affordable prescriptions, and launching an analog insulin to compete against higher-priced insulin for diabetic patients.
Walmart offered COVID-19 vaccines.
The vaccine outreach in the United States required a combination of forces. The federal government worked hard to minimize the threat of COVID, partnering with grocery chains to make the vaccine available to people who have little access to health care services.
Walmart built the capacity to "be able to deliver 10 million to 13 million doses per month at full capacity, using its network of more than 5,000 pharmacies in the United States and Puerto Rico," according to Reuters back in January. The superstore provided the doses in pharmacy locations across 10 states at that time, offering both Pfizer and Moderna to the public.
As vaccine regulations have evolved, the corporation continues to be a partner for the vaccine initiative. Once the FDA authorized the use of Pfizer for children ages 5 to 11 in November 2021, Walmart announced it would be rolling out the child-sized doses across over 5,100 of its pharmacies.
Walmart introduced new in-store fast food.
You can buy pretty much anything at Walmart. They sell everything from engagement rings to caskets. And now, with the restaurant additions from this year, you can also find fast food from 12 different chains across various locations. Whether you're craving some greens from Saladworks or a pork bun from Wow Bao, you can find them all while you're making your weekly grocery run.
This news comes after the split with McDonald's and Subway, due to lower sales volume during the pandemic's peak, when shoppers were wary of dining in-store, Supermarket News reported.
New restaurant partners, such as French bakery la Madeleine, took the opportunity to get in front of Walmart customers. In a press statement, the bakery chain's CEO Lionel Ladouceur said, "We look forward to making it even more convenient for the [Dallas-Fort Worth] community to enjoy the la Madeleine experience, while also introducing our French comfort food to Walmart shoppers that are looking for more diverse dining choices."
Walmart pioneered shoppable livestreams.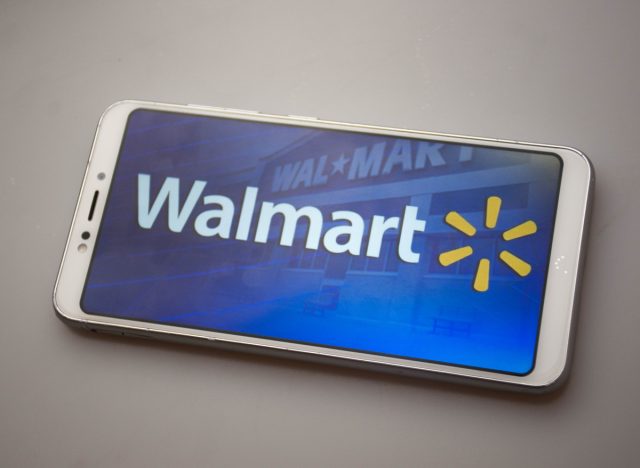 Social media is now the primary method of marketing for companies, with over 70% of businesses relying on it to drive customer engagement, according to Forbes. And Walmart has crafted a new way of integrating influencership to better connect with shoppers.
This November marks one year of Walmart's shoppable livestreams, leveraging Tik Tok, Twitter, and YouTube to bring viewers and their favorite social media hosts together. Shoppers can tune in as the host showcases their favorite Walmart fashion picks and buy items they like without leaving the platform.
The very first shoppable livestream was in December 2020, hosted by TikTok influencer Michael Le (@justmaiko), who is followed by 51.5 million users for his dancing content. Walmart found success with this format, holding 15 livestreams over the past year with a variety of celebrity guest hosts (think: Jason Derulo). For the holidays, they plan to host over 30 livestreams to provide curated product picks to captivated customers.
William White, Chief Marketing Officer for the company wrote, "We believe the future of retail lies in social commerce, which is why we're focusing on innovating in the space as we continue to offer our customers ways to live better – whether online, or in store, the future of holiday shopping remains bright at Walmart."
For more info about what's happening at the location in your neighborhood, read these next:
Sarah Wong
Sarah studied at Northwestern University, where she received a bachelor's degree in computer science and experimented with mixing tech and journalism.
Read more about Sarah