Woman Supposedly Finds Gross Discovery In Her Grocery Store Ice Cream Tub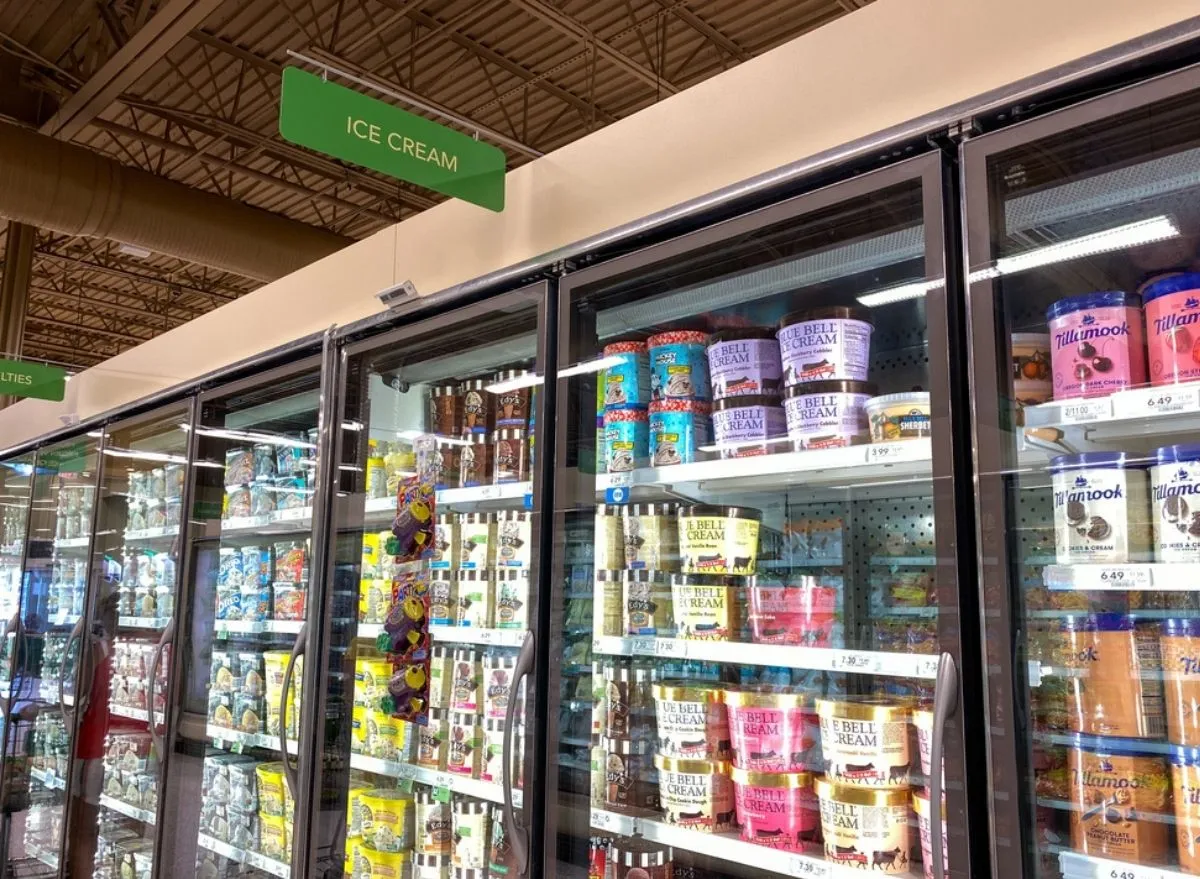 During summertime, ice cream is the perfect treat to cool down and relax with. But unfortunately, one Hy-Vee customer wasn't able to do that with the tub of vanilla ice cream that she purchased recently.
That's because an unlikely hitchhiker was inside the tub. In a Facebook post, the customer, Tracy Holtman, claimed that a frog was trapped underneath the tub's plastic seal. That's right—a large frog or toad was stuck right under the lid, seemingly entombed inside the carton.
Initial reports identified the ice cream brand in question as Blue Bunny. Wells Enterprises, the producer of Blue Bunny ice cream, told Delish that the discovery quickly prompted an investigation.
"Wells Enterprises launched an investigation into this incident immediately upon learning of it, in addition to reaching out directly to the affected consumer," a spokesperson for the brand said. "We acknowledge the product in question is made by Wells Enterprises and, through our investigation, we confirmed this could not have occurred during our manufacturing process, but instead would have taken place after the product left our facility."
"Product safety is our top priority at Wells," the statement continued, "and we consistently achieve the highest quality standards in our facilities and in our manufacturing processes. We have robust quality systems in place, and constantly evaluate our standards and processes to prevent anything like this from happening."
Popular fact-checking website Snopes took a deep dive into this story, and determined it's possible that the frog was put there deliberately after the item was purchased.
Regardless, at the time, Holtman said she didn't consume the contaminated ice cream and planned to return the tub to Hy-Vee for a refund.
This is not the first time that an animal hitch-hiker has spoiled someone's snack. In March, a woman in the U.K. found a snail shell inside her McDonald's burger. It likely grabbed onto a piece of lettuce and hitched a ride into the restaurant's supply.
Kristen Warfield
Kristen Warfield is a graduate of SUNY New Paltz's journalism program in the Hudson Valley region of New York.
Read more about Kristen