The #1 Worst Coffee Creamer on Shelves, Says Dietitian
A pro studied nutrition facts for some of the most beloved coffee creamers. Where did your favorite land?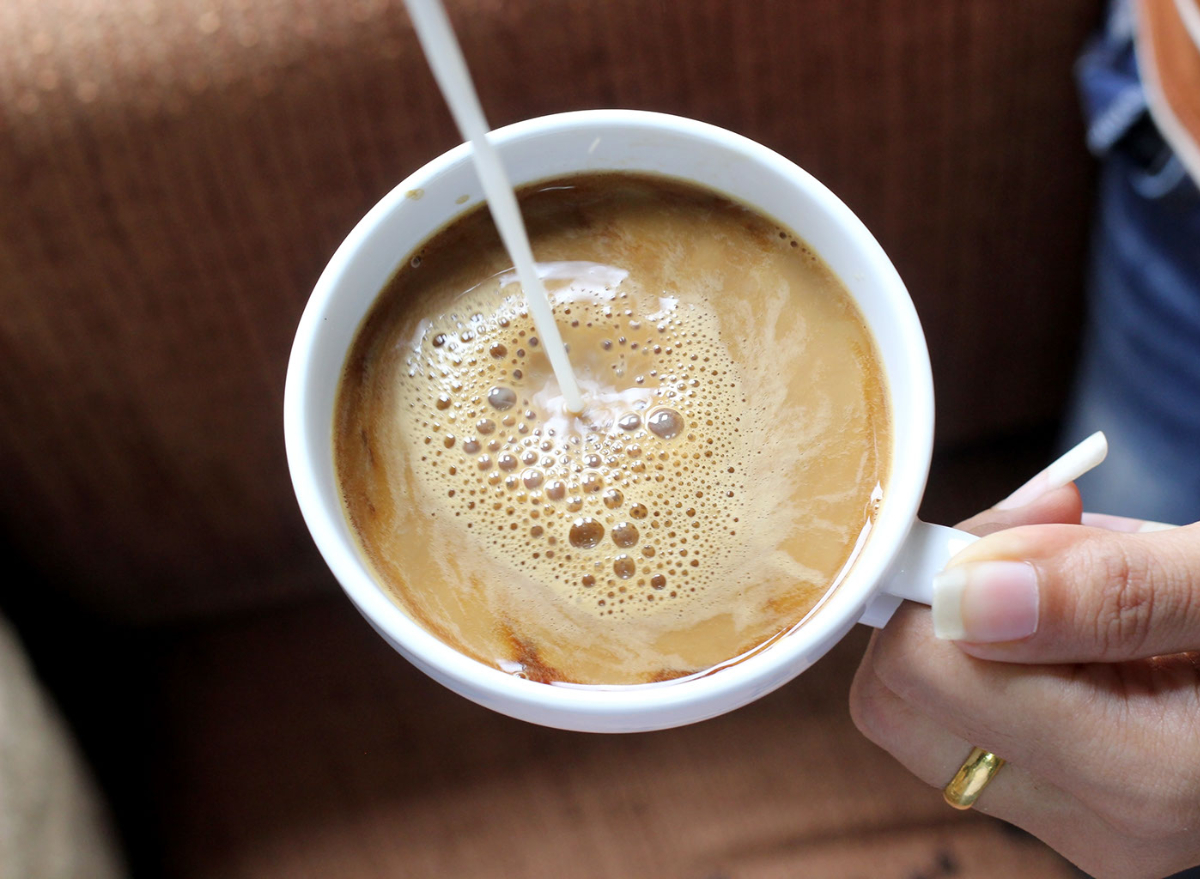 Your favorite coffee creamer is a little touch of comfort that also makes mornings a little more bearable—and it's just a drop, right? If you've secretly been wondering whether your favorite coffee creamer is actually as harmless as you hope, a dietitian has analyzed the nutrition facts of over a dozen brands to help you determine. Now, she reveals a few of the most noteworthy, including the one well-known creamer that you might need a wakeup call about… along with suggestions for some healthier, while also appealing, selections (plus, a little good news for every creamer fan).
Keep reading to learn which coffee creamer brand a dietitian says you may want to avoid. Also check out the 10 decaf coffee brands that contain a harmful chemical, according to a recent analysis.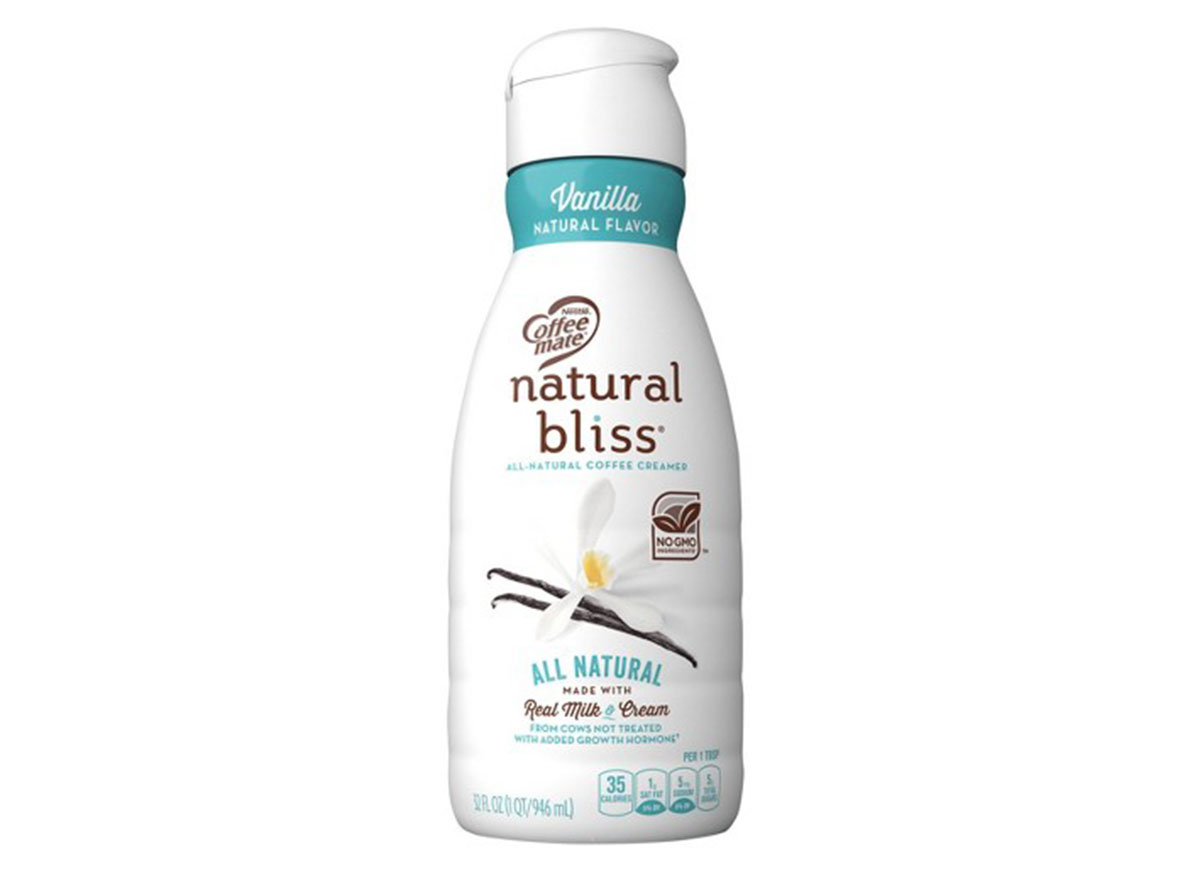 per 1 tbsp serving
: 35 calories, 1.5 g fat (1 g saturated fat), 5 mg sodium, 5 g carbs (0 g fiber, 5 g sugar), 0 g protein
There are truly more coffee creamers available than ever, as you've probably noticed. These days, you may even find this section of the supermarket to be growing a little overwhelming.
Dina R. D'Alessandro, MS, RDN, CDN is a registered dietitian nutritionist and lecturer at the City University of New York's Herbert H. Lehman College. D'Alessandro noted that one particular brand, Natural Bliss, offers three types of creamers—dairy, non-dairy, and "functional" (with ingredients like added protein, MCT oil, and prebiotic fiber).
This shows how Natural Bliss allows you to choose according to your specific dietary needs, our expert says (and we certainly like the all-natural ingredients in this brand's original line)… but shortly, she'll weigh in on why Natural Bliss's choices aren't always so blissful.
If you're shopping for the healthiest coffee creamer…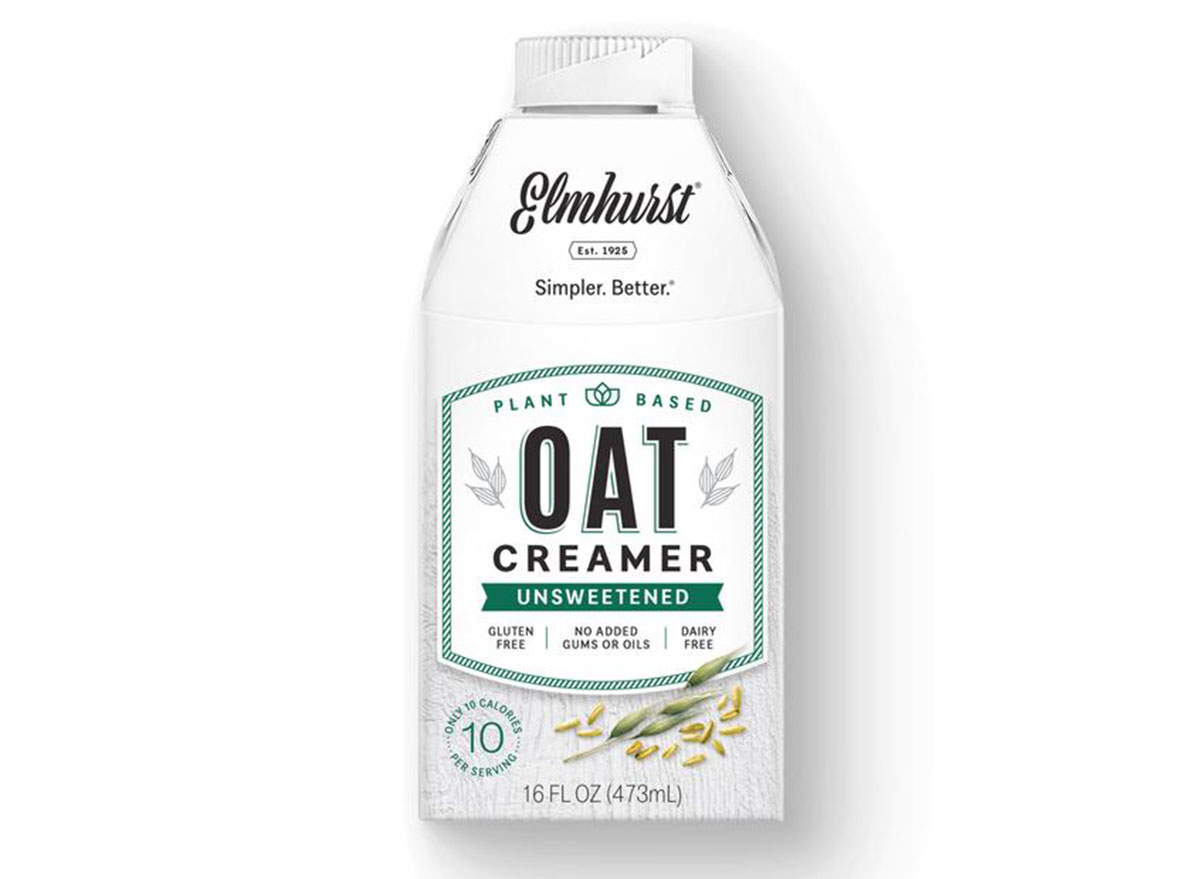 per 1 tbsp serving: 10 calories, 0.5 g fat (0 g saturated fat), 0 mg sodium, 1 g carbs (0 g fiber, 0 g sugar), 0 g protein
If you've got an eye out for the healthiest coffee creamer in stores, D'Alessandro recommends Elmhurst Unsweetened Oat Creamer. With 10 calories and zero saturated fat or sugar, she says this non-dairy option could be worth checking out.
That's especially true "if you don't stop at the [one-tablespoon serving] or have a heavy caffeine addiction" and drink a lot of coffee, she notes. (In that case, consider reading One Major Side Effect of Drinking Too Much Coffee, New Study Says.)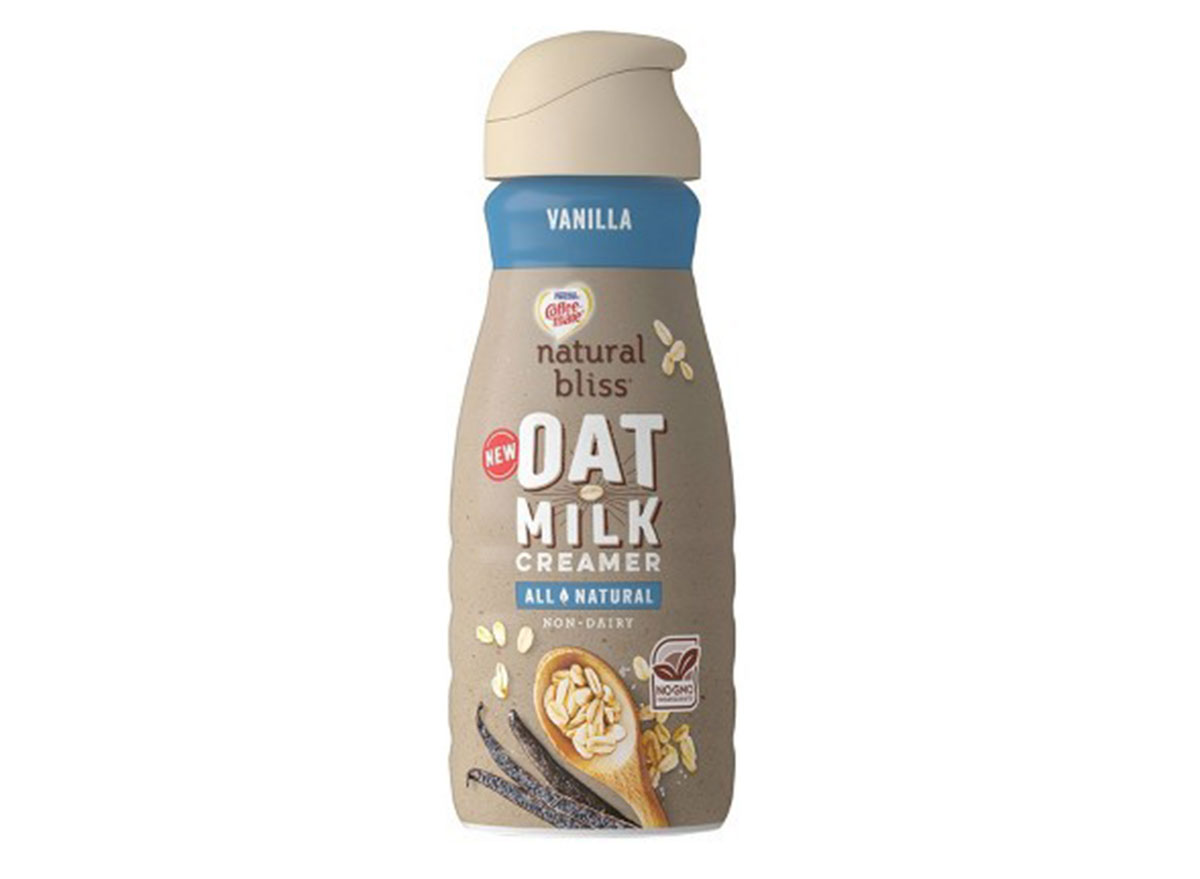 per 1 tbsp serving
: 25 calories, 1 g fat (1 g saturated fat), 25 mg sodium, 5 g carbs (0 g fiber, 4 g sugar), 0 g protein
D'Alessandro considers this another solid non-dairy choice: Natural Bliss Vanilla Oat Milk All-Natural Coffee Creamer. This is a good recommendation, she says, "even though it has saturated fat from coconut oil, and real sugar." That's because "we're not fans of sugar alcohols, taste- and tummy-wise," she explains.
The "most disappointing" pick…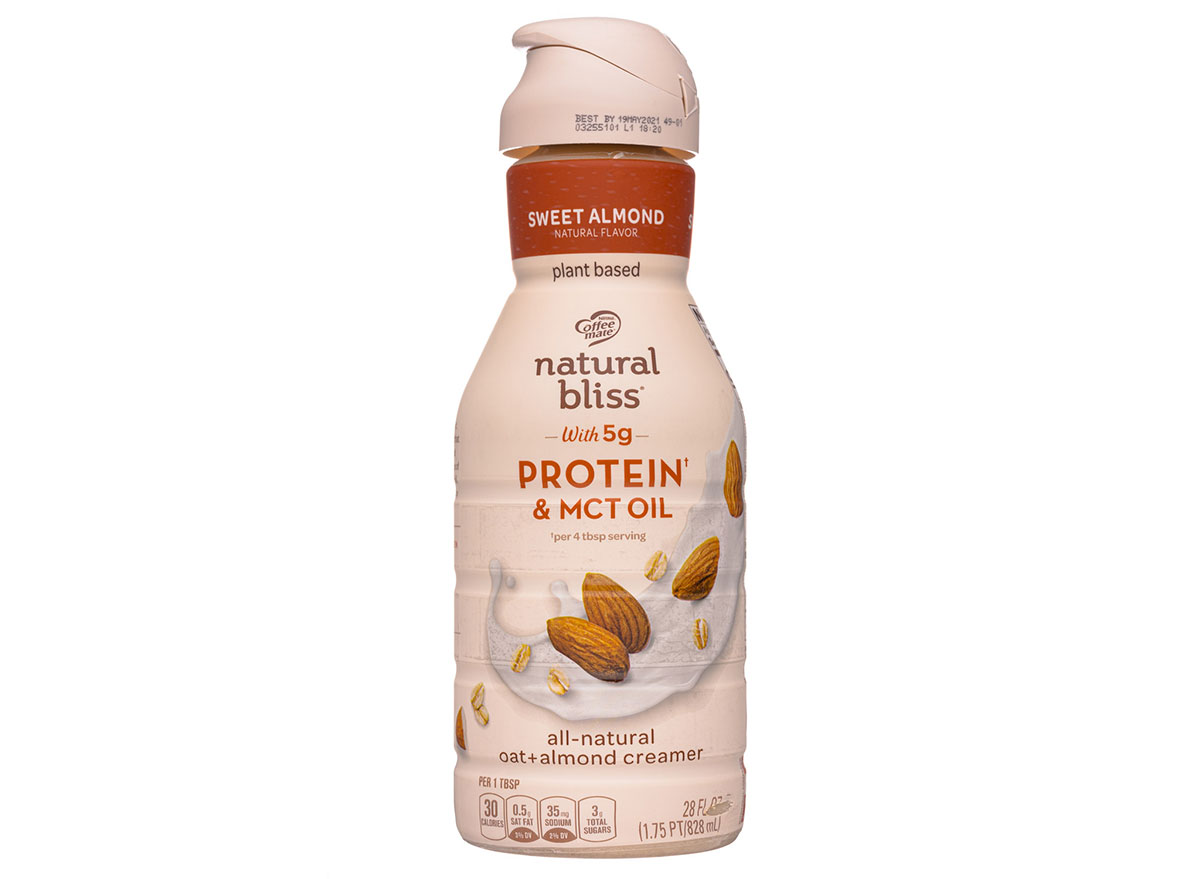 per 1 tbsp serving: 30 calories, 1 g fat (0.5 g saturated fat), 35 mg sodium, 4 g carbs (0 g fiber, 3 g sugar), 1 g protein
D'Alessandro says she thought thought Natural Bliss' "functional" creamer sounded promising as a healthy option. However, after looking closely, she found that this "all-natural" Oat + Almond Milk with Prebiotic Fiber creamer doesn't deliver on an important metric: User experience. "Many consumer reviews say . . . the formula is too 'thick and goopy' and doesn't blend well with coffee—the one job a creamer should do," she observes.
But, the #1 worst coffee creamer is: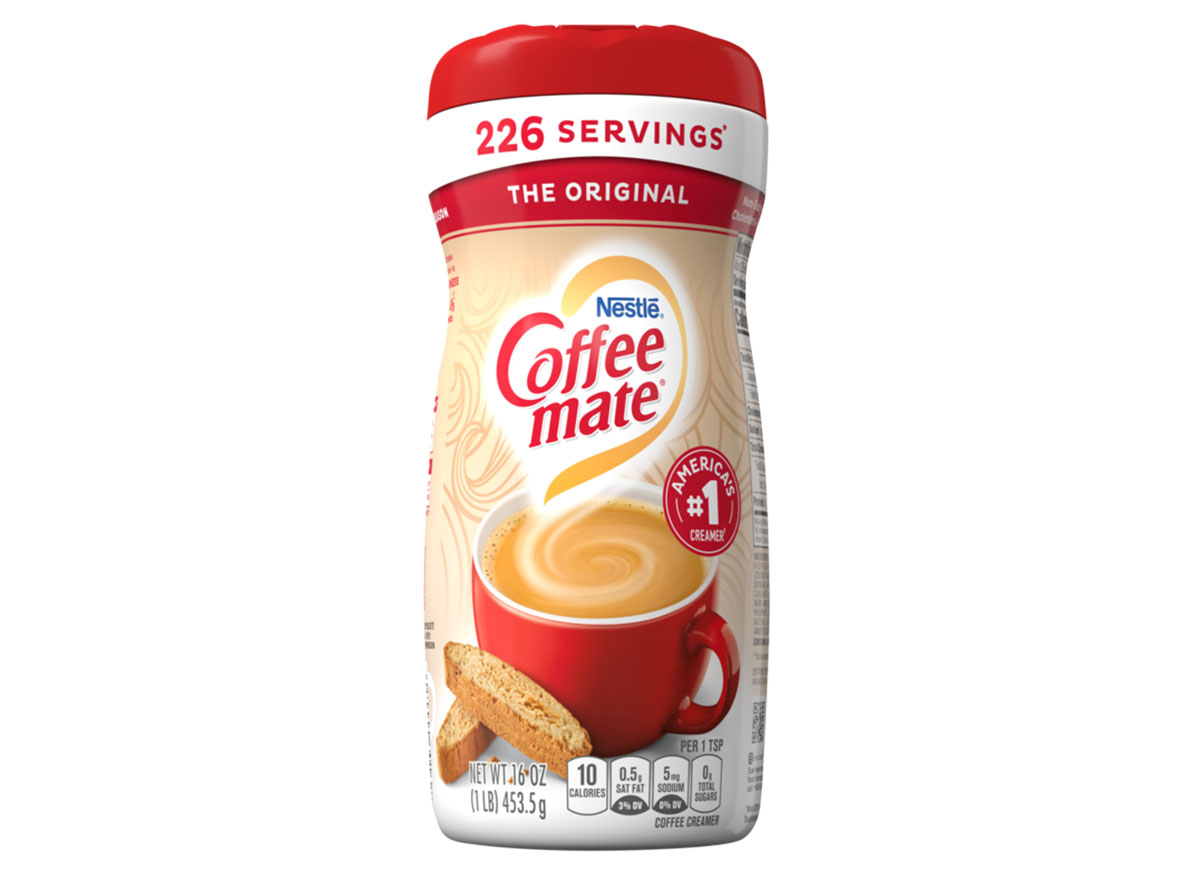 6254a4d1642c605c54bf1cab17d50f1e
per 1 tbsp serving
: 10 calories, 0.5 g fat (0.5 g saturated fat), 5 mg sodium, 1 g carbs (0 g fiber, 0 g sugar), 0 g protein
Coffee mate calls itself "America's #1 Coffee Creamer," as you can spot on this label—but if you're a regular buyer of this classic brand's powdered or refrigerated formulas, D'Alessandro says any of the original Coffee mate products stand out for a different reason. "The ingredients listed in most of the flavors contain carrageenan and/or corn syrup, which might cause bloating, inflammation and digestive problems in some people," D'Alessandro says. (Curious to learn more? Read 30 Shocking Secret Ingredients Hiding in Your Favorite Foods.)
Some good news, no matter what coffee creamer brand you hold dear: "Literally all of the brands and flavors had negligible differences in nutrients and near identical ingredients," D'Alessandro says. And, especially if you pay attention to the serving size, that little drop might not be the worst diet decision you make all day.
Keep reading:
Krissy Gasbarre
Krissy is a senior news editor at Eat This, Not That!, managing morning and weekend news related to nutrition, wellness, restaurants and groceries (with a focus on beverages), and more.
Read more about Krissy