8 Healthiest Coffee Creamers on Grocery Shelves
If cream in your coffee is a non-negotiable, here are the healthiest coffee creamers on grocery store shelves, according to nutrition pros.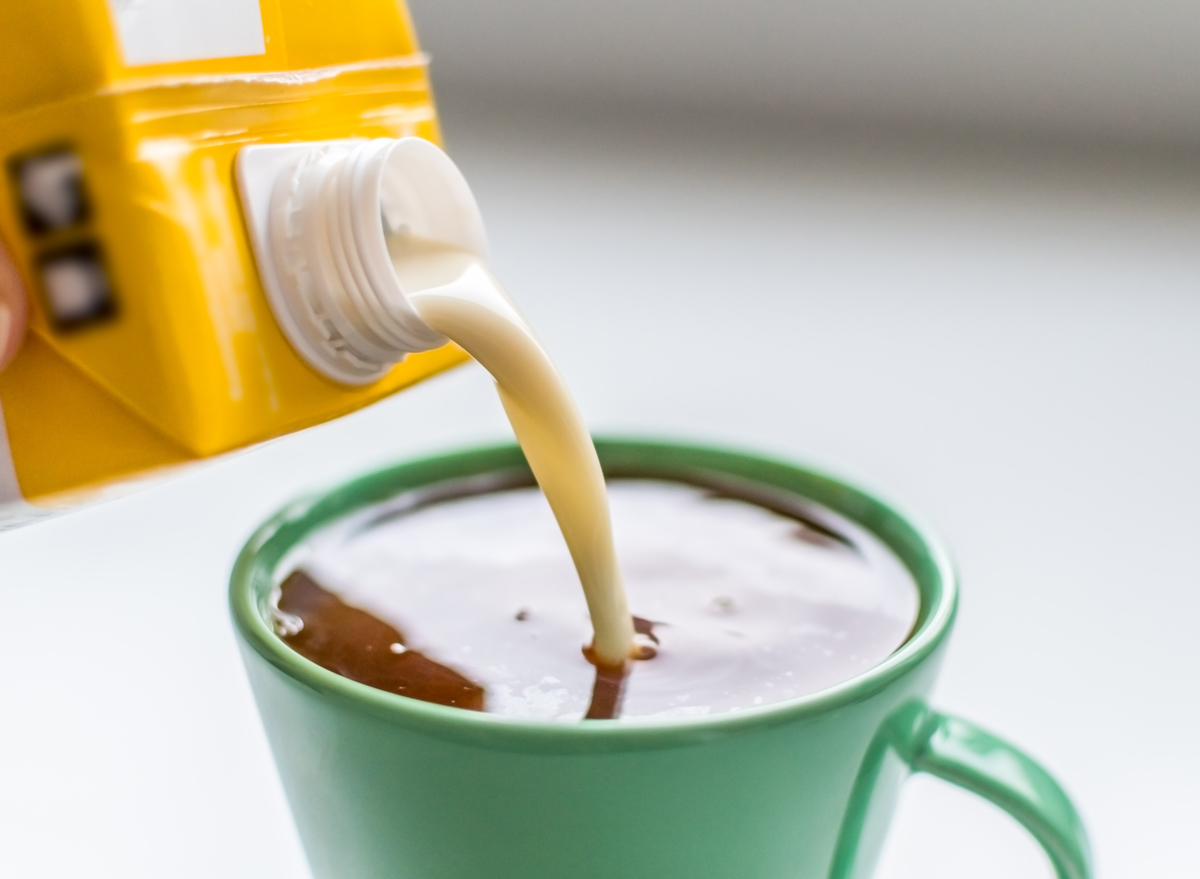 The product recommendations in this post are recommendations by the writer and/or expert(s) interviewed and do not contain affiliate links. Meaning: If you use these links to buy something, we will not earn a commission.
If you go to great lengths to brew the perfect cup of joe, chances are you'll be picky about what you put in your coffee—especially when it comes to which coffee creamer you choose.
Not long ago, coffee creamers were less-than-natural powdered or liquid varieties that date back to the 1960s. Instead of being made with natural dairy ingredients, coffee creamer brands used ingredients like vegetable oil, artificial flavoring, corn syrup solids, and high saturated fat oils like coconut oil. In addition to the original creamer formula, they were also available in a myriad of syrupy-sweet and overpowering flavors like caramel, hazelnut, mocha, and vanilla.
While the original creamers from the heydays of tie-dye clothing and the Rolling Stones didn't have any real dairy ingredients, that's no longer the case with modern-day options. Now, the coffee creamer section has a variety of refrigerated and shelf-stable options as well as dairy and non-dairy creamers from cow's milk, coconut, oat, soy, and almond, among others. And the best news is that there are now plenty of healthy coffee creamer options to choose from.
How to pick the healthiest coffee creamer at the store
The first piece of advice is to focus primarily on the creamers in the dairy section of supermarkets as refrigerated options from cow's milk or other non-dairy milk are generally healthier than what you'll find on store shelves.
Another tip is to take note of the serving size on the Nutrition Facts panel. Some coffee creamer brands refer to a serving as 1 tablespoon, but most use a 2-tablespoon serving as the standard for liquid creamers. (Powdered creamers vary in serving sizes.)
The guidelines below are for a 2-tablespoon serving of liquid creamer:
Moderate in calories: A rule of thumb is to stick with options that have up to 50 calories per 2-tablespoon serving. Most of the powdered creamers that are coconut oil based are too high in calories and fat to meet these calorie recommendations.
Low in added sugar: Skip the candy-flavored creamers, as they tend to have higher added sugar counts, and keep our creamers to the original flavor. When it comes to added sugar, less is best, so the goal is to have no more than two teaspoons of added sugar (8 grams) per 2-tablespoon serving. If you enjoy the sweetness of flavored creamers, keep in mind that if you drink 3-4 cups of coffee or tea per day, and your creamer is adding 8 grams added sugar (2 teaspoons) per serving, your daily coffee habit could exceed the total amount of added sugar you should have in an entire day!
Made with natural ingredients: The healthiest creamers have short ingredient lists without additives or preservatives. Try to choose products that are made with fewer ingredients, which tend to be the more natural, dairy-based options like half & half or any other dairy-based creamer.
Moderate in saturated fat: Full-fat dairy is naturally rich in saturated fat; however, the saturated fat in cow's milk does not impact harmful LDL-cholesterol levels. Creamers made from coconut oil or hydrogenated vegetable oils will have more saturated fat than other non-dairy milk, such as soy, oat, or almond milk. Stick to creamers with no more than 4 grams of saturated fat per 2-tablespoon serving. Since coconut oil and coconut milk are very high in saturated fat, most coconut milk-based creamers will not meet the saturated fat recommendations.
Unflavored: Creamers come in flavors from the basic vanilla and hazelnut to the more exotic like coffee cake, toasted marshmallow, and caramel macchiato. The problem is flavored creamers generally equal high sugar counts. That's why most of the creamers on our healthiest list are unflavored or unsweetened.
The best healthy coffee creamer brands
To make your next grocery shopping trip easier, we picked the best healthy coffee creamer brands you can buy. Read on to find out what they are, and for more on how to navigate the creamer aisle with your health in mind, don't miss the 9 Unhealthiest Coffee Creamers on Grocery Shelves.6254a4d1642c605c54bf1cab17d50f1e
Organic Valley Grassmilk Half & Half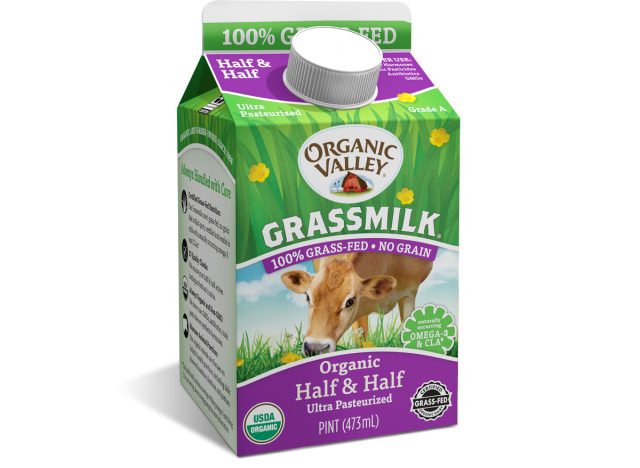 Per 2 Tbsp (30ml)
: 40 calories, 3.5 g fat (2 g saturated fat), 10 mg sodium, 1 carbs (0 g fiber,  1 g sugar),  <1 g protein
Half and Half is a cow's milk beverage made from equal parts whole milk and cream. I like Half and Half in my coffee for its taste and creaminess. Nutritionally, Half and Half is going to be a better choice over most creamers as it is more natural and doesn't have added sugar.
Registered dietitian Carly Knowles, MS, RDN is also a fan of Half and Half. "When my nutrition clients want to know which creamer is best, I recommend Organic Valley Grassmilk Half & Half because it's organic and contains more omega-3 fatty acids and CLA, a beneficial fat," says Knowles. This Half & Half is one of the only grass-fed creamers on the market. Organic Valley products never use synthetic hormones, toxic pesticides, antibiotics, or GMOs. The cows are fed a 100% grass-fed diet, without soy or grains, so the brand's dairy products contain omega-3 & conjugated linoleic acid, both of which provide health benefits.
One study published in Food Science and Nutrition reported that grass milk has a preferable fatty acid profile compared to either organic or conventional milk. Grassmilk can improve the balance of fats in the diet and may help reduce the risk for cardiovascular and other metabolic diseases, according to researchers.
Elmhurst Unsweetened Oat Creamer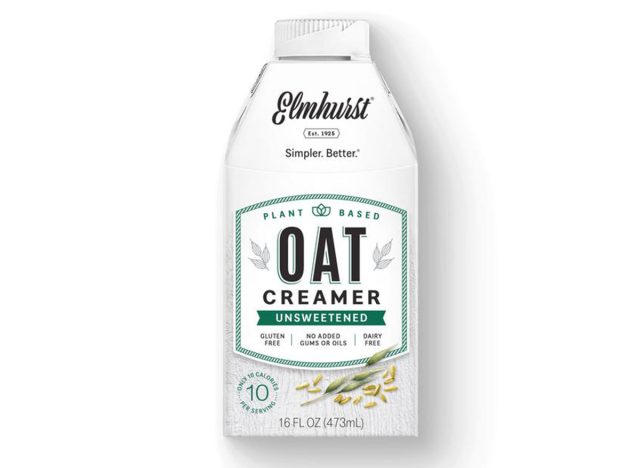 Per 2 Tbsp (30ml)
: 20 calories, 1 g fat (0 g saturated fat), 0 mg sodium, 2 carbs ( 0 g fiber,  0 g sugar),  0 g protein
This non-dairy creamer is a good option due to its lower calorie and fat count. Plus, it's completely free of saturated fat. It also has lower carbs than many other options. The ingredient list includes oat milk, hemp cream, and a few other ingredients. The brand doesn't use gums, fillers, or emulsifiers. For a non-dairy option, it is one of the most natural of the options.
Elmhurst Pistachio Crème Oat Creamer
Per 2 Tbsp (30ml)
: 30 calories, 1 g fat (0 g saturated fat), 0 mg sodium, 4 carbs ( 0 g fiber,  2 g sugar),  0 g protein
This non-dairy option from Elmhurst has a rich and creamy texture, thanks to the combination of oat and pistachio milk, which are the first and second ingredients. It has a touch of sweetness from cane sugar and hemp seeds for added nutrition.
Sown Organic Oat Cream Unsweetened
Per 2 Tbsp (30ml)
: 40 calories, 2 g fat (0 g saturated fat), 20 mg sodium, 4 carbs ( 0 g fiber,  0 g sugar),  0 g protein
This non-dairy creamer is made with organic oat milk and water. It has a good nutritional profile with no added sugar, saturated fat, or low sodium, and has a rich, creamy texture thanks to the guar gum that is added to enhance the texture.
nutpods Oat Creamer French Vanilla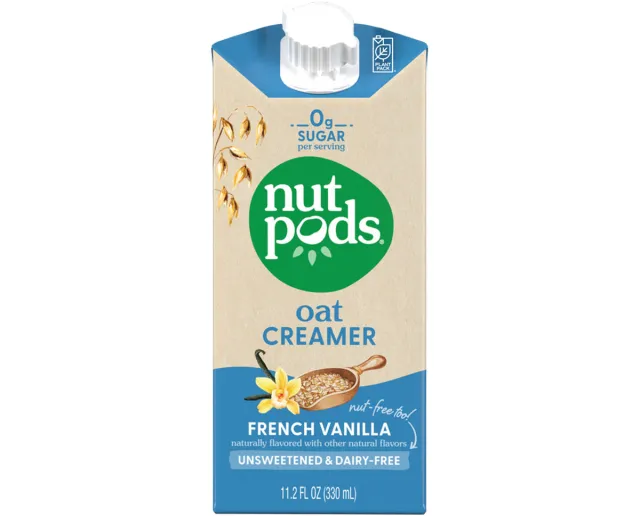 Per 2 Tbsp (30ml)
: 20 calories, 1 g fat (0 g saturated fat), 0 mg sodium, 4 carbs ( 0 g fiber,  0 g sugar),  0 g protein
Most flavored creamers are significantly higher in calories, thanks to the added sugar they contain. Nutpods have a variety of dairy-free creamers that are lower in calories because they are unsweetened, so there's no added sugar.
The main ingredients in this French Vanilla Oat Creamer are oat milk and natural flavors. They do contain guar and gellan gums for texture. Despite the gums that some may avoid, this creamer makes our best-bet list for its other positive attributes. The products are Non-GMO Project verified as well.
Trader Joe's Coconut Creamer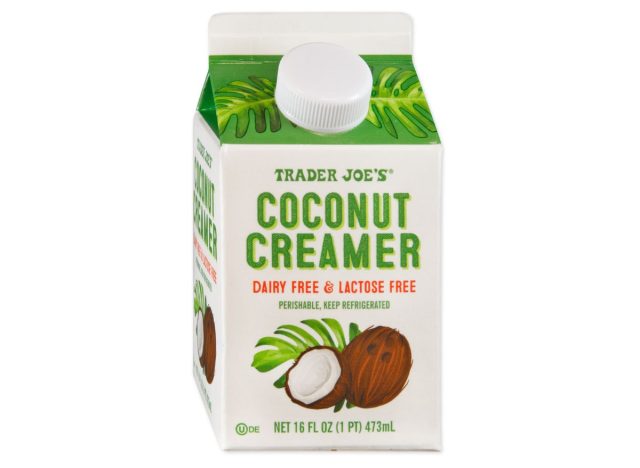 Per 2 Tbsp (30ml)
: 10 calories, 0 g fat (0 g saturated fat), 20 mg sodium, <1 carbs (0 g fiber, <1 g sugar), 0 g protein
Sold in the refrigerated dairy section at your local Trader Joe's, this creamer made our healthiest list due to its low calories, fat, and sugar content. The creamer keeps these ingredients in check because the first ingredient is water, and it is blended with coconut cream and some can sugar. It does include gellan gum to maintain texture. If you like the taste and texture of coconut milk-based creamers, this is a good option.
Califia Farms Better Half Unsweetened Coconut Cream & Almond Milk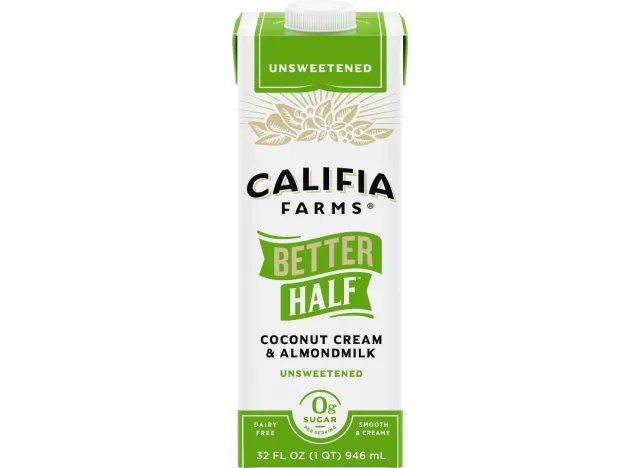 Per 2 Tbsp (30ml)
: 15 calories 1 g fat (.5g saturated fat), 15 mg sodium, 0 carbs (0 g fiber,  0 g sugar),  0 g protein
This dairy-free option is one of the better options because its calories are controlled and the fat content is lower than most other coconut-containing creamers. However, to maintain a texture and mouthfeel of a creamer, this option contains guar and gellan gums.
Prymal Coffee Creamer Cacao Mocha (Powder)
Per 4 tsp (10g)
: 45 calories, 4.5 g fat (4 g saturated fat), 75 mg sodium, 4 carbs (0 g fiber,  0 g sugar), 0 g protein
Prymal has a variety of delicious, flavored shelf-stable, powdered creamers that are non-dairy and sugar-free and are made with a blend of coconut oil, MCT oil, and coconut milk. For a sweetener, the brand uses plant-based erythritol, monk fruit, and stevia extract.
Julie Upton, MS, RD, CSSD
Julie Upton is an award-winning registered dietitian and communications specialist who has written thousands of articles for national media outlets, including The New York Times, US News & World Report, and USA Today.
Read more about Julie