The Worst Drink Brands You Should Never Buy
It really does matter what you're sipping on, and these beverages are proof.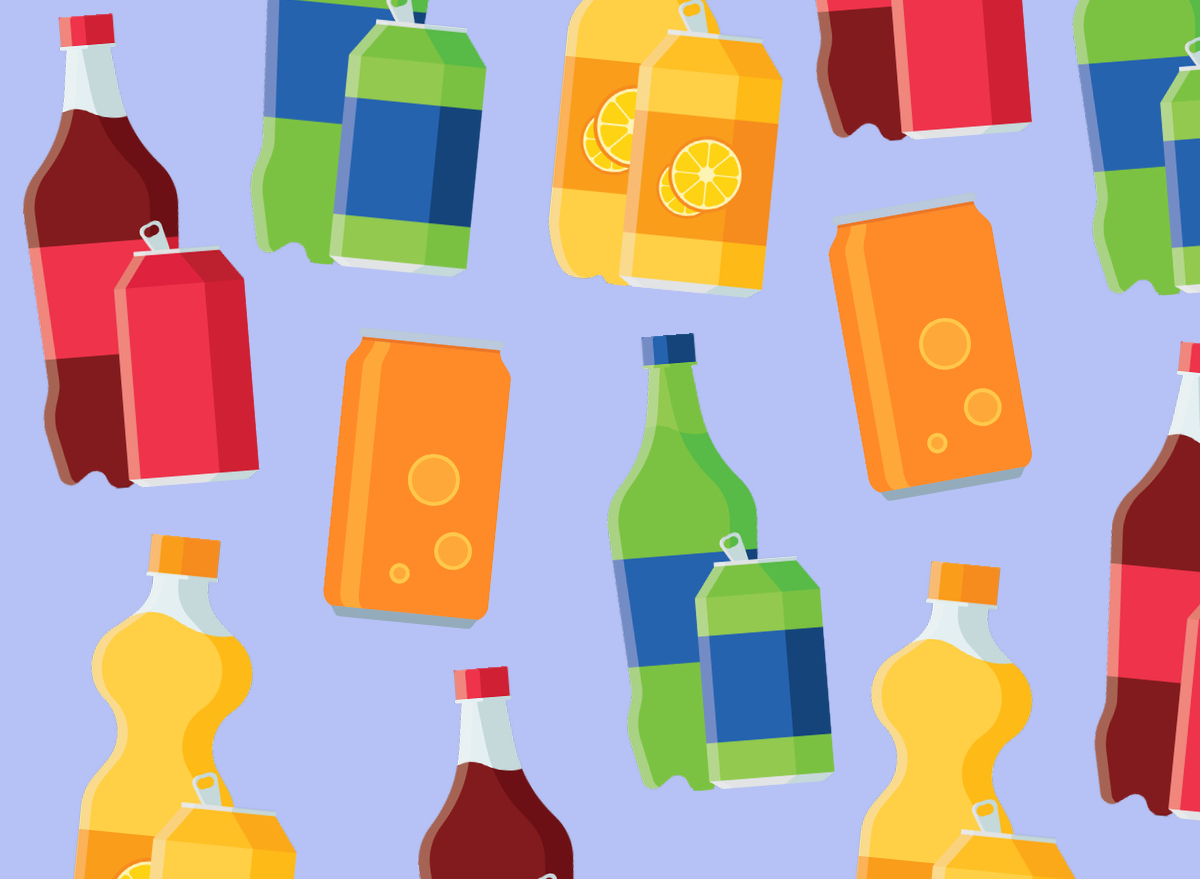 Packaged drinks can be a great thirst quencher when you're on the go and don't have a reusable water bottle with you. Yet, some drinks, especially sodas and fruit drinks, can be a diet doozy. See, they're often loaded with sugars, carbs, and other questionable ingredients. You may not consider calories from drinks to be similar to calories from food when keeping up with a healthy diet plan, yet, you should.
Those calories found in sweet beverages that lack any real nutritional value can add up fast, especially when it's hot out or you're working out and you're opting for these types of drinks to hydrate rather than water. So you know exactly which beverages you should and shouldn't stock up on, we rounded up some of the biggest culprits.
Here are the worst drink brands (and which specific drinks from the brands) you definitely should avoid, according to dietitians. You can easily find a bunch of other options at the grocery store, gas station or drug store even that are significantly healthier! And hey, there is never anything wrong with some water. While you're at it, be sure to stock up on any of The 7 Healthiest Foods to Eat Right Now, too.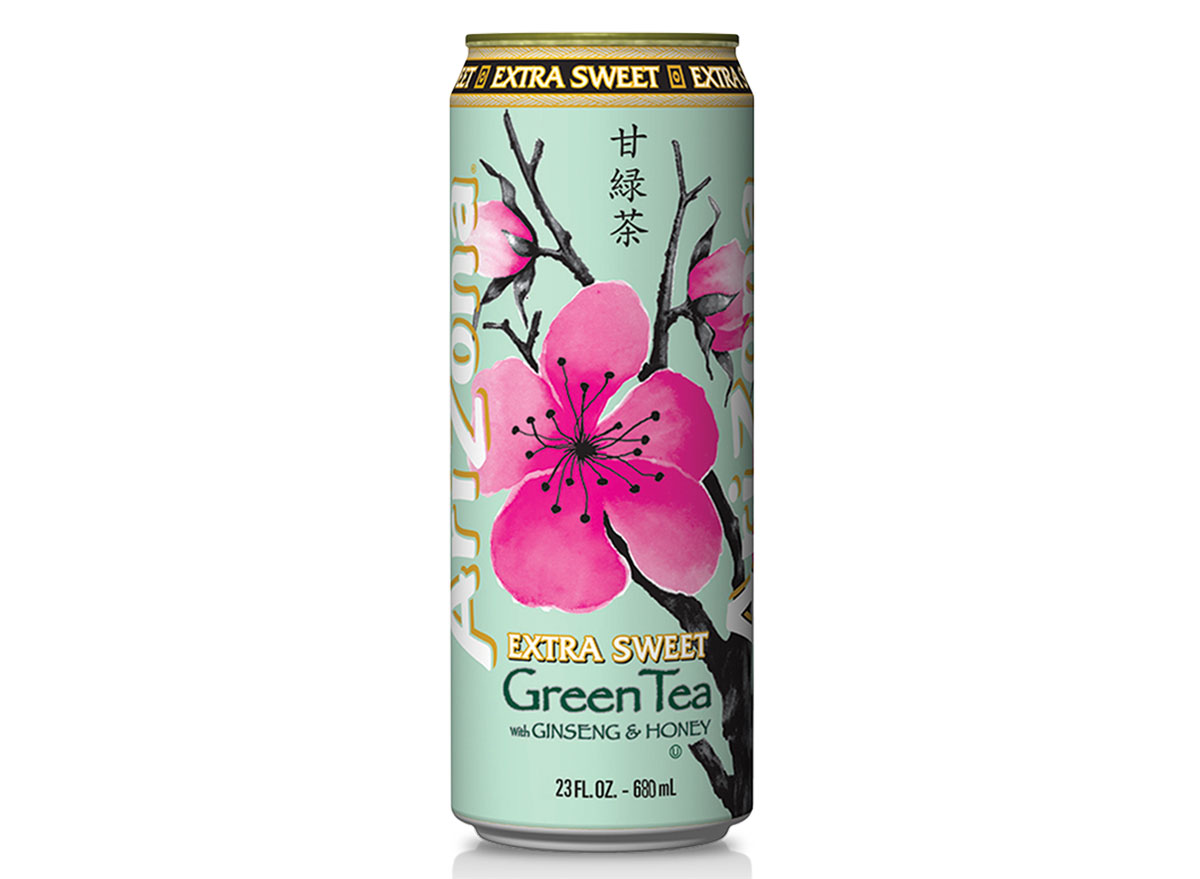 Drink to avoid: Extra Sweet Green Tea with Ginseng and Honey
PER 23.5 FL OZ BOTTLE
: 260 calories, 0 g fat, 30 mg sodium, 64 g carbs, (62 g sugar), 0 g protein
This is a prime example of a drink that seemingly looks like it would be good for you. If you look closely, though, you'll quickly see otherwise.
"Just because this has green tea in it, doesn't mean it's healthy, as for instance, the second ingredient is high fructose corn syrup," says Ilyse Schapiro MS, RD, CDN. Reason enough to leave this drink alone!
Drink to avoid: Surge Soda Citrus Flavored
PER 16 FL OZ CAN
: 230 calories, 0 g fat, 50 mg sodium, 62 g carbs, (56 g sugar), 0 g protein
Soda is unhealthy in general, but Coca-Cola's Surge takes the cake as the worst of the worst.
"The second ingredient is high fructose corn syrup, and while it may have orange juice concentrate in its list of ingredients, this soda offers no nutritional value," says Schapiro. Plus, it has food additives and colors like Yellow 5, Yellow 6, and Blue 1, which you want to avoid in your beverages.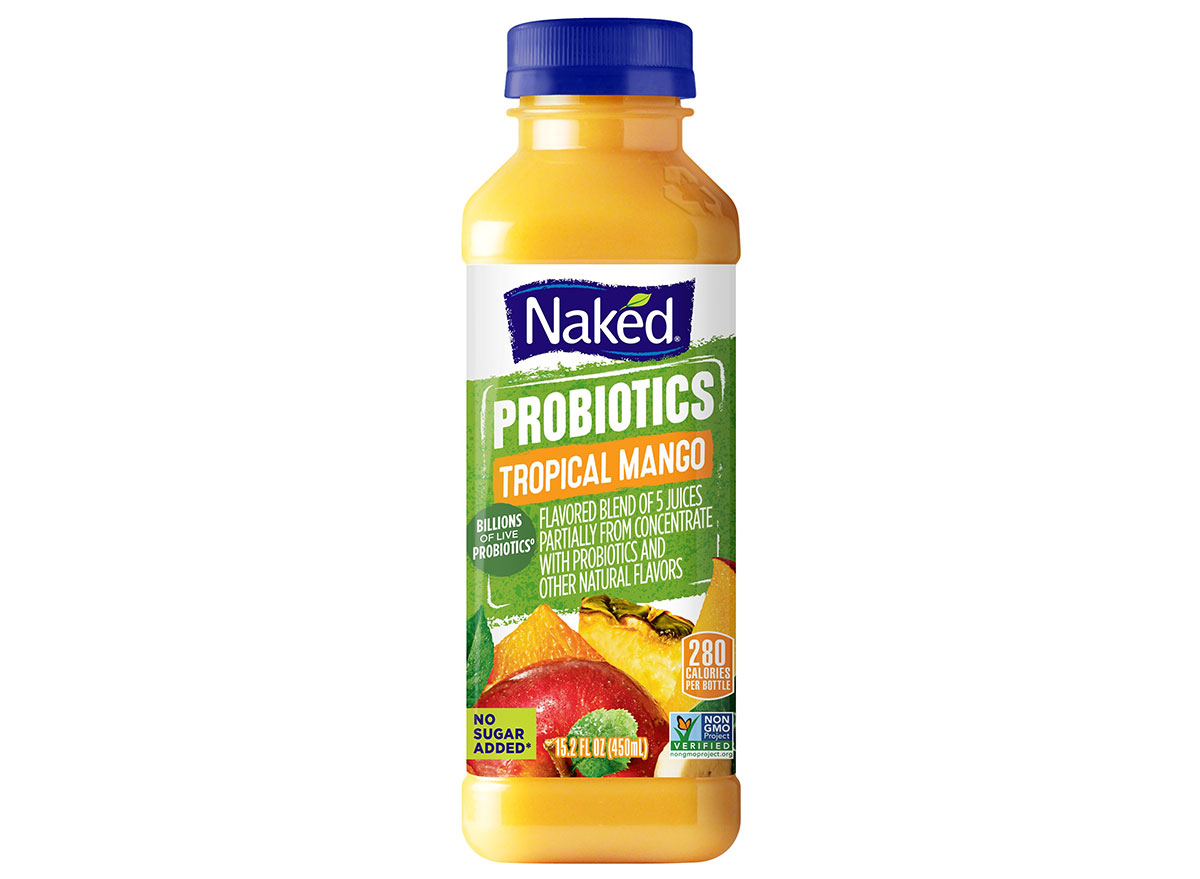 Drink to avoid: Naked Boosted Probiotic Machine Tropical Mango6254a4d1642c605c54bf1cab17d50f1e
PER BOTTLE
: 280 calories, 0 g fat (0 g saturated fat), 5 mg sodium, 66 g carbs, (2 g fiber, 53 g sugar), 3 g protein
Everyone thinks smoothies are automatically a healthy drink option because they are loaded up with fruit and veggies. However, that's not always the case with bottled versions! Naked Juices are proof, especially the Boosted Tropical Mango flavor. It's especially misleading by saying there are probiotics in the juice. What's really present in this bottle? Fructooligosaccharides, which is another way to add even more sweetness.
"If you want some mango, have the fruit, and have a separate probiotic, you will save yourself a lot of sugar and calories," says Schapiro.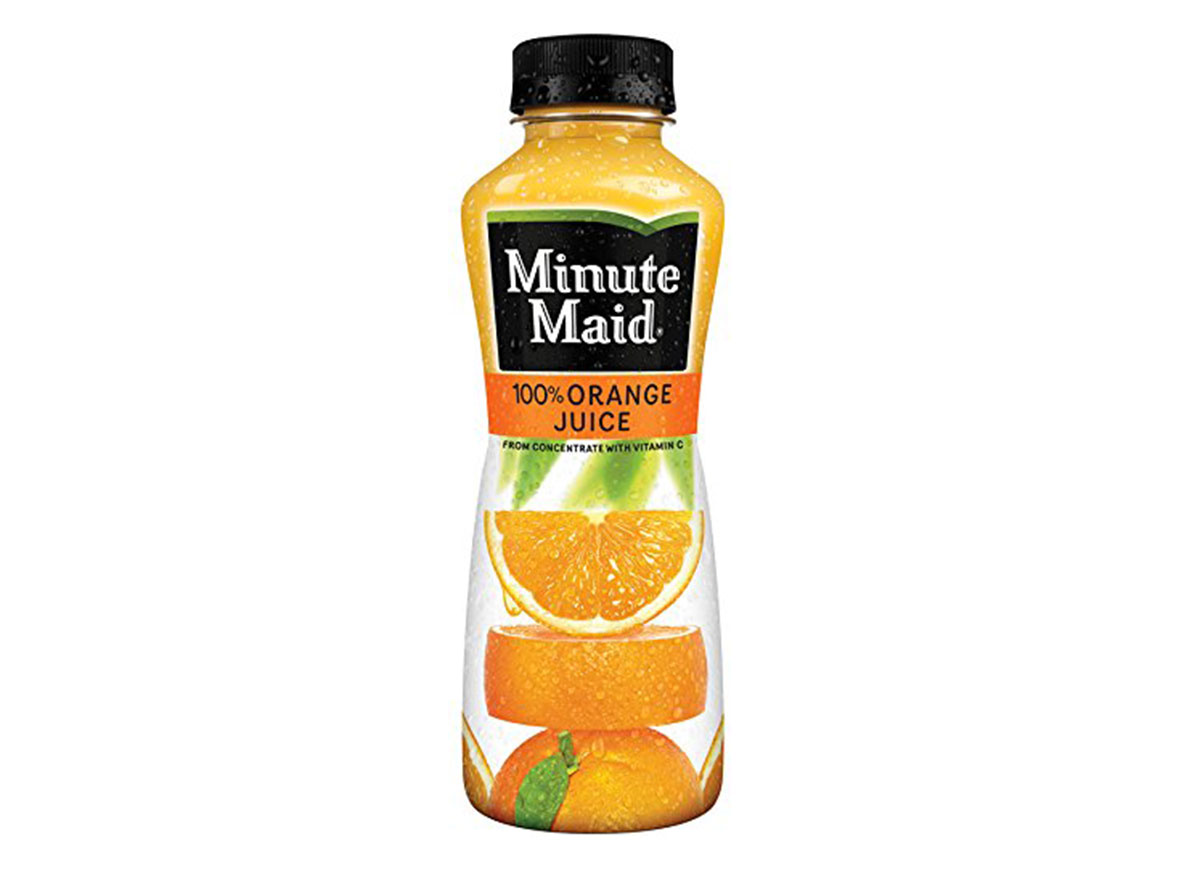 Drink to avoid: Orange Juice
PER SERVING
: 110 calories, 0 g fat (0 g saturated fat, 0 g trans fat), 15 mg sodium, 27 g carbs (0 g fiber, 24 g sugar), 2 g protein
Simply put, it would be better to eat whole oranges rather than sip on this orange juice.
"A whole orange is only 45 calories while a serving of orange juice is 110 calories, and while the carbohydrate content is primarily from natural sugar, this number (24 grams) should be a concern for those watching their carbohydrate and sugar intake," says Trista Best, MS, RD.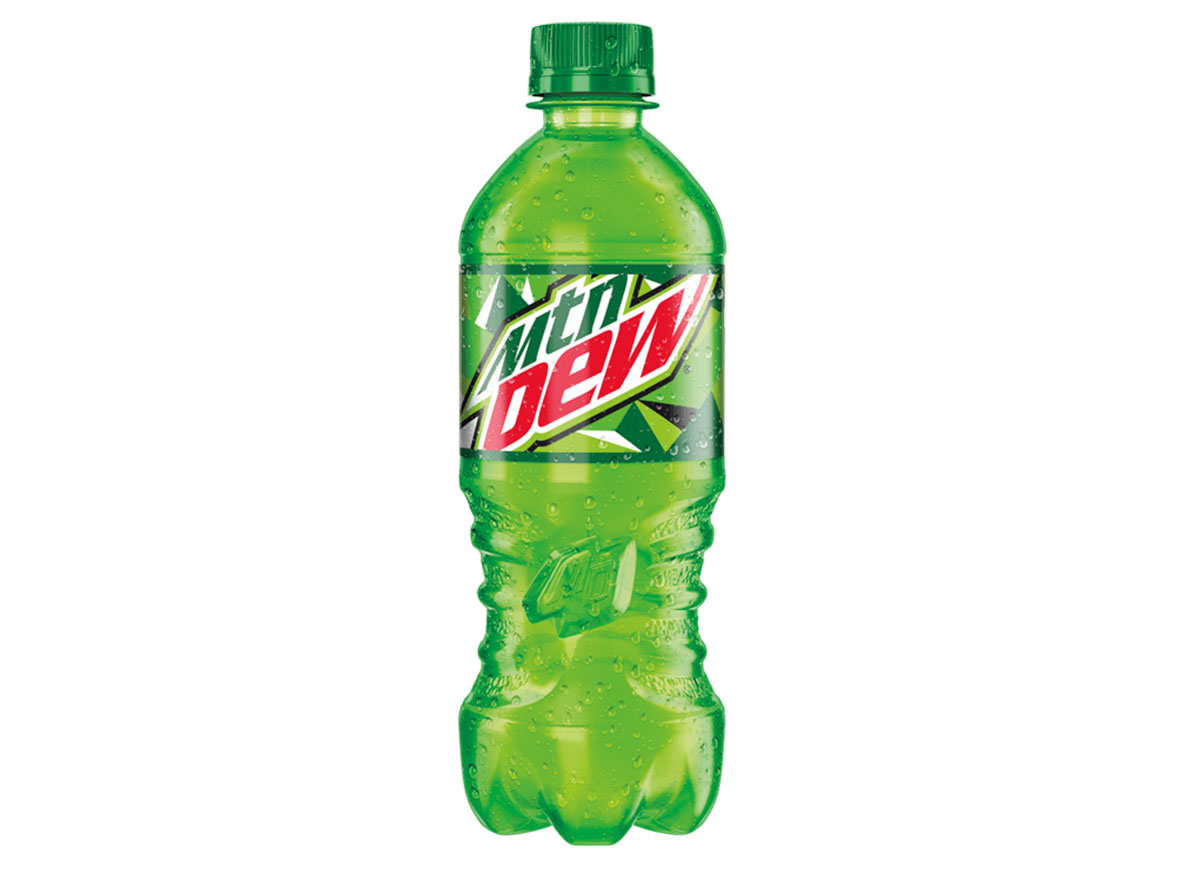 Drink to avoid: Mtn Dew
PER SERVING
: 290 calories, 0 g fat (0 g saturated fat), 105 mg sodium, 77 g carbs (0 g fiber, 77 g sugar), 0 g protein
Although the brand has removed brominated vegetable oil, not much else changed in terms of added ingredients, calories, sugar, and caffeine.
"At 290 calories this beverage makes up nearly the entire calories needed for one meal or snack, and the carbohydrates are entirely from added sugar," says Best.
Looking for ways to cut back on sugar? This is the science-backed way to curb your sweet tooth in 14 days.
Drink to avoid: Lemon Flavored Tea
PER SERVING
: 160 calories, 0 g fat (0 g saturated fat), 0 mg sodium, 41 g carbs (0 g fiber, 41 g sugar), 0 g protein.
Many are beginning to turn to tea instead of coffee and soda for their daily caffeine fix. But you don't want to choose a sweetened option with added sugars, manufactured ingredients, and high calorie content when doing so.
"This particular tea option is flavored without actual real lemons making the added sugar content reach 41 grams in total, and this is an alarming number for those watching their calorie and sugar intake," says Best.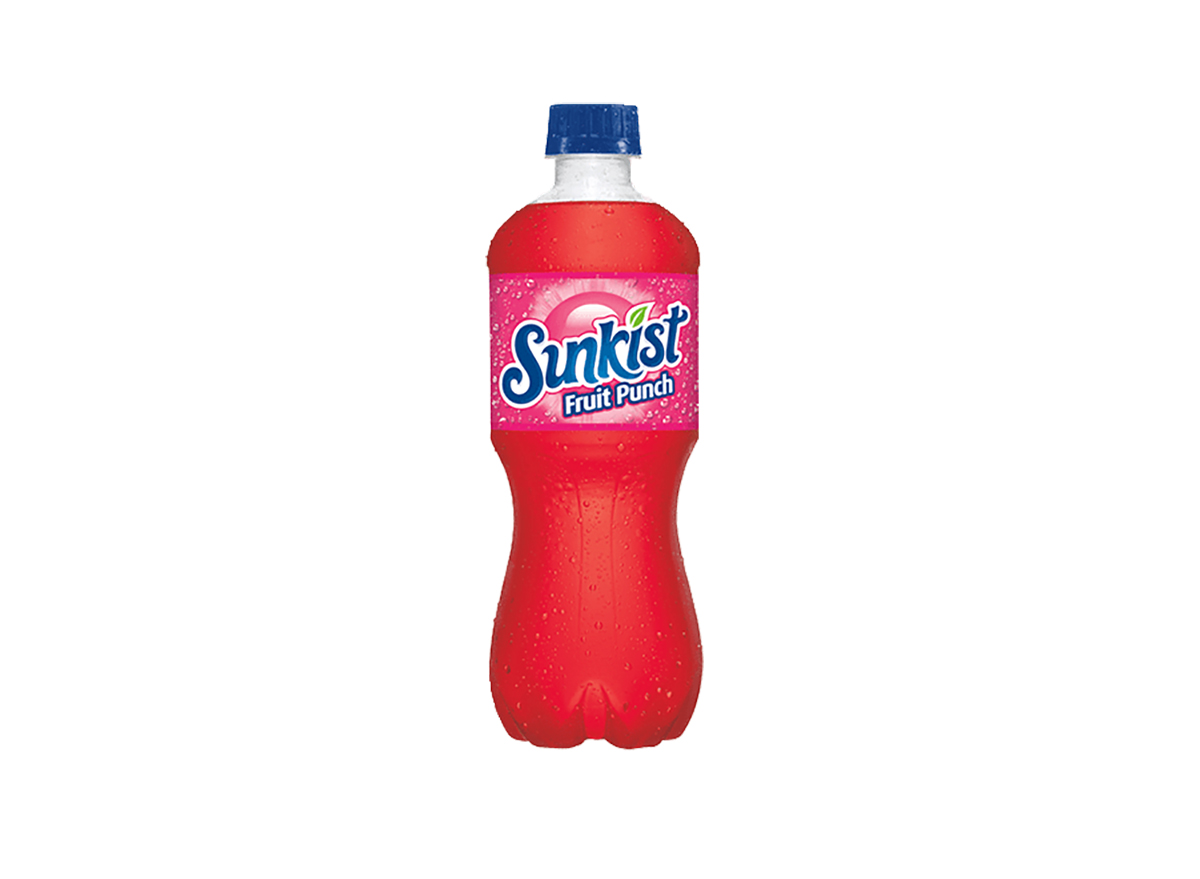 Drink to avoid: Sunkist Fruit Punch
PER SERVING
: 300 calories, 0 g fat (0 g saturated fat, 0 g trans fat), 100 mg sodium, 82 g carbs (0 g fiber, 80 g sugar), 0 g protein
This company owns many beverage lines but one you want to be wary of is Sunkist. A 20-ounce single-serve bottle of the Fruit Punch soda clocks in at 300 calories, and it's nearly all sugar. In fact, it's packing 20 teaspoons of added sugar.
"It uses high fructose corn syrup, which causes inflammation in the body and it also uses Red 40, which is controversial," says Lyssie Lakatos, RDN, CDN, CFT, due to its possible carcinogenic properties. Either way, it's best to avoid it until more research is out there deeming it safe!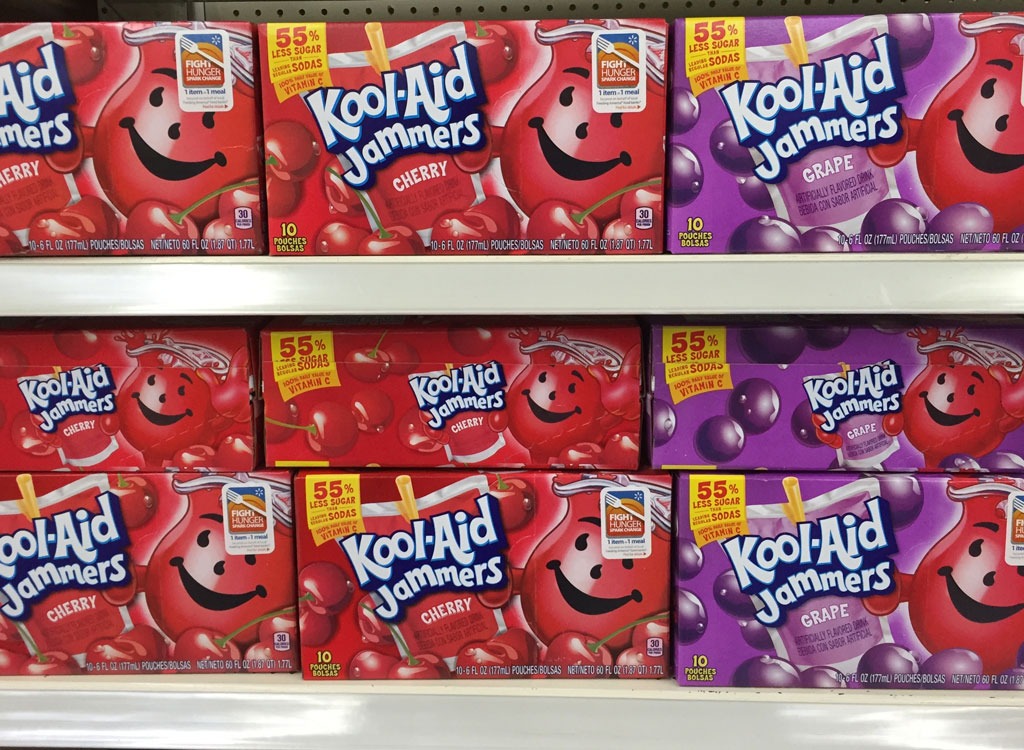 Drink to avoid: Cherry Flavored Unsweetened Caffeine Free Powdered Drink Mix
PER SERVING
: 0 calories, 0 g fat ( 0 g saturated fat, 0 g trans fat), 5 mg sodium, 0 g carbs (0 g fiber, 0 g sugar), 0 g protein
The nutritional info on a packet of unsweetened Kool-Aid lists zero calories, which can be deceiving.
"That doesn't account for the amount of sugar you add during preparation, and the instructions say to use one cup of sugar and two quarts of water for one packet," says Lakatos. Once it's made, this equals 20 grams, or five teaspoons of sugar per serving, which isn't disclosed on the packet. It also contains artificial colors and preservatives. Skip!
Isadora Baum
Isadora Baum is a freelance writer, certified health coach, and author of 5-Minute Energy.
Read more about Isadora