9 Worst New Fast-Food Menu Items, According to an RD
These menu options aren't the healthiest, but you can make them healthier with a few simple swaps.
When hunger strikes while you're at work or out and about running errands, the drive-thru lane at the nearest fast-food restaurant is the easiest way to quiet your growling stomach. While you peruse the menu, you notice a few new items that look super tempting, but you have to wonder how healthy they are.
We got some insight from Jamie Lee McIntyre, MS, RDN on what to avoid in the drive-thru lane. But if you want to try these new items she also gave some tips and tricks on how to make them a little healthier. If you're hitting the drive-thru later today, keep reading.
And for more, check out these 15 Classic American Desserts That Deserve a Comeback.
Jersey Mike's Grilled Portabella Mushroom and Swiss Sub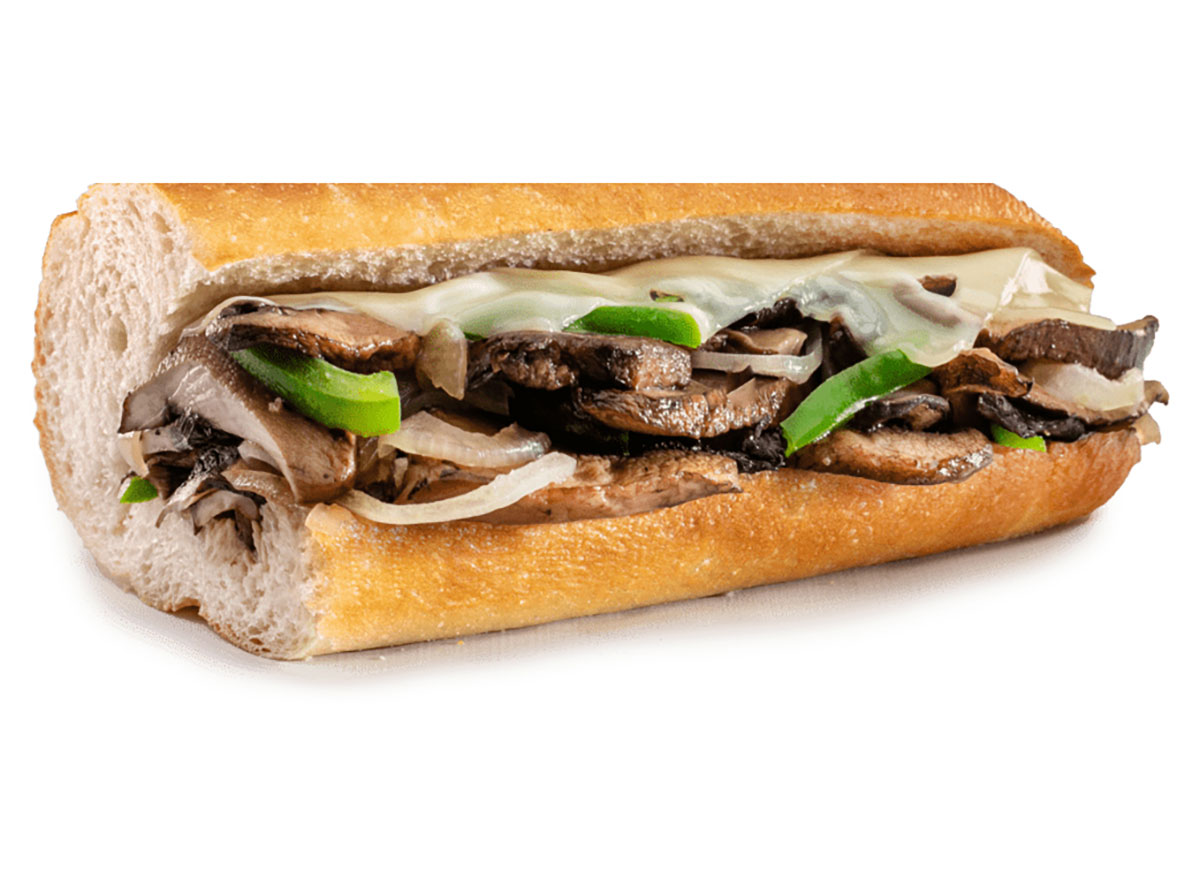 Per 1 regular sub
: 610 calories, 29.28 g fat (10.23 g saturated fat, 0.16 g trans fat), 802.08 mg sodium, 65.59 g carbs (4.99 g fiber, 7.73 g sugar), 25.90 g protein
The newest sandwich from Jersey Mike's is filled with veggies but is also loaded with saturated fat. A single sandwich has almost 11 grams of saturated fat, which, according to McIntyre, is 55% of your daily allowance. To make the sandwich a little healthier, McIntyre says, "Consider enjoying this sandwich open-faced to reduce calories from the sub sandwich roll, but no need to omit the bread altogether."
Taco Bell Cheesy Fiesta Potatoes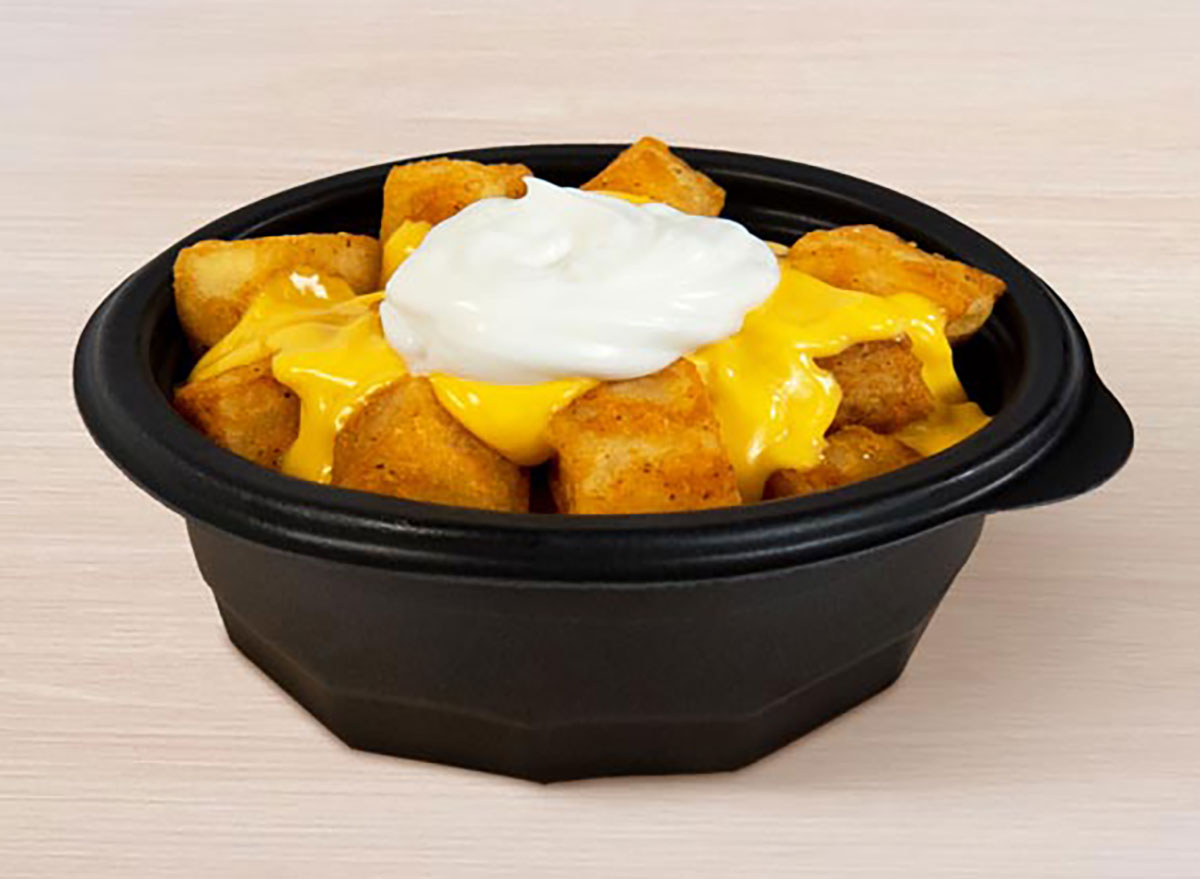 Per 1 order
: 230 calories, 12 g fat (2 g saturated fat, 0 g trans fat), 520 mg sodium, 28 g carbs (2 g fiber, 2 g sugar), 3 g protein
The Cheesy Fiesta Potatoes, which recently returned to Taco Bell, are a guilty pleasure, but they aren't the healthiest item to be eating all of the time. "While this is not a dish I'd typically recommend, it is important to remember that all foods can fit into a healthy lifestyle when you adjust dosing and frequency. A couple bites of cheesy crispy potatoes won't break you, just like a couple bites of broccoli won't immediately fix you," says McIntyre. "So, in the spirit of balance, this dish would be best enjoyed as a shared side to a taco salad. Personally, I'd swap out the nacho cheese for the three-cheese blend—you'd still get that cheesy flavor with but with a less processed cheese and higher protein content."
Taco Bell Spicy Potato Taco
Per 1 taco
: 230 calories, 12 g fat (3 g saturated fat, 0 g trans fat), 460 mg sodium, 27 g carbs (2 g fiber, 1 g sugar), 5 g protein
Potatoes inside a taco sounds like a dream, but McIntyre says this vegetarian choice should be an occasional treat rather than a go-to order. "Going 'easy on potatoes' saves 45 calories, and opting for extra lettuce for volume adds zero. You can also swap out the Chipotle sauce for guacamole—this won't save calories, but it will swap in healthier fats and reduce the saturated fat content of this dish," she says.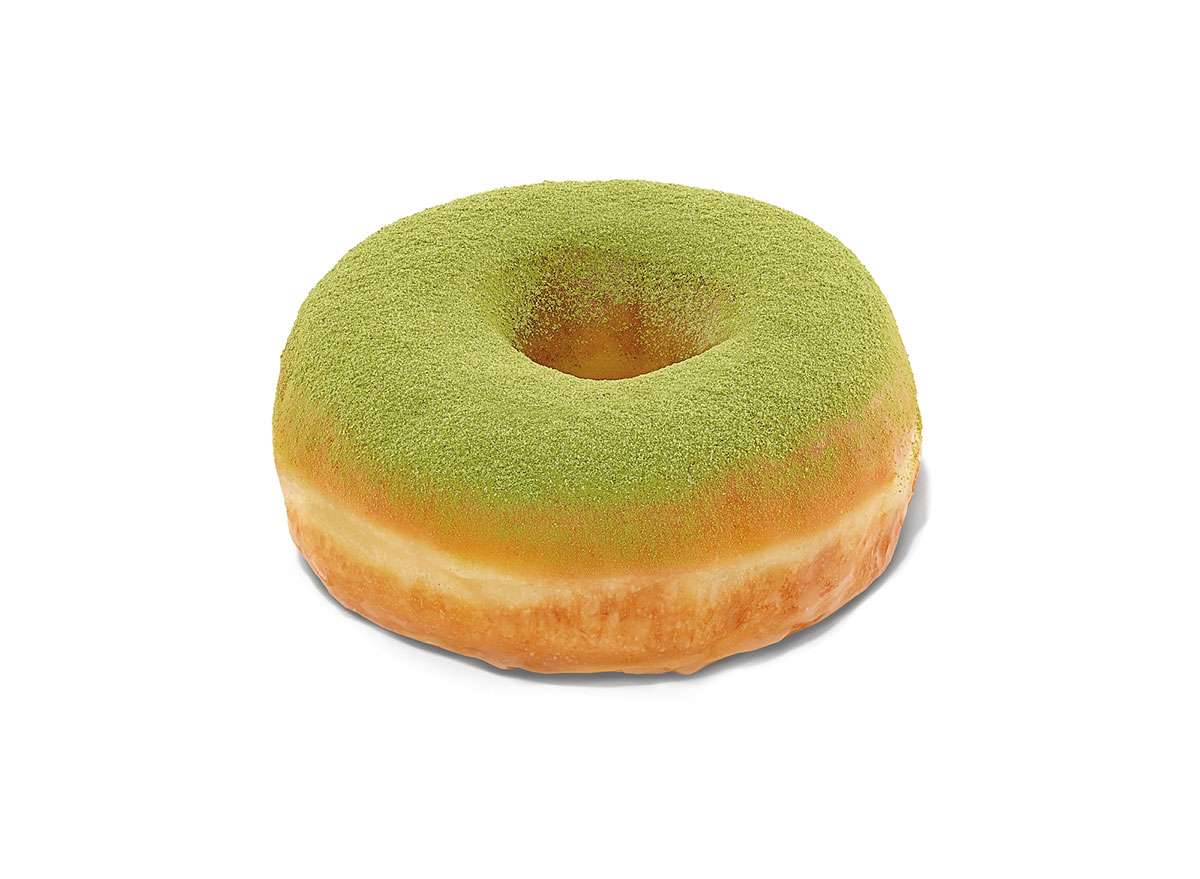 Per 1 donut
: 250 calories, 11 g fat (4.5 g saturated fat, 0 g trans fat), 270 mg sodium, 34 g carbs (1 g fiber, 14 g sugar), 4 g protein
Green is the color of the season, and Dunkin' is taking full advantage of that with the new matcha donut. But like many other donuts, this one has a lot of added sugar. "Enjoy this as an infrequent sweet treat shared with a friend for portion control," McIntyre says.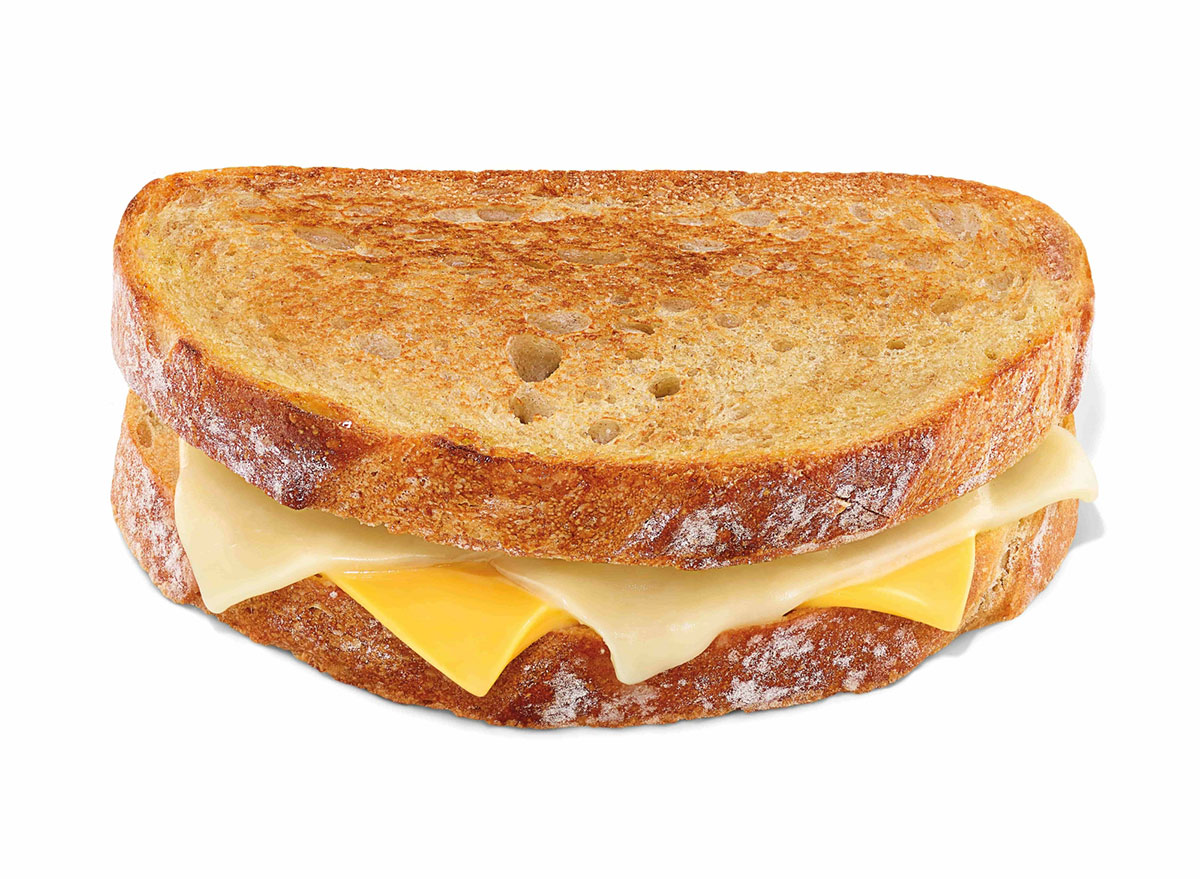 Per 1 sandwich
: 480 calories, 20 g fat (11 g saturated fat, 0 g trans fat), 1,120 mg sodium, 54 g carbs (3 g fiber, 1 g sugar), 28 g protein
Grilled cheese sandwiches are major comfort food for many people, so it's no surprise that the new grilled cheese from Dunkin' is already a hit. But McIntyre says the sandwich is "high in fat and sodium from the central ingredient and low in fiber as it is served on bread made from refined flour." Because there's not an easy way to simply modify to make it a little healthier, McIntyre suggests skipping it altogether and making a homemade grilled cheese sandwich.
Wienerschnitzel Aussie Dog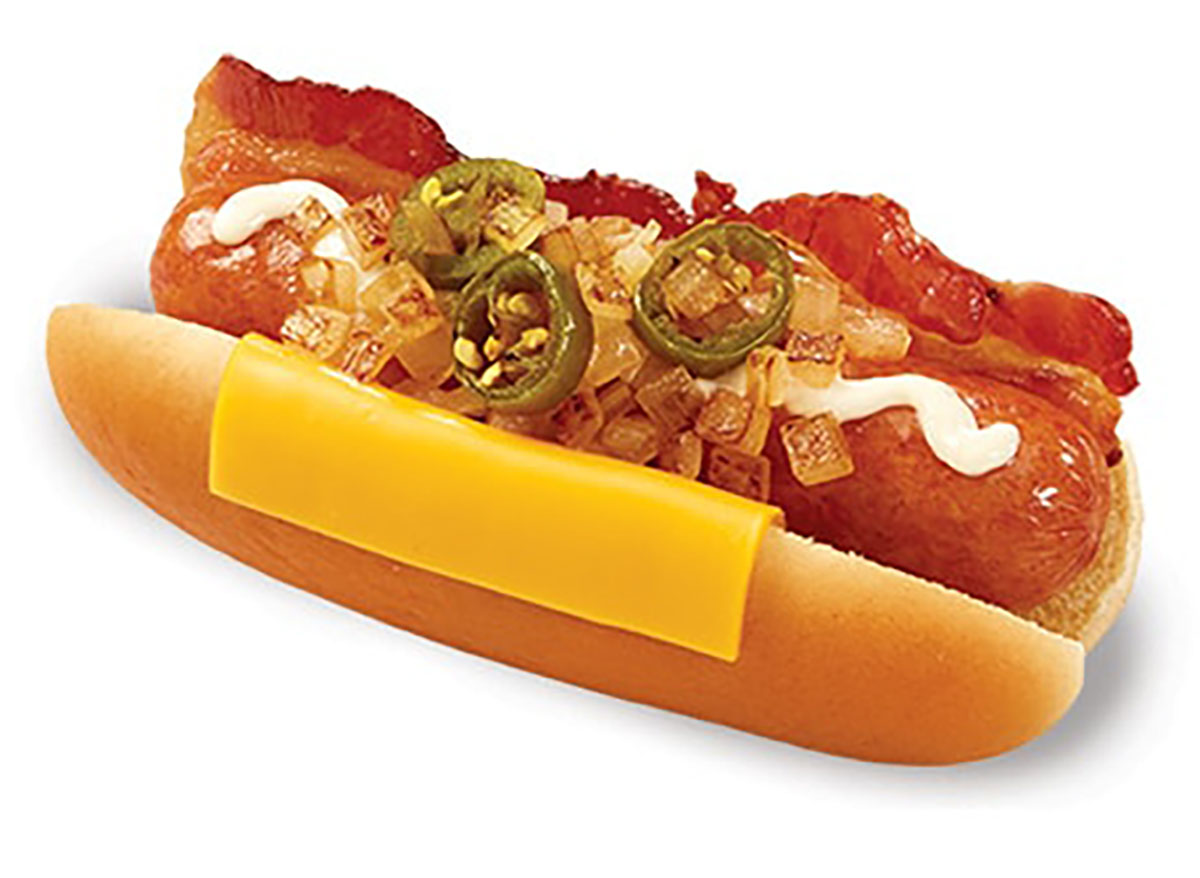 Per 1 hot dog
: 570 calories, 39 g fat (13 g saturated fat, 0 g trans fat), 1,830 mg sodium, 34 g carbs (2 g fiber, 7 g sugar), 24 g protein
Hot dogs are an American classic, but they aren't the best things to be eating on a regular basis. "Hot dogs fall into the processed meat category—a category of food most health experts recommend limiting for heart health and cancer prevention," says McIntyre. One with cheese, bacon, horseradish aioli, and grilled onions and jalapeño like this is a treat to have every once in a while. For something a little healthier, McIntyre suggests getting the Mustard or Kraut Dog to save on saturated fat and curb your cravings.
Popeyes Cajun Flounder Sandwich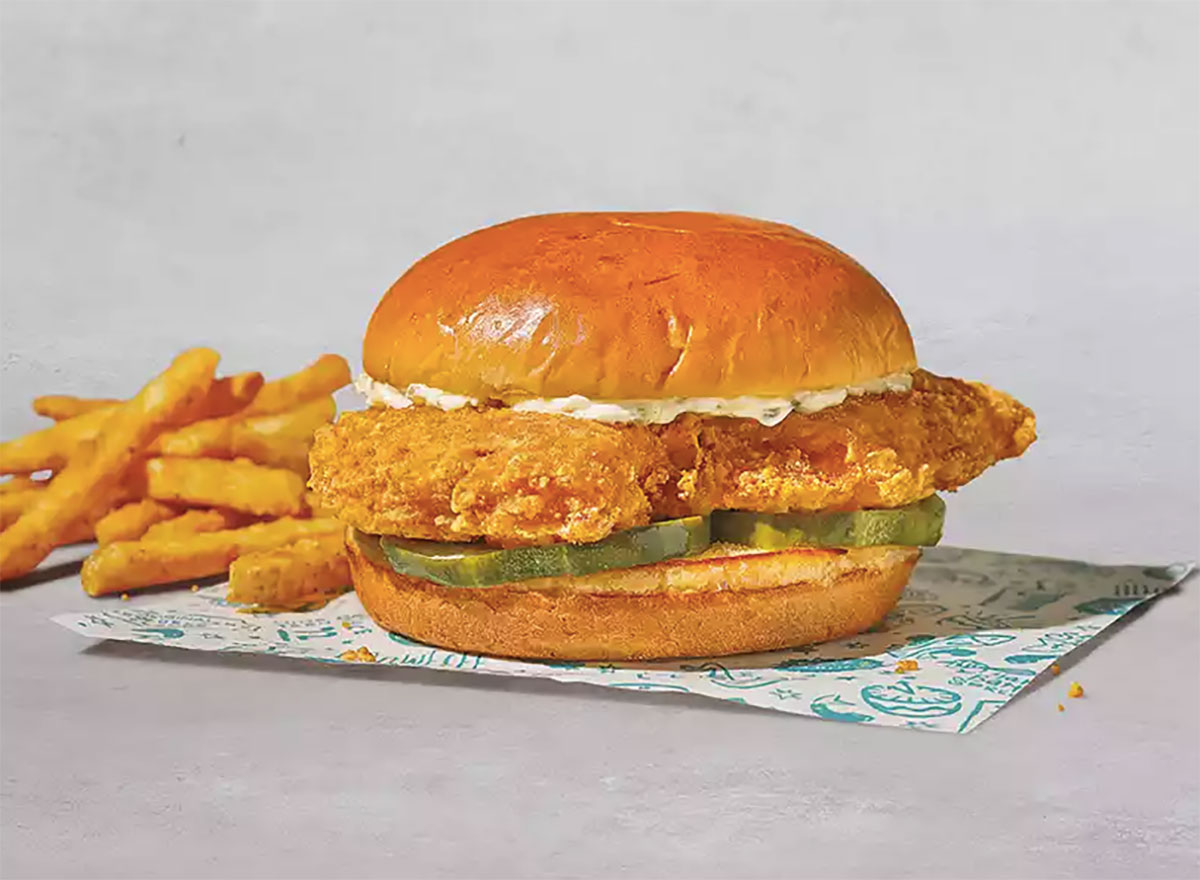 Per 1 sandwich
: 670 calories, 36 g fat (9 g saturated fat, 0 g trans fat), 1,960 mg sodium, 65 g carbs (4 g fiber, 9 g sugar), 25 g protein
According to McIntyre, fish sandwiches like the new Cajun Flounder Sandwich from Popeyes are deceiving options on menus. "While you may think choosing the fish sandwich as a lean protein option is a good idea, think again. Items that are battered, fried, and crispy will deliver high amounts of saturated fat and sodium." To make this one a little more healthy, consider getting the bun without butter and asking for the tartar sauce on the side so you're able to control how much is on the sandwich.
Slim Chickens Chicken Club
6254a4d1642c605c54bf1cab17d50f1e
Per 1 sandwich
: 747 calories, 42 g fat (9 g saturated fat, 0 g trans fat), 1,044 mg sodium, 40 g carbs (2 g fiber, 8 g sugar), 40 g protein
The new Slim Chickens Chicken Club sounds like a tasty lunch, but the 747 calories, 42 grams of fat, 9 grams of saturated fat, and 1044 milligrams of sodium are a major blow to any diet. If you really want to try this sandwich, consider taking McIntyre's advice. "Menus differ based on location, but try your luck at asking for grilled chicken instead of fried and share the sandwich with a friend for portion control," she says.
Sonic Oreo Big Scoop Cookie Dough Sundae
Per 1 sundae
: 770 calories, 45 g fat (19 g saturated fat, 0.5 g trans fat), 470 mg sodium, 108 g carbs (2 g fiber, 68 g sugar), 9 g protein
Oreos and Cookie Dough combine to make this sweet treat, but it's also way over the sugar intake guidelines for men and women. The sundae has a whopping 68 grams of sugar in a single portion, making it more than double the recommended daily amount for women and almost double for men. "This would be best enjoyed split into four tasting size portions to share with the family," McIntyre says.
Megan duBois
Megan duBois is a travel and lifestyle journalist with bylines across the internet and in print at Delish, Conde Nast Traveler, Travel + Leisure, Yahoo Lifestyle, and more.
Read more about Megan