The #1 Order to Never Make at a Pizza Place, According to Chefs
Avoid these surefire ways to ruin a perfectly balanced pie.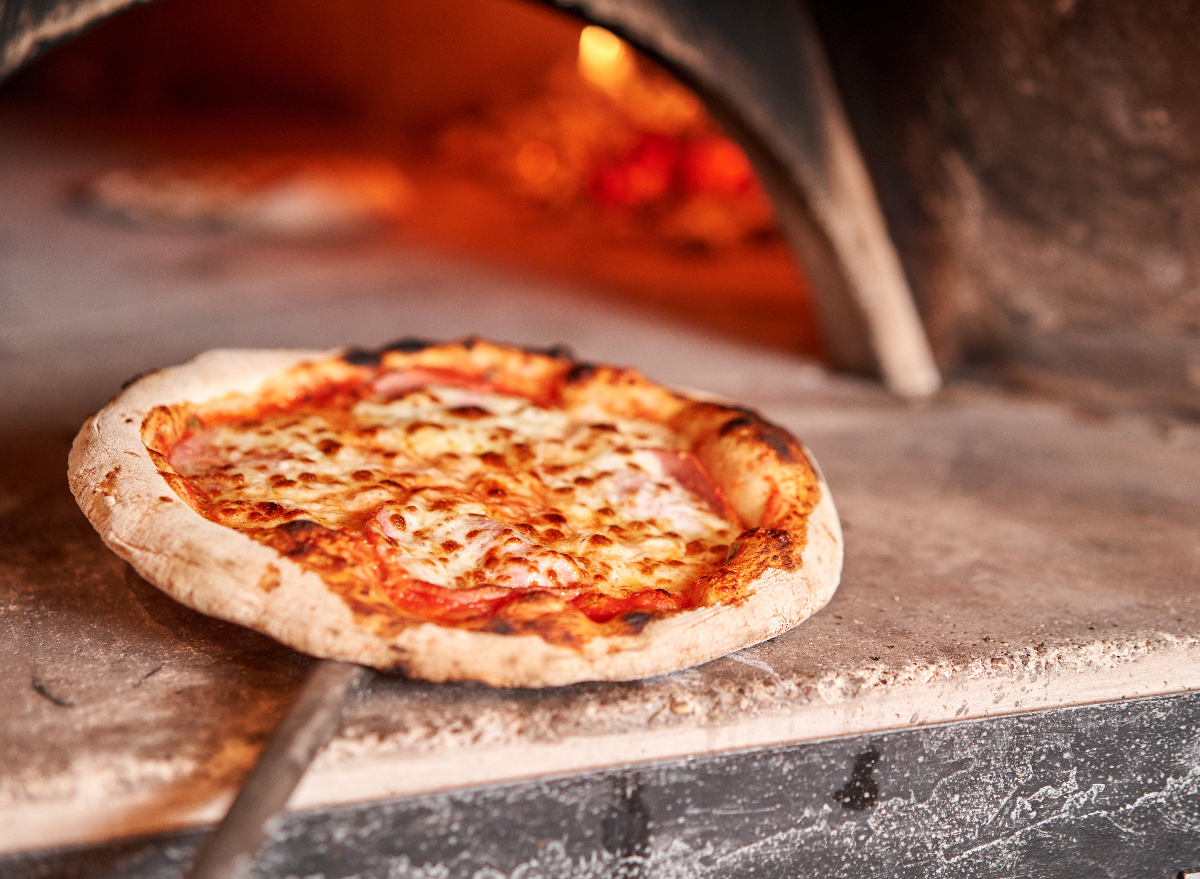 They say that the customer is always right—unless said customer is going hog-wild on the build-your-own-pizza menu. Even for something as commonplace and as foolproof as pizza, there's a right way and a wrong way to order it.
Just like there are wrong things to order at seafood restaurants, burger joints, and steakhouses, the same is certainly true at a pizza-centric restaurant, whether fast-casual or high-end.
Unlike seafood restaurants or steakhouses, though, where the taboo orders have to do with sustainability and cooking temperatures, the no-no consensus at pizza places has more to do with customization—and by that we mean don't do it.
Any pizza spot that puts thoughtful craft and care into its recipes is one that customers can trust to put together a tasty pie with harmonious ingredients, cheeses, and sauces.
By veering away from these specialty pies, or by opting to build your own, you run the risk of missing out on the best menu creations or botching a well-made pizza with haphazard toppings that clash. Quite simply, the number one order to never make at a pizza place is an off-menu pie.
We asked some of America's top pizzaiolos for their suggestions on what to avoid ordering, why filling up on mediocre appetizers is a bad idea, and why you should put your trust in the chef.
Matter-of-factly, the thing not to order at a pizza restaurant should be any menu item that doesn't make sense for the concept. As Bryce Shuman, executive chef of New York City's Sweetbriar, explains, "Don't order the crab cakes or the pierogis. You should always stick to what the restaurant does best. Get the place's top seller and give it a whirl." For instance, at Sweetbriar, the number one pie is the Spicy Mangalitsta, with house-fermented chili paste, thinly sliced Mangalitsa ham, honey, and thyme.
When in Rome, do as the Romans do. Or in this case, when in a pizza restaurant, do as the Italians do. That's the ethos according to Michael Taus, executive chef at Chicago's ROOF on theWit. "I think people should not order non-Italian items off a pizza menu. Being of Italian heritage, my family always stays away from random items like wings, Asian chicken salad, hummus, and nacho bites on an Italian-focused menu. I say pick a category and do it well." For example, at ROOF, Taus serves a sausage pizza inspired by his father's tradition of buying sausage from Greco & Sons Italian foods and pairing it with Melrose peppers.6254a4d1642c605c54bf1cab17d50f1e
According to Khanh Nguyen, founder and CEO of Houston's Zalat Pizza, customers should trust that the chef knows what's best and that items are added to the menu for good reason. "We buy the ingredients that the chefs put on the menu, not the marketing department," he says. "I avoid creating menu items that seem like they were concocted by analytics that a marketing team would determine to be hot sellers, like stuffed crust or the latest fad flavors or styles, like Detroit-style pizza."
While he acknowledges that these items can be great, the chances of a marketing team executing a product at the highest level is not great. "We stick with what tastes great and will make our customer happy."
This ethos especially applies to the whole build-you-own-pizza format, which Rob Larman advises against. The chef/owner of il Fuoco in Sonoma doesn't offer DIY pizzas as an option for good reason. "It's not that there are bad ingredients, but a matter of what works together and why. I'm going on 52 years as a chef, so I think in flavors and have put a lot of work into curating a menu of pizzas built on flavors." Rather than put together random toppings and order off-menu, he suggests customers order his Bill Pizza with Calabrian chili, dates, Tallegio cheese, and guanciale.
Lisa Dahl, chef of Sedona's Pisa Lisa, agrees. "Don't add extra toppings to your pizza because you can inadvertently ruin the balance that the chef created when they designed their pizzas. We don't want people to change our pizzas, just as we don't want people to change our pasta sauces on our pasta creations."
Similarly, by focusing on what the specialty of the house is, that means customers shouldn't prioritize random starters or side dishes which could distract from the menu mainstays. "Customers should never order fried calamari off of a pizza restaurant's menu," cites Jon Gabel, owner of New York City-based Zazzy's Pizza and founder of Coming Soon Food Group.
In fact, he says seafood in general should not be ordered in a pizza parlor, as that's something that's best made fresh, in a restaurant that specializes in that.
Beyond seafood, more commonplace pizzeria fare that should best be avoided include ubiquitous items like garlic bread. "I would recommend never getting garlic bread, which is guaranteed to be loaded with oil and sodium," explains Rick Rosenfield, co-founder of California Pizza Kitchen and founder of California's Roman-style ROCA. If you're gonna carb out, he says to get another slice of pizza. Or, according to Dahl, if you just really want some bread, say no to common garlic bread, but say yes to homemade focaccia. "Garlic bread will quickly fill you up and weaken your appetite, which should be reserved for authentic items like focaccia and bruschetta."
Then there are some more controversial pizza toppings, which some chefs advise against, like pineapple and jalapeño. Per Ken Martin, co-owner of Connecticut-based Colony Grill, "the customer is always right" adage is understandable, if sometimes ill-advised.
"We believe that everyone should eat and let eat when it comes to pizza. That said, we don't quite understand pineapple. Get a fruit salad." Anchovies, on the other hand, he believes get a bad rap. "They're incredibly salty and delicious, especially when paired with something like hot cherry peppers."
And rather than order something with jalapeños, which might make more sense on something at Taco Bell, Mici Italian co-founder Michael Miceli suggests trying Calabrian chili. "Our family grew up adding a little heat to the food we made together, and there are so many delicious and native Italian hot peppers out there that offer far more flavor versatility than a jalapeño pepper." Preferred for their spicy and smoky tastes, which give the right amount of heat without overpowering, the restaurant chain uses them on items like the Pulizzi Pizza, featuring sausage and Calabrian chiles from Sicily.
Matt Kirouac
Matt Kirouac is a travel and food writer and culinary school graduate, with a passion for national parks, all things Disney, and road trip restaurants.
Read more about Matt