The Most Popular Type of Pizza in Every State, Says New Data
Slice, a popular pizza-delivery app, has taken a deep dive into their data to discover the most-ordered pies.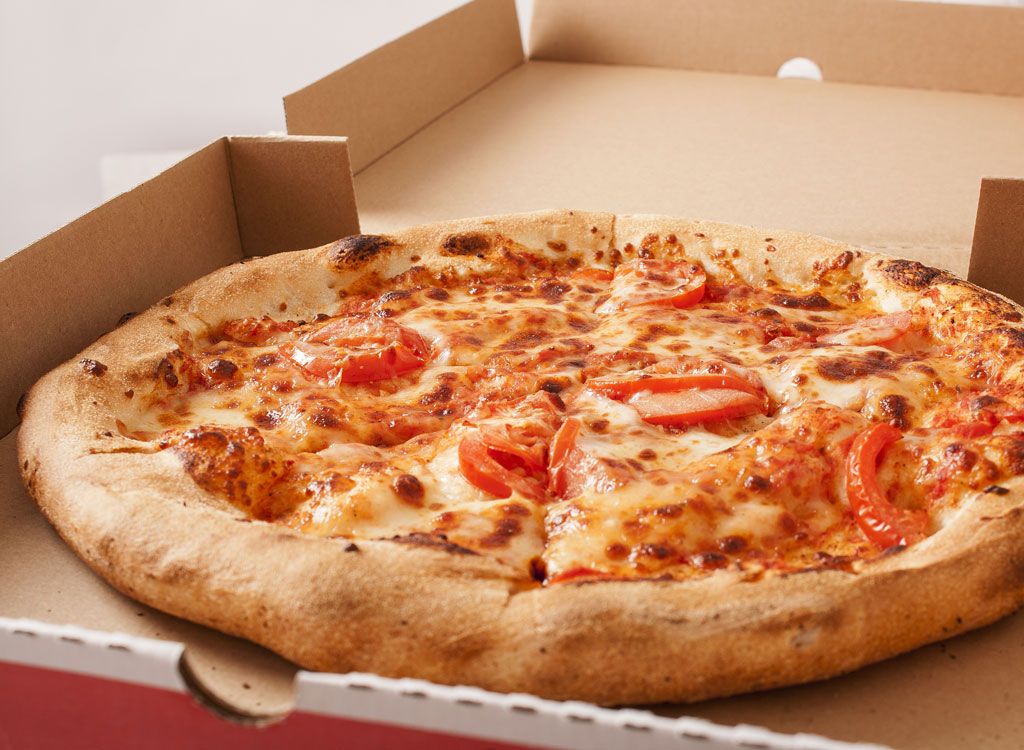 The United States can't agree on much these days, but there's one thing we can: We all love pizza.
America's most popular indie pizza delivery app, Slice, recently conducted a study to find out where America's tastes lie when it comes to types of pizza. Here's a deep dive into the most popular types of pizza in every state and some fun facts you may not have known about the hot, cheesy classic—just in time for the most popular day for pizza orders (ahem, the Super Bowl this Sunday).
And next, don't miss our list of The Best Pizza in Every State.
Alabama – Deep Dish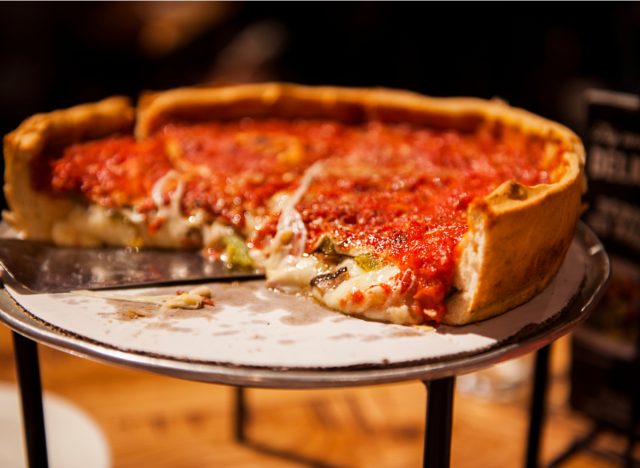 Deep dish pizza is the second most popular across the states with nine ordering it the most. Alabama is also the state with the least expensive pizza orders overall.
Alaska – Deep Dish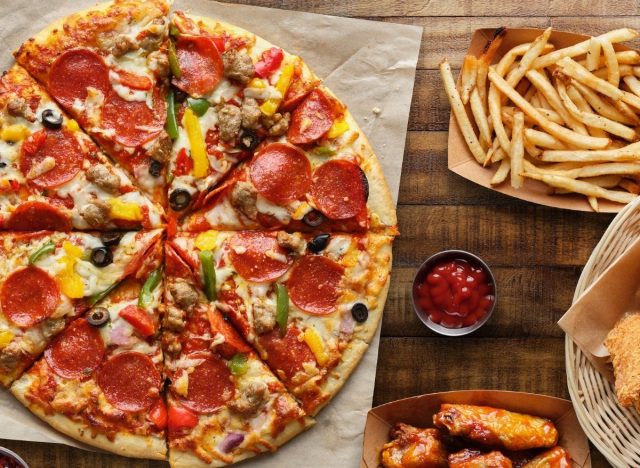 Alaska also favors a filling slice of deep dish. Did you know that the most popular side ordered with pizza is french fries?
Arizona – Sicilian
Sicilian is the most popular pizza ordered across the states with 10 states picking this thick, satisfying square slice. Arizona is also the state that orders the most chicken wings with its pies.
Arkansas – Supreme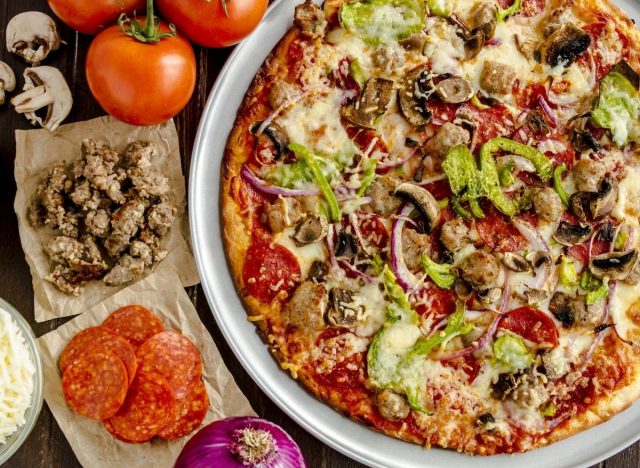 A supreme pizza can vary from region to region but typically includes pepperoni, sausage, peppers, and onions. Seven states order supreme pizzas the most. Across the country, pepperoni is the most popular pizza topping overall, starring on 37% of pies.
California – Veggie
California is among six states that like a pizza bursting with veggies. The state also orders the most salad on the side, a choice more states should adopt!
Colorado – White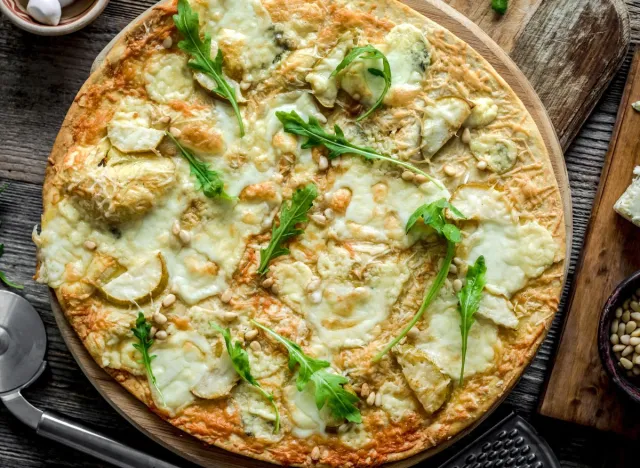 Seven states, including Colorado, favor the red sauce-free white pizza.
Connecticut – White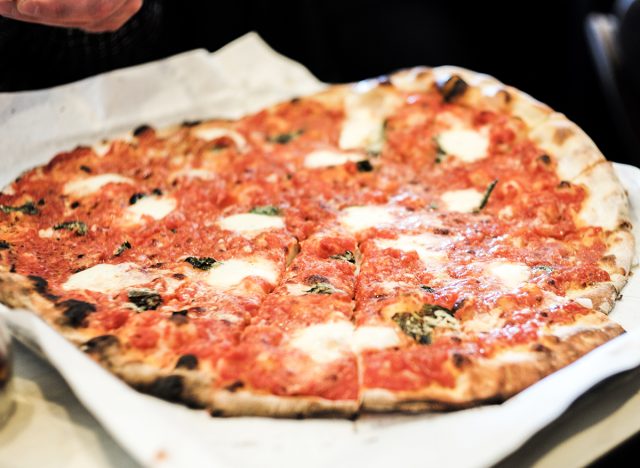 People in Connecticut are ordering mostly white pizza, like Colorado. However, the state also made famous the New Haven-style pizza which Slice saw 163% more orders for in 2021. This type of pizza, according to legend, was made popular by Frank Pepe in the 1920s. This thin-crust pizza with just tomato sauce as a topping was baked in coal- or wood-fired ovens and came out charred and crisp.
Delaware – Sicilian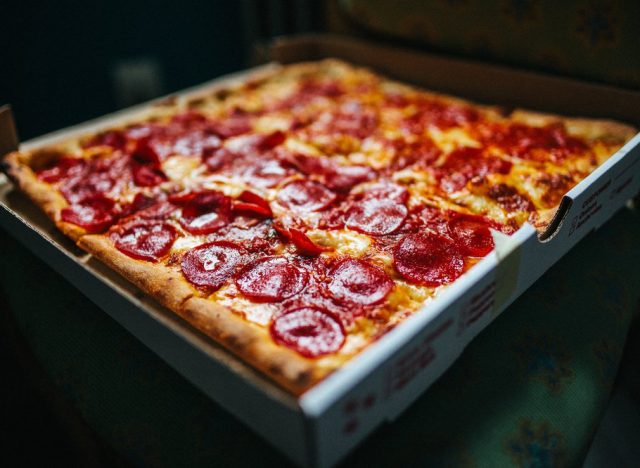 In Delaware, people favor a slice of Sicilian pizza.
Florida – Sicilian
If it's 6 pm in Florida—the most popular time across the country to order a pizza—you could find many households ordering up a thick slice of Sicilian pizza.
Georgia – Deep Dish
Deep dish pizza is also popular in Georgia.
Hawaii – Thin Crust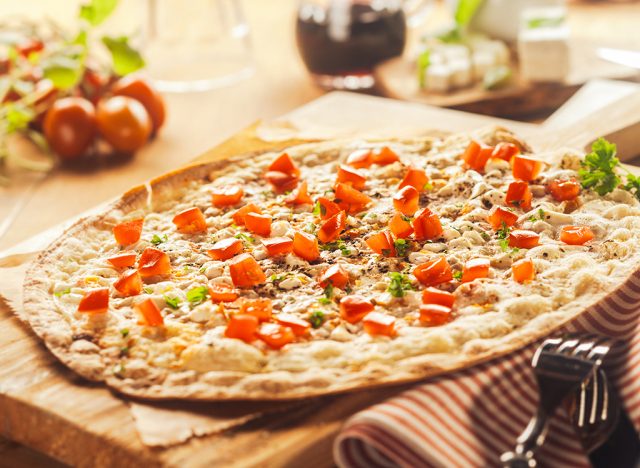 Only two states favor the crispness of thin crust pizza over all others.
Idaho – Veggie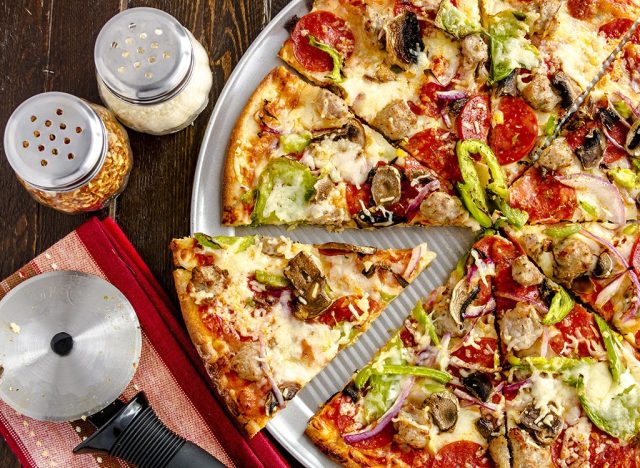 In Idaho, folks are keeping it healthy with veggie pizza. Slice saw 33% more orders for dairy-free pizza in 2021 than in the previous year.
Illinois – Deep Dish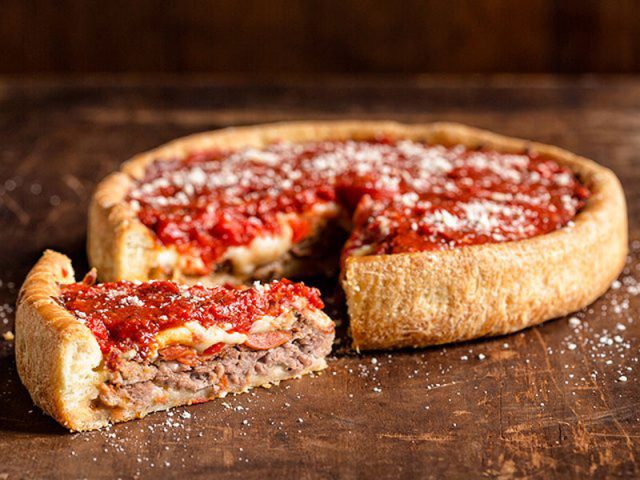 Chicago is the birthplace of deep-dish pizza, so it's no surprise that it's still popular in Illinois. Deep-dish was dreamed up by entrepreneurs Ike Sewell and Ric Riccardo who opened the very first Pizzeria Uno in 1943.
Indiana – Deep Dish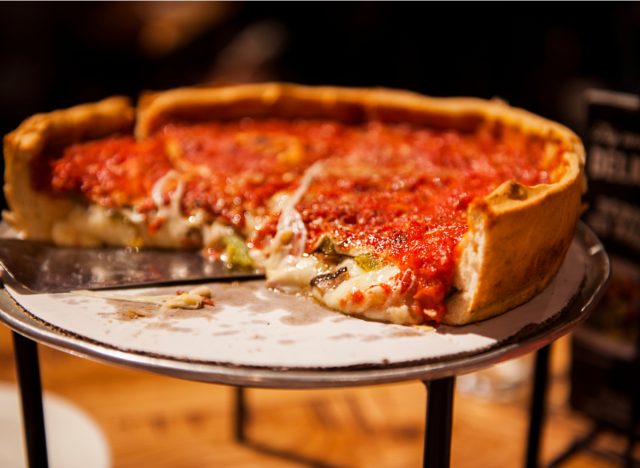 Sister state Indiana also favors the meaty layers of deep-dish pizza.
Iowa – Thin Crust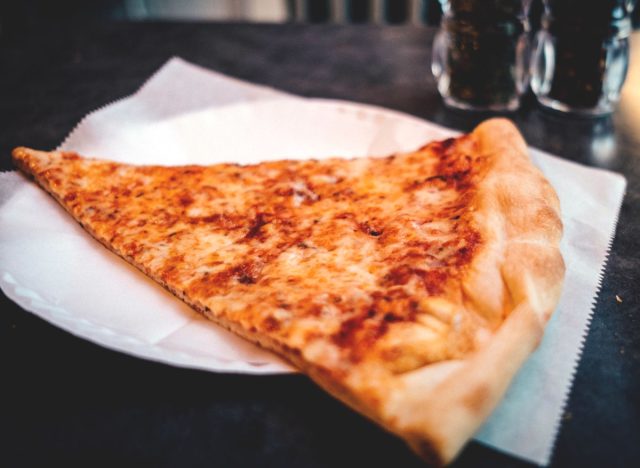 Iowa is the other state that craves the crunch of a thin crust pizza.
Kansas – Supreme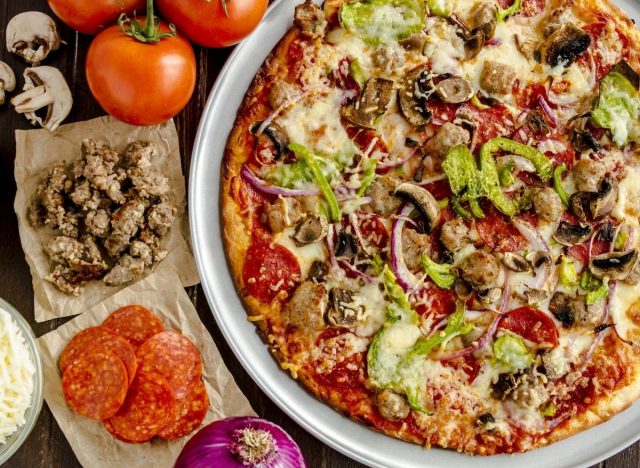 A loaded-up supreme slice is popular in Kansas.
Kentucky – Buffalo Chicken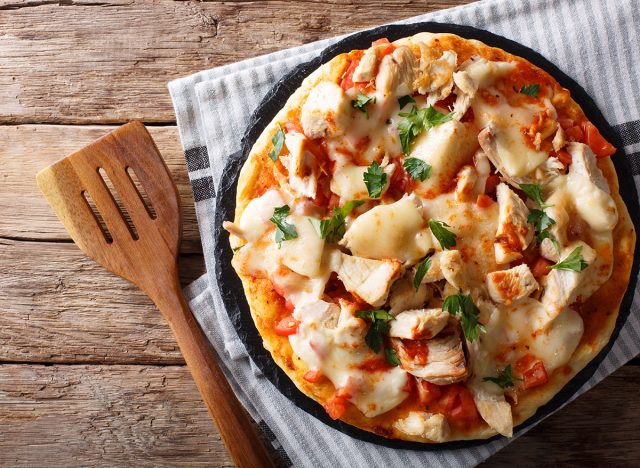 Three states favor the tang of a Buffalo chicken pizza.
Louisiana – Supreme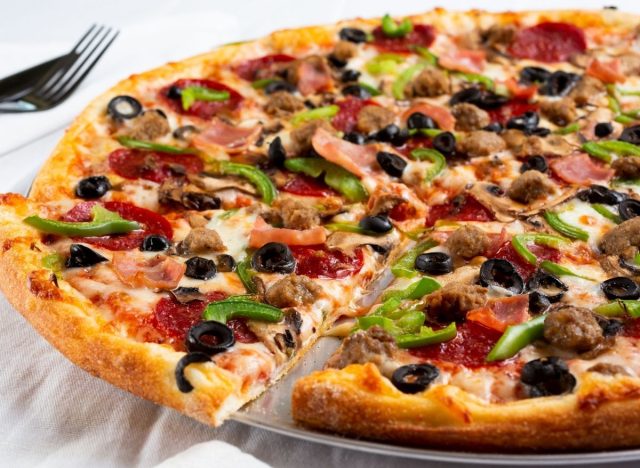 Down in Louisiana, folks are piling on the supreme pizza toppings.
RELATED: This National Pizza Chain Is Launching a New Crust This Month
Maine – Deep Dish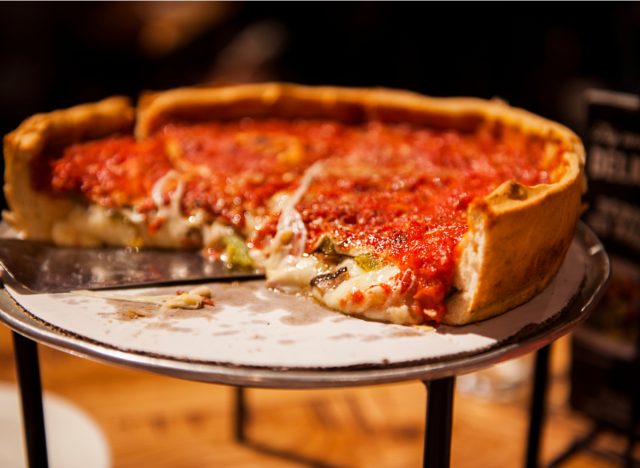 While most deep-dish loving states are clustered in the Midwest, Maine also favors the knife-and-fork pizza. Also, in case you're wondering, Halloween is the second most popular day to order pizza followed by Thanksgiving Eve and New Year's Eve.
Maryland – White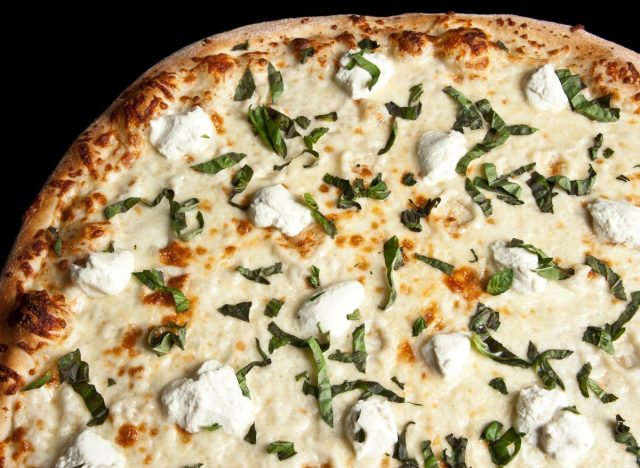 They eschew sauce in favor of the ricotta and mozzarella white pie in Maryland.
Massachusetts – Sicilian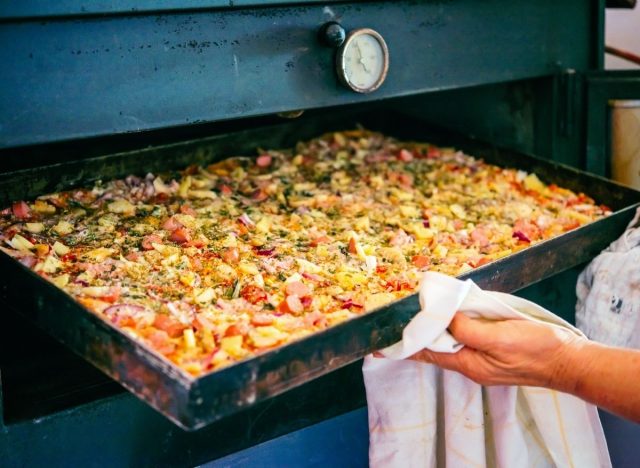 In Massachusetts, Sicilian reigns supreme. Also, this state has the most pizza shops that open early.
Michigan – Deep Dish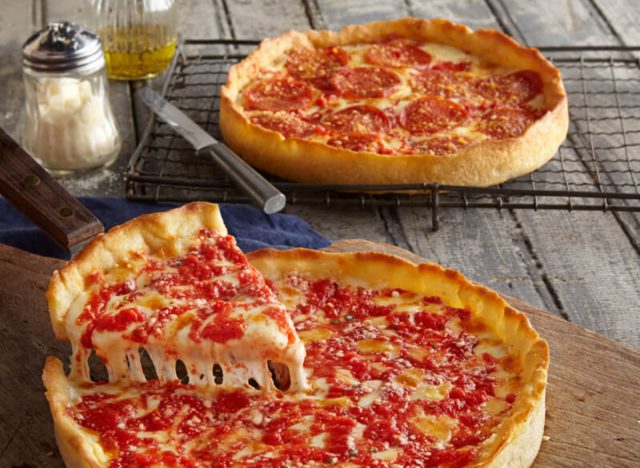 The folks of Michigan crave the warm comfort of a slice of deep dish.
Minnesota – Deep Dish
Chicago deep-dish is popular with the pizza-lovers in Minnesota too.
Mississippi – Sicilian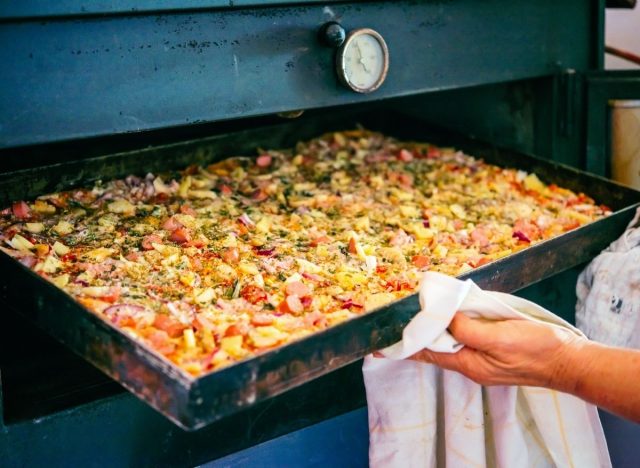 Mississippi is the state when people place the most orders mid-week from Monday through Thursday. Many of those orders are for a square slice of Sicilian.
Missouri – Hawaiian
Hawaiian pizza, which is usually topped with pineapple and ham, is a popular order in four states. Slice saw 75% more orders for the much-maligned pineapple pizza topping in 2021. However, it is still not very popular at 1% of toppings.
Montana – Veggie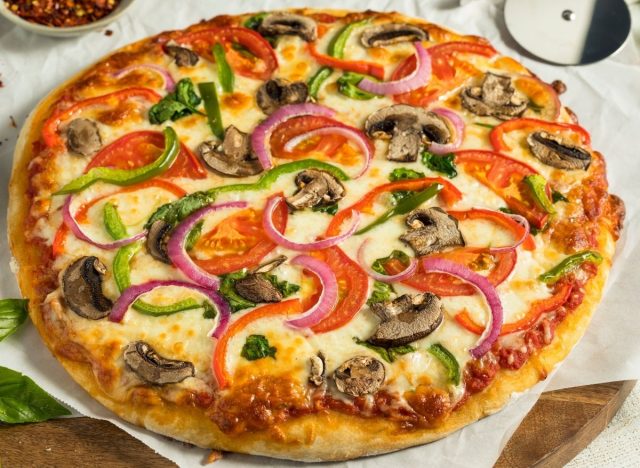 Out in Montana, folks are coming home to chow down on veggie pizza.
Nebraska – Veggie
Out on the range in Nebraska, people also favor veggie toppings on their pies.
Nevada – Sicilian
The Sicilian pie is popular in Nevada. It is also the state with the most expensive pizza orders.
New Hampshire – Buffalo Chicken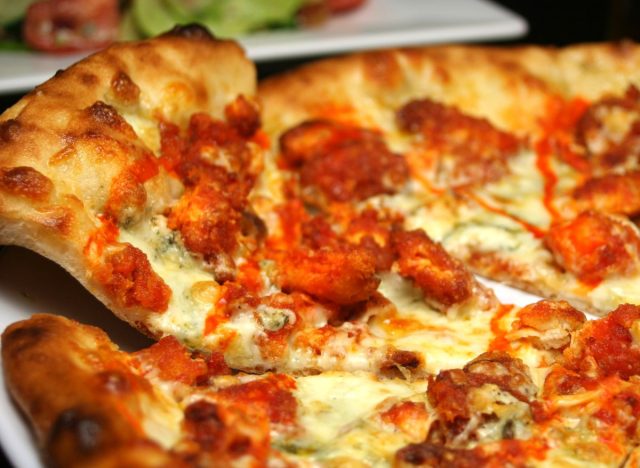 Spicy Buffalo chicken tops many of the pizzas in New Hampshire.
New Jersey – Sicilian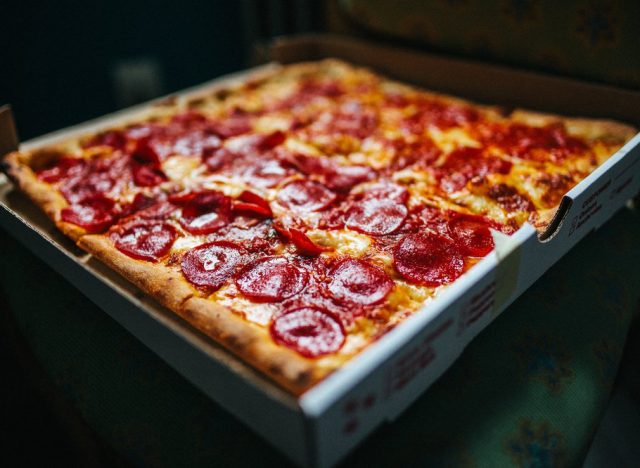 White New Jersians favor a thick slice of Sicilian, they are also the state with the most gourmet orders.
New Mexico – Sicilian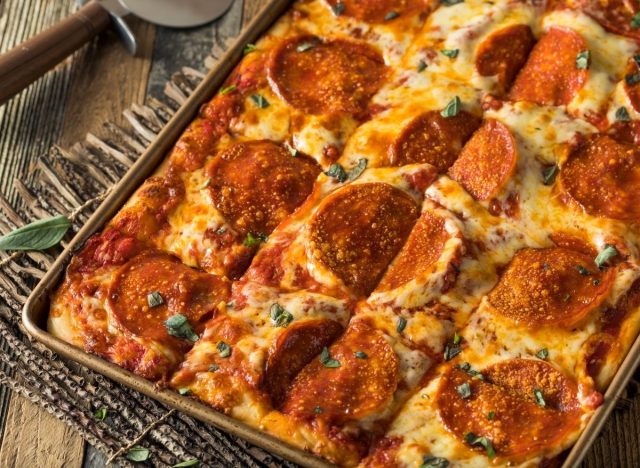 In New Mexico, most pizza orders are for the square Sicilian slice.
New York – Sicilian
Shockingly, New York, home of the thin-crust pie, also favors a Sicilian slice. If you're hungry for a slice in New York late-night, you have options. This state has the most shops that stay open past 9 pm.6254a4d1642c605c54bf1cab17d50f1e
North Carolina – Meat Lovers
The only state where the 'meat lovers' pizza is the top order is in North Carolina.
North Dakota – Hawaiian
Sweet and salty Hawaiian pizza is the favorite order in North Dakota. In case you're wondering, Hawaiian pizza did not originate in Hawaii. It was invented by a Greek immigrant in Ontario who threw the topping on "just for the fun of it," to see what people would think of it, according to Mental Floss. The pizza is named for the brand of pineapple that he used.
Ohio – Hawaiian
The folks in Ohio also opt for the pineapple/ham combo on their pies.
Oklahoma – Supreme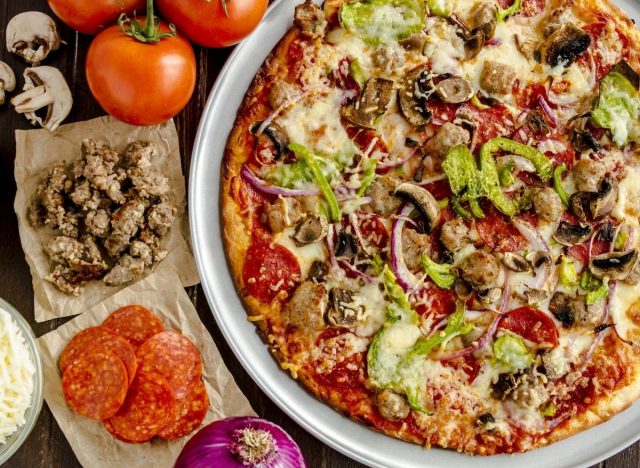 The supreme is the favorite in Oklahoma.
Oregon – Hawaiian
Oregon is the third state where Hawaiian pizza is a favorite order.
Pennsylvania – White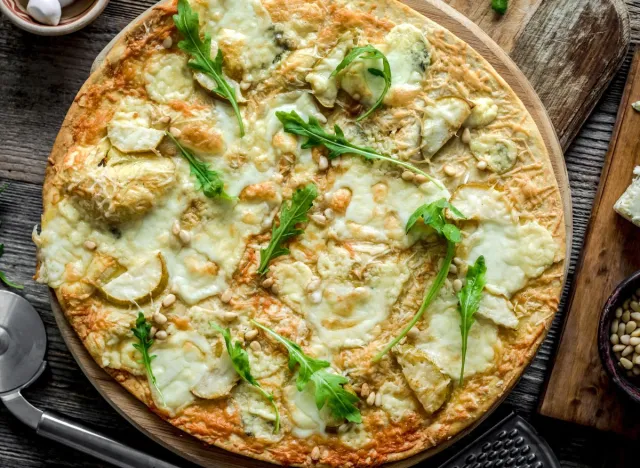 Sauceless white pies are the pizza more ordered in the Keystone State. Pennsylvania is also the home to the most expensive pizza in the U.S. The gold-flecked Mona Lisa pizza at Divino Pizzeria Grill features lobster, tiger prawns, caviar, and mushrooms that have been soaked in Dom Perignon.
Rhode Island – White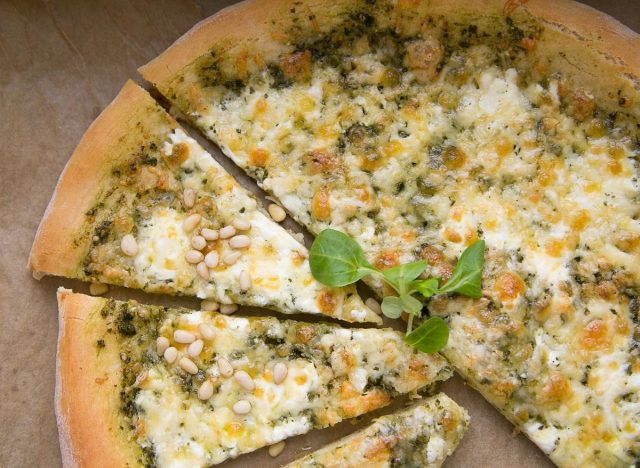 Rhode Islanders also favor the white pie.
South Carolina – White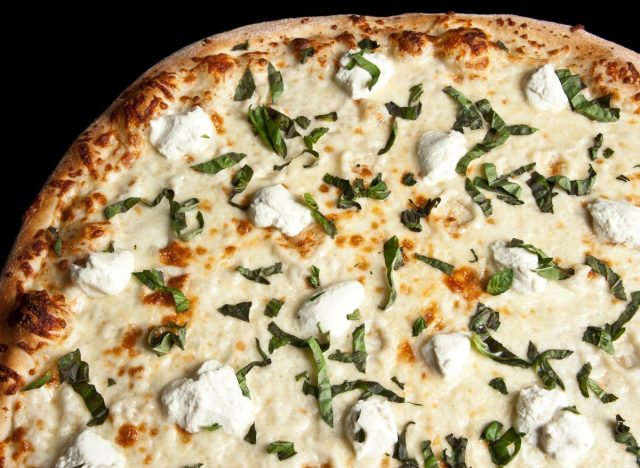 Folks in South Carolina are also skipping the tomato sauce for a ricotta-based white pie.
South Dakota – Buffalo Chicken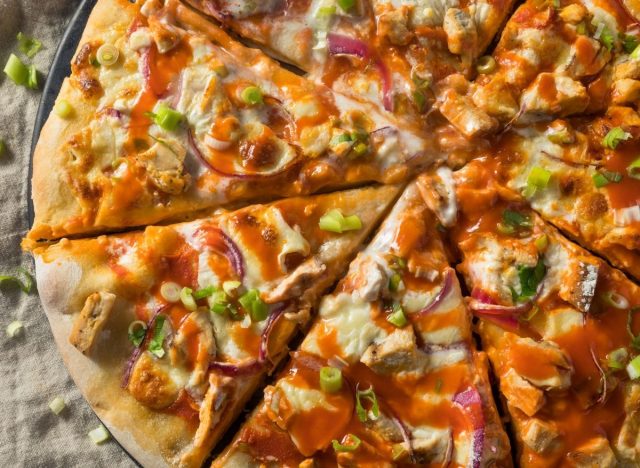 In South Dakota, the most orders come in for tangy Buffalo chicken pizza.
Tennessee – Supreme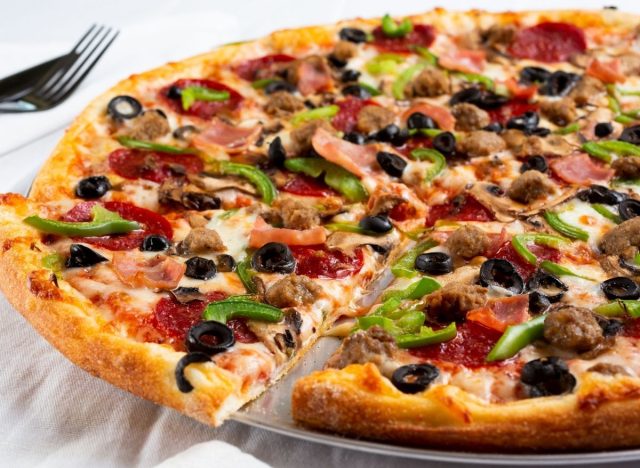 The toppings-heavy supreme pie is a favorite in Tennessee.
Texas – Supreme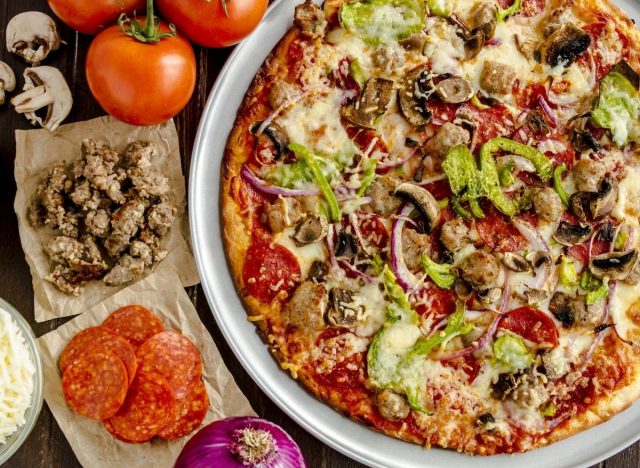 In Texas, too, they like to load up on the toppings. Mushrooms, extra cheese, and sausage are the three most popular toppings in the U.S. after pepperoni.
Utah – Margherita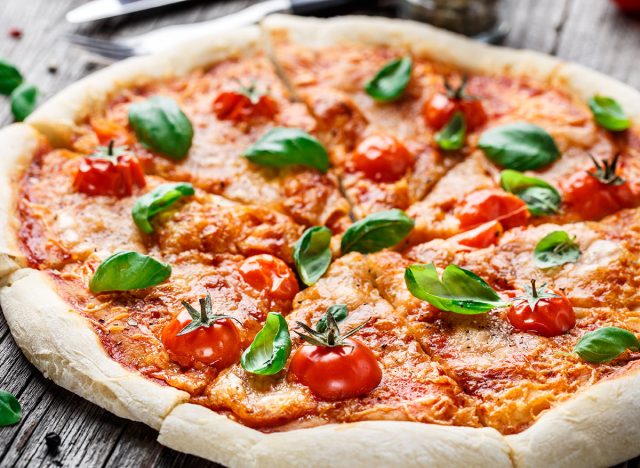 Utah is the only state to order the Margherita pizza most often. This pizza is generally lighter on the sauce and features dabs of fresh mozzarella and ribbons of basil.
Vermont – Veggie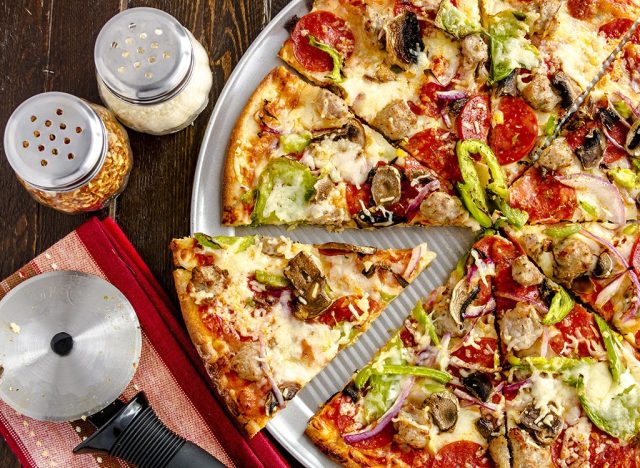 Though people in Vermont order mostly veggie pizza, it is also the state that orders the most pineapple.
Virginia – White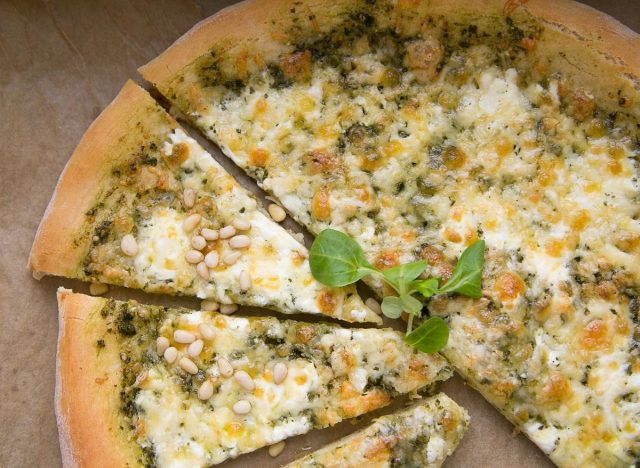 White pizza is on the menu in Virginia.
Washington – Veggie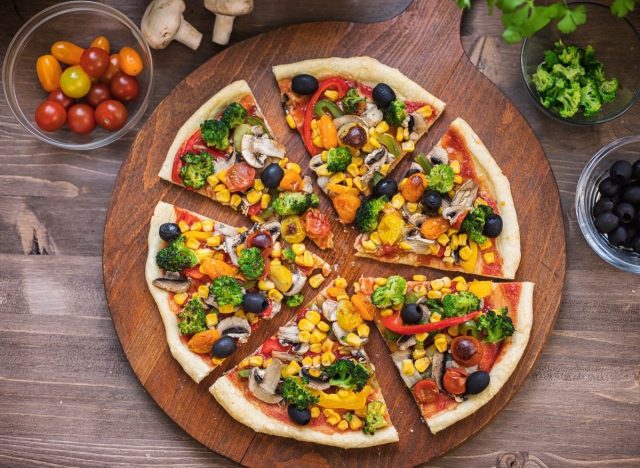 In Washington, pizza-lovers are taking the healthy route and piling their pies with veggies.
West Virginia – Sicilian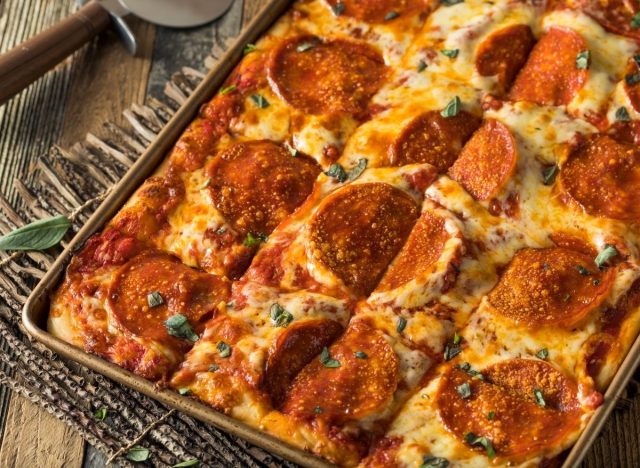 While Sicilian pies are often the order of choice in West Virginia, the state also orders the most sides of ranch dressing to dip their slices in.
Wisconsin – Deep Dish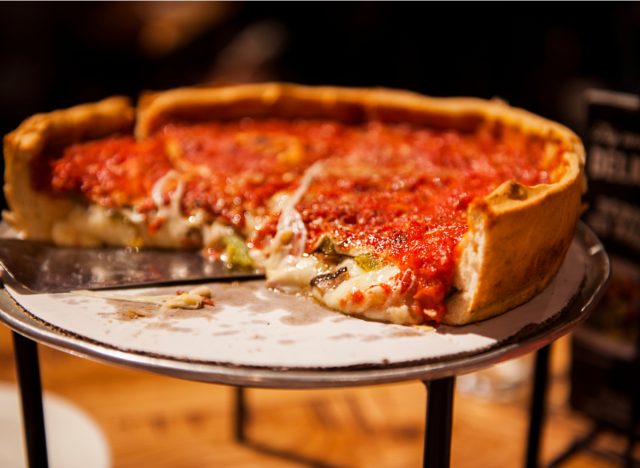 The deep-dish pizza reigns supreme in Wisconsin.
Wyoming – Supreme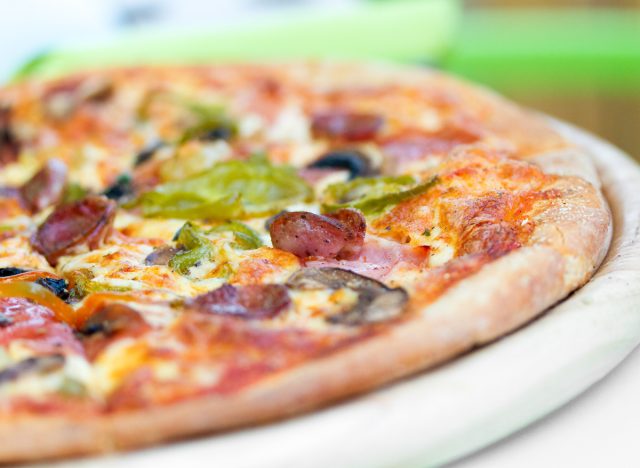 Finally, in Wyoming, the toppings-heavy supreme pizza is the order of choice.
Looking for something to serve with your Super Bowl pizza? Check out We Tasted 10 Popular Light Beers & This Is the Best.