5 Popsicle Brands To Stay Away From Right Now
Don't reach for these in the summer heat.
Popsicles are the stuff summer nostalgia is made of. They're also laden with sugar, excess calories, and icky additives.
"Popsicles might seem like a healthy alternative to other summer treats that are much higher in calories. But many popsicles are loaded with sugar and additives that can negatively impact your health, especially if you're eating them on a regular basis," says Kim Yawitz, RD, a registered dietitian and gym owner in St. Louis, Mo. "It's easy to make healthy popsicles at home, but you can also find some more wholesome options in stores," she continues, adding that consumers should look for pops that have real fruit listed as the first ingredient with little to no added sugar, and avoid buying popsicles with artificial sweeteners, preservatives, and dyes on the ingredients label.
"Popsicles are a favorite sweet summer treat. But many popsicle brands are full of added sugars and long lists of unrecognizable ingredients. When shopping for a popsicle, the best choices are those made from fruit and fruit juice without added sugars and with no or few additives," echoes Sara Chatfield, RDN, MPH, Registered Dietitian Nutritionist at Health Canal, "Eating ultra-processed foods has been linked to overeating and a higher risk of chronic diseases."
Ahead are five popsicle brands to avoid right now and why.
ICEE Freeze Tubes
PER 1 CHERRY TUBE
: 60 calories, 0 g fat (0 g saturated fat), 5 mg sodium, 15 g carbs (12 g sugar), 0 g protein
Pass on these pops, y'all. "These may look like a fun treat, but the 12 grams of sugar put most people at half of their recommended daily limit," says Chatfield. "They're also highly processed, full of artificial colors, and a long list of other additives."
Another ICEE popsicle nutritionists warn you to avoid is the Squeeze-Up Tube. "As if having a whopping 16 grams of added sugar isn't bad enough, ICEE Squeeze-Up Tubes contain a couple of controversial food additives. FD&C Red #40 is a food dye that's been linked with behavior issues in some children with ADHD, while animal studies have connected caramel color with an increased risk for certain cancers," says Yawitz. As Yawitz points out, an occasional popsicle probably won't hurt you if you're healthy overall and if you don't eat a lot of other foods that contain these additives. "But it's still best to choose products that contain real fruit and other natural ingredients whenever possible," she says.
Daily's Poptails Alcohol Infused Freezer Pops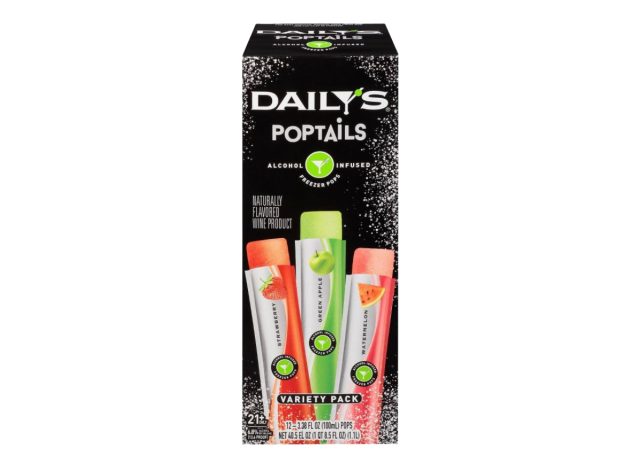 PER 1 POP
: 85 calories, 0 g fat (0 g saturated fat), 50 mg sodium, 15 g carbs (13 g sugar), 0 g protein
Yawitz is all for indulging in a glass of wine every now and again, but adding wine to a highly processed popsicle is a definite no for her.6254a4d1642c605c54bf1cab17d50f1e
"Daily's Poptails Alcohol Infused Freezer Pops come in three fruity flavors—none of which contain any actual fruit," Yawitz says. "In addition to being loaded with additives (and yes, alcohol), this adult popsicle contains more than half the added sugar a woman should eat in an entire day."
Fun Pops Freezer Pops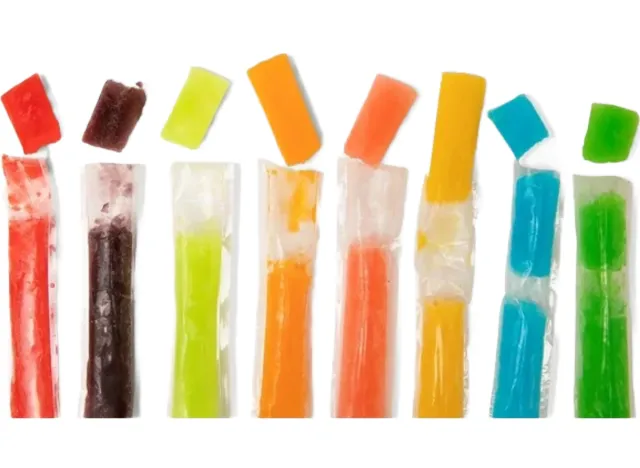 PER 1 POP
: 50 calories, 0 g fat (0 g saturated fat), 0 mg sodium, 12 g carbs (12 g sugar), 0 g protein
Chatfield also recommends avoiding these popsicles at all costs. "Their bright colors may be tempting, but these pops are full of sugar from high fructose corn syrup, with 12 grams in each," she says. "They also contain many artificial colors and flavors."
PhillySwirl SwirlStix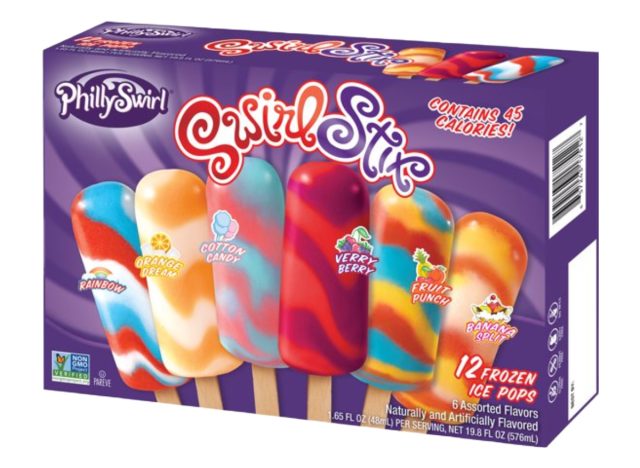 PER 1 bar
: 45 calories, 0 g fat (0 g saturated fat), 0 mg sodium, 11 g carbs (11 g sugar), 0 g protein
Chatfield notes that these look like a colorful and fun treat, but they have 11 grams of added sugar per pop, almost half of most people's recommended daily limit. "They're also full of artificial colors and other additives," she adds. If you're in the mood for a colorful and visually fun treat, eat some nutritious fruit in as many hues as possible.
Spongebob SquarePants Popsicle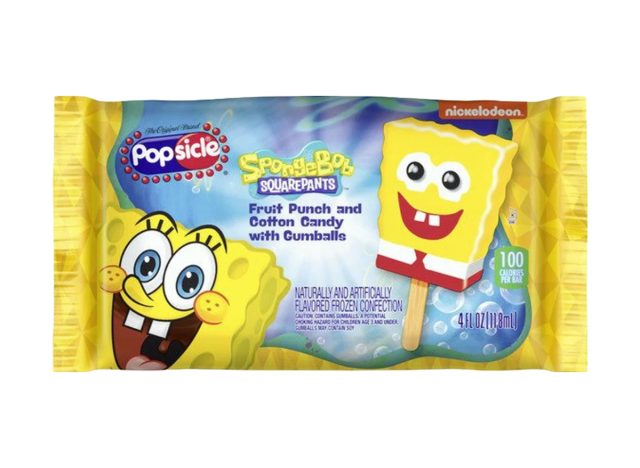 PER 1 BAR
: 100 calories, 0 g fat (0 g saturated fat), 15 mg sodium, 25 g carbs (14 g sugar), 0 g protein
Don't let the cute marketing sway you or youngsters into buying these pops. "The third ingredient in the fruit punch and cotton candy-flavored Spongebob SquarePants popsicle is high-fructose corn syrup (HFCS)—a sweetener that animal studies have linked with unhealthy changes to the gut microbiome that increase the odds of obesity and high blood sugar," says Yawitz. "To be fair, HFCS is found in lots of highly processed popsicles. But what makes this ice cream truck staple stand out is the addition of a couple of gumballs for eyes to keep the sugar buzz going."
Safe to say your dietitian and dentist are going to be grateful that you avoid this popsicle, adds Yawitz.